Campervan living is amazing. Who wouldn't want to live the van life that gives you the freedom to explore on your own terms? But it's also an experience that can be made so much better with the right gear. No worries, we've got your back. Here we have compiled a list of the best campervan gadgets to help make van life easier for you and your family on the road!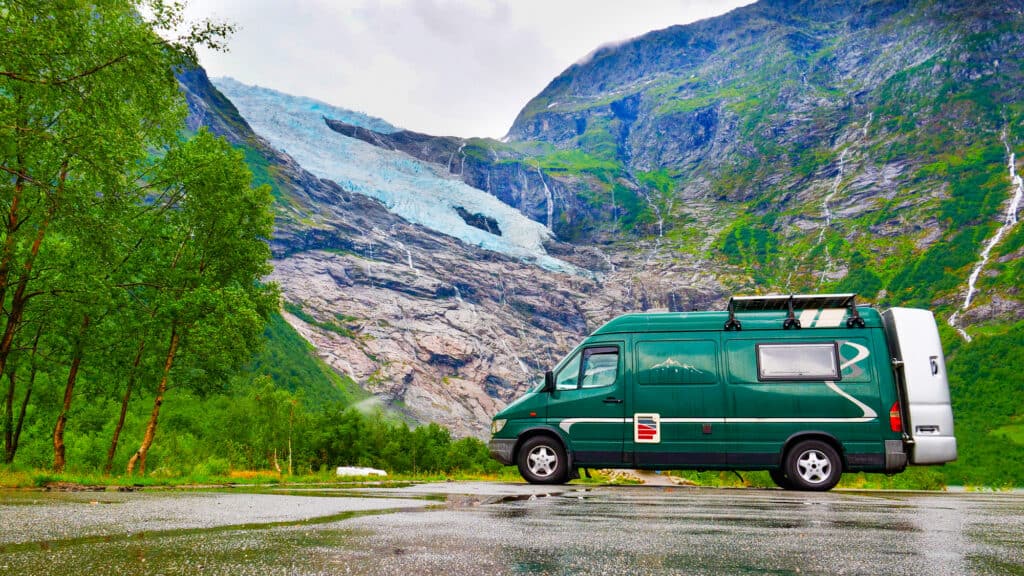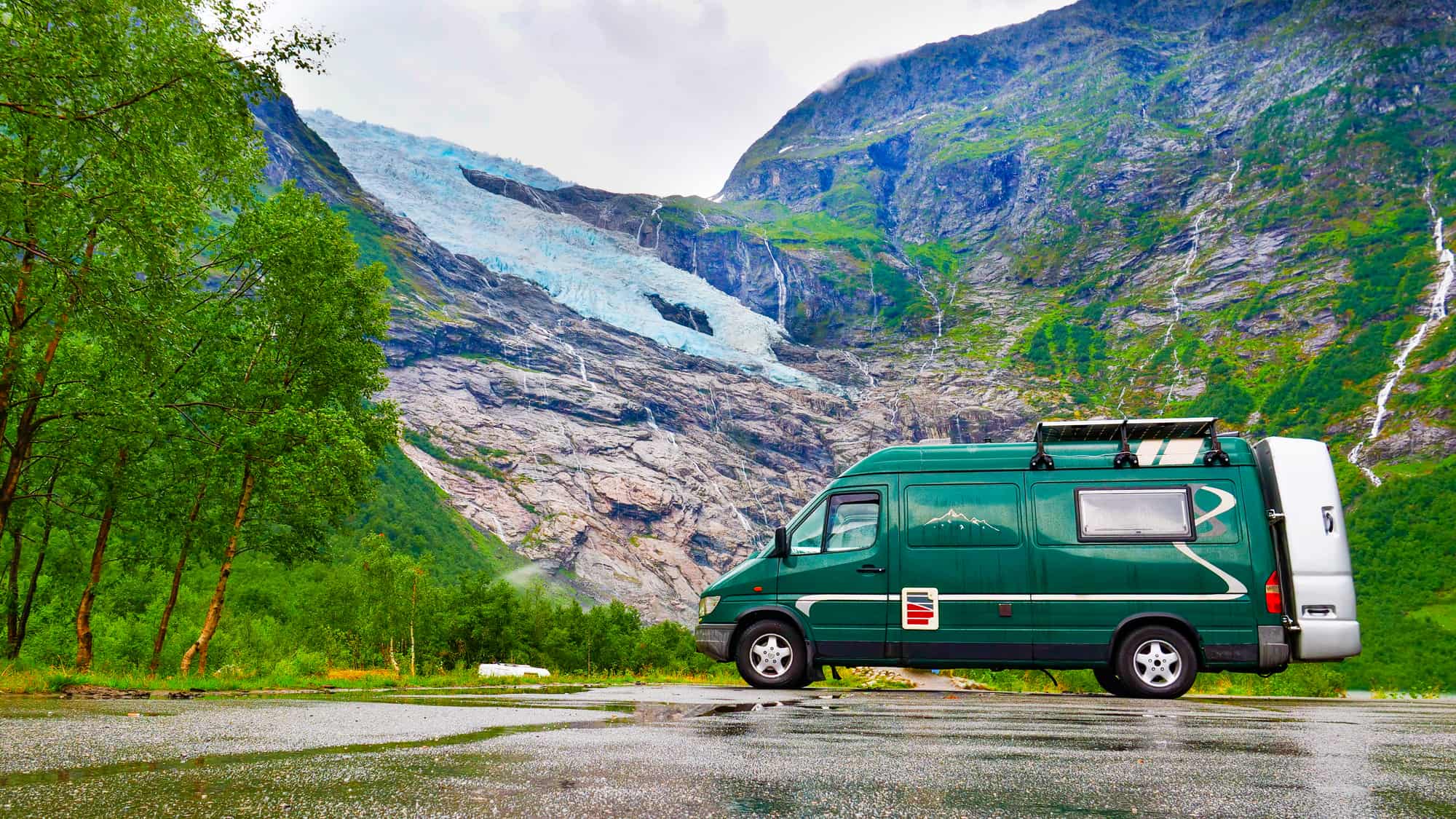 Best Gadgets for Your Campervan
From kitchen essentials to entertainment systems, this list has something for every campervan owner! To make it easier for you, we've organized this list into the following categories so you can find camping gadgets that make your life easier. We've also included links to where you can purchase these campervan gadgets. Many links are affiliate links which means we may earn a small commission if you make a purchase.
🚐 Campervan Gadgets for the Kitchen – Cooking in a tiny space doesn't have to be difficult nowadays. The best campervan accessories for the kitchen are either creative storage solutions or smaller versions of full-size kitchen gear.
🚐 Cool Campervan Gadgets for Lighting – Adding extra lighting to your van that won't take up extra space or use a ridiculous amount of power is an absolute must for serious van owners.
🚐 Fun Gadgets for Van Life Relaxation and Comfort – Whether you have a super small van or a huge Winnebago style set up, being comfortable and winding down is usually top of people's wish list. These campervan accessories will help you do just that!
🚐 Gear for Heating and Cooling Campervans – All-weather camping can be fun and comfortable if you have a variety of heating and cooling solutions. These motorhome accessories will help you keep snug in the cold weather or keep cool on a hot summer day.
🚐 Electronic Gadgets for Camper Vans – Not just about practical essentials, electronic gadgets also include luxury electronics that are sure to keep you entertained on a rainy day.
🚐 Essential Campervan Accessories – Practical gadgets for every savvy camper owner while they're actually on the road. These are great gadgets to make traveling in a van easier and safer.
🚐 Van Life Gadgets for Security and Safety – These particular van life gadgets focus on the safety aspect of traveling around in your camper. Whether it's keeping valuables protected or securing your van itself, they are absolute musts.
🚐 Gadgets to Keep Your Van Clean and Organized – Keeping things clean and tidy is essential when you're living in such a small space. These gadgets make camping life cleaner! And all of them are small enough to tuck away when not in use.
Campervan Gadgets for the Kitchen
Cooking in such a small space can seem like a daunting task to some. There's no need to worry, though, thanks to these great camper gadgets for the kitchen. Small appliances that can tuck away in little nooks and crannies are a campervan owner's best friends! Take the stress out of cooking in your camper with any of these van life gadgets, and every trip will feel a whole lot easier. Here you'll find some great kitchen ideas that you might not have thought of before.
Anyone who loves to cook and uses plenty of herbs and spices will love these Spice Jar Clip Strips. They are a great way to take all your favorite ingredients with you in the van but without taking up valuable cupboard space. The set comes with 3 strips that can hold up to 12 jars, and they fit all standard-sized spice jars. Cooking in a camper van doesn't have to be any less flavourful than at home in your normal kitchen.
If the kitchen cupboards in your camper are already overflowing, these Magnetic Spice Jars are one of my favorite gadgets for campervans. Fit a magnetic strip to the kitchen wall or cupboard doors, and you can quickly stick these handy jars out of the way. This set comes with 12 jars, labels for everything, and even a handy magnetic conversion chart. A friend has these jars, and she could even leave them on the wall while driving without them falling off!
Collapsible accessories are every campervan owner's best friend, and this Collapsible Drying Rack is no different. It's a great way to store dishes to dry and even has a handy spout to run water off into the sink and a built-in utensil rack. Once dishes are dry and stacked away, the whole thing collapses down and can be stored neatly in a cupboard to get some bench space back.
Anyone who is sick of tidying and rearranging their cupboards every time they take the van anywhere needs these Refrigerator Bars! This pack of three bars is spring-loaded and fits neatly into most campervan cupboards or refrigerators to hold food in place while you travel. Each bar extends from 10 inches up to as long as 17 inches so they can suit most campers. Reduce the work you have to do when you travel and keep everything organized at the same time.
Another collapsible kitchen item that is sure to come in handy! A colander is pretty much essential in any kitchen, and the campervan is no different. This twin pack of Collapsible Colanders is a quick and easy way to save space. The pack even comes with two small hooks so they can be hung on the wall when collapsed, saving yet more cupboard space!
These are cool motorhome gadgets that would be a good addition to any campervan where space is in short supply. The Collapsible Washing Tub & Cutting Board is a genius way to save space. It's an 8.5-quart capacity bucket, but it doubles as a chopping board when you collapse it down. It even comes with a knife storing slot underneath and a hook to hang it on the wall. The bucket can also be half-collapsed to use as a lower-capacity bucket.
If you love a smoothie in the morning or you're all about making food prep easier, the Magic Bullet Blender would be a great addition to your van. This blender is compact enough to store in small spaces but still has plenty of power. Kitchen enthusiasts will be thrilled that they can still blend, chop, whip, and grind while on the road and all with just one small appliance. This particular model comes with a tall jug, short jug, and a cup at a very reasonable price.
Coffee enthusiasts need not worry; you can even get your caffeine fix on the road with this compact Keurig Mini Plus Coffee Maker! This pod coffee machine weighs less than 5lbs and only measures 12.1 x 4.5 x 11.5 inches. This coffee machine even comes in a choice of seven cute colors, so there's sure to be something to suit any van decor. It has a removable water tank, can hold up to 9 pods inside the machine, and even fits travel mugs. It's a great slimline coffee machine that you can easily store in small spaces.
Cool Campervan Gadgets for Lighting
If you're looking for lighting solutions for your van but don't want to use loads of extra power, this is the category for you! Whether you wish to add a bit more of a homely touch or need some practical lighting solutions, there is sure to be something here. From twinkly fairy lights that double as pretty decorations to solar-powered solutions that keep power consumption down, we've got it all. Light up your next stay in the van with one of these great lighting gadgets for campervans.
True confession… I laughed when Brad popped one of these in our little camper. Then it turned into the best night light ever! These Solar Inflatable Lights are the best camper van gadgets for anyone who has limited power capabilities. They are so compact and easy to store, yet the light they give off is enough to read, cook or pretty much do anything you need. The solar LED light fully recharges from 7 hours in direct sunlight and lasts for up to 24 hours. The whole thing collapses down to just 1.5 inches tall and weighs only 125g.
If you love to read in bed but don't want to have all the van lights blaring, this Gooseneck Reading Light will be a great campervan accessory. It even doubles as a handy USB charger so you can easily charge your phone at night while it's still close. The 16-inch flexible arm is super easy to maneuver, and it even comes with one button dimming capability. The cord length is 129 inches, easy to install even if there isn't a socket nearby.
If you're looking for a light source that adds a homely touch and doubles as great decor, these Fairy String Lights are a great option. They come as either 33 feet long or 66 feet long and either warm white lights or multicolored. The LED lights, mounted on flexible copper wire, easily bend to fit your space. These string lights are powered by a USB and even come with a handy remote control.
If you don't have a ton of power but want to add more light either outside or in, this Solar Powered Lantern is just what you need. This 100 lumen LED lantern can be charged either by sunlight or via the USB cable. It will provide up to 50 hours of light on low mode and up to 4 hours on bright mode. It has a kickstand and a hook to stand by itself or hang from a wall. This light can even cycle through the full RGB color spectrum.
Want a great way to see at night or outdoors without using your van's power? A quality Rechargeable Headlamp is a must for any serious camper van owner. This particular one comes in two colors, has three brightness levels, recharges in just 3 hours, and even has a red light mode. The headband is removable and washable, and the light uses an easy one-button operation. I've written an entire article on what to look for in a great headlamp here!
Fun Gadgets for Van Life Relaxation and Comfort
What is the point of going on an epic trip in the van if you're not comfortable and relaxed during the trip? These products will help up the comfort levels and provide some relaxing entertainment, even with your limited living space. A great way to "add space" to your van is to live partially outside. Some of these campervan accessories will help you relax outdoors in the evening and feel like you've added a whole new room to your campervan. Add a touch of comfort and relaxation to your next trip with any of these must-have motorhome accessories.
This Portable Camping Chair is a must-have for anyone who wants to live partially outside but doesn't have a lot of storage space for extra gear. The camping chairs are available in three color choices and can hold a maximum weight of 300lbs! Despite being super strong, the whole chair folds down into a bag that measures just 14 inches long and weighs just 2.1lbs. The loop design is super easy to put up without any fancy tools. There are two side pockets, and the storage bag doubles as a handy basket under the chair. This particular chair is also featured in our guide to the best compact camping chairs.
This is another foldable and compact item that any space-saving campervan owner needs in their van! The whole Portable Camping Table folds down into a bag that measures 27 inches and weighs just 3.6lbs. This table has a maximum weight load of 110lbs and comes in a choice of three different colors. It's made from lightweight yet durable aluminum and has anti-slip feet, so it stays sturdy on any surface. We also have an article all about portable camping tables here.
Being in the great outdoors is wonderful but if you get bored easily in rainy weather or at night in the van, this 3-in-1 Travel Magnetic Board Game Set is a must. The board measures 25 x 25 x 25 cm when open but can easily be folded in half to make storage easier. It includes everything you need for a game of Chess, Checkers, or Backgammon. The whole thing weighs just 500g, and the fact that it is magnetic means it can easily be left set up for later.
If word games are more your thing, this Scrabble Travel Edition could be just what you need. The whole thing measures 9.8″ x 9.2″ x 1.2″ but folds easily in half for storage and weighs just 1.5lbs. It includes 100 solid wood letter tiles, and the whole set has a real feel of luxury to it. It also includes 4 wooden tile racks, a pouch for the tiles, a scorecard, a pencil, and instructions. It's a great way to add a little bit of fun to a rainy day or an evening in the van.
If you're one of those unlucky people who seem to attract mosquitos like there's no tomorrow, the Thermacel Mosquito Repeller is a great camper gadget to have on hand. No need for smelly, DEET-filled sprays, overpowering citronella candles, or annoying wristbands. This mosquito repellant device is 100% scent, smoke, flame, and spray-free and comes with an extra 12-hour refill. It provides a 20-foot mosquito protection zone and is easily recharged via a USB cable. It can be activated at the push of a button and takes just 15 minutes to take effect.
Gear for Heating and Cooling Campervans
If you want to enjoy van life all year round, you need some cooling and heating solutions no matter the weather conditions. This category is full of essential campervan accessories to cool you down on hot summer days and keep you snug and warm during the winter months. Whether you just want to be cozy at night in bed, build a fire to warm up outside, or get the air flowing through the van, there is sure to be a great gadget here for you.
Anyone who camps in cold weather will benefit from this Portable RV Propane Heater. It connects directly to a propane tank and has three heat levels. There's no need to worry about safety with this heater, as it's specifically designed for indoor use in an RV. This motor home gadget features an auto shut-off triggered if the heater tips over, detects low oxygen levels, or the pilot light goes out. Keep warm without worry with this handy little portable heater.
If you don't like the thought of having a heater in the van for safety reasons, this soft Heated Fleece Throw is another great way to keep warm. It plugs into your van cigarette lighter but has a 96-inch long cord so it can easily reach people in the back. It comes in a choice of 6 different colors, so there is sure to be something that suits your taste. It's lightweight and easily folds to store in a small space.
Keeping cool without using tons of power or taking up a lot of extra space might seem difficult, but not with this super handy USB Rechargeable Fan. This fan has four different speed settings with a maximum run time of 24 hours on a single charge. It has a large clip to secure it to any surface easily, and it comes with a USB port or a micro type-c port. It's lightweight and easy to move around the van to suit your needs. Anyone camping in the warmer weather shouldn't leave home without it!
If you want to keep cool and normally stay in a hot and dry environment, this Portable Evaporative Cooler could be just the camping gear you need. Unlike air conditioners, evaporative coolers cool the air by adding humidity, so they're perfect in dry climates. They also use less power and are much quieter to operate. Thanks to the handle on top, this portable option is easy to carry and compact enough to store in a small camper van. It can even emit a soft blue light as well.
When boondocking in your campervan, there is not always a fire ring! This Pop-Up Portable Fire Pit exceeds BLM and Forest Service regulations for fire pans which means you'll have a fire in more places. It sets up in just seconds. And it will pack up to about the size of a large shirt box, so it's easy to store on the go.
If your idea of a camping trip isn't complete without building a real fire, this Compact Folding Saw is about to make life a lot easier! The 7.5-inch blade is perfect for cutting all types of wood and other materials. It has a grippy plastic handle to prevent slippages and increase safety. There is also a leather strap and a locking mechanism that locks the blade in and out. For more folding saw choices, check out our guide to the best folding saws for camping.
Campervan Electronic Gadgets
From luxury products that will add entertainment to any trip to practical gear to keep the power flowing, these electronic camper gadgets are sure to make your next trip enjoyable. Every campervan owner needs some practical solutions to keep the power flowing, and some of these do just that. There are a lot of electronic gadgets that can come in handy in a campervan, but I've picked out my absolute musts for any trip.
Having an Apple Ipad on your next campervan trip can make a huge difference! They are not just great for entertainment purposes on rainy days or evenings. They can also be loaded with a whole host of super handy apps such as GPS trackers, Google Maps, weather forecasts, National Parks information, and so much more! You can download apps and movies before you set off on your next adventure. Still, this particular option also has cellular capabilities; use it wherever you have a phone signal.
Music, audiobooks, and podcasts can make traveling or camping a whole lot more enjoyable, and this Bose Portable Bluetooth Speaker is a great way to do it. The Soundlink Color ll comes in a choice of six colors to suit any decor. It measures 2.2 x 5 x 5.2 inches and weighs just 1.2lbs, so it's easy to carry anywhere you go. It can be recharged using a USB port and holds up to 8 hours of playback. It's even water-resistant and has a microphone so you can take phone calls as well.
If protecting your campervan's electrical system is important to you, this RV Surge Protector is a must-have on your next trip. It efficiently absorbs high-voltage spikes and protects your van from power surges due to things like thunderstorms. It also has a handy circuit analyzer and diagnosis chart so you can safely check your power source before hooking it up to the van. 
Reliable Extension Cords are a must when traveling in any campervan. If you're sick of low-quality cords that don't stand the test of time, this heavy-duty option will make a great alternative. The PVC coating is heat resistant and flame retardent to give an extra level of security. This 25 foot long, 30 AMP power cord is something you won't want to leave home without.
A cell phone can be an important lifeline on any trip, especially in remote areas. Signal strength isn't always reliable, though, so pack this Cell Phone Signal Booster and you won't have to worry. This kit comes with the booster, antenna, and all the cables you'll need to get everything hooked up. Depending on the available signal strength, it can boost a phone signal between 1500 and 3000 square feet. The setup is simple, all you do is plug everything in, and it's ready to go.
Essential Campervan Accessories
Whether you just like to get to your campsite and stay put or do a lot of traveling around, these gadgets for campervans will make the actual journey safer. From practical ways to keep your mobile phone visible to recovery gear and emergency kits, we wouldn't leave home with every single one of these gadgets. After all, nobody wants to be stuck in the middle of nowhere. You need always to have a way to jump-start the van or repair a tire. These are the best campervan gadgets for when you are actually on the road.
A reliable Cell Phone Holder is an essential campervan gadget for anyone who uses the maps function on their phone. There's nothing more annoying than your phone falling on the floor while you're driving. Keep your cell phone visible and secure with this holder with both a dashboard mount and a vent mount. It rotates 360 degrees and tilts 270 degrees, so it's easy to find a great position that you can view safely from the driver's seat. It has three layers of strong adhesive to keep it in place and fits most modern smartphones.
If you're someone who worries about being unprepared in a breakdown, this Roadside Assistance Kit will provide real peace of mind on your next trip. This extensive kit contains jump cables, traction rope, a toolset, gloves, a warning triangle, and much much more. You'll be able to deal with just about any situation if you pack it for your next trip. Best of all, the whole kit measures just 7 x 15 x 7.3 inches.
The Leatherman Wave Plus is pretty much unbeatable when it comes to multitools. There's a reason Leatherman is trusted worldwide, making them a must have gadget for camping. With a whopping 18 tools, this multi tool will surely come in handy on any trip. It comes with two knives, two pliers, 2 wire cutters, a screwdriver, scissors, and much more. The whole thing measures just 2 x 2 x 2 inches and weighs a tiny 0.7lbs, so it's super easy to carry with you anywhere. Leatherman tools are designed with the outdoors person in mind.
Van Life Gadgets for Security and Safety
Keeping valuables safe or your campervan secure is non-negotiable for any van owner and especially if you are enjoying full time van life. After all, if someone steals from your van or steals your van, you lose everything. These gadgets either look after valuables or keep the van trackable or locked uptight. Give yourself peace of mind on your next trip by investing in these essential motorhome accessories, and you won't regret it.
If you worry about leaving your valuables in the van when you head out for the day, a Security Safe like this one is a great idea. There are a whopping 10 sizes to choose from, with the smallest being just 0.5 cubic feet. So, whether you just want somewhere to store your cash and phone or something that can hold bigger valuables, there's sure to be something that suits your needs. You can choose from either an electronic pin lock or a fingerprint lock for extra security. Powered by 4 AA batteries, you won't impact your van's battery life, and there are 2 security backup keys just in case.
Imagine returning from a hike to find your campervan gone. Your van is not only your transportation; it is your home that just disappeared. If you're worried about theft or want family and friends to be able to check up on your location in an emergency, this GPS Vehicle Tracker might be just the thing. It doesn't require any external power as it connects directly to your vehicle's onboard diagnostics. This also means it can track things like fuel usage, speed, maintenance needs, engine RPM, and more. It collects data every second, analyzes it, and updates the server every 3 minutes. You can even set up email and SMS notifications for various things such as location.
A reliable Steering Wheel Lock is a necessity to keep your beloved campervan safe. This model is heavy-duty, and the twin hook design makes things even more difficult for potential thieves. The lock is made of super-strong alloy steel that has a universal fit for vans and cars. It resists pulling, sawing, prying, and more and the self-locking feature means it needs just one pull to secure.
For even further protection, add a Heavy Duty Wheel Lock to be certain that your van won't budge, no matter how hard they try. It fits any wheels up to 20.5 inches wide with a secure wrap-around design. There's no chance of wheels rolling with this reliable lock. It's super easy to install as well; just slide one side through the wheel connect the other and lock with one of the two keys provided.
Gadgets to Keep Your Van Clean and Organized
Living in a small space can be tricky if it's not kept clean and well organized! Make it easy to keep the van tidy with these excellent van life gadgets for cleaning. From innovative storage solutions to keep things organized to small cleaning products that are easy to tuck away in a small space, there is sure to be something here that will make life easier. Check them out, and you might find a solution that you've never considered before.
If you find packing clothes for a trip a nightmare, you might be surprised how much space you can save with these Hanging Portable Closets. There are five handy compartments of varying sizes that can all be closed with a zipper to keep your gear secure. When hung up, the whole thing measures 19.3 inches high. The shelf unit, constructed of durable ripstop canvas, it's sure to stand the test of time as well.
If you don't yet have a Cordless Handheld Vacuum in your campervan, you're about to have your life changed! Cleaning up becomes so much easier with one of these handy little gadgets. Whether you just want to clean the floors, reach dust up high or give the driving seat a clean, these vacuums are an absolute must-have item! This particular one has 2 speed options and an extra-long crevice tool that's great for getting into small spaces like cupboards and drawers.
Sick of a broom or mop whacking you in the face every time you open the cupboard? Luckily these handy Broom & Mop Holders were invented for that exact reason! It can be hard to keep things in place while driving, but these motorhome gadgets easily stick inside the cupboard to keep those pesky brooms in place. No tools are required to install them, and they fit most standard-sized broom and mop handles.
Looking for a way to keep just about anything organized in your drawers and cupboards? This Set of Packing Cubes would be great and can be used for more than just clothes. This great set of six cubes will be useful all over the van to keep things in place while driving. I've even used them to keep snacks and dry food organized in the kitchen cupboards. An essential van life gadget for any serious camper.
It's time to take your campervan life to the next level! There are so many gadgets out there that will make living in a van easier, more comfortable and safer. We hope this list of over 40 of the best campervan gadgets was helpful for you as you plan your upcoming adventure.