You crawl into your sleeping bag, exhausted in a really good way, after a long day of hiking and exploring. Your tummy is full from a great campfire dinner and you are ready to drop off into a deep sleep. EXCEPT, you just can't find a comfortable position. You either have no pillow, or what you have really sucks. UGH! It's time to start looking for something better, it's time for the best pillow for camping to be added to your gear.
Well, the best pillow for camping should mimic the comfort you feel in your own cozy bed. I've been in exactly this same spot on many camping trips. You'd think a girl would learn her lesson after the first time of waking up with a sore neck due to a poor camping pillow option.
So we've set out to find the best camping pillow. One that can stay in our camping gear tub ready to take off on the next adventure. A pillow specifically for camping that won't take up much space as we don't always have much room for gear when camping. And a camping pillow that is as comfortable (maybe more comfortable if we do this right) than our favorite bed pillows. To make it easy for you we have included links to where you can learn more or purchase many of these pillows. In some cases these links are affiliate links which means we may earn a small commission if you make a purchase.
Types of Camping Pillows
There are basically 3 types of Camping Pillows available. Compressible, Inflatable and Stuff-able. Well, actually there's a very interesting fourth which is a cross between a compressible and an inflatable that we will look at as we review best pillows for camping below.
Compressible Camping Pillows
This is a soft pillow, made of materials that feel similar to bed pillows, that easily smooshes into a small bag. The compressed size of the camping pillow can be as small as a can of pop.
Pros:

Size and weight is usually minimal, Usually machine washable, Fabrics are soft against your face

Cons:

Often small when fully expanded, Usually not enough neck support for side sleepers
Best for back and tummy sleepers. Backpackers often like these due to very small size.
Inflatable Camping Pillows
If the first vision that pops into your head is the shiny plastic swimming pool rafts of your childhood, only pillow sized you are not too far off.
Pros:

Very lightweight and packs small, You can adjust the firmness by the amount of air added.

Cons:

Take a close look at how they are finished to avoid plastic rubbing against your check, Often lacking insulation

Best for

people who like a firm pillow like side sleepers, although you can adjust the firmness. They are also super space saving. Just lay flat and roll up into your sleeping bag adding practically no extra space or weight.
Combination Inflatable and Compressible
Some of the best pillows for camping are a unique cross over. They have a really nice padded top that is soft and insulated, and inflate to give the pillow lift. If you can afford the space, these are the best of both worlds.
Pros:

Much more comfortable

Cons:

Weight and storage size

Best for

Side sleepers and campers who can afford a little extra space for their pillow.
Stuff-able Pillow Cases
So I wasn't too far off track by stuffing a plain old pillow case. Turns out there are stuff-able pillow cases that solve most of the problems I had with my simple pillow case.
Pros:

They have a closure (like zipper or velcro) to keep in the stuffings, Made of padded material so you don't feel the lumps in the contents quite so much.

Cons:

If you are not carrying a plump jacket, then you might not have soft enough stuffing, Do you really want to sleep with your dirty laundry under your nose?

Best when

space and weight is at a premium.
What is the Best Camping Pillow?
Here are our top recommendations for camping pillows. The best pillow depends on what type of sleeper you are and how you will use your pillow so use the quick links to pop on down to the reviews for more detail.
Features to consider when selecting a pillow for camping
Before you select your camping pillow, take a minute to think about how your perfect bed pillow works for you. Plus consider your favorite sleeping position. Then walk through this checklist:
Thickness/Support – The perfect pillow is dependent upon several comfort factors, however the most important one is the level of support you need to avoid a sore neck or back in the morning. The goal of the perfect camping pillow is to let you sleep with your spine aligned. Then you will wake up raring to take on the next adventure.
For side sleepers your pillow needs enough lift to support your neck in a parallel position. Imagine the distance between where you shoulder touches the ground and your ear touches the pillow.
Most back sleepers prefer a little more support under their neck than they are concerned about the height under their head.
And tummy sleepers usually do best with a medium firm pillow.
Weight – If you are backpacking weight is always a critical concern. You'll find the lightest camping pillows weigh in under xxx oz. For tent camping only, weight is not a big deal so go for comfort over weight savings!
Packed Size – This is the size of the pillow when completely smooshed into its bag or folded up to the smallest size. Although this is definitely a critical measurement for backpacking, you should also consider it for other camping types. If you didn't care about storage size you'd probably haul full size bed pillows around, right?
Fully Expanded Size – For this one it's really important to think about how you personally use a pillow. Brad is quite happy with a notebook sized pillow supporting his neck where I like to hug my pillow at night so need a little more dimension when fully expanded.
Outer Material Comfort – You will want a pillow that feels comfortable against your skin. That's one of the biggest drawbacks to basic inflatable pillows as the plastic against your face on a hot sweaty night is downright gross. The best inflatable camping pillows take this into consideration with a soft fabric on one side. And you can always bring along your own pillow case.
Wash-ability – I can guarantee that your camp pillow will get pretty stinky after a week of camping. Body sweat and smoky campfires make for the grossest smells to bury your nose into at night. So look for a pillow that is super easy to clean.
Insulation – This is something I never thought about until we camped on an old fashioned air mattress one cold night (We usually use insulated pads.) All that plastic and un-insulated air just sucked up the cold from the night air and I couldn't get warm. That's a sure fire way to wake up with a crick in your neck.
Quietness – Probably the one thing you've never thought about is a quiet pillow, I know I haven't. But from what I read in reviews there are camping pillows that crinkle and make rubbing noises as you move around during the night. So we filtered those out of our suggestion list. I can't imagine how annoying!
Durability – Obviously you don't want a pillow that falls apart. Or one that punctures easily. So be cautious in going too cheap in your selections.
Reviews of the Best Pillows for Camping
✅ Best Inflatable for Side Sleepers: Sea to Summit Aeros Premium
WEIGHT: Lg 4.0 oz / Reg 2.8 oz
DIMENSIONS PACKED: Lg 3.0 x 3.3 inches Reg 2.8 x 3.3 inches
DIMENSIONS EXPANDED: Lg 16.5 x 11.8 x 5.1 inches
Reg 13.4 x 9.4 x 4.3 inches
FIRMNESS: Adjustable – Very Firm to Moderate
If you are a side sleeper or a tummy sleeping pillow hugger, you'll love the Sea to Summit Aeros camping pillow. This inflatable pillow is a little different from the traditional inflatable in that it has a curved baffling system inside to ensure consistent support for your head.
The exterior fabric is a soft polyester that will feel comfortable against your face. Under that fabric is a synthetic fill for extra padding and to wick away moisture. If you want more protection from dirt and sweat, Sea and Summit also makes a custom fit pillow cover that you can take off and wash. The pillow cover needs to be ordered separately.
As you can see from the shape, your shoulder will tuck right into the pillow ensuring side sleepers get plenty of neck support. This inflatable pillow for camping also comes in a larger size for campers who have a higher shoulder lift.
The 3 way low profile mini valve makes inflating and deflating easy. We particularly like the cool little fine tuning button inside for help adjusting to a softer level. If you are a tummy sleeper who hugs your pillow, this pillow works well with a reduced air volume to a moderate firmness.
The large pillow fully expanded is about 2/3 the size of a full pillow while the regular is about 1/2. When rolled up into the included stuff sack each pillow is smaller than your fist. In addition to coming in multiple sizes, the Sea to Summit Aeros is available in a variety of colors making it easy to keep everyone in the family pillows separated.
If you happen to also have a Sea to Summit sleeping pad (which you will love!) these camping pillows are compatible with the PillowLock™ that keeps your pillow from sliding away during the night. Sleeping pads are slippery creatures and that sliding happens with almost any pillow so this is a great feature.
To clean you can close the inflator valve and then hand wash with regular laundry soap. Rinse and hang dry. Easy enough right?
WHAT WE LOVE MOST: First it is super lightweight and compact. Perfect is size and weight are important to you. You'll love the great support, and the larger size of this pillow. It's incredibly durable and easy to inflate.
THINGS TO CONSIDER: Make sure you order the correct size. A lot of regular sized folks order the large and then find it uncomfortable. If you move around a lot you might find the noise of the shifting baffles annoying. Personally I sleep through everything so not an issue but be aware.
BEST USED FOR: Backpacking, general camping, side sleepers.
✅ Best for all Camping: Therm-a-Rest Compressible Camping Pillow
WEIGHT: Sm – 7oz, Med – 9oz, Lg – 12oz, XL – 15oz
DIMENSIONS PACKED: Sm – 13x4x4 in
Med 14x5x6 in
Lg 16x7x7 in
XL 18x7x7 in
DIMENSIONS EXPANDED: Sm – 12x16x4 in
Med 14x18x4 in
Lg 16x23x4 in
XL 18x7x7 in
FIRMNESS:  Softer
If you are car camper who can afford just a little bit of extra space for your pillow the Thermarest Compressible Camping Pillow might be just the one for you.
The polyester filling will fluff up to create a very comfortable pillow. If you like a regular bed pillow that can be smooshed into whatever shape you want, then this is the perfect car camping pillow. The pillow is filled with pieces of foam that naturally expand when released from it's storage roll. the outer covering is made of a soft fabric that feels comfortable against your face.
With the large you get almost a full size pillow that compresses down to about the size of a 2 liter soda. The small is about 60% the size of a regular pillow compressing down to about the size of 2 end to end pop cans. To compress, you just squeeze it into the attached roll bag. It only takes a few seconds to pack it away.
Even the small Thermarest travel pillow is likely too big for anyone who values space such as a backpacker unless it is the only thing between you and a good night's rest.
We love the huge variety of pillow covers. And that this pillow is super easy care, just drop in your washing machine and dry in a regular drier. That makes it easy to keep clean when on the road for a long time.
WHAT WE LOVE MOST: Mostly we love that it is almost a regular bed pillow almost guaranteeing a good night's sleep. If you have space, you should seriously consider this pillow. It would also be great for RV owners who need to tuck away a few extra pillows for guests. You'll also appreciate the easy cleaning.
THINGS TO CONSIDER: This is the largest storage size of those camping pillows we recommend, make sure you really want to trade that space for comfort. It takes 20-30 minutes for the pillow to fully expand once out of it's storage roll, so make sure you fluff it well before bed time.
BEST USED FOR: Car camping. Back and stomach sleepers will love this. Side sleepers will want to smoosh this pillow under your neck.
✅ Best for Backpacking: NEMO Fillo Elite Pillow
WEIGHT: 3 oz
DIMENSIONS PACKED: 4 X 3 inches
DIMENSIONS EXPANDED: 15 x 11 x 3 inches
FIRMNESS: Adjustable med to very firm
At only 3 ounces and smaller than a grapefruit, the Nemo Elite Backpacking Pillow is great for backpacking where every bit of space and weight count. But that's not what makes this our choice for the best backpacking pillow. It's all about comfort. This is an inflatable pillow with a special i-beam baffling system to manage the shape and support of the pillow. The easy to use ergonomic inflation valve allows quick adjustments to the firmness level so almost any sleep style will be comfortable.
The pillow is then covered with a soft cotton polyester blend fabric that sits on top of a thick cushion. That cushion insulates the pillow so you don't have cold air against your face at night. This cover is easy to remove and toss right into the washing machine for cleaning. And the stuff sack is built right into the pillow cover, just scrunch the pillow right back in to pack up in the morning.
You really have to watch Nemo's video to understand how well built we found the Nemo Elite Backpacking Pillow. Nemo backs this pillow with a lifetime warranty.
WHAT WE LOVE MOST: Besides the amazingly small size, we love the soft cushion on the top of this pillow and the adjustable support levels.
THINGS TO CONSIDER: While perfect for back and tummy sleepers, the 3″ lift might not be enough for side sleeper. That's especially true for big guys who should look at the Sea to Summit pillow instead.
BEST USED FOR: Backpacking. Car campers should move up a size to the regular Nemo Fillo Camping Pillow. It's still super compact, about the size of a toilet paper roll but has a heavier weight of 9 ounces. You'll get a bigger pillow and a little more lift so it's worth moving up if you have the space.
✅ Best Self-Inflating Pillow: REI Co-op Camp Dreamer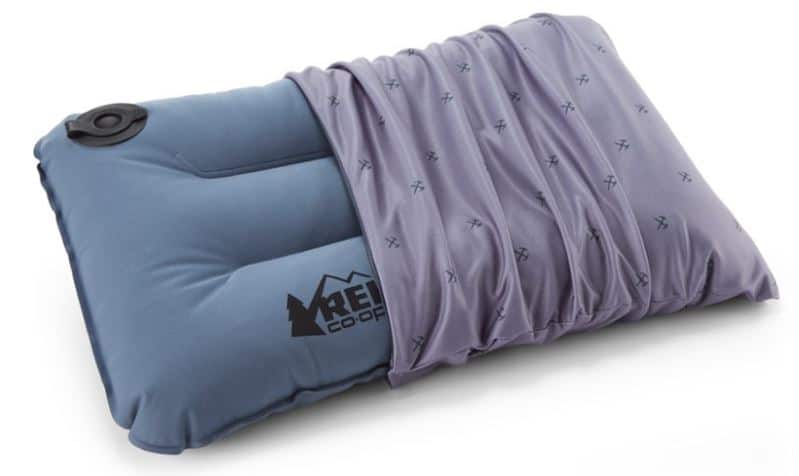 WEIGHT: Lg 9.4 oz, Reg 6.1 oz
DIMENSIONS PACKED: Lg 10 x 4 x 4 in, Reg: 8 x 3 x 3 in
DIMENSIONS EXPANDED: Lg 17.5 x 12 x 3 in
Reg 14 x 9 x 2 inches
FIRMNESS: adjustable medium to firm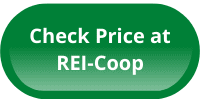 If blowing up a pillow isn't your thing, but you want the firmness that an inflatable pillow offers then REI Co-ops Self-Inflating Pillow for you. It's pretty cool to watch inflate, just open up the valve and it self fills to a slightly firm level. If you want it firmer you'll have to add a couple puffs of air.
This camping pillow is different from a true inflatable pillow. It is actually filled with foam that provides insulation and padding. That gives it the support of a regular bed pillow. However it also means it won't pack as small as a true inflatable, think refillable water bottle size when rolled up. That's a really nice space saving size for car camping, but probably takes up more storage space than you want for backpacking.
The soft polyester pillow cover also doubles as the stuff sack. For cleaning the cover can be tossed right in the washer.
WHAT WE LOVE MOST: This is a softer pillow than most inflatables which makes it super comfortable. We also love the self-inflating feature.
THINGS TO CONSIDER: If you are a side sleeper you'll want to size up to the large to get the extra lift. Even then, it might not be enough. However this is perfect for back and tummy sleepers.
BEST USED FOR: Car Camping for back and tummy sleepers.
✅ Best Ultralight Camping Pillow: Big Agnes AXL Air Pillow
WEIGHT: 1.6 oz
DIMENSIONS PACKED: 4 x 2.5 x 2 inches
DIMENSIONS EXPANDED: 16 x 10 x 4 inches
FIRMNESS: Medium to Firm Adjustable
It's hard to believe something this small and lightweight can be so comfortable on the trail. The Big Agnes AXL Air Pillow was designed with backpacker in mind weighing in at only 1.6 oz. Rolled up into it's stuff sack, it is smaller than a woman's fist.
Because extra padding won't work when size and weight matters, they've done a great job of utilizing a 4 way stretch nylon "soft tough" fabric for extra comfort against your face. This pillow uses an ibeam construction for stability and shape. It has a nice 4″ lift for supporting your neck. However if that is too high, it is easy to adjust the height by using the low profile 2 way valve. The valve has been designed for easy deflation too. How often have you struggled to flatten you blow up… no more!
They use an advanced heat reflective technology to help to keep the surface warm without overheating in the summer and to keep the cold away from your face in the winter. To care for this pillow, you can hand wash and air dry.
WHAT WE LOVE MOST: The high level of comfort with such a small commitment to pack size and weight is amazing.
THINGS TO CONSIDER: There have been some complaints about seams splitting. Make sure you do a test inflation (which you should do anyway!) before you hit the trail.
BEST USED FOR: Backpacking
✅ Best Value Pillow for Camping: Trekology Ultralight ALUFT 2.0
WEIGHT: 3.4 oz
DIMENSIONS PACKED: 5 x 2 x 2 inches
DIMENSIONS EXPANDED: 16 x 12 x 4 inches
FIRMNESS: Adjustable medium to firm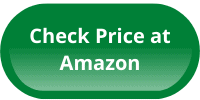 When it comes to value brands, we continue to be impressed with Trekology products for camping. The new version of the Trekology Ultralight Aluft 2.0 Camping Pillow shows once again that they are listening to their users. They've addressed the issue of inflatable pillows that slip and slide away when placed on a mattress pad by adding anti-slip rubber dots to the bottom of the pillow. They also added a detachable elastic band that can wrap around your sleeping pad, however I have doubts about the value in that band.
The cover fabric is a comfortable and durable elastic TPU fabric that feels comfy against your face. The inflation valve has a 2 way button to make it easier to inflate and deflate. Best of all this easily packs into it's stuff bag under the size of a can of pop.
You'll find the Aluft has a built in baffling system to hold the shape and give good support to all types of sleepers.
WHAT WE LOVE MOST: First it's a pretty amazing price. We also love the attention to details that help you get a great night's sleep like the anti slip bottom and comfortable cover.
THINGS TO CONSIDER: There is no insulation in this pillow so it might not be the best for cold weather camping.
BEST USED FOR: Backpacking and tent camping. The shape easily accommodates all types of sleepers.
✅ Best Flat Pillow for Camping: Western Mountaineering Cloudrest Down Pillow
WEIGHT: 5.0 oz
DIMENSIONS PACKED: 11 x 5 x 4 inches
DIMENSIONS EXPANDED: 17 x 11 x 5 inches
FIRMNESS: Soft
If you love a flat smooshy pillow (and you know who you are), the Western Mountaineering Cloudrest Down Pillow is exactly what you are looking for. This super soft camping pillow is made of 800 fill power goose down. Because of the nature of down, it is a flatter pillow perfect for tummy and back sleepers.
These made in the USA pillows are covered with plain weave taffeta that feels silky against your face. The stuff sack is built in, so it's just easy to flip and store. Note the packed size might appear larger than other camping pillows, but as you know down will smoosh with a little pressure so it will store a lot flatter.
WHAT WE LOVE MOST: This is pretty much the only camping pillow for people who love down pillows, that is except to take you home pillow with you.
THINGS TO CONSIDER: As in any quality down pillow, this one packs a hefty price tag.
BEST USED FOR: Tent Camping or backpacking for stomach and back sleepers.
✅ Simpliest Camping Pillow: Therm-a-Rest 2-in-1 Stuff Sack and Pillow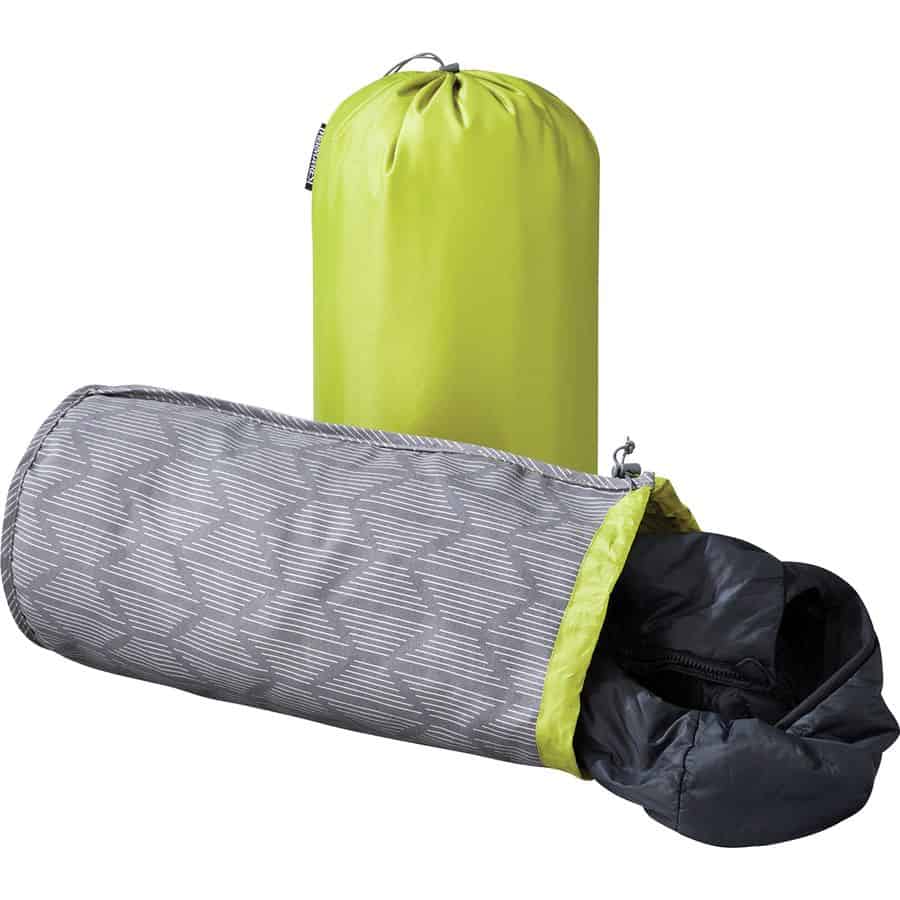 WEIGHT: 2.3 oz
DIMENSIONS PACKED: 6 x 5 x 2 inches
DIMENSIONS EXPANDED: 17 x 7.5 inches round
FIRMNESS: Soft to Medium
If you love the idea of just packing a pillow case and stuffing it with your jacket this is the perfect step up. The Therm-a-rest Stuff Sack Pillow will add a nice padding around your jacket to avoid that lumpy feeling you get with a traditional pillow case. The sleeping surface is a brushed polyester that will be super comfortable against your face.
You'll love that it doubles as a stuff sack. Just pack your pajamas, your sleeping socks and any other night time supplies (for example I like a small flashlight and a package of tissues in the tent for potty runs ) into this bag during the day. Then everything is one place when you go to bed ready to be switched out for pillow use. The side that would be the exterior when in stuff sack use is tougher polyester so it can withstand the abuse gear gets when packed.
This is a very lightweight option, coming in at only 2.3 oz. And if you choose to fold and store flat it's about the size of a small paperback book. And best of all this is a real money saving way to go.
WHAT WE LOVE MOST: We love the simplicity of the stuff-able bag for a camping pillow. You control your firmness by what you pack into the bag.
THINGS TO CONSIDER: Special note here… Amazon has an incorrect picture on their site. The picture shown here is the correct one. It is a round tube, not a flat pillow. See Backcountry's listing.
BEST USED FOR: Tent Camping or backpacking for stomach and back sleepers.
---
Common Camping Pillow Mistakes
We've tried everything to save space and money on camping pillows, including the super space saving and very cheap idea of taking a plain pillow case from home and stuffing it with my coat for the night. That kinda sorta works, except when your coat slips and slides with every turn and you end up with just flat pillow case. Or you wake to a zipper pull poking you in the cheek.
Our most common mistake is to forget a pillow all together. For basic car camping where space is not a premium, we often plan to take a regular pillow. But because it's not already in our camping gear box, we walk out the door without it. So we try to tie up a jacket into a ball to make a camping pillow out of it. NOT COMFY! And then on those rare occasions when we do remember to take the pillow from our bed they are dirty and smell smoky from the campfire when we get back.
I've looked at those inexpensive blow up pillows many times and nothing about sleeping on a hard plastic "rock" sounds appealing. So I began to research the options for the best camping pillows that will give us both a good night sleep. There has to be a better way! And the good news is that there are many great camping pillows out there.
Frequently Asked Questions about Pillows for Camping
How do I choose a camping pillow?
When choosing a camping pillow the most important consideration is your sleeping style, i.e. do you sleep on your back, your stomach or your side? Side sleepers need a little more height to their pillow to support their neck. Back and stomach sleepers usually do better with a little less height.
Are camping pillows worth it?
Unless you are planning to carry your full size bed pillow around, then camping pillows are worth owning. They will save you space and weight on your camping adventure. And if you choose the right pillow you'll never notice the difference.
How do you keep a pillow on a sleeping pad?
Many camping pillows will not keep on the sleeping pad easily. Look for features like velcro or rubberized tabs that will help keep it in one place and avoid the slipping away challenges.
Are inflatable pillows comfortable?
The most comfortable inflatable pillows are ones that incorporate a padded surface for comfort. That will move your face away from the rubber surface of the pillow. Quality inflatable pillows will also use a baffling system that supports your head and neck and helps hold the shape of the pillow.
How do self inflating pillows work?
Self inflating pillows work when the valve is opened. That creates a natural suction that starts filling the pillow. For self inflating pillows you will still need to add a few breathes of air to get a firm pillow.
Can you use regular pillows for camping?
If you have unlimited space for your camping gear, then you might want to use your regular pillow for camping. The only downside to a regular pillow when space isn't an issue is keeping it clean. However, most campers have space limitations and the ability to make your pillow smaller is a huge win.
Last thoughts about the best pillow for camping
It is so important to really think about how you sleep at night and match that style to your camping pillow. What works for one person doesn't really work for another. So before you buy take a minute to check off those important features and you'll find yourself getting the best night's sleep ever!
Hey, while you are here check out some of our other camping gear guides. We take our gear selection seriously and hope you do too.
❤ Best Hatchet for Camping – Definitely with starting a great campfire in mind.
❤ Best Multitool for Camping – Just as the name implies, multitool also means multi-uses. Not everyone multitool is meant for camping. We walk through the top choices specifically for camping.
❤ Best Kids Flashlights and Headlamps – OMG, Kids and their flashlights! Here's some great choices that will work great for kids and not break the bank.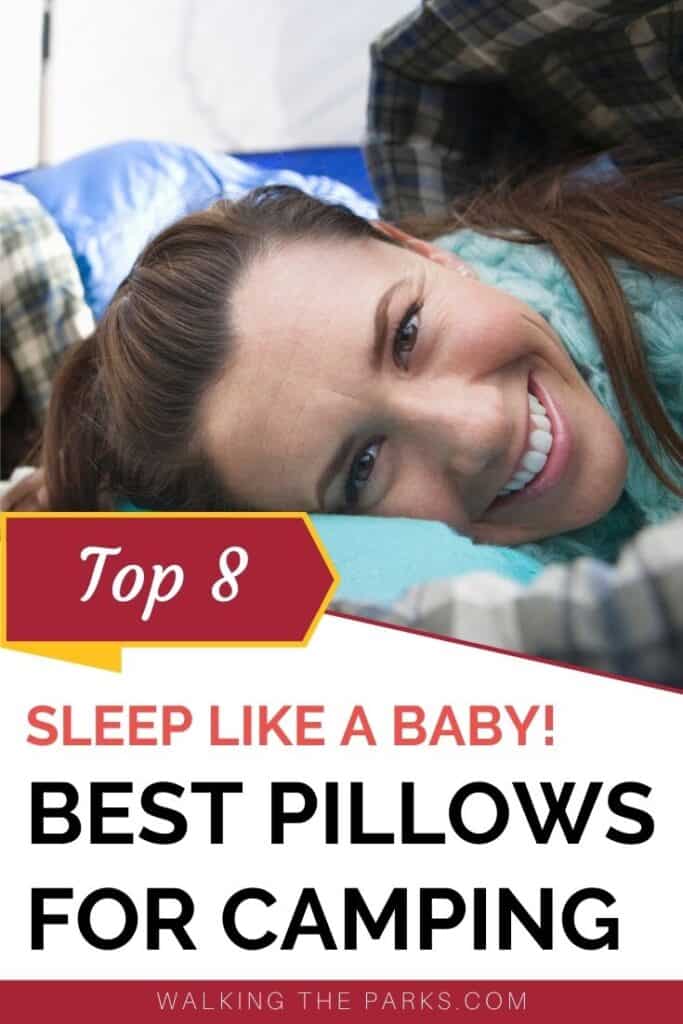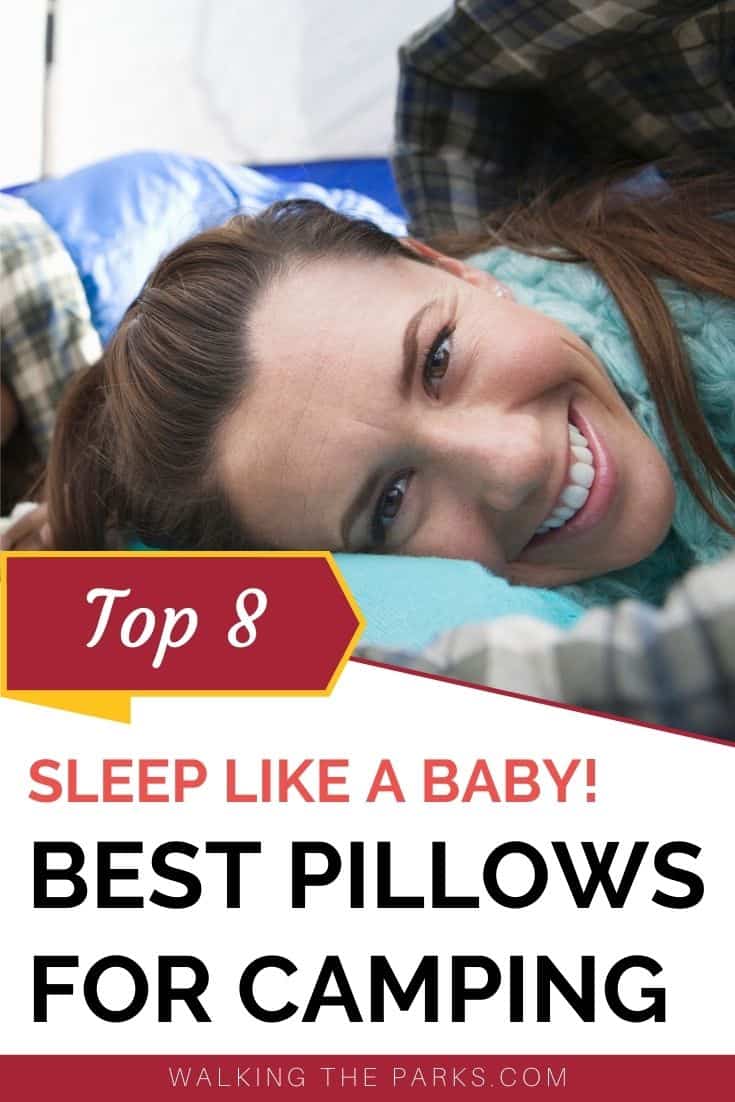 ❤ Best Ultralight Camping Chair – We love our lightweight camp chairs. They go with us camping, fishing and even to the beach. It's hard to believe you can have ultralight and comfy in the same chair.