Hiking in the rain is the worst if you get wet and cold and your gear gets soaked. I thought I was well prepared for rain until we spent a week camping and hiking in the rain in Alaska. I learned that rain is sneaky and manages to find every little opportunity to sneak into your clothes and gear! It's hiking in a long rain that a waterproof and lightweight rain poncho makes all the difference in your hiking comfort. The best rain poncho for hiking will do just that.
However, finding this perfect backpacking rain gear can be difficult because so many options are available.
There are many different hiking rain ponchos available today with varying levels of protection and durability. The best type for hiking depends on how much weight and space you want to carry. Not all waterproof rain ponchos are created equal! Some of them don't fit well over backpacks. And some aren't breathable enough, so you end up getting nearly as wet from sweating and condensation as from the rain itself.
We've researched the best waterproof ponchos for hiking, and in our guide below, we cover everything from how much they cost to what materials they're made of to which ones will work best for different hiking styles. To make it easier for you, we've included detailed reviews and links to where you can purchase them. In some cases, we earn a small commission if you purchase.
The Winners: Best Hiking Rain Ponchos
You'll find detailed reviews of all of these ponchos below, here's a quick look at our list of favorites!
✅ Anyoo Waterproof Rain Poncho – Best Value for General Hiking (See on Amazon)
✅ Mil-Tec Ripstop Wet Weather Poncho – Best Poncho for Cold Weather (See on Amazon)
✅ FROGG TOGGS Ultra-Lite2 Waterproof Breathable Poncho – Best Rain Poncho for Hot Weather (See on Amazon)
✅ Adventure World Globotrekker Backpack Poncho – Best for Large Backpack (See on Amazon)
✅ Exped Pack UL Poncho – Super Lightweight Rain Poncho for Backpackers (See at Amazon)
✅ Outdoor Products Rain Poncho for Backpackers – Best Value Poncho for Backpacking (See at REI Co-op)
What is a Rain Poncho for Hiking?
The best rain ponchos are large, lightweight, thin pieces of fully waterproof breathable fabrics. They cover your body and backpack to keep you dry in the rain, even in torrential downpours. They're usually much thinner and lighter than rain jackets, taking up less space in your pack.
A waterproof poncho is not warm like the fashionable wool capes we love to wear on a cool fall evening. We usually pair our rain gear with a fleece or other breathable warm layer during chilly weather to keep snug.
While rain ponchos are for hiking in the rain, their design also makes them ideal for many other uses. Since most ponchos are flat pieces of fabric with a hole in the center for your head, you can use them in many ways that you would use a tarp. It's easy to create a small tarp shelter or place it under your tent as a tarp. Interestingly, BePrepared.com lists 11 different ways you can use a rain poncho for survival.
Depending on your hiking style and how often you hike in the rain, there are different types of waterproof ponchos. We've divided them into 3 categories to try to keep it simple for you:
Ponchos for Hiking will accommodate a small to medium backpack (or no backpack at all!). They are reusable and can be tucked easily into a stuff sack.
Ponchos for Backpacking are for when you need to cover a big backpack. The best backpacking rain ponchos have an extra piece of fabric that creates a big pouch on your back to protect your pack.
Emergency and Disposable waterproof ponchos are super lightweight and tuck into your pack for those unexpected weather changes.
Guide to Selecting Your Hiking Poncho
Hiking in the rain can be fun, or it can be a nightmare depending upon how prepared you are for the adventure. Here's our detailed guide to what you need to consider when selecting the best rain ponchos for hiking and backpacking. For more tips check out our Tips for Hiking in the Rain.
Price Range for Hiking Rain Ponchos
The good news is that most waterproof ponchos are fairly inexpensive. A mid-range one can be had for around $20-25. The price can often go up as you get more features, but the constant is that light materials and quality construction are important to make sure it lasts longer than a few trips.
What is Your Frequency of Use?
How often you plan to use your rain poncho goes hand in hand with your budget decision. A good quality cheap one will be more than sufficient if you are only carrying it for an emergency and don't plan to hike in the rain often. I always keep an inexpensive disposable poncho in our first aid kit for just such a day when rain is totally unexpected. That said, I'm not a big fan of disposable ones for regular use due to the environmental impact. High-quality reusable rain ponchos are a much better investment.
However, if you hike a lot then you are going to get caught in heavy rain more than once and it makes sense to invest in the best rain poncho for hiking. Make sure to get one that is built with lightweight materials and made from good quality fabric as they will hold up better in the long run. And if you hike often and want to be ready for anything then it's time to invest in the best backpacking ponchos for weather protection that will never let you down.
Important Backpacking Poncho Features to Know
Before you select your poncho for hiking, there are a few things you should know about the features available and how they will perform for you.
Fabrics Used in Rain Ponchos
Most rain ponchos are made of polyester or nylon fabric that has been coated with silicone or polyurethane (PU coating). Polyester and nylon both breath fairly well, are very lightweight and are durable fabrics so they are perfect for hiking clothes. Then the coating on top provides a seal to hold out heavy rain.
To make these waterproof breathable fabrics even stronger, look for a ripstop fabric. That means a thread has been woven across the weave to strengthen the material. You'll notice it in a diamond-shaped pattern when you look closely.
The other material used is polypropylene, which is basically another name for plastic. This is common in disposable ponchos, but you will also find polypropylene used in some sturdier ponchos. In this case, the strength is all in how the plastic was created.
Seams are the Weak Point
Watch for sealed or taped seams to ensure they won't leak. Anywhere there is a stitching hole from sewing parts together is a place where water can leak. The ideal poncho would have zero seams. But that isn't very realistic. You need seams to attach the hood at a minimum. And then for the semi-fitted ones, you'll have seams to create the shape. If you have a backpack pouch there's another place for seams.
Sizing of Rain Ponchos
Rain ponchos are often one size fits all which we know usually means it fits folks who are in the average range. For the rest of us, there are a few that will give you different sizes which are usually grouped into small, medium or large. In this case, figure the medium is the average and estimate your size from there.
Adjustability for Better Fit
Most lightweight rain ponchos are intended to be a loose fit to allow for ventilation. However, if yours has drawstrings, cord locks and snaps you'll find it a lot easier to stay dry if it is windy.
The hood design is important
Your hood performs 2 functions. The obvious one is to keep the top of your head and your hair dry which most ponchos handle easily with a drawstring to adjust tightly around your face. The drawstring hood allows you to pull the fabric tightly around your face in a storm, or open the hood for air movement when you get hot.
But when you are outside for a while, you will want it to also keep the rain out of your eyes. For eye protection some hikers like a hood with a built-in bill. Others like to add their own cap under the hood. Well, some like both. If you are undecided go for a poncho that has a built-in bill.
Access to Gear and Pockets
It's important to have easy access to those critical gear items, like our water bottle, map and camera. A handful of good rain ponchos incorporate a pouch pocket so you can keep a few pieces of gear handy. However, since the shape is open, you will probably leave your gear in your clothes pockets and backpack belt and let the poncho keep those areas dry for you.
What Length Should Your Poncho Be?
Most hikers find a poncho that falls to the knees to be the most comfortable for hiking. At that length, it covers your gear and your body well while not impeding your stride. However, for hot summer hiking, you might want a shorter one like the Frogg Togg [add link] to increase the air movement. It's a good idea to pair rain pants with your poncho to keep your lower legs dry.
Weight and Packability of Ponchos for Rain Protection
As you know, every ounce counts in your backpack. The heavier that pack the harder your hike. So lightweight ponchos that can pack in a small space are critical for hiking. Here we've focused on ones that are under 12 ounces. The one exception we made was for the Mil-Tech Rain Poncho [add link] because this one is designed for serious rain hiking where it is going to be on your back, not in your pack!
Style Best Rain Poncho for Hiking – Day or Weekend Hikes
Here's the best selection of fully waterproof ponchos that are perfect for day hikes or a weekend trip where you'd carry a small to medium backpack (up to 50 liters). If you are backpacking for an extended trip with a larger backpack, hop on down to the next section. We looked for the features that would keep you dry and comfortable when trekking in the rain. This group is also very reasonably priced, so I'm sure you'll be happy to stuff one into your bag for that next unplanned hike in the rain!
We've spent a lot of time researching the best backpack rain covers and have found four that stood out as the best in class:
✔

Anyoo Waterproof Rain Poncho – Best Value for General Hiking
WEIGHT: 9 oz
MATERIAL: 210T ripstop polyester fabric + PVC coating, PU3000MM waterproof
PACKED DIMENSIONS: 9 x3 in roll
SIZE: 54 x 39 in long front, 47 in long back
PRICE:$20-22
Our Review of the Anyoo Rain Poncho
This affordable, lightweight, waterproof rain poncho from Anyoo has some cool features! Made of 210T ripstop polyester fabric and PVC coating, it is PU3000MM waterproof to keep you dry all day. The material is a waterproof breathable fabric so that you won't build up sweat underneath. Best of all, it's easy to fold up and toss into your backpack as its weight is only 9 ounces. You'll like that it is all one piece of fabric with no shoulder or side seams that can leak. The only seam is where the drawstring hood is connected, which has been double stitched to seal.
The extra length in the back will easily protect a small to medium backpack from torrential downpours. You have a choice of 8 different colors, including blaze orange, if you hike during hunting season.
This multi-function waterproof poncho has thickened eyelets so that it can double as a tarp. It has grommets on the hem for use as an emergency shelter or ground cover. And hook & loop fasteners on the sides allow you to use it as a sleeping bag cover (how cool is that!). This waterproof poncho comes with a stuff sack for easy storage.
PROS: This is one of our favorites. The design does what you want a rain poncho to do when hiking. It does an excellent job of keeping you dry while allowing air to flow underneath so you don't get too hot. The tarp grommets are just a bonus. The durable water repellant fabric will last for many seasons of hiking.
CONS: This one is a little confusing to make the actual purchase on Amazon as multiple styles are displayed in one listing. You want style D or X for hiking.
---
✔

Mil-Tec Ripstop Wet Weather Poncho – Best for Cold Weather
WEIGHT: 1.4 lb
MATERIAL: 100% Polyester Waterproof Ripstop, PVC Coated
PACKED DIMENSIONS: 9 x 7 x 1.5 in
SIZE: 56 x 45 in long
PRICE:$27-39
Our Review of Mil-Tec Ripstop Wet Weather Poncho
This durable, military-style poncho is 2x as thick as similarly styled waterproof rain ponchos for complete water-repellent protection. The extra thickness also improves your protection level from winds and rough trails. The Mil-Tec Wet Weather Poncho, made of Ripstop Polyester coated with PVC, is available in 4 different camo prints with a matching stuff sack.
With metal eyelets along the edge, you can use these as a shelter or ground tarp if necessary. A unique feature is that it can be snapped together with another poncho (sold separately) to create a larger shelter. The generously sized hood pulls tight around your face with a drawcord.
PROS: Many hikers complain that the popular backpacking rain ponchos for hiking feel thin and fragile. Well, for you, here is a durable water repellent rain poncho. We also love that you can snap together two of them when creating a makeshift tent or ground cover.
CONS: The heavier weight of the fabric also means it will trap more body heat underneath. That extra heat is perfect if the weather is cool, but it's uncomfortable if it is a hot day. And yes, you do have to ask yourself if you want to carry twice the weight in your backpack for an emergency poncho when rain is not in the forecast.
---
✔

FROGG TOGGS Ultra-Lite2 Waterproof Breathable Poncho – Best Rain Poncho for Hot Weather
WEIGHT: 9 oz
MATERIAL: Waterproof and Breathable Polypropylene
PACKED DIMENSIONS: 6 x 4 in
SIZE: 44 x 36 in long
PRICE:$15-20
Our Review of FROGG TOGGS Ultra-Lite2 Poncho
This is the perfect rain poncho for hiking in hot weather; you'll stay cooler than any other rain gear available. The well-made Ultra-lite2 Waterproof Breathable Poncho from Frogg Toggs breathability ensures that you don't feel the humidity inside. The unique Frogg Toggs Ultra-lite fabric, made of polypropylene, feels softer than most other waterproof poncho materials and makes less sound when you move around.
The integrated adjustable drawstring hood in the Frogg Toggs poncho has cord locks for easy adjustability, and side snaps provide extra protection when it's windy. Heat-sealed seams keep it watertight. It fits compactly in its stuff sack.
PROS: Frogg Toggs are made from superior waterproof breathable fabric. This backpacking rain poncho is an excellent choice for hiking in hot, humid weather.
CONS: I almost didn't include this completely waterproof poncho because of its smaller dimensions. For the average person, it won't cover your arms to your wrist and hangs only to the top of your knees. You probably won't want a pack bigger than 30 liters under this. However, Brad has had his Frogg Toggs rainwear nearly forever and just loves how their fabric breaths and how small they pack in his gear bag. So… here it is. If you are looking for one primarily for warm weather hiking, you won't mind the shorter length at all and will appreciate the extra circulation.
---
Style Best Rain Ponchos for Backpacking
If you are carrying a large backpack in the 50- 100 liter range, then you need a heavy-duty rain poncho that will accommodate that large hump. Just a handful of the best backpacking rain ponchos provide this protection well. Ideally, you want one that is either extra long in the back or has a built-in "pouch" for your backpack. With a traditional poncho, without the extra back fabric, a large pack will pull up the back so short your bottom will get soaked as you hike. Yuk! Here is a couple of the best backpacking poncho:
✔

Adventure World Globotrekker Backpack Poncho
WEIGHT: 12.3 oz
MATERIAL: Waterproof 210T Terylene fabric
PACKED DIMENSIONS: 6.3 x4 in roll
SIZE: 55 x 51 in long
PRICE:$40-48
Our Review of Adventure World Globotrekker Backpack Poncho
The Adventure World Globotrekker Lightweight Backpack Poncho features an ultra-high-tech 210T Terylene material, a polyester synthetic fabric that doesn't readily absorb water, making it perfect for rainwear. With its overlapping closure flap, this one has your backpack cover built into it. You can tuck away the extra material with the button closure when not needed! You'll find the taped seams keep the rain out. The adjustable hood withstands any weather conditions you might come up against with a drawstring to fit snugly around your face and a generous bill for eye protection.
There are four different colors available in total for these backpacking ponchos, so the chances are there's one just perfect for you! This super lightweight poncho is only 12.3 ounces, with dimensions of 6.3 inches x 4 inches when packed away in its bag.
PROS: The generous waterproof built-in pack cover, which can be easily tucked away if not needed, is perfect for protecting larger backpacks and sleeping bags during a torrential downpour. We also love the zipper at the neck for opening it up to air movement and easier on/off.
CONS: This poncho is semi-fitted, both a pro and a con! The sides are seamed rather than snapped and shaped thinner for a snugger fit. The fitting of these completely waterproof ponchos helps reduce the whipping in the wind, but at the same time, it reduces airflow movement, which is one of the reasons for choosing a poncho over a raincoat.
---
✔

Exped Pack UL Poncho
WEIGHT: 8.6 oz (lg)
MATERIAL: 15D Ripstop Nylon, Silicon / PU Coated
PACKED DIMENSIONS: 40
SIZE: 3 sizes S, M, L  43 x 48in long with pack pouch (lg)
PRICE:$140
Our Review of Exped Pack UL Poncho
The Exped Pack UL Rain Poncho is super lightweight at less than 9 ounces, making it easy to pack for hiking. It is made of 15D Ripstop Nylon fabric, so it is durable, and Silicon / PU Coated waterproof to keep you dry while you're trekking. The seams are taped to keep water out. The hood is easy to adjust with cinch cords and has a nicely sized bill to keep the rain out of your eyes.
This Swiss-designed heavy-duty rain poncho features a large internal chest pocket that doubles as the packsack. That means you can store a few critical pieces of gear, so you don't have to dig into your pack. You'll find the snap button on the sleeves of this ultralight poncho prevents them from slipping upwards. And additional snaps on the sides and bottom allow for easy adjustment of the fit based on your pack size. It can handle up to a 100-liter large backpack with a sleeping bag under the integrated backpack pouch, where you can neatly tuck your backpack and sleeping bag underneath the cover.
The Exped is easily converted to an emergency shelter by adding 6 stakes and 2 hiking poles.
PROS: This is likely one of the best quality ponchos for regular backpackers. It features durable fabrics and an adjustable fit.
CONS: Price is the concern; however, if you are regularly out in all kinds of weather, it is worth the investment due to the quality.
---
✔

Outdoor Products Rain Poncho for Backpackers
WEIGHT:10.7ozMATERIAL: Water-resistant, polyurethane-coated polyester taffeta
PACKED DIMENSIONS: 6×4 in roll
SIZE: 55 x 39in long front, 53in long back with pack pouch
PRICE:$25-35
Our Review of Outdoor Products Rain Poncho for Backpackers
The Outdoor Products Rain Poncho for Backpackers is equipped with rust-resistant snaps at your wrists and sides, making it fit well to keep you dry. With its full-cut adjustable hood, easily tightened with a drawcord, you'll stay nice and dry all day long. Plus, it is coated with water-resistant polyurethane on polyester taffeta that won't rip or fray. Not only will you keep dry during your trek but also over years of use! The fit is one size fits all with rust-resistant wrist and side snaps to keep the waterproof poncho snug.
The Rain Poncho Back panel snaps up out of the way for comfort when you're not wearing a large backpack which is a nice comfort feature. And you can extend its usefulness by using it as an emergency shelter by attaching webbing cords found at each corner to two hiking poles. A polyester zippered carrying case is included for easy storage.
PROS: This is a very reasonably priced waterproof one that is made to accommodate your large backpack with the extra back length and back panel to also protect your sleeping bag. Although not heavy-duty, this one should hold up for several seasons of hiking without any problems.
CONS: The hood doesn't have a bill, so water will run into your eyes if it is raining hard. Most people wear a hat with a brim in the rain, which would solve this gap in design. Also, note that a large backpack underneath will pull this poncho shorter so you'll want a pair of rain pants underneath to stay super dry.
---
Style Emergency Disposable Rain Ponchos for Hiking
Our first aid kit always carries a very light, very small and relatively cheap rain poncho. I would never use it for a planned hike in the rain as there are so many better options to keep dry and comfortable on the trail, as we listed above. However, as you know, hiking often brings about the unexpected, and if you ever get caught in nasty rain without rain gear, you'll be so happy you have an ultralight waterproof poncho in your pack. At that point, who cares if it only survives one trip?
✔

CeroPro Disposable Rain Ponchos
WEIGHT: 2.1 ozMATERIAL: eco-friendly non-toxic pure PE material
PACKED DIMENSIONS: 5.6×3.8 in (about the size of a cell phone)
SIZE: 35in wide x 44 in long
PRICE: less than $2 each (sold as 10 pack)
Our Review of CeroPro Disposable Rain Ponchos
If you want super cheap, dependable and ready for any emergency rain, this is it. This pack of 10 disposable CeroPro rain ponchos will keep you prepared from head to toe – literally! We like these over many similar ponchos because the elastic at the wrist and the drawstring around your face will help keep water out. You can select an all-adult assortment in clear, blue, pink, or mixed with kid sizes. Yes, they are simple structured plastic bags, so your call if you want to go that cheap. And yes, I do have a handful of disposable ones tucked into my glove box, in my gear bag and camping box because, you know… you never can be too prepared.
PROS: The package is about the size of your cell phone and only weighs 2 ounces. If space-saving is critical to you when you hike, what do you have to lose?
CONS: At 35 in wide, these waterproof ponchos will not fit larger folks or over a big backpack.
---
Benefits of a Rain Poncho Over Other Types of Jackets
While rain jackets are more fashionable and functional in many ways, a good quality lightweight poncho has several benefits over a jacket.
✔ Good Rain Ponchos Cover your body and backpack better than most rain jackets. A rain poncho cascades water over your body and gear so rain rolls right off. And because most of these are longer than a rain jacket, your legs are more protected. With a poncho, you wouldn't need a backpack rain cover unless you wanted that additional weather protection.
✔ The Best Waterproof Poncho is Lightweight and compact, making them ideal for backpacking trips. Rain jackets are often heavier and take up more space in your backpack. This is even true of lightweight rain jackets because they're made with waterproof materials that aren't as thin or light. A  poncho is about 1/3 lighter than a rain jacket.
✔ Cheaper than most rain jackets. While some rain jackets are relatively affordable, most heavy duty rain jackets are more expensive.
✔ The loose fit of the best waterproof poncho allows for more air movement, so you feel comfortable hiking in it on warmer days. You won't get as hot and sweaty as you would with a rain jacket. The poncho material also allows for more airflow than most rain jackets letting water vapor escape from your body while preventing raindrops from entering.
✔ Flexible Fit, which means you can wear rain Ponchos over layers of clothing. That means you can wear your favorite coat when its cold and rainy and keep dry. Or on a hot day, you are good to go with a simple T-shirt.
✔ Rain Ponchos can often do double duty as tarps, either under your tent or as an emergency shelter. You are just as likely to need a shelter when hiking in hot weather as you are on a rainy day, so these are a great investment. If you are trying to keep your pack light, you plan for double use by selecting a poncho specifically designed for multi-usages.
Disadvantages of a rain poncho over a raincoat
👎 Rain ponchos aren't as protective against wind and colder temperatures as most rain jackets.  A heavy duty rain jacket will block the wind while keeping you dry. The form fit of a rain jacket also means it won't whip around in windy conditions. If you plan to replace your rain jacket with a poncho, make sure it has snaps and drawstrings so you can pull it tight to reduce the wind effect.
👎 The fabric of a lightweight poncho is more likely to tear under harsh conditions than a raincoat. To keep it lightweight for hiking it is usually made of lighter and thinner material.
👎 There's a lot of fabric in a poncho which some people find uncomfortable, preferring the trim fit of a rain jacket. However, most people love the weather protection of a poncho.
👎 You'll have less freedom of arm movement with a poncho than with a rain jacket. A poncho is perfect for most hiking where you are only moving forward with hiking poles. But if you are cutting brush or bouldering, you might find the arms restrictive.
Other Uses for a Rain Poncho
Many rain ponchos are designed to be used as an emergency rain or shelter tarp. They also double as a ground cloth under your tent or sleeping bags to keep your gear from getting wet and muddy in sudden downpours. Look for features like grommets or heavy-duty fabrics if you want the option to use your poncho as a tarp shelter. However, in an emergency, any poncho can be combined with a couple of hiking poles and some duct tape and turned into a quick emergency tarp shelter!
Caring for your Rain Poncho
If you invest a few dollars in your rain poncho, you'd like it to last. That means when you get home after a rainy backpacking trip you need to take a few minutes to care for it so it's ready for your next adventure.
Cleaning and Storing Your Rain Poncho after Backpacking
To keep it free from oils and dirt, store your poncho by itself in the storage bag that comes with it. That bag usually is breathable which makes it better than a plastic bag that would hold in dampness and oils causing the waterproof fabrics to deteriorate over time.
A quick wipe down with a damp cloth before putting it away is all that it usually takes to clean up your hiking poncho. Some can be machine washed if really muddy but make sure you check the instructions first to not remove any waterproofing finish. Then let it air dry before you pack away so you are not packing away a wet poncho that could mold in storage.
Repairing Torn or Leaking Rain Ponchos
If your rain poncho is leaking, one of the first things to do is check for any rips in the seams. If there are any, you can usually repair them with a multipurpose seam sealer like Gear Aid's Seam Sure Sealer, it comes in a tube and brushes right on the seams. This can also be used on all the other seams in the poncho to prevent leaks.
For hiking, they are usually made of lighter material than jackets which means if the terrain gets rough your poncho might snag on a branch and rip. In a pinch, a piece of duct tape on the inside will work for a quick repair. For a more professional finish try Gear Aid's Tenacious Tape Repair Tape which comes in 4 colors.
FAQs
How do you keep warm wearing a rain poncho?
A lightweight rain poncho is great for hiking in a mild climate or during the spring and fall. For cold, windy conditions the best way to stay warm is to layer a fleece jacket under the poncho.
Are ponchos good for hiking?
Rain ponchos are great for hiking, they will protect you and your gear with their generous covering. They are not good for bouldering or climbing as the poncho usually extends to your knees and gets in the way.
Do I need a backpack cover with a rain poncho?
The simple answer is no you don't need a backpack cover if you are using a rain poncho. It serves as a cover for your body and your pack. However, if you want the flexibility of hiking in a warm light rain without your poncho, then you will want to still cover your backpack. To keep your gear dry you'll want that backpack cover. Here's our guide to the best backpack rain covers. 
How do you pick a poncho?
Determine your need – Are you looking for basic protection from precipitation? Do you want something made from a waterproof breathable fabric that will serve multiple purposes as an emergency tarp, ground cloth and/or sleep system?
Look at the features. Some of the obvious ones are sizing, ventilation and hood type. Look for other features like snaps and pockets for carrying gear or how the poncho folds up into a small package.
My rain poncho leaks, what can I do?
Check if your hood is snapped in place and not covering the face hole. Look for rips along seams where they attach to the hood and around the face hole. If you find any rips apply seam sealer. You can also apply a spray water repellant to the whole poncho to reseal the waterproof fabric.
Hiking Rain Ponchos for Kids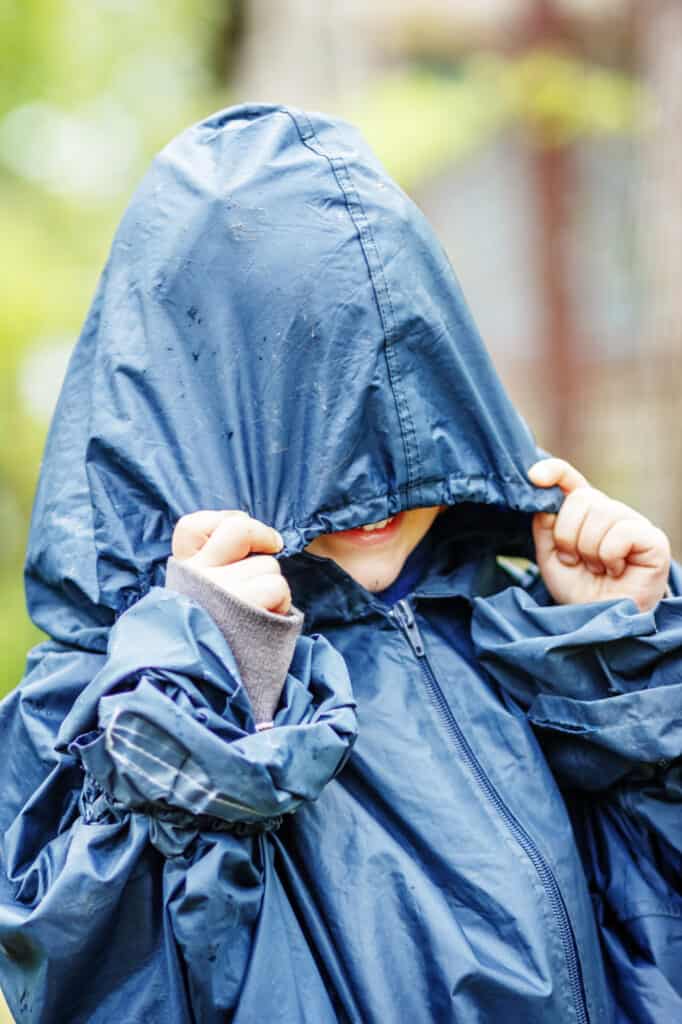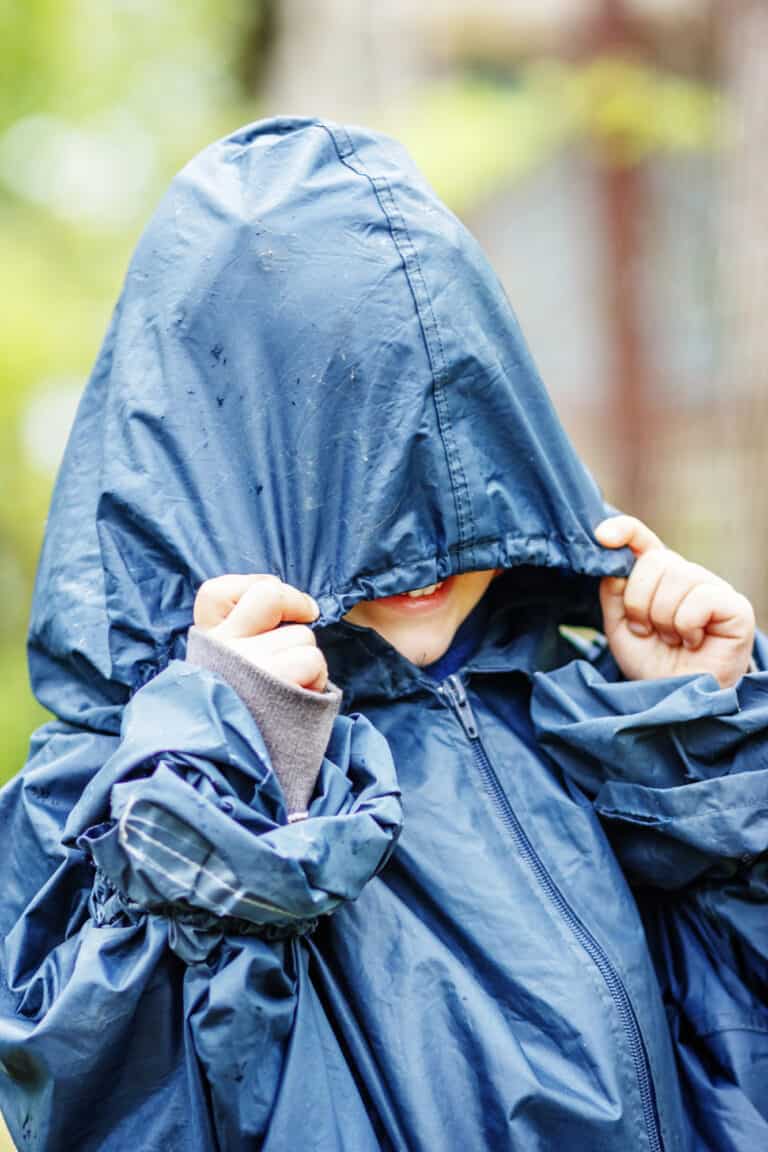 Kids need kid-sized ponchos, they'd swim in an adult version. So we also pulled together a selection that will work well for weather protection when hiking. You can check them out here:
See Kids Rain Ponchos on Amazon.
Make sure you choose a waterproof garment that will have enough room in it for your child – don't forget about their backpack!
And I'll caution against the super cheap disposable ponchos if you plan to do much hiking with your kids. Kids are hard on gear to start with, they need one that will withstand the trail. Otherwise, you'll have a very wet and very grouching child on your hands. Not where I want to be…
Backpacking Rain Ponchos for Dogs
There are two types of dogs, those that hate getting wet and those that live for the rainy adventure. Either way, if you hike with your fur baby, you should keep a rain poncho in their pack. Here are a few rain ponchos for dogs that you should check out.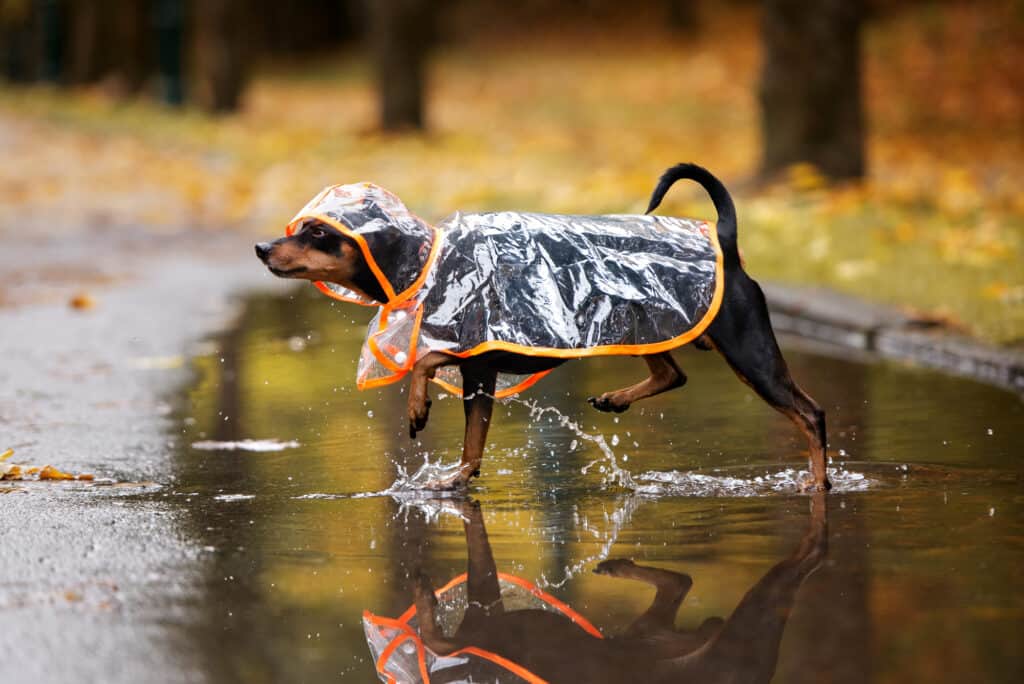 For dogs that really don't like rain you are unlikely to force a rainy hike on them. But sure as tootin' you head out on a sunny day and a rain cloud sneaks in. Rather than fighting with your dog to keep going a rain poncho could save the day.
Now for those puppies who love the rain, you still have to be concerned about temperature drops. Once your dog's fur gets soaked through in cold weather hypothermia is a real threat. Covering your dog from the beginning helps him stay drier so their fur can help keep them warm.
Hiking can be a wonderful experience, but only if you have the right gear. Rain ponchos provide great coverage of your body and backpack to keep everything dry. And not to mention that they're lighter than a rain jacket taking up less space in your backpack for carrying. With different types on the market, it's important to look at all your options before settling on one. We've included the best rain ponchos for hiking and backpacking here. I hope it helps you find exactly the one that will make your adventures amazing! Happy hiking.