Excellent at keeping your feet dry on snowy and slushy days.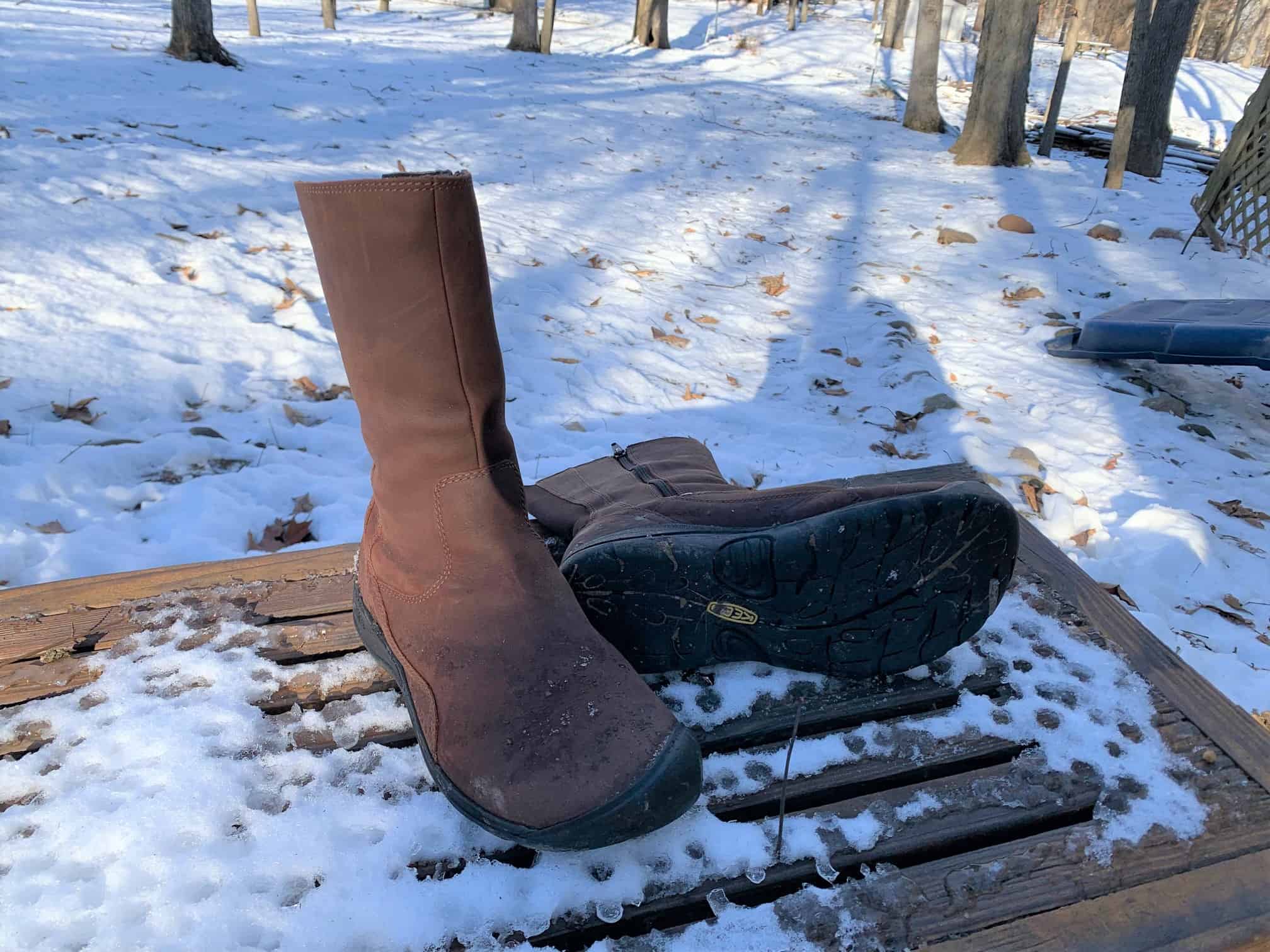 | | | | | |
| --- | --- | --- | --- | --- |
| | | | | |
| Dry and Warm | Comfort | Price | Durability | Style |
| 🧡🧡🧡🧡 | 🧡🧡🧡🧡 | 🧡🧡🧡🧡🧡 | 🧡🧡🧡🧡🧡 | 🧡🧡🧡🧡 |
| Wrap around sole to keep snow and slush out. Water repellent leather uppers. | Supportive insole and plenty of room for heavy socks. | Premium pricing | Well constructed thick leather with double reinforced stitching. | Soft leather looks good with jeans. |
After several weeks of wandering through the snow, this Keen Presidio II boot review is all my wild and crazy thoughts. You can read more about how I tested it below. You'll find affiliate links in this article, which means I could earn a small commission if you purchase.
What we love about these Keen Presidio Boots
Excellent waterproofing due to wrap-around sole
Beautiful rich brown oiled leather that feels  great to the touch
Lots of room for heavy socks
Supportive insole
Hold in heat well when walking in snow
What we don't like about these boots…
Not an athletic fit due to intentionally wide toe bed
Limited ankle support
Our Main Thoughts About Our Keen Presidio II Boots
After 2 weeks of slogging through the snow in these boots, I'm confident that they will keep your feet dry and warm. It's quickly apparent that the uppers are high-quality leather that will age beautifully. If you need a pair of boots to grab every time you head out the door in the winter, the Keen Presidio II might be the right one for you.
These sharp-looking boots have become my favorite dog walking boots. They are easy to slip on, and my feet have been warm and dry. In crossing slippery areas, they feel sturdy. My only disappointment is they are a little clunky because of the intentional design of a wider footbed.
Who are Keen Presidio II Boots Best For?
If you are a hiker that goes for the distance and pushes hard, these boots are probably not for you. They do not provide the support around your foot and ankle that you would need for the long haul. However, for everyday wear with jeans, or even a dress, when it's cold, and you'll be tromping through the snow, most people will find the perfect. I think you'll also find them very comfortable during less active recreation such as ice fishing or at a football game.
So let's take a look at how the Keen Presidio II Ladies Boots rates
Dry and Warm 🧡🧡🧡🧡
I'm confident that your feet will stay dry in these boots. The wrap-around sole is well sealed, coming up over the toe, avoiding leakage into the boots. And the oiled high-quality leather uppers seem impervious to water. I've worn them through several weeks of slushy snow, and my feet have stayed dry.
These are not insulated boots, making them great for fall and spring days. However, they may not be warm enough for sub-zero temperatures or extended time unless you use layers of wool socks and heat packs. The coldest day I tested was 3-degrees for a short dog walk, during which, combined with my merino wool socks, my feet were toasty. Most of my testing was during longer walks in temperatures between 15 and 30 degrees which, when combined with good socks, is probably the optimum range for these boots to keep your feet warm.
The Keen Presidio II boot has a breathable mesh lining which will help keep them dry from the inside if you find your feet getting too hot and sweating.
Comfort and Fit🧡🧡🧡🧡
These boots were extremely comfortable for dog walking, grocery shopping and general wear. The insole arch support is moderate, which is perfect for casual wear. While many boots are too snug across the toe bed, the Presidios are wider, which I found very comfy.
The reason I gave these boots a rating of 4 was that my foot slipped side to side in that wider toe bed when I was actively walking. I think on a long day of city walking or country hiking; I'll end up with a few blisters from that sliding. If you have wide feet, you might find this the perfect boot because we all know ladies casual boots tend to run very tight across the toes. For reference, I comfortably wear average-width shoes.
Price🧡🧡🧡🧡🧡
With a regular price of just under $200, the Keen Presidios might seem a little pricey for casual boots. However, Brad purchased mine on a Black Friday sale for 1/2 price. And I noticed on the day I wrote this they were once again on sale at a nice discount. So I think you can find them on sale pretty regularly, and at those prices, these are a fantastic bargain.
Durability 🧡🧡🧡🧡🧡
After 2 weeks of wear tromping through snowy fields with the dog, I don't see anything that looks like the leather or the sole will separate. They are very well constructed, with double stitching. The leather has been well oiled to resist water and water stains. You will have to brush them out if you get into salt, just as you would with any leather boots.
I'll update as I get more wear and tear on these boots, but everything I see indicates these boots will last for years. I have high trust in the quality of the Keen brand in general, with my favorite Keen hikers close to their 7th anniversary. I feel like this pair of boots will meet that high bar.
Style 🧡🧡🧡🧡
These boots look great with jeans or leggings. Due to the wider toe bed, this boot seems a little clunkier in the foot, so I wouldn't consider them fashion boots. They are what they are… nice looking leather boots for walking in the snow and slush.
The thing I love most about the appearance of the Presidio boot is the beautiful shade of leather that looks like a well-loved ball mitt. Something about it makes me feel warm and cozy just to look at it.
Some Final Thoughts about our Keen Presidio II Boot Review
I'll be the first to admit that these boots were not the boots I expected when I selected them. Based on my experience with the Presidio shoe, I expected a dressier fit. So I was initially disappointed and had to hide that feeling from Brad since he was so excited about this gift. Now, after 2 weeks of wear, I am in love with these boots and grab them every time I walk out the door. To put it simply, they are cozy.
About my product testing activities: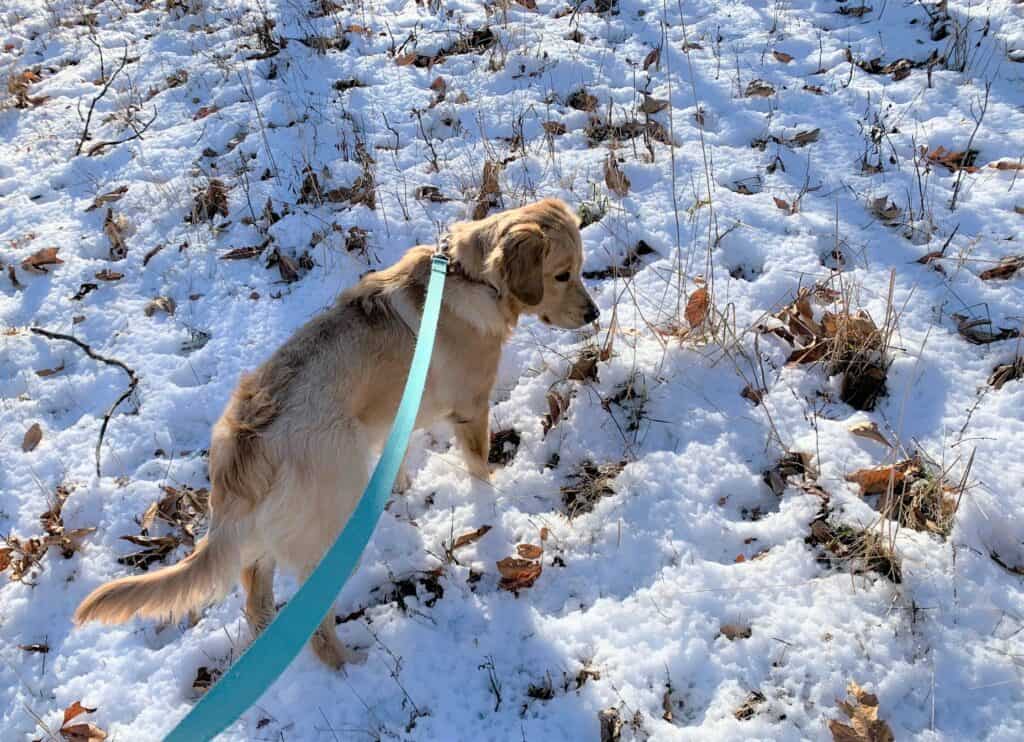 Cold and snow settled into the midwest quickly after the holidays so I was happy to pull out the new boots Brad gave me for Christmas. These boots have now been on dozens of walks with Charlie. Of course, she prefers to wander through the rough terrain of the woods where she can sniff deer trails rather than the clean, dry streets! Some of our adventures have been short, others lovely long walks when the sun peaks out. These boots have also been on a few shopping trips where we traversed slushy parking lots.
I hope this Keen Presidio II Boot Review has provided helpful information as you choose the best base layer to keep you warm.
---
Check out these articles for more ideas to keep warm and dry during your active winter:
What to Wear When Hiking in Cold Weather – everything you need to know about layering!
Best Merino Wool Base Layer for Women – discover the best long underwear for comfort!
Best Winter Hiking Hats – How to hold in the heat on cold days!
Yaktrax vs MICROspikes® – Discover the best way to keep from sliding on ice!