If you've ever tried to hike on snowy or icy trails without spikes or crampons, you know how treacherous this can be. Without these special tools, your feet will slip and slide all over the place (and possibly you'll fall). With them… not so much. But it can be hard to figure out the difference between MICROspikes® vs crampons or between traction devices vs ice cleats! It can all be very confusing as there are so many different names for those amazing tools that can keep you safe on the ice.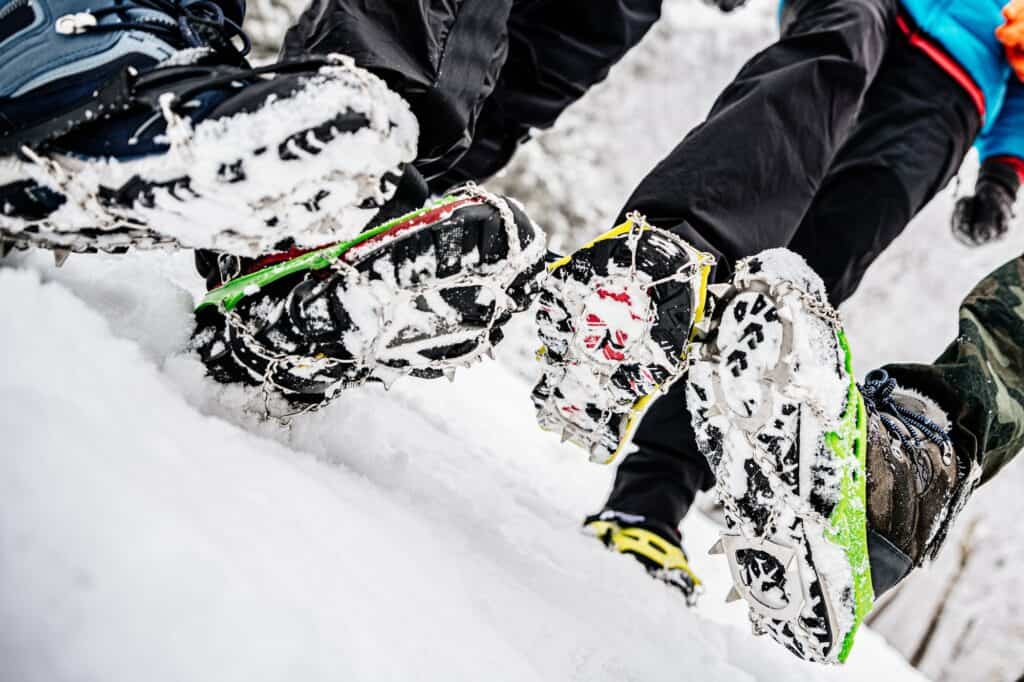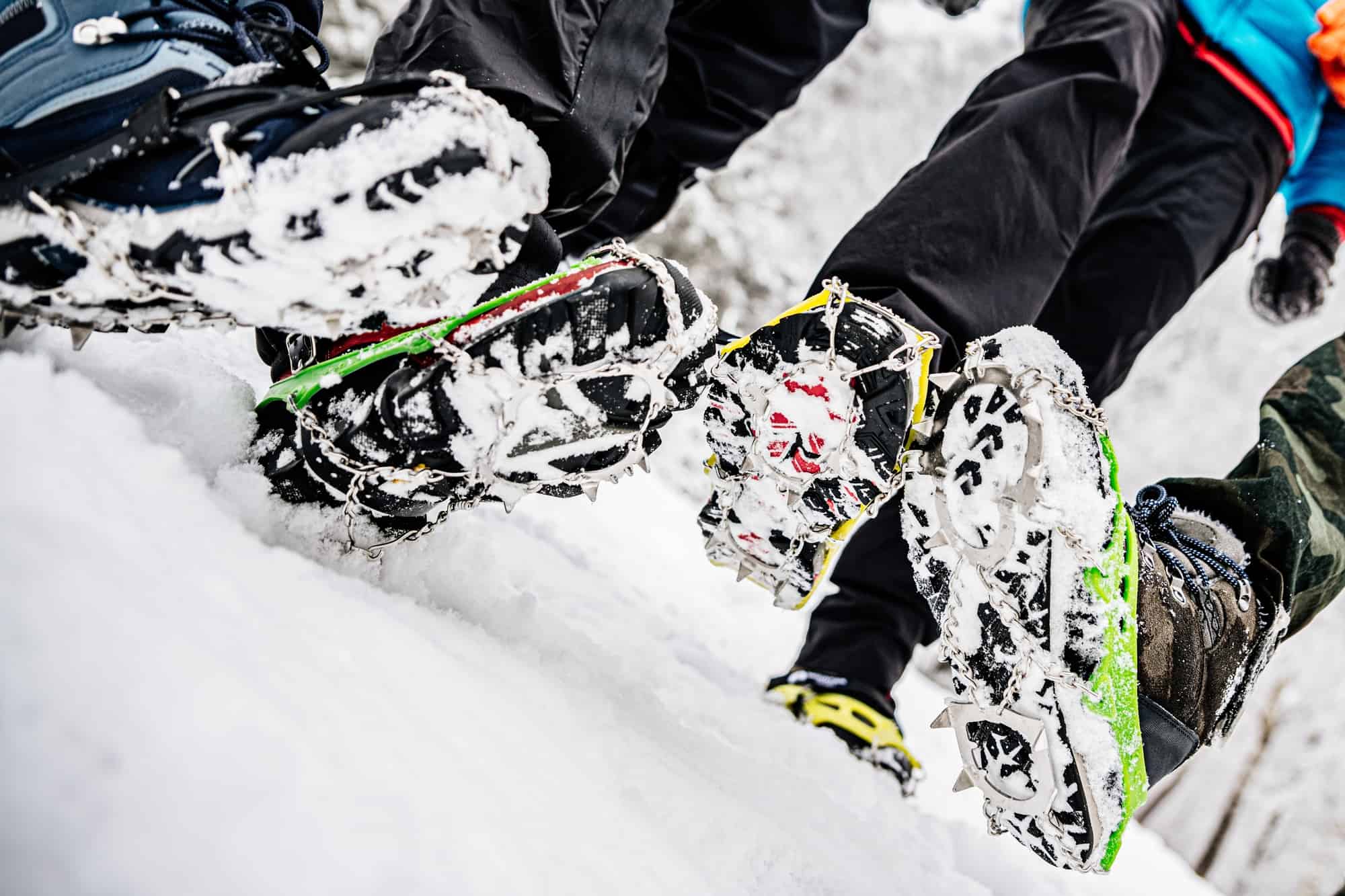 The difference between all these tools can get confusing, primarily because many people use all those names interchangeably. But there is a big difference.
So, let's talk about what sets each apart so you can make an informed decision on which will work best for your next adventure. We'll cover everything from how they're used in winter hiking to the pros and cons of each type of traction device.
You'll also find some helpful tips on choosing the right pair based on your specific activities, as well as some handy links at the end if you want to grab a pair today!
Spikes vs Crampons: Quick Glance Comparison Chart
Technical Crampons
Hiking Crampons
Spikes
Length of Spikes
Large 1-2 inch long spikes
Strong 1/2 to 1-inch spikes
Medium spikes less than 1/2" combined with chains
Best Terrain
For hiking glaciers, steep ice-covered terrain or climbing vertical ice
For up and down steep terrain
For moderate or flat terrain
Snow/Ice
Provides aggressive traction on harder ice and snow
Best for hard-packed icy trails
Best for packed snow or flat-surfaced ice
Ease of Use
Requires fitting with climbing boots and training
Easier than technical crampons, works with any hiking boot
Easy to use for beginners
Very versatile
Why do you Need Traction Devices when it's Icy?
At first glance, the answer to that question seems pretty simple. You don't want to fall. But we took a little deeper look at this and found that according to Rothman Orthopedics the type of injury you can get from an icy fall can be pretty painful. Here's their list of the top 5 injuries from ice falls:
Muscle sprains and ligament strains
Fractures, including spinal compression fractures
Broken bones – most commonly the wrists and hips
Back injuries and pain
Concussions and other head injuries
Although you probably won't die from an icefall, the time you are in pain and out of commission is real. And what's silly about an icefall injury is they are easily preventable with a little precaution and using a traction device on your boots.
What are Crampons
Crampons were originally for ice climbering and mountaineering over a century ago. This traction device fits over your boot, attaching a series of spikes to your foot. The spikes provide a vastly superior grip on icy and hard-packed snow, especially on steep ice-covered inclines improving climber safety.
More recently, crampons have been adapted to a wide variety of activities to maintain traction by adjusting the size and positioning of the spikes. These newer crampons, for activities like hiking, ice fishing and hunting, are also easier to attach to a variety of boots than mountaineering crampons.
Types of Crampons
There are several types of crampons available, designed for different activities and conditions. All of them attach to the boot with either straps or quick-release bindings. There is no single best crampon, but there are the best crampons for each type of activity.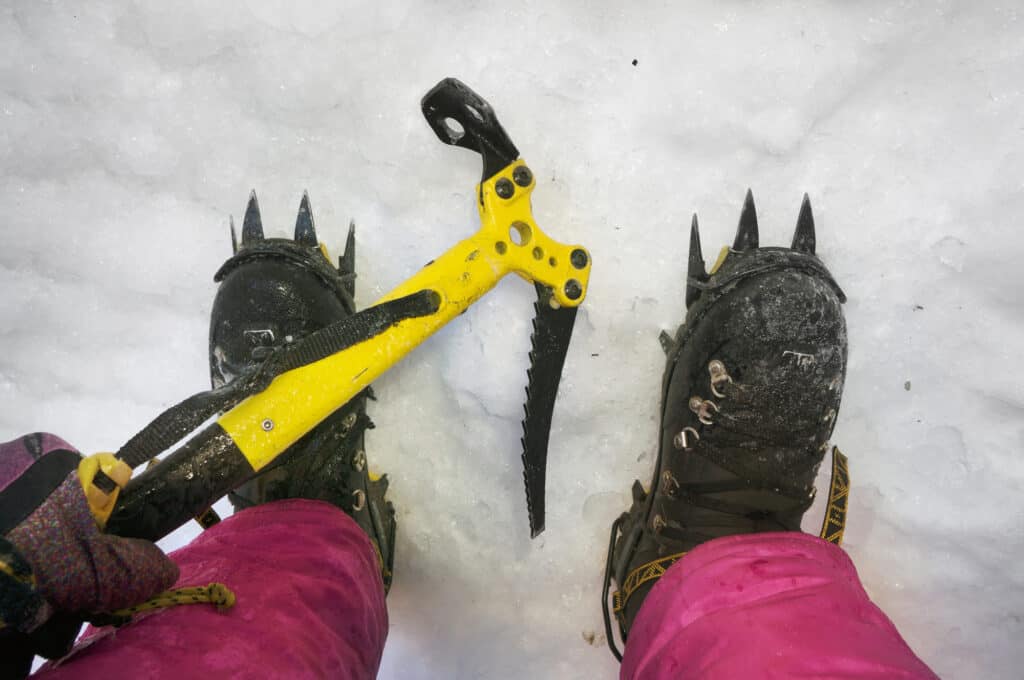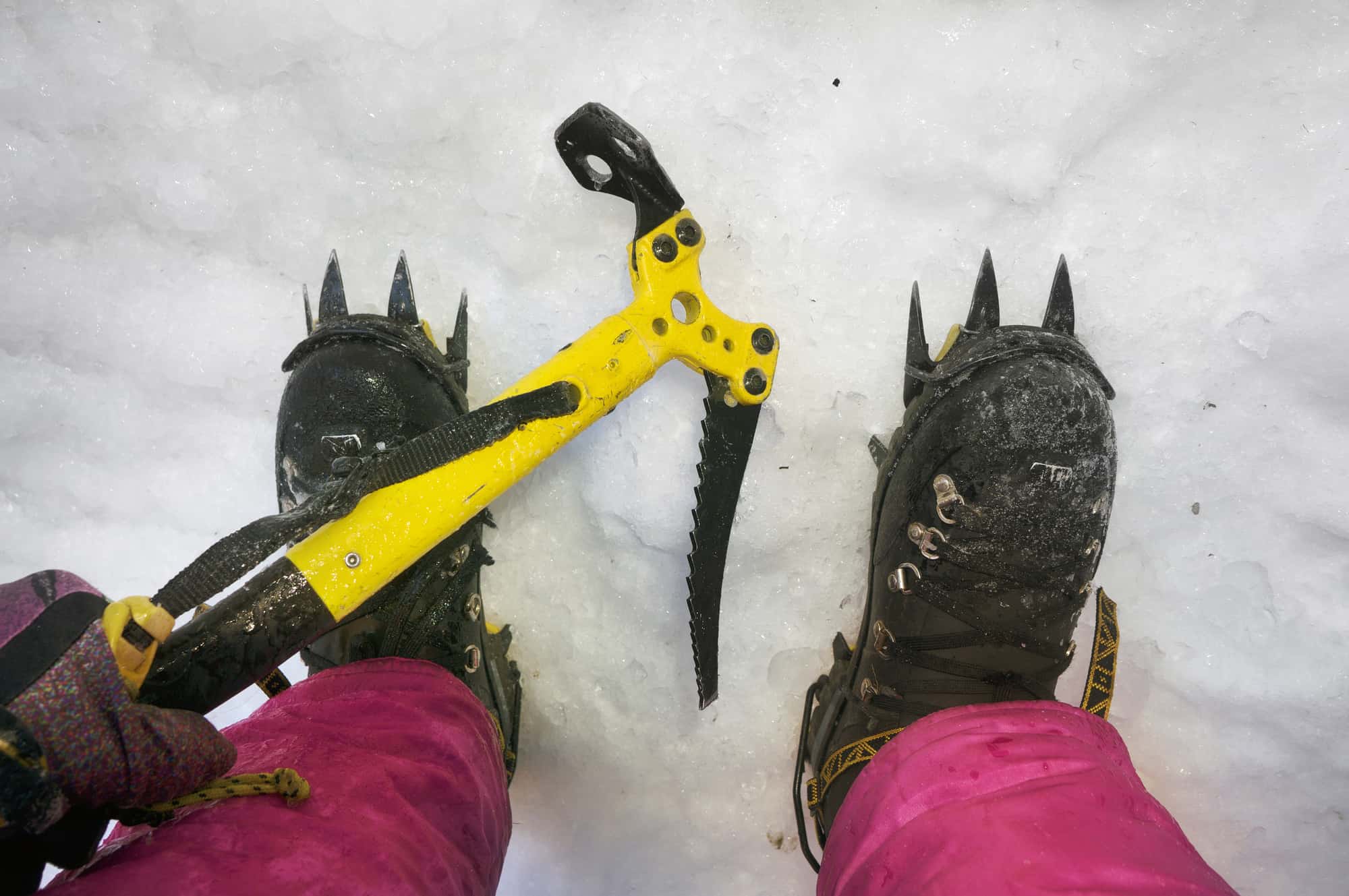 Mountaineering or Technical Crampons
Technical crampons are designed for climbers who are planning to scale glaciers and icy waterfalls. With long 1-2 inch spikes, they dig into the ice to keep the climber steady as they move up the icy terrain. Depending on the style of the crampon, many have long toe picks just for grabbing onto that icy wall.
Climbing crampons aren't ideal for most winter hiking. The long spikes are overkill for most snowy hiking trails, adding weight to your pack or your boots you don't need. Not to mention the scary long spikes that could pierce your equipment or your body.
If you are interested in crampons for technical ice climbing or scaling challenging mountains, be aware that training is recommended for safe use. You need to carefully match your boots to the correct crampon for a proper fit.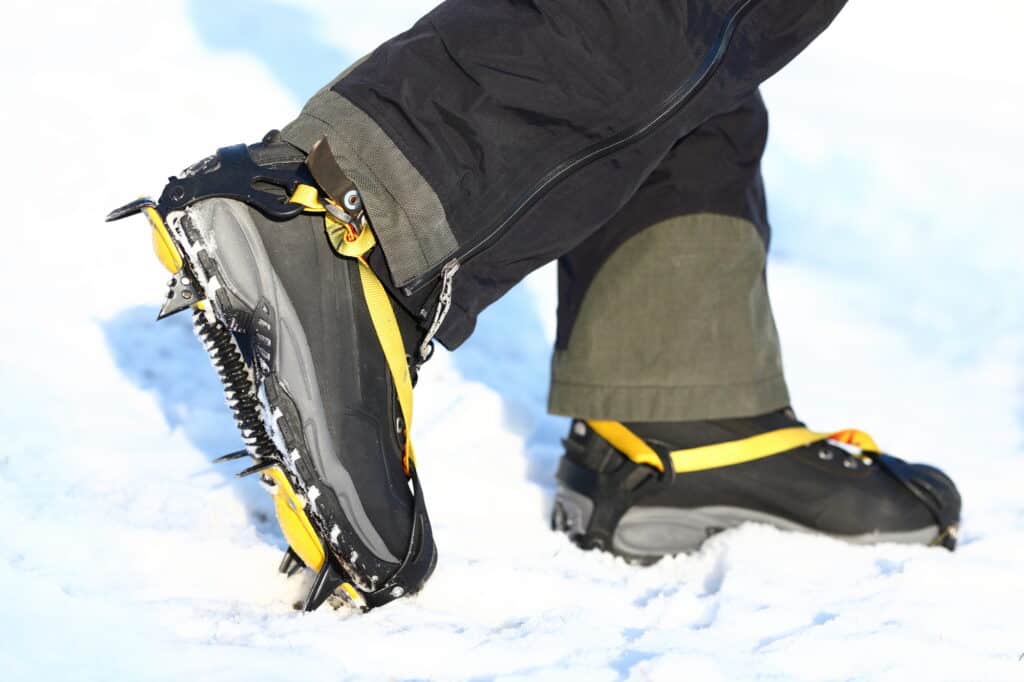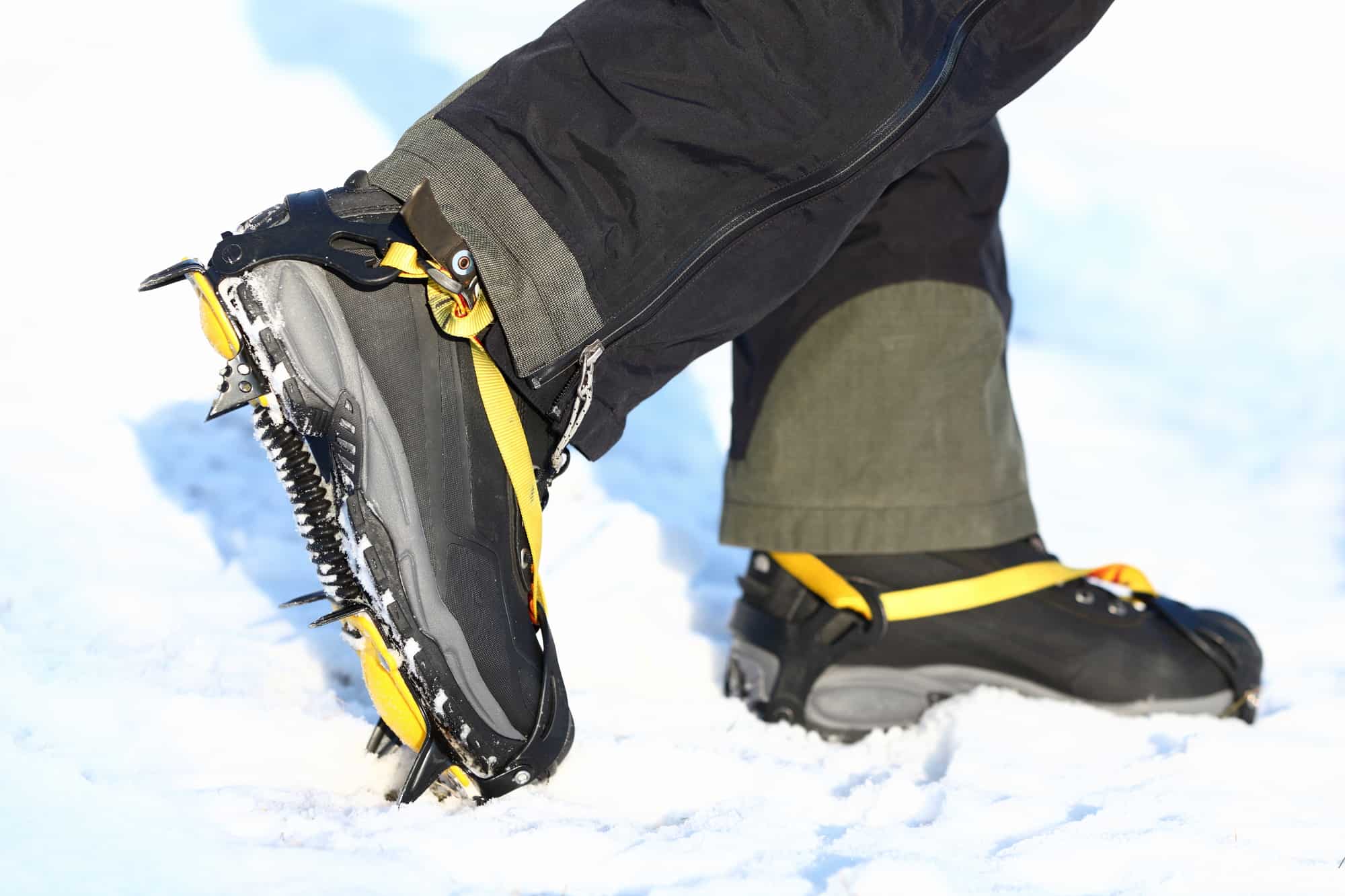 Trail Crampons
Trail crampons are a modern modification of the original crampon, meant for day hikers on steep hills that may include hard-packed snow or ice. They feature a series of spikes like the original crampons, although shorter at 1/2″ to 1″ long, to ensure a solid grip when hiking steep, slippery trails.
The other difference between trail crampons and technical crampons is the trail crampon has an easy-to-use strap-on binding so that you can wear them with your regular winter hiking boots.
Spikes of Crampons
Crampons usually have 10-12 points of contact to provide traction. Crampons have many spikes around the outer edge of the soles and the toes, which give them anti-slip properties and also provide additional support.
The spikes are either made of steel or aluminum. Aluminum for hiking crampons is excellent to reduce weight both on your boots or when carrying in your pack but has a higher risk of bending if the winter trail is rocky. Steel spikes will last longer if you encounter a lot of rocks. Stainless steel spikes will resist rust extending the life of your crampons.
The spikes on a trail crampon are less than 1″ long, while technical crampons are 1-2 inches long. This is not a case of bigger is better for ice traction when hiking. Those spikes improve the grip of your boots rather than dig holes into the trail.
A moderate-length spike lets you move quickly and smoothly over the trail. A long spike, as you would find in a technical crampon designed for ice climbing, will result in your foot snagging as you walk.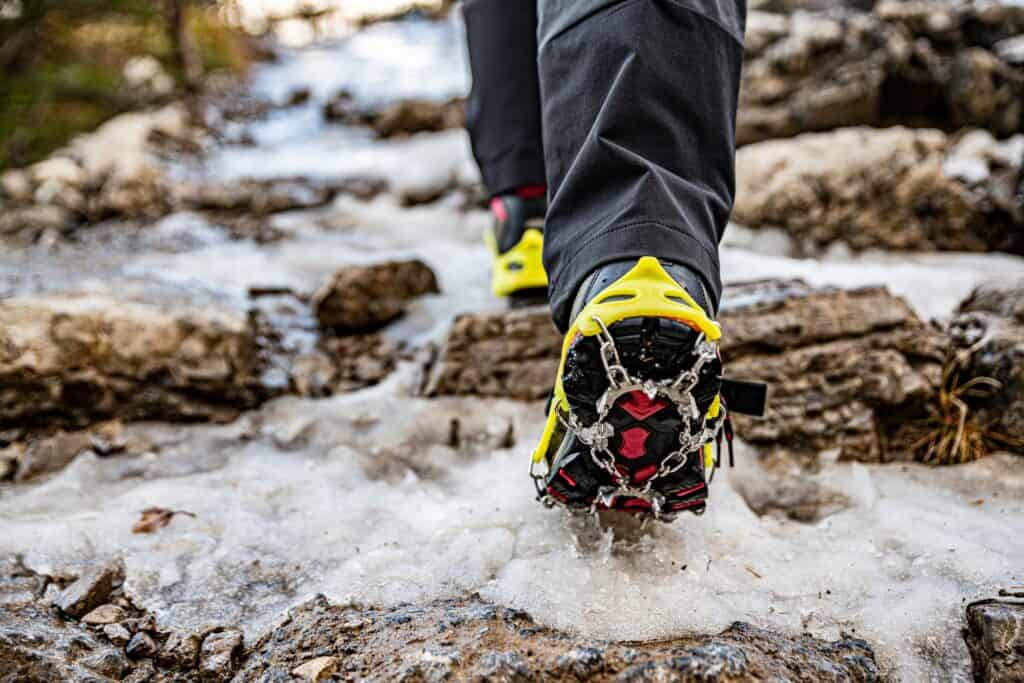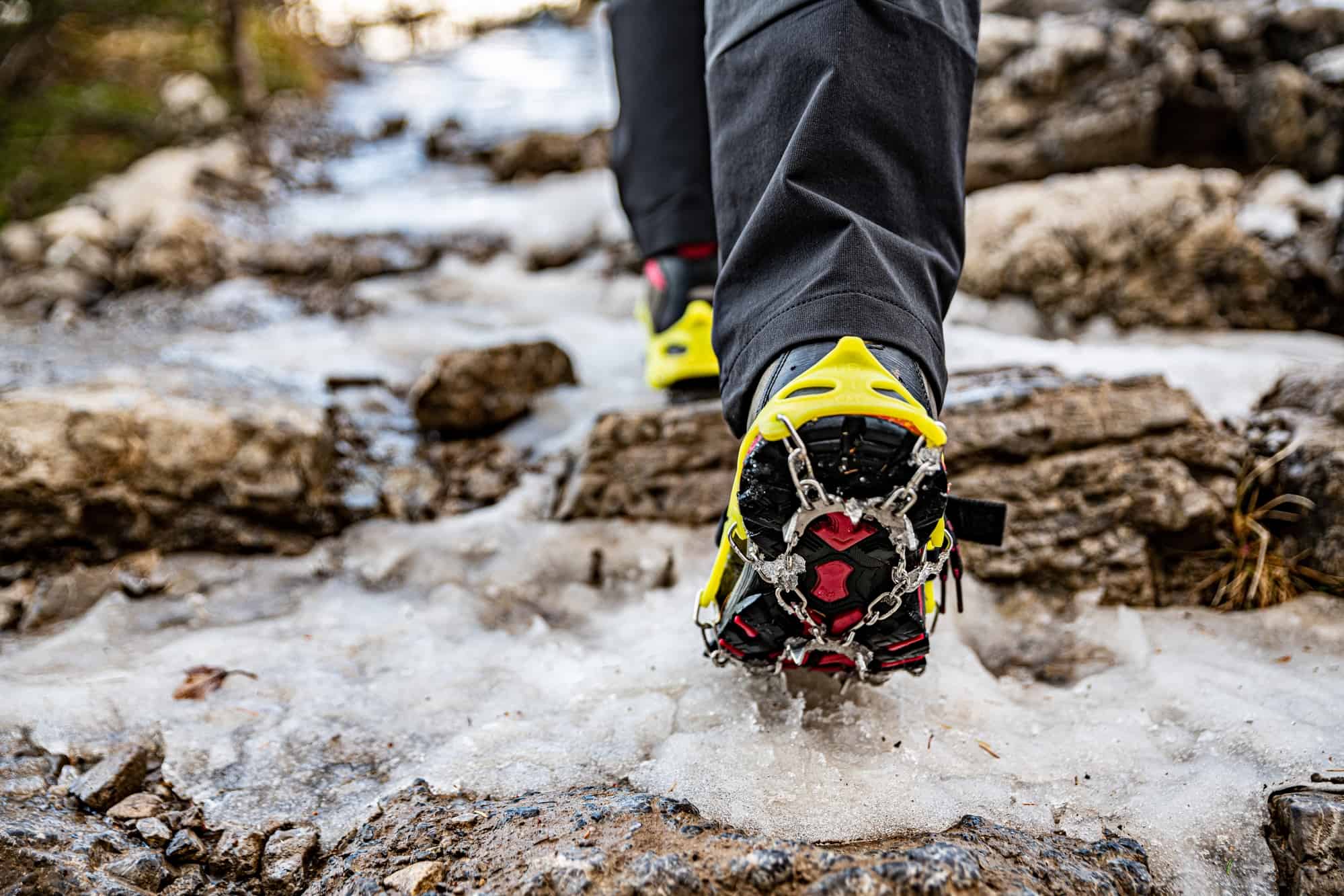 What
What are MICROspikes®?
First, let's talk about MICROspikes®. MICROspikes® is a specific brand of spikes (or ice cleats) made by Kahtoola and doesn't begin to encompass the broad range of spikes available. There are many manufacturers of spikes, also called ice cleats. And each has its own benefits.
For more details comparing the real MICROspikes®, you can get the scoop in our article about the difference between all the Kahtoola brand spikes, including their famous MICROspikes® and the Yaktrak family of spikes.
Spikes and ice cleats are built to give you traction on snow and ice so that you won't slip and fall. They are designed for flatter terrain and shallow slopes. The best use for spikes in the winter is to hike easy trails or through packed snow and icy surfaces.
Some hikers also carry spikes in spring and summer to give them traction crossing ice and snowfields that haven't yet melted. We even encountered snow in July while hiking to Sky Pond in Rocky Mountain National Park and wished we had a set in our pack.
These smaller and more compact traction devices combine the convenience of spikes with an added tough outer shell that wraps around the foot of your boot. The foot of the device is a mix of chains and small spikes, under 1/2″ long, connected by a strong rubber frame that wraps around your boot.
They are designed to fit snugly over almost any winter boot without causing wear or damage to the boot.
Think snow chains for your boots when you consider these smaller traction devices!
Spikes are generally less expensive alternatives to crampons. A major benefit is the minimal level of maintenance they require on a regular basis they can be cleaned or dried out and ready to use in hours.
Spikes and Chains on Compact Traction Devices
The chains and spikes on these compact traction devices are usually made of stainless steel, durable and easy to maintain. The spikes are shorter and less aggressive than those found on crampons, usually less than 1/2 inch.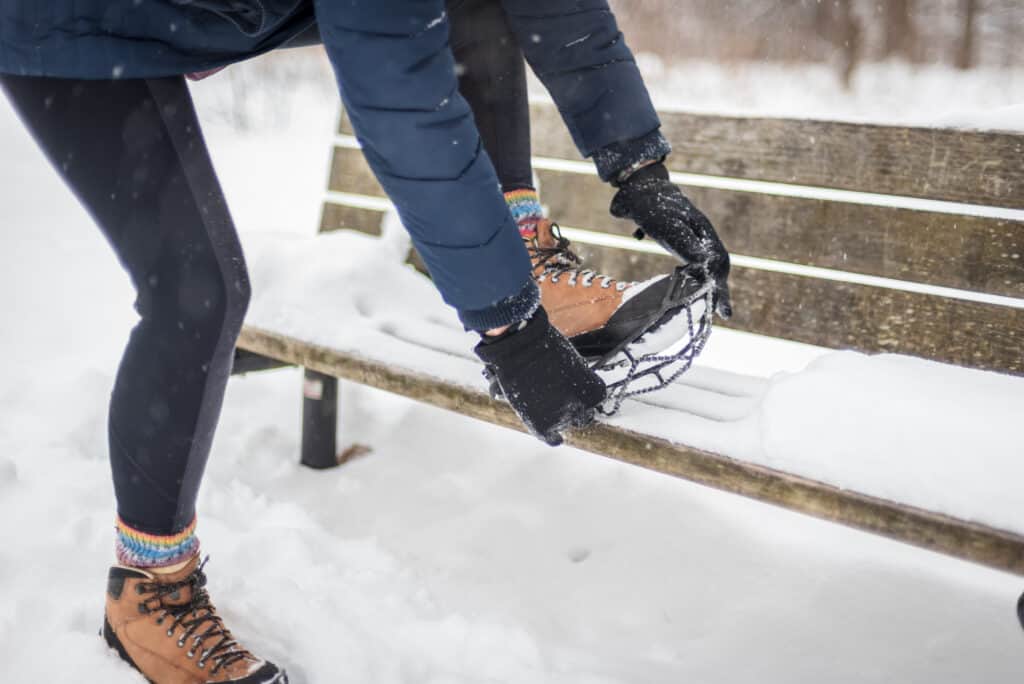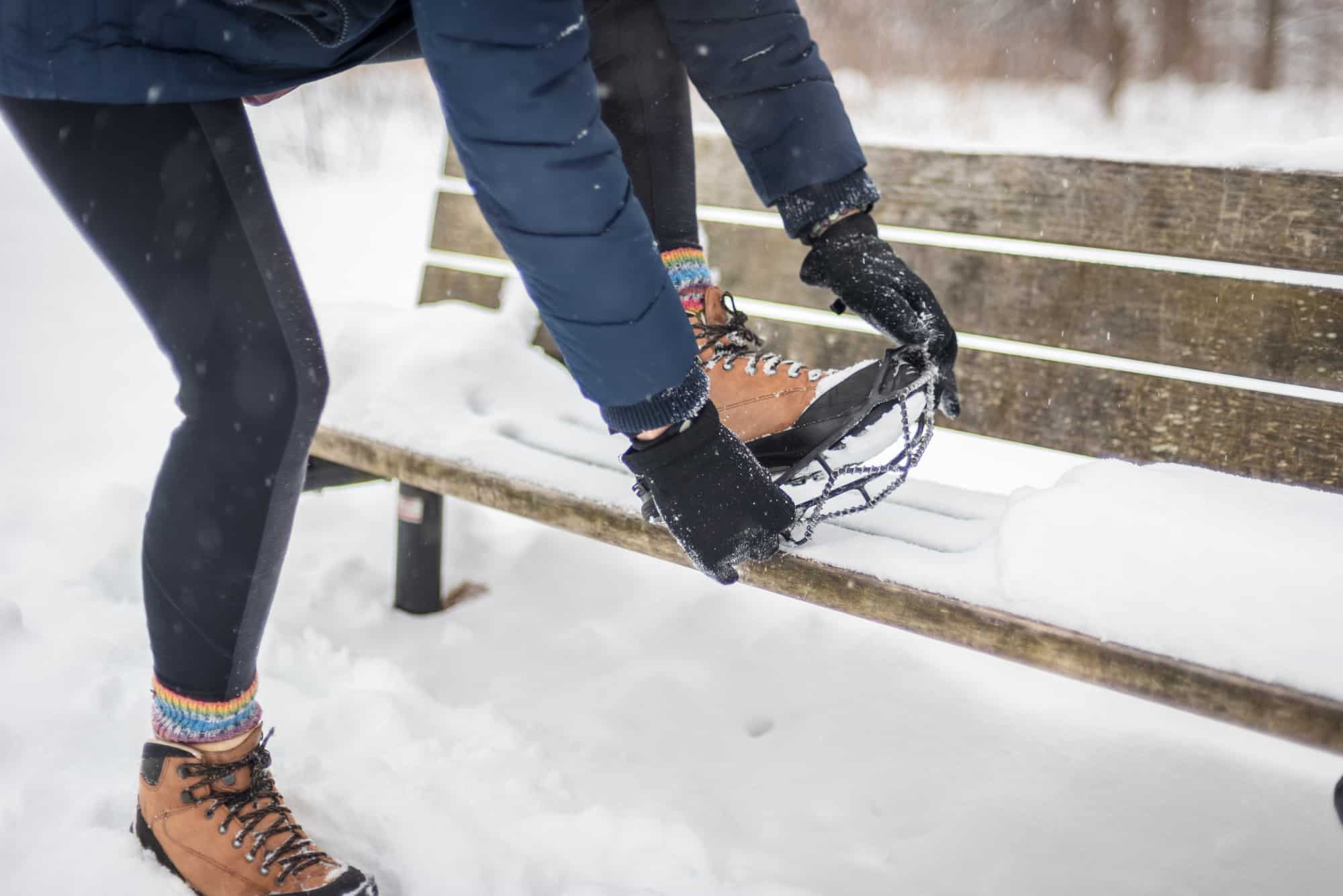 How to Put on Traction Devices
When you put on your spikes, make sure they fit snugly on your boots. Once they are in place, the soles of the spikes will provide maximum surface area and grip to snow and ice surfaces. You can adjust the tension of the grips with a simple tensioning strap that quickly tightens or loosens while wearing them. Once you have adjusted the tension of the strap, tighten it until you have a comfortable fit.
You do not want your foot slipping but don't want so much pressure that your feet get numb when the boot is too tight. Then put on your boots and lace-up for your hike and you'll have plenty of winter traction.
The Versatility of Traction Devices
Compact traction devices are lightweight and easy to pack in your backpack. That means they are perfect for carrying along anytime you are winter hiking, just in case, snowy or icy conditions appear. The smaller spikes and flexible frame also make them perfect for winter trails with ice-covered rock as you will be able to keep your footing.
Using traction devices for slick surfaces goes beyond hiking for us. We can be found wearing them for ice fishing, shoveling snow and walking the dog. And, I keep an extra pair in my trunk during the winter, just in case I get stuck in snow conditions!
Factors to Consider in Your Choice
When choosing between all the sizes of traction devices for hiking, there are only a few factors to consider:
The Terrain You Plan to Hike – If you are hiking a 14er or going up and down steep terrain, then you'll need the extra grip of crampons for the ice and packed snow.
Condition of the Trail – If you know the trail is a solid sheet of ice, it would be time to pull out the crampons. A trail with a small incline suddenly feels like an ice mountain when the ice smooths over from the afternoon sun. However, the more compact traction devices are usually enough to sturdy you on a frozen section if it is a relatively flat trail.
Your Comfort Level – Walking with crampons takes some practice. Walking with mountaineering crampons is near impossible without training. For many of us, that extra-long spike results in tripping when the tip catches in the ice. Today's compact traction devices are incredibly newbie friendly, easy to put on and easy to walk in!
Your Budget – Compact traction devices are available at a very affordable price, starting at around $20 per pair. So if you are just starting out winter hiking they are also easy on your wallet.
The Right Winter Boots are Just as Important
You do not want to go hiking unless you have insulated, waterproof boots with good tread. But good boots are not enough when the trail is packed snow or icy. That's where traction devices come into play. And no matter what kind of traction device you choose, you need the ankle support on snow and ice that hiking boots provide.
Traction Devices on Trail Runners
Can you wear traction devices on trail running shoes? Of course, you can because the stretchy frame will fit just like it does on a pair of boots.
The bigger question is, should you? I've been known to wear ice cleats over my runners to walk the dog or get the mail. But when it comes to being on unknown slippery surfaces like you will find hiking you should consider if you need ankle support.
Traction Devices vs Snowshoes
Snowshoes serve a wholly different function than any of these spikes, cleats and other traction devices. Snowshoes let you walk on top of powdery or deep snow. If you've ever sunk knee-deep (or worse, waist deep) into the snow you know how hard it is to keep moving forward. Snowshoes disperse your weight over a larger surface so you can stay on top.
Snowshoes also have a built-in crampon in the sole for when the snow gets a bit slick.
Crampons vs MICROspikes®: Summing up the real difference
Now you know that the difference between crampons and MICROspikes® is actually the wrong question. MICROspikes® is one style of compact traction device made by the company Kahtoola. Although I will pause for a moment here to say that we really like MICROspikes® for winter walking on slick snow and ice.
The question I think you want to ask is what's the difference between crampons and all the other traction devices being sold today. It's relatively straightforward. All are types of traction devices that can operate in snow and icy conditions. They are very affordable and extremely useful gear that can be used on almost all types of footwear.
Most of the compact traction devices employ a system of rubber or webbing strapping with chaining or metal spikes that vary in length. The biggest difference is easily discernable when comparing the size of the spikes. Here's a summary in a nutshell:
Crampons are for more aggressive traction on more demanding and icier hiking terrain. They can be uncomfortable for hiking if you don't need that extra support.
Compact traction devices provide support and grip in more common hiking environments where the terrain is moderate or flat. They are also easier for beginning winter hikers to get comfortable with on the trail. The only downside is that these smaller spikes don't have enough extra traction for when the trail is steep and you need to climb.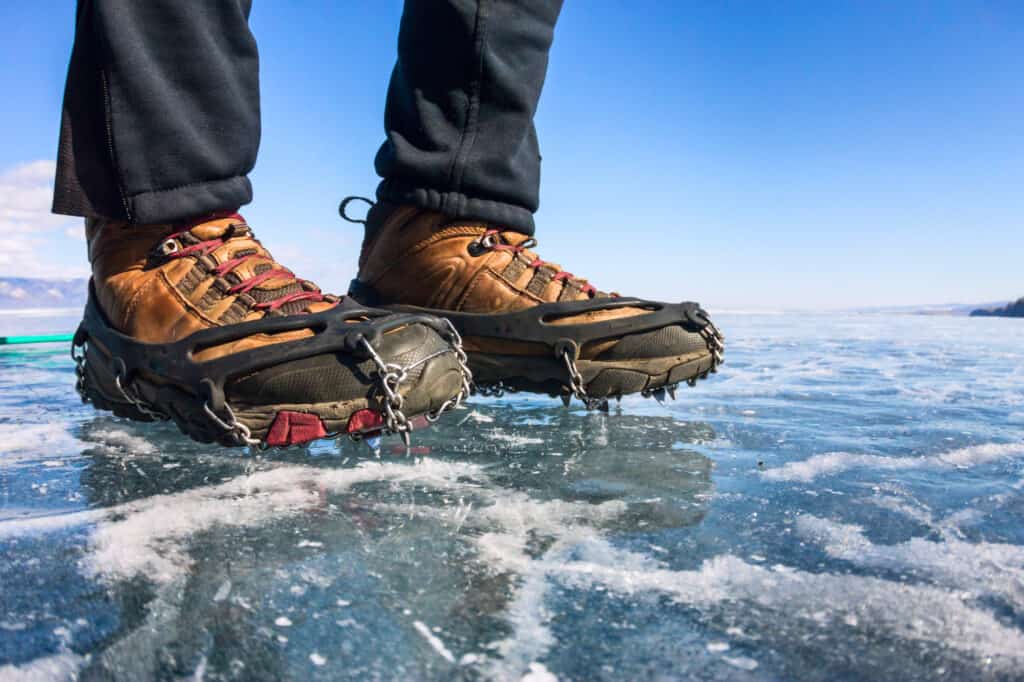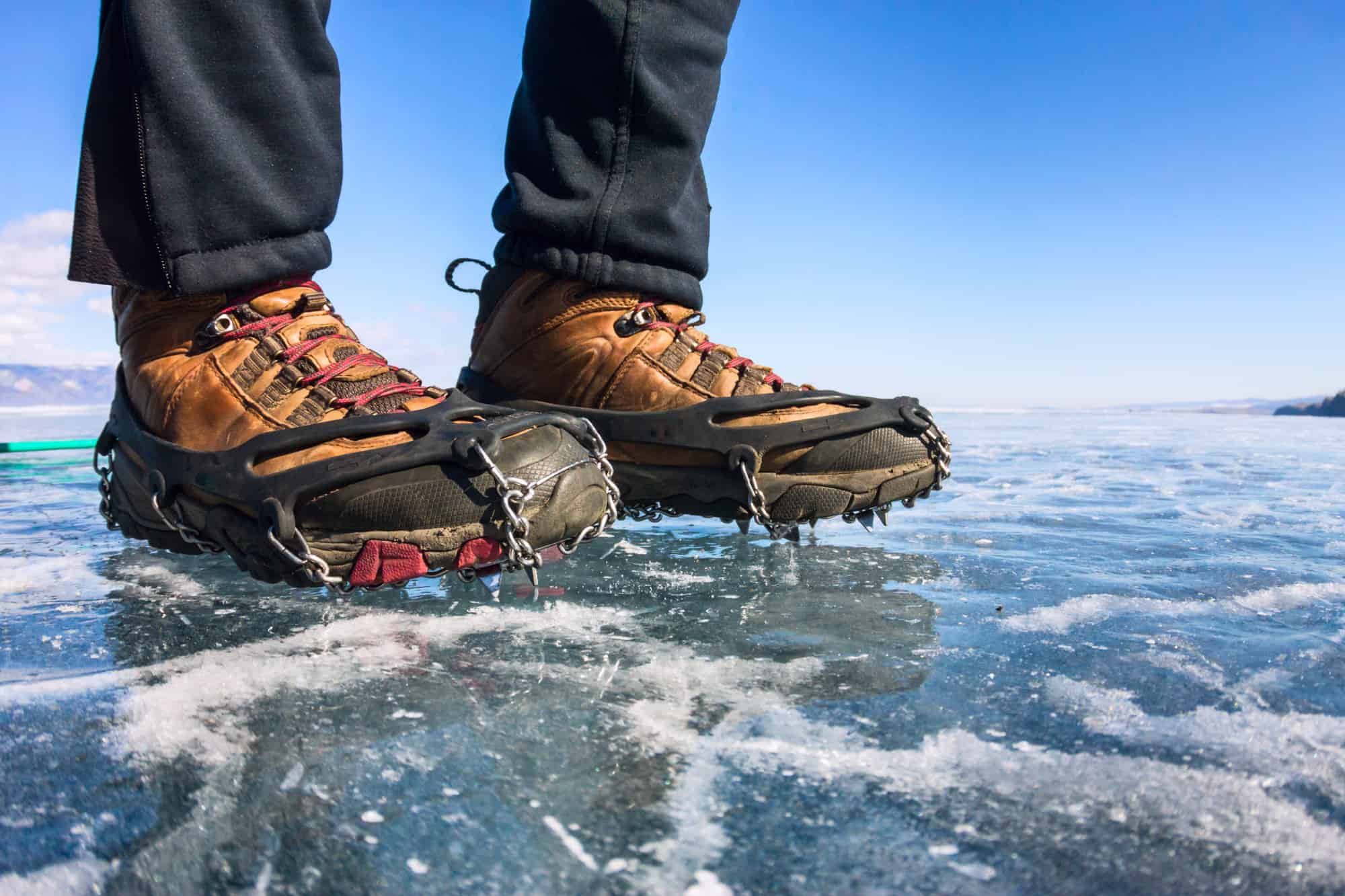 Our Final Recommendation
Seriously, you should never go out on a winter hike without a pair of traction devices in your pack. Trail conditions can easily surprise you, and they are so simple to use. Even in spring and early summer, it's not unbelievable to find icy snow patches on the trail at higher elevations.
If you plan to winter hike on more challenging trails with many elevation changes, then grab a pair of crampons for the trip. Once you are walking uphill on ice, you'll be glad you have them along!
Remember: if you're just starting out with winter hiking, it's better to start small rather than tackling challenging trails!