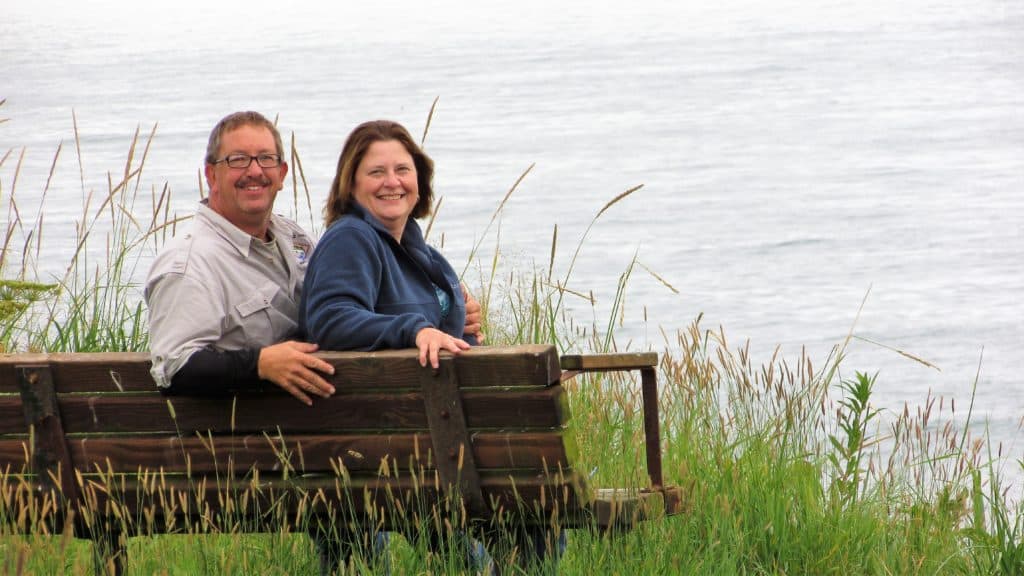 Hi! We are Brad and Ladona Stork.
If you are like many of our friends who are casual travelers, you're spending a lot of time researching your next adventure. And when it comes to planning a trip to one of the National Parks you find most of the websites are either aimed at the serious long-distance hiker or pages of amazing photos with no real travel information. It's really hard for those of us who want to head off for inspiring day hikes, explore hidden gems and discover the beauty of nature to find easy and quick resources to plan a National Park trip.
Since I'm a bit of type A personality (yes, you can hear my husband chuckling in the background at that understatement), researching for these trips has become my obsession. I get just as much pleasure out of the researching and planning stage as I do out of our actual trips! And I get even more joy out of sharing those tips and plans with others so they can head off on their own adventure.
We Are Traveling to all the National Parks
Have you ever wondered why people set the goal of traveling to every one of the 62 National Parks? I think the tipping point is a soul-touching moment in a National Park that asks the question: Would the experience be quite as tantalizing in another Park? So they taste another Park, venturing a little deeper. And then another, each experience unique and amazing. And then they begin to crave the next adventure. And the addiction has begun.
My personal addiction started with a visit to Grand Canyon National Park with my daughter. I had passed through other National Parks before but had never taken time to do more than visit the roadside pull-offs. On this trip, we explored some nooks and crannies and then hiked partway down the canyon. There are no words to describe the beauty of the Grand Canyon once you step below the rim. That hike was hard work, but it felt like good work. We declared it our best vacation ever!
After that trip, I set the goal to hike in every one of the National Parks. Little did I know how diverse and interesting those adventures would be. I joined the addicted!
Why Should You Visit the National Parks?
What makes each park a different adventure and worthy of your commitment? Here are 5 reasons for National Park Vacations:
Discovering the Hidden Treasure: Each National Park is a unique environment. From the underwater coral reefs of Key Biscayne National Park to the giant trees of Sequoia National Park to the living glaciers in Glacier National Park you will find a treasure in each location. You can be sure that I have researched every trip and have seen hundreds of pictures and videos before we arrive. But the actual experience always catches me off guard with childish pleasure when I am up close and personal.
Enjoying Great Story Telling: Brad's favorite stop in any National Park is a Ranger Talk. Throughout every park in small outdoor theatres, park rangers take great pride in their storytelling skills. They share bits of history or tales of the wildlife in their park.
Finding a place to Just Chill: My absolute favorite thing to do in the Parks is to find a spot to sit quietly and absorb the sights, smells and sounds. That might be sitting in the sun on a boulder next to a roaring waterfall or leaning against a fallen tree in the dense forest. I can literally feel the stress leave my body as I allow myself to be present with nature.
Sharing Breathtaking Vistas: Those are the "whoa" moments. For us, they often come when we stop and take a look down the trail behind us and scan the valley below or come around a bend in the path to be confronted with an unencumbered view of the mountains. These are views that literally stop you in your tracks.
Taking Meandering Walks to Unparalleled Places: It's obvious that we are not super athletes and I'm pretty sure we will never climb Denali or hike for days backcountry. However, we can put one foot in front of the other and take a very long walk along a path. The great thing about hiking in the National Parks is that you can find hikes that fit every skill level with inspiring destinations. And usually, if you push yourself just a little bit, you will find a place many have only seen in photos.
​We have no intention of finding a cure for our addiction. In fact, it is our hope that you will join us in feeding our passion. The National Parks are living museums waiting for us to explore and immerse our senses.
​Well, that's how Walking The Parks was born. We want to help you get out into this country's awe-inspiring National Parks. We want to help make your next trip your best trip ever.
How will Walking The Parks help you?
Every day we are compiling the most helpful information available so it is easy for you to find exactly what you need to plan your trip.
In our regular blog posts, we are sharing travel ideas and organizational tips that will get you ready to head out the door.
And did I mention stories? You will find lots of stories about real-life experiences while walking in the parks. Not those technical reviews that you find everywhere but stories about real people and their real experiences on the trail. Talk about inspiration!
​Join us, get out of your car and step on the trail to enjoy the wonders of our National Parks. Just Take a Walk In The Park!