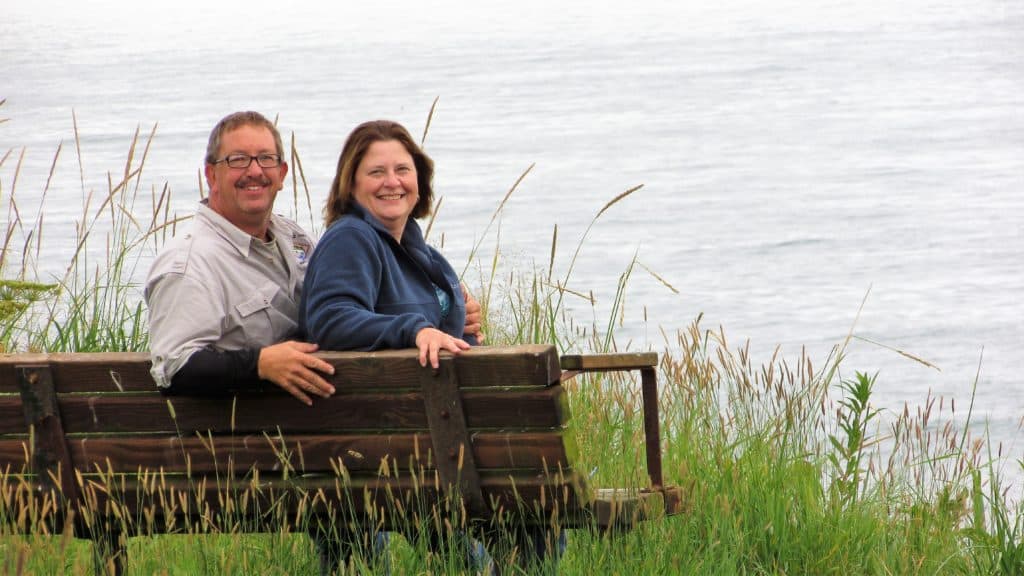 Hi! We are Brad and Ladona Stork
Walking the Parks started because of our love for traveling to the US National Parks. We want to inspire you to discover the amazing treasures hidden in the parks. Our passion is telling stories of our favorite hikes and campsites, knowing you will want to test them out yourself. And we always take great joy in sharing what makes each park unique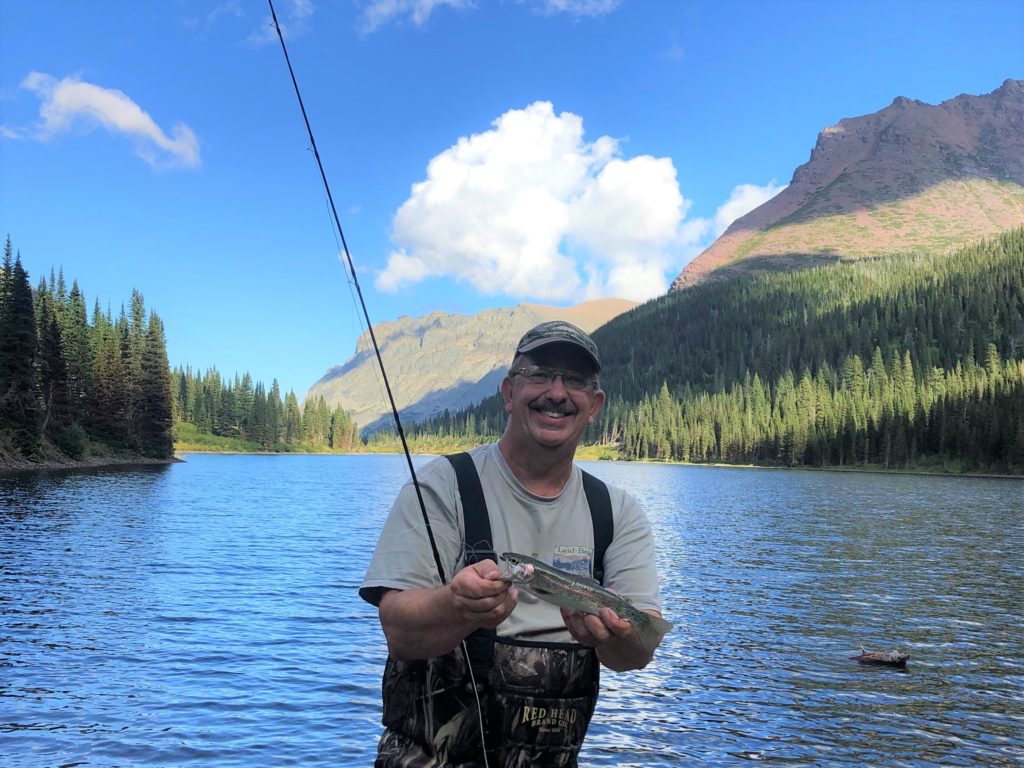 Meet Brad
Brad wears two very important hats at Walking the Parks. First he brings on his science game with over 35 years teaching high school science. Every trip with him is filled with "teachable moments". As a teacher he has introduced hundreds of students to camping, fishing and outdoor adventure.
He is also an enthusiastic outdoor guy who I trust my life with on every adventure. I swear he knows how to do or fix ANYTHING! He's been a passionate camper and fisherman since childhood trips to the North Woods with his family. The man hates being stuck indoors!
Meet Ladona
I'm the other half of the team – Ladona. After decades in corporate management roles, I've taken all those project management skills and I now thrive on planning our adventures. I have quite the reputation for researching and creating the best itineraries.
My first camping trip was a family vacation at age 13. It was a bit crazy with 6 of us packed in that little old camper, but the freedom found in camping was quite contagious!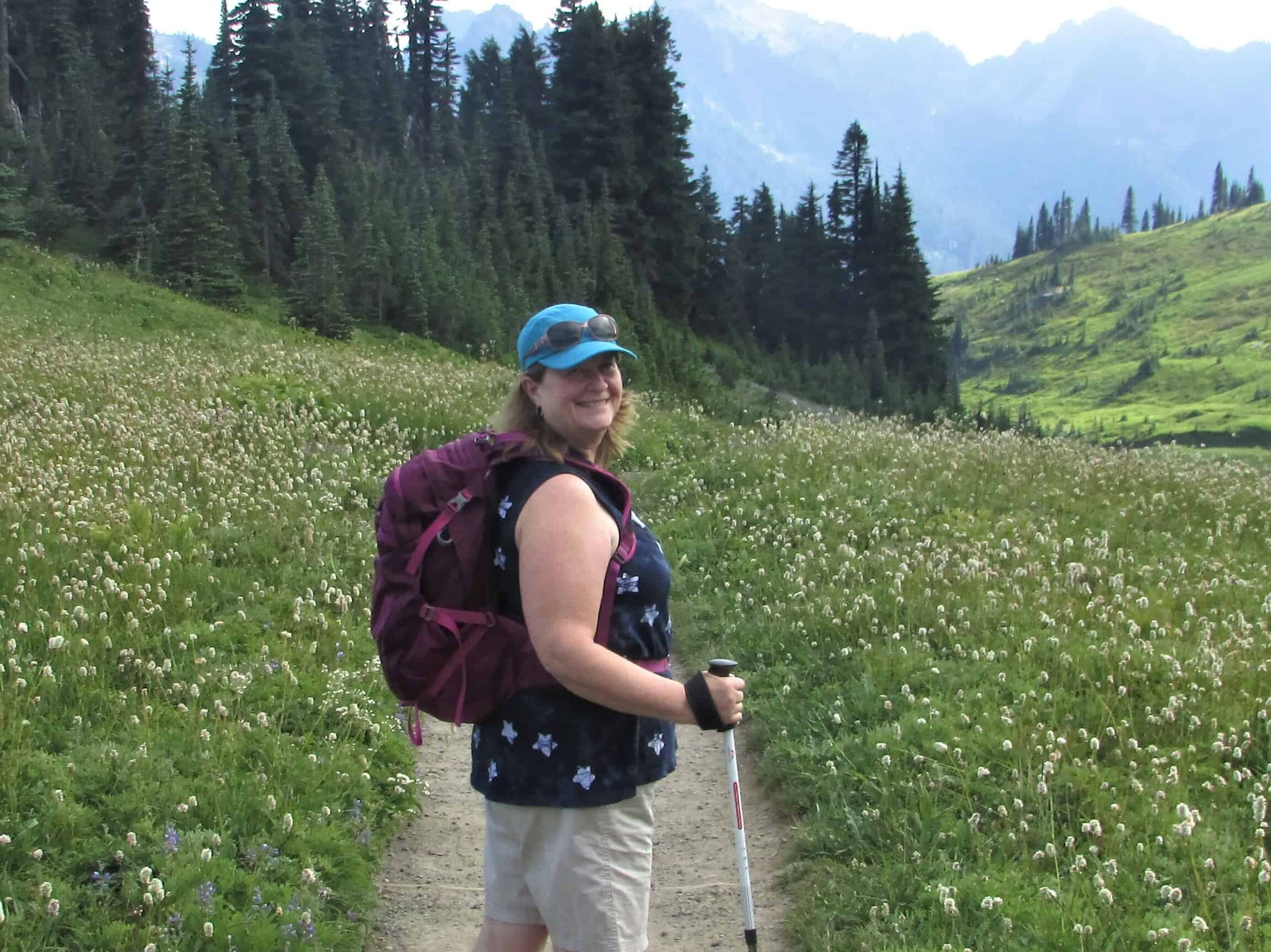 We both love to hike. We may not be the fastest hikers on the trail, but we are the most persistent. We've found you can get almost anywhere if you plan well and then take your time on the trail. We hike everyday of our National Park adventures to see what can be found just beyond the crowds.
We also love tent camping because it takes us places you can't get to in an RV. Most recently we are camping in a little camper that slides into our truck bed and love the freedom it provides.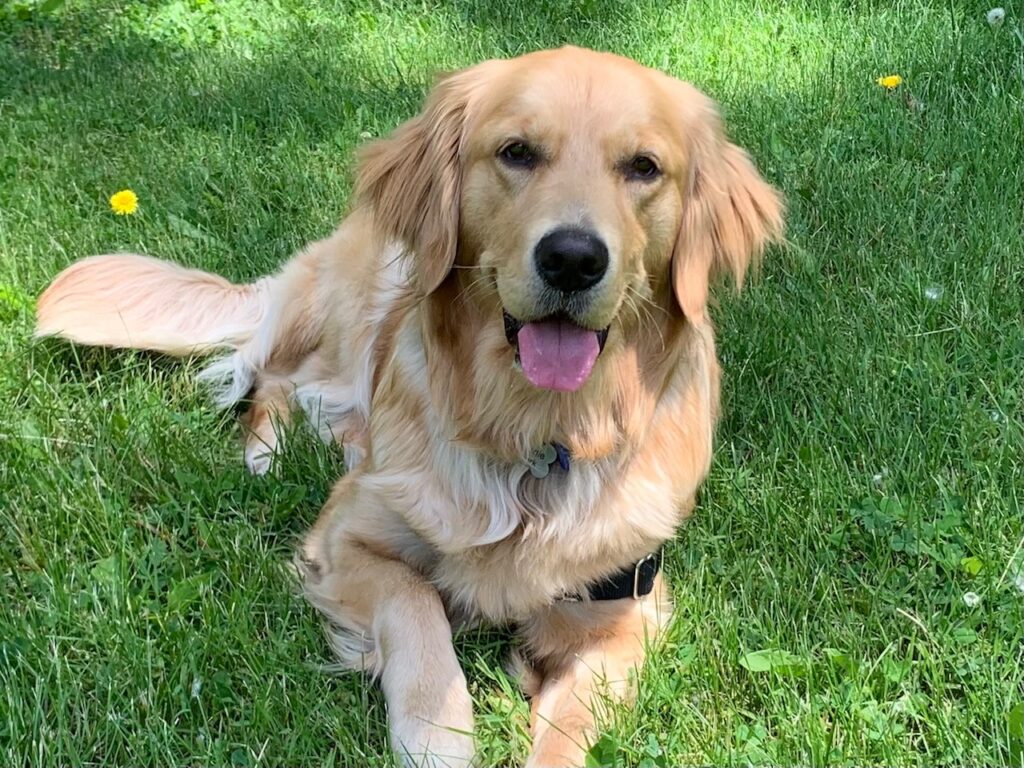 Meet Charlie
Charlie is the newest member of our team. She loves to hike and camp with us.
Between Brad and I and all the crazy pets our kids had, there have been over 20 dogs in our homes during our lifetime. So yes, we know a thing or two about dogs. But now that we are empty-nesters, a dog takes on a different role in our lives. She pretty much goes everywhere with us! We look forward to sharing with you our adventures with Charlie!
We are empty nesters and loving every minute of our extra time for adventures. Between the two of us, we have 5 kids and 8 grand kids (and more to come!). As we share tips about camping, hiking and our National Parks we will use all that family experience to help you plan for your family's adventure.
We Are Traveling to all the National Parks
Have you ever wondered why people set the goal of traveling to every one of the 63 National Parks? I think the tipping point is a soul-touching moment in a National Park that asks the question: Would the experience be quite as tantalizing in another Park? So they taste another Park, venturing a little deeper. And then another, each experience unique and amazing. And then they begin to crave the next adventure. And the addiction has begun.
My personal addiction started with a visit to Grand Canyon National Park with my daughter. I had passed through other National Parks before but had never taken time to do more than visit the roadside pull-offs. On this trip, we explored some nooks and crannies and then hiked partway down the canyon. There are no words to describe the beauty of the Grand Canyon once you step below the rim. That hike was hard work, but it felt like good work. We declared it our best vacation ever!
After that trip, I set the goal to hike in every one of the National Parks. Little did I know how diverse and interesting those adventures would be. Brad is incredibly goal driven… so he jumped on board and here we are just pass the 1/2 way point to exploring every National Park.
​Well, that's how Walking The Parks was born. We want to help you get out into this country's awe-inspiring National Parks. We want to help make your next trip your best trip ever.
​Join us, get out of your car and step on the trail to enjoy the wonders of our National Parks. Just Take a Walk In The Park!