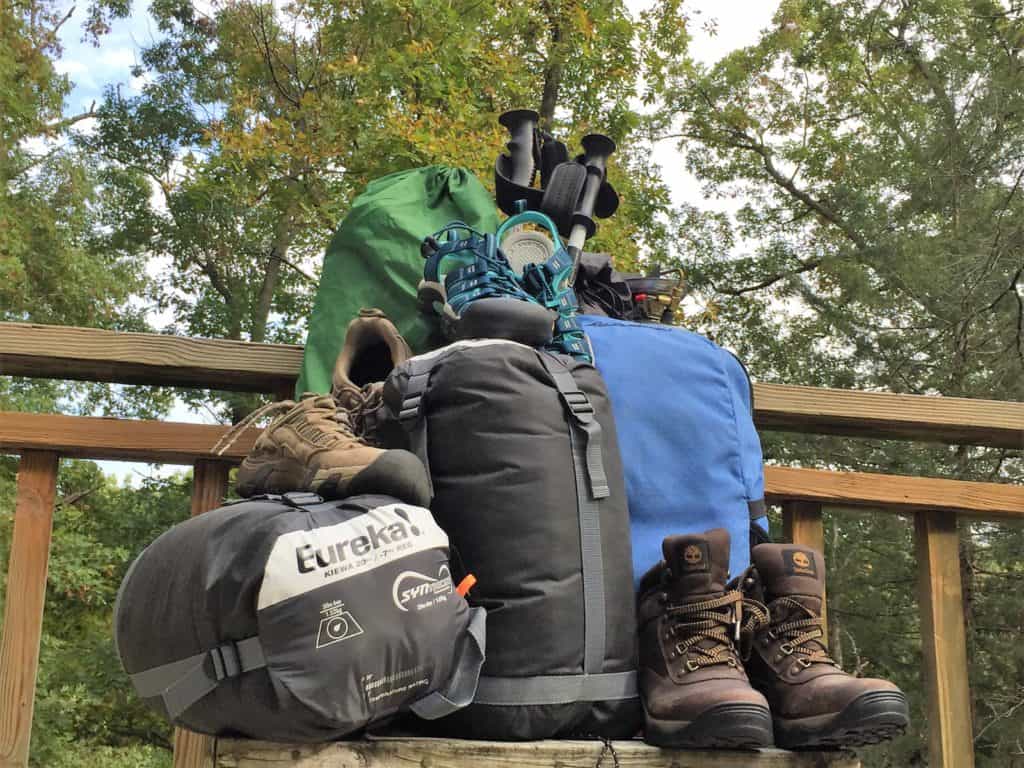 Let me start with; we are pretty passionate about our gear. Get us talking about what is needed on the trail or in camp and we can talk your ear off.
This page will always be a work in progress, we'll keep adding gear as time allows or as people ask about it. Almost everything on this page is something we use regularly. All are thoroughly used and abused on our National Park trips. Also keep in mind that these are not product reviews. This is the stuff we really love and we will admit right now we are not objective about these things that serve us so well.
And since you aren't our children who can easily raid our basement before heading out on their own, we have linked to where you can purchase these items. In some cases these links are affiliate links, which means that if you choose to make a purchase, we earn a commission. This commission comes at no additional cost to you. We recommend this gear because we love it, not because of the small commissions we make if you decide to buy something.
Hiking Gear
Women's Shoes and Boots
My favorite hikers are my Keen Hiking Shoes. For normal trail hiking I prefer a shoe fit rather than a boot fit so these fit the bill. They are lightweight and dry quickly. There's a nice deep tread on the soles which makes me feel sturdy on rough surfaces. Most important they are comfortable after hours and hours of hiking. 
I love, love, love my Teva Athletic Sandals! I use these regularly when kayaking. They've survived several rafting trips. They stay firm on your feet with the very comfortable adjustable velcro straps. They have great support so I'll even wear them for a short hike or around camp. If color is your thing, there are dozens of choices.
These Keen Newport H2 Sandals are new to my gear this year. I was looking for a water sandal like my Tevas that had a closed toe for rocky creeks and rivers. These are perfect. And they are supper comfy.
The newest addition to my hiking fleet is this pair of Timberland Women's Keele Ridge WP Leather Mid Winter Boots. Brad has a similar pair of Timberlands and loves them so much that when they died he replaced with the same boot. This was his very thoughtful anniversary gift to me this year! I want them for winter wear but I also think they will do well on wet muddy hikes. He wears his all year round. I like that not only are they waterproof, they are incredibly light weight. Update: Just wore these for snowshoeing in Colorado and they were perfect!
Men's Boots
Here are a couple of Brad's favorite boots.
Brad loves his Timberland Boots for general hiking and just working around the yard. So much so that when a pair dies, he just goes right back and gets another. Add a thick pair of socks and these are on all but the hottest hikes with us.
His Rocky 8 Inch Retraction 800G Hunting Boots are the first choice for fall hiking and hunting. They are waterproof and with 3M Thinsulate Ultra Insulation his feet are warm and dry.
Brad loves being out in the cold and insists there is not a better boot for winter activities than the Sorel Men's Caribou Extreme Snow Boot that he uses for ice fishing, snowmobiling, etc. They are probably a little too clunky for a long winter hike or climbing but for warmth and keeping dry in the snow these are great. They are perfect for walking in up to 4 inches of winter slush. You can also get extra liners so when they get sweaty you can switch out and go again.
Our Packs
I'm currently in the market for a new DayPack. Here's the post comparing the Top Women's DayPacks. The research was pretty extensive so it's worth reading if you are looking for the perfect daypack. Hopefully I'll be able to report back on one of these.
For full day hikes, Brad usually carries his Eddie Bauer Pack because it has lots of support, tons of pockets and fits him like a glove.
I always carry a set of trekking poles. They make hiking uphill and downhill so much easier by adding balance and support. They are an essential for crossing water. You don't need an expensive pair. Something like these BAFX Products Trekking Poles will do the trick.
Clothing
Here are just a few of the staples that work really well for us.
Being of fair skin and quick to sunburn, I first fell in love with a UPF50 shirt on a fishing trip. So before we headed to the Utah National Parks where I knew I'd be both wet and in full sun, I picked up a couple of the Columbia Women's Tidal Tee II Long Sleeve Shirts. They were great. No Sunburns! I stayed cool in the heat and dried fast after we hit whitewater. The variety of colors were also a plus so I didn't look like I had the same shirt on in every picture.
I liked the Columbia so much I grabbed a Columbia Men's Terminal Tackle 1/4 Zip Shirt for Brad too. Normal man style he hasn't talked about it a lot, but I do see this shirt on his back often!
As you know, comfortable hiking is all about the layers. The Under Armour Women's HeatGear Shirts are my favorite bottom layer in the mountains where it can start warm at the bottom and get pretty cool as you rise in elevation. I like that it adjusts well to temperature changes, avoiding that sweaty yucky feeling you get from some bottom layers. And the shirt is attractive with a variety of colors so if you strip down to that bottom layer, you look great. I also like the V-Neck version.
It's rare to find our daypacks without a basic Columbia Fleece For Him or Columbia Fleece for Her stuffed in the bottom. When out hiking for the day, mountains or deserts, you are almost guaranteed a significant temperature change at some point in the day. We appreciate that the fleece creates a great liner under rain gear as well as providing great looking warmth as a jacket on it's own. Of course I love the wide variety of colors!
Camping Gear – Home Sweet Home
Tents
We added the Eureka Timberline 4 to our gear a few years ago for our Alaska Road Trip. It is the perfect choice for car camping when you fly to your destination. Not too big for packing for an airline. Not too small that you get sick of living in it for weeks. This tent has kept us dry and cozy through days and days of rain. Pop off the rain fly and it is comfortable on hot nights.
Call me spoiled. We use this Eureka N!ergy 8 person tent for car camping when we drive our own car. Not because of the power system (which we've never used) but because it is spacious. For multi-day stays you can really spread out. We can throw in a big air mattress and even a couple grandkids. It's super easy to put up too.
We also have a 2 man Eureka Timberline which we last used for a Boundary Water canoe trip. It was perfect for that type of trip. Brad has had this tent since college (I won't tell you how long ago that was but you can probably guess). I don't think he will ever give it up. We considered using it when we fly and drive but decided that we would take on the extra weight of the 4 man (above) in exchange for a little more space.
Sleeping Bags
We've had dozens of sleeping bags over time, but when we headed to Alaska we decided it was time to invest in ourselves and get the right bag for the trip. I did extensive research to find the best bag for us. We chose the Eureka Kiewa 20. Why? We knew night temps would often be in the 30-40 degree range and we both like to be warm so a 20 degree bag was a priority. We also wanted to be able to snuggle which meant zipping the bags together. I could go on, but let me end with these have become our "go to" sleeping bags for all trips.
Brad really likes his Slumberjack Latitude 20 Bag for cold weather camping. Personally you won't find me out if it's that cold. But he swears this bag keeps him toasty. 
It practically broke Brad's heart when I threw away the sleeping pad he had used since college. So many memories! But it wouldn't hold air all night any more. So I replaced it with a Therm-a-Rest Self-Inflating Camping Pad that he has happily and comfortably used for the past 4 years.
Cooking
I chuckled when I grabbed this picture off Amazon. Our Coleman 2-Burner Classic Liquid Fuel Stove has seen a lifetime of campsites and definitely lacks the shine you see here. But oh my goodness it just keeps going. It goes with us on every camping trip except when we fly. Truth be told, if it ever dies I'd take a good look at the propane version before deciding on the replacement. But I can't imagine changing brands after decades of great service from this one.
When we fly and then car camp we need something that takes up a lot less space in our camping gear bag on the flight. This Coleman Sportster II Dual Fuel 1-Burner Stove has worked well for us the past 5 years. Unlike a lot of lightweight single burner stoves you can set a full coffee pot on top and walk away without worry of tipping.
This Texsport Aluminum 9 Cup Percolator Coffee Maker has flown all over the country and provided a lot of morning happiness for Brad. It's the perfect size to sit on our single burner camp stove. When space isn't a concern, we take along our Coleman 12 Cup Percolator.
With the exception of our great stoves and critical coffee pots, everything else in our camp kitchen pretty much has been recycled from a garage sale or GoodWill. As I said, we are frugal!
BackPack Fishing Gear
Brad will often tuck just a few things in his hiking backpack when there might be an opportunity to fish for Small Mouth or Trout along the trail. He keeps it pretty simple to avoid a lot of weight when hiking with a collapsable fishing rod, a few lures and a small tackle bag.
One like this Tailwater Outfitters Toccoa Fly Rod is his choice if he knows there is open water, like a wide river or lake. With the protective tube it's easy to strap in tight on your backpack using the trekking pole connectors.
But more often he will pack a telescoping pole like the Sougayilang Collapsible Telescopic Fishing Pole with Spinning Reel. One of these fits nicely inside his pack and only adds a couple pounds of weight.
This, Panther Martin, is his favorite lure for trout. It will always be in his backpack. Enough said!
Pretty isn't it! Brad likes this lure, Mepp's Aglia Dressed Treble Fishing Lure, for it's versatility. He takes it along with visions of catching both small mouth and trout.
And of course he'll have along a small assortment of flies, something like this Feeder Creek Fly Fishing Flies Assortment, is an easy way to start.
Brad likes to toss all his hiking fishing tackle into a small fanny pack. That way he can pull it out of his pack and have his hands free as he wanders down the shore. Trust me the one he uses is well loved, but it looks a lot like this LUREMASTER Fishing Bag. Hmm.. maybe a Christmas gift idea.