Have you wondered how to pick the best hiking daypack from the hundreds of choices available? It can be a little confusing and there are so many choices. In this article I'll share how to pick the best daypacks for women so you can be prepared for a great and comfortable hike.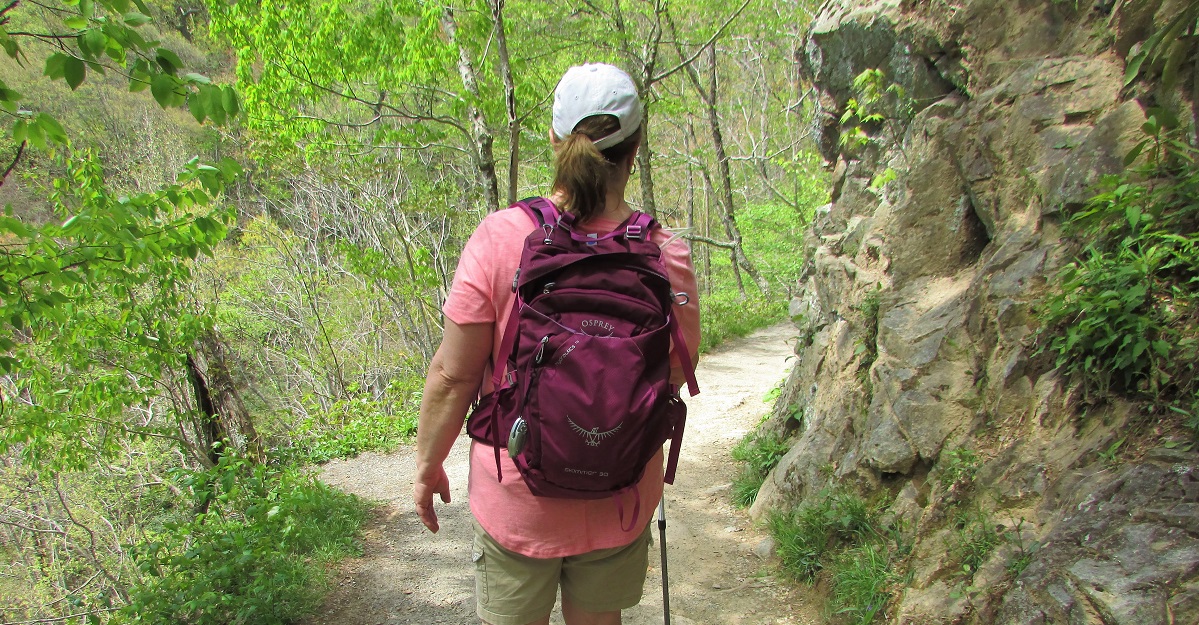 My search for the best women's hiking daypack began several years ago after our Utah National Park road trip where I hiked with an inferior pack. I was hot and sweaty and my back hurt for days. We don't want that for you! After a lot of research and product testing, I now happily hike with an Osprey Skimmer that has been the perfect size and comfort for hundreds of miles of hiking.
It's important when selecting the best daypack to recognize that every woman's body has different needs and different shapes. Just as a dress looks and feels different for a variety of women, so does a daypack. The women's daypacks for hiking in the list list below are included because they were the best in each category of features. I recommend that you narrow your list down to 2-3 of these daypacks and then try them on for the best fit.
If this is your first purchase of a backpack, then you should read the additional information at the end of this post where we deep dive into the important features in daypacks. Sometimes it's the little things, like the size and shape of pockets or how the belt hugs your waist, that make the difference in how much you love a backpack. As always, I've included affiliate links to make it easier for you to find products I have mentioned. You don't pay any extra and in some cases I could earn a small commission.
Here's the list of the Best Women's Daypacks that we will review below
There's a lot here so if you are itching to see that list, you can click the links below to jump ahead at any time. However I do recommend you read this entire post so you don't miss any important tips. In the women's daypack reviews below we take a detailed look at these top 9 women's daypacks for hiking.
Manf | Model
Sizes Avail
Our
Rating
Click to Jump to
Our Review
Check It Out
(quick link)
Osprey Skimmer
16, 20, 28 liter
ORGANIZATION 🧡🧡🧡🧡🧡
COMFORT 🧡🧡🧡🧡🧡
HYDRATION 🧡🧡🧡🧡🧡
DURABILITY 🧡🧡🧡🧡🧡
Skimmer Review
Amazon | REI Co-op | BackCountry
Osprey Tempest
9, 20, 30, 34 liter
ORGANIZATION 🧡🧡🧡🧡🧡
COMFORT 🧡🧡🧡🧡🧡
HYDRATION 🧡🧡🧡🧡
DURABILITY 🧡🧡🧡🧡🧡
Tempest Review
Amazon | REI Co-op | BackCountry
North Face Recon
30 liter
ORGANIZATION 🧡🧡🧡
COMFORT 🧡🧡🧡🧡
HYDRATION 🧡🧡🧡
DURABILITY 🧡🧡🧡🧡🧡
North Face Review
Amazon | Moosejaw
Gregory Mountain Swift
15 ,20, 25, 30 liter
ORGANIZATION 🧡🧡🧡🧡
COMFORT 🧡🧡🧡🧡🧡
HYDRATION 🧡🧡🧡🧡🧡
DURABILITY 🧡🧡🧡🧡🧡
Gregory Mtn Review
Amazon | REI Co-Op
REI Co-op Trail
25 liter

ORGANIZATION 🧡🧡🧡🧡
COMFORT 🧡🧡🧡🧡
HYDRATION 🧡🧡🧡🧡
DURABILITY 🧡🧡🧡🧡🧡
REI Trail Review
REI Co-op
Deuter Trail | Trail Pro
20, 28, 30, 34 liter
ORGANIZATION 🧡🧡🧡🧡
COMFORT 🧡🧡🧡🧡🧡
HYDRATION 🧡🧡🧡🧡
DURABILITY 🧡🧡🧡🧡🧡
Trail Review
Amazon | BackCountry
Ultimate Direction FastpackHer
20, 30 liter
ORGANIZATION 🧡🧡🧡🧡
COMFORT 🧡🧡🧡🧡
HYDRATION 🧡🧡🧡🧡
DURABILITY 🧡🧡🧡🧡
FastPackHer Review
Amazon | REI Co-op | BackCountry
Patagonia Refugio
26 liter
ORGANIZATION 🧡🧡🧡🧡🧡
COMFORT 🧡🧡🧡
HYDRATION 🧡🧡🧡🧡
DURABILITY 🧡🧡🧡🧡🧡
Refugio Review
REI Co-op
Osprey Daylite
13 liter
ORGANIZATION 🧡🧡🧡🧡🧡
COMFORT 🧡🧡🧡
HYDRATION 🧡🧡🧡🧡
DURABILITY 🧡🧡🧡🧡🧡
Daylite Review
Amazon | REI Co-op | Moosejaw
If you are looking for the best women's hiking daypack for yourself then this article will help you choose the best one that meets your unique needs. Seriously you can't go wrong with any of these packs, however I'm sure you'll find the perfect pack for you in the notes below.
We often fly to our destinations so I needed a daypack that could double as my "personal item" for travel and then for full duty for hiking. If you are curious,
here is the one I picked
. Most important it is extremely comfortable on my back for a full day. And I've already tested it out for flying and it fit perfectly under the seat. The extra exterior pockets were invaluable. And most important I can pack a whole day's adventure in this daypack. I'm ready for all types of weather plus well stocked on food and beverages.
Why Should You Get a Daypack Made Specifically for Women?
The best women's hiking daypacks look at 3 unique body differences between most men and women. This isn't a sexist thing, it's just a fact that genetically our bodies are different.
The first is your torso length. A women's day pack is designed to sit properly on a torso length of 15-20 inches. REI has a great guide to measure your back properly that you should check out before you finalize your choice.  That also means that for some men a woman's daypack might be a better fit.
If you are a taller woman with a torso length pushing 20 inches or more you will probably be more comfortable in a unisex pack. Many of the day packs designed for women also come in a unisex design and that generally just means a longer torso. So go ahead and take a gander at the list below for alternate sizing.
And if you are a petite woman, you might be happier with one of the Osprey Packs below that have two sizes to accommodate different torso lengths. These are the perfect backpacks for petite women.
Some companies also design the waist belt with a woman's hips in mind. Face it, we have a few more curves than the average male. A little extra padding where the waist belt rubs against your hips can significantly increase your comfort.
And then there's the shoulder straps. The best hiking daypacks for women feature straps that will not smoosh "the girls" when your pack is loaded. Of course some of the unisex day packs also fit this way, but not all.
What is the Best Women's Daypack Size for You?
You want it big enough to carry everything you need. But don't go bigger because I truly believe that the amount of stuff you carry will expand to fit the space you have and next thing you know you are carrying a heavy 30 pound pack for a 2 hour hike.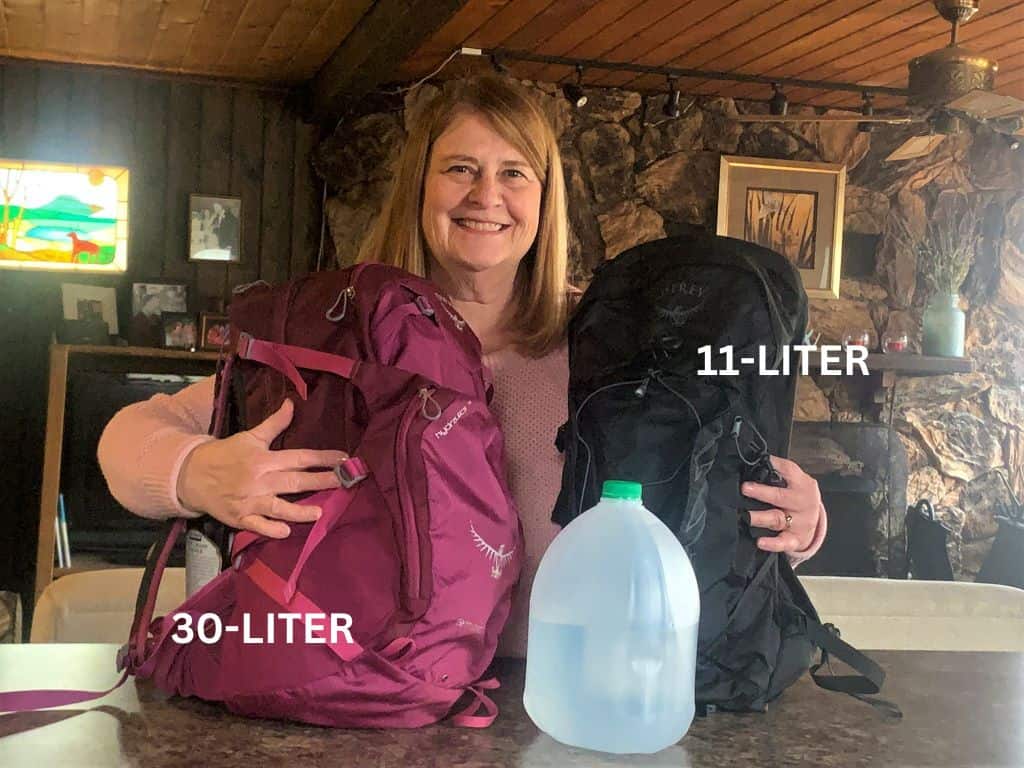 I tend to have trouble visualizing the size of daypacks when talking about liters so I'm holding 2 different sizes in the photo to help you. As you can see they are both about the same height. That's because the best daypacks for women should fit the length of your torso for the most comfortable ride against your back. But the pack on the left at 30-liters will hold 3 times the pack on the right. That's because it is deeper (the distance out from your back) so you can put more gear inside. It also has more stuff pockets to add gear.
A Trick to Calculate The Size Hiking Daypack You Need:
Start with estimating how much stuff you want to carry on your day hike. Remember this pack is for day hikes, not a week in the wild.
Packs are rated in liters. I have trouble visually converting that to size. If you have the same problem try thinking of gallons of milk. Rough conversion each gallon of milk is 4 liters. So for a 20L pack, picture 5 gallons of milk.
Then I tried to picture the stuff I would carry for a full day hike crammed into those milk jugs. 1 gallon for water, 1 gallon for my fleece, 1 gallon for lunch and snacks, 1 gallon for miscellaneous tools and safety stuff, 1 gallon for rain gear, extra socks, etc. And then space for a camera, phone and binoculars. 6 gallons = 24 liters.
Our experience has shown that for a full day of adventure you'll want a daypack in the 20-30 liter range. Plenty of room for all your gear. And after checking the average dimensions of this size, it will meet most airline requirements for a carry on or personal item. Of course, if you are only planning for 2 to 3 hour hikes, you might want to go smaller.
What if you are looking for a small hiking backpack for women?
Without a doubt, at just 13 liters, the best small women's hiking backpack is the Osprey Daylite which we added to the list just for those of you who want to hike with minimal gear. You can add a 3.0 liter hydration bladder and still leave plenty of room for trail essentials. What you'll like most is that you'll have a small women's hiking daypack that keeps your back health in the forefront. Brad just got an Osprey Talon 11-liter for short hikes. That's the guys version of the Osprey Tempest – our number 2 choice. I love the trampoline back!
The list of  9 of the Best Daypacks for Women
✅ Best Women's Daypack Overall – Osprey Skimmer
ORGANIZATION 🧡🧡🧡🧡🧡
SUPPORT/COMFORT 🧡🧡🧡🧡🧡
HYDRATION 🧡🧡🧡🧡🧡
DURABILITY/STYLE 🧡🧡🧡🧡🧡
CAPACITY: 9, 20, 24, 30, 34 liter
TORSO FIT: 15-20 inches
HYDRATION SYSTEM: 2.5L Included
WEIGHT: (28l) 1lb 11oz
COLORS: Sapphire Blue, Plume Red
WAIST/HIP BELT: Yes, with zippered pockets
FRAME: Frameless
EXTERIOR POCKETS/STRAPS: 2 stretch side pockets, large zippered belt pockets, trekking pole loops
INTERIOR: Dedicated pocket for hydration system, large main compartment, front stuff pocket, side zipper pockets
OUR REVIEW OF OSPREY SKIMMER
The Osprey Skimmer in the 28liter size is our top choice for one of the best daypacks for women on a full day of hiking. In my opinion, you won't find a better women's daypack for hiking when it comes to overall comfort and usability. Smaller 16 and 20-liter sizes are great for short days on the trail.
Support/Comfort: The Airscape Suspension provides structured contouring that results in the Skimmer hugging your back. This means you have full support when moving. The open mesh allows air to move along your back to keep you cool. At only 1.7 pounds for the 28-liter size, the lightweight pack reduces the stress on your back. The waist belt in the 28l size perfectly helps distribute the weight of your pack and the adjustable shoulder straps are great for varying load weights.
Organization: The main compartment of the Osprey Skimmer is bucket style with a large wide mouth. You'll find the zipper opens almost 2/3rds of the way so you can easily load and access the contents. This ease of use is a big plus for the Skimmer.
The larger size pack features a generous stuff pocket in the front-sized will to shove in a jacket your lunch. And you find zippered slash pockets on the side for easy access to your phone and sunglasses. Also in the large size, the waist belt has nice big pockets (that's where I stick my chapstick!). My phone is a tight fit in this belt pocket, but our GPS fits perfectly. In the 16 and 20-liter versions, the side pocket is a stretch pocket and it is streamlined without the front stuff pocket.
After 4 years of carrying the pack, one of my favorite features, in all three sizes, is the loops for trekking poles that really hold your poles in place. And I love the loop system for securing additional gear (including an ice ax loop) to the outside of your pack as it is constructed for strength so you don't lose anything.
What I miss is the internal pocket for organizing small items which were in the older version of the Skimmer. However, the updated sleekness of this pack is amazing and it is still my top choice.
Hydration: All three sizes come with the Hydrapak 2.5-liter reservoir that includes the magnetic bite valve attachment. The shoulder strap is designed with a loop to hold the waterline close to your body, and the front sternum strap has a magnet to secure the valve when not in use. We like that the reservoir compartment is a dedicated pocket so you have easy access and don't have to dig into your gear to remove it for filling. If you prefer water bottles over a hydration reservoir this is probably not the pack for you. I find it comfortable with a couple of bottles of water in the bottom or side pockets, but any more than that the weight balance is off. In contrast, the balance is amazing when the water bladder is in place.
Durability/Style: Made of heavy-duty nylon, this is a very durable pack. Osprey is well known for supporting their lifetime warranty because they know their packs should last forever. You'll like the sleek design. It comes in 2 bold colors for a little fun on the trail.
PROS AND CONS OF OSPREY SKIMMER
WHAT WE LOVE MOST: I've found the Osprey Skimmer comfortable to wear all day. And really what else is important. We also love the hydration system, it's simple to use and just as easy to clean when you get home. This is just an easy daypack to like.
CONCERNS: If you like lots of little pockets to keep yourself organized you might not like this daypack. Personally too many pockets can get a little crazy when you are trying to find stuff and simple is good. But there are definitely times when a few little pockets would be nice to have.
✅ Best MultiSport Daypack for Women – Osprey Tempest
ORGANIZATION 🧡🧡🧡🧡🧡
SUPPORT/COMFORT 🧡🧡🧡🧡🧡
HYDRATION 🧡🧡🧡🧡
DURABILITY/STYLE 🧡🧡🧡🧡🧡
CAPACITY: 9, 20, 24, 30, 34 liter
TORSO RANGE: XS/S 13-17 inches, M/L 16-20 inches
HYDRATION SYSTEM: not included, dedicated sleeve 2.5L compatible
WEIGHT: (30l) 2lb 6oz
COLORS: Violac Purple, Jasper Green, Black, Gray
WAIST/HIP BELT: Yes, with zippered pockets
FRAME: Frameless
EXTERIOR POCKETS/STRAPS: 2 stretch side pockets, large zippered belt pockets, stretch mesh front, trekking pole loops
INTERIOR: Dedicated pocket for hydration system, large main compartment
OUR REVIEW OF THE OSPREY TEMPEST DAYPACK
The Osprey Tempest is our top choice if you switch between activities often. It's a great pack for a wider variety of sports like bike riding or bouldering. It's also the perfect choice for very petite hikers with the smaller size option available to accommodate a short torso. Brad got the Talon, the guy's version for Christmas and is anxious to give it a try on the trails this summer. His is the 11-liter for lighter hikes but still let's him carry a full 3 liters of water in the bladder.
Support and Comfort: It's a tough call between the Osprey Skimmer and the Osprey Tempest for the top spot for the best daypacks for women. One thing we really like more in the Tempest is the design of the AirScape back panel that allows for greater airflow making this a better choice for super high activity levels. Another great feature of the Tempest is the BioStretch harness that moves with your body. For these 2 reasons, the Tempest is a superior daypack if you are doing a lot of bouldering, climbing or bike riding in addition to hiking. This pack will move better with your body. However, for traditional hiking, we still like the balance of the Skimmer better due to its lighter weight and contoured fit against your back.
Organization: It can get a little confusing with the Tempest series what pockets you actually get because each size is a little different. That's so the design can be streamlined as you get smaller so make sure you take a close look as you drop sizes. However in general this pack is well designed for keeping your gear organized.
The main compartment is a bucket-style large opening so you can tuck in lots of gear. There is a mesh pocket either inside the lid or inside the opening so you can keep important items easily accessible on the top. There is also a slash pocket in the lid of larger sizes to tuck in things you want quick access to like sunglasses and cameras.
We love the stretchy pocket built into the front of the shoulder harness where you can tuck in your phone for quick access to the camera. And the side pockets are deep mesh panels to ensure your water bottles stay put. The larger sizes have a stretch mesh front panel to stuff in jackets with the 9 liters using a bungee held a front panel. Just like the Skimmer, the Tempest has an Ice Axe holder and the Stow-on-the-Go trekking pole attachment loops.
The 9 and 20 liters also have bicycle helmet and light attachments.
Hydration: The deep stretch mesh side pockets are designed to hold water bottles tightly in place. Osprey has included a dedicated pocket for a hydration system but does not include the bladder with the pack. If you prefer a hydration system over water bottles you will likely prefer the way the Skimmer is designed rather than add your own system to the Tempest. If you like to switch back and forth between bladder and bottles then you might still consider the Tempest as it does a good job securing a bladder.
Durability/Style: Made of heavy-duty nylon, the Tempest will hold up under a lot of abuse. And it is also covered under the reliable Osprey lifetime warranty.
PROS AND CONS OF THE OSPREY TEMPEST DAYPACK
WHAT WE LOVE MOST: We love that the Osprey Tempest in the XS/S size fits a petite gal nicely. And you will really value that it moves with a very active body when biking or undertaking high movement sports. We also like that the smaller sizes still include a supportive waist belt with zippered pockets (many packs drop to a web belt in small sizes.)
CONCERNS: Our biggest concern is making sure you understand your hydration preference and how this pack accommodates that.
✅ Best MultiUse Daypack: North Face Women's Recon
ORGANIZATION 🧡🧡🧡
SUPPORT/COMFORT 🧡🧡🧡🧡
HYDRATION 🧡🧡🧡
DURABILITY/STYLE 🧡🧡🧡🧡🧡
CAPACITY: 30 liter
TORSO FIT: Adjustable Suspension
HYDRATION SYSTEM: Not Included, can fit up to 2litter bladder
WEIGHT: 2lb 8oz
COLORS: Many, many colors and fabric patterns!
WAIST/HIP BELT: Removable strap
FRAME: Frameless
EXTERIOR POCKETS: 2 deep stretch side pockets, stretch front pocket
INTERIOR: Padded laptop compartment doubles for hydration system, large main compartment, front zipper pocket for supplies.
OUR REVIEW OF NORTHFACE WOMEN'S RECON BACKPACK
If you are looking for a women's hiking daypack that you can use for both work and play then the Northface Women's Recon Backpack would be a great choice. This pack is about as simple as it gets. While at the same time it provides excellent back support, even certified by the American Chiropractic Society.
Support and Comfort: North Face's proprietary FlexVent™ suspension system is well designed for good back support, receiving the endorsement of the American Chiropractic Association. It features a flexible yoke built from custom injection-molded shoulder straps that is designed with a woman's body in mind. The padded mesh back panel and a breathable lumbar panel will help keep you cool and dry.
For comfort, our only concern is the hip belt which is a thin strap. That's perfect for keeping your pack from swinging against your back but won't help with support if you carry a heavy load. My experience is that a thin strap is fine if you carry lighter loads.
Organization: It starts with a laptop pocket that can also double to hold your water bladder. Most 1.5 to 2 liter bladders should fit. The main compartment is huge and open like a stuff sack. The front compartment has an interior zippered pocket for secured items plus 4 small pockets to tuck your phone, glasses and other small items for quick access.
For exterior pockets we love the really deep stretch side pockets. Nothing worse than a pack where you water bottles are falling out of those side pockets. The front has a stretch pocket of reasonable size.
There are only 2 small side loops for hanging extra gear on your pack which is not ideal. Personally, we like to hang a few items, like our camera and sunglasses, on the outside for quick access so this would be a challenge. Overall this is not a pack for someone who likes a lot of organization of their gear. It's perfect for someone who loves to keep it simple.
Hydration: Although you could slide a water bladder in the laptop pocket, this pack is better valued for the really deep water bottle pockets on the sides that will hold your bottles tight. Brad really prefers bottles over a bladder so this is exactly what he would want in a hydration feature.
Durability: This classic backpack is prized for it's durability, coming with a lifetime warranty. It's made of high quality nylon to resist tearing. A water resistant finish has been applied although you will definitely want to add a rain cover to your gear list as it's not going to hold up in a downpour.
PROS AND CONS OF NORTHFACE WOMEN'S RECON BACKPACK
WHAT WE LOVE MOST: The simplicity of this pack makes it perfect for doing double or even triple duty on a trip. The open compartment makes it easy to pack for a flight, then transition for hiking. It's hard to find a simple design like this that also provides good back support. Oh, and you have to love the huge color selection!
CONCERNS: This pack is a little heavy for a frameless pack at over 2 lbs. The removable waist strap is primarily to keep the pack from bouncing around, it doesn't provide much additional support (although I do like that it's removable). No loops for trekking poles and limited exterior pockets might challenge for extended hikes.
✅ Best Daypack Hydration System: Gregory Mountain Women's Swift Backpack
ORGANIZATION 🧡🧡🧡🧡
SUPPORT/COMFORT 🧡🧡🧡🧡🧡
HYDRATION 🧡🧡🧡🧡🧡
DURABILITY/STYLE 🧡🧡🧡🧡🧡
]CAPACITY: 15, 20, 25, 30 liter
TORSO FIT: 14-19″ Adjustable load lifter in shoulder harness
HYDRATION SYSTEM: Included, 3 liter
WEIGHT: (30l) 1lb 10oz
COLORS: Orchid Red, Juniper Blue
WAIST/HIP BELT: Yes, padded in 25l and 30l, web belt in 20l
FRAME: Frameless
EXTERIOR POCKETS/STRAPS: 2 deep stretch side pockets, large stretch stuff pocket in front, top for glasses or keys
INTERIOR: Large main compartment with deep front compartment with internal storage pockets.
OUR REVIEW OF GREGORY MOUNTAIN WOMEN'S SWIFT DAYPACK
The premium hydration system in the Gregory Mountain Swift Daypack for women makes it a highly desirable pack for long hot hikes. Add a lot of comfort features and we think you'll really love this hiking daypack for women.
Support and Comfort: The design of the shoulder harness is well thought out for good support. It is padded and shaped with a woman's figure in mind. And the shoulders have load lifters to allow easy stability adjustments as your pack weight changes. To keep you cool and dry the harness incorporates ventilated air-mesh. The back panels are mesh-encapsulated. The hydration system is designed for weight balance as water levels change during the day. Overall this pack has great reviews for comfort on the the trail.
Organization: Internally, the Swift offers great organization opportunities. We always love a separate top pocket for sunglasses so they don't get scratched. The main compartment is big and deep, with a zippered panel that opens about 1/2 way so you can get to the bottom easily. Although you'll find the side pockets deep and secure for tucking gear or snacks, they don't seem to hold a top heavy item like a large water bottle easily. Oh, well they weren't made for water bottles to start.
We also like the center compartment with additional pockets to keep little stuff handy. You'll appreciate the large stretchy front stuff pocket perfect for a jacket or to tuck your camera. The trekking pole attachment system neatly secures your poles to one side which makes it easier to access the rest of your gear than other systems that put one pole on each side.
What we feel is missing are external loops to attach gear and no pockets in the waist belt. The sunglass QuickStow system on shoulder harness seems in the way and we probably wouldn't use it.
Hydration: The hydration system in the Gregory Mountain Swift is first rate. It is designed to dry quickly between uses (something you don't usually think about) including a quick dry hanger. It has a large easy to use fill cap and a magnetic bit valve that attached to the front strap. We really like the quick clamp for hanging the bladder in the dedicated hydration sleeve. It feels secure and will keep the bladder from shifting.
Durability and Style: Made from high density nylon, this pack should hold up through a lot of trail abuse. We love the bright colors, overall this is a sleek attractive pack.
PROS AND CONS OF GREGORY MOUNTAIN WOMEN'S SWIFT DAYPACK
WHAT WE LOVE MOST: Thumbs up to the great hydration system. Even the 20l bag has a full 3 liter system making it a great all day bag for someone who carries a light load beyond water. It's also a very comfortable bag.
CONCERNS: Definitely not a top choice if you prefer to carry water bottles over using the hydration system.
✅ Best Entry Level Women's Hiking Daypack: REI Co-op Trail 25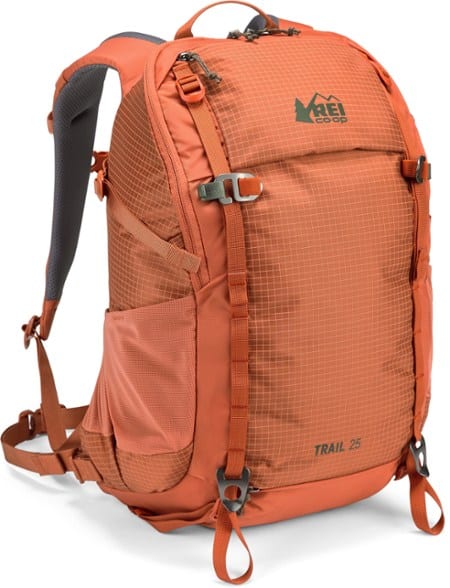 ORGANIZATION 🧡🧡🧡🧡
SUPPORT/COMFORT 🧡🧡🧡🧡
HYDRATION 🧡🧡🧡🧡
DURABILITY/STYLE 🧡🧡🧡🧡🧡
CAPACITY: 25 liter
TORSO FIT: 17-19 inches
HYDRATION SYSTEM: Compatible up to 3 liter, not included
WEIGHT: 1lb 15oz
COLORS: Black, Frosted Meadow, Rust Marsala
WAIST/HIP BELT: Removable strap
FRAME: Internal Frame
EXTERIOR POCKETS/STRAPS: Panel opening with front zipper compartment with secure storage, 2 deep stretch side pockets
INTERIOR: Moderate compartment with internal zippered pocket for valuables
OUR REVIEW OF REI Co-op WOMEN'S TRAIL 25 PACK
We've deemed the REI Co-op Women's Trail 25 as a great entry level pack because if you really don't know what you want in a pack you can't go wrong starting with this reasonably priced bag. It covers all the basics you need without going crazy with a lot of extras that often confuse beginners.
Support and Comfort: The REI Trail is the first ladies daypack for hiking that we are recommending that has an internal frame. Just to back up a minute, for long hikes when you carry a lot of weight you will usually want an internal frame for the extra support. However internal frames for daypacks are less common because people like smoosh-able daypacks for storage. However, for back support and comfort an internal frame can be pretty amazing. In this case, the Trail 25 has a very lightweight internal frame that adds structure, not weight to your pack. Empty weight this backpack comes in under 2 lbs. The back and shoulder straps are covered with a mesh padding for comfort. Although, the design could be a little better for cooling if you hike in extreme temps.
Organization: This women's daypack is pretty simple, it's a large panel opening with large capacity. There is a single zippered pocket near the top with an internal compartment where you can tuck the small things you don't want sinking to the bottom of your bag, but it's pretty limited in size. We do like the elastic edges to the stretch side pockets to help secure anything you tuck in those spots. The pockets are deep and will easily hold water bottles, cameras or maps.
We love the set up of the trekking pole attachment which keeps the poles out of the way. And one of our favorite extras are included: daisy chain loops for hooking extra gear on to the pack externally. And this women's daypack includes a rain cover with it's own stowing pocket, something you'll be thrilled to have on a rainy day.
Hydration: Another reason we like this pack for newbies is the versatile hydration system. Most new hikers don't know if they prefer a bladder system or water bottles. So it's a disappointment when a pack won't easily convert. In this case the REI Trail 25 works well both ways. It does not come with a hydration bladder, but it is all set up to accept up to a 3 liter bladder with an internal pocket that includes the bladder hanging hook. You'll find a slit to slide your water tube through that keeps it under control.
On the other hand, the side pockets work really well with water bottles. We've also found that with an internal frame tucking a bottle or two into the bottom of a daypack's big compartment doesn't throw off the weight balance like it does with a frameless pack.
Durability and Style: Made from environmentally conscious recycled nylon, the Trail 25 is very durable. REI is known for only putting their name on high quality products. The rust and green colors are very soft and earthy, personally I'd like to see a couple bolder colors included in this line.
PROS AND CONS OF REI Co-op WOMEN'S TRAIL 25 PACK
WHAT WE LOVE MOST: We love the flexibility that the REI Co-Op Trail 25 offers to women who are just starting out. In this pack you have a very high quality daypack that will support you in almost any adventure. And it will give you a chance to test your what you like and don't like without giving up support and comfort.
CONCERNS: The only disappointment in this women's daypack is the lack of cushioned waist belt. The web belt that is included will secure your pack so it's not shifting on your back, but that extra cushion is always a nice to have.
✅ Best Hard Core Hiker: Deuter Trail SL Women's Hiking Backpack (and Trail Pro)
ORGANIZATION 🧡🧡🧡🧡
SUPPORT/COMFORT 🧡🧡🧡🧡🧡
HYDRATION 🧡🧡🧡🧡
DURABILITY/STYLE 🧡🧡🧡🧡🧡
CAPACITY: 28, 34(Pro) liter
TORSO FIT: 14-19 inches
HYDRATION SYSTEM: 3.0L Compatible
WEIGHT: 2lb 8oz
COLORS: Shale, Black, Maroon, Green
WAIST/HIP BELT: Padded with large pockets
FRAME: Internal Frame
EXTERIOR POCKETS/STRAPS: Large stuff sack compartment, large front compartment, side pockets, trekking pole and ice pick attachment
INTERIOR: Secure zipper pocket in lid
OUR REVIEW OF DEUTER WOMEN'S TRAIL SL DAYPACK
The Deuter Trail and Trail Pro are meant for the serious hiker. If you want the best women's daypack that will easily cross over to a weekend pack this is the one for you.  The major difference between the Trail and the Trail Pro is in the design of the Internal Frame, with the Pro having a little more support to carry a heavier load.
Support and Comfort: Dueter's proprietary AirContact system was developed in conjunction with University of Erlangen with back health in mind. There philosophy is that the pack and the back should work as one. So the the body contact system is designed to bring the weight close to the body and therefore close to the center of gravity. Then the Aircontact cushions are made from special hollow chamber foam to help keep your back cool and comfortable. If you plan to carry a fully loaded daypack for your hike, then Deuter is the way to go.
Organization: First I love the large zipper opening in the front of the bag so you can get to your jacket and other supplies that you tend to pull in and out often. From a packing point of view a top opening stuff sack type of bag is always easier to pack, but can be hard to get to the stuff in the bottom. This design solves that problem. What we don't like is the placement of the secure storage for things like your ID and wallet. Although this pack is legal as a carryon for most airlines, it won't easily double as a purse.
The 3 exterior side pockets and the hip belt pockets are generous and great for phones, water bottles, cameras or any other thing you want quick access to. This bag also includes a rain cover with it's own storage pocket. The attachments for trekking poles and an ice pick are well designed to keep them out of the way and secure.
Hydration: Fully compatible with a dedicated pocket for a hydration bladder up to 3liters and a slit to pull your hose through. The side pockets are also deep enough to secure water bottles. This pack functions well as a hydration pack, but seriously there is nothing special about the hydration system. Sometimes, just the basics are exactly what you need.
Durability and Style: You have to admit this is a very pretty ladies daypack. The colors are soft and sweet. This is a heavy duty pack, meant to last for a long time. Deuter offers a repair service if something fails.
PROS AND CONS OF DEUTER WOMEN'S TRAIL SL DAYPACK
WHAT WE LOVE MOST: Definitely love the double access to the main compartment, the top lid plus the zipper front. We also appreciate the variety of outside pockets.
CONCERNS: The Deuter Trail is amazing for long days or short weekends when you are going to pack a full hiking daypack. If you tend to carry small loads on most trips this pack is overkill and not worth the extra weight.
✅ Ideal Daypack for the Woman who Doesn't Stop: Ultimate Direction FastpackHer
ORGANIZATION 🧡🧡🧡🧡
SUPPORT/COMFORT 🧡🧡🧡🧡
HYDRATION 🧡🧡🧡🧡
DURABILITY/STYLE 🧡🧡🧡🧡
CAPACITY: 20, 30 liter
TORSO RANGE: adjustable
HYDRATION SYSTEM: No, side pockets only
WEIGHT: 1lb 5oz
COLORS: Lavender, Twilight, Mist
WAIST/HIP BELT: Web Strap
FRAME: Frameless
EXTERIOR POCKETS/STRAPS: Large main compartment, 2 pockets on harness, stretch side pockets and back pocket
INTERIOR: n/a
OUR REVIEW OF ULTIMATE DIRECTION FASTPACKHER
The FastPackHer diverges from what you normally expect in a hiking backpack. It's really meant for someone who is moving fast on the trail and doesn't want to stop to reach into their pack. The most important gear is worn on your chest. Actually it's more of a vest than a backpack in the way it fits. So as we go through this review, throw out everything you usually think about what makes the best daypacks for women.
Support and Comfort: This pack features a height adjustable T hook harness to accommodate different torso ranges. When you see 2 different sizes, that is intended to size for your chest and waist, not your height. Infiknit™ and FastFlow technology to increase the back panel's breathability and moisture wicking to keep you comfortable when working up a sweat. The 20l in the FastPackHer is a great daypack for hiking and would be comfortable all day. The 30liter fully packed might not have the support most hikers need.
A special feature we really like is the adjustable sternum straps. There are 2 straps that slide up and down a rail so you can position them for the most comfort and modify to adjust to the size of your girls. The double straps helps steady the load on your back so the pack doesn't bounce around.
Organization: A sweet feature is the closure on the top of the large compartment uses a system similar to a dry bag. You just roll it down tight and lock the sides. This serves 2 purpose, first it let's you make the bag a little bigger if you have extra gear. But most important it let's you compact the bag to the size of your gear which gives less bounce on your back when you are moving at a fast pace. The large compartment can also be accessed from a side zipper so it's easy to get to the bottom of your bag.
On the front chest harness you'll find a water bottle pocket and another large zippered pocket on the other side for phone, maps or other critical gear. The side pockets and the large back pocket are a strong stretch mesh so they hold gear secure.
Hydration:  What's unique about it is you'll find a water bottle pocket in the front harness which makes it quickly accessible. The side pockets in the pack are stretch mesh which handle large water bottles for backup. This pack is not compatible with a hydration bladder.
Durability and Style: Made of lightweight nylon, this back will hold up under heavy use. The stretchy MonoRip Mesh is strong and breathable. As for style, it's a pretty simple design.
PROS AND CONS OF ULTIMATE DIRECTION FASTPACKHER
WHAT WE LOVE MOST: Without a doubt, if you tackle the trail at high speed this would be a good pack for you. We feel like the 20l is the better size for day hiking. Since you are pulling some of your water and gear up to the chest pockets, you shouldn't need the extra capacity. Plus if you are moving fast, you will want the lighter weight of the 20 liter women's daypack.
CONCERN: If you are used to wearing a traditional daypack, having a water bottle and gear pocket on your chest might feel weird for awhile.
✅ Best Travel Daypack for Women: Patagonia Refugio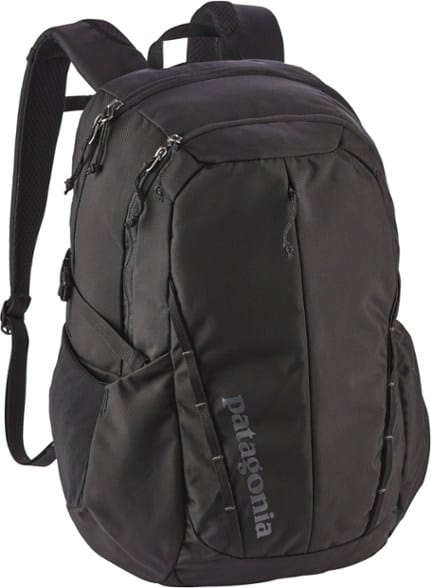 ORGANIZATION 🧡🧡🧡🧡🧡
SUPPORT/COMFORT 🧡🧡🧡
HYDRATION 🧡🧡🧡🧡
DURABILITY/STYLE 🧡🧡🧡🧡🧡
CAPACITY: 26 liter
TORSO RANGE: n/a
HYDRATION SYSTEM: 2.0L Compatible
WEIGHT: 1lb 5oz
COLORS: Red, Black, Navy, White, Teal
WAIST/HIP BELT: No
FRAME: Frameless
EXTERIOR POCKETS/STRAPS: 2 Front Compartments plus front zippered stash pocket. 2 stretchy side pockets
INTERIOR: Main compartment, tablet pocket plus large sleeve for laptop or hydration bladder. Second compartment, organization pockets inside.
OUR REVIEW OF PATAGONIA WOMEN'S REFUGIO
Think of your favorite school backpack on steroids when you look at the Patagonia Refugio. It has a all the features of a great work/travel backpack that you love plus a couple extras that allow it to pull double duty as a day hiking backpack.
Support and Comfort: The shoulder straps and back panel are lined with a breathable mesh for comfort. Although I wouldn't suggest packing this hiking daypack completely full due to support limitations, you will find it has enough structure to sit comfortably on your back for hours. The sternum strap is well placed for support and comfort but this bag is lacking a waist/hip belt.
Organization: The Refugio definitely shines when it comes to organization. The main compartment features 2 sizes of inner sleeves. The middle compartment has a variety of small pockets to keep your stuff organized. And the front zippered stash pocket is a great place to tuck something like your camera that you want easy access to.
Hydration: The inner sleeve will easily hold a 2 liter hydration pack and the bag has a convenient port opening for your water tube. You'll also find the stretchy side pockets nice and deep and secure to hold a variety of sizes of water bottles.
Durability and Style: Made from a rugged 630 denier nylon, this fabric is tough. You'll also love the bold color choices with contrasting trim to add a little style to the trail.
PROS AND CONS OF PATAGONIA WOMEN'S REFUGIO
WHAT WE LOVE MOST: A lot of our trips are more travel with small hikes sprinkled in and this is the perfect pack for those trips. The organization system is excellent. We also think this bag is a great value with a lower price than many of the best daypacks for women plus it has a highly durable fabric construction.
CONCERNS: This is probably not the best daypack for women if you plan long hard days on the trail. It is much better suited for average days where you can carry lighter loads and for someone who needs a pack that can double duty as a great travel pack.
✅ Best Small Daypack for Women: Osprey Daylite
ORGANIZATION 🧡🧡🧡🧡🧡
SUPPORT/COMFORT 🧡🧡🧡
HYDRATION 🧡🧡🧡🧡
DURABILITY/STYLE 🧡🧡🧡🧡🧡
CAPACITY: 13 liter
TORSO FIT: n/a
HYDRATION SYSTEM: 3.0L Compatible
WEIGHT: 1lb 1oz
COLORS: Wide Selection of Colors!
WAIST/HIP BELT: Removable strap
FRAME: Frameless
EXTERIOR POCKETS/STRAPS: Large Panel Loading compartment with internal sleeve for laptop or hydrations, Front compartment with mesh organization pockets, stretch side pockets.
OUR REVIEW OF OSPREY DAYLITE
If you want a smaller daypack for shorter hikes, something for a few liters of water and minimum gear the Osprey Daylite might just be the best one available. It's extremely well made and packs well for a day hike.
Support and Comfort: The mesh-covered die-cut foam back panel provides comfort and ventilation on a hot day. You won't find the type of frame support found in bigger packs in the Daylite because it's not needed. The light load will be kind to your back. And if you tuck a hydration bladder right against your back you'll have plenty of support and structure. The Daylite is designed so it can be attached to larger Osprey backpacks giving you the option on the trail to leave part of your load behind.
Organization: The design is pretty simple which is exactly what you want in a smaller women's daypack. The front compartment has enough storage to hold critical items and you can really get quite a bit of basic gear into the 13 liter main compartment. You'll find a series of loops for connecting additional gear to the outside when needed.
Hydration: The Osprey Daylite is fully compatible with the Osprey 3.0 liter water bladder making it a super daypack. The side pockets are nice a deep if you prefer to tuck in water bottles.
Durability and Style: I wish all the Osprey packs came in this many color choices. You'll struggle with picking your favorite color. And as in all other Osprey packs, the pack is fully warranted. It's a great little pack.
PROS AND CONS OF THE OSPREY DAYLITE
WHAT WE LOVE MOST: We love the compact size of this pack while still supporting a full 3 liters of water. For most summer day hikes on generally well marked trails this is the perfect bag since you won't have bulky layers to bring along and can usually get away with the basic safety kit.
CONCERNS: Don't let this sweet little pack lull you into not carrying enough safety gear when you are heading out for serious hikes. If you really think it through you can fit exactly what you need in this pack.
Critical Features to Review when Selecting your Women's Daypack
The four most important features of the best daypacks are
the overall size (volume) so you have enough room to carry everything you need and want.
the torso length to ensure you don't hurt your shoulders and back.
the weight of the empty pack should be watched. The lighter your pack the easier it will be to carry all day so the lighter it is empty the better.
the type of hydration system is critical. There is nothing important on the trail than adequate water.
Then there are other features that make the fit more comfortable which you can find after the product reviews.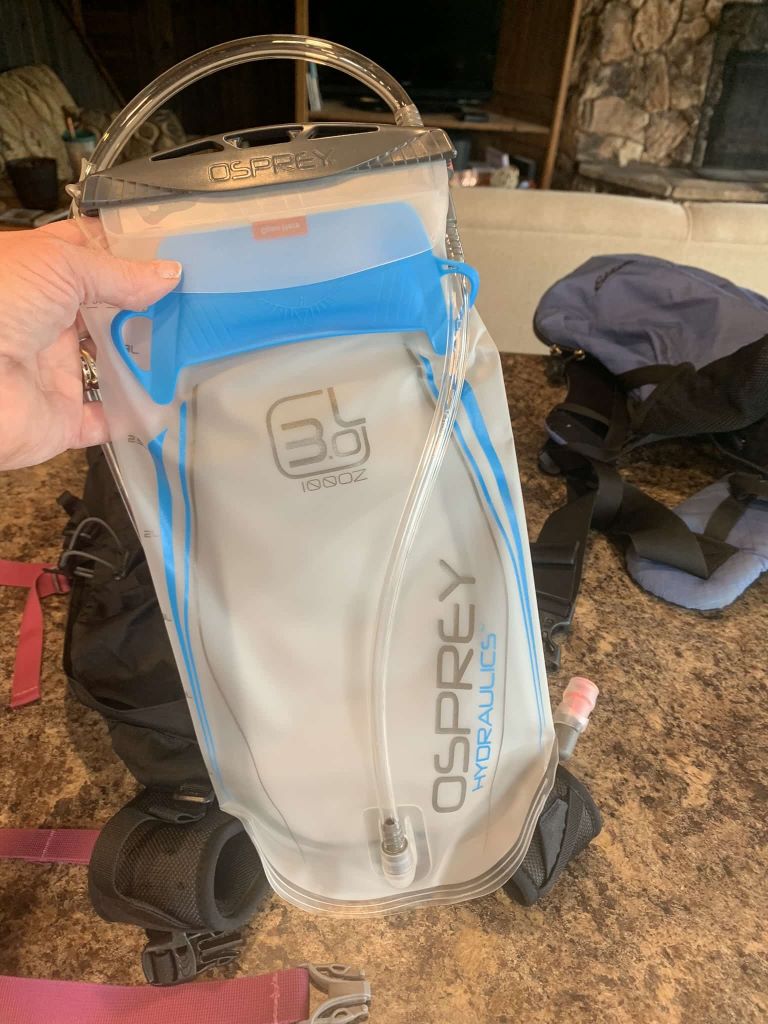 What is the Best Hydration System for the Best Daypacks for Women?
We've found that for shorter hikes of 2-3 hours we like the convenience of water bottles. Why? Because a hydration bladder is a little bit of extra work. It takes more effort to fill and when you are done hiking you need to clean and dry the bladder.
However if I need more than 2-3 water bottles, I'd much rather carry a hydration bladder. That's because the shape of the bladder fits right against the curve of your back evenly distributing the weight. It is so much better for your back health. A comfortable hike far outweighs the little bit of extra work when using a bladder.
Because most hikers are like us and want that flexibility every pack e recommend here has both options. However some were better in one area than the other. What should you look for?
Water Bottle Features for Daypacks
Water Bottles need nice deep side pockets that hold your water bottle tight. The one thing you will use most in your pack is water so you want easy access. Many of your cheaper packs have shallow pockets that really don't hold the bottle well.
Hydration Bladder Features for Daypacks
The Best Hydration Packs offer ease of access. There should be an easy opening to thread the drinking tube to you. We love the magnet clasp you see here in the Skimmer because it keeps the drinking tip out of the way when not in use. You just have to get the tube close to the clasp and the magnet grabs it.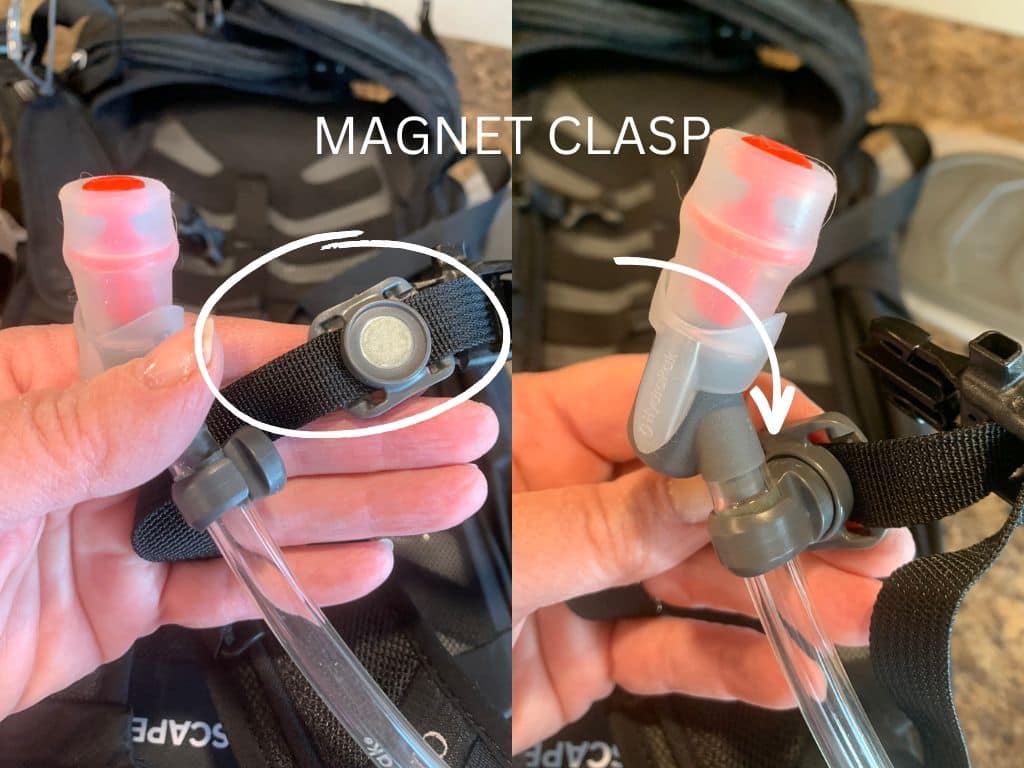 Some of the best women's daypacks have a dedicated pocket for the hydration system. That makes it a lot easier to pull out for refilling. Others are set up to use the same space that you would use for a laptop. That is definitely a win for flexibility in how you use your daypack, but a can be a challenge if you are refilling while your pack is full. If the daypack states that it is "Compatible" then the system is not included but there is a pocket available with a hole for the tubing.
I prefer a 3-liter water bladder for the best women's daypacks. That's over 1 1/2 gallons of water that will cover most day hikes. You can underfill it if you are planning shorter and easier hikes.
Should a Women's Daypack be Frameless or Internal Frame?
This is definitely the 2nd most important question (after size). If you are fairly new to the world of backpacks let me take a quick moment to explain the difference.
Frameless BackPack generally has less hard structure. You can usually smoosh it flat in your suitcase or cram it into another bag with ease. That said, better frameless daypacks utilize some amazing technology to give support as well as cool your back. If you are carrying weight on your back all day those extra features are critical to your comfort and your back health. You don't want to grab a cheap school bag like I did and end up hurting.
Internal Frame BackPacks feature a metal or plastic frame. This keeps the pack fairly rigid and eliminates sagging when you carry a lot of weight. Internal Frames are designed to distribute the weight of your pack in a way that increases comfort and reduces stress on your body. The heavier your pack, the more value you will get from an internal frame.
Benefits of a Frameless Daypack
You can use the pack as your personal item (replacing a purse) on a flight and stuff it under the seat. The dimensions of the 25-30 liter packs, if not stuffed to the brim, meet most airline requirements. That allows you easier access than if you have to put into the overhead bin. And you could still take a separate carry on when wanted.
You could stuff it into a suitcase or duffel without giving up much space.
For shorter hikes (2-4 hours) it is unlikely that you would carry more than 10-15 pounds which means very little benefit from the frame. Internal Frames give the most benefit with heavier loads.
You save about a pound in weight which is the average difference in the weight of the pack alone between frameless and internal frames.
Benefits of an Internal Frame Daypack
You can use the pack as a carry on for flights. That means it must go into the overhead bin. Fully loaded the dimensions of the 25-30 liter pack meet carry on limits for most airlines.
For longer, all day hikes, unless you are a true minimalist you will really benefit from the extra support of the frame. It's not only the extra weight you might carry on a longer hike but the length of time you have the pack on your back that effects how you feel at the end of the day.
A good quality daypack without an internal frame should still have a lot of structure to ensure you have support.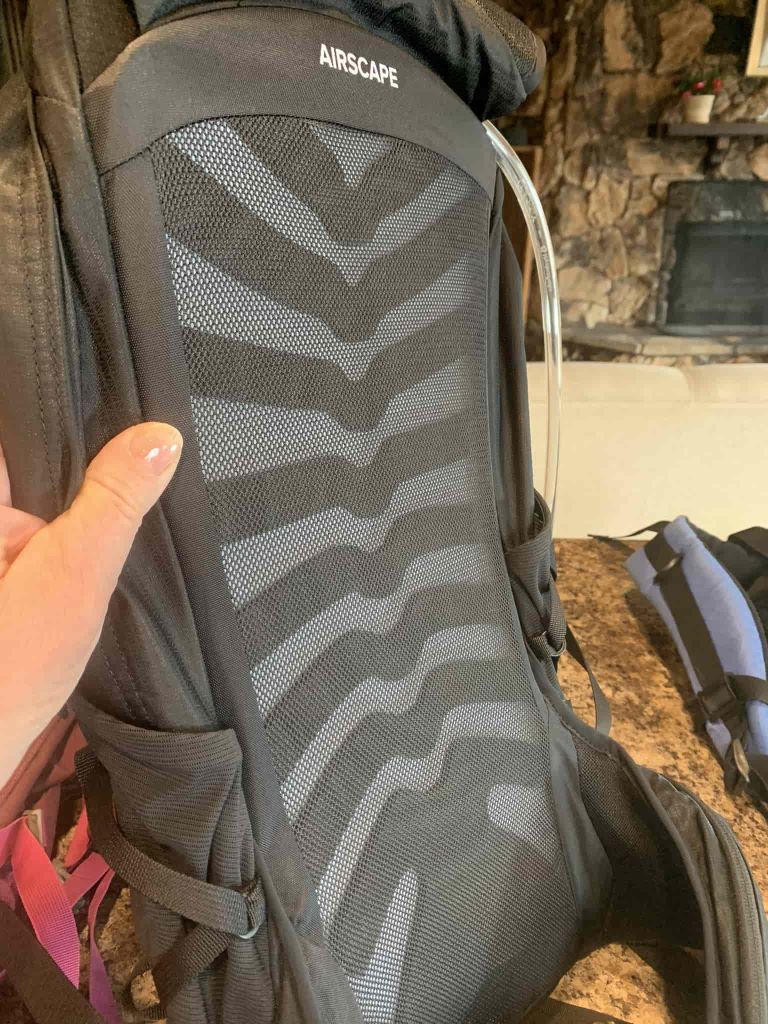 Back Ventilation System
A well ventilated system will keep your day pack from sitting directly on your back. As a result your drier and more comfortable on your hike. Most packs with internal frames are designed to sit away from your. However design in panel loading packs has come far and there are some great choices that provide air movement across your back.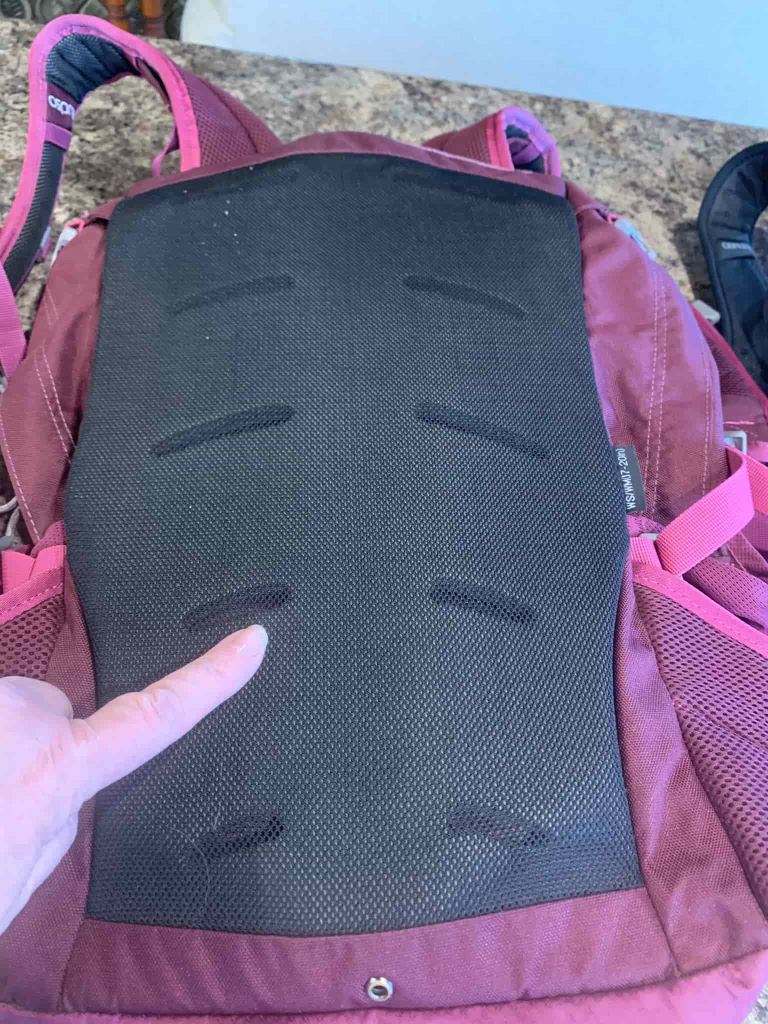 Interestingly each pack listed below has a very different ventilation design. So if a sweaty back has driven you crazy in the past, make sure you review that feature. For me, since I'm not carry heavy loads as long as the daypack has some basic ventilation features that allows back sweat to quickly dry off my back I'm happy.
What is better: Top Load or Panel Load Daypacks
Top Loading Daypacks work a lot like a big stuff sack. You put the items you probably won't need on the bottom as you will have to empty the pack to get to them. And put the gear you want quick access to on the top.
This style works great for long hikes where you have gear you don't need until you set up camp for the night. For day hikes where you aren't carrying a lot of extra items, it can be a bit of a pain. However many women's hiking daypacks overcome this by adding in a front or bottom access panel or including an array of pockets.
Panel Loading Daypacks have the familiar U shaped zipper that goes over the top. The panel flap will fold forward when unzipped and allow access to the main compartment. These are great for easy access to rummage through your pack contents.
The downside is the panel often adds a little more weight to the pack. Every extra zipper, extra piece of fabric, etc will add up. So make sure you take weight of the pack in consideration when reviewing the options.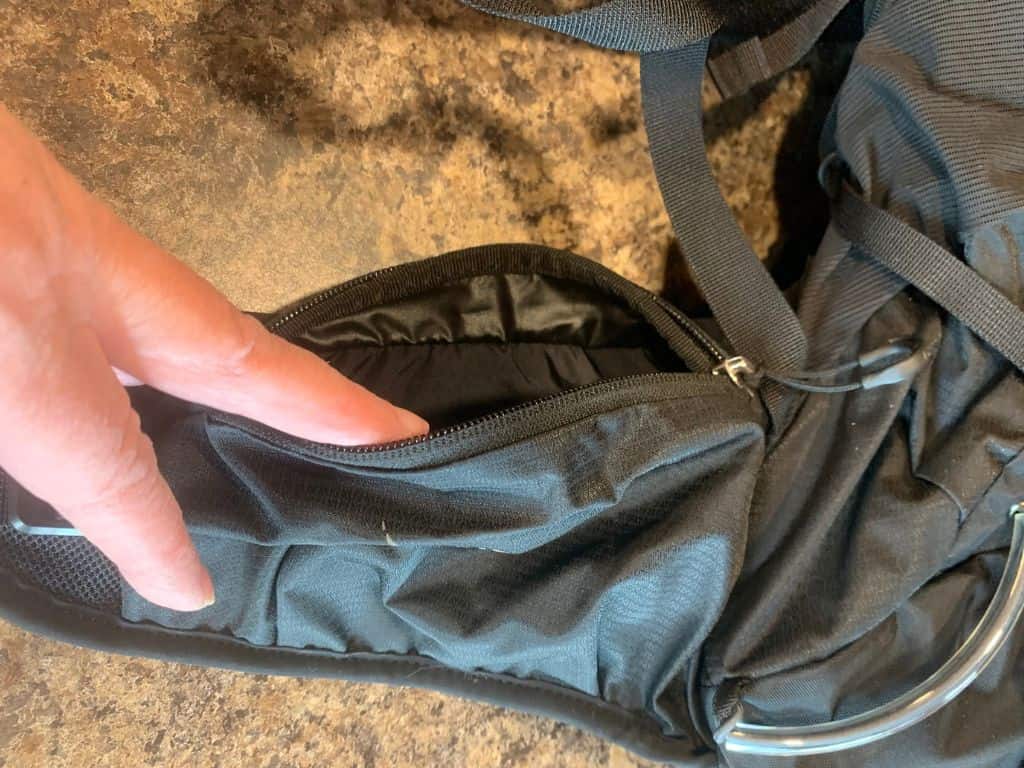 The Best Women's Daypacks have Pockets in all the Right Places
It's real easy to fall in love with lots of pockets! But remember that each one of those adds weight.  Here are a few things you might like that are on my must-have list:
A place to strap on my trekking poles.
Deep pockets for waterbottles
A safe and secure place for my wallet and car keys
An easy access place for those things I grab often like chapstick, sunglasses and my camera.
A few places to hang something off a carabiner hook like your compass or your lightweight binoculars.
Large opening to main compartment for easy access to and storage of clothing layers
There is such a thing as so many pockets that you forget what you put in which one. If you're new to hiking I'd suggest 2-4 pockets beyond the main compartment. In some cases the smaller front pocket is subdivided inside which gives you extra ways to organize.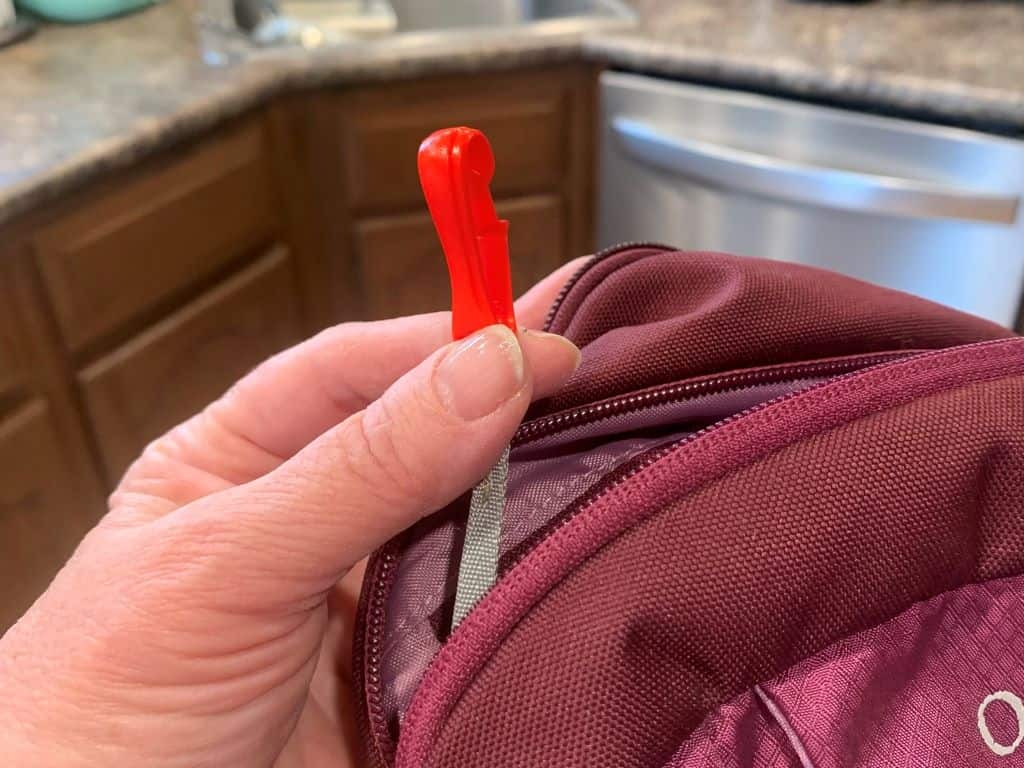 Do Women Need a Daypack with Hip Belt?
A padded hip (waist) belt is really important for women's daypacks if you are carrying a full load. Worn just above the hip bones the belt will transfer much of the pack weight away from your shoulders to your stronger legs. It also helps keep your pack from jiggling around which contributes to some discomfort. Hiking daypacks with just a simple waist belt help stabilize the load but don't help as much with weight transfer.
So do you need a hip belt? It depends upon your goals. For me I know it will get in the way if I want to stuff the bag under my seat. But one of the reasons I'm looking for a new pack was to stop hurting after a hike. So yes, I recommend a daypack with a waist belt for women hikers.
Wide and Padded Shoulder Straps are Key
Look for a women's hiking daypack with wide and well padded shoulder straps. According to Chiropractors, wide shoulder straps help evenly distribute the weight of your daypack across your back which will alleviate backaches common to carrying a heavy backpack. Narrow straps can cut off circulation causing additional back and shoulder problems.
You'll also want an adjustable sternum strap. That's the little strap that connects both shoulder straps across your chest. The sternum strap helps keep the daypacks weight from shifting as you move.
What About Rain?
All these ladies daypacks are water resistant. But I wouldn't guarantee them in a heavy rain. And somehow it always seem to rain at some point during a serious road trip! To get a truly water repellent pack you need to jump up a quite a bit in dollars. For most of us that isn't really necessary. Get one of the best backpack rain covers instead as a bit of insurance. Brad's favorite daypack come with a rain cover in it's own little pocket. How cool is that! If rain is in your future, you should also check out our Guide to Hiking in The Rain for tips to stay safe and dry.
What is Your Hiking Style?
It's really important to consider how you will be using your day pack. Are you going to use it for only short day hikes, full day hikes or do you need to it serve double or even triple purposes?
For example I need my daypack to work for flying as well as for hiking. When we fly to a destination, I like to carry on the pack and then when we head out on a hike convert the contents. Last thing I want to do is carry 2 packs on a vacation.
And Now Let's Talk about the Price of the best daypacks for women!
Don't let the price of daypacks scare you off. Yes, you'll need to invest around $100 for a pack that is healthy to wear and provides all the features you want. But know that you'll use this pack for decades. This is an investment.
So yes, $100 is a lot of money for a daypack. But let's step back remember the discomfort and pain I was getting from my $30 pack. It is well worth the investment!
Frequently Asked Questions about the Best Women's Daypacks for Hiking
What's the difference between Daypacks and Backpacks for Hiking?
Backpack is a huge category which includes everything from school book bags and computer bags to the larger back country hiking backpacks meant to support someone for weeks. Daypacks are specifically designed day hiking backpacks. The goal is to fit everything you need for a full day in the smallest hiking backpack possible. The best daypack backpacks are well organized and comfortable all day long.
What's the ideal size for day hiking?
A daypack in the 20-30 liter range will cover most types of day hikes and is plenty of room for a full day adventure.
What's the difference between a man and a woman's daypack?
The biggest difference between a man and woman's daypack is the torso length. Women tend to have a shorter torso so a man's pack would sit too low on the hips for a comfortable hike. There are also design differences to better fit a woman's shape in the breast and hip area.
What does daypack mean?
A daypack is a type of backpack that is sized for a full day of hiking or exploring.
So now that I've narrowed this list to 9 of the best daypacks for women it's time for you to decide. Which one do you think is the best pack for you? Now's the time to get it ordered and start planning your next trip.
---
Looking for gift ideas for your favorite hiker? You'll find the best ideas for hiking gifts for her right here.
---
Most important, if you are shopping for a women's daypack don't forget to PIN this to your travel board so you don't loose this reference guide. It will save you days of research if you start with this list!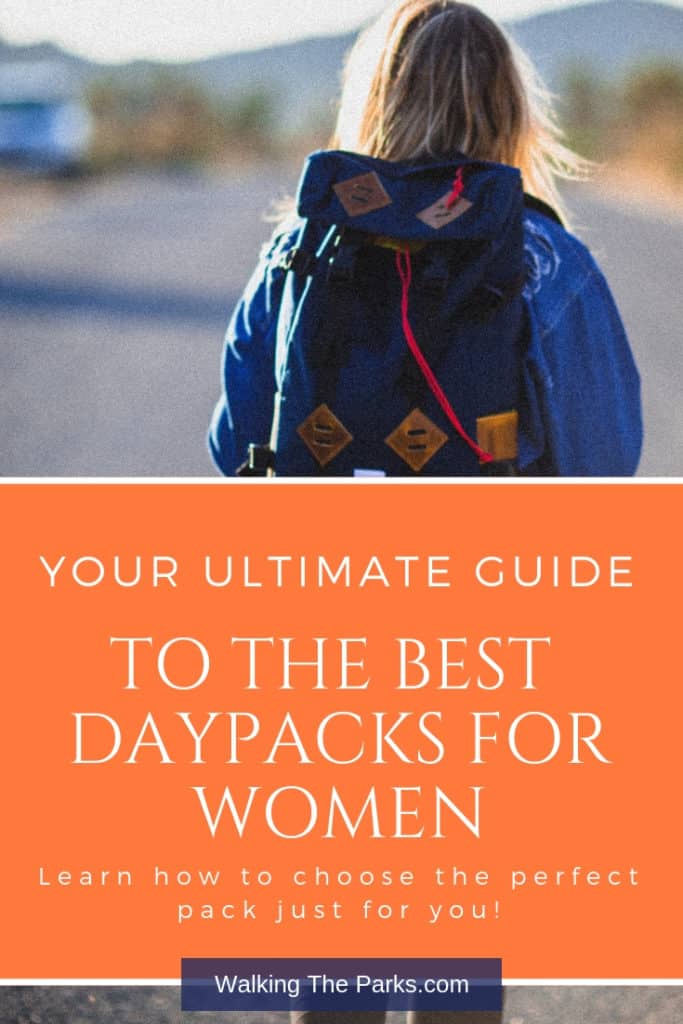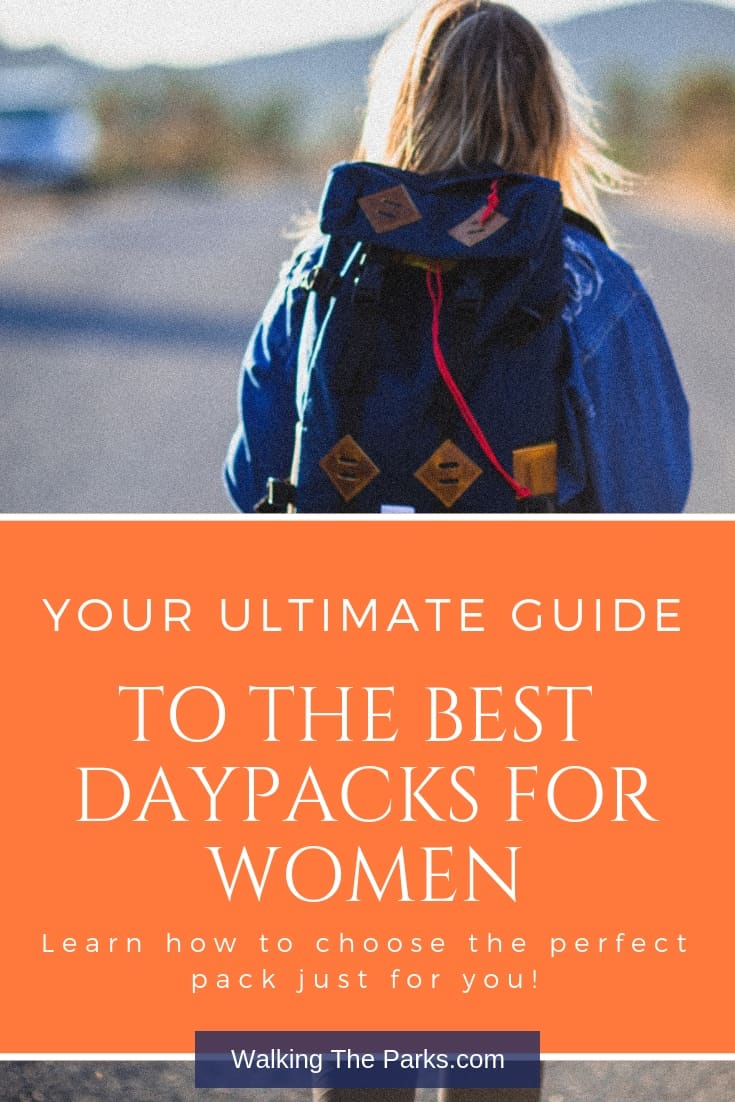 You might also want to read: 11 ITEMS YOU MUST PACK FOR DAY HIKING EVEN THOUGH YOU MIGHT NEVER USE THEM
This review originally posted 9/8/18. We update regularly to keep the most current information available for you.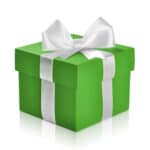 Looking for gift ideas for your favorite Hiker? Check out our Unique Guides!