Have you wondered how to pick the best daypack for hiking from the hundreds of choices available? We'll I'm in that predicament. I've just spent days on my search for the best daypacks for women and have it down to 9 choices. If you want to skip the pain of doing all that research yourself here's my short list of day packs with pros and cons.
Why am I looking for a new hiking daypack? We just got back from our Utah National Parks Road Trip and the daypack I've been using for 3 summers left me with achy shoulders and a very sweaty back. Maybe it's partially the getting older thing, but I do like to be comfortable. However being a little on the cheap side, I had pushed through with what I had. Well no more! It's time to invest in myself and get myself one of the top rated day packs!
So I've been searching google plus all the major backpack websites. I've been reading Amazon Reviews until my head was spinning. Oh don't feel sorry for me, I love to research!
This post contains affiliate links to make it easier for you to find products I have mentioned. You don't pay any extra and in some cases I could earn a small commission.
First it's important when selecting the best daypack to recognize that everybody has different needs. All 9 of the daypacks for hiking the list list below are included because they were the best in each category of features. You should check them all out to see which one best fits your travel style.
If you are looking for the best women's hiking daypack for yourself then this article will help you choose the best one that meets your unique needs.
My current day pack was never meant for backpacking, it's more of a light office or student bag. But it has a lot of features I really like. So I'm also going to try to capture those in my selection criteria.
Before we get to the list of what I found to be the best daypacks for women, let's consider a few things you should keep in mind when selecting your hiking daypack from the hundreds of backpacks out there.
There's a lot here so if you are itching to see that list, you can click the links below to jump ahead at any time. However I do recommend you read this entire post so you don't miss any important tips.
Why Should You Get a Daypack Made Specifically for Women?
The best women's hiking daypacks look at 3 unique body differences between most men and women. This isn't a sexist thing, it's just a fact that genetically our bodies are different.
The first is your torso length. A women's day pack is designed to sit properly on a torso length of 15-20 inches. REI has a great guide to measure your back properly that you should check out before you finalize your choice.  That also means that for some men a woman's daypack might be a better fit.
If you are a taller woman with a torso length pushing 20 inches or more you will probably be more comfortable in a unisex pack. Many of the day packs designed for women also come in a unisex design and that generally just means a longer torso. So go ahead and take a gander at the list below for alternate sizings.
And if you are a petite woman, you might be happier with one of the Osprey Packs below that have two sizes to accommodate different torso lengths. These are the perfect backpacks for petite women.
Some companies also design the waist belt with a woman's hips in mind. Face it, we have a few more curves than the average male. A little extra padding where the waist belt rubs against your hips can significantly increase your comfort.
And then there's the shoulder straps. The best hiking daypacks for women feature straps that will not smoosh "the girls" when your pack is loaded. Of course some of the unisex day packs also fit this way, but not all.
What is Your Style?
It's really important to consider how you will be using your day pack. Are you going to use it for only short day hikes, full day hikes or do you need to it serve double or even triple purposes?
I'd love to find a daypack that works for flying as well as for hiking. When we fly to a destination, I like to carry on the pack and then when we head out on a hike convert the contents. Last thing I want to do is carry 2 packs on a vacation.
What is the Best Daypack Size for You?
You want it big enough to carry everything you need. But don't go bigger because I truly believe that the amount of stuff you carry will expand to fit the space you have and next thing you know you are carrying a 30 pound pack for a 2 hour hike.
On a day hike on well traveled trails in the National Parks you really don't need "all that stuff". I'm always a little jealous of the girls who bounce by me on the trail with only a water bottle. But I also think it's stupid to not be minimally prepared so you can be responsible for yourself in an emergency.
A Trick to Calculate The Size Hiking Daypack You Need:
Start with estimating how much stuff you want to carry on your day hike. Remember this pack is for day hikes, not a week in the wild.
Packs are rated in liters. I have trouble visually converting that to size. If you have the same problem try thinking of gallons of milk. Rough conversion each gallon of milk is 4 liters. So for a 20L pack, picture 5 gallons of milk.
Then I tried to picture the stuff I would carry for a full day hike crammed into those milk jugs. 1 gallon for water, 1 gallon for my fleece, 1 gallon for lunch and snacks, 1 gallon for miscellaneous tools and safety stuff, 1 gallon for rain gear, extra socks, etc. And then space for a camera, phone and binoculars. 6 gallons = 24 liters.
I decided to shop in the 25-30 liter range. Plenty of room for all my gear. And after checking the average dimensions of this size, it will meet most airline requirements for a carry on or personal item. Of course I won't need that much space for a 2 hours hike, but I'm hoping I can restrain myself from overfilling on those shorter hikes.
What if you are looking for a small hiking backpack for women?
Without a doubt, at just 16 liters, the best small women's hiking backpack is the Osprey Skimmer women's backpack. We love this daypack in all sizes. It comes with a generous 2.5 liter hydration bladder that still leaves plenty of room for trail essentials. What you'll like most they keep the same support design as their larger backpacks, which means you'll have a small hiking backpack that keeps your back health in the forefront.
Frameless or Internal Frame?
This is definitely the 2nd most important question (after size). If you are fairly new to the world of backpacks let me take a quick moment to explain the difference.
Frameless BackPack generally has no structure. You can usually smoosh it flat in your suitcase or cram it into another bag with ease. That said, better frameless daypacks utilize some amazing technology to give support as well as cool your back. If you are carrying weight on your back all day those extra features are critical to your comfort and your back health. You don't want to grab a cheap school bag like I did and end up hurting.
Internal Frame BackPacks feature a metal or plastic frame. This keeps the pack fairly rigid and eliminates sagging when you carry a lot of weight. Internal Frames are designed to distribute the weight of your pack in a way that increases comfort and reduces stress on your body. The heavier your pack, the more value you will get from an internal frame.
I've included in the list below both frame styles because I am still undecided which way to go. Here's some things I'm considering that might also help you.
If you go Frameless:

You can use the pack as your personal item (replacing a purse) on a flight and stuff it under the seat. The dimensions of the 25-30 liter packs, if not stuffed to the brim, meet most airline requirements. That allows you easier access than if you have to put into the overhead bin. And you could still take a separate carry on when wanted.
You could stuff it into a suitcase or duffel without giving up much space.
For shorter hikes (2-4 hours) it is unlikely that you would carry more than 10-15 pounds which means very little benefit from the frame. Internal Frames give the most benefit with heavier loads.
You save about a pound in weight which is the average difference in the weight of the pack alone between frameless and internal frames.

If you go Internal Frame:

You can use the pack as a carry on for flights. That means it goes into the overhead bin. Fully loaded the dimensions of the 25-30 liter pack meet carry on limits for most airlines.
For longer, all day hikes, unless you are a true minimalist you will really benefit from the extra support of the frame. It's not only the extra weight you might carry on a longer hike but the length of time you have the pack on your back that effects how you feel at the end of the day.
As you can see this is a tougher decision than size. I'm leaning toward frameless daypacks right now because I want the flexibility in the way I use it. But the support of an internal frame day pack is really tempting.
Back Ventilation System
A well ventilated system will keep your day pack from sitting directly on your back. As a result your drier and more comfortable on your hike. Most packs with internal frames are designed to sit away from your. However design in panel loading packs has come far and there are some great choices that provide air movement across your back.
Interestingly each pack listed below has a very different ventilation design. So if a sweaty back has driven you crazy in the past, make sure you review that feature. For me, since I'm not planning to carry heavy loads as long as the daypack has some basic ventilation features that keeps it from directly sitting on my back I think I'll be happy.
What is better: Top Load or Panel Load Daypacks
Top Loading Daypacks work a lot like a big stuff sack. You put the items you probably won't need on the bottom as you will have to empty the pack to get to them. And put the gear you want quick access to on the top.
This style works great for long hikes where you have gear you don't need until you set up camp for the night. For day hikes where you aren't carrying a lot of extra items, it can be a bit of a pain. However many hiking daypacks overcome this by adding in a front or bottom access panel or including an array of pockets.
Panel Loading Daypacks have the familiar U shaped zipper that goes over the top. The panel flap will fold forward when unzipped and allow access to the main compartment. These are great for easy access to rummage through your pack contents.
The downside is the panel often adds a little more weight to the pack. Every extra zipper, extra piece of fabric, etc will add up. So make sure you take weight of the pack in consideration when reviewing the options.
Water Bottles and Hydration Packs
I have always carried water bottles but after our last trip to the deserts of Utah (in hot, hot August) I am seriously considering the benefits of a hydration pack. So to be fair, every pack I selected in my research had both options. However some were better in one area than the other. What should you look for?
Water Bottles need nice deep side pockets that hold your water bottle tight. The one thing you will use most in your pack is water so you want easy access. Many of your cheaper packs have shallow pockets that really don't hold the bottle well.
The Best Hydration Packs offer ease of access. No need to be a contortionist to reach your water bottle. In extreme heat or strenuous hiking it would be really sweet to just take a quick sip.  However it is critical that you thoroughly clean your hydration system to avoid build up of dangerous microorganisms and mold.
Some of the best women's daypacks below have a dedicated pocket for the hydration system. That makes it a lot easier to pull out for refilling. Others are set up to use the same space that you would use for a laptop. That is definitely a win for flexibility in how you use your daypack, but a can be a challenge if you are refilling while your pack is full. If the daypack states that it is "Compatible" then the system is not included but there is a pocket available with a hole for the tubing.
I'm leaning towards at least a 2 liter system which is the equivalent to four 16 oz water bottles. That would easily get me through most day hikes we take.  If your hiking style is pretty strenuous long days then you should definitely pop up to the 3 liter systems.
Where do I put my Stuff: Extra Pockets and Straps
It's real easy to fall in love with lots of pockets! But remember that each one of those adds weight.  Here's a few things you might like that are on my must have list:
A place to strap on my trekking poles.
A safe place for my wallet (when flying).
An easy access place for those things I grab often like chapstick, sunglasses and my camera.
A few places to hang something off a carabiner hook like a compass, binoculars, etc.
There is such a thing as so many pockets that you forget what you put in which one. If you're new to hiking I'd suggest 2-4 pockets beyond the main compartment. In some cases the smaller front pocket is subdivided inside which gives you extra ways to organize.
Do You Need a Daypack with Waist Belt?
A padded waist belt is really important for women's daypacks if you are carrying a full load. Worn just above the hip bones the belt will transfer much of the pack weight away from your shoulders to your stronger legs. It also helps keep your pack from jiggling around which contributes to some discomfort. Hiking daypacks with just a simple waist belt help stabilize the load but don't help as much with weight transfer.
So do you need a waist belt? It depends upon your goals. For me I know it will get in the way if I want to stuff the bag under my seat. But one of the reasons I'm looking for a new pack was to stop hurting after a hike. So I'd say I'm leaning towards a daypack with a waist belt. I did find a few options that appear to be a good compromise through! Read on to see.
What About Rain?
All these daypacks are water resistant. But I wouldn't guarantee them in a heavy rain. And somehow it always seem to rain at some point during a serious road trip! To get a truly water repellent pack you need to jump up a quite a bit in dollars. For most of us that isn't really necessary. Get a rain cover instead as a bit of insurance. Some daypacks come with a rain cover in it's own little pocket. How cool is that!
And Now Let's Talk about Price!
I started out looking in the $50 range and it soon became apparent that there weren't many in that price range that were going to provide the features and the extra support I was looking for. Then I got a little scared as I saw packs in the hundreds of dollars. Whoa! Good news though, most of the daypacks in this list can be purchased for just under $100 if you price check. I did include one dream pack slightly out of my budget but a girl needs to dream!
So yes, $100 is a lot of money for a daypack. But let's step back remember the discomfort and pain I was getting from my $30 pack. It will be well worth the investment!
Anything else to Consider in the Best Hiking Daypack?
I almost forgot to mention. I'd like a cute daypack. Maybe a little color going on. If you aren't into color most of these also come in a black, grey are dark blue. But I'm quite impressed with the wide selection of colors available in the best hiking daypacks for women.
Where to Shop for the Best Price?
Of course Amazon is always a good choice. I've also added in links for one of my new favorite stores, Moosejaw. I was so surprised at their competitive pricing, plus they have a generous rewards program. I hope you check them out. And of course I've included links to REI and Back Country who we all know for their amazing reputations and support of the hiking community. In each case I've linked to the stores that had the best selection of that particular backpack to make shopping easier for you.
And Finally! The list of  9 of the Best Daypacks for Women
PROS:  This is a time proven standard among the best hiking daypacks for women, receiving consistently great reviews. The FlexVent™ suspension system promises to keep your back cool and to provide comfort when loaded. And would you look at all those fabric style choices!
CONS:  A little heavy for a frameless pack at over 2 lbs. The removable waist strap is primarily to keep the pack from bouncing around, it doesn't provide much additional support (although I do like that it's removable). No loops for trekking poles, would need to use one of the side pockets.
ADDITIONAL SIZES: None
PROS:  This pack was rated very high for hiking comfort on multiple sites. Osprey also has an unbeatable repair or replace guarantee. This lightweight daypack will keep you happy on the trail. Personally I love the way the pockets are set up to maximize organizing my gear. This is my go to daypack!
CONS:  Not many extra places to hook gear on the outside.
ADDITIONAL SIZES: Also available in a smaller 20l and 16l size designed for a smaller load.
PROS: This is one of the smaller daypacks we selected but felt it deserved a place in this line up for so many reasons. First we love the "Stow-On_The-Go" Trekking Pole attachment that allows you to stow without removing your pack. Very interesting anti-gravity suspension system that makes this a very comfortable fit. Osprey also has an unbeatable repair or replace guarantee.
CONS: This hiking daypack comes in way over my budget but can easily be justified knowing you won't need to purchase rain cover and hydration system separately. And you can always hope for a sale! The larger waist belt pockets will be hard to get out of the way when you don't want to wear the belt.
ADDITIONAL SIZES: Also available in a larger 32l that is perfect for overnight trips.
PROS: I really like the extra deep side pockets for water bottles or bear spray in this women's daypack. I also like the size and openness of the main compartment for stuffing in my fleece and all my other stuff. And don't miss that this is an ultralight daypack, coming in at less than 1.5 pounds. Sweet!
CONS: If you prefer to carry water bottles, the lack of a hydration system won't matter. And although I like a waist belt I've found many casual hikers prefer to not have one so if you prefer to not have that constraint this is the perfect daypack for you.
PROS: This top rated daypack has a lot of comfort features including the HDPE frame sheet that provides greater support. Plus the dynamic airflow back panel and AirMesh shoulder straps. A lot of the reviews call out the comfort of the ride on the back. Also love the hideaway waist strap feature!
CONS: Top loading can be a challenge to get to items when you fully load. This might have enough extra pockets to make up for that but something to consider.
ADDITIONAL SIZES: This is the sized down version of the very popular Kelty Redwing 40, 44 and 50.
PROS: Lightweight Hip Fin waist belt has a storage pocket when you don't want to use. And although you might miss having pockets in the belt, the design will seriously reduce sweating around your waist. The front zipper access to the main pocket is nice for those of us who tend to over load a top loader! A very sweet design to create greater airflow on your back. It appears to be a very well balanced frame design.
CONS:  No water bottle pockets on side. I think I'd miss the traditional front pocket with all the little cubbies to keep the little stuff organized.
ADDITIONAL SIZES: The woman's backpack version also comes in a 32L and a unisex version, great for taller women, in a 30L. If you want to go bigger then check out the ACT Pro version.
PROS:  The technology behind the backpack hydration system is very impressive for ease of use. Seems well designed for weight balance and support.
CONS:  I'd prefer place for all the little stuff so I don't have to dig into the depths of the bag. This seems lacking with only the small padded glasses/phone compartment. Pretty sure I'll loose that chapstick.
ADDITIONAL SIZES: Also available in 20 and 25 liter versions.
PROS:  The frame design looks very promising for great support. I especially like the lower lumbar pad and the way it sits on your back to allow airflow.
CONS:  Limited small pockets for the little stuff, but the over-sized belt pockets would provide some of that space.
ADDITIONAL SIZES: Offered in a small and medium to accommodate different heights. Make sure you measure as the fit on this frame is critical for comfort! Also available in 28, 33, 38, 53 and 63 liter versions.
PROS:  Price is significantly less than others I've listed.
CONS:  The padded back is similar to what I have now and I sweat a lot.
ADDITIONAL SIZES: Also in a unisex 30l version that will be better for taller women hikers.
What's the difference between Daypacks and Backpacks for Hiking?
After I shared this article, several folks have asked me about the difference between daypacks and backpacks. So I thought I'd chime in real quick. Backpack is a huge category which includes everything from school book bags and computer bags to the larger back country hiking backpacks meant to support someone for weeks. Daypacks are specifically designed day hiking backpacks. The goal is to fit everything you need for a full day in the smallest hiking backpack possible. The best daypack backpacks are well organized and comfortable all day long.
So now that I've narrowed this list to 9 of the best daypacks for women it's time to decide and place my order. Which one do you think is the best pack? Also, if you have another suggestion for a women's daypack for hiking would you share it in the comments?
---
Looking for gift ideas for your favorite hiker? You'll find the best ideas for hiking gifts for her right here.
---
Most important, if you are shopping for a women's daypack don't forget to PIN this to your travel board so you don't loose this reference guide. It will save you days of research if you start with this list!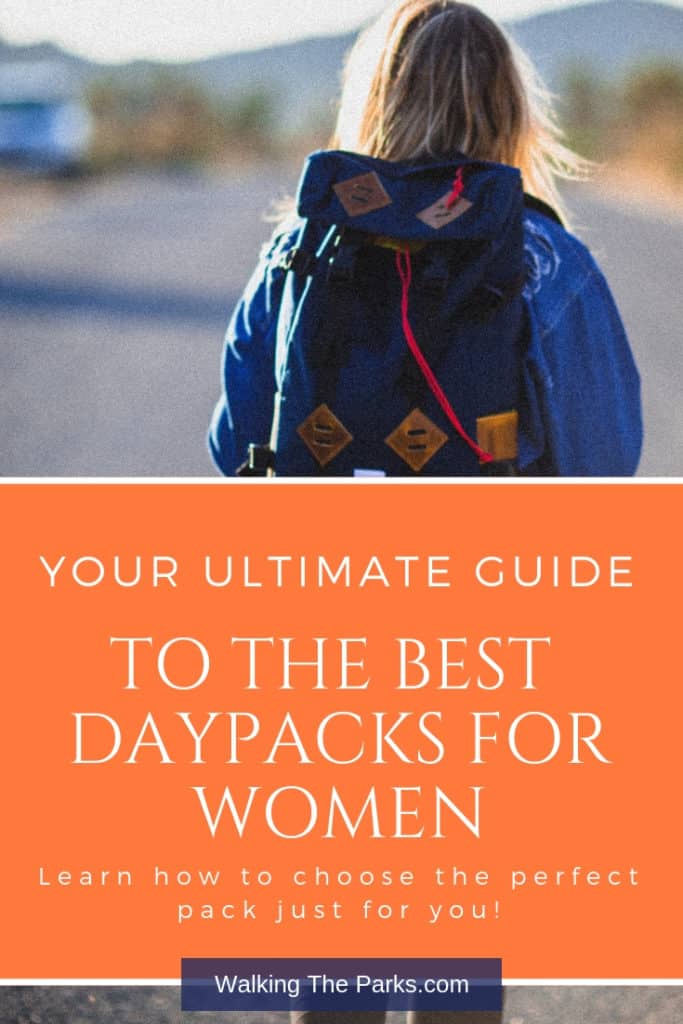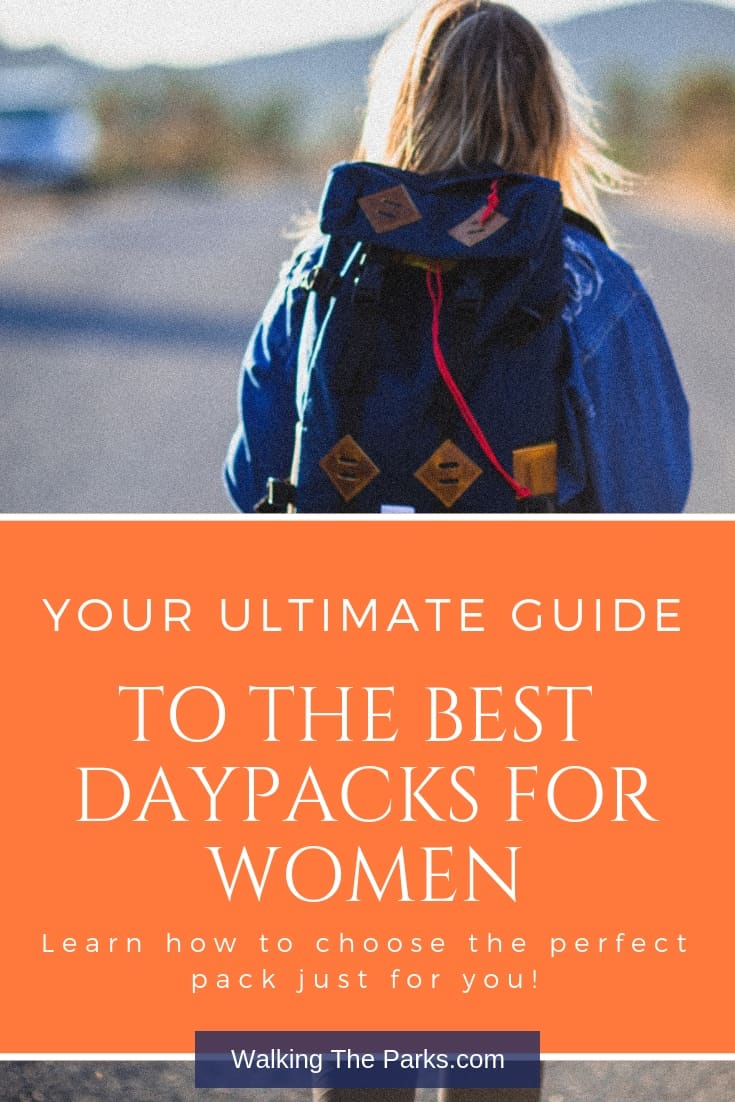 You might also want to read: 11 ITEMS YOU MUST PACK FOR DAY HIKING EVEN THOUGH YOU MIGHT NEVER USE THEM
This review originally posted 9/8/18. We update regularly to keep the most current information available for you.