My first trip to the Grand Canyon was at age 10. My only memory is stopping at several pull offs, jumping out, taking pictures and hopping back into the car.
Don't Be That Person!
If 1/2 day is your limit. If you really, truly can't stay for more than a few hours choose from just one of these four adventures. I promise that you will have incredible stories to tell when you get home.
Doing just one of these things to do at the Grand Canyon South Rim guarantees that you will have a memorable Grand Canyon Experience that you will be talking about for decades.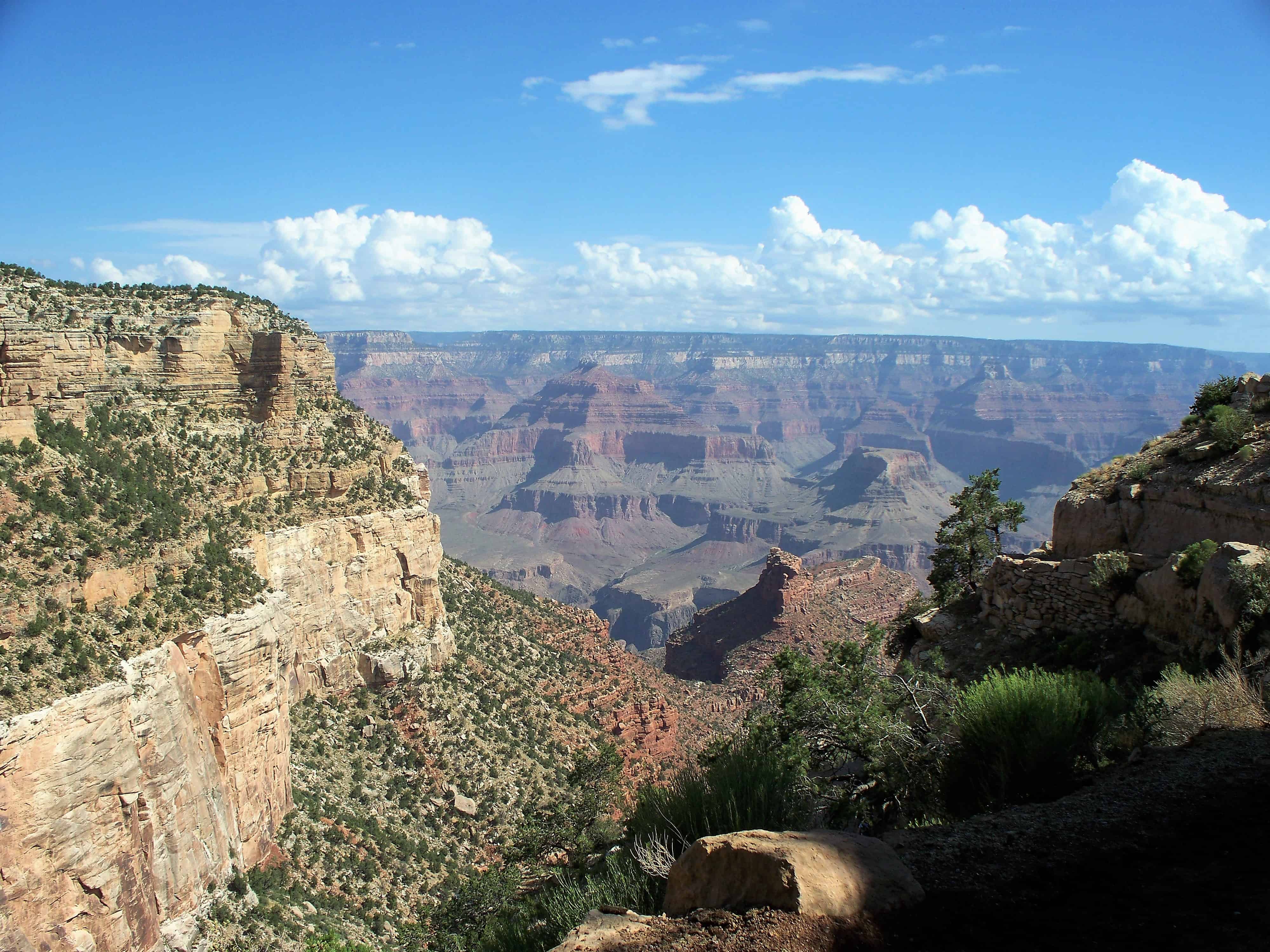 Walk Along Rim Trail
Let's start with walking the park…by that I mean the Rim Trail. Without a doubt walking the Rim Trail should be on everyone's list of things to do at the Grand Canyon South Rim! This is a 12 mile long casual walking path. It's mostly level and many visitors hike small sections to meet their time restraints. It's a great way to experience astounding views of the Grand Canyon.
Brian and Ashley, in their hiking blog, describe walking a section under a full moon. How cool would that be… to see the moonlight playing off the canyon walls!
The Grand Canyon Free shuttle has a dozen stops along Rim Trail so it's easy to do a one way hike and cover more ground in your few hours. (Trail map here) That's perfect because you will want to stop along the way to explore. There are many beautifully placed scenic overlooks where you can get those amazing family photos.
You should also poke around the Visitor Center, the Yavapai Geology Museum and the Verkamps Visitor Center to learn more about the park.
Close your your walk with a snack at the old Fashioned Soda Fountain in Bright Angel Lodge. You know I love my ice cream! Here you can relax just steps away from the edge!
This post contains affiliate links to make it easier for you to find products I have mentioned. You don't pay any extra and in some cases I could earn a small commission.
Bicycle Along Hermit Road
Hermit Road is not open to cars, just bikes and foot traffic. It follows the rim and allows you to get away from much of the crowd and access gorgeous views of the Grand Canyon. Didn't bring your bike? You can rent one from Bright Angel Bicycles next to the visitor center. While there pop into their cafe and grab a box lunch for the ride.
To save time, you can bike one way and take the free shuttle back. Bright Angel Bicycles also offer a rent and shuttle service that makes this trip really super easy. My Grand Canyon Park captured a bit of their ride. Looks like so much fun!
Step Over The Rim
You don't have to commit to the 2 day rim to rim hike to experience the Grand Canyon. When Kari and I visited, we hiked down Bright Angel Trail about 45 minutes. At first it was very crowded, a lot of people were testing the trail. But after about 20 minutes most of the casual travelers had turned back and we we were able to relax and enjoy the panoramic view. It was an amazing, not to be missed, experience!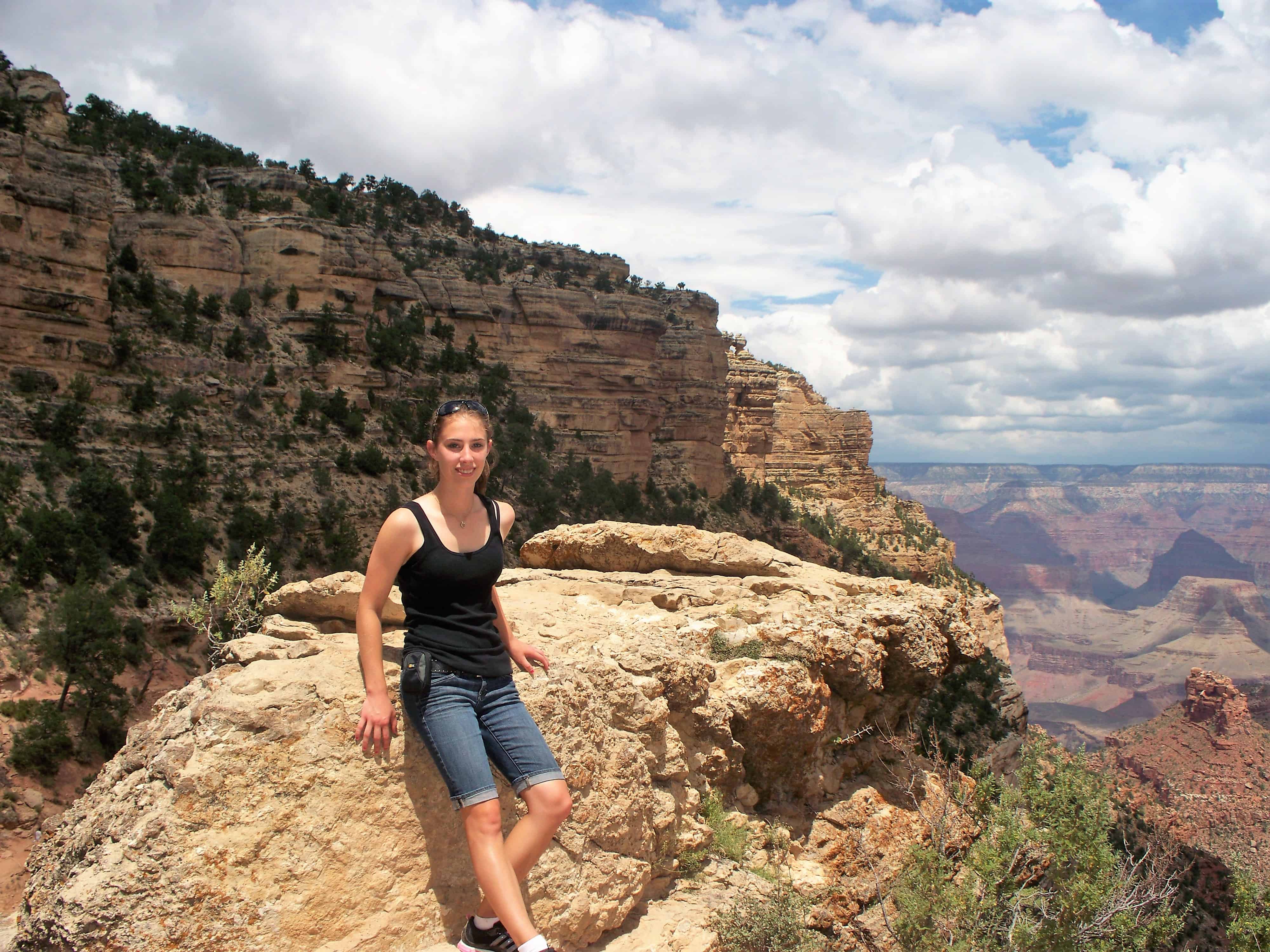 Make sure you allow plenty of time for return trip as it takes significantly longer to come up than go down. This is a very steep hike back up. Our short adventure took over 2 hours round trip. And have lots of water. It gets hot as the sun hits the canyon walls. The earlier you start the hike down the better to avoid the peak sun.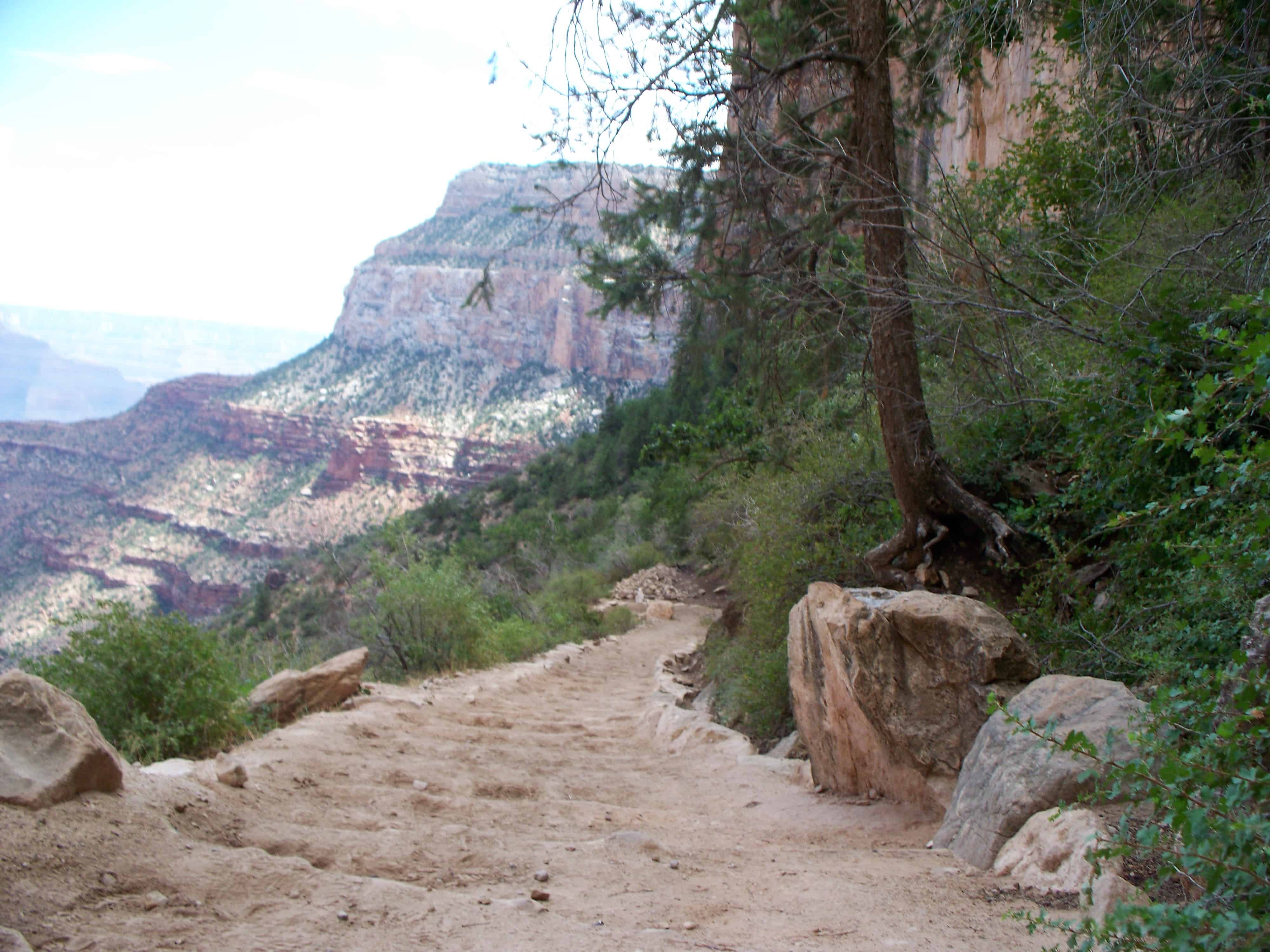 Ride a Mule Along the East Rim Trail
I'm sure you have read about the Mule Rides into the Grand Canyon, but did you know that you can enjoy a shorter 3 hour ride along the East Rim Trail? Reservations are required for this trip through Grand Canyon Lodges.
Jessie On a Journey talks about her mule ride here and has put it on her must do list. The trail guides are informative and entertaining, making sure you leave this tour with a great memory of your Grand Canyon visit.
There are so many more things to do at the Grand Canyon South Rim!
Have you wondered about the Grand Canyon Glass Sky Walk? If you are coming to the Grand Canyon from Vegas, then this is a stop you'll want to add into your itinerary. Only 2 1/2 hours from South Rim, it's a nice stop along the route with a view beyond belief.
I hope that you aren't really limited to 1/2 day in Grand Canyon National Park. It is one of those places that you can't begin to imagine until you experience the raw beauty. Try all 4 of these things to do at the Grand Canyon South Rim and you will have one heck of a vacation!
Tips for Your Grand Canyon Adventure
Hiking Poles are a must for the steep inclines. I didn't have them on this trip and really missed the support. Something simple like this set of BAFX Treking Poles is all you really need.
When hiking along Rim Trail you'll find plenty of access to water. But don't go over the rim without a good supply. This is definitely a great time to try out a hydration pack. If you don't have one you can start with something like this inexpensive Kuyou 2L.
Reservations for the Mule Trail Rides generally must be make many months ahead. But it is possible to pick up a spot due to last minute cancellations. Give them a call a few days prior to your visit to see if anything has opened up.
We love our travel guides when road tripping. For a Grand Canyon Adventure I'd suggest you check out Lonely Planet's Guide to the Grand Canyon.  With over 250 pages of detail it is an amazing resource.
A wide brim hat with a chin cord is required for the mule rides. I'd say it's a good idea for your hikes also. That Arizona sun is HOT. The cowboy style hats are definitely the sexiest – but I need something I can smash in my bag that has an SPF rating. Something like these hats from Sun Cube make so much more sense!
If you are planning a trip to Grand Canyon National Park, don't forget to Pin this article to your vacation board! If you have visited this amazing place, we'd love to hear about it in the comments below.