Brad helped me compile this great list of the best gifts for fishermen, perfect for birthdays, father's day or even Christmas. I think he's been fishing since he could walk. And with over 50 years of living the fishing life, he had some pretty strong opinions about what fishermen want as gifts.
You can forget about all those silly wall hangings and talking fish. These fishing gift ideas are real stuff that real fishermen will really use. And that's exactly what you want in a gift for your favorite fisherman!
What are the Best Gifts for Fishermen?
These perfect fishing gifts include favorite tools and gear that he and his buddies have been using for most of their fishing life. This list also includes the fishing gear that would be a serious upgrade for many fishermen because it is probably time to get rid of a few outdated items in that tackle box.
And of course, you'll find that wish list item that every guy with a fishing pole in his hand dreams of owning someday. (Yes, thanks to making this list together, some of these items will be under our tree for my amazing husband this Christmas…can you keep that a secret, though!) We've included links to where you can purchase these items to make shopping easy for you. In some cases, these links are affiliate links which means we may earn a small commission if you purchase.
To make shopping easier for you, we've divided this list of fishing gifts into the following categories:
Super Cool Gifts for Fishermen – know someone who always needs to have the latest cool piece of gear? Or maybe they seem to have it all already. Well, we're sure you'll find something here to impress!
Gift Ideas for His Tackle Box – from small tools that would make perfect stocking stuffers to more significant gifts are a great way to store all that essential gear. There is something here for everyone!
Gifts for Beginner Fisherman – If you know a beginner, they might be feeling a little overwhelmed by all the information and fishing gear available. Gift them something from this list, and they're sure to start their journey into the world of fishing on the right foot.
Comfy and Protective Fishing Clothes – Any great fisherman knows the importance of having the proper clothing. You can't stay out on the water all day if you are freezing cold or getting burnt to a crisp. Gift them something from this list, and they'll be able to make their fishing trips even longer.
Gift Ideas for a Comfortable Fishing Trip – Gone are the days of long uncomfortable fishing trips. Nowadays, many great products are out there to make those hours out on the water more comfortable than ever.
Gifts to Get The Catch on the Table – Catching the fish is just the start for many fishermen! Getting it on the Table is the next step—no need to spend hours filleting, skinning and cleaning with one of these great gifts.
Beverages and Snacks for Fishermen – Is it really a fishing trip if you don't have a ton of snacks and drinks onboard? We don't think so! If your husband or dad seems to have every piece of fishing gear ever made, you can't go wrong gifting them some tasty treats for the boat.
Funny Fishing T-Shirts – Know someone who has no problem declaring their love of fishing to the world? One of these t-shirts will suit them perfectly!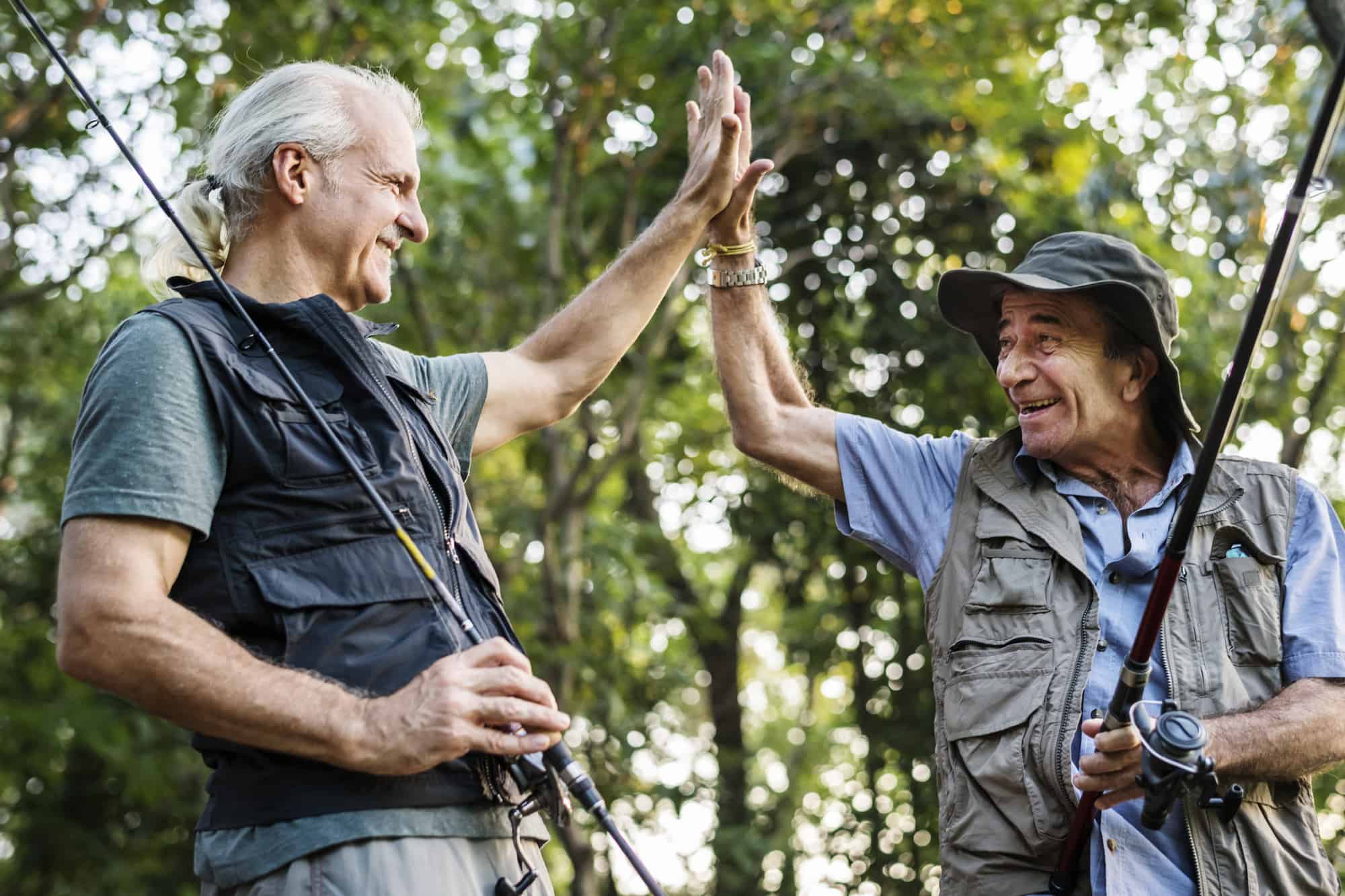 9 Super Cool Gifts for Fishermen
If you're looking for really cool fishing gifts that are sure to impress, here's a mixture of awesome gift ideas that are sure to make your fisherman happy. There is a little bit of everything in this category, from tech gear to practical pieces of kit and even gifts that will make finding fish easier. Deciding what to buy a fisherman in your life doesn't have to be difficult with these unique fishing gift ideas!
Anyone who hauls a lot of fishing gear on every trip will appreciate this heavy-duty Sea Striker beach cart. It can carry up to a whopping 125 lbs of stuff. The galvanized steel frame and powder-coated finish make it durable and rust-resistant. It's perfect, whether you want to move things from the car to the boat ramp or transport them up and down a large beach to find the perfect spot. The large beach tires make light work of soft and loose sand. It makes a handy gift for guys that like fishing.
If you know someone who suffers back pain or is even just fed up with manually cranking or hand pulling in their anchor all the time, this Trac Outdoors Electric Anchor Winch will change their life! The unit comes with 100 inches of 20-inch braided cord already wound into it and has an anchor capacity of 20 to 25lbs. It features an automatic resetting circuit breaker and comes with everything you need for installation. There is a freshwater or saltwater model so make sure you choose the right one.
There's nothing quite like finding that perfect spot! The Garmin Striker Plus 4 Fishfinder won't just make finding that favorite spot easier. It will also help find new spots with ease. This durable unit has a sunlight-readable 4.3-inch display and easy to use interface. You can easily mark and store waypoints, check the boat's speed, map routes and the sonar give clear images of underwater activity. I've used this model for very deep ocean fishing and have had great success. One of my favorite spots is tricky to get right over the top of, but the Garmin never fails me.
If your fisherman already has a fishfinder, but you really want to treat them to an impressive upgrade, the Garmin Striker Vivid 7cv is an excellent choice. This upgraded model benefits from high-sensitivity GPS and an impressive full-color CHIRP ClearVü scanning sonar. It's even easier to distinguish between fish and underwater structures thanks to the clear display. It includes a tilt swivel mount and built-in wifi so you can easily transfer waypoints and routes.
Every serious fisherman needs a good quality cooler that they can rely on, so this 30-quart cooler and dry box would be a great gift. It's insulated with lightweight foam, so the whole thing only weighs 10 lbs. The shoulder strap makes it super easy to carry. It's made using marine-grade fittings that are rust-resistant and the surface is stain and odor-resistant. It even features 4-rod holders making it particularly great for those who like multiple options.
Transporting and keeping live bait healthy doesn't need to be hard, thanks to this Frabill Bait Station. This cooler will create the perfect environment, whether you know someone who likes to fish in extremely hot or cold weather. It has a capacity of 19 quarts, has an integrated aerator, and comes with a 12V power adapter (although it can also run on batteries). It features a large carry handle and a padded shoulder strap for easy transportation.
Know someone who gets through styrofoam worm boxes like there's no tomorrow? Well, the Intruder Worm Bait Box might be just what they're looking for! The walls are made from a breathable material and the extra air holes in the lid provide ventilation for crawlers. It has a single door on the top for easy access. Worm bedding to help keep your crawlers lively is included.
Maybe you're looking to seriously spoil someone or perhaps a gift for a whole family of fishing enthusiasts. Either way, this Trolling Motor with Universal Sonar and GPS would be sure to impress! It's a great lightweight trolling motor with two control methods (foot pedal or left/right button) and spot lock activation. It might seem a little pricey, but it's a trolling motor, fishfinder, and GPS all in one.  You can plot routes, save waypoints and see fish activity all with one piece of gear.
Some guys just can't stop fishing, no matter what the season! Ice fishing in an amazing tent like this Eskimo QuickFish Shelter will be like a mini-vacation for him. He'll stay warm and toasty out of the wind while reeling them in all day! Eskimo makes this tent in 2, 3 and 6-person sizes. What is amazing is that it pops up and is ready to go in just 1 minute!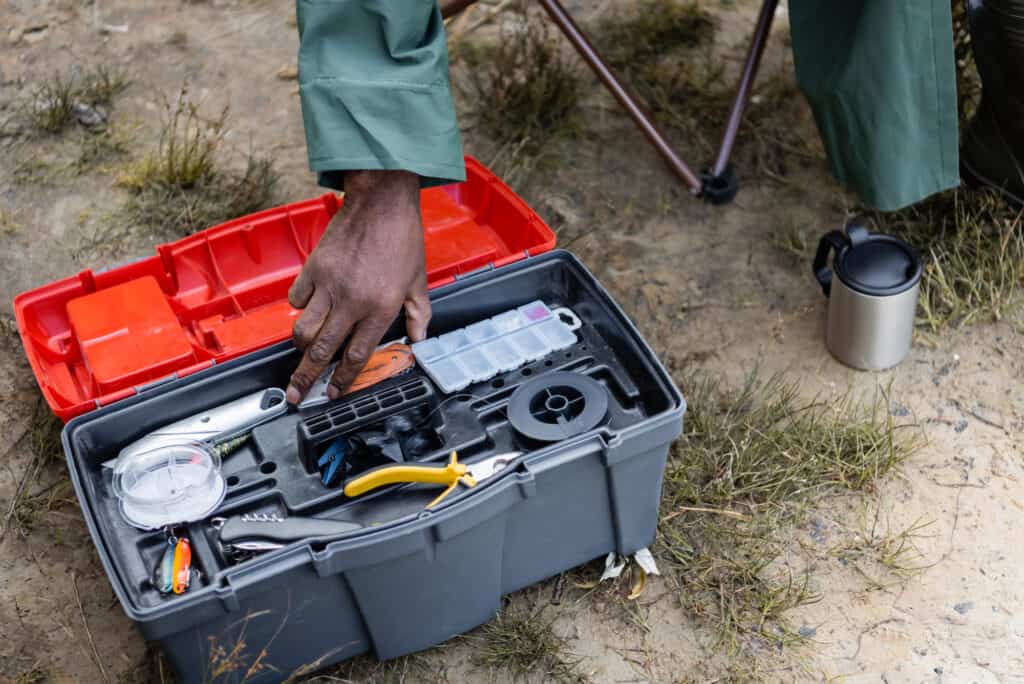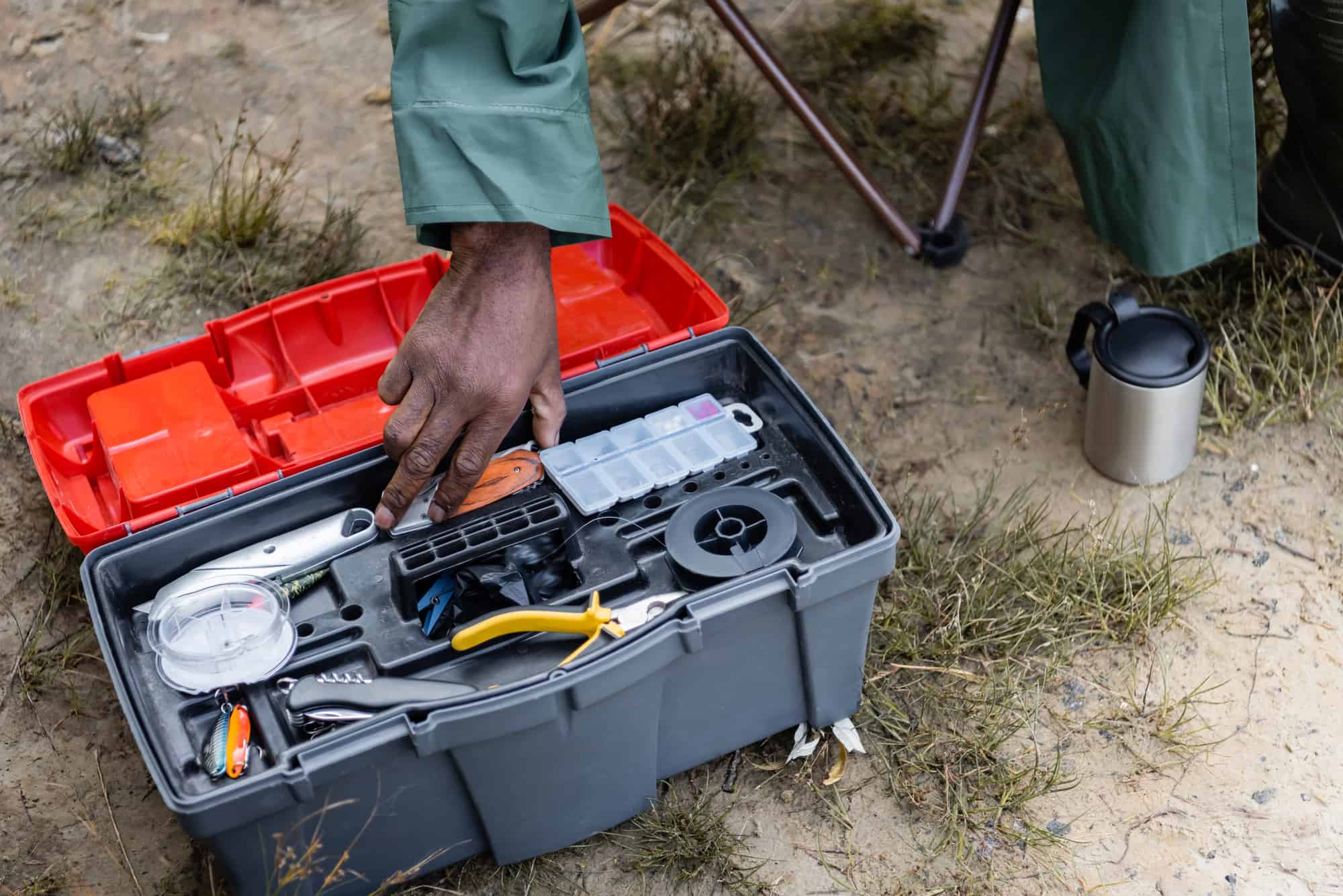 12 Gift Ideas for His Tackle Box
There are so many great tools that make fishing easier and can quickly become very overwhelming! Any of these awesome gifts would make a great addition to his tackle box. There are some basic necessities, some things they might not have thought of, full tackle kits, and even some handy storage solutions. Whether you're looking for a useful little stocking stuffer or a gift to show how well you know them, there is bound to be something here.
These Bronze Times fishing pliers are a really useful multi-tool that should be a staple in any tackle box. They're made from corrosion-resistant aluminum and the tungsten carbide cutters are really sharp. They're great for removing hooks, cutting fishing lines, crimping, and more. Thanks to the handy lanyard and holder, they won't get lost easily, and they weigh just 0.21lb.
If you're having trouble finding the perfect gift or want something unusual, these Catch Co Mystery Tackle Boxes make a unique gift. These tackle subscription boxes come in so many different options that there is sure to be something suitable. There are 3 versions to start; standard, pro, and elite. Once you've chosen the level, the boxes are tailored to specific fishing types such as inshore saltwater, freshwater, bass fishing, trout fishing, ice fishing, and more. Each box contains a mixture of suitable lures as well as some great information.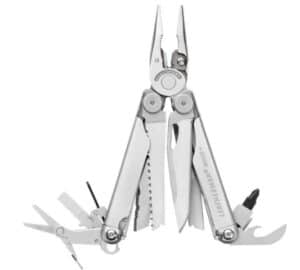 A Leatherman Multi-Tool is just about the most useful piece of kit anyone can carry. They also make a great tool when out on a fishing trip and are sure to make a well-received gift. This one is easy to operate with one hand, includes 18 tools, and has lockable blades. It's made from durable stainless steel and weighs less than 250g. Small and unobtrusive but seriously handy when you're in a pinch, this will make a great stocking stuffer. Check out our guide to Leatherman Multitools.
Having a huge range of lures and hooks is essential to increase your chances of catching some great fish. This Freshwater Tackle Box is packed full of just about every lure, hook, swivel, sinker, and more that they'll need. The 181-piece kit comes in a handy box with multiple compartments to keep things organized. It would make a great beginner kit or gift for someone who needs to top up their existing supply.
You can have the best fishing gear in the world, but if your tackle and tools aren't organized, any fishing trip will become a nightmare! This Deluxe Tackle Bag could be the answer you're looking for. It's made from heavy-duty polyester that is water-resistant and won't rip easily. There is a top-load main compartment (where the four included utility boxes fit snugly), two front tool holders, a front zippered accessory pocket, and two large side pockets. This bag keeps everything accessible, easy to find and even comes with a padded shoulder strap to make it easy to carry.
Size matters to fishermen! Listen in on any conversation about fishing and the talk is all about how big that fish was. Well, this Rapala Touch Screen Scale makes a great gift for fishing enthusiasts to support their stories of the big catch. Weigh catches up to 15lbs using either the heavy-duty clamp or stainless steel hook. The scale will run for up to 400 hours on two AA batteries and the backlit display is really easy to read and can store up to 8 weights at a time.
If you're looking for a cheap gift but want something that will still be useful, this Telescopic Landing Net is a great option. There are five different lengths to choose from, ranging from 43 inches to 61 inches when fully extended. The handle is made from aluminum and the net from a soft mesh, so the whole thing is lightweight and easy to handle. A great present for a fisherman who likes to keep things simple!
Nobody enjoys arriving at their favorite fishing spot only to find tangled lines that take ages to organize. These fishing rod socks make a great gift for anyone who travels with multiple rods. Just slide one over your rod and everything stays put. They come in singles or two packs and are available in a wide range of colors to help keep things identifiable at a glance. They're made from a durable braided material but smooth enough that they are tough to hook onto by accident. They also feature an elasticated end for extra protection.
This Ugly Stik Fishing Bag could be the best gift for fishermen who love to keep their gear organized and ready to go. This soft-sided bag has a super rugged hard plastic bottom, a soft carry handle, and a padded shoulder strap for comfortable transportation. It has a 20.8-liter capacity. That means it can fit four large tackle boxes in the main compartment and countless other gear in the three large zippered pockets (two on the side and one on the front).
Sometimes, there can be a long walk between the car and that perfect spot. A tackle bag is great to carry gear, but what about rods? The Unistrength Rod and Reel Case is a versatile way to carry up to 3 rods plus some extra bits of gear. This case is made from a durable, waterproof, and tear-resistant material. This case can be carried three ways; a tote, a shoulder bag, and a backpack. The shoulder straps are adjustable for a comfortable fit and there is a zippered pocket on each side of the bag.

This single rod and reel case goes on every camping trip with us just in case there is a place to fish near our campground. The reinforced design keeps your rod safe even when tightly packed in with other gear and luggage.
This Wild River Tackle Tek Backpack is one of our favorite gift ideas for fishermen who like to travel, hike or camp and need to keep organized. The sheer amount of kit this backpack can fit is mind-boggling. It has a top and front compartment so you can easily access stuff at the top and bottom. There are a whopping 7 external pockets as well as various hooks and clips for small tools and things you need easily accessible. As soon as Brad saw it, he was impressed with the design and now wants one for himself!
6 Gifts for Beginner Fisherman
If you know someone who has always wanted to get into freshwater fishing or have a teen that wants to emulate dad, this would be a great kit to start them off. Starting any new hobby can be daunting though and, sometimes, people spend a lot of money on products that aren't right for them. Brad put together this great little kit for beginners and thinks it will suit most newbie fishermen. Get them everything in this category, they'll have everything they need to get started, and best of all it won't cost a fortune.
The Lightning Spinning Rod is a great option for beginners. Brad really likes the moderate flex in this rod for beginner fishermen because it will help them to easily feel the action. It has stainless steel guides and an up-locking reel seat. It also has a cork-wrapped handle that allows for a comfortable grip and the whole thing is very lightweight, at just 7.05 ounces.
Brad believes that people newer to fishing do best with a spinning reel at first because it's just much easier to learn. The Shimano Sienna Spinning Fishing Reel is an affordable option for those who are just getting started. This durable and well-balanced front drag reel is great value for money and will stand the test of time. It can easily be used by both left-handed and right-handed people as the handle can be fitted on either side.
You can't catch fish without a good line and the Berkley Trilene Fishing Line is a good place to start. The 6-pound breaking length that we've selected here would be fine for this rod setup and will suit beginners. It's a strong and smooth line that resists kinking and gives good sensitivity.
This Soft Fishing Lures Kit makes a great fishing gift for beginners thanks to the wide range of different lures included. Everything comes in a hard plastic tackle box with a secure lid to keep it organized. It's a 64 piece kit and comes with hooks, spinner, spinnerbaits, jig hooks, metal spinning baits, and more. Whatever type of freshwater fishing your fisherman wants to try their hand at, there is sure to be something here for them.
The final must-have addition to any beginner's setup is a reliable pack of floats and these XFishman Floats are a good start. This assorted 10 pack of floats are made from high-quality balsa wood and are highly visible in the water. The pack contains different sizes of oval, pencil, and oval shorty floats.
Bait Towel: Fishing Towels with Caribeener Clip
This pack of 3 oversized microfiber towels are perfect for any fisherman. They are always wiping their hands after handling fish and bait. And then the towel ends up in a hard-to-reach place. No more lost Bait Towel with this because it includes a carabiner clip to ensure it stays put. They are also available in red, orange, blue and purple.
6 Gift Ideas for a Comfortable Fishing Trip
This category is full of great fishing gifts that aren't necessarily fishing gear but can make those long days waiting for a bite much more comfortable. Whether it's somewhere to sit or something to keep their valuables safe and dry, they're sure to love anything you gift them from this category. Show them how much you care by giving them the gift of comfort on their next fishing trip.
Sitting on the riverbank for hours on end can be normal for some fishermen and this Portable Camping Table means they won't have to keep all their stuff on the ground. It's made from aluminum which means it's lightweight, waterproof, and easy to wipe clean. The top rolls up and the legs fold in so the whole thing slides easily into the included carry bag. It's available in three different sizes, with even the largest weighing just 1.5kg but being able to hold up to 23kg! Check out our full review on portable side tables for more ideas.
These Lightweight Portable Camping Chairs are the perfect way to stay comfortable when shore fishing or enjoying lunch. I bought these for camping, to save space, and Brad confiscated them for his fishing trips because he liked them so much. The whole chair folds down to smaller than the size of a 2-liter bottle of soda and weighs less than 1kg. Despite their small size, these chairs can hold up to a whopping 135kg. You'll find more in our guide to the best ultralight camping chairs.
If you want a gift for the fisherman who has everything, this Folding Backpack Stool & Cooler is definitely a unique option. If you know someone who likes to carry as little gear as possible, this is a great way to take a seat with you but without adding something bulky to carry. The main compartment doubles as a cooler bag and there is also an external pocket and bottle holder. It's a really lightweight option that only weighs 3.3lbs.
Sun protection is non-negotiable if you plan on standing or sitting in the sun for long periods of time. There isn't always shade in that perfect fishing spot so a good quality sunscreen is a must and this Sun Bum Daytripper Pack has everything you need in a handy carry bag. This set includes an SPF30 sunscreen, SPF30 lip balm, and a cooling after-sun lotion.
Keeping your phone protected can be difficult when you're out on the water or even just stood on the shore all day. This cheap but effective Universal Waterproof Case would make a great stocking stuffer for anyone who spends time around the water. It's certified up to 30 meters and comes with a lanyard so you can keep your phone safely around your neck.
Like the waterproof phone case but want a bit more a substantial gift? This KastKing Dry Bag & Phone Case Combo offers a way to keep more than just your phone in a safe waterproof environment. These bags are available in 5, 10, 20, and 30-liter capacities as well as seven different color options. The bag works like any other standard roll-top dry bag and also has a splash-proof outer zip pocket. It comes with a handy grab handle on the side as well as padded shoulder straps so it can be worn as a backpack.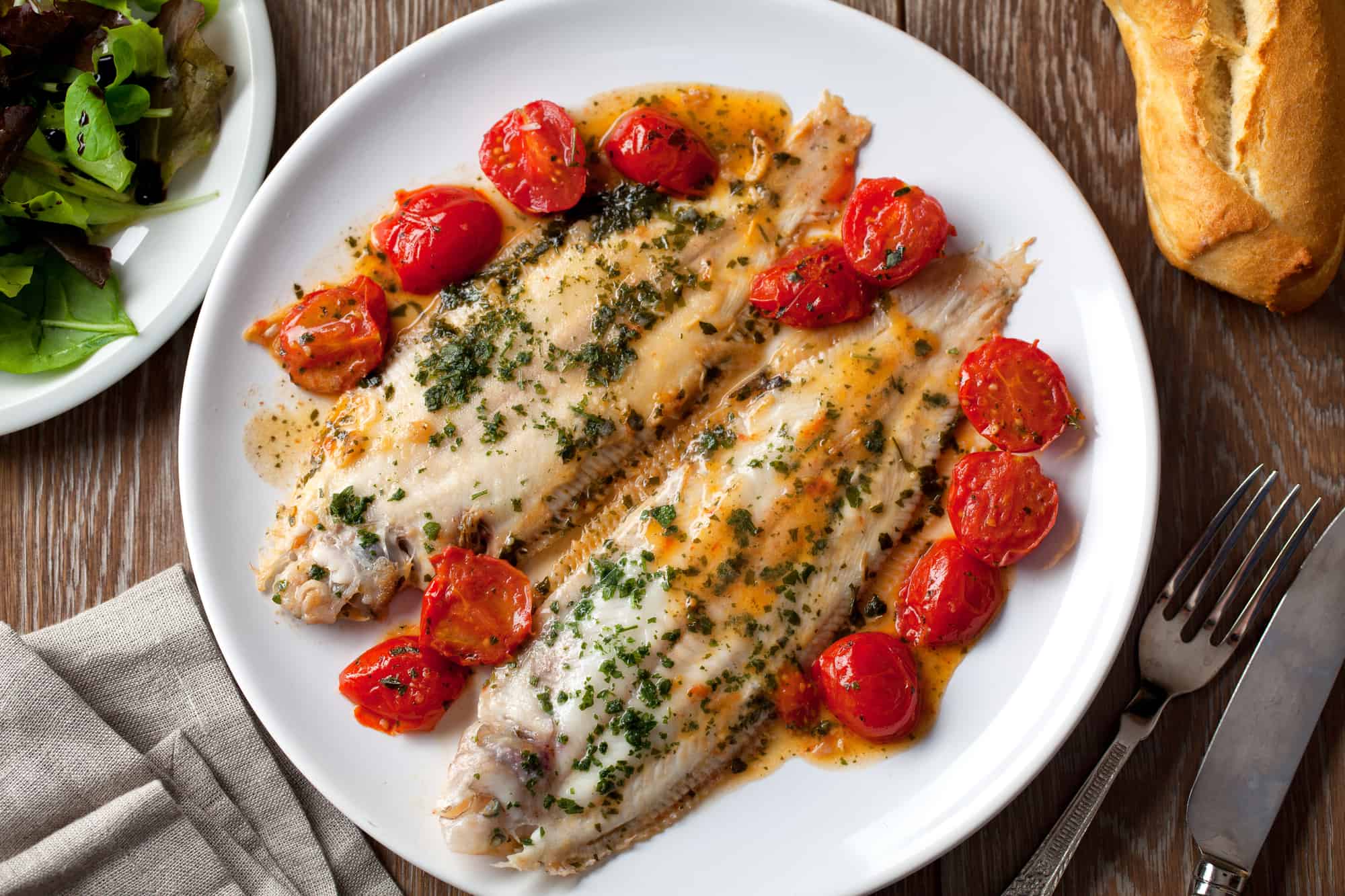 9 Gifts to Get The Fish to the Table
Catching a fish is just the beginning for many seasoned fishermen. Many people also love to get the fish cooked and on the table for dinner. After you've enjoyed a fun-filled day on the water, the prospect of cleaning and preparing a pile of fish can feel like a bit of a chore though. All of these great tools will make that whole process easier. From preparing the fish to deciding how to cook it, there's sure to be a great gift for your whole family.
A high-quality filleting knife is an absolute must for anyone who catches to cook and the Rapala 7″ Fillet Knife is a reliable option. A lot of guys start with a knife that is too big to efficiently fillet a fish but a 7-inch blade is great for control. A good fillet knife should slice through the fish like butter and this Swedish stainless steel blade does just that. It has a reinforced varnished birch handle, leather sheath, and a single-stage sharpener.
If you want to go one step further with your gift or know someone who loves a gadget or two, this Rapala Deluxe Electric Fillet Knife is sure to impress. The blade can make light work of tough scales and fish bones. You can use this electric fillet knife anywhere with the included adapters for 110V AC, 12V Post Clips & 12V Lighter Plug.
This Bubba Tapered Fillet Knife is a great quality knife that has a good amount of flex and is loved by tons of keen fishermen. It has a 7 inch tapered stainless steel blade that is super thin. The non-slip grip handle has protection guards in case of slippage and the indentations for fingers allow even greater grip. It also comes with a sheath and belt loop.
If you know someone who likes to travel light, the Stowaway Knife and Folding Board is super handy and easy to store just about anywhere. Brad actually received this as a gift 2 years ago and hasn't stopped using it since. It's perfect for a fishing trip since it stores compactly but is still a sturdy board for filleting fish. The knife is 7 inches and titanium coated for durability. The board has a magnetic closure and even comes with a built-in two-stage knife sharpener.
If you're still stuck trying to find a great gift idea, you can't go wrong with a high-quality fish and seafood cookbook. It can be really easy to get into a bit of a rut, cooking your fish the same way every single time. Gifting one of these great cookbooks could inspire some new recipes that the whole family will benefit from.
This delightful set of 3 seafood seasonings is from Urban Accents' award-winning Stonewall Kitchen Family of gourmet brands. The set includes Kodiak Salmon Rub, Fishermans Wharf and Sonoma Pepper, all carefully blended to create a tasty fish dinner that will drive your friends crazy.
We have and use 3 of these – crazy huh! When my fisherman heads out of town on a fishing trip he wants to make sure those fish come home fresh. That's why this compact vacuum sealing machine is so wonderful. It won't take up much space! The vacuum seal keeps fish fresher much longer than just old-fashioned baggies.
7 Top Choices for Comfy and Protective Fishing Clothes
Having the right clothing on a fishing trip can be the difference between a long, joy-filled day and frustration, discomfort, and packing up early! The best fisherman gift idea will depend entirely on the kind of environment they usually fish in. Hats and long-sleeved, lightweight fishing shirts are an absolute must in hot climates. While waterproof gear can add extra comfort in wet weather conditions. No matter where they fish, there's bound to be something here that they'll love.
In moderate to hot conditions, something versatile is an absolute must. This Columbia Long Sleeves Fishing Shirt is perfect if you think you might need protection from the sun but it could also be cloudy. If the sun isn't strong the sleeves easily roll up to allow you to cool off. When the sun comes out, roll the sleeves down and you'll have UPF30 protection. These shirts are made from quick-drying material and have vents in the shoulders and arms for extra air circulation. They come in a huge range of different colors and are true to size.
If you know the sun won't be too harsh and want something that feels a bit freer, the Columbia Short-Sleeved Fishing Shirt could be better. You still get the same UPF30 protection and it's available in the same great color range as the long sleeve version. It has two velcro chest pockets, hidden shoulder vents, and a large vent on the back.
Standing in the sun all day is a very real possibility for dedicated fishermen and your arms from sun damage are a must. The Columbia Terminal Tackle Fishing Shirt is made from moisture-wicking material to keep you cool and the shirt dry. It gives UPF50 protection and is available in a large range of colors to suit any taste.
Another must-have in the sun is a reliable hat and this Columbia Unisex Booney Style Hat does the job. It is made from moisture-wicking material with UPF50 protection. The wide brim gives great coverage from both sun and rain. And it has an adjustable chin strap and toggle at the back to get the perfect fit. It's soft, packs down flat, and comes in a choice of 16 different colors.
When the sun is hotter than hot, then an SPF-protected hat with a neck flap will protect your fishermen from a sunburn. The fabric in this hat is breathable, quick-drying, lightweight and super comfortable to wear. It features a wide brim and mesh vents for cooling airflow through the crown and back flap.
A little bit of wet weather doesn't scare off serious fishermen but having great waterproof clothing can certainly make things more comfortable. The Frogg Toggs Rain Suits are made from lightweight, breathable material that is waterproof and wind-resistant. The jacket has a front zipper with a storm cover and elastic cuffs for added protection. The trousers have an elastic leg and a comfortable straight leg design. There is also a woman's sizing option available. And both come in a variety of different colors.
Evening fishing can be the worst for people who are sensitive to mosquito bites. Well, here's a performance fishing shirt that will repel mosquitoes. It comes in 5 different colors, perfect for guys and gals who don't want to let the bugs drive them off a great catch. The shirt is breathable so you'll stay cool on hot summer days while protecting from ticks, flies, no-see-ums, mosquitoes, ants, chiggers or midges.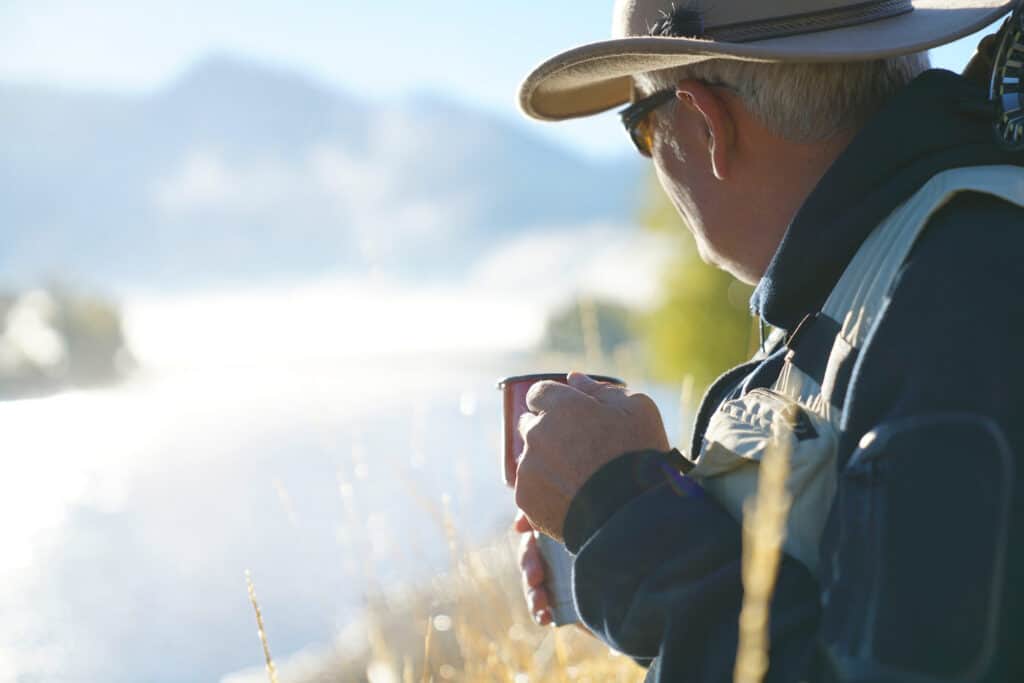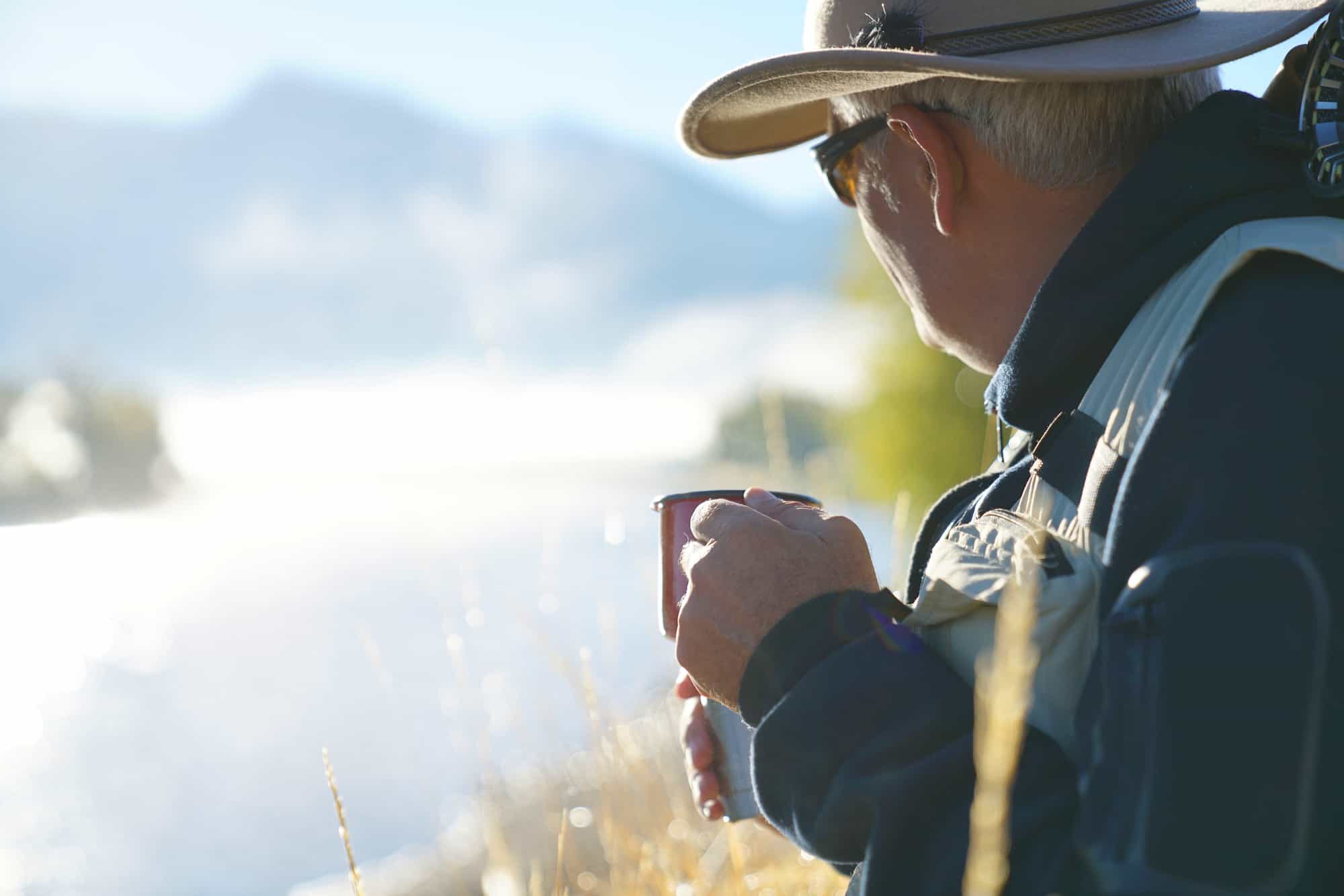 10 Snacks and Beverages to Keep Your Fisherman Happy
Is it really a fishing trip if you don't have a ton of snacks and drinks with you? Not in our family, it isn't! Let's face it, sometimes fishing is a waiting game. And nobody wants to have to pack up early and go home because they forgot to bring food. If you've checked every suggestion on this list and still can't decide on the perfect gift, you can't go wrong with something here.
Looking for a gift that's a little quirky and has a little bit of everything? This Fishing Gift Basket is a great way to show that you care and it's chock full of tasty treats and cute little gifts. The basket includes a novelty mug, fishing photo frame, multiple savory snacks, gummy worms, and more! The whole thing comes in a retro wicker creel basket that can be kept and used time and time again.
The Angler Fishing Gift Basket is an attractive basket packed full of tasty snacks that also comes with an entertaining card game. The cards all feature "lures of the past" so everything is very on theme. You'll love the mixture of 8 savory and sweet snacks. Everything comes presented in an attractive basket with your personalized message added.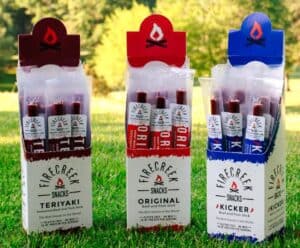 These Firecreek Snack Stix are a great snack for fishermen because they're small and easy to carry but they pack a big flavor punch. They are made in the USA from American beef and pork that is slow-smoked for an authentic aroma and taste. They are 100% gluten-free and contain no artificial ingredients. These make a great high protein and low carb snack to take out in the boat. Best of all they taste delicious.
Tervis Tumblers
This cute 16 oz Fishing Lures Tumbler is a great gift that can be used on a fishing trip or at home. It is made from BPA plastic and is designed to keep liquids hot and cold for longer. It has a contoured lip that easily slides open and closed and even has a wider hole to fit a straw. The tumbler is even dishwasher, microwave, and freezer safe.
Or if your guy has a bit of an attitude, then this Tervis Bite Me tumbler for his morning coffee is just the ticket to a great gift! This cool fisherman gift comes in a 20 oz or a 30 oz size.
An unusual gift for fishermen that is sure to come in handy for anyone who spends a lot of time out in the boat, these Toadfish Non Tipping Coolers are surprisingly effective. We love these in our boat and they really do stop drinks from spilling. The suction cup only releases if lifted straight up so they won't release if knocked to the side. They're made from stainless steel, are designed to fit 12oz cans, and even come in a choice of three colors.
An icy cold drink might not be what's needed when you're fishing. Some will prefer a hot drink to keep them warm. So, what better way to show you care than by gifting them some quality coffee and a fun mug. This 3 pack of coffee beans will last them a while and is sure to have something to fit most tastes. Help them easily get their caffeine fix no matter where their next fishing trip takes them. Check out some of our favorite mugs below!
6 Funny Fishing T-Shirts
Any die-hard fishing fan loves to declare their passion to the world. If you know someone who takes their obsession a little too far or is always the butt of a family joke, one of these funny fishing shirts is sure to please. Show them how well you know them on that next special occasion with a little bit of light-hearted humor.
And When You are at a Complete Loss for the Fisherman who has Everything
If all these amazing gift suggestions have your head spinning you'll never go wrong with one of these ideas:
A Gift Card to Their Favorite Store is Always a Winner
A Magazine Subscription for Inspiration
How about a little bathroom reading material? Fishermen love being inspired and challenged by others' success. Most of these magazine subscriptions are available in both print and Kindle versions too.
What Not to Buy as a Gift for Your Fisherman
Outdoorsy guys, like your fisherman, rarely care about home decorating. Yeah… the perfect funny sign in their man cave might work. But don't get carried away with things you know their wife will make disappear after the holidays. Yeah, I'm thinking about that singing Billy Bass Wall Trophy right now.
And if you don't know anything about fishing, don't get sucked into a story about the latest gimmicky piece of fishing gear. Fishermen take their art seriously and are not big on flash-in-the-pan products.
This list should help you to find the perfect gift for that fisherman in your life. From everything they need to catch the big fish to serving it for dinner, this list has it all! You'll find the best gifts for fishermen in 2022 right here.