We love to camp! But camping in an RV means limited space so RV owners are pretty picky about what they take on their trips. Finding a gift might seem like a challenge. We're here with the answer. We found 80 of the best gifts for RV owners that they will love.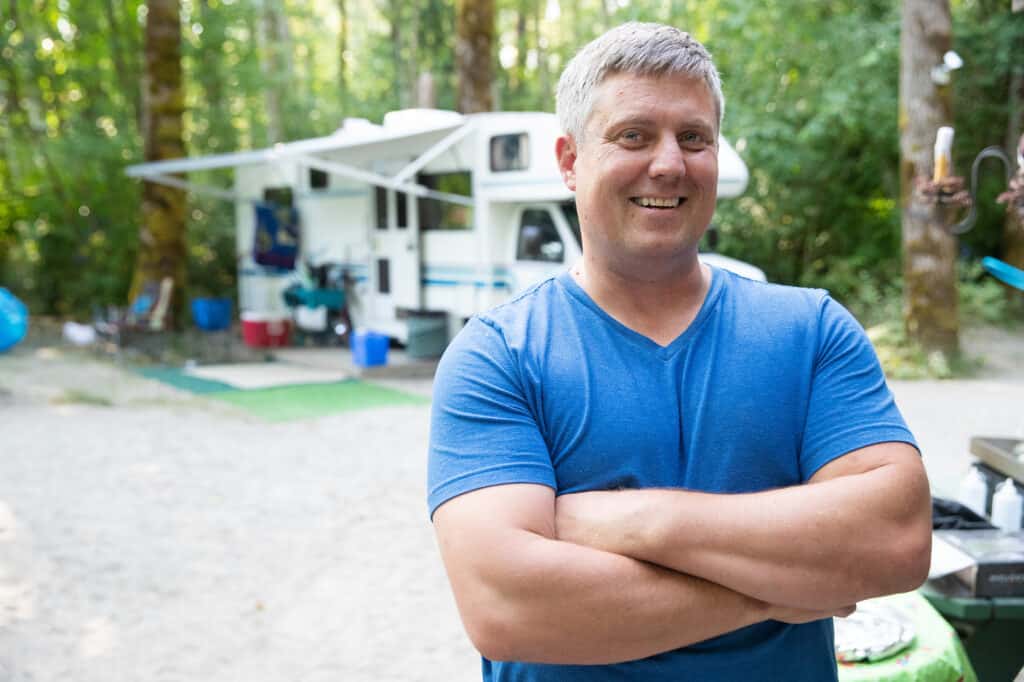 We selected these great RV gifts based on our decades of camping and then collected suggestions from friends and family who all love camping. Giving one of these gifts to motorhome owners will make you look like the smartest gift giver ever to your camper! As a family who loves to camp, we are always on the lookout for ways to make life easier and you know what? Those items make the best gifts for a friend or family member, whether you are looking for Christmas gifts, a special birthday gift, or father's day ideas.
What are the Best Gifts for RV Owners?
The best gift for an RV owner is a combination of practical and fun. Remember, they are on the road having a good time. At the same time space is at a premium so RVers have to think about space-saving and practical items. We chose gift ideas for this list that cover all those bases!
To make shopping easier for you, we've divided this list of RV lover's gifts into the following categories:
14 RV Kitchen Gifts that make camping easier. Camper owners don't want to spend a lot of time in the RV kitchen. They want to get outdoors and be part of the action! So anything you can do to streamline kitchen time will be a great addition to the kitchen of all RV owners.
9 Coffee Time Gifts for an RV Owner – it is one of the most valued parts of the day when you are camping. It's a time to relax and indulge.  For the best idea for RV Gifts, think coffee, and your camper will be happy.
9 Camping Gadgets and Tools for the little bit of geek in all RV lovers, look for ideas for RV owners that make life in camp easier.
5 Safety Gifts – a top priority when camping. Who wants to ruin a weekend with a trip to the ER? Here are great gifts to help your camper keep everyone on the road.
5 Solar and Energy-saving gifts are loved by RV campers who like to get away from it all!
11 Gifts for RV Entertaining while camping just keeps giving and giving. Fun gifts for RV living pull family members and friends together.
11 really cool and comfy outdoor area gifts – these are camping gifts that will be loved. Here are the best gift ideas for RV owners to turn that campsite into a paradise for motorhome owners.
10 Camping Journals, Diaries, and Books are perfect for someone who likes to reflect on their travels and track their favorite RV parks. We found some of the coolest travel journals and diaries that your RV owner friends and family will love to use on every road trip. Then we added in several books to help them find the best places to camp.
6 Adorable Ornaments to treasure as reminders of their favorite road trips!
To make it easy for you to get your shopping done, in this gift guide we included links to where you can purchase these awesome gifts. In many cases, these links are affiliate links which means if you make a purchase we could earn a small commission.
14 Kitchen Made Easy Gifts for Motorhomes
The heart of any RV is the kitchen. But as we all know, space is limited in the RV kitchen. Any unique items that can save a lot of space and have multiple uses are the best gifts for RV owners. Here are a few motorhome gifts your camper is going to love. Maybe they will invite you over for dinner to show how much they appreciate your thoughtful gift idea!
The Ninja Max is an Air Fryer that Cooks, Crisps, Roasts, Broils, Bakes, Reheats, and Dehydrates. In one small space on your camper countertop, it does everything! It gives hotter, faster, and crispier results that make it one of the best gifts for RV Owners! Dinner and desserts were never faster or more delicious.
The Instant Pot Pro pressure cooker makes cooking nutritious meals fast and simple. The perfect gift idea for an RV owner because with an instant pot he definitely won't spend hours in the kitchen. Use the 6-quart capacity instant pot to make everything from tender meatloaves to creamy risotto dishes! The Instant Pot Pro also comes with 5 programmable settings so that it's easy for any family member to prepare their favorite recipes – including desserts like cheesecake and chocolate in the blink of an eye!
These are the coolest space-saving pots and pans ever. The handles pop right off so the pans can easily nest inside each other to save valuable space in small RV cabinets, taking up less than 1/2 cubic foot. That's smaller than a shoebox! Magma's Stainless Steel Pans are meant to last a lifetime so you have practical gifts for RV owners that just keep giving.
No RV should be without these nesting bowls in fun colors. You can freeze, store, microwave, and bake right in the same container. And best of all, they collapse to less than 1/2 of their original size for easy storage making them one of the best RV gifts. The Collapse-it Sampler Set contains 4 bowls ranging from 1 to 6 cups. The medical-grade silicone resists stains and odors, making it super easy to clean. More shapes and sizes are also available.
Aren't these adorable RV gifts? Every inch in a Mobile Home's drawers counts and these Collapsible Measuring Cups and Spoons in cool colors do their part to save a little space in the RV kitchen. BPA-free and dishwasher-safe, every cook will love having these collapsible measuring cups and spoons handy.
This cute wash tub collapses to the size of a 3-ring notebook for storage. The list of uses is endless when RV camping. Obviously, this dish tub is great for washing dishes, but how about doing double duty for gathering up toys, washing laundry, outside the front door to rinse the sand off your feet, filled with ice and cold beverages, bathing your dog, and so many more? While this collapsible tub is one of our favorite gifts for RV owners, we think it would be loved for camper vans and tent camping as well since it takes up a little extra space!
We love our Magic Bullet for its quick powerful blending in a small space. (Margaritas anyone?). So I was so excited to see the food processor features added to the Magic Bullet Kitchen Express. Chopping, Slicing and Shredding easily at your fingertips without a lot of mess or too much space. This could be the best gift for your favorite RV owner!
The perfect solution for getting into the top cabinets or the overhead storage compartments is this Super Strong 12-inch Folding Step Stool. It's easy to pop open with one hand and flattens to less than 2 inches for easy stowing in a closet. The folding step stool is such a great gift for RV owners that I just ordered an extra step stool for my home kitchen!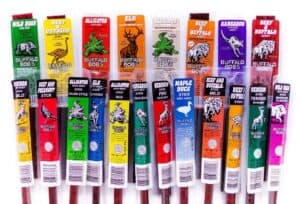 Snacks on the run are critical when traveling in your mobile home so your family and friends will love it if you stock them up with easy-to-store jerky from Jerky Dynasty. They specialize in exotic flavors like alligator, ostrich, and venison which makes this a very unique gift for the RV lifestyle! 
Kitchen Dishtowels always come in handy for a full time RVer family. So why not treat your RV enthusiasts with a great gift of fun towels for the RV kitchen. We found some fun gifts that will really capture the personality of your favorite RV owner:
Aren't these space saving Cooking Tools the sweetest gift for your camper! You get a Cheese Grater, Bottle Opener, Fruit/Vegetable Peeler, Pizza Cutter, and Garlic/Ginger Grinder. Each tool is only about 5 inches long and 3 inches wide. Made of stainless steel these will last nearly forever. I'm thinking a set for the house might be a good investment also!
9 Morning Coffee Gifts for an RV Owner
There's nothing quite like stepping out of your RV in the morning and watching the sunrise over the mountains or ocean (choose your view here) with a great cup of coffee. It's the perfect way for your RV friend to start their day. So giving great gifts of amazing coffee to your camper is a perfect gift idea loaded with love.
The Minipresso Portable Espresso Machine is designed for small spaces. This coffee maker is compact, under .8 lbs, so it will easily tuck into a drawer in an RV kitchen. This gift for RV owners is super easy to use. Just had coffee and hot water and you have an amazing morning cup to get the camper owners in your life started. 
We love the compact shape of this unique gift, the single-serving Keurig K-Mini Coffee Maker. It is only 5 inches wide so won't take up much room on the limited RV counter space. With that small size, you don't lose any of the features we love about Keurig, especially since it still lets you choose your cup size from 6 to 12oz. This is definitely one of the best RV gifts for any coffee lover.
Do you love the simplicity of French Press Coffee in the morning? These gift ideas for RV owners are portable Travel Coffee Press from ESPRO is super light and compact. Coffee stays hot for hours in the double-wall stainless steel container so you can keep sipping as you travel down the road.
Here's a great selection of camping themed coffee mugs that make a fun gift idea for your RV owner. What are more awesome gifts for RV owners than sitting around the picnic table with her morning java in a cup that is a special gift!
Your traveler will love testing 16 gourmet coffees from the world's top micro-lots. Origins of Bean Box' Around the World Tour include amazing coffees from Ethiopia, Kenya, Indonesia, Costa Rica, Guatemala, Colombia, Panama, Brazil, and Kona. Your choice of ground or beans is available. The unique gifts for RV owners are the perfect size to pack just a few for each camping trip for a fun way to turn mornings into a special event. 
This beautifully packaged Ahmad Classical Teas Variety Gift Box is sure to be a pleasure to wake up to when camping. It contains 60 of the finest black-flavored teas. The packages are small enough to be easily stored in a corner of their RV kitchen for those special mornings of relaxation!
9 Gadgets and Tools  That Make The Best RV Gift Ideas
When spending time on the road in their RV, campers tend to make due when it comes to getting the job done. They can get pretty creative! What if you could give a motorhome gift that made the job easier plus saved time and space. Check out these RV gift ideas for your happy camper. They will think you know exactly what makes the best gifts for RV owners!
Your RV owner needs this telescoping ladder! I've seen some pretty scary moves when RV owners need to get on top of their travel trailers. From hanging lights to clearing out the fan vent, it seems there is always a need to hop up top. This 12.5 foot telescoping Extension Ladder folds down to about 2 1/2 feet for storage, yet is sturdy enough to hold over 300 pounds. Because it is so easy to tuck into the storage area and have handy, telescoping ladders are the perfect gifts for RV owners.
When you are traveling through the National Parks, you can't help but want to see the wildlife a little closer or follow the line of mountains to the glacier edge. An awesome gift for RV owners, compact pair of Binoculars like these Celestron Nature Binoculars fit right in the glove box and are ready to use when nature calls. Not only are these small in size, but they also have high-quality lenses to ensure clear views.  Need more info on how to select binoculars? Check out our complete buying guide to the best binoculars.
RV travel is sure to result in a lot of bugs on those windows! Here's one place you won't need that ladder, the DucaPole Extension Pole stretches out to 12 feet to clean those hard-to-reach RV windows. The combination of squeegee and window scrubber will leave the RV windows bug and streak-free without ever climbing a ladder. Your RV owners will think this is one of the best gifts for RV ever!
This sweet little adapter for a standard 3/8 or 1/2″ Power Drill is one of the most practical presents! The Camco Drill Adapter for Leveling Scissor Jacks turns a tough job into a super easy one. No more hand-cranking! The most practical gifts for RV owners are those that make their life painless!
Seems like there is always something coming loose or needing to be secured when you are camping in your Motor Home. This Cartman Bungee Cord Assortment of 24 pieces, with sizes ranging from 10 to 40 inches will be much-appreciated RV gifts. We also love keeping on hand an assortment of ratchet straps like these. I especially love the ones that come with an organization box or bag to keep those straps all in one place.
One of the biggest challenges of getting away from it all in your RV is the limited access to cell phone coverage. That old "can you hear me now" commercial is still true when camping. The solution: weBoost cell phone Booster kit. Cell phone access is not only for fun, it's a safety concern for your camping family.  
5 RV Camping Gifts To Be Prepared… Safety First
When your home is on wheels, you can be certain there will be little emergencies along the way. Practical gifts ideas of preparedness are the best gifts for RV owners and they will be so grateful when the time to use comes around.
There's nothing scarier than a nighttime roadside breakdown with vehicles flying past you at high speed while you try to repair your RV. This set of battery-operated LED Emergency Road Flares is exactly what you need. With 3 different lighting options, you are sure to be seen by other drivers. They pack away in a sturdy case so they are always ready to use.
You just never know what you'll need when an emergency hits. What we love about this 112 piece roadside emergency kit (other than it has everything we can imagine needing from jumper cables to tow straps) is that it comes in a compact duffle bag which is easy to stow. This amazing gift for RV owners will ensure they know exactly where everything is when needed. 
What a great stocking stuffer for everyone who is living on the road! The Foxelli Headlamp Flashlight is extremely bright. And the price is so perfect that you can give one to the whole family. Believe me, you never have enough headlamps when you are traveling. For more great headlamp gift ideas, check out our buying guide to the best headlamps for camping and hiking.
The perfect first aid kit for RV living is in an easy grab-and-go waterproof bag. Swiss Safe's 200 piece professional first aid kit has everything you need for first aid emergencies, in a compact bag.  
With the bracket and strap specifically designed to meet the demanding needs of travel the First Alert RV Fire Extinguisher is a wonderful present for RVers. It's a gift idea that you hope they never use, but enjoy the peace of mind. 
5 Energy Saving Gifts for an RV Owner
RV accessories that make it easier to visit an RV park or remote locations where full hookups aren't available are great gift ideas for a motorhome owner. They will love the convenience of these great solar gifts for RV owners when camping in National Parks or RV parks! These are also perfect if you were wondering what to get someone who lives in an RV full time!
This cool solar-powered lamp for evenings around camp makes a great RV gift. The MPOWERD Luci solar light flattens to about the size of a coffee coaster. It inflates with a quick breath to create a cute light globe that emits 65 powerful lumens. Powered by sunlight, a 7-hour charge gives you 12 hours of light. You might think about adding one of these to your own emergency kit also! Camper van owners would absolutely love these too!
Help your favorite camper get started in the world of solar energy! With the Renogy Soar Starter Kit, you have everything you need for your first solar experience. The kit includes a 100W solar panel, controller, and connectors. Great gifts like this make it easy to move off the grid and enjoy camping in remote locations.
So while we are on Solar, check out this cool gift idea for outdoor people. The Goal Zero combination torch and flashlight can be completely recharged with the built-in solar panel. Plus it has USB charger ports so you can recharge your phone right off the flashlight. How cool is that? In the video below you can see exactly how versatile it is and how it is one of the best gifts for RV owners. (For more rechargeable flashlight gift ideas see our guide to the best hiking flashlights.)
So many uses for the awesome Geek Aire Rechargeable Battery Operated Fan. Hot nights in campgrounds that don't allow generators or to keep flies at bay while enjoying your "patio" area are only a few ways these great gifts for RV owners can be used. This fan can run up to 20 hours on one charge making it one of our best gift ideas for RV campers. We were so thankful to have this fan with us on our road trip through the deserts of Texas and New Mexico.
Power your road trip essentials such as smartphones, laptops, cameras, fans, and lights when on the open road. This Portable Power Station weighs only 6.6 pounds and can be charged from a 110 outlet, your car, or solar panels (not included) making it easy to use almost anywhere you need backup power for your RV adventures.  You'll find your RV owner loving a portable power station as a unique idea for their camper. 
11 Gifts for RV Entertaining
The RV lifestyle is centered on travel trailer owners checking out of their crazy day-to-day and enjoying time with family members and friends. The perfect gift idea embraces that valuable time together, whether it is family movie night or enjoying the view from stunning locations!
And did we mention waterproof? Because no one ever forgot to bring stuff in overnight when camping, right! This compact bluetooth speaker is a great RV gift. You get 15 hours of playtime off of one charge, and the sound is amazing. What a fun way to enjoy your favorite music on your camping adventures.
Looking for perfect outdoor gifts for a grilling party? The Cuisinart Petite Gourmet Grill is a great idea, it's only 17 pounds and the legs fold up flat against it to save space when storing. Then pop the legs out to full length and you are ready to start cooking. What a perfect RV gift for your RV owner who likes to grill out. 
This 11 piece Grilling Accessory Pack holds everything you could possibly need to create an amazing dinner in one place. Grab your grill, grab your tools and you are ready to entertain a visiting family member. 
These Stainless Steel wine tumblers and Silicone wine glasses are an awesome gift idea for wine lovers, The unbreakable wine glasses paired with a lovely bottle of wine are perfect for a relaxing evening around the campfire. As fun gift ideas, we've selected several styles of Unbreakable Wine Glasses that we know any wine lover will absolutely enjoy! Share a glass of these fun gifts with a friend or family member around the campfire.
Here's an RV lovers favorite for the holiday season! National Lampoon's Christmas Vacation is without a doubt one of those movies you can see over and over and still laugh hysterically. Your Motor Home family will absolutely love having a copy tucked away for a rainy night movie.
Looking for fun gift ideas? Well, welcome your guests with this adorable natural coir fiber door mat fit the bill. Full-time RVers will feel right at home with this welcome mat at the door of their home. Plus this RV welcome mat will trap dirt and keep it out of your living space!
Does you RV lover find gathering wood and building fires a little too much effort after a busy day? A Portable Propane Fire Pit is the solution! A portable propane fire pit is as easy to light as your gas grill. The fire pit comes with a cover and everything you need for your romantic campfire. And the fire pit is only about 19″ in diameter so it fits in a small space for storage. 
The fun gifts for RV owners bring a bit of laughter into the camper! Just prop them up on your RV mattress. This set of four 18″RV pillows adds extra seating and makes RV living comfy and cozy. These throw pillows are the best gifts for RV owners that love to relax in their campers.
11 Gifts for an RV that make the Outdoors Home
When you are RV dweller, the world becomes your home. So what could be better than turning all that outdoor space into a comfy "family room"? We pulled some motor home gift ideas that are practical gifts for families who love to relax outside.
Seriously, where are you going to set your drink? We love these easy-to-assemble camping tables from Trekology that come in a compact storage bag. In about 30 seconds you are ready to relax in your camp chair with your margaritas. The tables come in 3 sizes and in your choice of blue or traditional brown. Check out the video below to see how easy they are to pop together. You can also check out our full review of camping side tables.
RV Owners usually have a super comfortable camp chair ready for their home on wheels. But finding space to store extra seats becomes a challenge. We use these Camping Chairs every time we car camp as our primary chairs so we know they would make great extra chairs for any RV. It's crazy but they seriously pack up in a bag smaller than a 2-liter soda bottle. We did a full review of compact camping chairs here. 
And talking about super comfy lounge chairs, these Zero Gravity Folding Recliners are just the ticket for a gift for campers. The zero gravity chairs fold up flat and easily stow in RV storage space. I'm pretty sure you'll find your happy camper napping in this zero-gravity chair on a sunny afternoon.
RV Campers like to use a gorgeous outdoor carpet to create a patio area outside their camper. Not only does this great gift idea look stunning and welcoming, but a patio mat also reduces the trekking of sand and dirt into the camper. We've picked out several RV mat designs that would make an amazing gift. All of these are 18 feet long and come with a compact carrying case for easy storage. They are mildew resistant and easy to clean.
Start with these awesome telscoping s'more sticks and just add a bag of marshmallows, chocolate, and graham crackers. These sticks expand from 12 inches to 32 inches so you can roast hotdogs or marshmallows safely. Super easy to clean up too!
The party has started with these motorhome gift ideas! This 4 pack of LED, solar-powered Tiki Lights not only look great they are super functional when getting around your campsite at night. This is one of the best fun RV gifts for campers.
What a perfect gift to send your friends off on a road trip. They can fly this personalized welcome flag outside their RV and make new friends. Fitting a standard garden flag stand, it's ready to declare they are "home" where ever your RV friends land.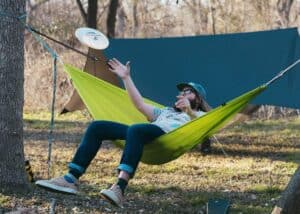 There's no better way to enjoy an afternoon at your campsite than relaxing in a hammock! And the Roo Kammock is exactly what will fit the bill. It is constructed with incredibly strong, tear-resistant Gravitas™ fabric that can hold over 400 pounds, so no worries if the kids try to pile in with dad. The Roo Single camping hammock weighs just 10.7 oz and rolls up in its own stuff sack that takes up less space than a quart of ice cream (and what better place to eat that ice cream!) The Kammock is available in a dozen colors to make your gift fun and personal.
10 Books, Diaries and Journals especially for the RV Owner
4 Amazing RV Diaries and Journals
I don't know how many times we've driven out of a campground and said "remember, next time get a site in loop A where the view is amazing." and then we forget. It's that easy to forget the details of your camping trips. Using a diary or journal helps keep track of those details that trigger the most amazing memories. Here are a few journals specially designed for RV travelers.
The Ultimate RV Logbook is a great way to keep notes about campgrounds you have visited. Many RV campers go back to their favorites year after year. And there is no way you can remember everything. Especially remembering the best and worse sites? Many RVers love to pull out their notes and share advice with fellow campers.
Complete with helpful writing prompts, RV There Yet? Road Trip Journal is a great way to keep notes on your travels. In addition to capturing information about your campgrounds, this travel journal is the perfect place to keep notes on the road trip itself. The prompts make it quick and easy.
With room to capture 50 trips, Life is Good in the Trailerhood is the perfect journal for your RV owner is headed out for a week in the National Parks, an extended road trip or living on the road full time.
This National Parks Journal is the perfect gift for the whole RV family to enjoy. Using kid-friendly prompts, they can track each of America's National Parks the visit with all the fun details. There's room for your National Park Stamp and all your memories. To complete a family gift add in a US National Parks Pass. The National Parks Pass is an annual pass that allows your motor home owners to visit for one year for no extra fees.
3 Books and Guides to Make RV Life Easier
A great idea for RV travelers is a book to guide them on their camping trips. Most RVers will love these books loaded with helpful tips and tricks to make the most of RV life. RV Hacks for life on the road will come in handy over and over for road trippers.
3 Books to Inspire RV Road Trips
The best gifts for RV Campers to inspire their next road trips! From National Park Adventures to State Parks to going off the grid in the National Forest Service, these books are sure to give them hundreds of ideas to live the good life! These gifts for RVers will bring dreams of different destinations!
Do You Love Reading on Road Trips?
6 Adorable Christmas Gift Ornaments for RV Lovers
And let's close this list with a holiday season assortment of super cute Christmas Ornaments for RV Owners that celebrate the fun they have on the road. These are Christmas gifts that camper owners will cherish.
What are Really the Best Gifts for RV Owners?
Whew… that is quite a list of ideas for RV owners. I'm quite confident that your RV enthusiast will be thrilled with any of these fantastic gift ideas. There is some pretty cool stuff here! If you are stuck, here are a few thoughts based on your RV owner's camping experience:
Gift Ideas every RV Owner Needs:
Safety/First Aid Kits
Road Side Emergency Pack
Flashlights/Headlamps
A Good Ladder
Quality Cookware
Gift Ideas to buy a new RV Owner:
Space Saving Equipment
Guide Books and Journals
Straps and Bungee Cords
Coffee Maker
Road Side Emergency Pack
What to Get Someone who Lives in an RV Full time:
Solar and Battery Saving Devices
Space Savers and Organizers
Compact Chairs and Tables
Roadside Emergency Pack
Hammock
If you're looking for the perfect gift for an RV owner, look no further. We have compiled this RV gift guide of over 80 of the best gifts for RV owners, fantastic gifts that any RV lover would love to receive. We hope these great gift ideas have provided some inspiration for your camping friends or family members. From fun gadgets to useful tools, we have a great RV gift idea for everyone!
What Makes a Perfect Present for RV Owners?
Give the fantastic gift of space to RV travelers. Any item that is more compact than what is currently in use is a practical gift. That probably goes without saying as we all know that limited space comes at a premium when you are on the road in your RV. Especially kitchen gadgets that create more space are always great gift ideas for RV owners!
Campers value practical Gift Ideas that are super-functional and time savers. They are on vacation and want to get back to it as quickly as possible.
Perfect gift ideas that make RV living a bit more fun will always go over big. Outdoor activities are what the RV lifestyle is all about!
And the most important gift for RV owners is those that show how much you value their safety.
In this gift guide, we included everything from stocking stuffers for campers, to tools and appliances that every camper dreams about owning. And then we threw in an assortment of motor home gifts that we know new RV owners will use every day with gratitude for your thoughtfulness.
Whether they are new RV owners or seasoned camping veterans, this is the perfect list of gifts for them. And no matter the size of your friend or family member's RV, from camper vans to luxury motor homes, you will find a great gift idea from outdoor gear and kitchen appliances to fun and decor items. No matter what your budget is or what kind of person you are, there is something here that everyone will love! It doesn't matter if you know nothing about RVs or if you own one yourself – this guide has something for everyone! We wish you luck finding the best present ever for your RV lover!
This post was originally published on October 31, 2020. It has been updated for 2023 to ensure the best selection for your RV gift ideas!