We love receiving gifts selected from Etsy. Each is a unique design created by independent artists. So when looking for gifts and souvenirs for one of our National Park Trips, Etsy is the place to start. We found a huge selection of Rocky Mountain National Park souvenirs ranging from apparel, posters, mugs and candles that we just know you will love.
A Few Thoughts About Etsy
Etsy is a marketplace for small business owners to showcase their products. You can meet some of these amazing independent artists as part of Etsy's #Stand With Small campaign. It gives us great joy to see a creative artist succeed in business so join us in supporting the artists at Etsy.
To make a purchase, click the image or the link in the description to be taken to the product page on Etsy.
This post contains affiliate links to make it easier for you to find products I have mentioned. You don't pay any extra and in some cases I could earn a small commission.
Rocky Mountain National Park Hats, T Shirts and Sweatshirts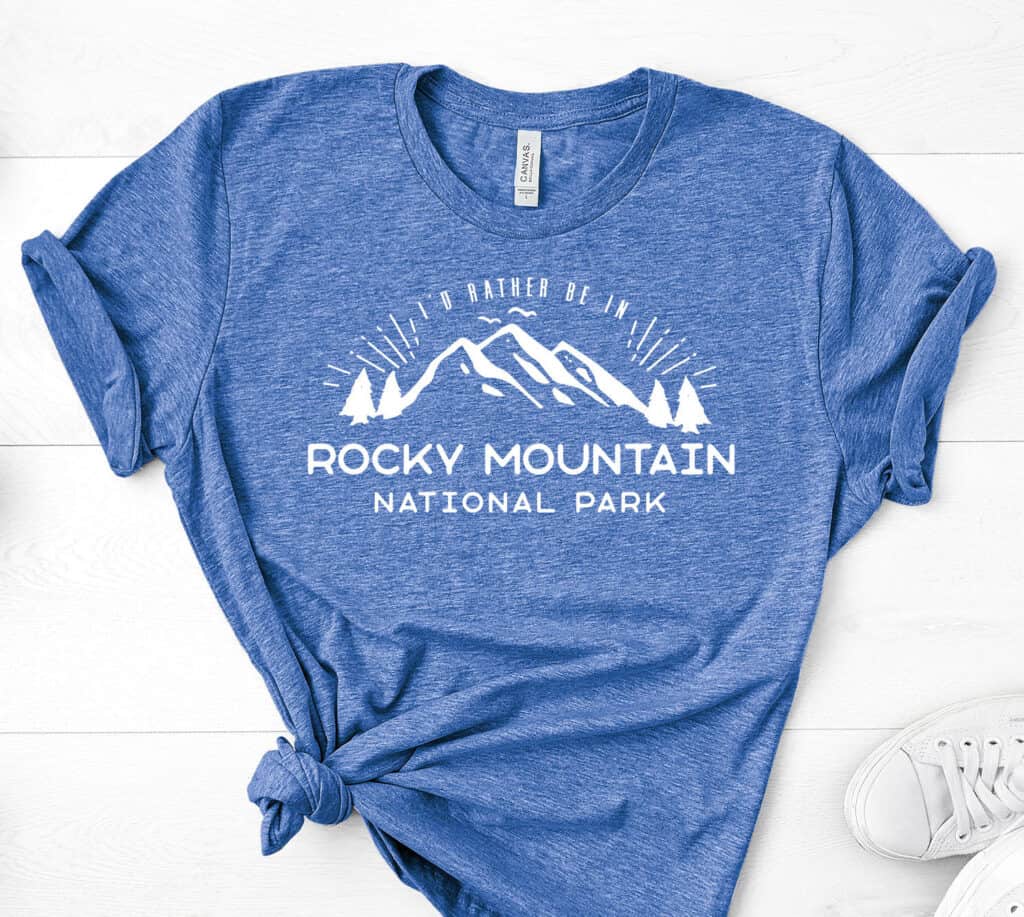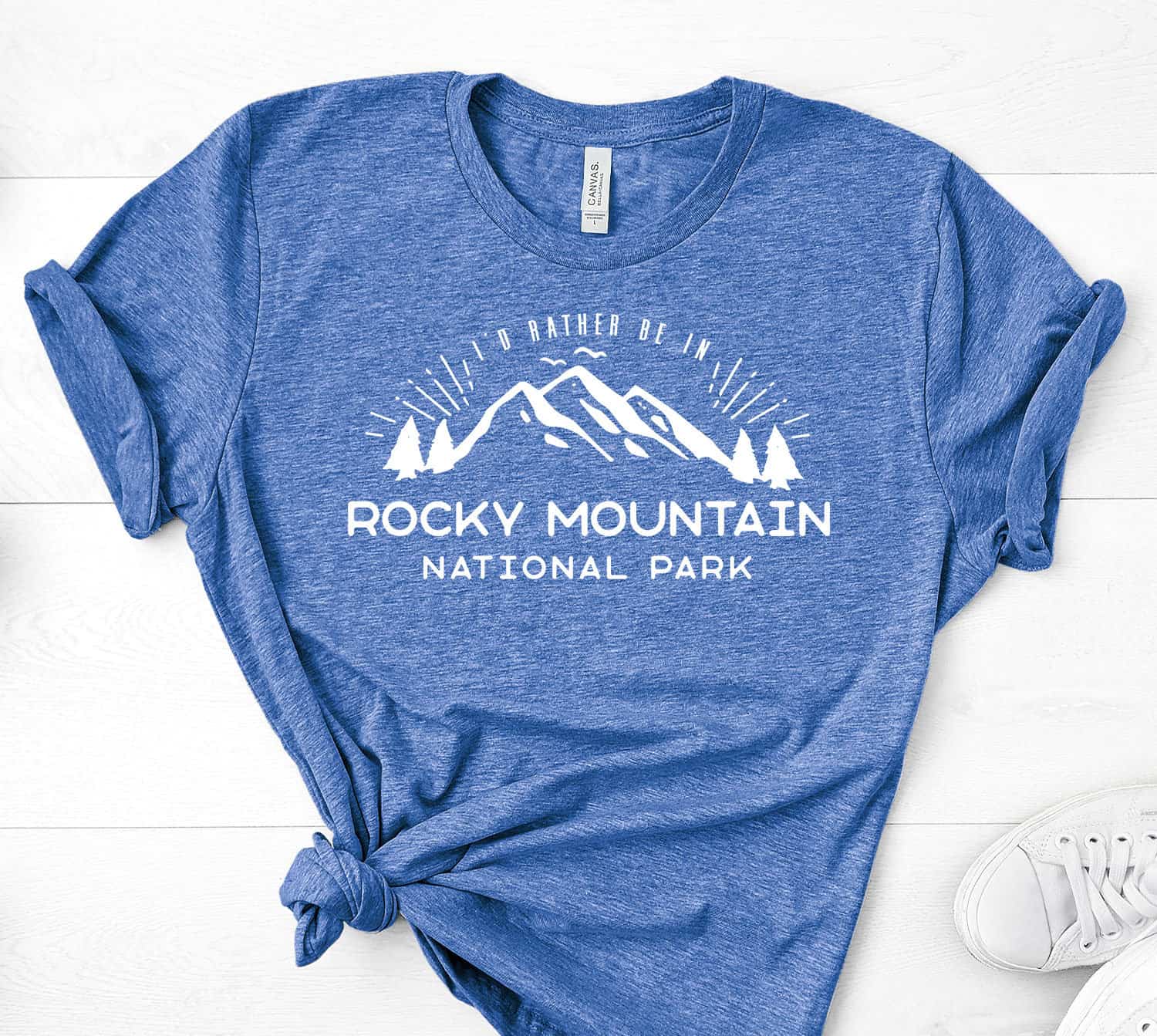 The perfect T shirt for your family vacation! Gate21Apparel brings you this Rocky Mountain National Park T shirt in 7 different colors and 7 different sizes. Imagine what a great family photo this will make with a real mountain in the backgrounnd. You can all do the same color or mix and match for fun.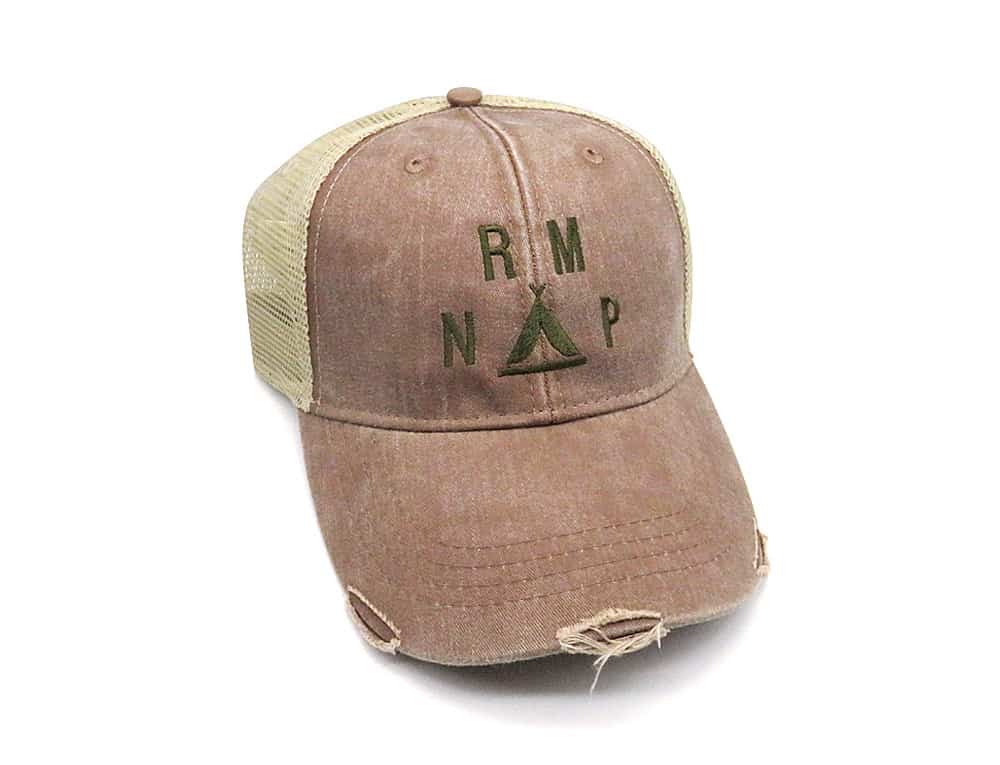 Check out this really sharp distressed trucker hat from Black Lantern Studies. This Rocky Mountain National Park hat is available in charcoal, brown or khaki. The Cool-Crown™ mesh lining will keep you from overheating when hiking.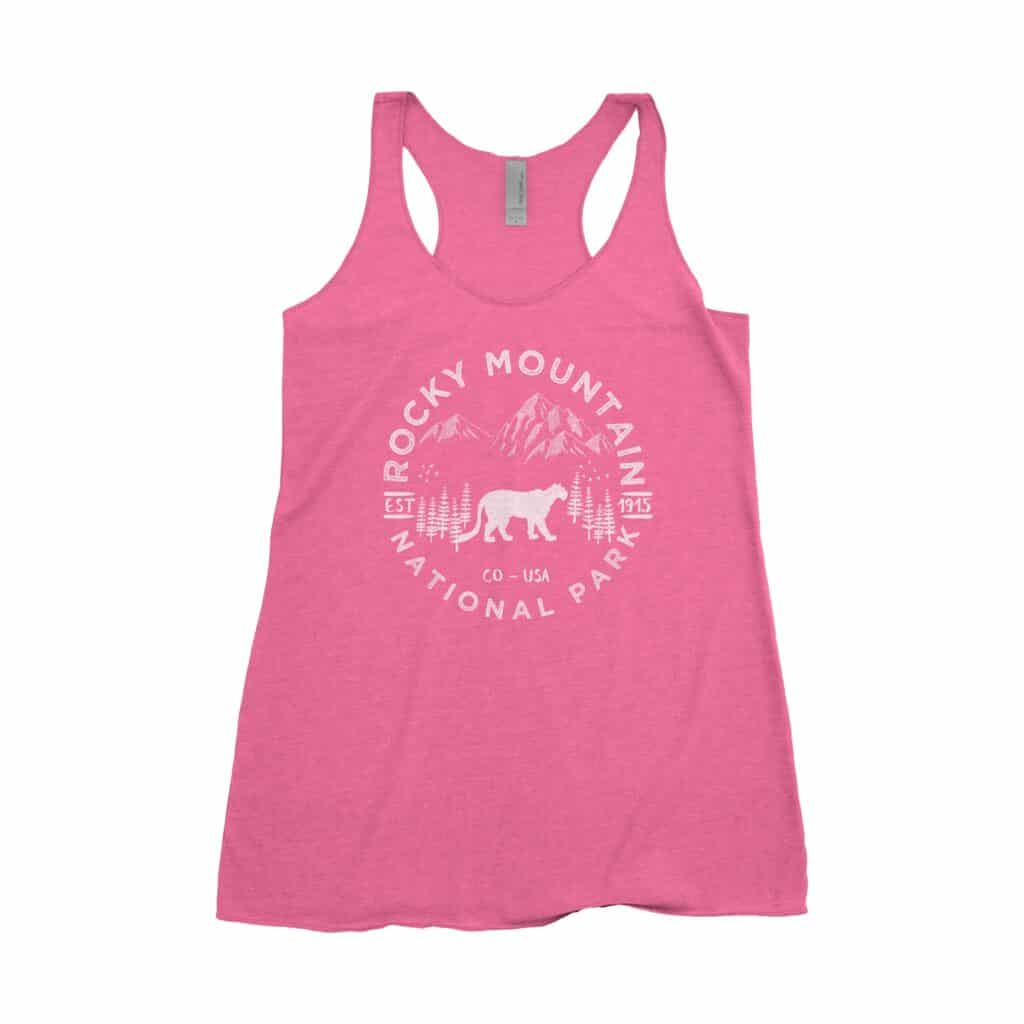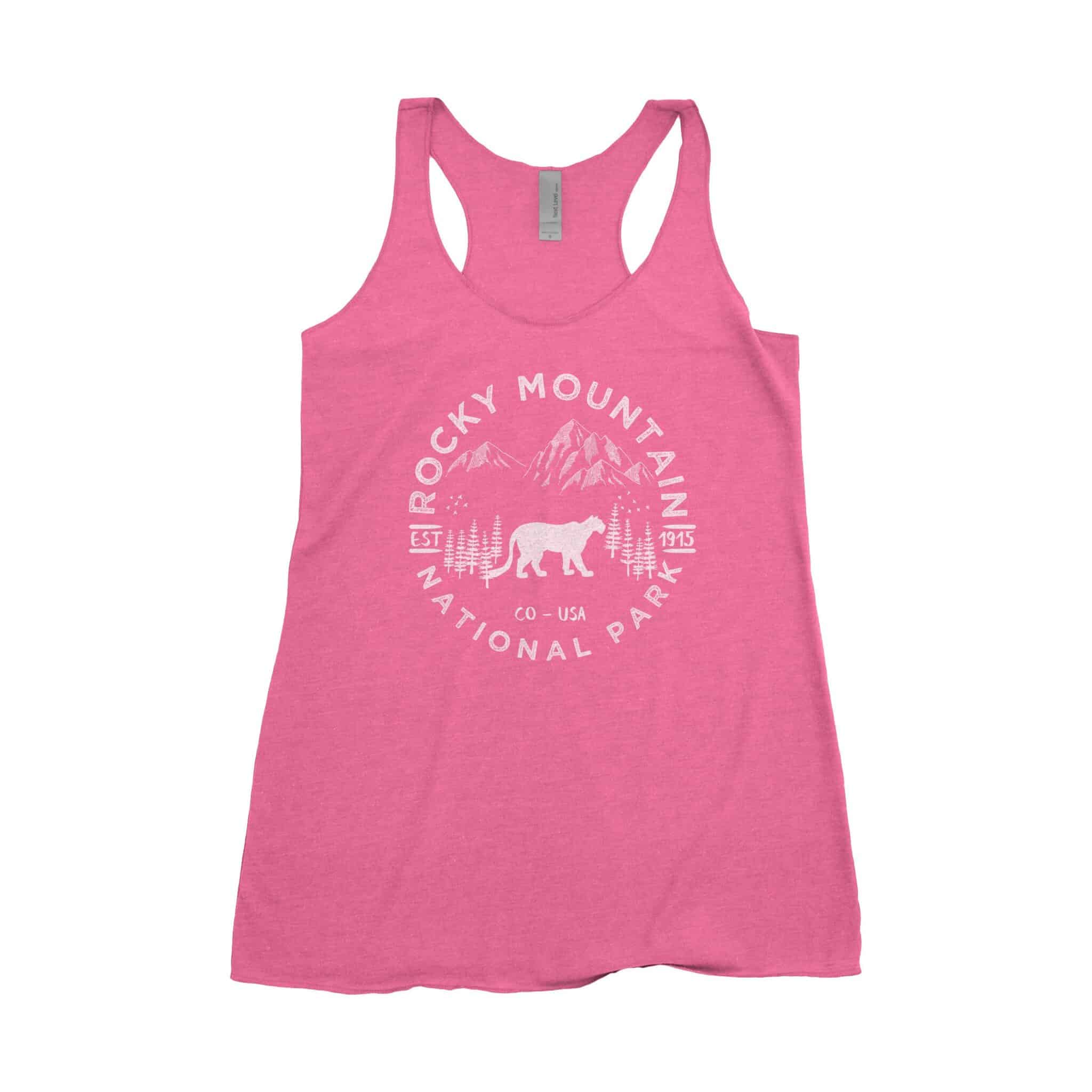 Don't you just love this tank? The National Park Store brings us this Rocky Mountain National Park women's tank that will make a great hiking shirt. It's perfect for layering which is so important for comfort when hiking in RMNP. Click on through to see the 6 awesome color choices all available in 6 sizes.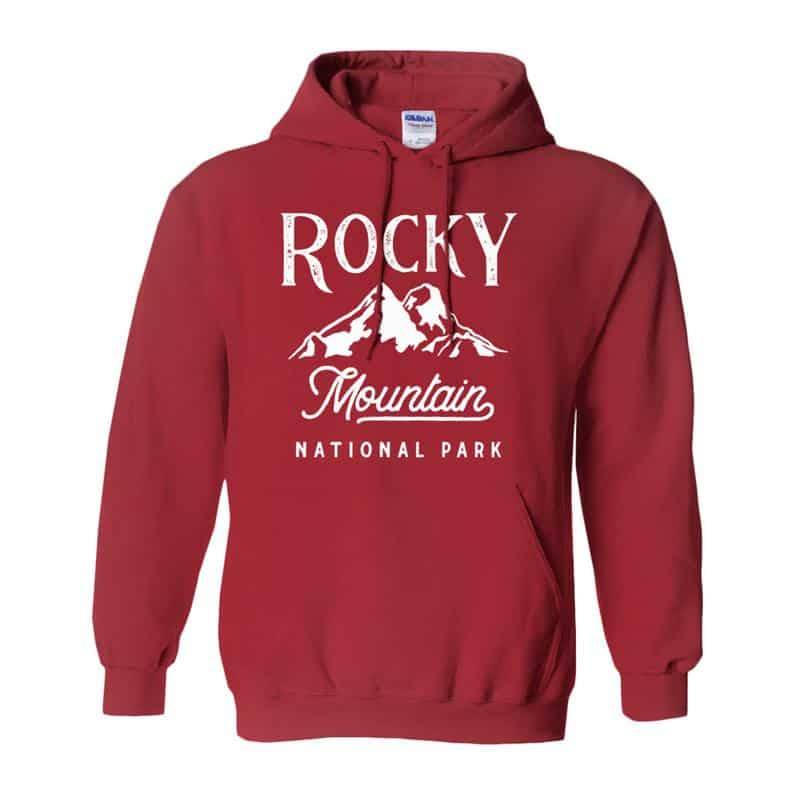 Keep snug and warm in this Rocky Mountain National Park sweatshirt from White Oak Goods. This cozy 50/50 sweatshirt will keep you warm around the campfire. I love the assortment of five warm colors. Don't forget to pack it on your next trip.
Rocky Mountain National Park Posters, Signs and Wall Art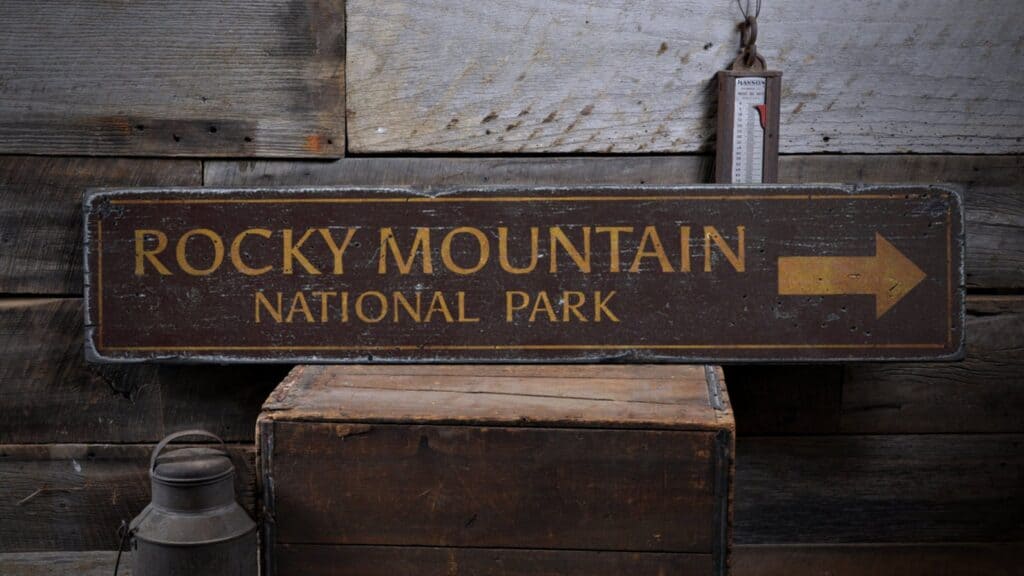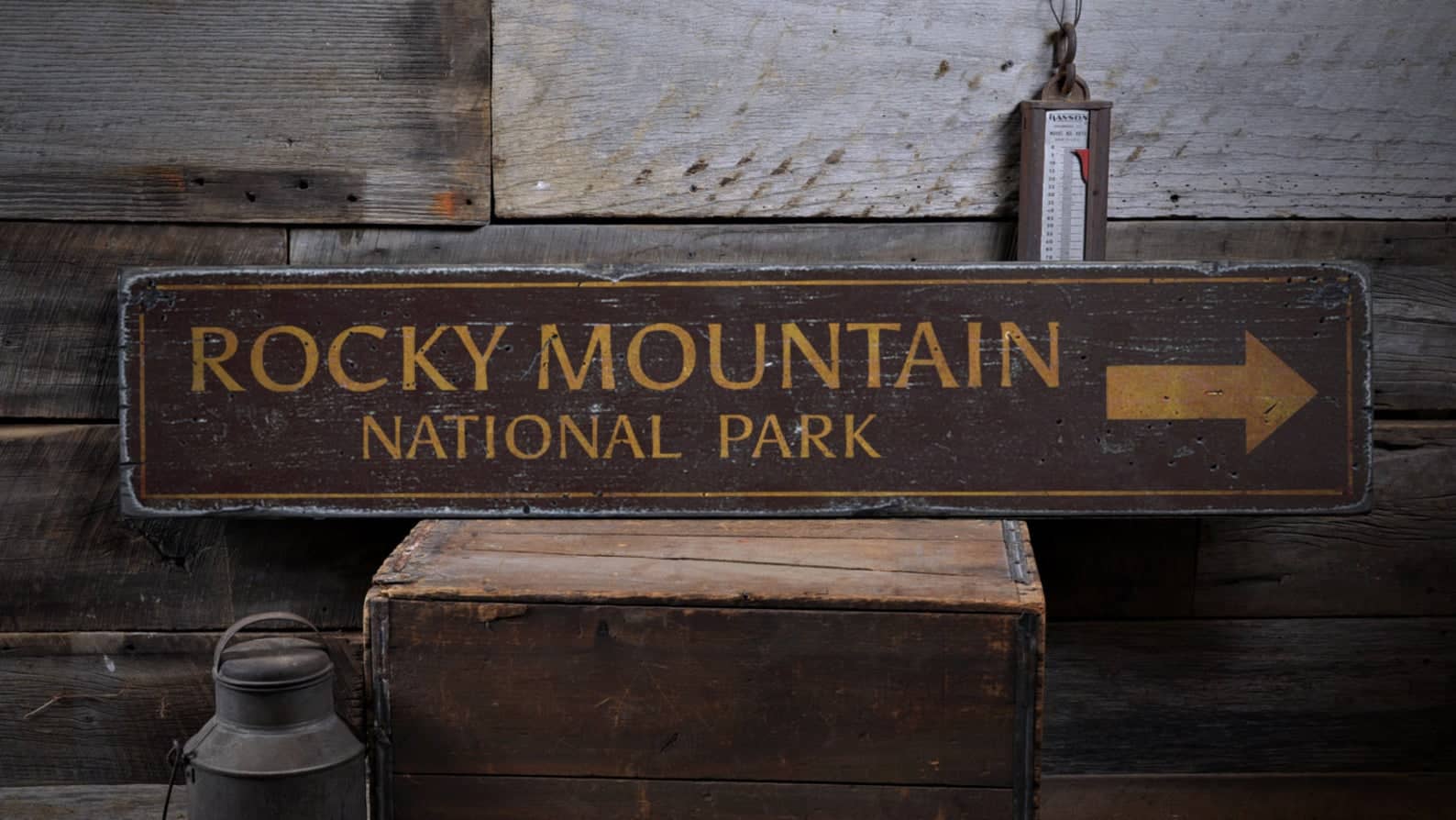 Can you imagine this Rustic Handmade Rocky Mountain National Park Wooden Sign in your home as a reminder of trails you have followed? Each sign is handmade so no two are alike. You can choose from 7 sizes ranging from 24″ to 120″ long.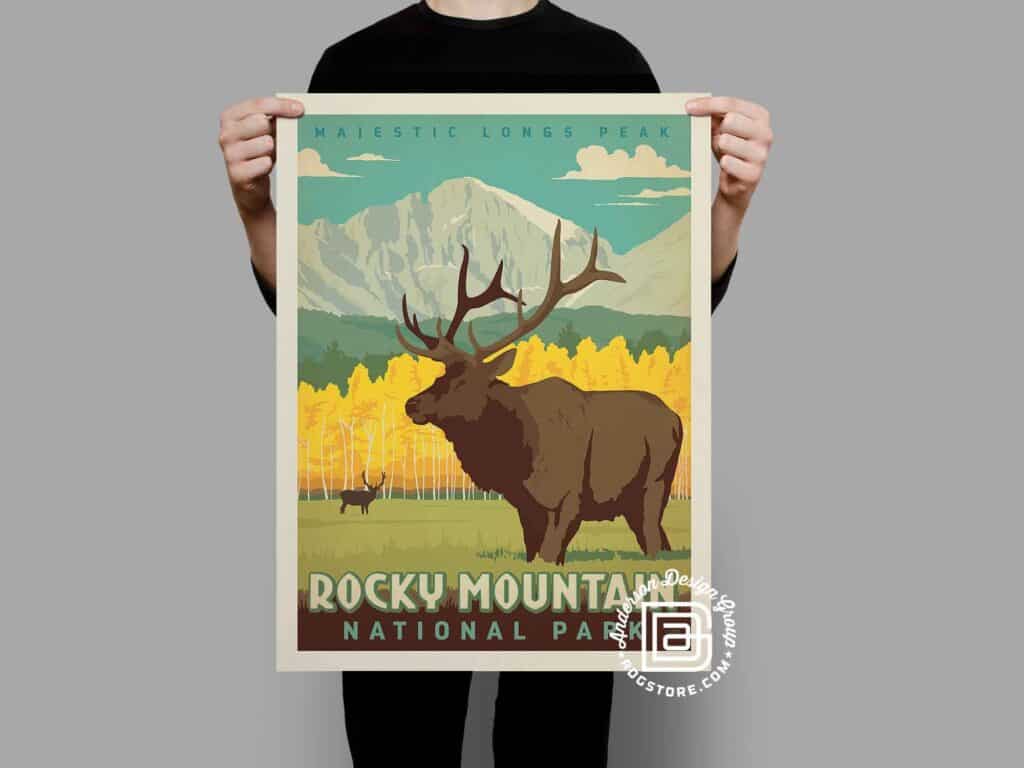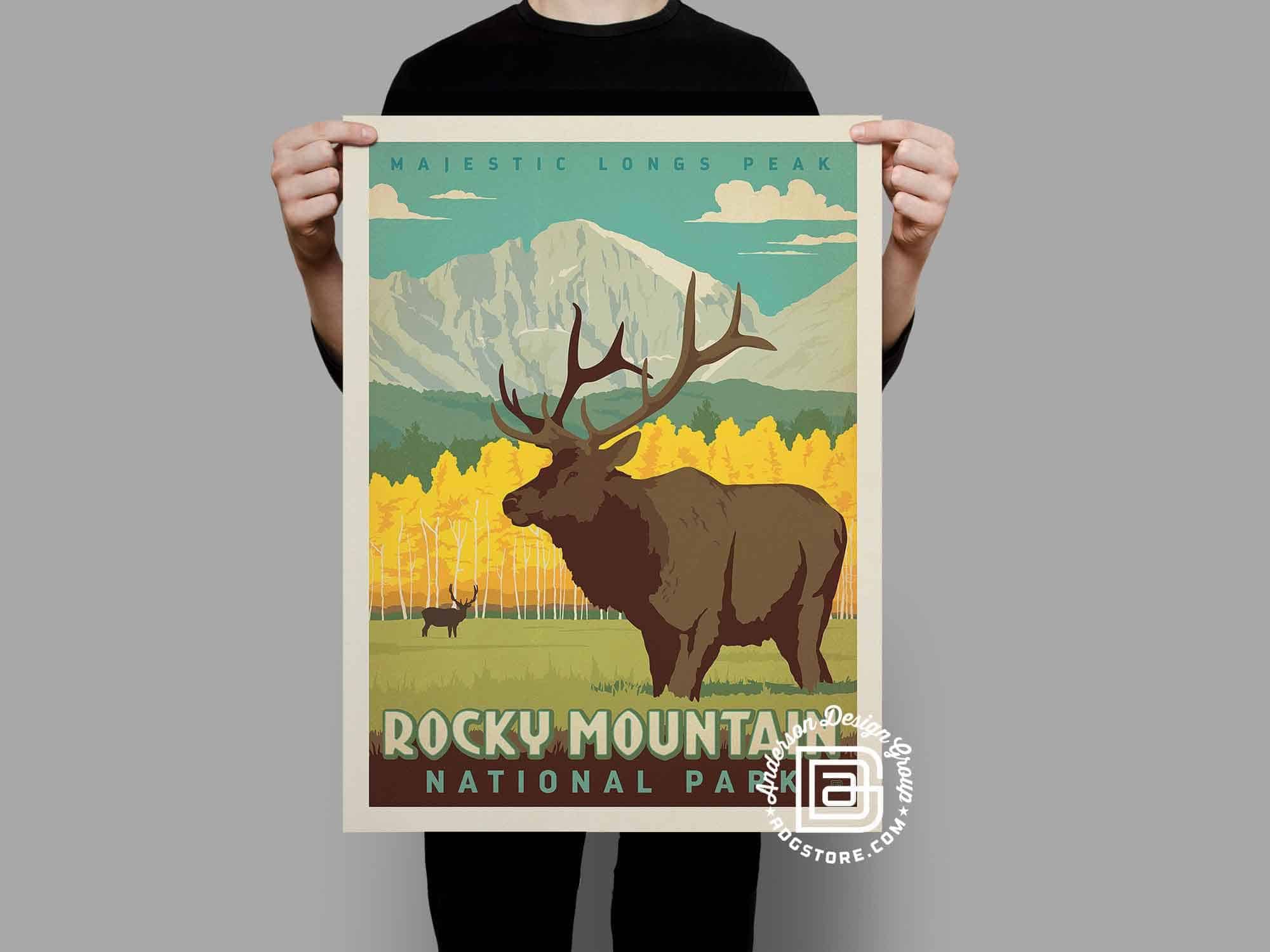 What a gorgeous Rocky Mountain National Park Poster created in the vintage WPA style! This poster was hand illustrated by the team at Anderson Design Group where they take pride in their high quality printing. It comes in your choice of 6 sizes ranging from 8×10 to 36×48, all ready for you to frame and hang.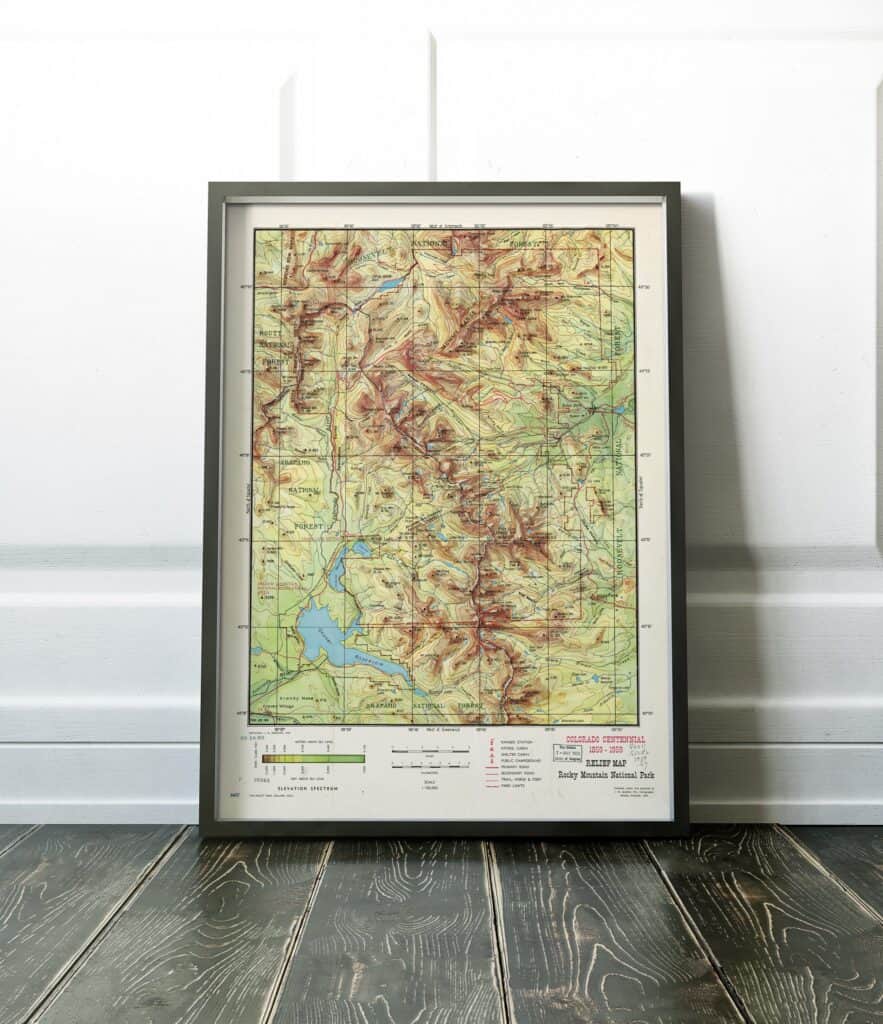 Check out this Rocky Mountain National Park Relief Map! Reproduced in vibrant colors on high quality paper from a 1959 map of RMNP. You can see every detail of the park, follow the trails, discover the hidden lakes. Available in 3 sizes ranging from 16x2o to 22×30 it arrives in a sturdy cardboard tube ready for framing.
Rocky Mountain National Park Mugs & Glasses

Whiskey Glasses with Rocky Mountain National Park Topographical Map would be so fun to pull out of your cabinet when friend visit. These unique glasses are hand printed in Black Lantern Studio's Estes Park Studio.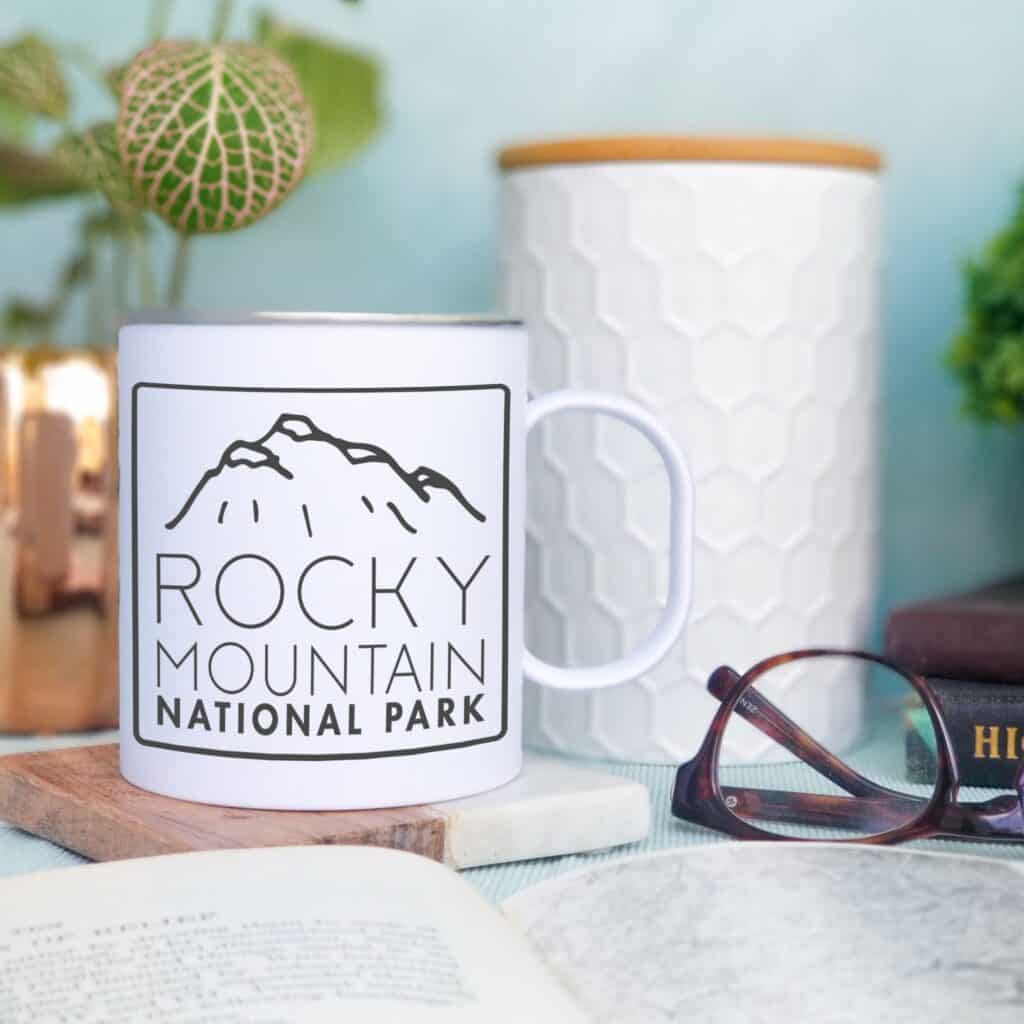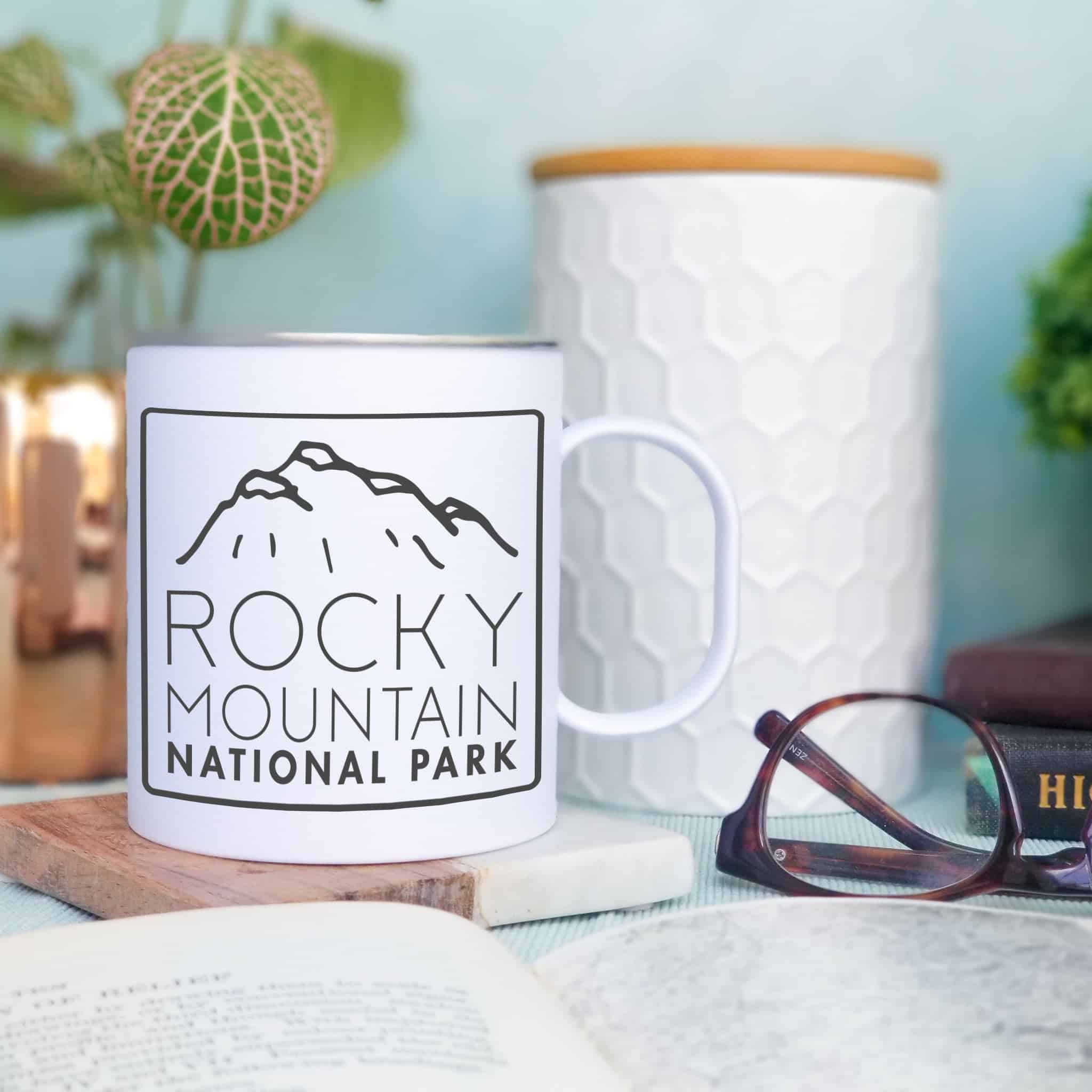 Here's the perfect Stainless Steel Rocky Mountain National Park Coffee Mug for your next camping trip! This 11 oz mug is hand designed in Sincerely Sara Shirt's studio. And 10% of every purchase is donated to The National Park Foundation.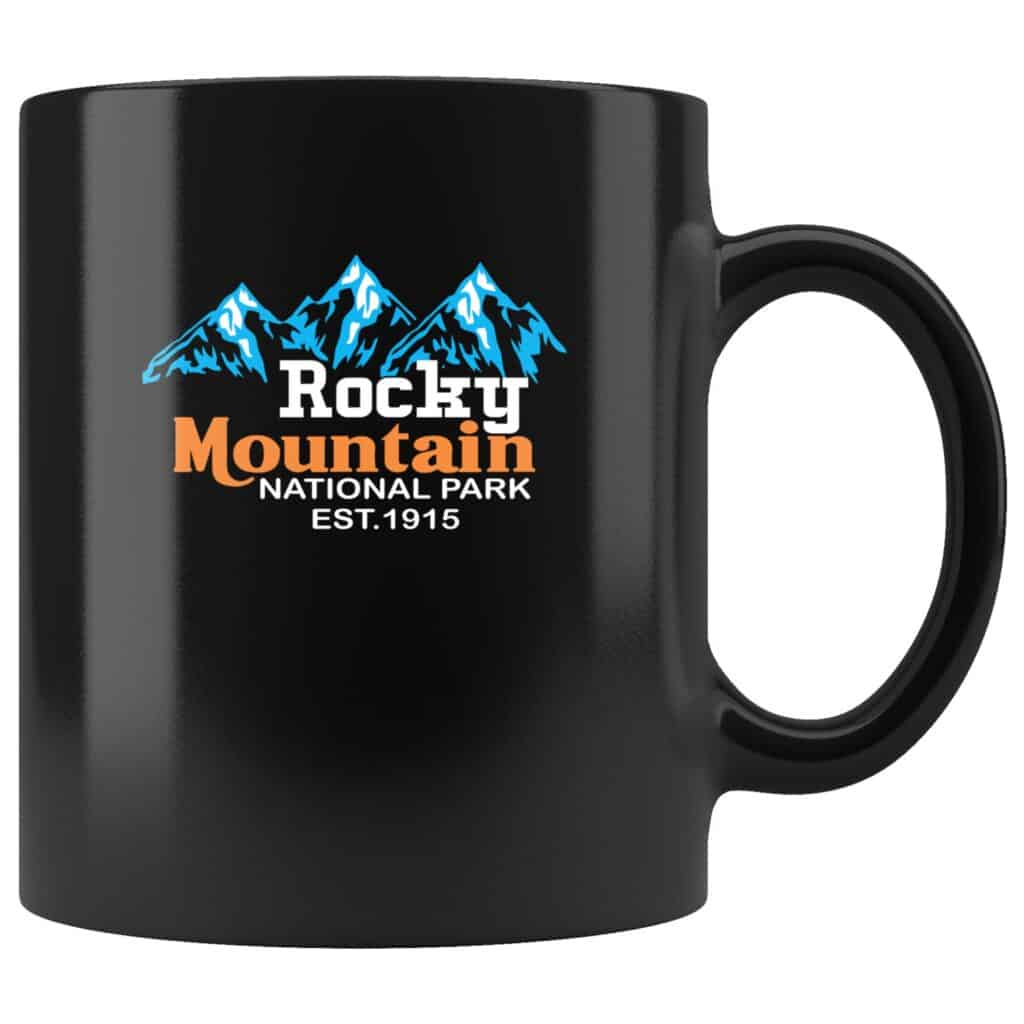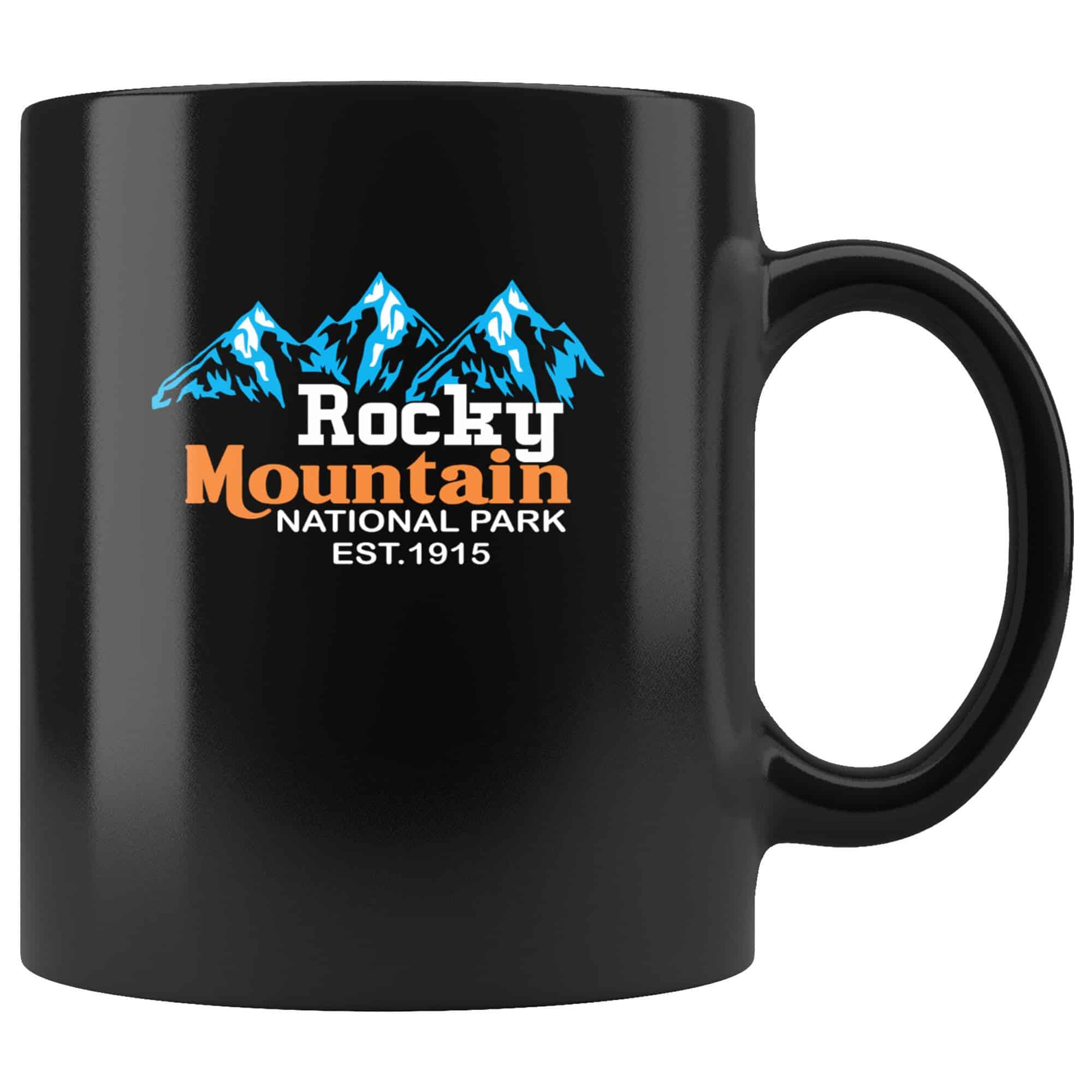 The classic black background on this Rocky Mountain National Park Mug really makes the log pop! Perfect for a steaming hot cup of coffee, this 11 oz ceramic mug is dishwasher and microwave safe. Created by Trendy Finds Gift Shop.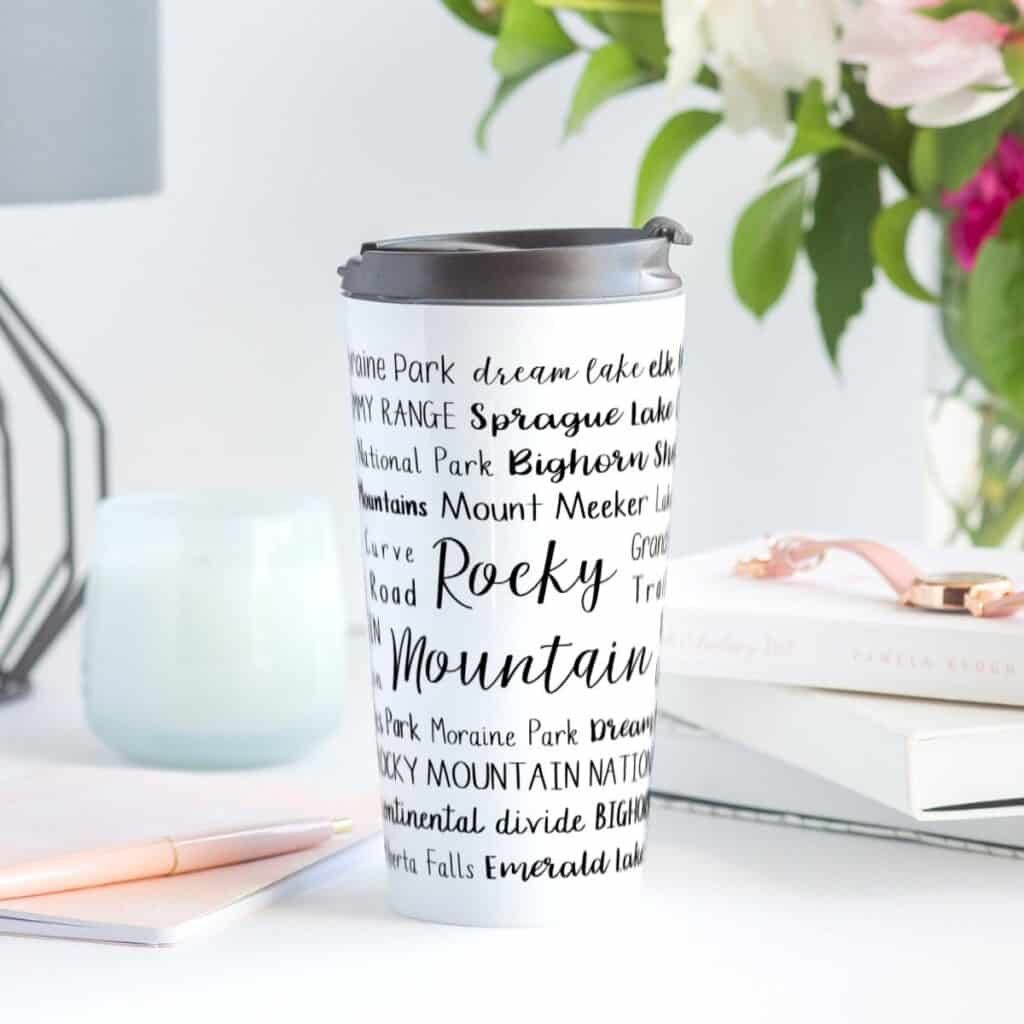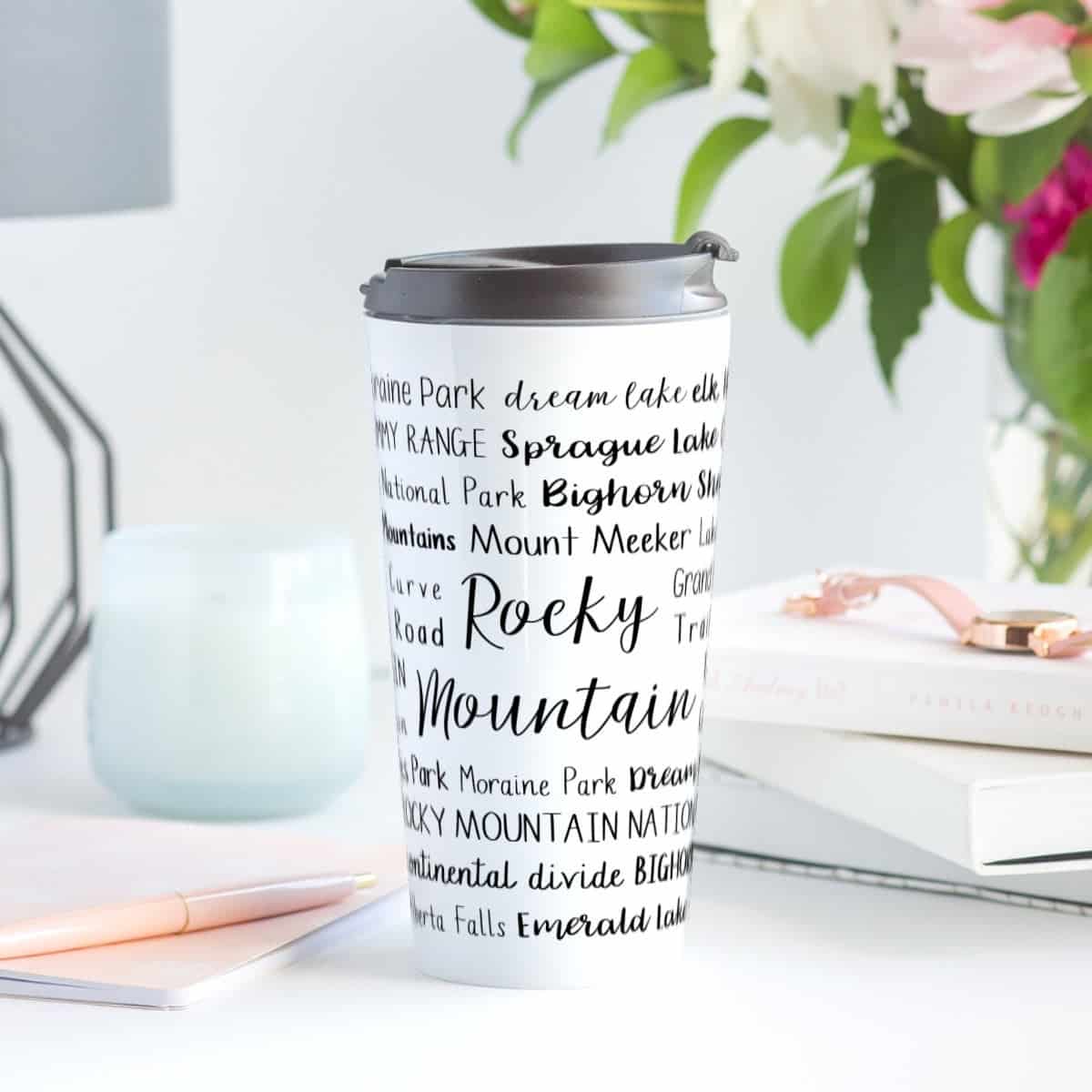 How about this sharp Rocky Mountain National Park Travel Mug with a lid? The crisp design really stands out on the 15 oz stainless steel travel mug. Printed to order by My Mugs and Kisses, the mug is fully dishwasher safe.
Rocky Mountain National Park Home Decor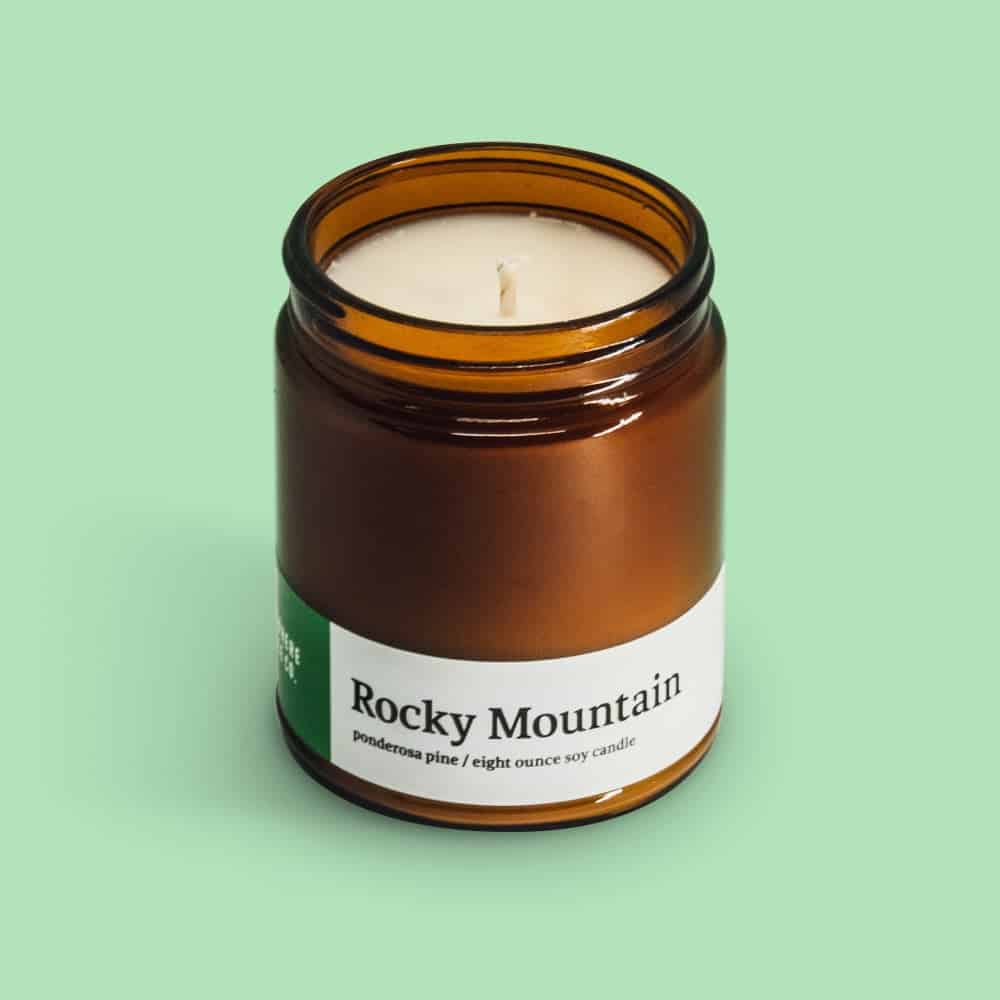 Oh, the aroma of pine in the mountains is one of our favorite smells. Light this Rocky Mountain Ponderosa Pine Candle and you will lovingly remember the miles of trail through the pine forests of RMNP. These long lasting soy based candles are hand made nearby in Boulder Colorado by Elsewhere Candle Co.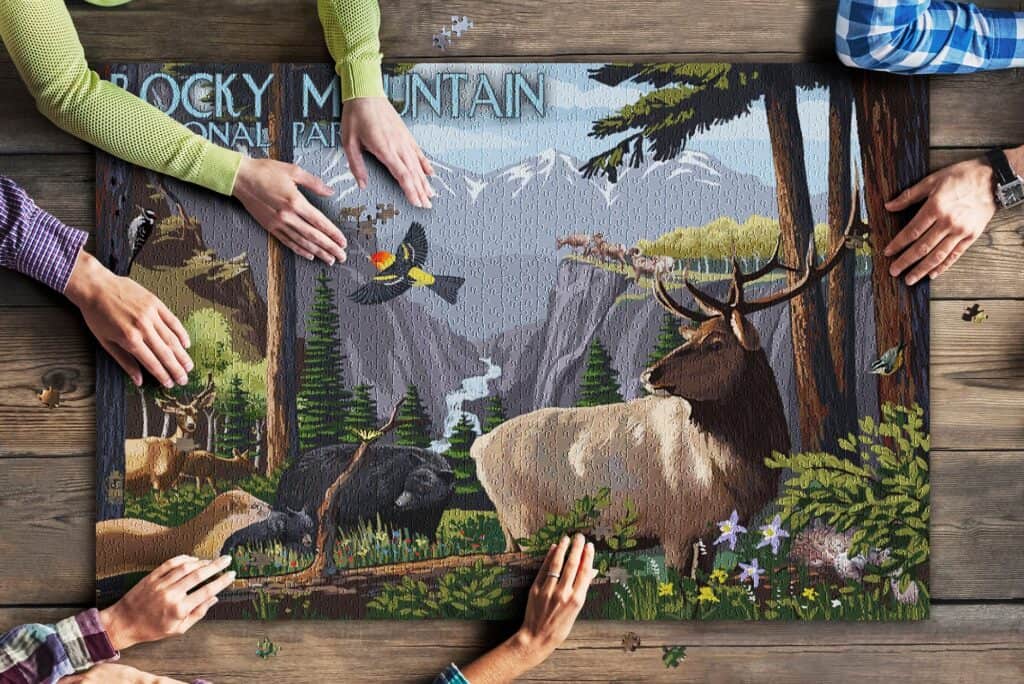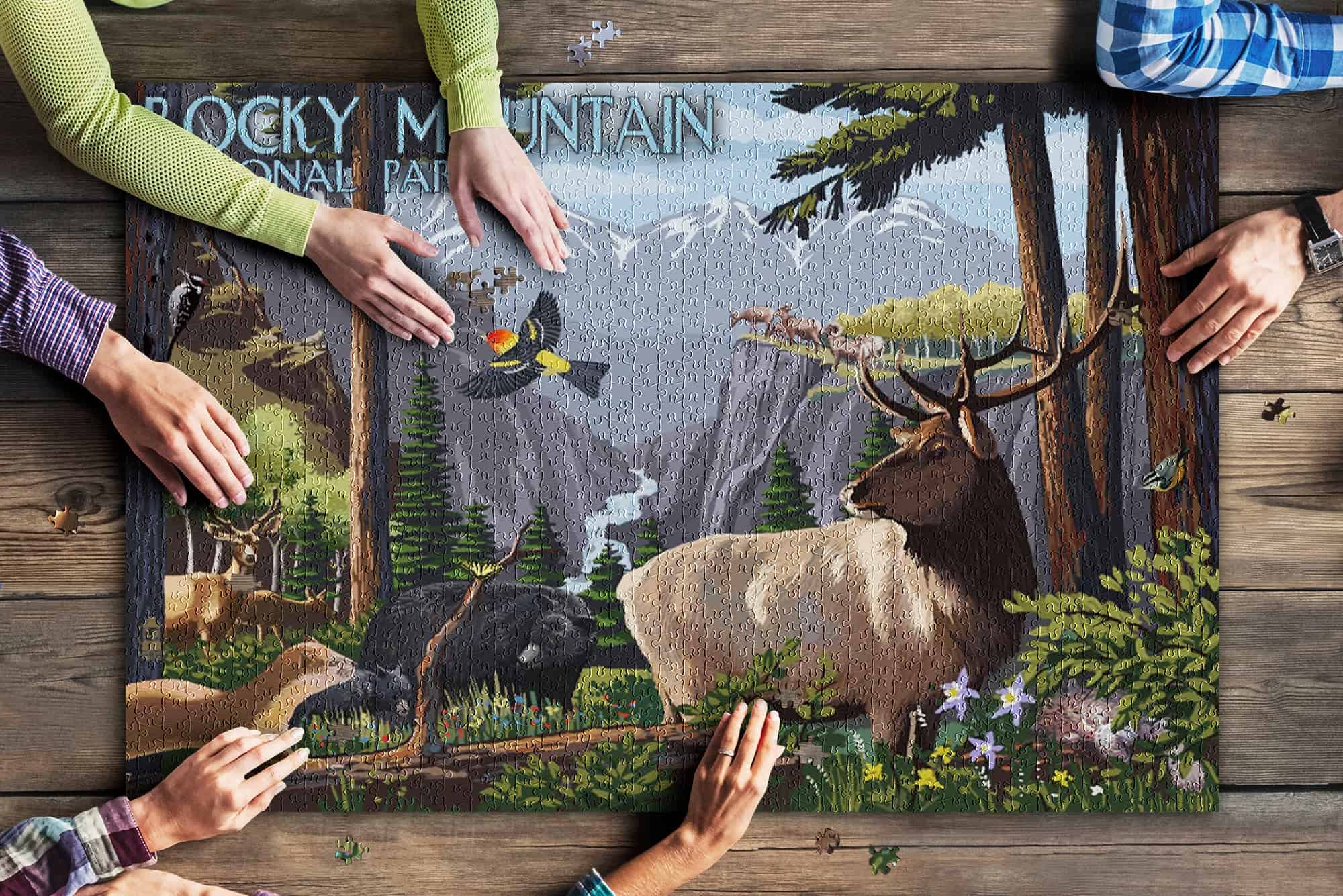 This original art, high quality Rocky Mountain National Park Puzzle will be great fun. With a 1000 pieces the whole family will be challenged creating your new art work. The photography by Lantern Press Artwork is perfect for framing after you complete the puzzle.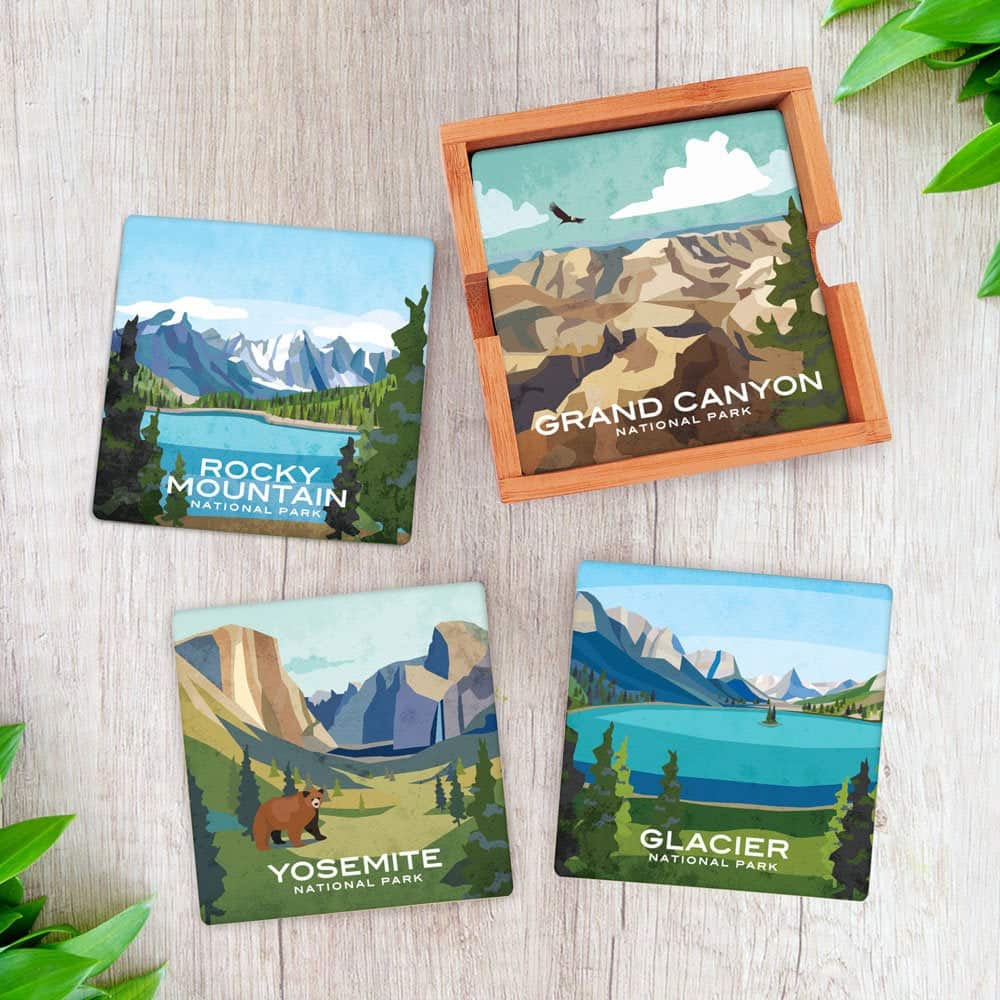 These beautiful retro styled National Park Stoneware Coasters can be mixed or matched from a selection of images for all the National Parks. Create your own Rocky Mountain National Park Coasters, or mix with your other favorite parks. The coasters, by Stone Arch Merchants, are corked back so they won't scratch furniture. Each set of 4 comes with the bamboo coaster holder.
Grab a few of these unique Rocky Mountain National Park souvenirs for yourself as well as for gift giving. Anyone would be proud to own one of these uniquely crafted items from the Etsy artists.
If you are planning a trip to Rocky Mountain National Park, don't miss out on our extensive selection of articles on RMNP. We'll help you plan an amazing trip!