Surprisingly, it's very easy to buy hiking gifts for him that he will just love. It's the nature of men to love outdoor gear and gadgets and hiking gear is the coolest. We've created a guide to the best gifts for the hiker in your life, gifts that will help him fill his bucket list of adventures ahead!
We are avid hikers and we've been hiking throughout the US National Park. This gift list for hikers is a combination of the things we use all the time, our most loved pieces of hiking gear, and items we really wish we had in our pack. This way we know this list of gift ideas for hikers will be perfect for your guy.
What Makes a Perfect Hiking Present for Men?
If your guy has been hiking for a while then gifts that upgrade his equipment are exactly what he wants. Most guys start hiking by filling their backpacks with whatever is handy. Over time they realize that saving a little weight with a more compact version of an item, or being more comfortable with better hiking clothes, or adding that one piece of favorite gear will make their hiking trips so much more joyful.
And if he has just started hiking, then you can be sure he needs absolutely everything in this gift guide. You really can't go wrong with any quality hiking gear as a gift. We've focused on quality practical gifts that hikers will use for decades specifically for this hiking gear gift guide for guys.
To make it easy for you to get your shopping done, we included links to where you can purchase these awesome gifts for hikers. In many cases, these are affiliate links which means if you make a purchase we could earn a small commission.
10 Indispensable Tools for Men who Hike
The perfect gift list for men who love to hike has to start with a round-up of the best piece of gear a guy could carry. This is definitely the area where you can help your favorite hiking guy level up the quality of his backpacking gear for outdoor use. We've been pretty selective in this section to ensure you pick out the best of the best hiking gifts for him.
Your special guy should be prepared for everything on his backpacking trips, from cutting branches out of the way to replacing the screw in his cookstove. The Leatherman Signal Multitool does it all with 17 tools every hiker will use. This must-have tool fits easily in your pocket or pack, making it one of our favorite gifts for new hikers. For more info, we've compared all the Leatherman Multitools here to find the perfect accessory for hiking or a camping trip. Brad will personally vouch for the efficiency of carrying a Leatherman tool, he has used the same multi-tool since college. (See on Amazon)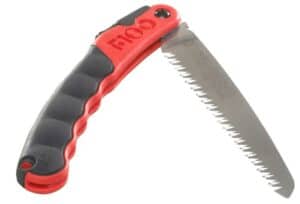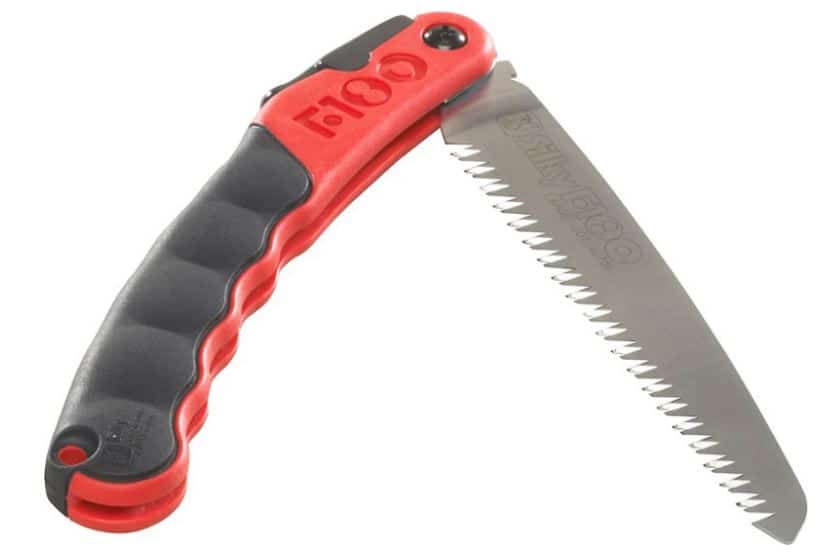 If your guy loves the backpacking world, then he will love a lightweight folding saw like the SILKY F180 Folding Hand Saw so he can cut brush out of his way or cut up firewood for cold weather. This hand saw is super compact and lightweight at only 5 ounces but will still cut through a 3 1/2 inch log. It's the perfect gift for a guy who enjoys keeping warm on his camping trips. Check out the best folding saws for hiking and camping in our reviews for more ideas. (See at REI Co-op) 
We are a big fan of these ultralight binoculars that allow your guy to see wildlife on the next mountain peak. They are a great gift for men who hike. The Vortex Optics Diamondback binoculars only weigh 15 oz making them a logical addition to any hiking backpack. What we love about this particular high-quality pair is that they are easy to adjust making sharing with friends a breeze. For more information on how to select binoculars, check our article on the Best Compact Hiking Binoculars. (See on Amazon)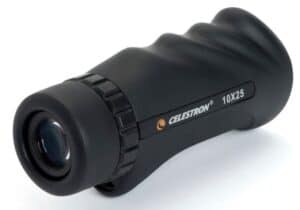 And if your guy is one of the emerging ultralight hikers, the Celestron Nature Monocular at only 6 ounces is amazing. The 10x zoom will bring wildlife right up close. It's rubber coated for a secure grip and to protect it while in the pack. This is one of those hiking gift ideas for him that he will own for decades – it's that cool. (See at REI Co-op)
Pro Tip: For outdoor enthusiasts, there is no such thing as too many flashlights. If you want to give him an excellent gift that he will use on almost every adventure, the Petzl, Active Core Headlamp is one of the best flashlights you could choose. With a powerful 450 lumens and 4 light settings, he will be able to see in the most adverse conditions making it an essential item for hiking. It comes with rechargeable batteries that will last over 100 hours. It's ultra lightweight at 2.7 oz so it takes up practically no space in his backpack. For more ideas about selecting the perfect headlamp check the Best Ultra-light Headlamps for Hiking for detailed reviews. (See on Amazon)
And for that 2nd flashlight… this Fenix LD30 Rechargeable Flashlight is perfect for backpacking and will quickly become his favorite piece of gear. At only 2 ounces it will be easy to tuck into his backpack or clip onto his belt. And wow… 1600 lumens on maximum power will light up a football field. Of course, he can use the other 4 light settings for more relaxed lighting when hiking.  (See on Amazon) For more info on the next level of flashlights check out our guide to the Best Flashlights for Hiking.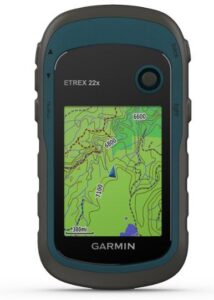 A GPS device can get way up there in price, however, we have been really happy with the reasonably priced Garmin eTrex 22x Hand Held GPS Unit, using it for hiking and for fishing. This smaller size and lightweight, only 5 ounces, piece of gear is perfect for tucking into a backpack for any time you need to find your GPS location. The battery will run for 25 hours which is exactly why it's a great gift for long hiking and camping trips. (See at REI Co-op)
This 12-inch mini tripod goes on most day hikes with us. It makes it so much easier to capture amazing photos of us on day hikes instead of trying "extendo-arm" selfies. The best part is that the legs on the UBeesize Mini Tripod bend independently in all directions so you can adjust your phone or camera for uneven outdoor surfaces. Set the tripod on a boulder or wrap it around a tree branch and your guy is all set for an epic picture. This is one of my favorite hiking gift ideas for photo buffs! (See on Amazon) 
Most hikers have trekking poles, but probably not a good pair like these! Give your hiker one of the few things he needs to upgrade but probably never will for himself: trekking poles! These Foxelli Trekking Poles are made of carbon fiber so they are 35% lighter than standard aluminum trekking poles. Carbon fiber is also more shock resistant reducing the impact on his knees. They are easily adjustable with heavy-duty fast locks. Your hiking family member or best friend will love this great hiking gift of trekking poles. (See on Amazon)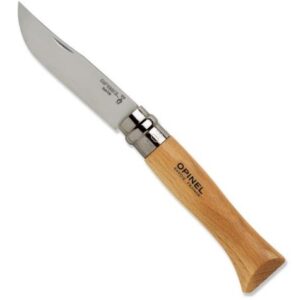 This gorgeous pocket knife is something he will cherish. The stainless steel blade of the Opinel No. 8 is forged to last through decades of use in the wild. And the beautiful beechwood handle will always feel comfortable in his hand. We love that it only weighs 1.5 ounces and tucks easily into your pocket so you can access the knife whenever you need it. (See at REI Co-op)
7 Powerfully Yummy Hiking Gift Ideas
What outdoor lover doesn't like food, right? And on the trail food is even more than a fun snack. Men burn immense energy when hiking and it's critical that they replenish those calories and electrolytes to stay healthy. From healthy snack bars to indulgent treats here are the perfect hiking gifts for him.
This Snack Box by Peaceful Squirrel is the perfect gift for a guy who would enjoy testing out a wide variety of high-energy hiking snacks. Everything is in single-serving sizes, so he can just grab a few for each hike and see what he loves most! Every snack in this box is high in protein and energy to ensure he can power through his backpacking trips. Most people carry more than one of these yummy snacks. (See on Amazon)
What guy wouldn't love snack bars while walking outdoors with names like Chocolate Chip Cookie Dough and Cherry Pie? Best of all they are healthy gifts for hikers. The Larabar Snack Bar Variety Pack of 16 yummy bars is gluten-free, dairy-free and vegan. You'll be proud that your guy packed these in his hiking backpack as a great energy source on the trail. (See on Amazon) 
Not only is this a delectable gift, but it is also extremely convenient! Each pack of Justin's Honey Almond Butter is a single 32g serving. Even though it is easy to spread on an apple or bun, I'm pretty sure your guy is going to suck this delicious energy boost right out of the pack. (See on Amazon)
OMG, can you imagine starting your day hikes sitting on the side of a mountain sipping on a hot cup of coffee? What makes these individual packs of coffee from Starbucks special is that they make instant coffee taste amazing in the way only Starbucks could. The single-serving size makes it easy for your guy to tuck a couple in his pack for his back-country adventure and just add hot water when he's ready for a hot cup. This gift is a box of 50 individual delicious coffee servings. (See on Amazon) 
You can really change up his snack time on his backpacking trip with the NOKA Smoothie Pouches. The Superfood 6 Pack is 100% organic fruits and veggies in easy-squeeze snack sacks. Healthy eaters will appreciate that these little packets are non-GMO, gluten-free, and vegan. Oh, and did we mention they are DELICIOUS, making the pack one of the best hiking gifts? (See on Amazon)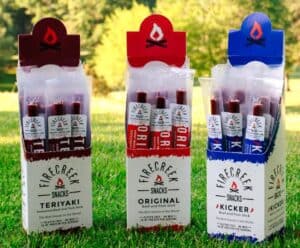 Discovering healthy snack sticks is rare, many on the market are filled with chemicals and preservatives. That's why we love all-natural FireCreek Snack Sticks for hiking. The taste is amazing! Each gluten and soy-free stick is a generous size, perfect for munching on hiking trails for quick protein energy.  Choose from the original beef and pork stick, teriyaki, hickory-smoked kicker, or sweet heat bbq flavors. Because these are individually packaged, the snack sticks would be a great stocking stuffer!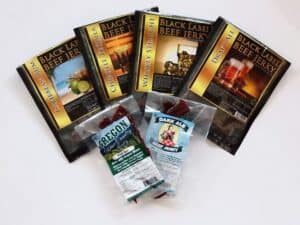 Some of the best gifts for hikers come in 6 packs – and this pack of Jerk Dynasty's jerky, flavored with his favorite alcohol, is no exception. Flavored with rum, tequila, whiskey and more, snacking on this jerky is the perfect gift whether he's off for the Appalachian trail or just a short day hike with his dog.
13 Gifts of The Best Hiking Clothes to Keep Him Comfy
From the perfect down jacket to warm cozy socks, the best gifts for hikers will keep them warm on chilly nights. Here are some of our favorite everyday wear that is anything but boring when it's freezing cold!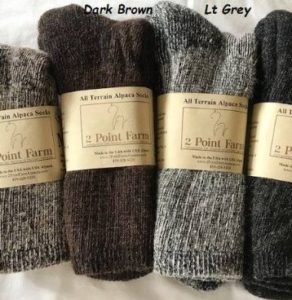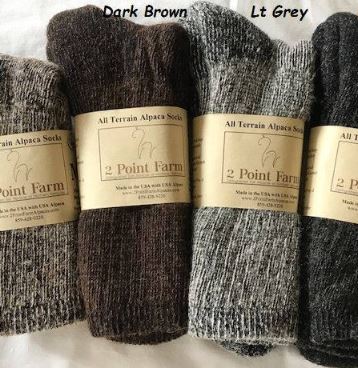 image courtesy Etsy
There's nothing more personal to new hikers than the care of their feet! A good pair of socks will thrill your favorite hiker. And talk about the ultimate Hiking Sock! Start with alpaca wool. Not only are these socks super warm and cushioning inside your hiking boots, but they also wick away moisture to keep your feet comfortable during an outdoor adventure. These amazing socks, made by 2 Points Farm in New England from locally raised Alpaca, are one of the best gifts for your outdoor lovers. (See on Etsy) 
No matter how many different socks we try, Smart Wool Hiking socks continue to be the perfect gift for comfort and quality. This good set of socks are excellent at wicking away moisture to keep feet dry on the trail which means you can wear the same pair for days. And we love the invisible toe seam that doesn't rub. These Medium Cushioned Wool Performance must-have socks are specifically designed to absorb the impact of the trail for a long day.  (See on Amazon)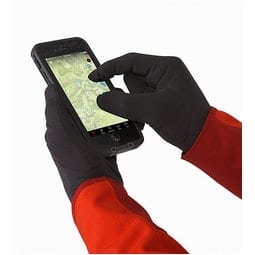 Glove liners are great hiking gift ideas, they are so much better than just another pair of gloves. Glove liners can be worn under gloves for an extra layer of insulation or worn alone during moderate weather. We love that they are more compact and can easily tuck into a pocket for an unexpected cold or frosty morning. The Arc'teryx Rho Glove Liners are touch-sensitive so it's easy to use your electronics. Check out our complete guide to the warmest glove liners for more details. (See at REI Co-op)
Every Hiker Needs A Really Sharp Looking Hat on Sunny Days
Every outdoor enthusiast who is hiking in the sun needs a wide-brimmed hat. But seriously many of the hats that protect from the sun look rather dorky. Here are a couple of hats that don't follow that rule and will make your guy look rather fine. These hats are good gifts for hikers because they go well beyond fashion, the wide brims are critical to protecting his face from the sun. 
Outdoor Research Papyrus Brim Hat (See on Amazon) or  (See at BackCountry)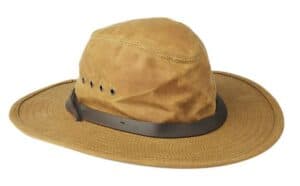 Filson Tin Cloth Bush Hat (See at BackCountry)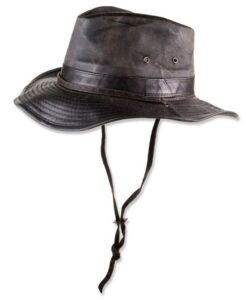 Dorfman Pacific Weathered Outback Hat  (See at REI Co-op)
Weather on the trail can be unpredictable, cold outdoors in the morning and then blazing hot in the afternoon. That's why Columbia's Silver Ridge Convertible Pants are such an amazing gift for men who hike, they can just zip off the legs and throw them in their day pack. Then spend the afternoon in comfortable shorts. The ripstop nylon in these hiking pants is treated to provide SPF 50 protection from the sun. This great fabric will wick away sweat and breath allowing your guy to stay cool and dry all day. (See on Amazon) or (See at REI Co-Op)
What? You ask… Why sandals for day hikers? Well, there are 2 really good reasons he will absolutely adore the excellent gift of these Teva Hurricane Sport Sandals. First, at the end of a long day of hiking, nothing feels better than to get those hiking boots off and slide into a good-quality pair of sandals. The second is there are times when hiking that you have to cross water or maybe kayak a trail section. Having a pair of quick-drying sandals, like these, will let him take off his boots and still keep his feet protected.  (See on Amazon) or  (See at REI Co-op) 
Because this Eddie Bauer Down Jacket is ultralight and easily packable for outdoors, it makes the best gift for any hiking enthusiast. The down jacket easily layers when the temperatures drop outdoors and compresses into a small space in your backpack if you get too warm. The nylon shell of this down jacket is water-resistant to keep your hiker nice and dry. (See on Amazon)
This lightweight Rain Jacket is a super great deal for gift giving. The rain jacket is made of breathable fabric to avoid heat build-up when hiking. An essential piece of his hiking wardrobe, the full hood of the rain jacket will keep the rain off his face when hiking in the rain. We love that this rain jacket layers well and comes in a variety of colors so your favorite hiker looks sharp too! (See on Amazon)
And The Best Hats to Keep Him Warm While Hiking in Winter
When hiking in cold weather your guy needs a hat that will keep him warm. But not so warm that he gets all hot and sweaty! These 3 hats are perfect for hiking:
Smartwool 250 Cuffed Beanie (See on Amazon)
Stormy Kromer Northwoods Trapper Hat (See on Amazon)
Outdoor Research Ninjaclava (See on Amazon)
3 Camping Gear Gift Ideas for the Backpacker
Laundering a sleeping bag is a "pain" because of the bulky size and let's be real… most guys push the grossness factor to the limit rather than do the work. Liners for sleeping bags easily solve that problem! Using a liner in your sleeping bag is just like sleeping on comfy sheets at home. And they are so easy to wash. The best part is that a sleeping bag liner adds a few more degrees of warmth to your sleeping bag in cold weather and can be used just like a sheet when it's hot. The liner comes with its own stuff sack to make it easy to carry in your pack. (See on Amazon)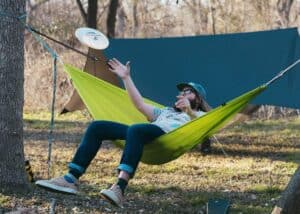 Backpackers often prefer spending their night in a Hammock over hauling a heavier tent in their gear. The Roo Kammock is exactly what he needs. It's lightweight at 11 oz but will hold up to 500 pounds. His dog or kids can join in without tearing this comfy buttery soft hammock. The fabric is water-resistant and breathable which means it will dry quickly should you end up camping on a damp night. (See at Kommock) 
Give him the gift of an amazing night's sleep. Too many backpackers skip the pillow because they don't want the extra weight. However, the Big Agnes Air Pillow weighs only 1.6 oz, so now he can get a good rest and not wake up with a stiff neck! (See on Amazon)  
5 Hydration Gifts that Just Might Save a Life
The biggest risk to a hiker's health is running out of water. Dehydration causes a wide variety of health problems. However, the problem is knowing how much water to carry and being able to carry that much weight. Here are some rather cool items that will support your hiker's hydration needs.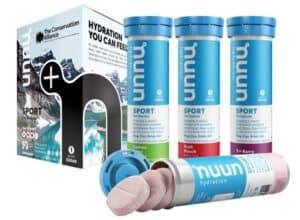 Individually, these tubes of NUUN Sport Hydration Tablets would make a great stocking stuffer. Or get a multi-pack for a variety of flavors. When hot weather hiking, loss of electrolytes can be life-threatening, so every serious hiker knows to keep replenishing. Why not make it fun for him with these great flavors: Lemon-Lime, Fruit Punch, Berry and Strawberry Lemonade. These tablets turn a bottle of filter water into a clean ingredient sports drink, the tablets are certified gluten-free, vegan and kosher. (See at REI Co-op)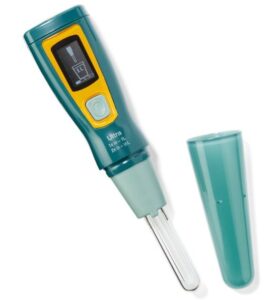 Did you know that ultraviolet (UV-C) light rays safely purify clear water by destroying 99.99% of protozoa (including Giardia and Cryptosporidia), bacteria and even viruses? The Katadyn Steripen Ultra UV Water Purifier can be used to clean 50 liters of water per charge using UV light. It weighs less than 5 ounces and fits in the palm of your hand. To purify your water, just stick the pen in your water bottle, then click a button and gently agitate the water.   (See at REI Co-op) 
And my personal favorite for Christmas stocking stuffers is a LifeStraw Personal Water Filter. Why? Because this water filter is an inexpensive water filtration system to get clean water quickly. The straw only weighs almost nothing at about an ounce and is the size of a large pen making it an easy way to quickly get clean water. For the price, you can afford to tuck one of these water filters in every backpack you own to ensure you are never without a backup clean water source.  (See on Amazon) 
The perfect hiking gift for guys that prefer a super lightweight pack. This is a really cool water bottle from Katadyn in many unusual ways, but what he'll love most about this water bottle is that when it's empty it can be squished into a little ball, taking up less space in his pack. Oh, yeah… it will also ensure that he always has access to clean water when on his outdoor adventures due to the built in water filter. The filter in this cool piece of gear removes harmful organisms like bacteria and protozoa like Giardia & Cryptosporidium from stream water.  (See on Amazon) Or (See at REI Co-Op)
For day hikers who like to travel as light as possible, the CamelBak Hydration Pack is the perfect gift. A hydration pack will ensure he has enough water for a hot day while keeping his load so light that it's barely noticeable. This popular Camelback carries 1.5 liters of water with a mesh backpack strap to keep him cool and supported. It also has chest straps to keep the pack in place. (See on Amazon)
11 Reading and Journaling Gifts for Hikers
Busy men often love to embrace quiet time after a long hike by reading. It's an indulgence they don't have time for in their day-to-day, so hiking and camping open more time for a bit of reading or journaling. Many avid hikers keep track of every detail of their hikes so they can share their outdoor adventures with fellow hikers. Or others just like to go back and relive their adventure by reading through their journals. 
Keeping a log or a journal on the trail is a great way to capture details of your hikes. We love to go back through our logs and remember special hiking trips. You'll love this waterproof journal because a little rain has ruined many notes. This 120 page Rite in the Rain Journal is only 3 oz so it slips right in any backpack. Don't forget to grab a Waterproof Rite in the Rain pen to complete your gift for your hiking guy. (See on Amazon)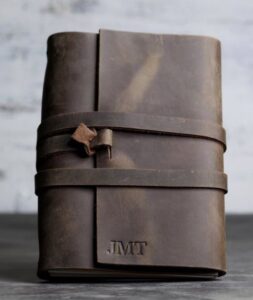 This natural leather journal from Etsy is the perfect hiking gift for him. It will appeal to his inner wild. You can personalize with full name, initials or maybe a special nickname. And it can be refilled so he can keep a new journal for each trip and build his library. This is a great gift for your loved one to tuck into their day packs. (See on Etsy)
If he loves to read about the outdoors, especially on quiet nights when camping along the trail, the new Waterproof Kindle Paperwhite is on the top of our hiking gift ideas. He can hike with dozens of books at his fingertips on the Kindle Paperwhite, while only adding 6 1/2 ounces to his pack. I particularly love the no-glare screen and that the battery will last weeks on a single charge. (See on Amazon) 
One of the best hiking gift ideas is this fun yet truly amazing book about reading nature's signs. When we were in Alaska I was really intrigued with the art of reading animal droppings to see who had been in the area. In The Lost Art of Reading Nature Signs, your hiker will discover nature's way of telling us of coming weather, how to locate water and so much more. Available in paperback or in Kindle version. (See on Amazon)
For men who enjoy spending time outdoors, the ultimate Field Guide to the Art of Wilderness Survival is loaded with back-country tips and survival skills every hiker needs. This is a particularly good book for new hikers who have just started more advanced hiking and back-country adventures. This practical gift is available in paperback or kindle versions. (See on Amazon)
An Outdoorsy Magazine Subscription
Magazines are perfect gifts that just keep giving, your favorite man will think of you when each edition arrives! 
Definitely a great magazine for any outdoor enthusiast, you can send Outside Magazine either in a traditional paper version or in the Kindle App.
Unlimited Reading. Unlimited Listening. Any Device. We just browsed through current offerings in the Kindle Unlimited subscription and found National Geographic Guide to National Parks, The Bushcraft Series, several yummy backcountry cookbooks and many stories of hiking adventures. Best of all the first month is free! Kindle books can be read on almost any device from his Kindle Paperwhite to his phone, through the Kindle app. He'll find this one of the best gift ideas because of the easy access.
If the hiker in your life dreams of thru-hiking the Appalachian Trail or The Pacific Crest Trail or one of the many other long-distance trails across the US, here are good gifts to send his way. These books will help your thru-hiker complete his bucket list!
6 Hiking Gifts for Men that Keep Him Safe
Part of what makes hiking so tantalizing is that you are often walking into the unknown. However, with the unknown comes a greater chance that you will need to react to an emergency. So a great gift that helps him be prepared is highly desirable. And if it is something that is well organized and compact, you win big time in these gift choices.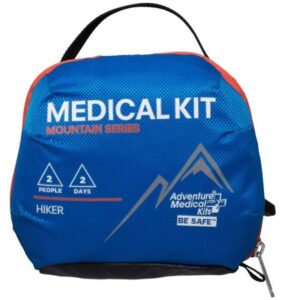 One of the best gifts for hikers is a complete first aid kit for outdoors. It's an essential item for any hike. Designed for almost any emergency you can imagine, whether on a day hike, a weekend hiking trip or a week of car camping, the Adventure Medical Kit – Mountain Series easily organizes all your first aid equipment. No more baggies of odds and ends, but a well-thought-out first aid kit of the most needed items for any emergency on backpacking trips. 
A few blasts on this whistle and your lost or hurt explorer will be quickly found. No one ever plans to get lost on the trail, but we read in the news every day of another lost hiker being injured. This tiny device is the insurance he needs. The Titanium Emergency Whistle is one of the best hiking gifts worth carrying. It can be hooked to a backpack zipper pull or worn as a necklace for easy access. (See on Amazon)
Easy to Carry and Easy to Use Tick and Mosquito Repellent
Your guy doesn't want to carry a bulky, messy spray bottle in his pack, so practical gifts of insect repellents that will easily tuck into his backpack will keep him bite-free when outdoors. Below are 3 great choices, I know most of us would prefer to use natural repellents but when the bugs are bad you often have no choice but to step up to the more serious stuff. These all come in small, easy to pack and easy-to-use containers that weigh almost nothing.
Ultrathon Insect Repellant is your heavy-duty, go-to bug repellant when the bugs are super vicious, with 34% Deet and 12-hour protection. And we love the small 2 oz tube for packing.
Murphy's Naturals Mosquito Repellent is the all-natural way to protect him when hiking, a blend of Castor Oil, Lemongrass Oil, Rosemary Oil, Cedarwood Oil, and Peppermint Oil. We love the easy-to-use balm because there is no liquid to spill in the backpack.
He'll love this mini dispenser of Quantum Health Buzz Away Extreme Towelettes, an all-natural repellent that is a better experience for the whole family. The blend of essential oils not only keeps the bugs away it smells fresh and is safe for the environment.
These extra-large emergency blankets can be the difference between hypothermia and safety if stuck in the woods overnight. They are large enough to wrap around a man to hold in heat. Or add a couple of hiking poles to these practical gifts with some tape and you have a quick rain shelter. Keep your guy safe with a unique gift of a  fist-sized Don't Die in the Woods Emergency Blanket. This important first aid blanket weighs less than 2 ounces so easy to tuck into his pack. (See on Amazon)
6 Inexpensive Gifts for Hikers That Are Perfect Stocking Stuffers
Sometimes we get caught up in tracking down the latest and greatest gadget which often means big bucks. But deep down hikers are pretty simple people who find joy on the trail in the small things that make a difference on the trail. Here are the best hiking gifts under $25 and even several practical gift ideas that are under $10.
Who would think that something so simple would be so important on the trail? Guys who love backpacking use carabiners on every trip to easily attach everything from another water bottle to their pack to hanging a hammock from a tree. This 4 pack of Favofit 12KN (2697 lbs) Heavy Duty Caribeaner Clips is exactly what he needs in his base gear package. These gifts for hikers are extremely strong and versatile. (See on Amazon)
The mini Victorinox Swiss Army Classic SD Pocket Knife is only 2 1/4 inches long and perfect for attaching to a backpack zipper pull. It will quickly become one of his favorite pieces for good reason. A complete mini multi tool, it comes with 7 tools: a small blade, scissors, a nail file, a screwdriver 2.5 mm, a key ring, a toothpick and tweezers. From pulling out splinters to quick gear repairs your favorite hiker will be all set. A good gift for new hikers, the Victorinox is the original Swiss Army knife company since 1897. (See at Amazon) 
The best gifts for hikers have multiple uses and this bracelet is no exception! With more than one great option, it's a jam-packed emergency kit in one tiny space! The Emergency Paracord Bracelets includes one bracelet fire starter, reliable compass, loud emergency whistle, ferro rod striker and 12 feet of military-grade paracord among the assorted gear. The bracelet easily adjusts to his wrist size so he'll have this handy on the trail. (See on Amazon)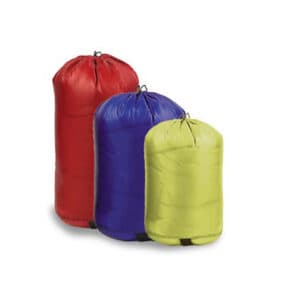 There's nothing worse than having to dump your pack to find something in the bottom. The Sea to Summit Ultra-Sil Stuff Sacks is the best gifts for organizing your backpack contents. You can easily carry gear in an organized way now. Get one stuff sack for first aid, one for your food, one for your extra clothes, one for your sleeping bag and everything else. These stuff sacks are strong and lightweight. They come in multiple sizes with the larger bag holding 15 liters. We love the large assortment of colors. (See at MooseJaw)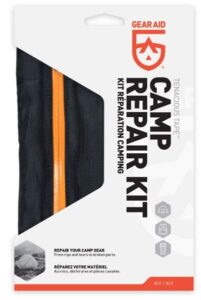 In a package smaller than a Birthday Card you'll find everything you need to patch a burn hole, repair a leaky tent or replace a buckle. The Gear Aid Fix Anything Camp Kit includes 19 essential repair supplies that just might save the day whether you are car camping or backpacking on the Appalachian trail for months. (See at REI Co-op)
A great gift that he will treasure at mealtime! This all-in-one tool lets your guy eat with real utensils on the trail instead of his fingers like a caveman. The knife conveniently tucks inside the spork of the Ka-Bar Tactical Spork Tool. Made of sturdy polymer plastic material, this tool is highly durable gear that will last forever. It weighs next to nothing, and the small 7″ length makes it an easy tool to tuck into a backpack. (See on Amazon) 
11 Funny Hiking Gift Ideas for Men
Here are some T-shirts that will just make him bust out with a big laugh.
Does one of these remind you of the hiking man in your life? Then it's the best gift for him, right! It just might be the sexiest gift he gets this year.
What Doesn't Kill You Makes You Stronger… Except Bears Will Kill You (See on Amazon)
Think Outside… No Box Required (See on Amazon)
Mountains Aren't Funny… They're Hill Areas (See on Amazon)
Never Mess with a Hiker… We Know Places (See on Amazon)
I love Peeing… Outside (See on Amazon)
And you can't skip the funny hiking coffee mugs
The best gifts for hikers are often simple things. Just add some coffee or chocolates to one of these mugs for a really nice gift.
Hiking… Because Punching Is Frowned Upon (See on Amazon)
]
Hiking… Cheaper Than Therapy (See on Amazon) 
Education is Important.. Hiking Importanter (See on Amazon) 
A Few More Ideas…
For a few more ideas for a gift for your favorite guy, here are detailed guides to selecting the best hiking gear:
What is a good gift for hikers?
There are a lot of great gifts for hikers. Whether his style is going on long backpacking trips or quick day hikes, you will find great hiking gift ideas in this list. Humor is always a safe bet in gear since there's an ongoing competition about who gets the toughest laugh on the trails.
If your hiker loves spending their weekends outside, there are great gifts in our hiking gift guide that are just what you need to give the perfect gift! We hope these 70+ ideas will provide inspiration for finding the perfect present for someone who loves to hike and enjoy outdoor activities. Your favorite guy is going to love one of these hiking gifts for him. Hikers are all about getting outdoors and into nature. So with that in mind, you will succeed in surprising him with a special hiking present.