Are you looking for a gift for that woman in your life who loves to camp? Does she value the perfect gear to makes her adventures easy and fun? Then we have the right camping gifts for women that will make you the best gift giver ever! Here are over 50 gift ideas that she will actually use, gear that she will love and treasure!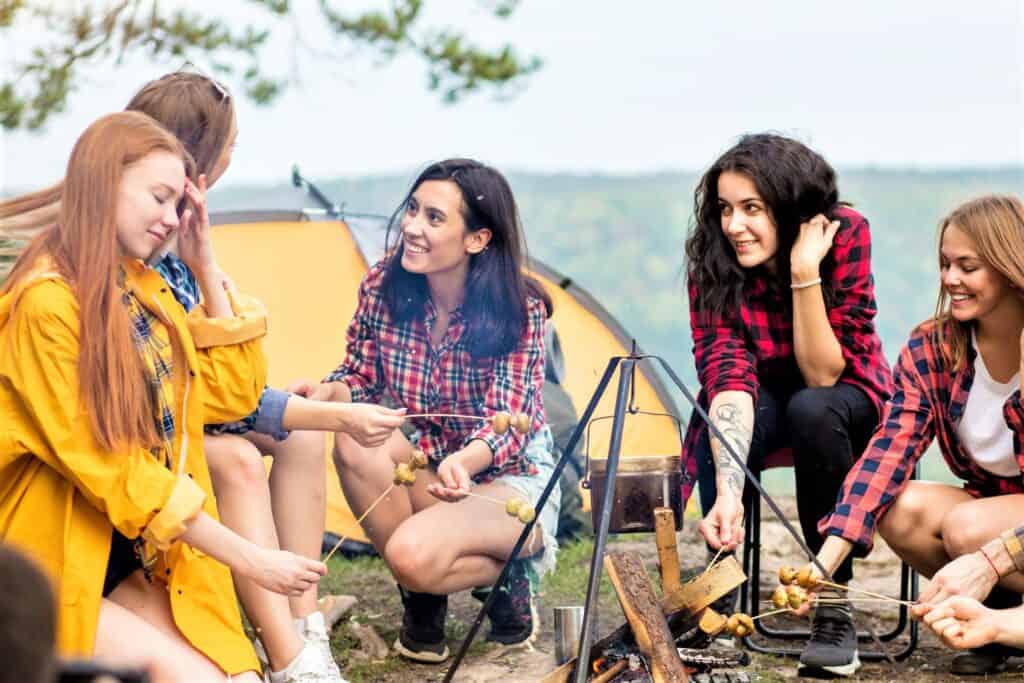 Brad and I have been camping for decades and yet, every trip I come home with a new list of things I wish I had for our trip. Gear that will save space, a tool to make things easier or something to add a bit of comfort to our crazy adventure. And the women in our family are amazing campers. Some prefer their little tent in the wild while others live in the luxury of a full size RV. So we've heard all the wishes. These gifts speak to us and we know the camping lady in your live will love them too!
Unique Essential Gear for Camping Gifts for Her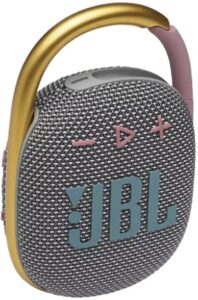 Outdoorsy women who absolutely love taking their music on the go will appreciate this gift. The JBL clip speaker comes in three attractive color choices, and all of them look great. It weighs less than 8.5 ounces and has an integrated carabiner clip that makes it easy to clip onto your backpack or tent so it doesn't get lost. The lithium-ion battery and Bluetooth connectivity allow for up to 10 hours of wireless playback. This whole thing is even dustproof and waterproof, so it's perfect for her camping trip.
We don't go anywhere without at least one Portable Power Bank to charge our phones, GPS unit, fans, cameras and you name it! This power bank stores enough power for several charges for most devices that use a USB charging cord. It's perfect to get a charge when you can't find an electric outlet! This is likely the most practical gifts for camping women.
High-quality dry bags like this keep her gear dry in the worst hiking and camping weather or during any watersport. This makes a versatile gift for adventurous women. The Earth Pax Dry Bags are available in a choice of 8 colors and 5 different sizes. The two smallest bags have comfortable shoulder sling straps, and the bigger bags have straps to be worn as backpacks. All the bags come with a certified waterproof phone case. Your outdoor enthusiast will treasure this waterproof stuff sack for decades!
Black Diamond Cosmo 350 Headlamp: Perfect for setting up camp, late nights or even walking the dog!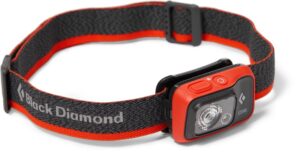 We don't go anywhere without this headlamp, and your outdoor-loving woman shouldn't either! A good headlamp is essential for low-light or nighttime adventures so she should always have one in her pack. We've found this Black Diamond Headlamp to be extremely dependable, and ready for any night activity. It has 6 brightness settings, including red light for star watching. And the lamp emits a maximum of 350 Lumens to light up your outdoor activities. Powered by 3 AAA batteries, the head torch runs for a maximum of 200 hours. It's waterproof and powerful!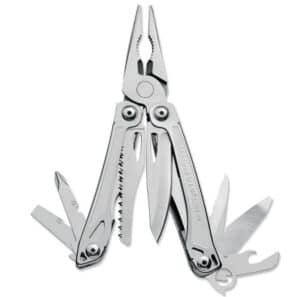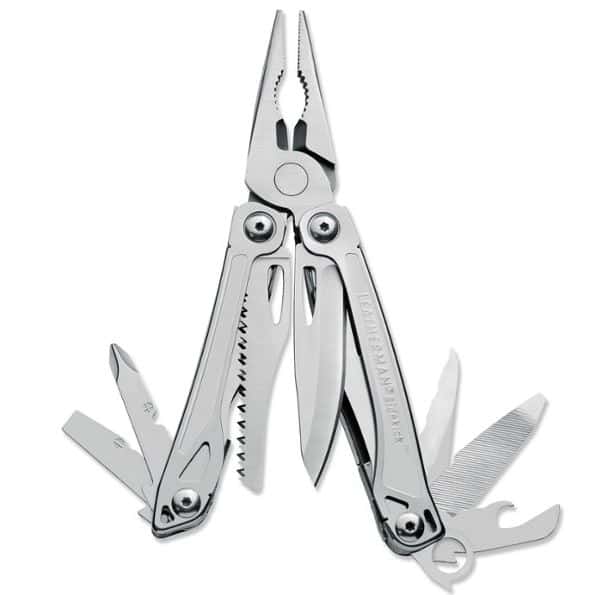 A true outdoorsy woman knows the value of an amazing multi-tool in her camping gear, and there's no better brand than this. This Leatherman Sidekick Multi-Tool incorporates an impressive 14 tools, weighs just 7 ounces, and is reasonably priced. The stainless steel blades are accessible without opening the tool. And it can be easily opened with just one hand. One of the best things about the Leatherman brand is that you get a huge 25-year warranty! For more styles, check out our guide to the best Leatherman Multi-Tools for Camping
Your outdoor gal might already have a favorite backpack, but she probably doesn't have a high-quality smaller daypack. The 13-liter Osprey Daylite Daypack is our top choice for a small women's daypack. It comes in a choice of 7 attractive colors and has all the features of a full-size backpack, in an easy-to-grab smaller size for short adventures. It has plenty of pockets for her gear including a front pocket, side mesh pockets, and an internal pocket for a laptop or water reservoir. The shoulder straps are padded for comfort, and the mesh back panel is covered in slotted foam for extra ventilation. You can find an awesome list of full-size daypacks in our guide to selecting the best daypack.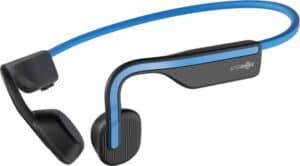 Durable and super comfortable best describes these wireless headphones. The Aftershokz OpenMove Headphones are specifically designed for people on the go. We think they are a great option for hiking as the bud-free design makes it easy to be aware of your surroundings. The partial titanium framer is durable, and the discreet control button is easy to locate. They make a practical gift for women to wear around camp with three audio settings, 6 hours of battery life, and a 2-year warranty.
When I first added a battery powered fan to our gear, some thought it was a bit over the top. Now… everyone reaches for the fan including the dog!  Anyone who enjoys camping when the weather is hot can benefit from this great gift idea. The Treva Portable battery fan can run using the AC adaptor or 6 D-cell batteries and is easy to haul along on a camping trip. This gift idea has a built-in handle for move-ability and two fan speeds. It has a durable design and is powerful enough to make a difference but weighs less than 2.5 pounds.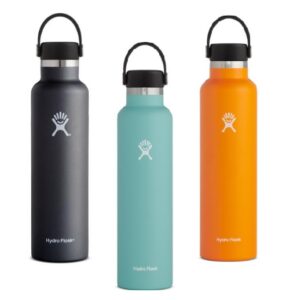 A high-quality water bottle or flask is an absolute must gift for any woman on a camping adventure, and the Hydro Flask is about as good as they come. Made with double-wall vacuum insulation and high-quality stainless steel, this water bottle keeps liquids cold or hot with ease. The flexible handle makes these camping gifts for women easy to hang from a pack or carry as you walk. It even comes in a whopping 12 color options, so you're sure to find the perfect gifts for outdoor women.
This is our top choices for a camping gift for your favorite woman who loves to pack her tent into the backcountry. The Katadyn BeFree Water Filter bottle will ensure she always has safe drinking water. What we love most about this filtering bottle is that it smashes into a disk small enough to fit in a jacket pocket. Of course, you'll also appreciate that it filters out dangerous protozoa and bacteria on the go so you can safely replenish your water supply on the trail or on the road. The filter is easy to clean, just swish it in water and you're ready to filter another liter of water. Katadyn is the top brand in providing effective water filtering systems for outdoor adventures.
Camping Gifts for Women Who Value Amazing Camp Kitchens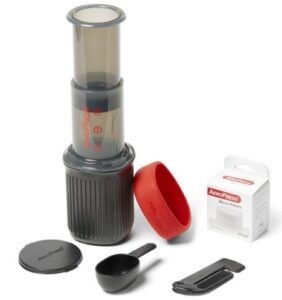 If you know a serious coffee lover who can't cope without her espresso fix, this coffee press is the perfect gift. The Aeropress Go Travel is a manual coffee maker that brews coffee under pressure. This means it has a less bitter taste than french press coffee. It's about as close as you can get to a barista-pulled espresso on the go. And it's all without a large coffee machine, making it the perfect outdoor gift. It only weighs 11.5 ounces and is compact, making it easy to take on any outdoor camping or hiking trip. This coffee press is a super thoughtful gift for outdoorsy women she will be thrilled to receive.
These mini bags of gourmet coffee are perfect for the outdoor girl on the go. They are conveniently sized for backpacking and camping. She will receive a gift of 12 unique flavors like Cinnamon Hazelnut, Colombian, Door County Creme or Frosted Cinnamon Buns that will start her adventure with a jolt of energy. The coffees in the sampler pack are roasted in Door County Wisconsin and available in regular or decaf.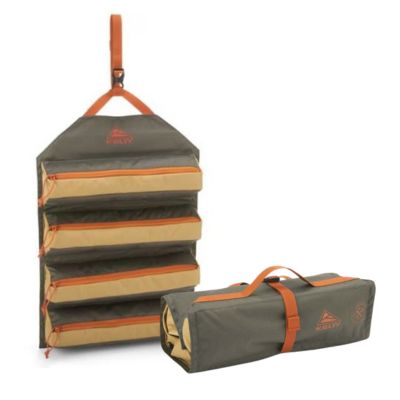 I wish I had this great gift for camping women decades ago! Just tuck all your utensils, spices, wine opener and knives into the zippered pockets of the Kelty Chef Roll Bag and roll to store. The top loop allows you to hang it from a tree where you can easily access while cooking. No more digging through tubs and boxes to find the salt!
Who wouldn't love a reliable way to keep her favorite drinks cool on the go? This soft, portable cooler from Built looks like a regular shoulder bag but is leakproof and durable, making it a great camping gift for women. The 1-inch side insulation and 5-inch bottom insulation work to keep ice and drinks cold. The double-stitched seams and reinforced handles mean they can handle large loads. It even has six colors and designs from which to choose!
She will love this Knife Set with Blade Covers in her camp kitchen! The bright colors help keep track of which knife has been used for what cooking activity. Most important is the blade covers will keep the blades and your hands protected since we all know that the utensil drawer can get a little mixed up on bumpy roads. The stainless steel blades are sharp and ready to help her start creating a great camping meal.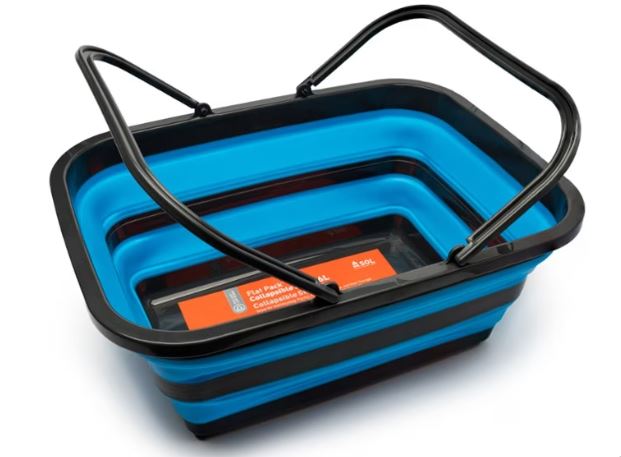 This 16 liter Collapsible Sink will make clean up after dinner so much easier. It stores in a small apace when flat and then quickly pops open to create a huge sink. The handles are handy for carrying water to and from the campground faucet. Car campers will really appreciate how easy it is to use and store! This gift for camping women will be greatly appreciated.
Every adventure requires a handful of energy snack… so give your nature loving girl a box of gourmet snacks she can tuck into her bag on the go. Think how luxurious it will feel for her to enjoy a snack of date balls, roasted trail mix or sour cherry fruit. This is a box of 20 different guilt free snack bags, all gluten free and vegan friendly.
I usually think of jerky as being a bit of a guy thing, but your camping gal will love a gift of this unique Craft Jerky Sampler. The gourmet flavors like lime and serrano pepper and sweet orange make it the perfect protein boost for her on a difficult trail. This jerky has 10g protein, is low carb and low calorie.  She will love that the jerky is 100% all natural beef with no nitrates or hormones.
Camping Gifts for Her Evenings by the Campfire
I had no idea how amazing a Cast Iron Pie Maker was until I saw it in action by our grandsons this summer. A loaf of bread and a can of pie filling had them entertained and making their own desert instantly. And of course the adults needed a pie too! What a perfect gift for women, when camping, to take some of the work off her plate. The Pie Maker also creates delicious grilled cheese, quesadillas and roasted meats. The non-stick surface is easy to clean.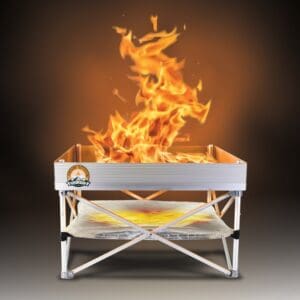 What do you get for the outdoor-loving woman who already seems to have everything?! This Pop-Up Fire Pit might just be the best outdoor gifts for women! It weighs just 8 pounds and measures 24 x 24 x 15 inches when set up. The great thing is that it packs down flat, so it's effortless to take camping or to the beach. The heat plates mean you can use the fire pit on any surface without leaving a singe mark. It's suitable for burning either wood or charcoal. Fire Mesh technology means 80% less smoke is produced than a regular campfire. The fire pit is a unique gift that is sure to bring a smile.
Another one of my personal favorite items because the uses are endless! She is going to love picnicking in style on this amazing-looking blanket. A quality Large Picnic Blanket is the perfect way to keep comfortable and clean in the yard, at the beach, at a park, at a festival, camping, and more. It's a great size for the family at an impressive 60 x 60 inches. This blanket has a waterproof underlayer so sand and dampness won't seep through the blanket. The top layer wipes clean, and the whole thing rolls up and is secured with velcro. It's made even easier to carry by the convenient handle on the top.
If you know someone who is a mosquito magnet and is sick of them ruining outdoor adventures, this is the gift for them. The Thermacell MR300 Mosquito Repeller is a chemical and DEET-free way to keep mosquitos at bay. Pack it up for camping or a day at the beach. You won't need any cords, batteries, spray, or smoke. The unit is powered by heat that comes from the included fuel cartridge. It works on a 15-foot radius and comes with 3 repellant mats that change color when they need replacing. It even comes with a handy clip to keep it personally attached to you.
We always pack these compact chairs in our camping gear! And your ladies who love to sit around the campfire in comfort will love these chairs as their outdoor gifts! The G4Free Upgraded Lightweight Portable Chair has a weight capacity of 240lbs but only weighs about 2lbs.  And then everything packs down into the 14-inch bag. With aluminum poles and loop design, it sets up in just seconds.  These outdoor gifts are available in four bright and eye-catching colors. For more info, check out our guide to the best ultralight camping chairs.
There's nothing quite like having a glass of wine by the campfire and, with this Insulated Wine Tumbler, lukewarm drinks are a thing of the past. It's for more than just wine though, this double-wall vacuum-insulated mug keeps any drink cold and hot liquids hot. The beautiful rose gold 120z tumbler also comes with a stainless steel straw, cleaning brush, and personalized card. The packaging is adorable, and this wine tumbler arrives ready to gift straight to your outdoorsy woman.
Clothes Camping Women Will Actually Wear
If there is someone in your life who is constantly shivering by the Campfire, a shawl or wrap will make a thoughtful gift. This Urban CoCo Women's Shawl is big enough to wrap around yourself and snuggle into at 51 x 61 inches. It's a polyester blend that is made to look like wool and is soft to the touch. There are a whopping 43 designs and colors to choose from, so the only problem you'll have is picking just one!
This soft and cozy Campfires and Cocktails sweatshirt is sure to be in your outdoorsy girls pack on every camping trip. It's available in 6 colors so you can find her favorite and in sizes from XS to XXL. The cotton blend will machine wash well so she can wear it over and over.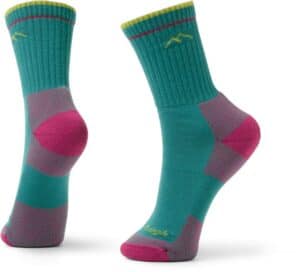 It's easy to overlook the importance of quality socks, but serious hikers know the right sock can make a world of difference on the hiking trail. The Darn Tough Coolmax Socks are specially designed for warm weather hiking. The medium cushioning provides amazing comfort in her hiking boots. These hiking socks are quick-drying and comfortable thanks to the polyester, nylon, and spandex blend fabric. The performance fit of the hiking socks means they won't slip in your hiking boots all day which helps to prevent blisters. They get rave reviews from wearers making these Darn Tough hiking socks one of the best practical gifts for outdoorsy friends.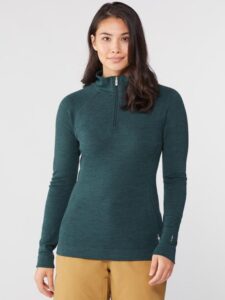 Anyone who wants warmth and comfort but without the restriction of movement will thank you for the amazing gift. The Smarwool Merino Wool Base Layer is odor resistant, warm, comfortable, breathable. Made from mid-weight merino wool with a partial zipper, this shirt has a real luxury feel to it. The fit is designed to give a good range of motion thanks to the raglan sleeves and wrapping body seam. The flatlock seams even minimize chaffing, and the lack of shoulder seams makes them comfortable to wear with a heavy pack. If you want to give a super high-quality and practical gift, look no further.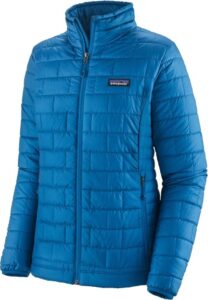 While camping at Crater Lake this fall, we saw everyone pulled out puff jackets as the sun set to fend off the cool night. And why not! They are super lightweight, pack in a small space and have an incredible warmth factor! The Patagonia Nano Puff Jacket makes a perfect top layer in cool weather or an efficient insulating layer when temps really drop. It is great at trapping body heat while keeping out the wind. It even has elasticized cuffs and a draw cord hem for extra warmth. When you're done, the whole thing packs down small and weighs less than 10 ounces. It looks awesome and is available in 15 different color choices.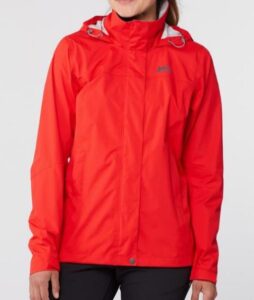 As one of the perfect camping gifts for women, the REI Co-op Rainier Jacket makes windy and rainy weather little more than a passing inconvenience. The 2.5 layers of recycled Nylon protect from rain and winds of up to 60mph without letting the wet inside. It has a durable waterproof finish that easily sheds light rain, and the double-stitched seams offer superior protection. The Velcro cuffs and drawstring hem allow for a close fit, while the armpit zips make it easy to get rid of excess heat. The whole jacket stuffs down into its own pocket and weighs just 11.4 ounces, so it's really easy to pack and transport.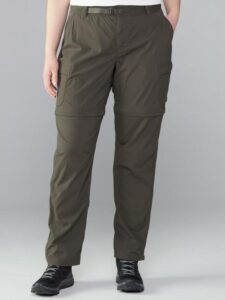 A good pair of versatile pants makes all the difference when climbing, hiking, or just exploring in fast-changing weather conditions. These REI Co-op Sahara Convertible Pants come in 3 different colors and are made from a nylon and Spandex blend. They are comfortable for all-day wear, and the pant leg easily zips off to be worn as shorts when you need an extra range of motion or in warmer weather. They have a water-repellent finish, flat seams to prevent chaffing, and provide UPF 50+ sun protection.
Fun Camping T-Shirts to Make Her Laugh
Are you still stuck for gift ideas, even after all these great gifts for camping women? Well, you can't go wrong with a fun and stylish t-shirt! Is outdoor gear not your area of expertise, or you're not sure what your friend needs? These t-shirts are outdoor-themed and will let her adventurous personality shine in everyday life. With heaps of fun colors and designs, there is sure to be a fun gift she will love.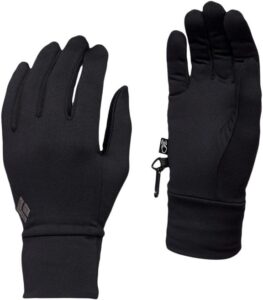 Oops… I forgot my gloves on our recent California Camping Trip and really regretted it, my hands were so cold on morning walks. These Black Diamond Lightweight Gloves are lightweight and incredibly warm. They are touch screen compatible! There's no need to have your bare hands in the frigid air just to use your phone effectively. These beautiful gloves are made from power stretch Nylon fleece, you'll love the conductive material on the fingertips. We never head out any season without a pair of these in our pack and have a complete guide to glove liners.
The perfect gift idea, this luxury hat makes wonderful camping gifts for women. There are so many nights in the mountains and in the desert where night temps drop and a warm hat is a lifesaver. This Minus33 Wool Beanie is made from 100% Merino Wool for a super soft, luxurious feel. It has flatlock seams, is super lightweight, and is UPF 50+. It has a wide adjustable cuff to get a great fit and is available in 19 different colors. For more hat ideas, check out our guide to purchasing the best winter hiking hats.
Every camper knows that even the warmest days can turn into cold nights. And there is nothing that ruins a camping evening or your sleep more than getting chilled. The Smartwool Women's Baselayer is super lightweight which means it will layer comfortably to keep ladies comfortable when camping. This crew neck, long-sleeved shirt is made from a Merino and Nylon blend. The fabric blend allows for a comfortable, warm feel next to the skin, and the Merino fibers wick away sweat which is vital in a good base layer. For more info, check out our guide to the best merino wool base layers.
Books and Journals: Gifts your Camping Woman will Cherish
Kammock Single Roo Hammock: Start with the perfect place for an afternoon of reading!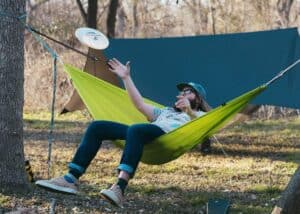 Close your eyes and imagine laying in that hammock listening to the birds and reading your book while camping. This outdoor gift is relaxation on steroids! The Kammock Single Roo is constructed with incredibly soft and rip-resistant Gravitas™ fabric that holds up to 500 lb. There is plenty of room in this hammock for the kids to join! Personalize the outdoor gift for your special lady with one of the 12 beautiful colors.
Inspirational Camping Gifts for Women in Special Books!
Inspiration can be hard to come by. Give these great books as the best gifts for an outdoors woman, and she will have more ideas for her next camping or hiking trip than imaginable. Even more than that, she is sure to find some new locations she hasn't thought of before. Whether she absolutely loves day hikes, camping trips, beaches, or US National Parks, there is sure to be a book to suit them.
Journals to Keep Her Adventures Alive
Journaling is a great way to be more mindful on hiking and camping trips. One of these beautiful nature journals is the perfect gift to help her reflect on her trip and store memories to relive later. If she is new to journaling, there are even some writing prompts to help inspiration strike. Journals are also a great way to track your bucket list activities like visiting National Parks or challenging thru-hikes.
And a Few Gifts to Pamper Your Camping Woman when She Gets Home
A camping trip can leave anyone exhausted. Aching muscles, sore feet, and chapped lips are a regular occurrence for any seriously adventurous woman. If you want to show you care, a pampering gift to enjoy at the end of a camping adventure could be perfect.
There's nothing like a hot steamy shower after a day of outdoor activities. Well, make that shower luxurious and revitalizing with these Body Restore shower steamers! Place one of these shower tablets on the shower floor, and they release aromatherapy oils into the air. They are the perfect way to relieve stress and relax at the end of a long day spent outdoors. This 12-pack includes grapefruit, choc orange, and citrus scents, so it is sure to make amazing gifts for outdoor women. 
This gift set of 12 bath bombs makes a luxurious pamper gift for Anyone who enjoys a good soak in the tub. Each bath bomb is different, coming in a range of colors and scents. Some bombs are filled with petals and glitter for a fun bath experience. A great way to moisturize skin, ease aching muscles, and relax after a long backpacking trip. These beautiful hand-crafted bath bombs even come in lovely gift packaging. 
After a long camping trip my hands and feet have paid the price of the long outdoor adventure. The outdoors can be harsh, and the skin usually take the worst of it. Help your camping woman pamper her skin with the Burt's Bees Classic Gift Set. Burt's Bees are, without a doubt, my personal go-to when my skin has taken abuse. They are well known for creating beautifully moisturizing products without parabens, phthalates, or petroleum, and this set is no exception. It contains a cuticle cream, hand salve, lip balm, res-q ointment, hand repair cream, and foot cream. The whole thing comes in an adorable storage tin, and it would make perfect stocking stuffers.
Finding the perfect gift for the camping woman in your life doesn't have to be a daunting task. With our list of 50 incredible camping gifts for women, you're sure to find something that will make her next outdoor adventure even more enjoyable. So whether she's a seasoned camper or just starting out, these gifts are sure to bring a smile to her face and make her next camping trip unforgettable. Happy shopping!