There is nothing like the excitement of dumping out your Christmas stocking and exploring all the small treats inside. Yes, even for us grown-ups! In our home, everyone from 1 to 70 gets a filled Christmas stocking. That means Santa needs to find lots of really cool small and inexpensive gift items. To help Santa (and you) out, we created this list of the best stocking stuffers for hikers and backpackers.
Why should you trust us to help you find super fun stocking stuffers for your favorite hiker? Because we are crazy outdoor people in a family full of people who love all things outdoors. We have a lot of experience finding just that right gift to tuck into stockings. And most of the items on this list we've actually used in the field so we know your hiker will love it too! The ones we haven't tried? Well, those are on our wish list for our own stockings this year. 😊
What are the Best Stocking Stuffers for Hikers?
The best stocking stuffers for hikers are small gifts that are practical for outdoor adventures yet inexpensive and fun. We've gathered a list of 48 fantastic ideas that your hiker will love! You'll find gift ideas for your adventurous hiker and backpacker, from mini-tools to personal care to tech. We know they will love them all!
To make it easier for you, we have sorted this list of some of the best stocking stuffers for hikers by price range. As always, we've included links to where you can purchase these items. Those links might be affiliate links which means we will earn a small commission if you purchase.
Hiking Stocking Stuffers Under $5
Many of these come in multipacks which is so perfect for stocking stuffers where you can split the pack for just a dollar or so per person.
Hikers are never on the trail, especially when hiking in the heat, without moisturizing lip balm. The workout can really dehydrate, leaving lips dry and chapped. Our favorite is all-natural Burt's Bees Lip Care.  Here's a multipack of 4 superfruit flavors, pomegranate, coconut & pear, mango, and pink grapefruit, that you can split to fill 4 stockings for just a couple of bucks each. 
Living in snow country means every stocking in our house gets Hot Hands Warmers. They are important to have in your backpack when temperatures dip and critical to keep handy for any cold-weather emergency. With the assortment of 18 warmers, you can split the package among several holiday stockings to keep everyone warm this year.
All the goodness of the flavor of Jelly Bellys we love, formulated to fuel and replenish the body during hikes. Jelly Belly Sports Beans are made with natural flavors and colors from natural sources. Each one-ounce pack has a 1-oz pack that has 25-g carbohydrates, electrolytes, and vitamins. This multipack of 24 individual servings makes it easy to split up among all your holiday stockings.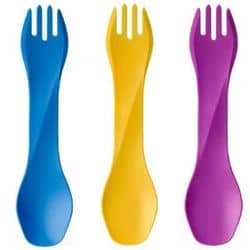 I've never been a fan of sporks until The Go Bites Uno Spork came along. While most sporks combine the spoon and fork into one resulting in less than a wonderful eating experience, this spork cleverly puts the spoon and fork on opposite ends. They are comfortable to use while taking up very little space. It comes in 8 colors at only a few dollars each, so grab one for every adventurer in your family!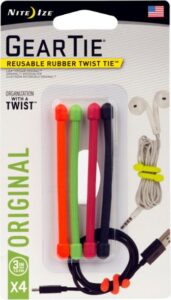 These are the coolest little ties to keep cords and fishing poles from becoming tangled. Perfect for every outdoor lover! Use the Nite Ize Gear Ties to attach something to your backpack quickly. They just twist and hold! And when you are done, they straighten back out easily until the next time. Think that bread wrapper twist tie on steroids! It's a perfect hiking stocking stuffer idea! 
With double tubes that can provide up to 150 decibels, these Emergency Survival Whistles can be heard for far distances. They are available in a dozen different colors, so it's easy to personalize for the whole crew. Sold as a two-pack, the Carabiner and lanyard for hiking are included. Every hiker should have a whistle on their hiking packing list.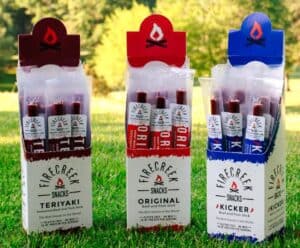 Some of the best stocking stuffer ideas for hikers involve food! And finding a truly healthy snack stick can be a challenge. Many are filled with preservatives. That's why we love FireCreek Snack Sticks for hiking or backpacking trips. They are all-natural and taste amazing! Each gluten and soy-free stick is a generous size, perfect for munching on the trail for quick protein energy.  Choose from the original beef and pork stick, teriyaki, hickory-smoked kicker, or sweet heat bbq flavors.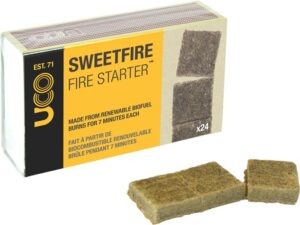 Even the best backpacker has cold nights when a little help getting their campfire started would be incredibly welcome. Well, the Sweetfire Fire Starters are amazing. These mini blocks burn for about 7 minutes, just enough time to get your fire to catch. When your hiker is sitting in front of a warm fire, he'll fondly remember that you tucked these into his stocking!
Imagine a hiking meal bar in flavors like blueberry muffin, s'mores or peanut butter chocolate chip! Well, you'll find those and many more in the ProBar Meal Bar selection. This yummy choice for trail food uses all gluten-free and soy-free ingredients for quick energy, filling meals on the go. They come in boxes of 12, making a perfect package to divide between every outdoor lovers holiday stockings. 
I don't know what's worse, mosquitos or flies buzzing your face when you are hiking! Give a hiking stocking stuffer of a mosquito mesh head net to protect your hiker. This is a 4 pack so you can protect the whole family!
How about a really unique stocking stuffer treat? Barnana Organic Banana Bites definitely fit the bill! These sweet and salty banana-based snacks are delicious and nutritious. Get them with a dark chocolate coating or choose from a coconut and a peanut butter flavor. No sugar has been added! These are USDA-certified organic, non-GMO, gluten-free, grain-free, vegan, and kosher snacks. The snack pack includes 12 bags ready to stuff those stockings! 
These individual packs of peanut butter are perfect for tucking in a backpack. A quick snack, Justin's Classic Peanut Butter is naturally delicious with only 2 healthy ingredients: dry roasted peanuts and palm oil. You can also find Justin's individual serving packs in other flavors like Honey Peanut Butter, Classic & Maple Cashew Butter, and our 7 flavors of Almond Butter 
Stocking Stuffers for Hikers Under $10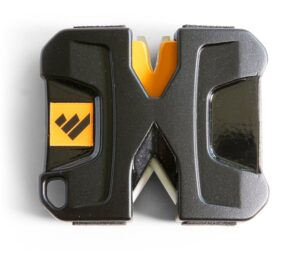 This super compact and lightweight Work Sharp Knife Sharpener is perfect for putting a fine edge on your knife or hatchet before you hit the trail. For long backpacking trips, it's an essential tool to tuck in your backpack so you never have to work with a dull blade. This small, but amazing knife sharpener will slide right into your backpacker's Christmas stocking!
These inexpensive stuff sacks from Outdoor Products are the best gift to help your hiker keep their pack organized. They can sort their cookware, apparel and toiletries into separate bags, so everything is easy to find. When they are packing all their gear for a great day of hiking, they'll be glad to have these bags. 
We love this backpacking stocking stuffer for men. There's no doubt that guys can get pretty skanky on the trail and not worry about it. But there are just some times when they need to clean up those private parts. Unscented Dude Wipes to the rescue! This really inexpensive package of 30 individually wrapped wipes is perfect for your outdoorsy guy. He can just pack a couple in his pack and is ready for that unexpected stinky moment.
Weighing only 3 ounces, these small Head Lamps from GearLight are perfect to tuck into your hiker's emergency bag in their backpack. They are the perfect stocking stuffer for hikers who like to be prepared on the trail. Check out our Buying Guide to Hiking Headlamps for a bigger selection.
If your adventurous guy loves to hike in extreme weather, then you know his hands take a beating at the end of the day. O'Keefes Working Hands Hand Cream is just what he needs to heal, relieve and repair extremely dry, cracked hands. It instantly boosts the skin's moisture level and then creates a protective layer on the surface of his skin.
That name may be a little humorous, but the meaning is very real! The Don't Die In The Woods Emergency Blankets could easily save your hiker's life. These extra-large thermal mylar space blankets are 100% waterproof to help prevent hypothermia in rain or snow. The mylar finish reflects body heat to keep your hiker warm in an emergency. These blankets come in a 4 pack to share among your family's stockings to keep everyone safe.
This scarf can seriously be worn 12 different ways, from face masks to headbands to neck gather. Perfect for keeping the dust off your face or your hair manageable, your hiker will enjoy this holiday stocking stuffer. The Outdoor Magic Scarf comes in a 6 pack of different fabric designs, and you can choose from 7 different assortments. You're sure to find something for every personality. 
You'll make 2 hikers happy when giving these super bright mini flashlights as a stocking stuffer! Less than 6″ long, the Victoper LED flashlight fits in the palm of your hand. 
If your hiker loves to journal or tracks their hikes for future reference, this notebook is the perfect stocking stuffer. The 6×9 And So The Adventure Begins Notebook has 150 college-ruled pages for all those special notes.
If your hikers spend many nights on the trail with friends, then they will love these compact card games for evening fun in camp. The Mattel Card Game Set includes Skip-Bo, Uno and Phase 10, all great fun to play around the campfire. The small size of card decks is perfect for tucking into a backpack. Buy the full set and you can split the 3 pack among multiple family stockings for under $10 per game.
You can almost be guaranteed that somewhere along a hike that a pair of pants or rain jacket or even a sleeping bag will snag and get a small rip. That makes this the perfect stocking stuffer for backpackers. Gear Aid Tenacious Tape is famous among outdoorsy people for patching almost any hole and has introduced some fun precut designs. You can patch your outdoor gear with anything from a buffalo to stars to bigfoot. Gear Aid Tape is waterproof and sticks without needing heat, so it's ready for any emergency patch on the trail.
With so many pieces of emergency gear around your wrist, it's no wonder paracord bracelets are popular stocking stuffers. This Paracord Survival Bracelet includes Parachute Rope, High-Quality Compass, LED SOS Emergency Function Flashlight, Flint Fire Starter Fire Scrapper, and Emergency Whistle. You'll be surprised how often your hiker uses these little tools on backcountry camping trips. This comes in a 2 pack to fill 2 stockings!
Backpacking Stocking Stuffers Under $15
What outdoorsy guy doesn't dream of playing the harmonica around a campfire? This lightweight JSL Harmonica is great for beginners to test their musical talent. It's small enough to slip into your pocket wherever you go. Even though this model is inexpensive, JSL has paid careful attention to detail to ensure the best sound and quality. Each reed is carefully tuned and tested, making this harmonica a great value. 
 Stocking stuffer ideas for hikers that are practical are always a hit. Hikers never have enough good Carabiner Clips, especially heavy-duty ones that can be used in a wide variety of ways when hiking. We love these for hooking extra outdoor gear onto our packs. They can also be used to create a quick dog leash or hang your food from a tree or tie up your hammock. You'll find these available in 8 different colors, ready to tuck into holiday stockings! 
It still frightens me when Brad tells the story of a short hike that turned into a 10-mile adventure in Glacier National Park… with no extra water. If only he had tucked the Life Straw Personal Water Filter in his backpack. The most important thing you can do is to ensure your hiking lover has access to healthy drinking water. LifeStraw will do just that, filtering out dangerous bacteria and parasites from streams along the trail.
Feet and hands take unbelievable abuse when hiking. Burt's Bees Tips and Toes Kit Gift Set is the perfect gift to restore her extremities. This gift box includes a travel size of 2 Hand Creams, Foot Cream, Cuticle Cream, Hand Salve and Lip Balm. Your hiker will love this gift set made with natural ingredients that soften and hydrate dry skin from head to toe.
Things break when you are playing in the outdoors! And Gorilla tape is the most amazing version of traditional duct tape when it comes to fixing all most anything. Gorilla All Weather Waterproof Duct Tape can be used on tarps, tents, plastic sheeting, sleeping bags, RV's, and so much more. This permanent tape withstands even extreme weather conditions.
Hopefully, your hiker has a sense of humor and enjoys just saying it like it is! These novelty crew socks that share how much she loves being outdoors are a fun addition to her wardrobe. Woven from soft, luxurious combed cotton, nylon for strength, and spandex, they are great for lounging around camp at the end of a long day of hiking.
Give this as a hiker's stocking stuffer and they will always know the direction! The Sun Company Ball Compass combines 2 readings into one lightweight tool: general orientation cardinal points and a "direction-of-travel" compass. It's super lightweight and clips onto a jacket 
I can't think of anything worse than hiking all day with a blister! So your hiker is sure to love this stocking stuffer, Hike Goo Blister Prevention Cream. It's a waxy barrier cream that is specifically formulated to last all day on your feet protecting them from blisters.  Developed by scientists who love to hike and solve problems! 
I love a quick-drying microfiber towel when hiking and camping. The Wise Owl Outfitters Microfiber Towel is great for drying your feet after wading a stream or acting as a cooling cloth on a super hot day. Even better they fold down to a very tiny size making them easy to add to your backpack. This is a stocking stuffer for backpackers that they will love!
What? Waterproof, Windproof, and Flameless? Yes, this Electric Lighter has it all. And best of all this small lighter for hikers is rechargeable through any USB port providing over 60 starts. Your hiker will love this stocking stuffer which means no more wet matches or cheap lighters that go out with the smallest breeze. 
Talk about a gadget that does double duty for 2 critical functions in winter hiking! This Rechargeable Hand Warmer can also double as a backup power bank for your cell phone. It warms up in seconds and will stay warm for 4-8 hours. Or you can get a full high-speed charge for your phone. This is an amazing safety tool for all winter hikers and one of the best stocking stuffers for hikers! 
Available in 6 different colors, this Fleece Lined Winter Beanie is the cutest. And it's likely the warmest winter hat your hiker has ever had. I love the soft fleece lining to retain more heat than other knit beanies. Tuck one of these into your hiker's Christmas Stocking!
Stocking Stuffers for Hikers Under $25
This sweet mini pocket knife from Gerber is just the right size for her backpack where you don't want to carry more weight than you absolutely must. The 2.2-inch fine-edge stainless steel blade is up to all the small tasks a hiker encounters on the trail. The frame handle is designed to reduce weight and features a secure open and closed locking mechanism. She'll be thrilled to get this high-quality knife in her stocking.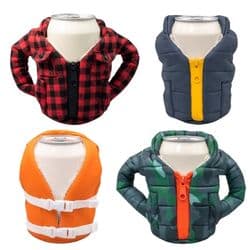 You can't help but laugh when someone pulls out an adult beverage wrapped in one of these unique koozies. The Puffin Beverage Jackets and Vests bring fun to the party and truly represent the spirit of any outdoorsy person. You can choose from 5 styles, and each fits a standard 12 oz beverage.
Your hiker will love Smartwool hiking socks! They are soft and cozy, keeping feet warm in the coldest of weather. Made of merino wool, they wick away moisture, keeping feet nice and dry. Available as crew or boot length in dozens of styles and colors, you can't go wrong hiding a pair of these socks in their stocking.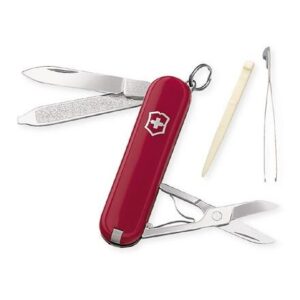 Backpackers will be thrilled to receive this stocking stuffer of the Classic Swiss Army Knife. This small knife, only 2.25 inches long closed, has so many uses on the hiking trail that many backpackers hook one onto their backpack zipper for quick access. 
Looking for hiking stocking stuffer ideas for cold weather? No winter hiking backpack should be without a pair of Yaktrax Cleats for safe walking on unexpected icy trails. We always pull out our Yaktrax when hiking to see frozen waterfalls. And I keep a set in my car for winter emergencies. This is a stocking stuffer for hikers that can keep your backpacker safe on the trail.
Small enough to fit in your back pocket, this Compact Multitool has 14 built-in tools, including a hatchet. It's made of durable high-grade stainless steel to ensure this hiker's stocking stuffer lasts.  
Special Hiking Stocking Stuffers for Kids
For kids big and small, there's a special thrill that comes with pulling out your Christmas stocking and finding what other small delights are hidden within. The best stocking stuffers for kids who like to explore outdoors are those that will help them enjoy their time in nature more.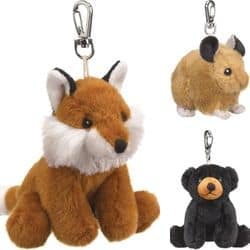 These 4.5-inch mini stuffed Eco Pals toys are my favorite stocking stuffer for kids who hike. The cuddly animals will keep them company on the hiking trail, a trick that makes hiking with children so much easier. There are 10 wild critters to choose from, so taking care of a large family with individually unique choices is easy. The sturdy metal clip easily attaches to their backpack zipper. And even better, they come from a company that's committed to reducing waste that harms wildlife. The fill is 100% recycled and there are no plastic tabs or labels that could end up in our waters.
Children are obsessed with flashlights. And every child should carry one in their personal backpack for safety. Why not make it fun with these mini EverBrite LED flashlights. These durable, easy-to-use flashlights are only 4 inches long, making them perfect for little hands. They come in a 6 pack of assorted colors, batteries included, making this a great deal for pretty cool stocking stuffers. This led light is one of my favorite hiking flashlights for kids.
What a fun way to increase the visibility of your kids when hiking into the evening hours! These LED Light Up Shoelaces include a replaceable battery that will last up to 60 hours. The laces are 47″ long, which is about right for an average pair of kids' sneakers or hiking boots.
These are real binoculars for real kids who love hiking. The Let's Go Binoculars are sized perfectly for a child's hand. The eyes are cushioned to protect those little faces. With an 8x magnification, kids will be able to learn to use binoculars and be ready when it's time to move up to grown-up binoculars.
This simple item made our 6-year-old grandson's day when we were hiking in Rocky Mountain National Park last year. I have had the original version clipped to my backpack forever. He became enthralled with all the things it could do, especially the magnifying glass. So when I handed it to him to put on his pack, he was in heaven. Now Coughlan makes a Kid's Version of their Four Function Whistle. In addition to exposing your child to compasses and thermometers, this whistle attached to their backpack ensures they have a way to alert family members if they get lost on the hiking trail.
What child doesn't want to be a unicorn? This Unicorn LED headlamp is a fun way to get your child to keep their headlamp on their head when hiking! The nonslip headband fits securely and it has 3 different light settings for your hiking adventure.
A Few Last Thoughts on Stocking Stuffers for Hikers
We all want to give our hiking-obsessed friends and family members the perfect gift, but it can be hard to find something they'll love. Whether you're shopping for a new backpacker or an experienced hiker, these inexpensive gifts will delight any outdoor enthusiast on your list! These hiking stocking stuffers are great because they're small enough that most people won't expect them, so they'll be pleasantly surprised when they open their stockings on Christmas morning!
These great stocking stuffers for hikers were chosen because they're practical, inexpensive, fun, and unique. They'll help anyone who loves spending time in nature get more out of their next trip into the great outdoors! Small gifts on this list are also perfect for the office secret Santa exchange.
If you're shopping for someone who loves being outside, hiking, or camping, these gifts are sure to please any hiker on your list. These items were chosen because they're practical and inexpensive, but also fun and unique. They'll help anyone who loves spending time in nature get more out of their next trip into the great outdoors! Small gifts on this list are also perfect for the office secret Santa exchange. From stocking stuffers for hikers under $5 to durable gear worth over $100 – there's something here for everyone!
Looking for more gift ideas for your hiker? Check out the following Guides: