If you want to encourage your kid's love of camping, finding the best camping gifts for kids could be the answer to all of your gift-buying troubles. Finding the perfect gift can take time, though. So just for you, we have put together this detailed list of over 40 fun camping gifts for budding young camping enthusiasts.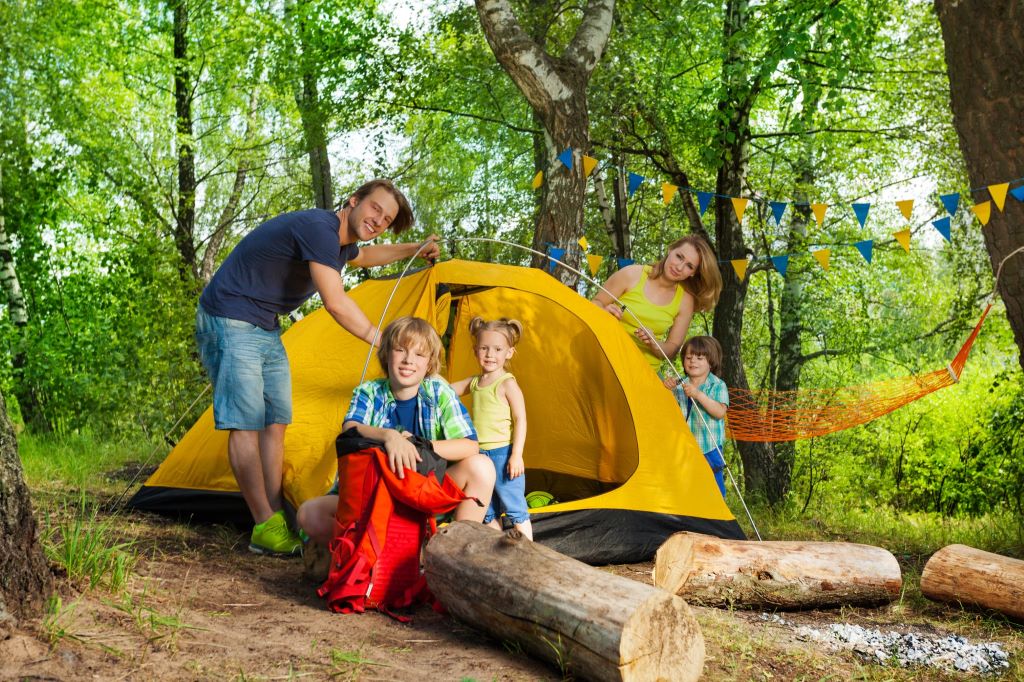 We have 7 adventurous grandkids in our life so we like to think that we know a thing or two about how to keep kids entertained and happy throughout a camping trip. When they open one of these kids' camping gifts, you are sure to earn some serious brownie points!
Kid's Camping Gift Guide Categories
We want to make finding the best kid's camping gift as easy as possible, so we have split this list into categories that we think cover just about every type of camping-obsessed kid.
Camping Equipment

– There are so many great child-sized camping products out there nowadays A gift of camping equipment a great way to get kids involved with every single aspect of camping.

Tents and Sleeping Bags

– A handy piece of equipment (for obvious reasons), can make great camping gifts for teens to teach responsibility for looking after their equipment or giving them their own space.

Camping Games and Crafts

– Kids love fun camping games or crafts to enjoy as a family. These could also be something great to keep them entertained when the weather turns.

Pretend Camping Toys

– A great way to get younger kids excited for upcoming trips is by playing camping in their own yard. Camping toys are also great to keep them entertained in the car.

Books About Camping and Nature Journals

– Whether you want to inspire wonder in younger kids or give older kids a quiet way to wind down in the evening, books are always a great choice.
The Best Gifts for Kids Who Love to Camp
We're pretty excited about this list of camping gift ideas for kids. You're sure to find just the perfect camping gift for your outdoorsy child. We've included links to where you can purchase each item to make it easier for you. If you make a purchase, we may earn a small commission.
Camping Equipment is the Perfect Camping Gift for Children
Just about every piece of camping gear also comes in a handy child-sized version! Getting kids their own walkie-talkies, chairs, backpacks, headlamps, etc., is sure to thrill them. Camping gear also makes excellent camping gift ideas for teens, giving them a little more independence on your next family camping trip. Any of these would make fun camping gifts for children of all ages.
Imaginative kids will find plenty of uses for this set of handy Collapsible Buckets on their camping trip, whether it's building sandcastles, carrying fishing gear, or helping out around camp. This set of 2 buckets is an excellent kid camping gift because they encourage so much creativity. They are made from 100% nontoxic and BPA-free silicone that is durable and leakproof. Each bucket can hold up to 3 liters and they come in bright colors.
How about the anticipation of toasting marshmallows on the campfire to get kids excited about the idea of camping?? This brightly colored set of 5 double-pronged Marshmallow Roasting Sticks has a heat-resistant handle that extends to 34 inches so kids can keep a safe distance from the fire. There is also a smart 360-degree rotating adjuster so you can make sure everything cooks evenly. An awesome gift for camping kids and adults alike!
We are in love with these adorable toddler Dinosaur Backpacks! Your child will be so proud to carry their own hiking backpack. They are not just a useful way for little ones to store and carry all of their gear or little treasures, but they come with a cute, cuddly toy to take along on the trip. Measuring in at 9 inches high and 7 inches wide, they are easy for kids as young as two to carry. There are 8 gorgeous characters to choose from for each of your camping kids!
Kids who love to hike will be thrilled with this high-quality child-sized hiking backpack. Make them feel like a valued member of the team on your family hike with a backpack that looks just like mom and dads. The Jet 18 Kid's Hiking Backpack from trusted brand Osprey has 4 additional pockets on top of the spacious main compartment. It has a breathable back panel, padded shoulder straps, and a waist strap for extra comfort. It's available in a choice of two colors and is recommended for ages 8 and above. We love Osprey quality so much that we also recommend a Women's Day Pack for Mom.
Get your kids excited about camping, hiking, birdwatching, stargazing, and much more with a gift of these real "made for kids" binoculars . They are perfect for kids aged between 3 and 12 years old and come in a choice of 13 different colors. These 8×21 magnification binoculars are super-compact, made from a soft shatter-proof plastic material, and come with a focus wheen and a neck strap.
If you have older kids or teens they will love these high-quality "adult" binoculars. Made by the well-known brand Nikon, these Trailblazer Binoculars, they aren't just for kids. They are fully functioning and highly rated by serious campers, hikers, and bird watchers. These binoculars are water and fog-proof with a rubber-protected body that is durable and difficult to damage. The 8×25 magnification binoculars deliver high-resolution images with great brightness and a fast range of focus. A quality gift for any serious camper! If you want more information on how to select binoculars, check out our binocular buying guide.
The DinoBryte LED headlamp would make an awesome first headtorch for any budding camper. It's a great way to get younger kids comfortable with wearing a headlamp. The bright white led light is powered by 3 AAA batteries and switched on by simply pressing the jaw of the attached dinosaur closed. The dinosaur even roars as well for some extra thrills.
A compact and safe headlamp for kids as young as 3 years, perfect if you want something specifically designed for little ones. The Petzl TIKKID Headlamp is limited to 20 lumens to protect sensitive young eyes and has 3 lighting levels; low, high, and strobe. Three AAA batteries power it, but they are only accessible via a screw for safety and it can run for up to 110 hours. Our favorite feature is the automatic shut-off after 1 hour so the batteries won't get run down by accident. You can find more of our top choices for kid's flashlights and headlamps here.
These are perfect if you are looking for some fun mini-sized lanterns specifically designed for kids. Standing at just over 7 inches, the Coleman Kids Mini Lanterns are super cute, but that doesn't mean compromising quality or brightness. These lanterns have 5 LEDs, emit 44 lumens, and are powered by 4 AA batteries with a maximum of 16 hours run time.
Older kids that are ready to learn knife safety would be absolutely thrilled to receive this junior version of a pocket knife. The 2.5mm thick blade of the Opinel Pocket Knife is rounded on the end but still sharp enough for things like cutting small sticks etc. The handle is non-slip for safety, has an integrated safety whistle, and is available in four colors. The whole camping-ready knife measures just 3.8 inches when closed and 7 inches when fully extended.
Plenty of youngsters love camping and the outdoors but are still avid fans of pink, fairies, and all things cute and adorable. This butterfly-themed camp chair might just be the perfect gift for them. It's made from a super durable, waterproof, and wipe clean fabric and has a matching storage bag for easy transportation. There is even a handy cup holder in the armrest, just like mom and dad's lightweight camp chairs.
Adult walkie-talkies can be large and cumbersome for little hands, so this option designed with small hands in mind is the perfect way to let kids feel included. These Obuby Walkie Talkies are for kids as young as 3. The pack contains three radios. All have a comfortable rubber grip, easy-to-press buttons, and 22 channels. Each walkie-talkie has a range of 3km and includes great safety features like a torch on the top and an alarm system.
Teens that want walkie-talkies that are a bit more "grown-up" looking will love a gift of this family pack of radios. You'll find them more neutral in design but still really functional and easy for kids to use. These Long Range Walkie Talkies are available in either a 3 or 4-pack. Each unit takes rechargeable AA batteries that can be charged via the micro USB cord. The maximum run time of 62 hours will get your kids through a long weekend of camping. They feature 22 channels, 10 call tones, and 8 adjustable volumes. 
The Best Tents and Sleeping Bags for Camping Kids
A quality tent and sleeping bag are an absolute must for any camping enthusiast. Luckily, there are some fantastic tents, sleeping gear, and even hammocks made specifically for kids these days. Whether you just want to give a practical camping gift to younger kids or instill a sense of responsibility for their gear in older teens, any one of these camping gift ideas for kids would be perfect.
Kids love having their very own, brightly colored sleeping bag in the camping gear. Parents can be comforted that their little one is warm and safe in a sleeping bag from a well-known and trusted brand. This Coleman Kids 50 sleeping bag is made with kids in mind. It's a great summer weight option (temperatures as low as 50 Fahrenheit). We love the snag-free zipper and a Thermolock draft tube to keep in body heat. Perfect for their outdoor adventures, this bag comes in a choice of three bright colors with glow-in-the-dark features.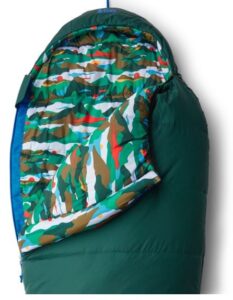 Parents will think this mummy shape sleeping bag is a great choice for the next family camping trip thanks to the fact that it expands and therefore grows with their child for years to come. The REI Co-op Kindercone 25 Sleeping Bag is a great spring/fall weight sleeping bag for temperatures as low as 24 Fahrenheit. The stuff sack on this great camping gift cinches down to easily adjust the size and hold body heat. It comes in a cool camouflage design, has an adjustable hood, water-resistant shell, and a two-way anti-snag zipper. 
If you're looking for a great starter tent to give your kids a little bit of independence, this Wakeman 2 person dome tent is a great option for tent camping. This great gift is lightweight (less than 3lbs) and easy to put up and take down with just two fiberglass poles, so kids can even enjoy using it in their own backyard. This tent is made for the warmer seasons but still comes with a removable rain fly. It also has an internal storage pocket to keep your flashlight handy. There's a dual-layer door with an inner screen to allow for increased airflow.
This tent is a great option if you're looking to gift something that can stand up to colder and wetter weather conditions when tent camping. It only takes around 10 minutes to set up the Coleman Sundome Tent.  This is easy enough for young teens to learn with the help of an adult and is a great way to build their confidence in setting up their own gear. Large windows provide great airflow. The frame is wind and rain tested in gusts up to 35 mph! Tents make great camping gifts for young campers who are ready for outdoor adventures.
If you have a teen who thinks they are "too cool" for family camping trips, these high-quality youth hammocks are a great gift idea to help them feel like they have their own space and a bit more independence. The Wise Owl camping hammock is made from 210 Ripstop Nylon with thread lock stitching so you can be sure you're buying a quality product. The two 9-foot straps and carabiners make set up a breeze even for kids. It is available in a whopping 15 colors, so there is sure to be something that suits any kid's taste.
Younger kids will while away hours in their hammocks. These are super easy to set up and take down, so you can put them up for just an afternoon nap or leave them up for your whole trip. Kids will love the bright colors to claim as their own. Best of all, the Portable Camping Hammock will hold up to 300 pounds, so no worries if they all pile into one! Made of premium parachute nylon with a tree-safe hanging system, these will last through many adventures. 
Toddlers and young kids who need a little extra comfort at night or have a fear of the dark will find it easier to drift off to sleep with the help of this unique glow-in-the-dark blanket. These cool camping gifts are made from a durable fleece fabric that is 100% machine washable and has reinforced edges to ensure it lasts. Simply expose the blanket to sunlight or bright artificial light before bedtime and once the sun goes down the stars and moons will glow in the dark.
Camping Games and Crafts are Super Fun Camping Gifts for Kids
Camping trips are an excellent opportunity for kids to use their imagination and enjoy the outdoors. But sometimes, you just need a couple of easy, ready-to-go games and crafts to bring some extra fun. These camping or nature-themed games make some of the best camping gifts for outdoorsy kids. 
A beautifully illustrated card game that will make a great gift if you want something for slightly younger kids. This game is suitable for children as young as 4. However, the cards are so lovely that we think they could even be fun flashcards for little ones. nut, nut, Squirrel! Card Game contains 72 cards, all themed around squirrels and nature. There are 3 levels of play making it great for the whole family. This fun gift is sure to be an entertaining way to pass the time.
Looking for a fun and crafty way to build kids' concentration skills or keep them entertained while you prepare dinner? Look no further than this adorable rock painting craft kit! This kid's camping gift includes everything needed to create cute painted rocks for children to hide in the wilderness for the next campers to find. Inside you will find waterproof paint, brushes, transfers, and even tracking stickers. 
his easy Hide and Seek Scavenger hunt card game is a great way to get kids exploring nature on your next camping trip. Thanks to the easy-to-understand images, even young kids who can't read yet can join in the fun. The game comes with 35 hide-and-seek cards and instructions, all kept in a handy drawstring bag perfect for traveling. These camping gifts for kids are a great sensory activity for little ones or split the family into teams and get a little competitive.
For family camping gift ideas, check out games where they will love competing against each other like these two corn hole boards and bean bags. This fun camping gift is great for ages 4 and up but challenging enough for adults to enjoy as well. This kit includes two corn hole boards and eight bean bags and it all packs down into a super compact carry case weighing less than 2kg! Lightweight enough to throw in the car on any camping trip. Set up of the Collapsible Corn Hole Game is quick and easy once you arrive.
A great activity book for any parent who wants their child to learn real-world outdoor skills in a fun and engaging way. This Camping Activity Book for kids would make a great gift for kids 6 years and over who are eager to help whenever you head out on your family camping trip. It is jam-packed full of tips, activities, and "how-tos" on practical things like pitching a tent and building a fire. And gift ideas like this help your child learn more about nature through informative content on topics like flora and fauna and cloud formations to help predict the weather.
Parents looking to empower their young girls to get engaged in and enjoy the outdoors will adore this crafts and activities book. It is a wonderful way to encourage girls to be bold and curious about nature, camping, and hiking. Whether you want to teach your kids camping skills like interpreting animal tracks, reading a map, building a shelter, or getting their creative minds racing by creating outdoor games, this book is sure to please. Aimed at ages 6 to 12, most activities involve parents, so it is also a great way to bond and explore nature together.
If you have two young kids to entertain, this two-in-one bug catcher and study kit makes sure that nobody is left out. The kit includes bug cases, magnifying glasses, tweezers, whistles, and fake insects, plenty to keep kids entertained. The bug cases are durable plastic so that they won't break easily. The tools are big and chunky, which is perfect for little hands to grasp. Designed for ages 3 and up, the cages are super easy to open. Little ones will love watching little critters munch away on leaves.
The entire family will have so much fun with this fast-paced matching game because it is 100% visual-based without any reading skills required. The camping-themed card game is recommended for ages 6 plus and between 2 and 8 players, meaning the whole family can get involved. You can play 5 different game modes with the Spot It Camping Card Game and each card is covered in bright pictures and symbols to spark your child's imagination.
Do you want to inspire imaginative, nature-themed crafting and play with your kids? This Explore Nature Activity Book is packed full of great crafts and ideas to get them started. You'll love the practical tips and advice. The activities have step-by-step instructions on doing fun-filled activities like flower pressing or making your own bird feeders. There is a cool checklist at the end of the book for your little explorers to check off the projects they complete. The book is recommended for 5 to 12-year-olds, although younger kids may need some help from an adult.
Pretend Kids Camping Toys for Fun at Home
If you're trying to create excitement around an upcoming camping trip, some fun role-playing games and toys are a great idea. These make fantastic gifts for toddlers. They'll love exploring the backyard or even just camping out in the living room. 
If you want an imaginative play kit that's also functional and can be used while camping, this one is worth a look. The adorable hat and vest fit kids aged 3 to 7. With 4 pockets, the vest will hold their treasures or equipment. This Outdoor Adventure Kit involves great play camping gear like a whistle, working binoculars, and a hand-cranked torch. There is also a bug catching kit to inspire interest in nature and the whole kit comes in an easy-to-carry drawstring backpack.
This huge imaginative camping play kit will thrill any outdoorsy child or budding explorer and there are so many parts that the possibilities are endless. It's not designed for practical use while camping, but it's a great comprehensive kit for little ones to play camping and become excited about upcoming trips. With 45 pieces, including a popup play tent, sun hat, cooking toys, and pretend food, it really is an incredibly comprehensive kit. Kids will love playing with gear like a toy stove and lantern.
Young kids, who want to be seen as serious campers, will love this functional kit that looks a lot less like a toy and a lot more like miniature versions of real camping gear. Inside the Nature Explorer Kit carry case, you will find binoculars, a magnifying glass, a hand-cranked torch, a thermometer, a compass, a handheld fan, and a whistle, all of which are 100% functional to use for play or in real life camping situations.
A great imaginative play set to get toddlers used to the idea of camping or relive their last camping trip in the comfort of their own home and keep the magic alive. In the New Sprouts Camp Out the box, there is a pretend campfire with flames, lantern, toy smores, and more and it can all fit into the handy little carry bag. It's a great way to encourage imagination in kids as young as 2 years old.
Nature Journaling for Kids
Kids of all ages can take great pride in journaling about nature and camping and it's a great way to keep special memories. Therefore, nature journals make cool camping gifts for outdoorsy kids! 
Interactive Kids Camping Journal: Kids Camping Log, Kids Camp Games, Camp Sketches and More!
Kid's Camping Journal: A Campsite Logbook and Outdoor Adventure Book for Kids
Exploring Nature Journal for Kids: Observe and Record the Outdoors
The Ultimate Travel Journal For Kids: Awesome Activities for Your Adventures
Great Books about Camping Adventure
What kid doesn't love a fun and engaging book?! Believe it or not, they even make some of the best camping gifts for kids. Here we've compiled all of our favorite camping and wilderness-themed books.
The Backyard Bug Book for Kids   
The Tent Mouse and The RV Mouse     
Would You Rather Book for Kids: Camping & Wildlife Edition  
And that's our list of the best camping gifts for kids. We hope these fun camping gifts will help make their adventures even better and provide hours of entertainment. From tents and sleeping bags to games, toys and more, this list has it all! We do not doubt that you'll surprise your young campers with a present that they treasure!
What Makes the Best Camping Gifts for Kids?
It's essential to consider the specific child you are buying for and what thrills them the most about camping:
✔ Age Appropriateness – It might seem obvious, but it is easy to get carried away in the fun of finding a cool camping gift to forget about how old the child is and whether it is age-appropriate. They need to be old enough to safely use camping equipment and consider how long it will get used. If they are going to grow out of something within a few months, it could be a waste of a gift, no matter how awesome it looks.
✔ Type of Camping – It is essential to consider what type of camping they do the most. If their family enjoys lightweight camping and hiking trips, a small and super helpful piece of essential camping gear could be the perfect gift. But if they do a lot of RV camping or take a big car with plenty of space on their family camping trip, a more significant gift might be possible. If you are buying for someone else's child, don't be afraid to ask the parents what type of camping they enjoy and what outdoor gifts might be the most appropriate.
✔ Kids Camping Toys vs. Camping Gear – This is probably the main thing to consider. Do you want to buy them some useful camping equipment and gear or fun camping toys they can play with either at home or on a camping trip? Camping toys can make great camping gifts for toddlers because they can role-play at home. They love reliving fun camping trips they have enjoyed before. These toys may not hold up well outdoors in the dirt and weather.
✔ Quality of Gear – Real, quality essential camping gear, on the other hand, can be super valuable and give kids a sense of pride. Having their very own camping gear is exciting, after all! It's also an investment in their future camping trips; Brad has some of the gear he received in high school and is still using it 40 years later.
Kids have so much fun camping! Also, take a peek at our tips for Hiking with Children. And for gift ideas for other family members who love to camp, check out our Gifts for Outdoorsy Women with over 50 ideas and our Gift Ideas for RV Owners!