Cup holders in your folding camp chairs only go so far… you need a place to set your plate that doesn't invite the ants to march through your sandwich, a place to sort through your travel guides so they don't fall to the ground in a jumbled mess when you swat a fly, and a place to assemble your world class s'mores without smearing melted marshmallow all over your shorts. Just like at home, a side table is practically indispensable when you are relaxing in camp.
What if you could have the best camping side table that doesn't take up much space in your gear, is super lightweight, and even better is really sturdy. It's be a dream come true for your evening of relaxing next to the campfire.
So we set out to find just that: the perfect side table for camping. To make it easier for you to find the right table, we have included links to where you can purchase these tables. Some of these links are affiliate links which means we might earn a small commission if you make a purchase.
What is a Camping Side Table?
When we talk about side tables, we are looking at camping tables that do the same thing as your little side tables next to your living room couch. Except you'll probably put a lot more stuff on your camping side table since it might be the only table in your camp site.
Generally a camping side table is about knee high and perfect for when you are sitting in your camp chair. Because of the low height, side tables aren't the best for cooking a meal, although they will definitely do in a pinch. If you are looking for a taller table for dining or cooking check out this list of the Best Camping Tables.
Side tables also have the benefit of being much smaller and compact than other camping tables. Size and weight are important when camping, unless you are the guy who hauls everything but the kitchen sink on your trips.
For that reason we focused on folding camping tables that easily fit in a storage bag and stow away in a rather small space. To be considered one of the best camping side tables, it is also critical that the table is sturdy and can handle a reasonable amount of weight.
What are the Best Designs for Camping Side Tables?
The best designs for folding camping tables use aircraft-grade aluminum in the structure for strength, which keeps the table very lightweight. There are 3 popular styles for camp side tables:
All aluminum, with accordion legs and a folding top. These take up the smallest amount of space when packed away making them very desirable for camping.
Folding Canvas Tables, these have a canvas table top with collapsing legs similar to a traditional bag chair.
Folding tables, primarily of aluminum. These are a modern and lightweight update to the TV trays you used to use at grandma's house.
There are things we like about all these types of tops so have included some of each.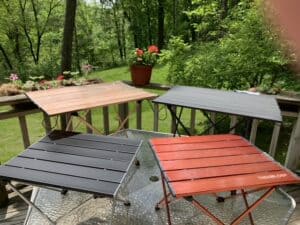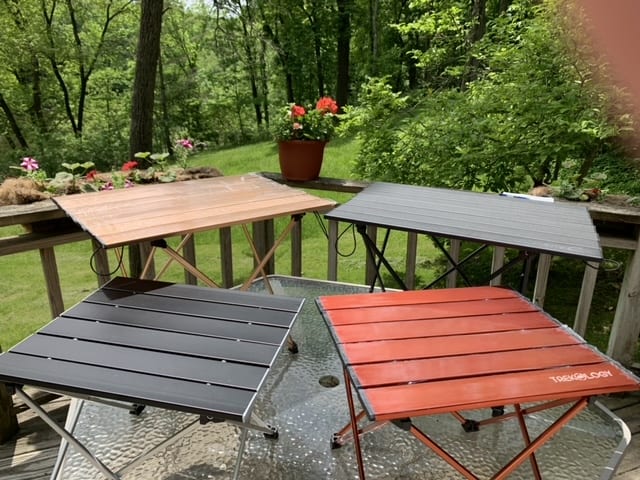 Best All aluminum Camping Side Tables
Let's start with the all-aluminum side tables. We tested four of the top-selling folding camp tables currently on Amazon and to be fair, there really isn't much difference between them.
These tables come in 2 pieces. The legs pull apart in accordion fashion, then lock into place. The top then unfolds and snaps onto the legs making the table solid and secure. They were all super easy to put together, less than 30 seconds each.
The biggest benefit of all-aluminum construction is it is lightweight. These tables are between 2-3 pounds. The use of aircraft-grade aluminum results in tables that are strong and compact. You won't need much space to store these. And the smaller tables won't add much weight to your pack if you want to take one back country.
The all-aluminum structure means these tables are waterproof. You can just wipe it down with a towel and pack it away. No waiting for any fabric to dry out which is a huge time saver.
The aluminum tops are heatproof which means you can use them as a cooking surface, although keep in mind extreme heat in direct contact with the tabletop is not recommended as it will weaken the aluminum. No worries though, most cookstoves have an air layer at the bottom to keep the heat moving up, not down.
They also all come with anti-slip rubber feet which is handy if you end up on a concrete pad to stabilize your table. Those feet also help to keep the table from sinking on soft ground.
The differences arise first in the sizes available. In general, there are 2 heights available, about 12 1/2 or 16 inches high. Both work great as side tables so let the deciding factor be based on how much stow space you have or how much weight you are willing to carry. If you have room, go bigger so you can use the table in more situations.
We really liked the textured top of the NiceC Folding side table over the shiny top of the other three. Differences in the storage bags might influence your choice, with the Trekology camping tables being the only one with a really nice shoulder strap.
Load bearing is another important consideration, you don't want your dinner crashing to the ground (although I'm sure the ants won't mind). With these side tables able to hold at least 40 pounds (some much more) you should be good to go in camp.
✅ Trekology Portable Camping Side Table
✅ NiceC Folding Camping Table
✅ KingCamp Fold Up Camping  Table
✅ Ledeak Ultralight Camping Table
---