I'm suffering from a bit of binocular envy after our recent trip to the Pacific Northwest. We were standing amid a field of unbelievable wildflower beauty studying the glaciers on Mt. Rainier in the distance. Brad kept describing what he was seeing on the glacier through his binoculars, and I was missing the show while fighting to focus my cheap set. His old Bushnell Powerviews is one of the best compact binoculars for hiking I've ever used.
This got me thinking, I know Brad has some of the best compact binoculars for hiking. But alas, that model which he has had in his pack forever is no longer available. So if I was going to buy a new pair of compact binoculars for myself, maybe I could find something even better! (Yes, in case you were wondering I am a little competitive.)
And that led me down the spiral of researching for the best binocular reviews and best binoculars under 100 that I could use too. To better help you with your own search, this post contains affiliate links to make it easier for you to find the products I have mentioned. You don't pay any extra and in some cases, I could earn a small commission.
✅ In a Hurry? This is our pick for the best compact binoculars for hiking!
So if you're looking for some travel binoculars and not sure about which ones to pick, here's what my days of research on the best hiking binoculars have revealed.
Things to Consider to Find the Best Compact Binoculars for Hiking
There's a lot to look at while choosing the best binoculars for hiking or trekking trips – power, weight, durability, cost, waterproofing, etc. Let's look at what really makes a difference when selecting your compact binoculars.
Power (Magnification)
Magnification, that's the reason we use binoculars! So that we can see things at a distance without having to squint like we're staring at the sun looking for a tiny speck on it. Here's where the magnification and lens diameter come in.
The magnification or power of the lens is denoted by a single number that shows how many times larger you will see your target. For handheld binoculars, to compensate for the effects of shaking hands binoculars normally range from seven times (7x) to twelve times(12x).
For magnification much above that, you'll probably want to use a tripod because the slightest movement can disturb your view. Astronomers and the military have the most powerful binoculars with magnifications going up to 25x. But for hiking, we'll do okay with something from 7x to 12x.
The lens diameter or objective diameter is the number after the x on the focus dial. The diameter can range from as low as 22mm to as high as 150mm.
The larger the diameter, the more light your hiking binoculars will gather, resulting in a sharper image. Of course, again here the 70mm to 150mm range is for astronomers while we simple hiking folk can get by with a range of 35mm to 50mm.
Say, for example, we want to compare binoculars with powers of 8×40 and 8×56. Since the magnifications are the same – 8 in both – the binoculars with a lens diameter of 56 will let more light in and hence be more powerful.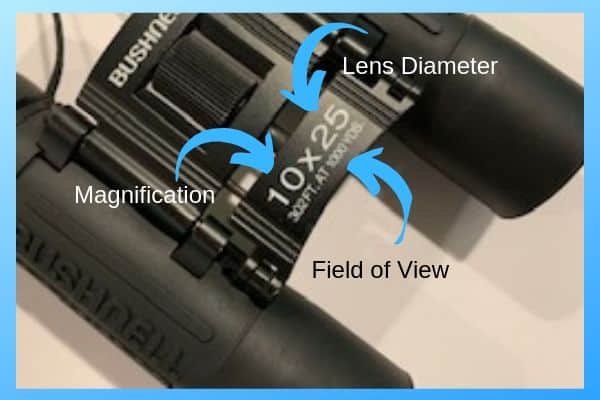 You'll find the magnification and the lens diameter on the focus dial which is on the end of your compact binoculars. 
Field of View
The Field of View of your binoculars is the total area you can see through your binoculars. It is usually inversely proportional to the magnification. Most manufacturers will specify the field of view as how many feet you can see at 1000 yards.
If you need to zoom in a lot, you'll need a narrower field of view which gives you a sharper focus. But a narrow field will be more difficult to find moving targets.
On the other hand, the wider field of view is perfect for looking at targets on the move but has a lesser focus. An easy comparison would be watching deer sleep under a tree (narrow field of view) versus watching deer run across the park (wider field of view).
Weight
It's time to decide between the Sumo wrestler and the boxing lightweight champion. If you go on a safari to Africa, you can carry those bulky binoculars with their larger objective lenses and set them up on tripods. If you're going hiking, however, lugging heavy binocular accessories around will be a problem so let's focus on compact binoculars for hiking.
We found some amazing, very durable compact binoculars with high-quality optics that weigh only 10 ounces.
There are some amazing lightweight binoculars and small powerful binoculars out there. So look for something lightweight and compact, something that you won't feel like leaving at home every time, and something that could fit in your pocket. Depends on the size of your pocket, of course!
Durability
In terms of durability, we have to measure each brand or binocular on its own. Some of the cheaper brands provide amazing power and are lightweight, but one crack from a rock and there's $50 down the drain.
Look for binoculars that are made from lightweight alloys like magnesium for strength. Many have rubber coatings for a non-slip grip and to withstand rough use and wear and tear.
Other features that matter while choosing the best binoculars for hiking include water resistance, fog proofing, anti-slip armor, eye relief, and good-quality lens coatings.
Waterproofing
Compact waterproof binoculars are a real necessity while hiking or trekking. Even if you don't get drenched by rain you may well have to walk through streams on your hike. You don't have to buy the best waterproof binoculars, but try to buy one that will survive a few splashes at least.
Look at the IPX rating on your binoculars. An IPX rating of 0 means it isn't water-resistant, 4 can resist splashes, and 8 can be submerged under a meter of water.
Fogproofing
Binoculars can steam up in humid conditions and make it difficult to see. Fog resistance is essential to good binoculars. Many manufacturers use nitrogen purging or argon purging for this. In both these methods, the air inside the binoculars is replaced with an inert gas. Nitrogen being a cheaper gas is more commonly used, while argon is used for expensive binoculars that require superior performance.
Cost
The best travel binoculars from the best brands cost a lot, sometimes as high as $500 or more.
But given the somewhat rough nature of hiking as a sport and the increased chances of it falling or being dashed against rocks or trees, it's sometimes a good idea to opt for the best inexpensive binoculars. We found several pair of compact binoculars under $100 that are pretty amazing.
Lens Coating
When light enters a lens, it gets reflected on the surface of the lens and a part of the light is lost. The application of a thin chemical anti-reflective lens coating reduces the reflection of light, improves transmission and gives us clear images.
The different types of anti-reflective lens coatings are:
Coated optics, with one or more surfaces covered in a single layer.
Fully coated, with all air-to-glass surfaces being anti-reflective coated.
Multi-coated, with one or more surfaces having multiple layers of coatings.
Fully multi-coated, where all air-to-glass surfaces are coated with multiple layers.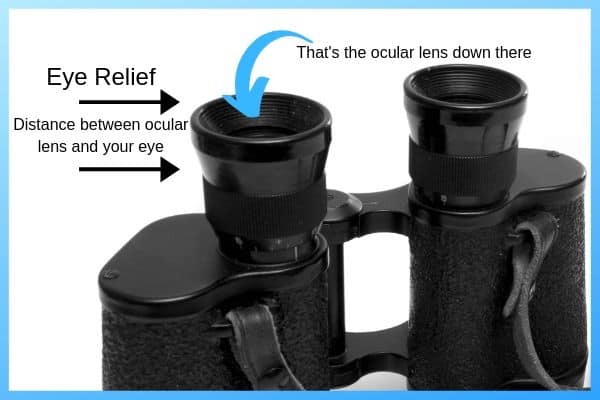 Eye Relief
Eye relief is the distance that your eyes need to be from the ocular lens to look at something clearly. Longer eye relief distances are more comfortable when using binoculars.
If your eye is too close or too far from the ocular lens aka the rear lens of the binocular, the view will be vignetted or darkened at the sides. Learning about Binocular Eye Relief was an "ah-ha" moment for me! The cheap binoculars I'm currently using only have an eye relief of about 5 mm. And I always find them uncomfortable to view through. I thought it was just my lack of experience with binoculars!
Brad absolutely hates taking his glasses on and off when using binoculars so for him it is important to have the best binoculars for hiking with a good eye relief distance. Then he can leave his glasses on.
Eye relief can range from a few mm to 25 mm, but anything over 15 mm is good for people who wear eyeglasses or even with their sunglasses.
Brand
Brands sometimes play a big role in the quality of goods you purchase. With binoculars, if you buy a Nikon, Vortex, Steiner, Swarovski, or Bushnell, you can't go wrong. But there are other players in the market that are great too; Wingspan, Celestron, Aurosports, Vanguard, Leika, Zeiss, and more. Read the reviews and pick the best one for you.
Our Top Choices for the Best Compact Binoculars for Hiking
---
Vortex Optics Diamondback 10×32

super wide range of view is perfect for really long distances:
SPECIFICATIONS:
MAGNIFICATION: 10x
OBJECTIVE LENS DIAMETER: 32 mm
FIELD OF VIEW: (1000 yds): 340 ft
EYE RELIEF: 14 mm
WEIGHT: 15 oz
These fully waterproof and fog-proof high-powered binoculars are as rugged as it gets. With 10 times the magnification, you can see a long distance with them. Be warned though, the slightest movement may affect your view; so only buy these if you have a steady hand.
The ultra-wide field of view of 340 feet found in the Vortex Optics Diamondback 10×32 makes it easy to cover more ground. These binoculars feature an adjustable eyecups and interpupillary distance (IPD), which is the distance between the centers of the left and right eye.  That means they will be easy to adjust when sharing among your family.
Weighing in at only 15 oz these are an easy addition to your backpack. With a neck strap, fitted case and lifetime Vortex warranty, these high-powered binoculars are definitely worth the extra investment.
---
SPECIFICATIONS:
MAGNIFICATION: 8x
OBJECTIVE LENS DIAMETER: 25 mm
FIELD OF VIEW: (1000 yds): 429 ft
EYE RELIEF: 10 mm
WEIGHT: 10 oz
The Nikon Trailblazer ATB Waterproof 8×25 is the best low-light binoculars and the best compact binoculars under 100. These very affordable compact binoculars by Nikon are packed with precision technology to provide high optic quality.
Although these are not autofocusing binoculars, the smooth central focus knob provides quick and effortless viewing. The multi-coated optics provide excellent brightness and perfect resolution. With an eye relief of 10 mm, a field of view of 429 feet, and weighing just 10 oz, these are one of the best compact binoculars under 100.
---
SPECIFICATIONS:
MAGNIFICATION: 8x
OBJECTIVE LENS DIAMETER: 32 mm
FIELD OF VIEW: (1000 yds): 388 ft
EYE RELIEF: 17.5 mm
WEIGHT: 20 oz
From the brand that produces telescopes comes the best lightweight binoculars with a full lifetime warranty. The Celestron 71330 Nature provides 8 times magnification with a great field of view, and excellent eye relief of 17.5 mm. They are fully waterproof, fog-proof, and durable.
Another great choice under $100, at 20 oz these are the best binoculars for the money. They come along with the objective lens caps, eyepiece rain guard, neck strap, carrying case, lens cloth, and instruction manual.
Want something super cool? For just a few more dollars you can add an iPhone adapter that lets you shoot pictures and videos through the compact binocular lenses. Use the tripod connection and you have some amazing film!
---
SPECIFICATIONS:
MAGNIFICATION: 8x
OBJECTIVE LENS DIAMETER: 25 mm
FIELD OF VIEW: (1000 yds): 357 ft
EYE RELIEF: 13 mm
WEIGHT: 11.8 oz
These are the best backpacking binoculars for adults and kids alike. Their 12 oz compact size of the Nox Provisions Standard Issue means they can easily fit into children's hands. While the non-slip grip and rugged housing ensure they won't fall too often. With a 357 ft field of view at 8 times magnification, they provide clear images at long distances.
They are fog proof, waterproof and come with a "No-Matter-What" lifetime warranty. The lightweight construction with a drawstring pouch and neck strap makes it one of the best budget binoculars available. Best of all you'll love all the color options with this compact binocular: currently available in Black, Marigold, Seafoam and Poppy.
---
SPECIFICATIONS:
MAGNIFICATION: 8x
OBJECTIVE LENS DIAMETER: 25 mm
FIELD OF VIEW: (1000 yds): 357 ft
EYE RELIEF: 16 mm
WEIGHT: 10.9 oz
You'll love the ease of focusing the Zeiss Terra ED Binoculars. They feature a large, easy to grip, smooth focus wheel that is strategically placed for quick adjustments. No more missing that view as an animal moves out of range and is perfect for bird watching!
These are excellent for tucking into a pocket at under 11 ounces and with dimensions of 4.5 x 4.4 inches will always be handy at a moment's notice.
Built with premium optics, waterproof and fog proof, these are ready for the toughest day. The generous eye relief of 16 mm provides a comfortable clear view if you wear glasses.
---
SPECIFICATIONS:
MAGNIFICATION: adjustable 10-22x
OBJECTIVE LENS DIAMETER: 50mm
FIELD OF VIEW: (1000 yds): 199ft
EYE RELIEF: 14mm
WEIGHT: 34oz
The Bushnell Legacy WP 10-22×50 could very well be the most versatile compact binoculars. The large objective lens at 50mm provides a brighter view that makes these perfect for wildlife viewing. With a variable magnification power between 1 and 22x, you control what you see. We love the field of view ranging from 199 to 126 feet.
The binoculars are fully multi-coated, waterproof and weatherproof. Weighing 34 oz, these are one of the heavier pocket binoculars I like but it has some great features that make this pair worth serious consideration.
They can also be used with a tripod and is a real steal at well under $200. The eye relief of 14 mm and twist-up eyecups make them great for wearing with glasses or sunglasses. And the center focus system completes the package.
---
SPECIFICATIONS:
MAGNIFICATION: 10x
OBJECTIVE LENS DIAMETER: 25 mm
FIELD OF VIEW: (1000 yds): 304 ft
EYE RELIEF: 14 mm
WEIGHT: 6 oz
If weight in your pack is your top priority, then at only 6 ounces, the Celestron Nature Monocular might be an amazing choice for you over a compact binocular. It feels a little pirate-like to only use one eye for gazing into the distance, but with a 10x view you will see far. These are waterproof and fog proof for worry-free use in damp environments.
So why not jump right to a monocular over a binocular? According to Optics Mag "Using a monocular for extended viewing purposes places a lot more strain on your eyes than a set of binos would. With one eye's vision magnified and the other not, your eyes will quickly grow tired when looking through a monocular."
The Downside of Compact Binoculars
After looking at all these amazing compact binoculars you have to wonder why anyone would ever carry a pair of big bulky binoculars. Well, it all comes down to the field of view. Because the objective lens is smaller in compact binoculars, the field of view is also smaller.
For the best compact binocular experience, it's all about finding the sweet spot between the field of vision and magnification. It's easy to get swayed by a bigger magnification number, but don't! A bigger magnification also narrows the field of vision.
So for hiking where weight in your backpack is so important to you, select binoculars with a moderate magnification.
Should I Bring Binoculars Backpacking?
If you are backpacking for pleasure and to embrace all nature has to offer, you should definitely pack a pair of binoculars. Without binoculars, you will miss getting a close look at the massive moose on the other side of the valley, or the bear crossing the stream. Many backpackers enjoy relaxing with a little wildlife and bird watching while on the trail.
We shared several options, like the Zeiss Terra Ed and the Nikon Trailblazer which only weigh 10-12 ounces (less than a can of soda) that are perfect for the longer hike. However, if your priority is speed and distance on the backpacking trail over enjoying the walk you might want to skip that extra weight in your pack.
Now that you know a bit more about backpacking binoculars and how to choose them based on the field of view, power, eye relief, weight and more, you can buy the best compact binoculars for hiking. Isn't that perfect? A great pair of binoculars also make an amazing gift for guys who love hiking.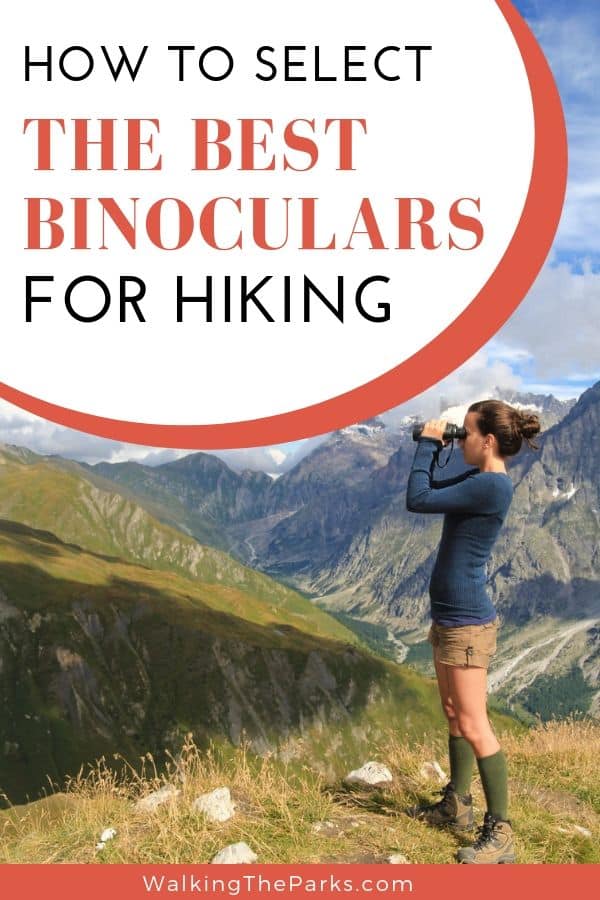 Don't forget to save this to your Hiking Ideas Board!