When you want very personal gifts for your favorite hiker, something that says how much you care, then a personalized gift for hikers is where you should start. We found unique hiking gifts that can be personalized to show you were thinking only of your special hiker. Also, we discovered many presents that meet a hiker's very personal needs that they will treasure. These are one-of-a-kind gifts for hikers that you will be proud to give. I'm pretty sure that a couple of these personalized hiking gifts are highly likely to bring your hiker to tears, so read on at your own risk!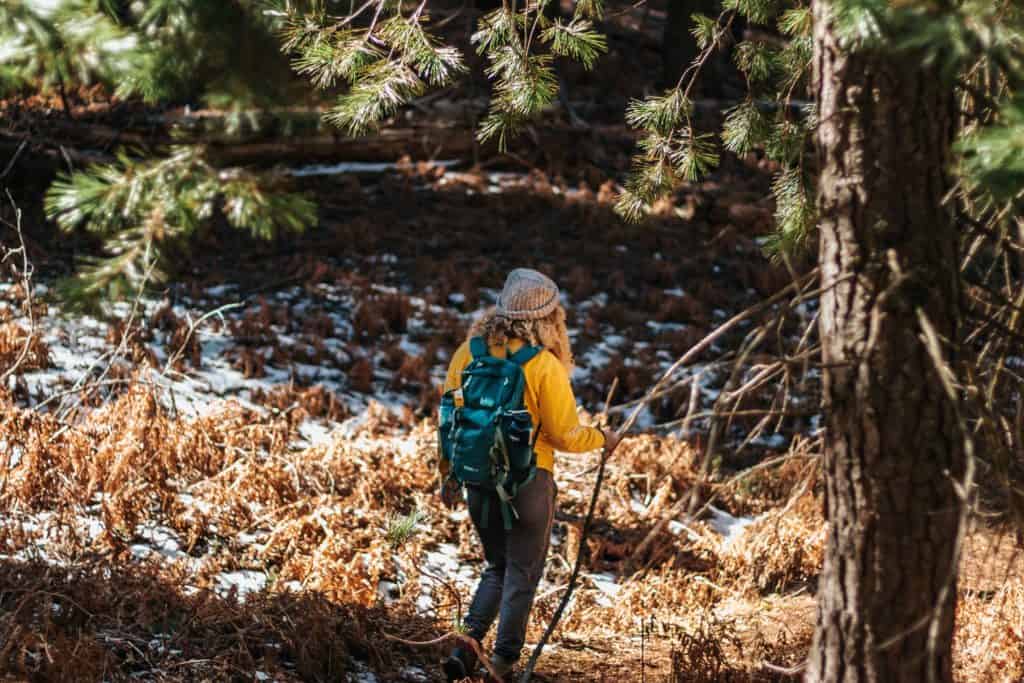 Where to Find Personalized Hiking Gifts
Of course, our first choice is Etsy as the place to look for unique hiking gifts for outdoor lovers. The artists and crafters on Etsy create gifts with a passion for their art. We've always found Etsy creators to be trustworthy, with high-quality products. In addition to Etsy, we scoured through a variety of other companies searching for that same top-quality unique gifts for hikers and are pleased to share those gift ideas with you also. So please enjoy this list of fantastic personalized gift ideas for the hiker in your life!
This post contains affiliate links to make it easier for you to find the products I have mentioned. You don't pay any extra, and in some cases, I could earn a small commission.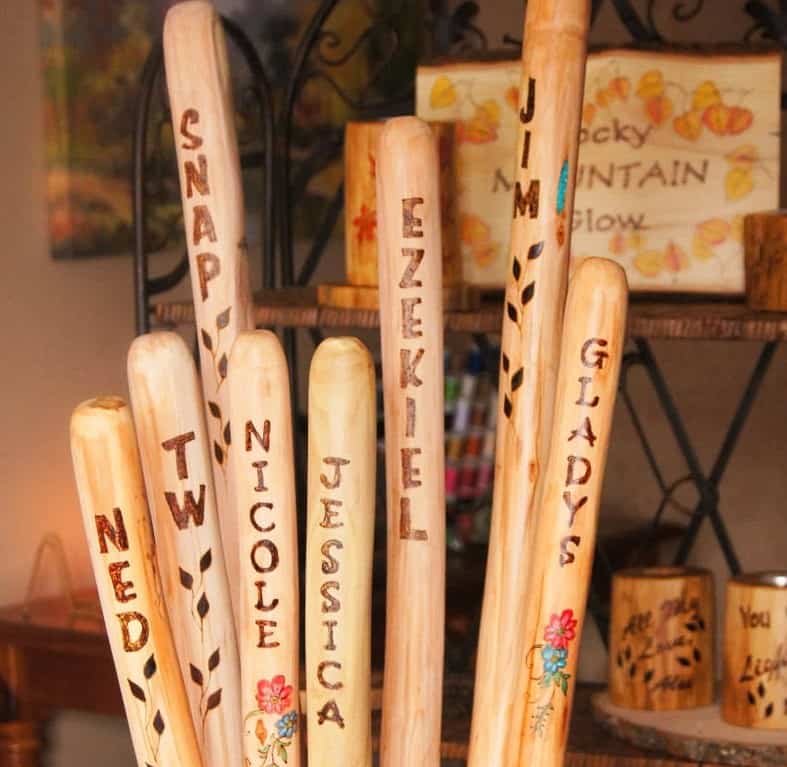 This Personalized Walking Stick from Rocky Mountain Glow is one of the most unique hiking gifts for someone you care about. In addition to adding your favorite hiker's name in your choice of script, you can add a special design that embraces their personality. Made from dead aspen found in the Rocky Mountains, the sticks are sanded and oiled to bring out the natural beauty of the wood. Outdoor enthusiasts will be proud to walk with one of these hiking sticks.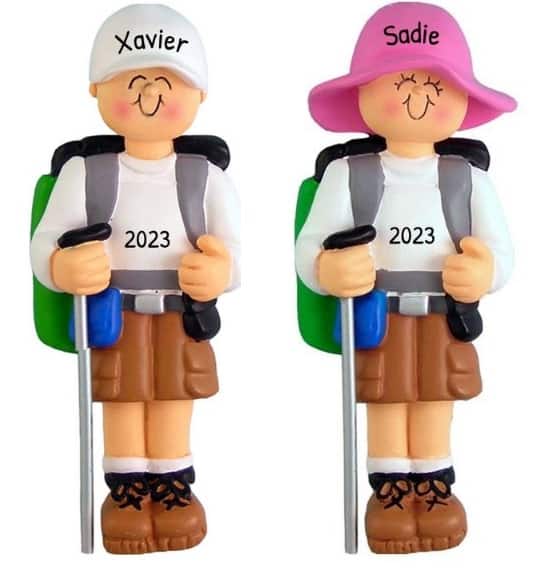 Aww… these are personalized hiking ornaments are the perfect way to commemorate a special place. You can add up to 4 lines of text (only 2 shown in this picture), so it's easy and fun for everyone! The hand-painted polyresin makes them very personal, too – not something you'll find for your outdoor lover at your local department store.
I love how these cleverly incorporate both artistry and sentimentality with an elegant design that will last forever no matter what happens along life's journey.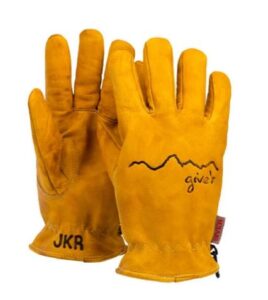 The Classic Give'r Glove was born out of the mountains in Jackson Hole, where sturdy, lined gloves are a necessity and not just for show. There's no other leather glove like it! This one-of-a-kind Western design is known locally as the "gloves of 100 uses" because it is so versatile. Each pair arrives bee's wax sealed for waterproofing, ready so you can get going on the trail right away. Customizing options allow you to add hand-branded initials up to 3 characters. There's nothing quite like the comfort of a pair of real leather gloves when you are working along the hiking trail.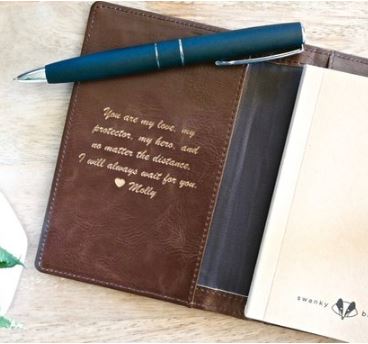 Check out this beautiful Personalized Leather Bound Journal. We love to make notes of our hikes and adventures when we are visiting National Parks. The cover is customized with a quote of your choice plus a monogram. This journal is a great gift that will be cherished. I can't think of more personal gifts for hikers!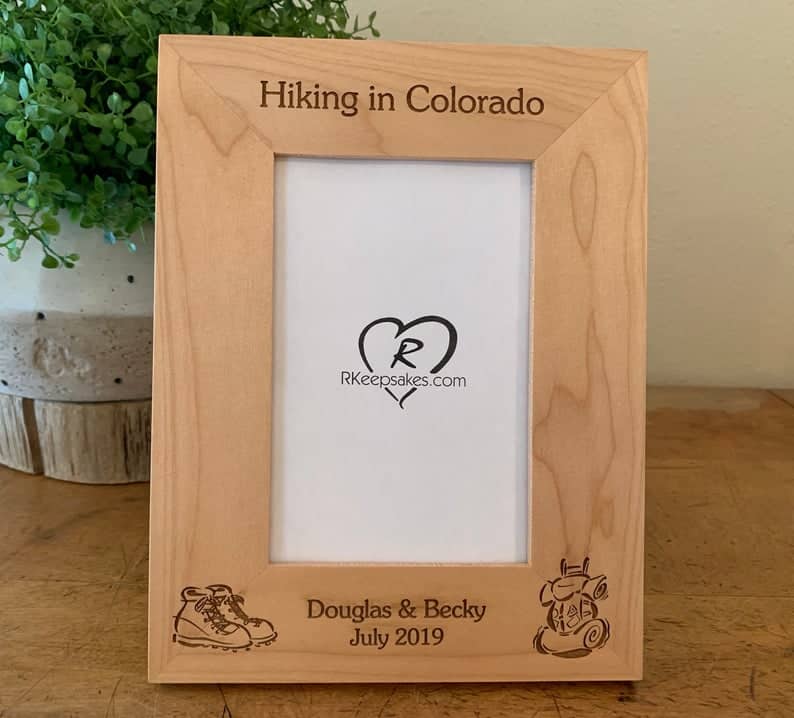 What better way to remember a shared trip with that special hiker in your life than a personalized photo frame. Log the date of your memorable hike, and then add in the perfect photo. This solid wood picture frame is available in your choice of Alder or Walnut. You can also choose among sizes of 4×6, 5×7 and 8×10 to fit photo of your trip as a hiking gift.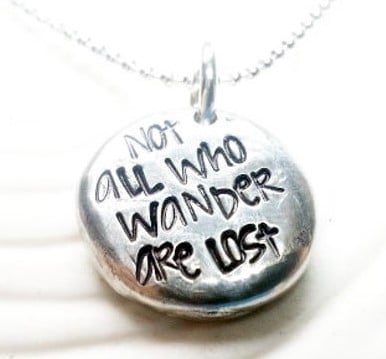 This "Not All Who Wander Are Lost" Necklace speaks to the spirit of hikers. It is hand stamped in a cast pewter square with a gorgeous satin finish.  It comes on a sturdy 18″ ball chain, suitable for guys and gals.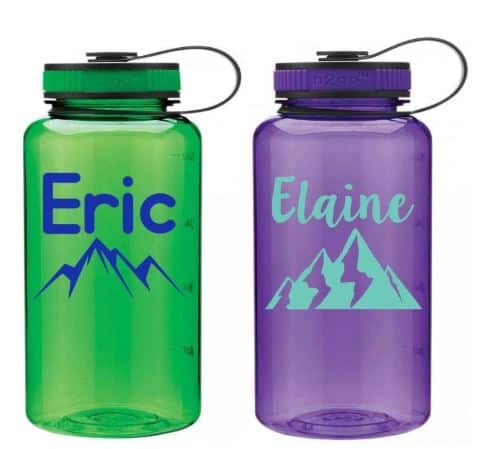 Your favorite hiker will think of you with a smile every time they pull out this cute Personalized Water Bottle on the trail. Choose their favorite color and personalize the water bottle with their trail nickname for a special touch. The bottle holds 34 ounces and is BPA-free.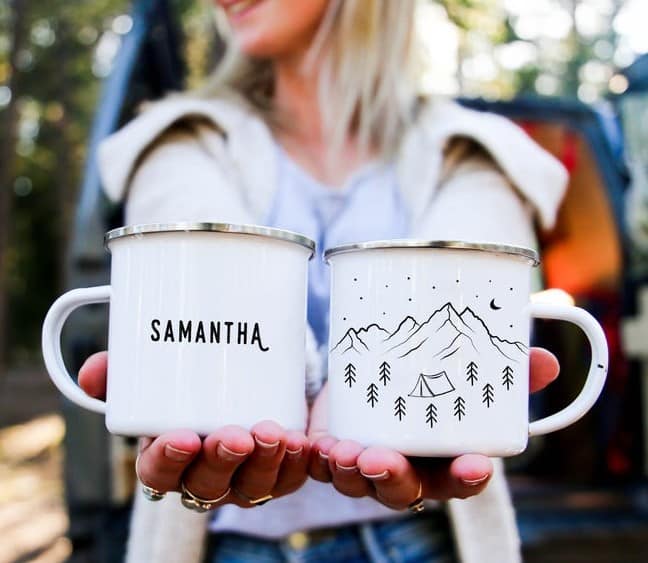 Start your hiker's morning with a smile when they pour their coffee into the perfect Personalized Hiking Mug! Tuck in some coffee or tea, and you have created personal gifts for hikers on the holiday list! It's a pretty awesome gift. Brad and I have a matching set and use them on every camping trip. Love 'em!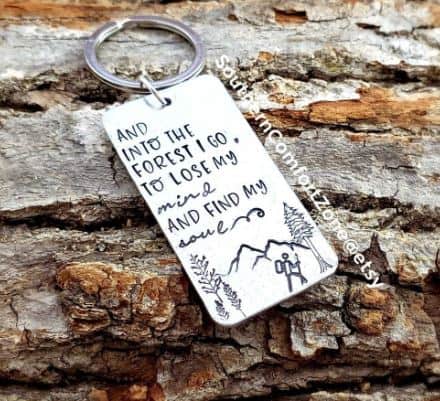 How sweet is this Personalized Hand Stamped Keychain? Hand-made, hand stamped one letter at a time aluminum hiking keychain that embraces your favorite hiker's outdoor spirit. This is one of the best hiking gifts for very sentimental outdoor lovers! The keychain would make a great stocking stuffer too.
Celebrate an amazing hike to a mountain summit with one or more of these customer leather keychains for hikers. You can add the elevation and the mountain name. I'd even love to add these to my backpack as zipper pulls. You get to choose the leather color and design elements.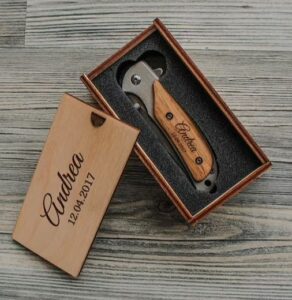 A good pocket knife is critical backpacking gear. So why not commemorate a memorable hike you shared with your favorite hiker with this Custom Engraved Pocket Knife!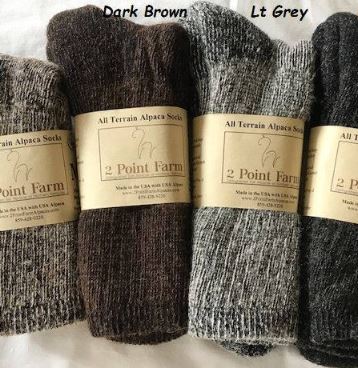 There's nothing more personal to a hiker than the care of their feet! And talk about the ultimate Hiking Sock! Start with alpaca wool. Not only are these socks super warm and cushioning, but they also wick away moisture to keep your feet comfortable. These amazing socks are made by 2 Points Farm in New England from locally raised Alpaca. 
When you're looking for the perfect gift, it doesn't get any better than one that is personalized. This list includes 12 unique personalized gifts for hikers that are hard to find elsewhere. If you're shopping for a hiker this holiday season, we've compiled a list of 12 different gifts for hikers that are hard to find in traditional retail stores. These unique pieces range from classic to quirky and will make any hiker happy on their next outing! If you have someone who loves hiking on your shopping list this holiday season, be sure to check out our gift guide- whether they need something practical or just want some fun new gear, there is something here everyone can enjoy.
---
While you are here, check out our other gift guides for outdoor lovers: Hiking Gifts for Her: 60 Gifts She will Love and Over 60 Gifts for Your Favorite Camper