Ready to get a little bit crazy? Check out White Sands National Park Sledding. Sledding down the sandhills is a one-of-a-kind experience that you won't want to miss. Kids and adults should all try sledding the dunes at least once. And don't forget to take in the stunning views of the dunes while you're out sledding!
White Sands National Park is home to the largest gypsum dune field in the world, making it the perfect place to go sand sledding. The park offers plenty of safe and easy routes to explore as well as some steep hills ready for the more adventurous.
Brad and I took up the White Sands sledding challenge on our Texas and New Mexico National Park Road Trip and lived to tell the tale! So what are you waiting for? Grab a sled and hit the dunes!
Why is Sledding in White Sands National Park a Thing?
The sand in White Sands National Park is quite different from beach sand. Beach sand is usually based on silica, while here, you'll find miles and miles of very fine white gypsum sand. Gypsum feels softer and less sharp than silica, making for a very soft landing when you are sledding.
And as you know, most National Parks have a strong leave no trace policy and wouldn't dream of letting you "mess up" the landscape. However, any changes to sand dunes, like you find in White Sands National Park and Great Sand Dunes National Park, are quickly erased by the wind. So you can play in the sand all day long without harming the natural environment.
Also, many visitors are uncomfortable with hiking into the sandy Chihuahuan Desert because the trail is constantly shifting. By encouraging families to play in the sand through sledding, you experience the park in a unique and fun way.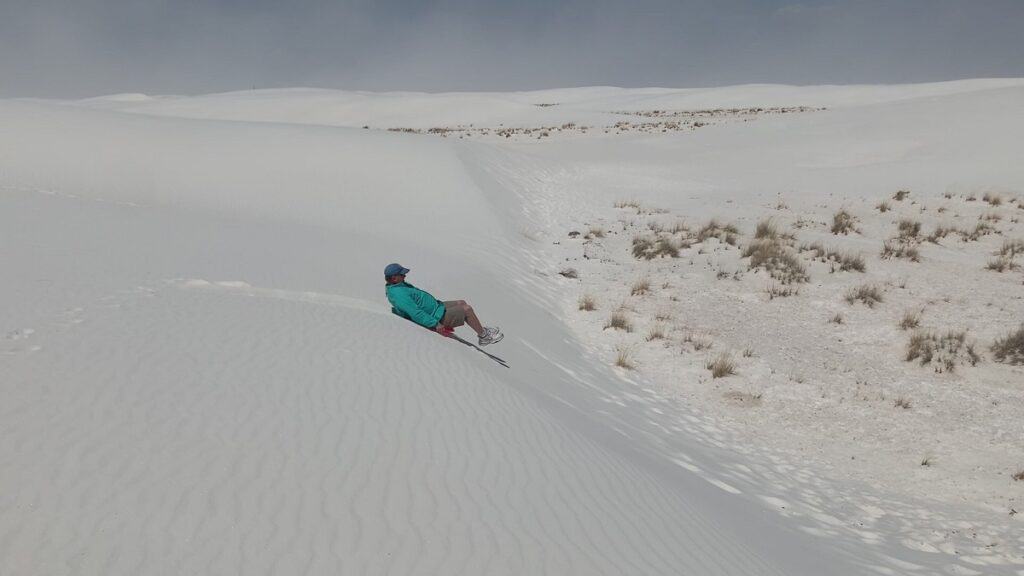 What to Expect When You Sled the Gypsum Dunes
Sledding on the sand dunes is incredibly different than sledding on snow. Why?
First, the sand isn't as slippery as snow. Although most snow-type sleds will work on the sand, they don't go as fast.
Falling in the sand is usually a softer landing than falling in snow as there is no hard ground underneath. Just a lot more soft sand! Caution, though, you often find packed sand at the bottom of a dune near the roads that can be hard to fall on.
If you get sand in your mouth or eyes, it's a gritty experience and doesn't just melt away like snow.
Surprisingly, gypsum sand doesn't get hot like beach sand. Gypsum reflects heat rather than absorbs the heat like silica. So while it may not be as cold as snow, it is a comfortable temperature all year round.
Overall, sledding on the gypsum sand dunes is a pretty safe activity because of the slow speed and soft landing. You will get a pretty good workout climbing the dunes to launch your sled. Climbing up a sandy hill is more work than a snow hill.
Best Places to Sled the Sand Dunes
Surprisingly there are very few rules controlling White Sands National Park sledding. You can sled anywhere you want in White Sands. Use some common sense and make sure your sand sledding path doesn't end on a road or parking area where you could be injured by moving vehicles. There are plenty of other dunes to choose from.
Most people sled on dunes along the scenic Dunes Drive. The road is an 8-mile drive into the heart of the gypsum dunes with short nature hikes along the route. At the end of the route, there are several parking and picnic areas where families make their base camp for a day of sledding.
The parking areas for the backcountry camping trail and the Alkali Flat trail are the most popular places.
It's probably best to try a smaller dune to start, especially if you have small kids. But we jumped right in on a steeper slope for our first run.
The White Sands Park Service asks that you avoid sledding paths that would run over any plant life. Those plants have enough challenges staying alive in the Chihuahuan Desert without us smashing them. You'll find once you get a few miles into the scenic drive, the only road into White Sands, plant life is pretty rare.
What is the Best Sled for Dune Sledding?
The park rangers at White Sands found time for a bit of fun and tested out different sled types in this video.
Sand Sledding on Cardboard
The rangers found that flexible sleds, like a piece of cardboard, don't work well as your bottom digs into the sand, causing a lot of drag. That would also apply to any flexible sled.
Toboggans on the White Sand
A rectangular sled, like a toboggan, also has drawbacks because the nose wants to dig into the sand. If you use a toboggan, it will be important to ensure your weight is in the back half of the sled to keep the nose high.
Saucers Win the Race
Their recommendation is to use a saucer-shaped sled, still making sure you pull your feet deep into the saucer for the best speed.
OK… so our experience sledding on the dunes agreed with the park ranger that a saucer is a good shape. They are perfect for kids. But for full-grown adults, it's pretty hard to pull your feet in far enough to keep the weight to the back and avoid digging into the sand. If you can find a larger saucer for adults, you'll have a better run down the hill.
However, we found that the inexpensive plastic saucers sold at the gift shop are pretty flexible. At our weight, the saucers flexed like pieces of cardboard, and our bottoms slowed us down.
Our recommendation for the best sleds for sledding on the dunes is:
for kids, definitely go with inexpensive plastic saucers.
for lightweight or petite adults, those saucers will work great also.
for larger adults, you will need a saucer made of heavier plastic that doesn't flex or metal. However, be careful with a metal saucer as it will heat up in the sun even though the sand doesn't.
Where to Get Sleds for your Sledding Adventure
You have several different options for getting the perfect sled.
Bring Your Own Sled
You are welcome to bring your own saucer. There are no rules or limitations on what type of sled you use. Or you can purchase one in the gift shop next to the visitor center.
During our visit, the gift shop saucers were priced around $25. And you can often purchase a used one at a discount if visitors drop them off after their fun day.
Purchase Sleds in the Park
If you plan to purchase your saucer at White Sands, do it on your way into the park. You don't want to drive back to the entrance once you are in the park.
You can purchase one in the gift shop next to the visitor center. During our visit, they were priced at around $25. And you can often purchase a used one at a discount if visitors drop them off after their day of fun.
Order Online
I was surprised that we didn't encounter other stores selling saucers in nearby Alamogordo, NM. However, you could easily order one from Amazon and have it shipped to the Amazon hub counter in town or to your hotel. Or order through Walmart online for store pick up in Alamogordo.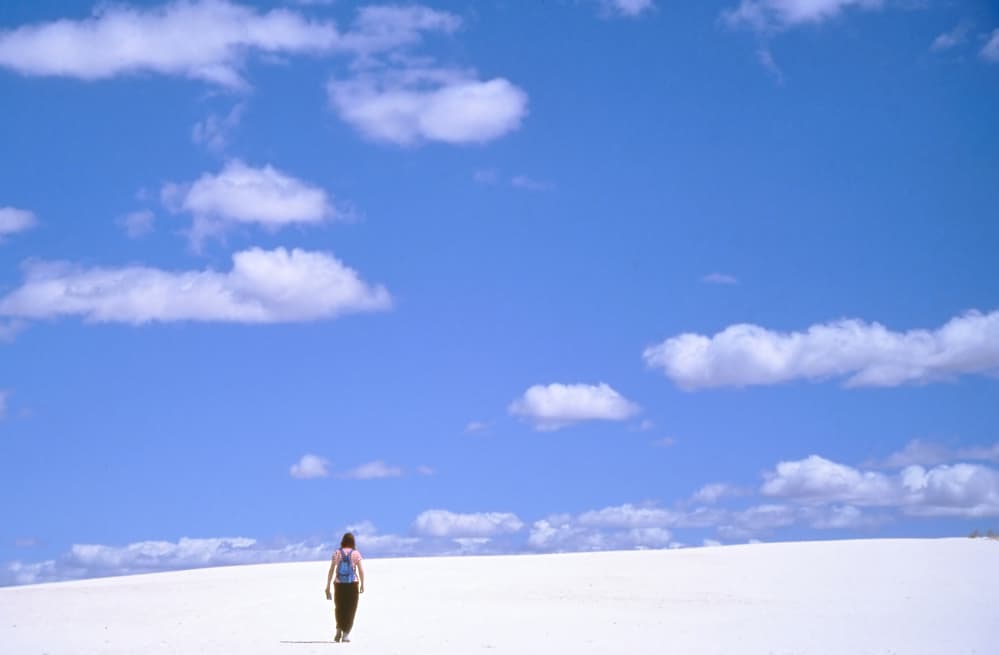 More Tips for White Sands National Park Sledding
Just a few tips for a successful sledding experience while visiting white sands.
Bring Eye Protection
Make sure you and your kids have sunglasses to protect your eyes from sand particles. As we discovered, spring is the windy season in White Sands National Park. I would have benefited from a pair of goggles or wrap-around sunglasses to keep blowing sand out of my eyes instead of my traditional sunglasses.
Wax Your Sled
The gift shop also sells wax for the bottom of sleds to help you pick up more speed. It's just a couple of bucks, so grab one on your way into the park.
Look for Rain
Sledding is best if it has just rained. The white sand will be packed tighter, and you'll get more speed. I know you can't usually control what day you visit White Sands, but it's worth considering if you have any flexibility.
Drink Water
Bring lots of drinking water. The desert is hot and dry, so you will need more water than usual to stay hydrated. It's a real workout climbing up the dunes, so make sure kids regularly drink water. The White Sands gift shop sells water if you forgot to bring it. But once you pass the visitor center, you won't find any water.
Plan for the Entrance Fee
Although there is no additional cost for your sledding adventure, you will have to pay the entrance fees for entering White Sands once you start driving Dunes Drive.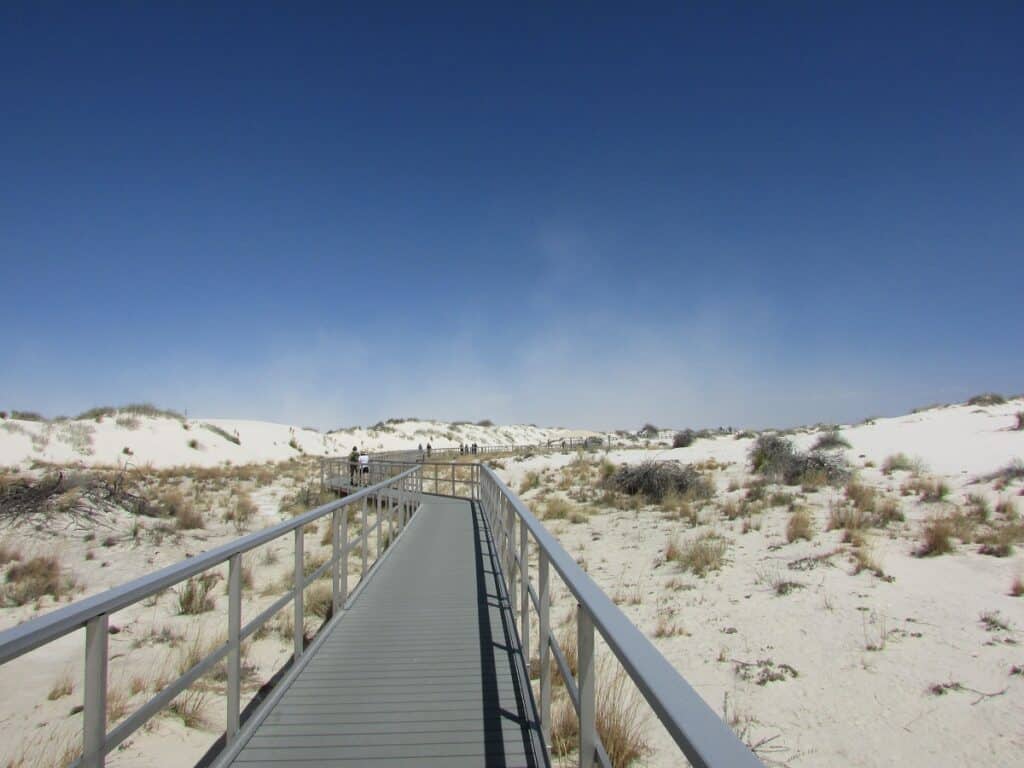 More Things to Do in White Sands National Park
When you are having so much fun, it's hard to remember that there is more to White Sands National Park. Here are just a few things to add to your itinerary when visiting White Sands.
Take in the Views
From the top of the sand dunes, you see for miles into White Sands National Park. It looks like the dune fields never end. It's quite a stunning view. So take a moment to sit on the top and embrace the view.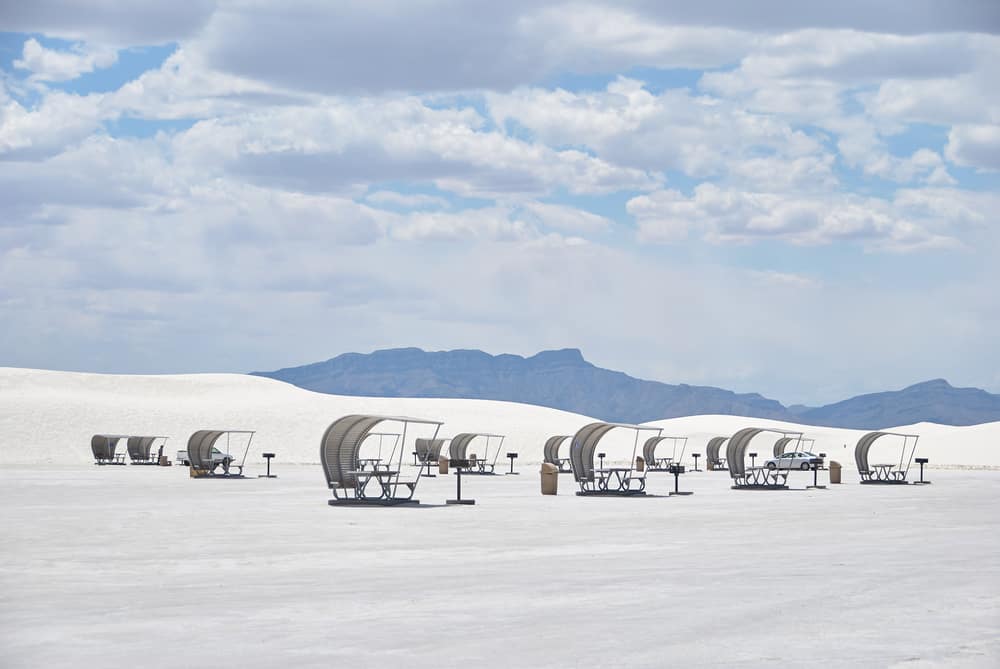 Enjoy a Picnic Lunch
Picnic areas are located at the end of Dunes Drive, where you can relax in the man-made shade to cool off from your active day.
Take a Hike
Although you are welcome to take a backcountry hike into the dune, most visitors prefer a more cautious approach to hiking the desert floor.
A favorite hike for the more adventurous is the Alkali Flat Trail, a strenuous hike marked with tall trail markers that poke out of the white sand to the dry lakebed of Lake Otero.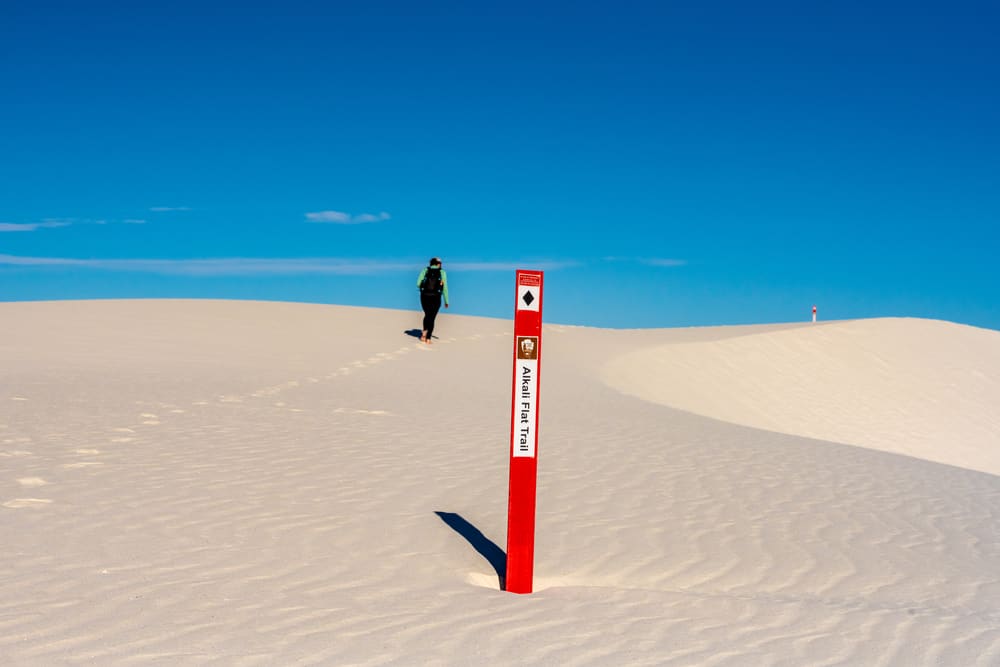 You'll find several easy hiking trails the whole family will enjoy along Dunes Drive, including the Playa Trail and the Interdune Boardwalk, an accessible walkway with educational displays along the path.
There is also a park ranger program called the Full Moon Hike that you can join several times a year for a unique sunset experience.
Where is White Sands National Park
White Sands National Park is located in southern New Mexico. It's right on the northern edge of the Chihuahuan Desert. The closest airport is in El Paso, TX, about 1.5 hours away.
We included White Sands in our Texas and New Mexico National Park tour, sandwiching it between the Guadalupe Mountains National Park and Carlsbad Caverns.
Where to Stay Near White Sands National Park
There is no camping or lodging in White Sands National Park. You'll find a wide variety of hotels and rentals in nearby Alamogordo. You can check hotel availability in Alamogordo here.
We camped at Oliver Lee State Park, about 24 miles southeast of White Sands. It was a beautiful park with an amazing sunset that brought everyone out of their campers for photos. Aguirre Springs Recreation Area is about 39 miles southwest. You'll also find several campgrounds during summer months in the Lincoln National Forest about 40 miles east of the park. 
Last Thoughts
With over 200 square miles of white gypsum sand dunes to play on, this park is the perfect place to enjoy a day of sand sledding with friends and family. You're sure to have a blast zooming down the slopes on your sled. So don't miss out – make your next vacation something special and come enjoy White Sands National Park sledding!
---
The Authors: Hey, we are Ladona and Brad, avid campers and hikers. We are crazy about getting outdoors at every possible moment and have decades of experience exploring nature. Our current goal is to visit all 63 US National Parks and just completed #42. WooHoo! Our mission is to help you plan your own adventures and create memories beyond your imagination!