When our guest writer, Krystal from Krystal Clear Trekking, shared that she just finished 6 days exploring Yellowstone National Park I was a bit jealous. Most of us only have time for 2-3 days squeezed into our family vacations. So when she offered to share the story of her hike 7 Mile Hole, Yellowstone NP, I just knew you'd love it. Ladona
Yellowstone National Park is incredibly unique with its abundant wildlife, hydrothermal hotspots, dense forests, and canyon carved from the Yellowstone River. People spend hours driving to different areas of this large park to see these features. But what if I told you all these things and more can be observed from just one hike within Yellowstone? You would hike it, and it is called the 7 Mile Hole Trail.
On a family vacation to Yellowstone, we spent days roaming Yellowstone looking for a Grizzly bear. We had already seen herds of bison and elk, eagles, black bears, and wolves, but the great Grizzly was elusive. The Seven Mile Hole Trail was supposed to be a mecca for wildlife, so this was the main reason my brother and I decided to give this hike a try. We were going on a bear hunt!
Prepare Yourself to Hike Seven Mile Hole Trail
This was my first ever hike labeled "strenuous," and strenuous was an understatement! I may be a little over-dramatic, but I did struggle with the steep incline that started the trip back. I was prepared in some ways but not in others, which was the main reason for my struggles. In addition to eating a hearty breakfast so you have plenty of energy (which I did not), arm yourself with the necessary tools to make this hike a successful one. Also, you should know before going to Yellowstone about bear and wildlife safety and "leave no trace" guidelines.
About Yellowstone's 7 Mile Hole Trail:
Trailhead: Glacial Boulder near Inspiration Point
Difficulty: Strenuous
Time Required: 5-8 hours
Mileage: 9.7 miles
Elevation Gain: 2,043 feet
Route Type: Out and back
Time of Day: Early morning – There is no shade at end of trail and can be extremely hot in the afternoon hours.
Season: Spring, Summer, and Fall are all good seasons. Wildlife activity is higher in Spring and Fall months, so take extra precautions.
The Trail Starts with an Easy Walk in the Woods
Seven Mile Hole Trail begins at the Glacial Boulder pullout near Inspiration Point, which we started in the early morning hours. This is also the trailhead for Mount Washburn Spur Trail. The first 1-1/4 miles is an easy walk in the woods alongside the north rim of the Grand Canyon of Yellowstone. Take your time enjoying the views of the deep canyon with the Yellowstone River flowing at the canyon bottom. Look for the Silver Cord Cascade, the tallest waterfall in Yellowstone, across the canyon about 1 mile into the hike.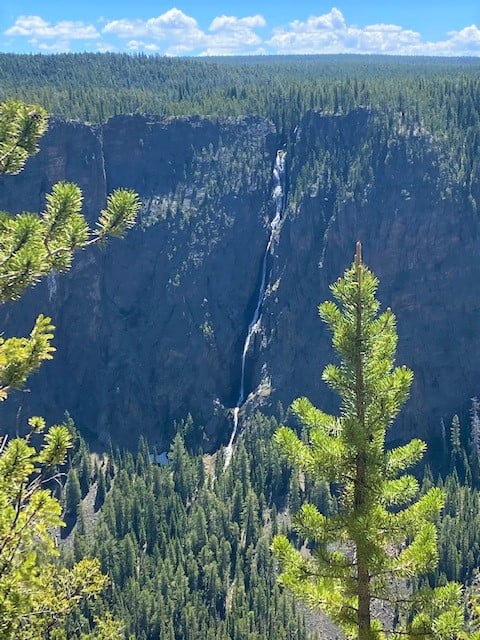 The next 1-1/4 miles veers away from the canyon rim and into the dense, old lodgepole forest. The combination of the thick forest and the morning sky made this part of the hike a little scary. It looked like a bear could cross my path at any moment. I was conflicted on whether or not I wanted one to. We eventually passed a large, marshy meadow just before reaching a junction. The 7 Mile Hole Trail continues to the right (Mount Washburn Spur Trail to the left) and is well-marked by a wooden sign.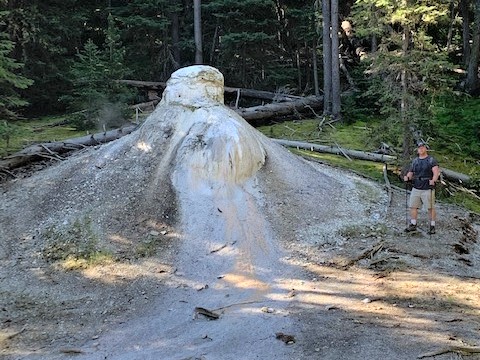 We forged on through the woods for another 1/3 mile before the trees began to thin out and vegetation was sparse. It was about this time we passed a large thermal feature that was surrounded by bear, moose, elk, and deer tracks. But the only animals we actually saw in the forest were a couple of chirping chipmunks and a mule deer.
---
🎁 Check out our gift guide for hiking women. You'll find over 60 great ideas of hiking gifts for her. With this list, you will definitely nail it!
---
Descending to the Grand Canyon of Yellowstone
The terrain for the rest of the out trail is night and day compared to the walk in the woods. For the next 2 miles, we descended approximately 1,200 feet through a series of narrow switchbacks on the loose gravel of the steep canyon wall. By this time, the trees had virtually disappeared, and the hot sun was beating down. About half-way down the hill, we came across several active and dormant hot springs. Take care when walking through this area, the hotspots will burn you and the ground sounded hollow beneath us.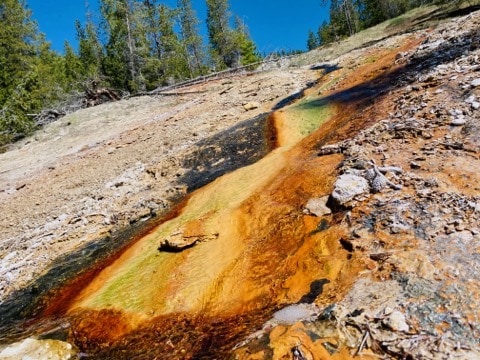 As we got closer to the Yellowstone river, the trail became less and less defined. We lost it a couple times on the way down and back up. What saved us was finding shoe prints of the hikers before us. But we finally reached the banks of the raging river. As I posed for a picture next to the river, a burst of steam from a tiny hotspot erupted at my feet! I did not even know it was there until I felt the extreme heat on my ankle. So again, be super careful in this area.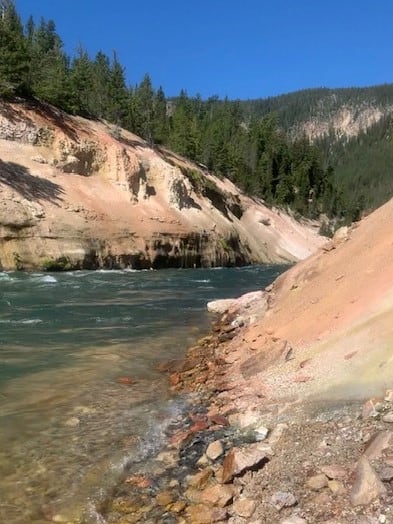 We took a well-deserved break in the only shady spot available near the river. We ate snacks, drank water, and took in the raw beauty at the base of the Grand Canyon of Yellowstone. In truth, we were procrastinating the hike back up the canyon walls.
The Toughest Part of the Seven Mile Hole Trail
Now it was time to pay the piper with the 2-mile, 1,200-foot ascent to escape the canyon. There were times during these 2 miles that I regretted doing this hike. At one point, I told my brother if I had cell service, I would call a helicopter to pick us up. (Just me being overly dramatic again.) In all seriousness, this part of the hike was tough. I took my time with several breaks and drank lots of water to get me through. If you get to this point and struggle like I did, remember to just put one foot in front of the other. You will get there.
Once at the top of the canyon walls, the rest of the walk was easier. The elevation gains were relatively minor in comparison, and the shady trees gave us a break from the hot sun. Even though we did not see the mighty Grizzly, this hike was an adventure from the moment we passed Glacial Boulder until we unstrapped our backpacks in the parking area.
Round Out Your Day
While the Seven Mile Hole Trail was rewarding and I am so glad I did it, I was physically and mentally exhausted. So I took a nap and then insisted on easy hikes for the remainder of the day. Driving along the south rim for views of Upper and Lower Yellowstone Falls, viewing mud pots at the Mud Volcano area, and watching for wildlife at Hayden Valley was the perfect end to the perfect Yellowstone day hike. Check out this list of other easy Yellowstone hiking options to round out your day.
Critical to add to your day pack before hiking 7 Mile Hole in Yellowstone:
Water: With the strenuous nature of this hike and the afternoon sun, I would recommend carrying at least 3 liters of water. I only carried about half of this, but luckily my brother came to my rescue with the extra water he had packed.
Snacks/Lunch: Take loads of snacks and a packed lunch, so you have plenty of energy.
Bug repellent: I would bet money that there are more mosquitoes on this trail than the swamps of Louisiana. For your sanity, pack bug repellent!
Bear spray: Bear spray is a must for any hike where bears call home.
Hiking shoes/boots: The last 2 miles of the hike is loose gravel on a steep canyon wall. Good gripping hiking shoes or boots will help combat sliding rocks.
Hiking poles: To help preserve your energy on inclines and to protect your joints from impact on declines, hiking poles are highly recommended.
Sun protection: About half this hike you are exposed to direct sunlight, so I recommend sunscreen and a hat to protect your skin from the sun rays.
You can find a complete printable list of what to pack for day hiking in this post.
About the author: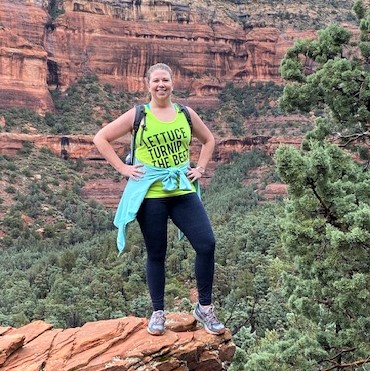 Krystal Patrick is a part-time travel blogger who works full-time in the oil and gas industry to support her travel addiction. She blogs about all types of travels: outdoor adventures, water adventures, and urban adventures and specializes in detailed itineraries. Learn more about Krystal and her travels at krystalcleartrekking.com.
Take a minute to save this to your vacation Pinterest Board! You won't want to miss this amazing hike: 7 Mile Hole, Yellowstone NP.