Cub Lake in Rocky Mountain National Park is a unique destination. Its plethora of water lilies bouncing on the glass like lake surface create an amazing photo opportunity. It is also a busy wildlife area where visitors often have encounters with Moose, Bear and Elk. However, my favorite part of Cub Lake Trail was the first mile. Why? Wildflowers were abundant in July! The moist ground in the meadow encouraged wild flowers to display all their glory.
Brad and I met my sister and her husband for a lunch hike to Cub Lake. It was our first time visiting this trail, so we were quite curious about it. Although this trail is well traveled, it wasn't crowded and we only passed about a dozen hiking groups during our hike. Compared to the huge crowds hiking in the Bear Lake area, you might consider Cub Lake and it's nearby Fern Lake Trail hidden gems!
Where is the Trailhead to Rocky Mountain National Park's Cub Lake?
You'll find the trailhead to Cub Lake in the heart of the Moraine Park area. Just off Bear Lake Road, on the way to the Moraine Park Campground you'll see a clear sign that leads to the Cub Lake trailhead. Parking can be tight here, so you also have the option to catch the RMNP hiker's shuttle from the Shuttle Parking Lot. Or if you are staying in the nearby campground, the shuttle picks up right outside the entrance.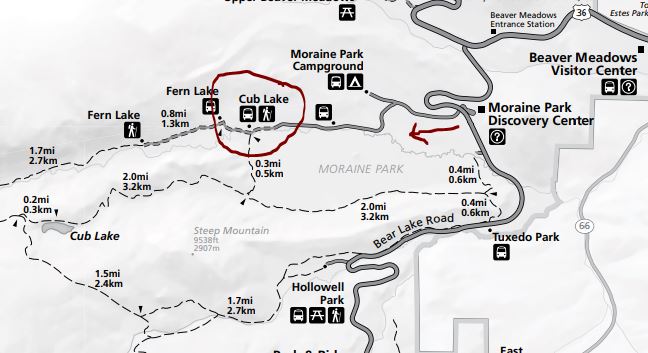 The hike to Cub Lake starts at a short wooden bridge that crosses The Big Thompson River adjacent to the trailhead parking lot. We stopped to watch a couple fly fishing off the bridge and I could feel Brad's itch to join the fun.
The first mile or so of the hike is a very easy flat trail, following the edge of a grassy prairie. Not far off you will see several beaver ponds. We had been told that the beaver ponds attract a variety of wildlife. We were gifted with the site of a moose munching away in one of the ponds on our return.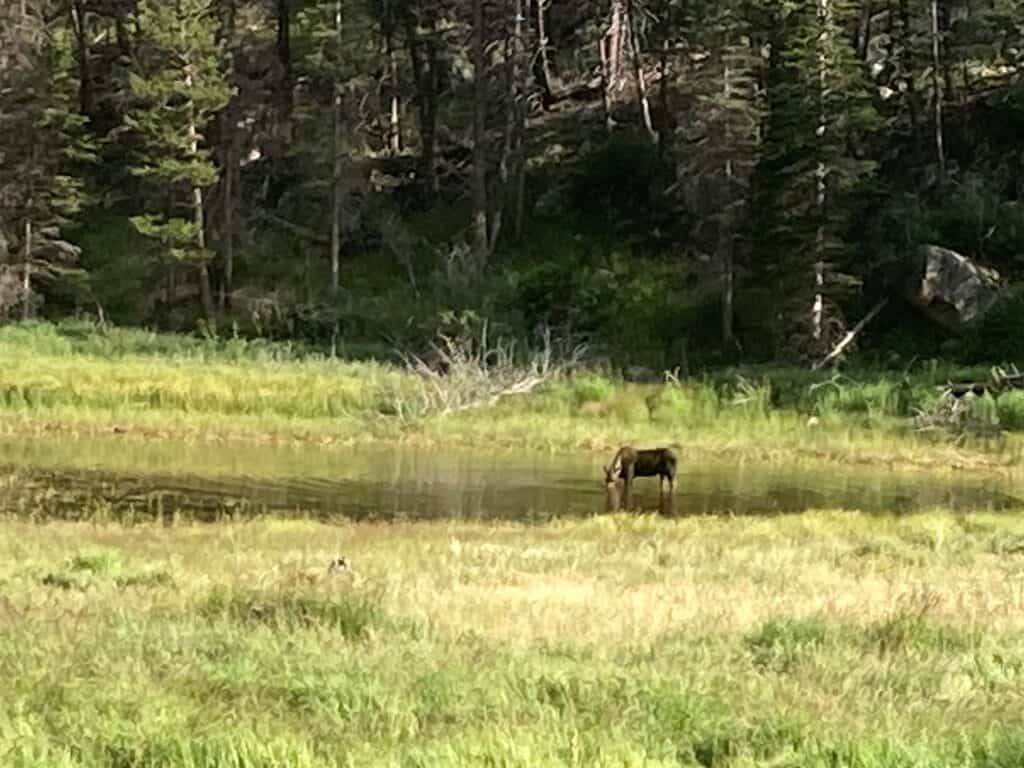 After the first mile we saw signs of the damage done by the 2012 Fern Lake Fire (see note at bottom about the fire). Walking through this area that was devastated by fire just 8 years ago is a testament to natures ability to heal itself if given time. New growth is pushing through, shading the trail and creating a beautiful new world. We stopped about ½ way to Cub Lake to eat our lunch next to one of the beaver ponds. It was very relaxing, sitting on boulders and watching a family of ducks cruise the lake.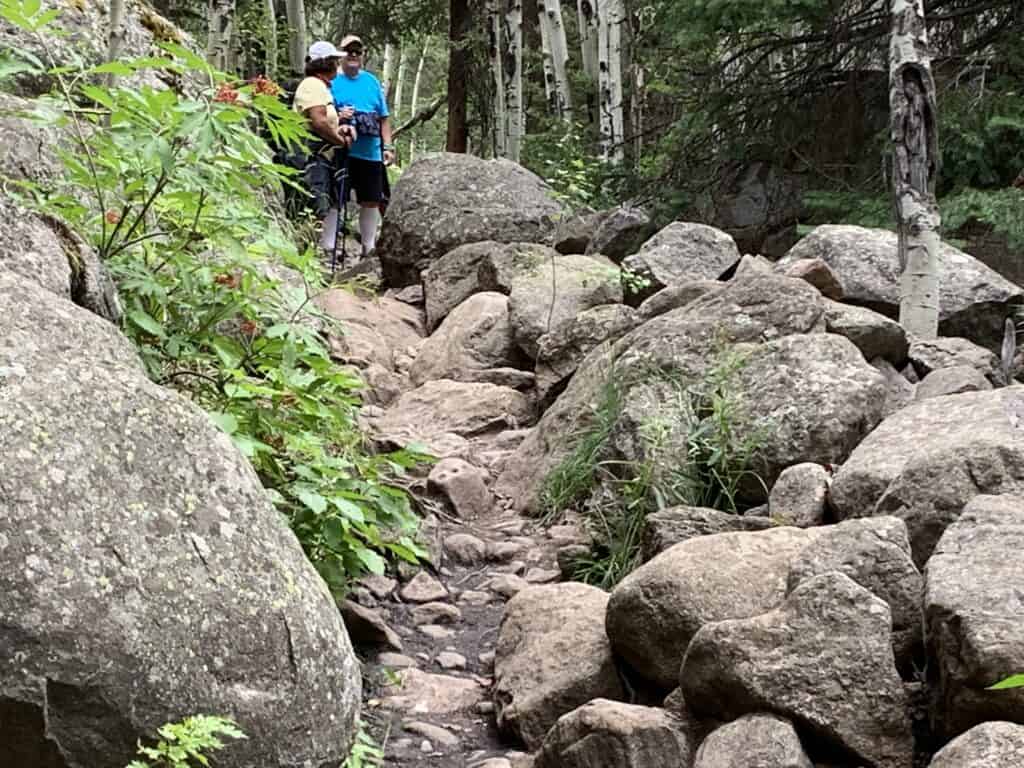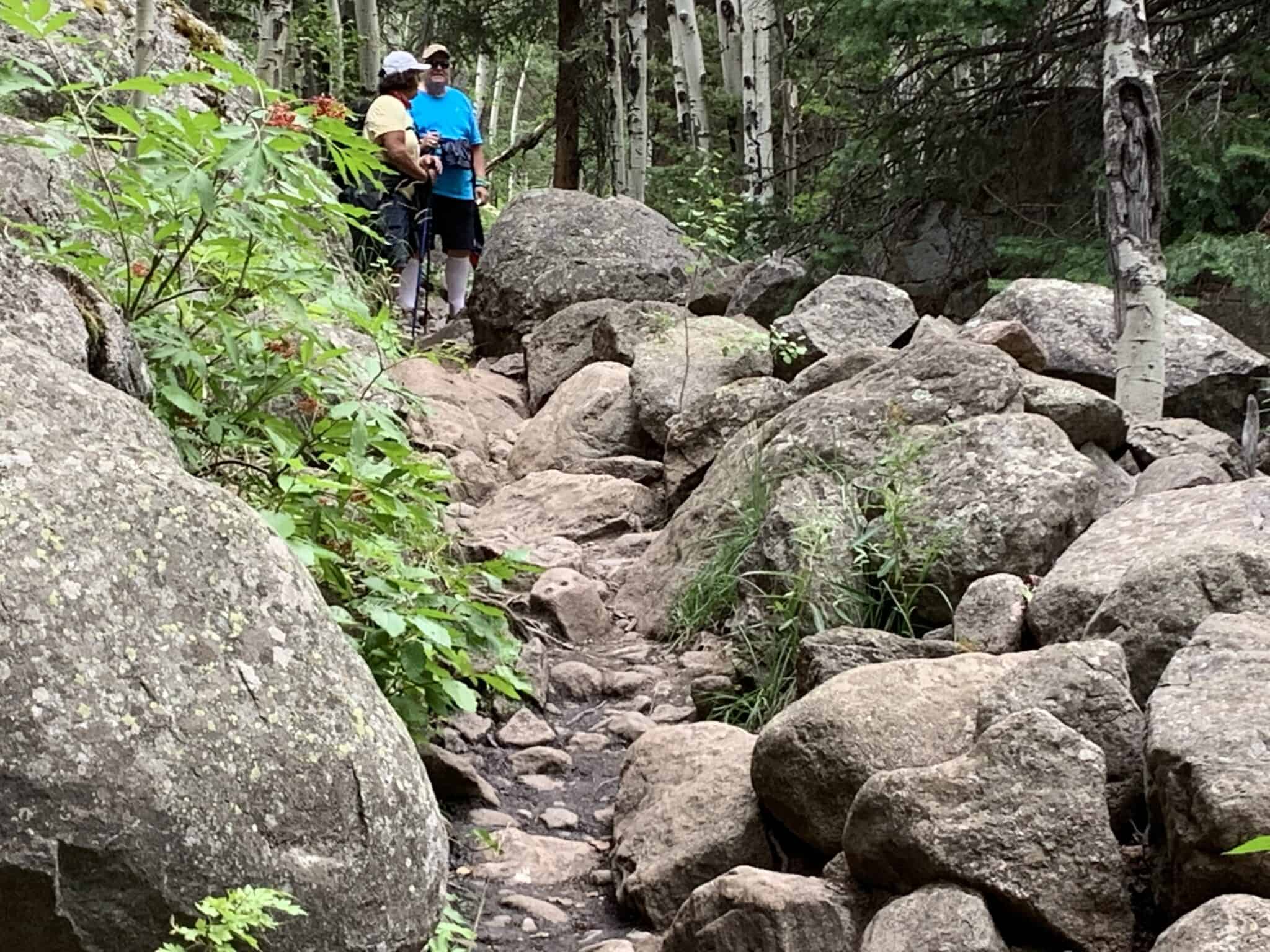 The Difficult Middle Section Hiking to Cub Lake
Shortly after that we hit some tough hiking, the trail was suddenly steep and rocky. Here the trail rises about 500 feet in elevation in less than a mile. Generally that difficulty level would not be enough to be concerned, but a storm was also brewing and we were concerned that the steep rocky section might become very slick upon our return. So we hustled our step to make it to Cub Lake before the rain hit. We were also motivated by returning hikers who repeatedly shared that there was a large moose enjoying the lake and "posing" for photos.
Of course we had to stop and laugh as a marmot decided to entertain us from his rock perch. Brad caught him on video and then we moved on to look for the photogenic moose.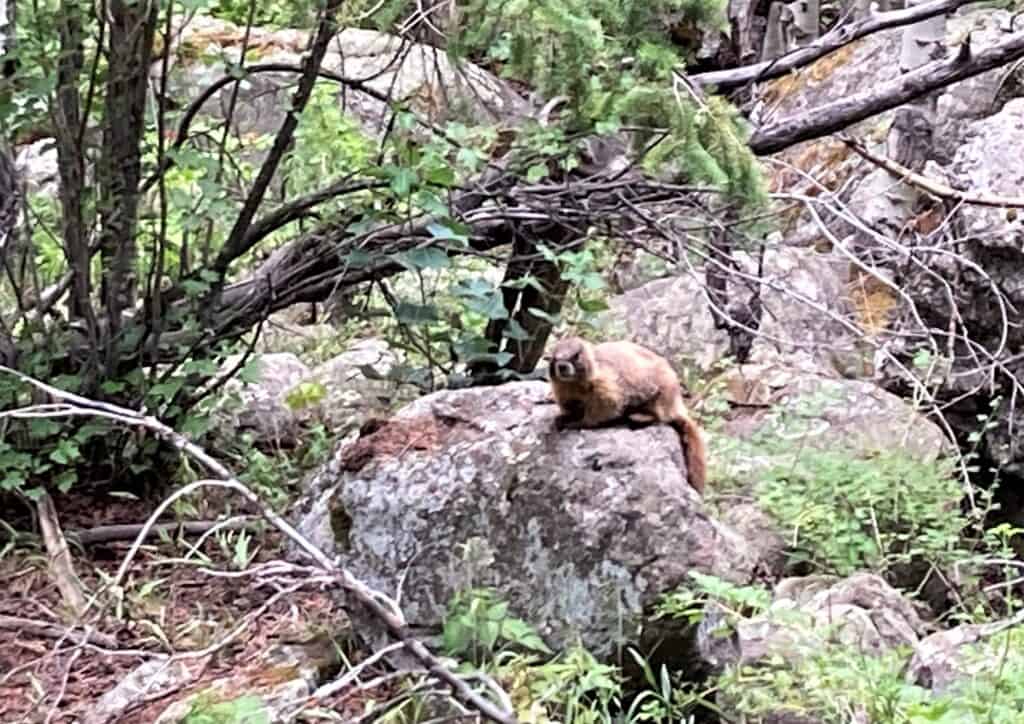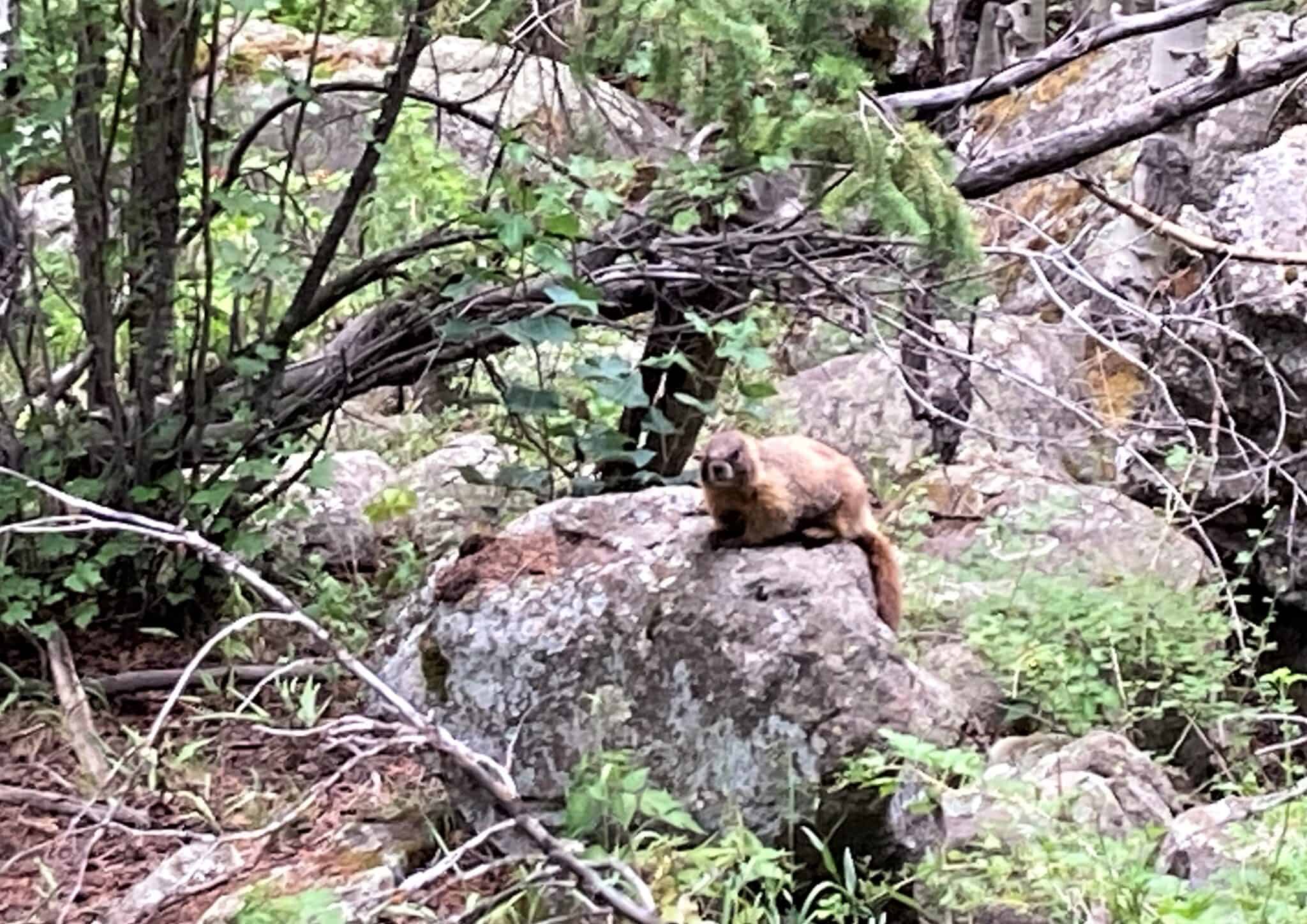 Beautiful Cub Lake Rocky Mountain National Park
Our arrival at Cub Lake was another one of my famous wildlife "butt shots". We could see the now popular moose at the end of the lake moving toward the far corner shore. He quickly moved out of our site. Brad, determined to get a closer view, took off down the trail while we relaxed near the lake.
Brad wandered on down the trail which starts to rise again as it connect to The Pool trail. He missed the moose which disappeared into the undergrowth, but did meet up with a hiker who had just encountered a black bear on the trail. Knowing I was waiting for him, he resisted the urge to go check out that black bear sighting!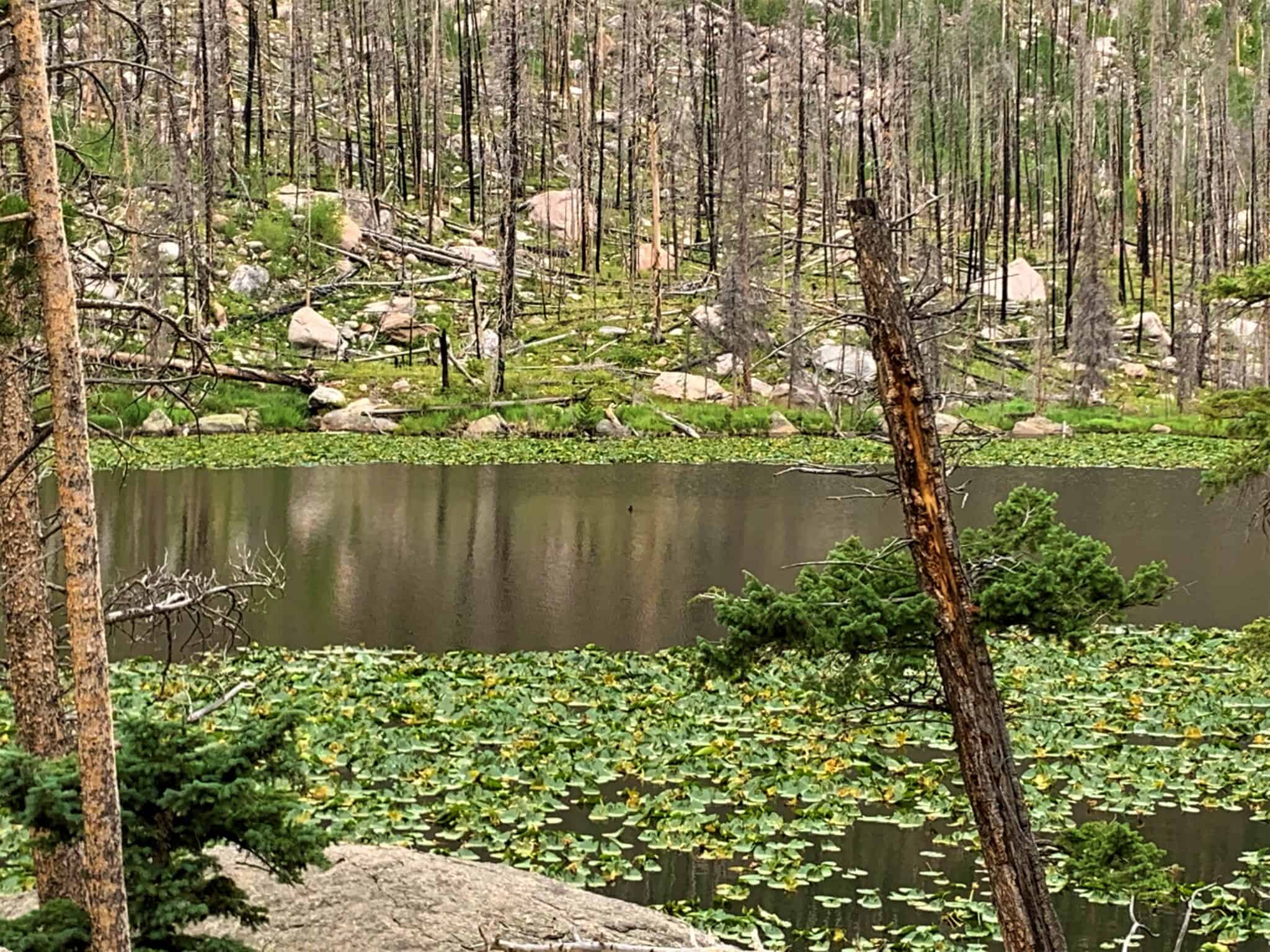 Meanwhile I got some great shots of the lily pad covered lake. It's quite amazing how dense the lily pads are in this remote spot.
And then the rain started. Actually it was sleet and pea sized hail for a few minutes. It was a warm day so it was pretty exciting to encounter hail as we returned. And then just as many mountain storms do, the sun popped back out for a beautiful, wildflower filled hike back. It was a good reminder to always be prepared for hiking in the rain when in the mountains where it rains most afternoons.
---
For more of our favorite Rocky Mountain National Park hikes check out these posts:
  🥾 Hiking Sky Pond Trail: The Best Hike in Rocky Mountain National Park
  🥾 Find Three Times the Beauty When you Hike to Ouzel Falls
🥾 Where and How to See Elk In RMNP
---
There are many Alternate Trails to Cub Lake
We followed the simple in and out trail to Cub Lake. The signs all say it's 2.3 miles each way, but my sister's Apple Watch clocked it closer to 3 miles. What makes this hike interesting is that you can take a variety of other trails to reach Cub Lake.
The most popular hike is the Cub Lake, The Pool and Fern Lake Loop. Officially a 6 mile loop, it's really only a little longer than going straight in and out to Cub Lake. You'll also have the pleasure of viewing the Windy Gulch Cascades, one of RMNP's favorite waterfalls. The two trailheads are close together so it's easy to return to your car. Or add another 2.2 miles and you can pop on over to Fern Lake.
You can also hike to Cub Lake from Hollowell Park (3.4 mi one way) or from Bierstadt Lake (4.3 mi one way from trailhead).
And as you can see from the map, there are a wide variety of loops you can create by using the RMNP Hiker's shuttle to take you back to your parked vehicle.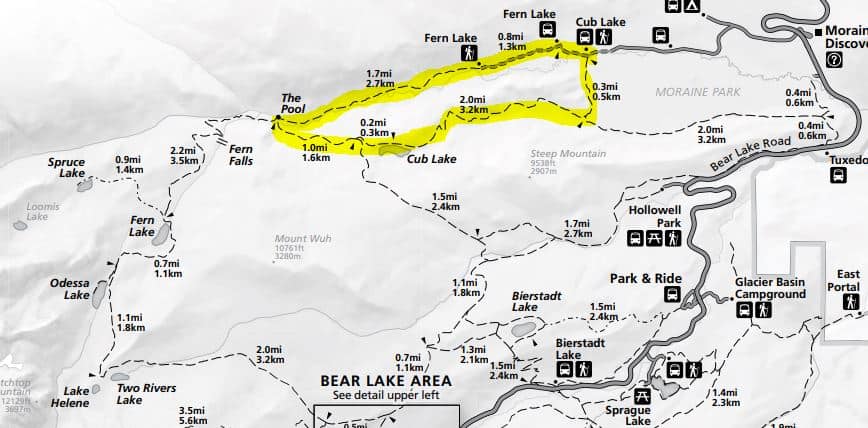 About Rocky Mountain National Park's Hikers Shuttle
Running May through October, the hiker's shuttle in Rocky Mountain National Park make getting around the Bear Lake Corridor so much easier than trying to drive. We've found it hassle free and very easy to use. The Cub Lake Trailhead is on the Moraine Park route. If you are completing a loop from Bear Lake or Bierstadt Lake you will need to change shuttles at the Park and Ride lot, but the wait isn't usually very long. A small army of volunteers keep the traffic moving and load the shuttles at high speed.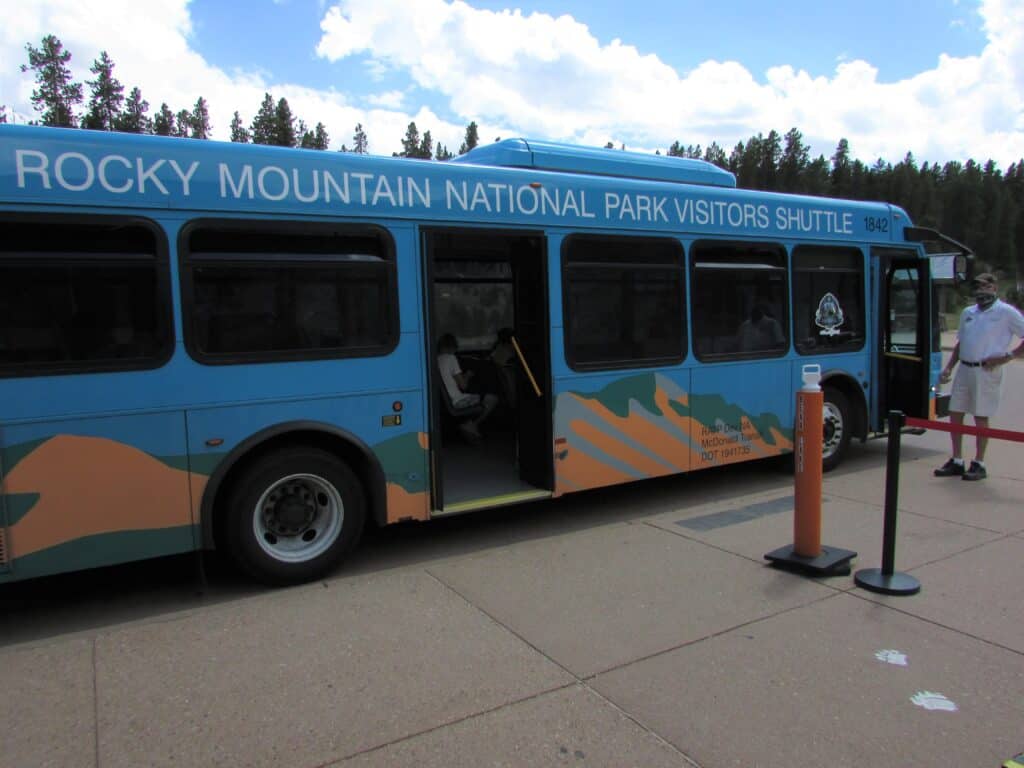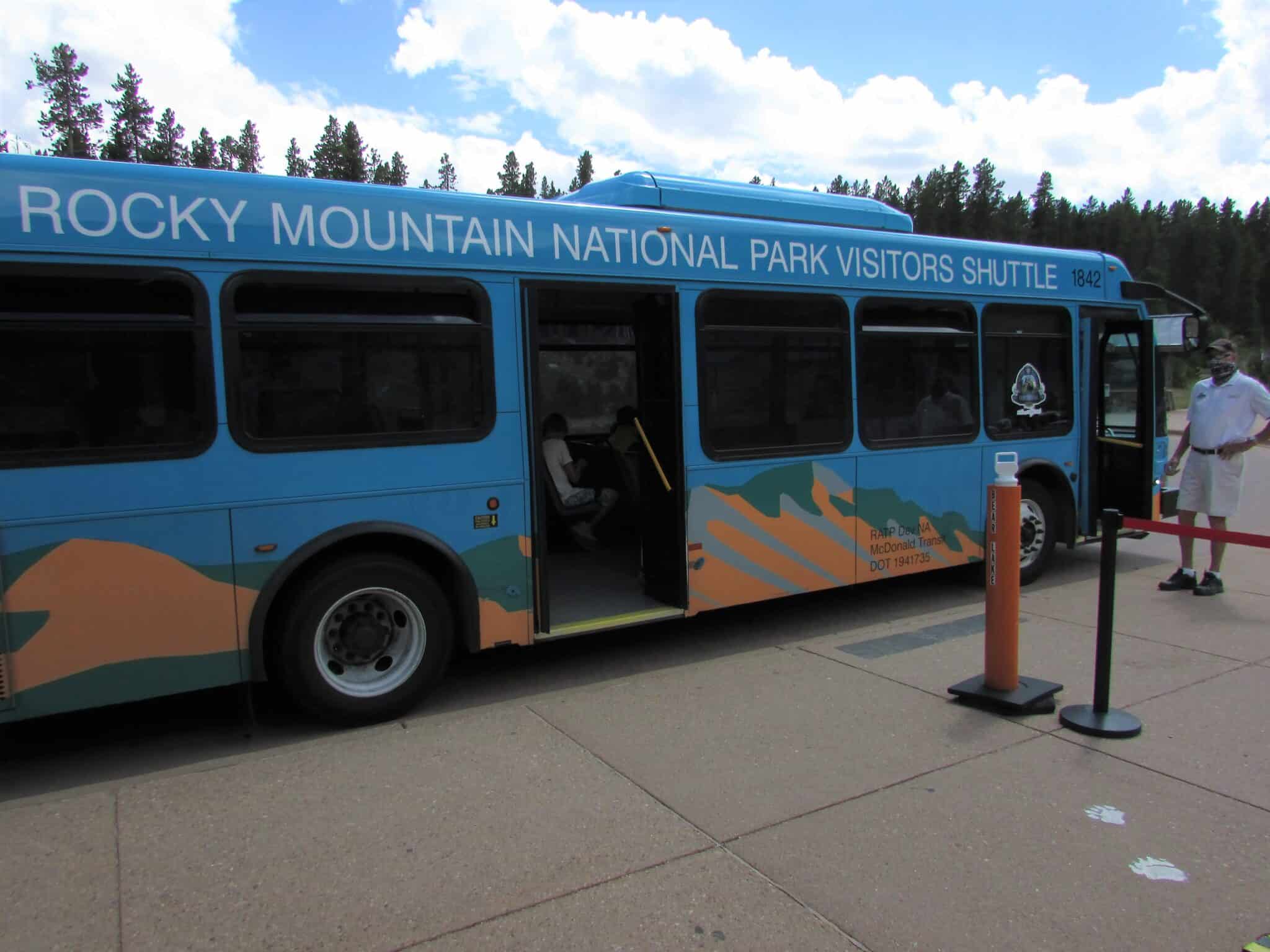 About the Fern Lake Fire in Rocky Mountain National Park
Starting in October of 2012 near The Pool, the Fern Lake Fire was fought by firefighters for almost 2 months before high winds caused it to spread fast and furiously through Moraine Park and across Bear Road. In the end over 3,500 acres were burnt in a section of Rocky Mountain National Park untouched by fire for over 800 years.
This fire started with a simple illegal campfire. The severe drought in the park in 2012, combined with extensive damage from the mountain pine beetle made managing the fire in the steep canyon extremely difficult. I'm amazed that even though heavy snow falls smothered much of the fire in December, it continued to smolder into June of 2013.
Hiking Tips For Cub Lake Rocky Mountain National Park
Bring layers, including a light raincoat. When afternoon storms blow in you'll be glad to have a little protection. It got pretty cold for a few minutes when hail hit us in the afternoon.
Walking poles were very helpful when we hit that rocky middle section.
The trail splits off to other destinations several times so it would be helpful to have a map.
Bring plenty of food and water – You will burn some calories on this hike.
If you take the shuttle, make sure you know the last run time so you can head back on time. The lake is so beautiful you'll be tempted to hang out for a while.
For a complete list of what to take on a long day hike like this check out this post about the Day Hike Packing List Essentials.
Rocky Mountain National Park's Cub Lake Trail is one of those hikes you'll want to check out more than once. Explore the alternate routes and you will find something different to love about this trail each time.
---
Looking for other things to do in Rocky Mountain National Park? Here are our top articles about the park:
And Here are our Favorite Day Hikes you'll want to Check Out if you Love Cub Lake:
Don't Let the Planning Overwhelm You!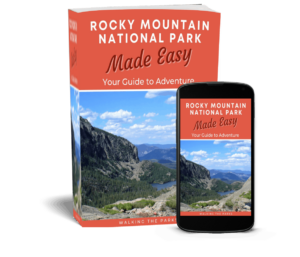 Plan your perfect trip to Rocky Mountain National Park!
Check out our complete digital Guide to Rocky Mountain National Park. This is written specifically for the first time visitor to make your trip planning easy! Over 90 pages of things to do and see on your adventure. Plus get pro tips for planning your adventure.
Start planning immediately with Digital Download!
---