Without a doubt, Old Faithful is the most popular spot in Yellowstone National Park. But what most first time visitors don't realize is that this area around Old Faithful can fill a whole day of your Yellowstone itinerary because there are so many things to do near Old Faithful.
Let's take a look at 7 fun things to do in Yellowstone, just in the Old Faithful area.
#1 Visit Old Faithful Inn
Don't let the lack of a reservation stop you from enjoying this amazing national historic landmark. True, it is difficult to book a room at the very popular Old Faithful Inn without planning at least a year ahead. However, visitors are welcome to lounge in the lobby and wander through the gift shop, restaurant and lounge.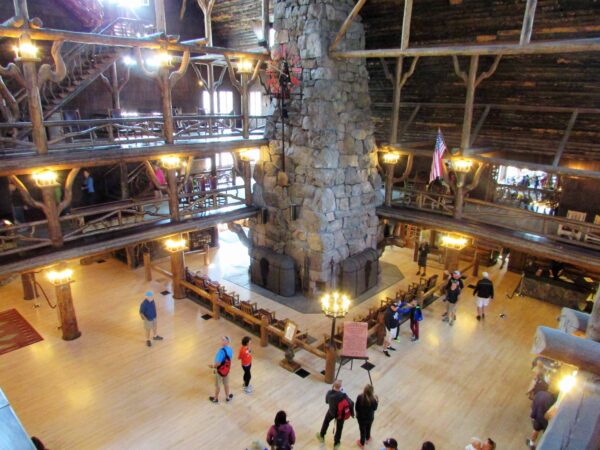 The Old Faithful Inn in Yellowstone, which opened in 1904, took advantage of local logs and stone to create a beautiful lodge for park guests. We were intrigued by the use of naturally crooked logs to create many of the features in the lodge, for example, the handrail for these stairs.
The most prominent feature is the massive stone fireplace that towers over the lobby. According to the Park Service's history of the lodge, some of the furniture in the lobby is from the original opening.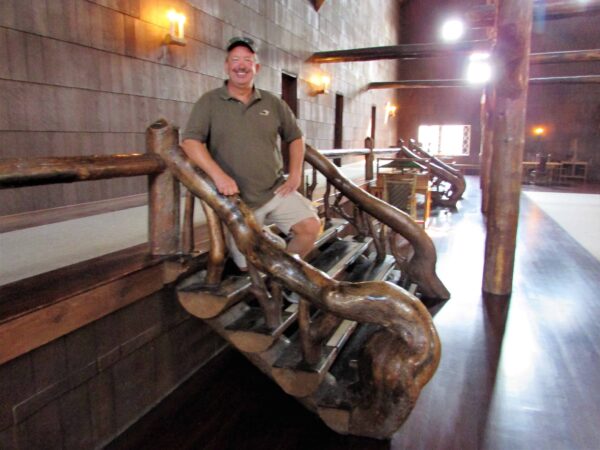 You can find a clock in the lobby indicating the best estimate of the time of the next "show". We found ourselves relaxing on the upper deck of the Inn while waiting for the next Old Faithful eruption.
#2 Learn About the Geology of Yellowstone at the Old Faithful Visitor Center
When you think "National Park" the tendency is to jump to images of mountains, forests, hiking trails and maybe a bear. So when we planned our trip to Yellowstone I was completely unprepared for the unique environment.
For that reason, I'd strongly suggest that any visit to Yellowstone National Park begin with a stop at the Old Faithful Visitor Center. The exhibits on Yellowstone's hydrothermal features will help you understand the geology of Yellowstone. Learn what's behind the mudpots, the geysers and the hot springs.
The hands-on exhibits in the Young Scientists Room are really designed to engage all ages. Here's a chance to play a little and learn a lot!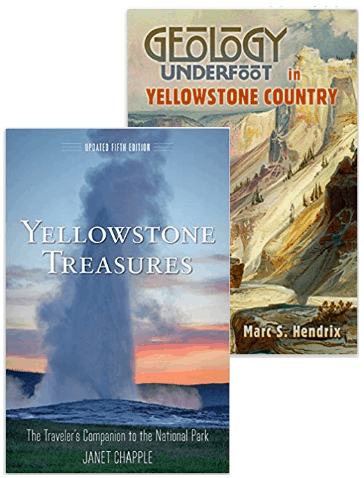 I was lucky to have my science guy in tow. For those of you who don't know Brad is a high school science teacher. Without him I would have missed a lot of the excitement of Yellowstone due to not understanding what I was looking at. So if you don't have a personal science guide with you, you will find your trip to Yellowstone National Park much more interesting if you read up on the science behind all the awesome activity of nature in the park. A couple great choices are Yellowstone Treasures by Janet Chapple and Geology Underfoot by Mark Hendrix.
After a short visit to the Visitor Center you will be even more impressed with the crazy natural activity you observe in Yellowstone.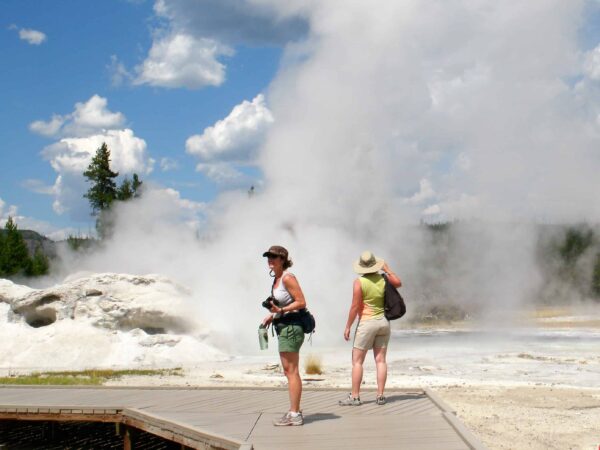 #3 Hike Right Next to Active Geysers
Follow the Boardwalk Trail through the Upper and Lower Geyser Basin to get an up close experience with the start of Yellowstone National Park. The boardwalk allows you to get very close to the activity. In addition to creating a safety barrier for you while hiking, the boardwalk also serves to protect the fragile geothermal crust.
Many of the very active geysers will have signs displayed indicating the best estimate of the next eruption. If you notice a crowd gathering, it's probably a good time to take a break and watch the show! However, eruption time is only estimated based on past behavior and we all know that nature can be fickle.
We watched a crowd gather for Riverside Geyser and an hour later on our return they were still waiting. However, when we arrived at Grotto Geyser it was going full force.
Our advice is to enjoy the walk and not worry too much about viewing any one geyser at any scheduled time. Then, you are almost certain to be surprised by a spectacular show somewhere along the trail.
The trail is set up with several loops so you can determine how long you want to spend exploring the basins. We meandered through the whole area and covered it in about 2 hours. Make sure you take a bottle of water and a hat as you are walking in the full sun.
This boardwalk, at least a portion of it, should be on your must-do list for any visit to Yellowstone National Park.
---
While you're here, check out these related articles: A Surprise Bison Encounter in Yellowstone and 5 Places We Found Solitude in the Overwhelming Crowds in Yellowstone
---
#4 Cruise the Yellowstone Bike Trails
It's so easy to rent a bicycle at Old Faithful Snow Lodge. Follow the Yellowstone bike trails along the Lower Geyser Basin to see several of the park's favorites like Castle Geyser, Grotto Geyser, and Morning Glory Pool. Bicycling in Yellowstone is a great family activity that lets you get close to many interesting geysers.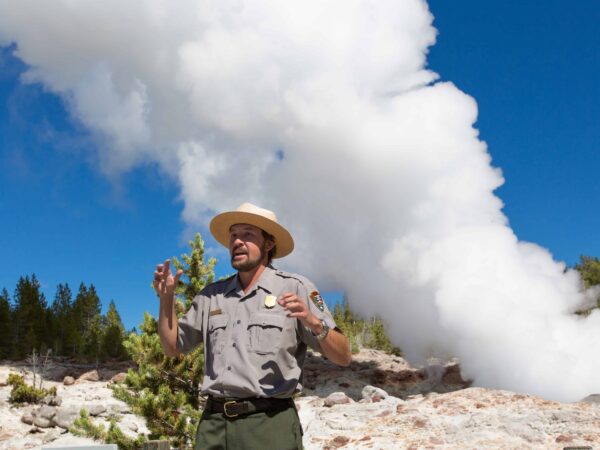 #5 Stop for a Ranger Program
Park Rangers are passionate about their job so stopping for a Ranger Program is always a treat. There are usually ½ dozen different programs that start near the Yellowstone Visitor Center. Learn more about the wildlife in the park, participate in hands-on science activities or take a walk with a ranger as she explains the amazing geysers.
To include a Ranger Program on your list of things to do in Yellowstone make sure to check the current listing of schedules on the NPS website.
#6 Shop a Little, Eat a Little
There are 6 opportunities in the Old Faithful Area to find a perfect souvenir or grab a snack. Most interesting is the Old Faithful Lower Basin General Store. It was built in 1897 and much of the original burlwood is still in place.
In addition to shopping, there are ample places to grab a quick snack or a meal in this area. After watching Old Faithful's amazing show, we popped into the Old Faithful Lodge for an ice cream cone. The lodge sits opposite the Old Faithful Inn with great views of the popular geyser.
There is a second general store in the upper basin area plus all the lodges have restaurants, snack bars and gift shops.
#7 Get Gas
Something you usually don't think about when you go into a National Park is how much gas you will need. Well, Yellowstone National Park is HUGE, so it was a great relief to know we could get gas if needed. A full-service station is on-site in the Old Faithful area. They also will help if you have car trouble.  Maybe not fun… but definitely no fun if you run out of gas!
And that is just a list of the best things to do near Old Faithful! There are so many things to do in Yellowstone National Park that you couldn't possibly fit them into one day of your Yellowstone itinerary.
This park is an adventure of a lifetime. For more ideas grab a copy of Lonely Planet's Yellowstone and Grand Teton National Park. This is one book you'll want to take with you as you explore the park for quick reference.
If you are headed to Yellowstone, don't forget to Pin this to your vacation board. If you have visited Old Faithful, we'd love to hear about your trip in the comments below.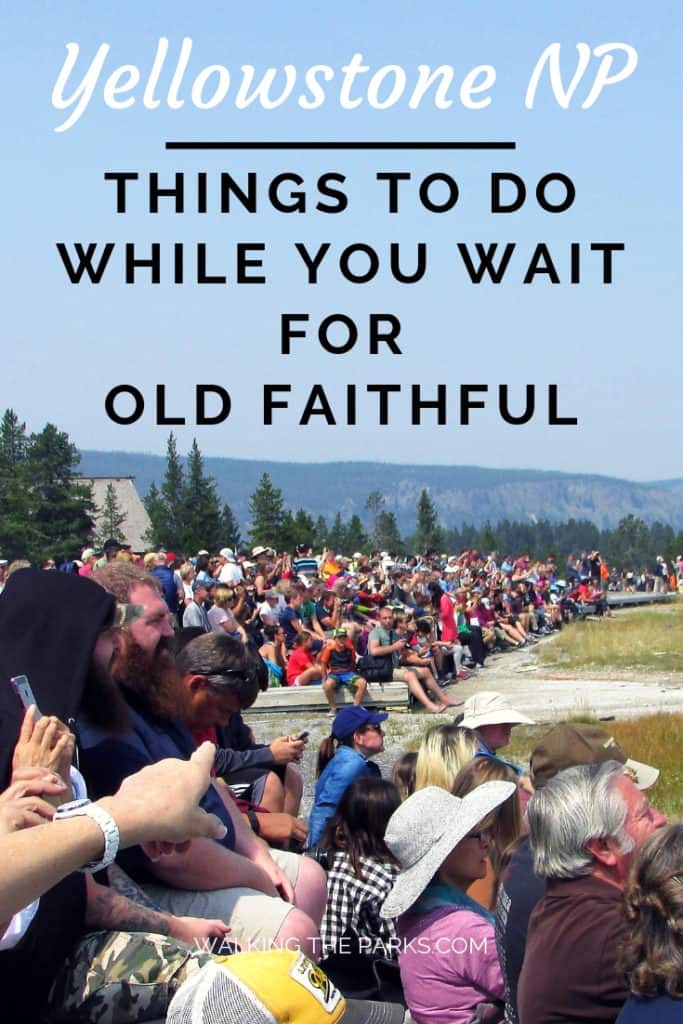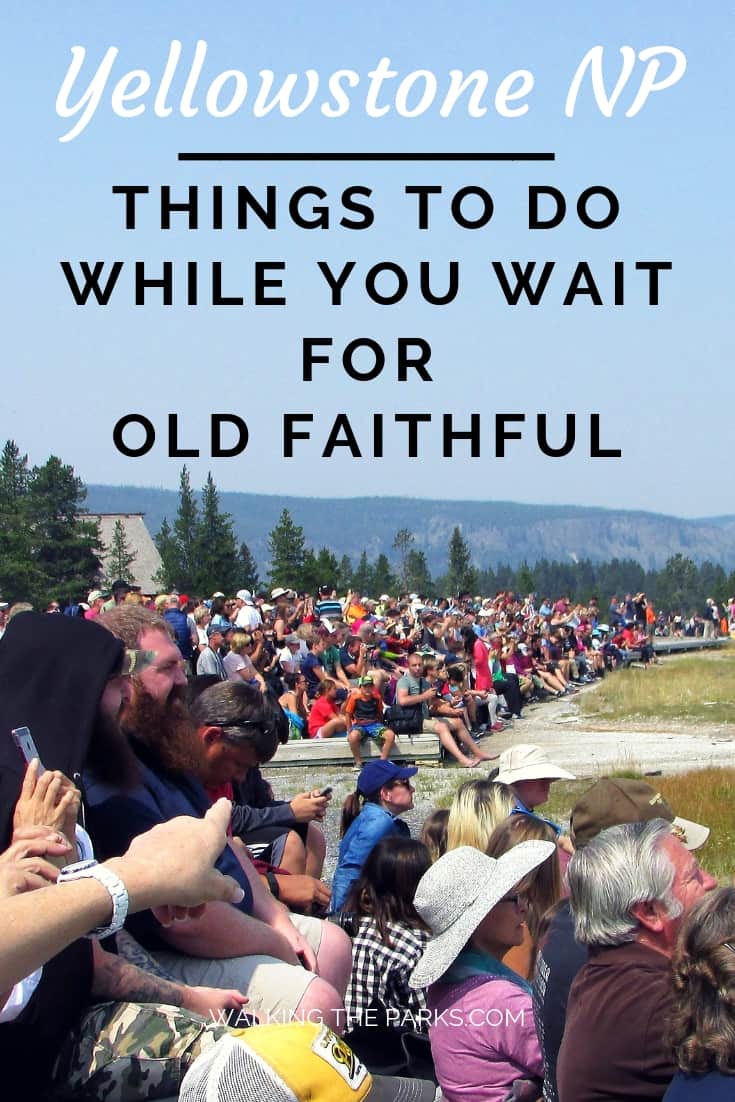 This post contains a couple of affiliate links to make it easier for you to find products I have mentioned. You don't pay any extra and in some cases I could earn a small commission.
---