Yaktrax vs MICROspikes®, which one should you choose for walking on ice and snow in the winter? When it comes to keeping your hiney off the ground in packed snow and icy conditions, there are many choices. Among outdoor enthusiasts, the most talked-about brands are Yaktrax and Kahtoola MICROspikes®. However, there is a big difference depending upon your planned winter activities. Here we compare both in great detail to help you make the best choice for how you play in winter.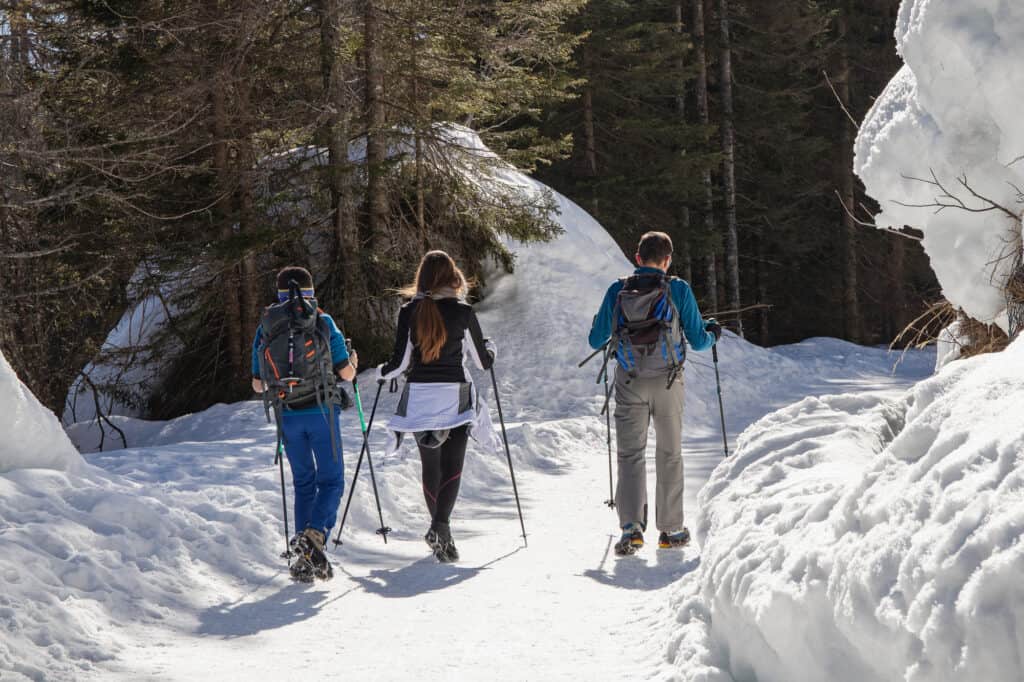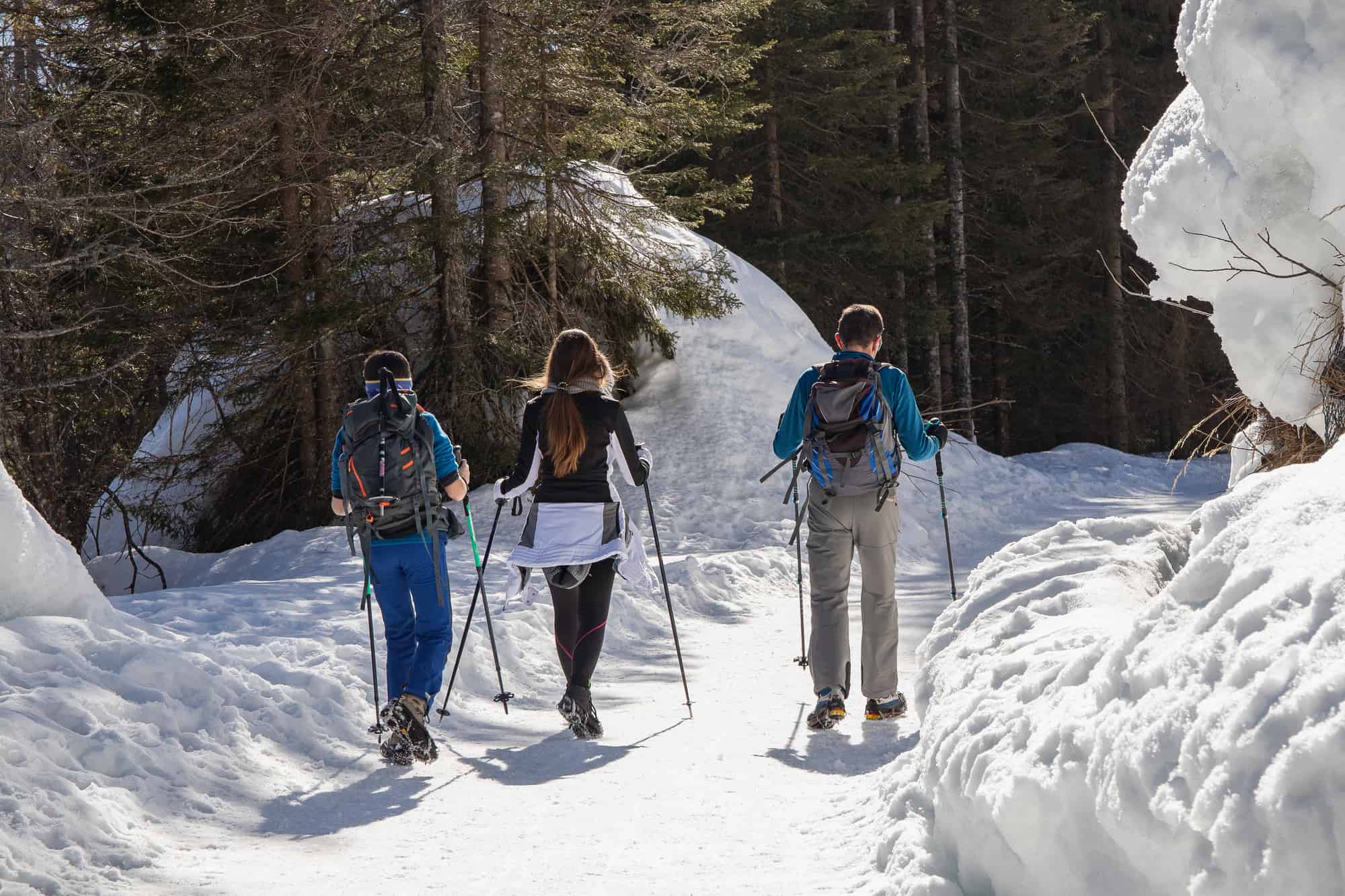 Yaktrax vs MICROspikes®?
The number one question: Which is better for snow and ice: Yaktrax or MICROspikes®?
Well, that's the wrong question!
Unfortunately, many people compare the cheapest Yaktrax with the heavy-duty Kahtoola MICROspikes®. That's comparing apples to bananas.
The Kahtoola MICROspikes®, with 3/8 in stainless steel spikes, are designed for moderate winter conditions like hiking a mountain trail, walking across an icy lake, or traversing a rugged construction site.
The base-level Yaktrax, with a series of heavy-duty coils on your sole, is intended for walking out to get your mail.
To make this an accurate comparison, we compared the hardier Yaktrax Summit designed for the same challenging conditions as the MICROspikes®. Let's deep dive into Yaktrax vs MICROspikes® now! We have included links to where you can purchase the traction devices we mention in this article to help you find exactly what you need. These are usually affiliate links which means we could earn a small commission if you make a purchase.
P.S. Yaktrax is a brand of 12 different styles of winter traction devices. In comparison, MICROspikes® are just one of the 5 types of traction devices made by Kahtoola. A little further down, I'll compare all the Yaktrax and Kahtoola models for each winter condition. Right now, let's focus on moderate winter conditions, the perfect use of microspikes!
Yaktrax Summit compared to Kahtoola MICROspikes®
The best contender to compare to MICROspikes® is the Yaktrax Summit. Both are designed for hiking and working in packed snow and icy conditions. They are effective on steep and rugged trails as well as solid ice. And seriously, both would make a great gift for any hiker.
Both are lightweight, over-the-boot traction devices with metal spikes attached for winter hiking and work. They use a rubber frame that you slip over the toe of your boot then pull the other end over the heel. This frame stretches the 12 spikes across the sole of your foot for stability in packed snow and ice. So what's the difference?
Quick Glace Comparision Yaktrax Summit vs Kahtoola MICROspikes®
YAKTRAX
SUMMIT
KAHTOOLA
MICROspikes®
ACTIVITY USE
Back Country Hiking
Ice
Back Country Hiking
Ice
BEST TERRAIN
Packed Snow
Ice
Moderately Challenging Terrain
Packed Snow
Ice
Moderately Challenging Terrain
CONDITIONS
Ice
Packed Snow
Rocks
Ice
Packed Snow
Rocks
WEIGHT (PER PAIR)
17.0 oz
11-13.5 oz
SPIKE MATERIAL
Carbon Steel
400 Series Stainless Steel
CHAIN MATERIAL
Stainless Steel
Stainless Steel
SPIKE Number
12
12
SPIKE SIZE
3/8 in
3/8 in
COLORS
Blue
Black/Red
FITS SIZES
US M 5-15
US W 6.5-17
US M 5-14
US W 6-12
SECURE FIT
Boa® Closure System, stainless steel cable with tightner
Elastomer Harness with integrated toe bail and raised heel tab
TEMPERATURE RATING
down to -41°F
down to -22°F
At a glance, there appears to be little difference between Yaktrax and MICROspikes®, but if we take a deeper dive, some significant differences will impact your choice.
Activity Use and Terrain
The Yaktrax Summit and the Kahtoola MICROspikes® are designed for hiking, working and walking in some of the most challenging winter conditions. From crossing a frozen lake to hiking mountain trails, either would be an excellent choice to keep you safe. Quick note, neither of these are designed for technical mountaineering or ice climbing; instead, they are for hiking challenging icy trails.
The difference comes in how you personally use your traction devices and what you want in fit and durability. So, let's take a look at those features.
Weight of the Traction Spikes
Weight is significant for 2 reasons. First is if you are carrying the spikes in your backpack, a lighter traction device is always better. The other case where weight is important is if you are on the move all day, that extra weight each time you lift your foot can be tiring.
However, if you are ice fishing or hiking into your hunting spot where you'll be sitting most of the day, a little extra weight is not a big deal.
Winner: Yaktrax Summit – coming in at 1/4 pound lighter is a pretty significant difference.
The Spike Material
The Summit uses carbon steel for its spikes, while MICROspikes® are made of stainless steel. Carbon Steel is stronger and more durable than stainless steel. So you'd think that was a clear winner. However, carbon steel is more susceptible to rusting over time, making it critical that you dry your Summit spikes after each use if you want to get a long life out of them.
In contrast, the spikes in the Kahtoola MICROspikes® are made of stainless steel, which we all know resists rust and corrosion. That's why it's so shiny. That doesn't mean stainless steel spikes are not durable. It is a very strong metal, just not as strong as carbon steel.
Winner: Kahtoola MICROspikes® – It's a tight one since we are comparing the value of strength to durability. But, the win goes to Kahtoola for adventuring out in snow and ice.
After a day out in the cold, I'm not that conscientious and would probably leave my cleats in a damp bag where they could rust. Seriously, I just want a beverage and a fire at that point.
Layout of the Traction Spikes
The layout of the spikes is different between the two winter traction devices, with the spikes providing somewhat different advantages.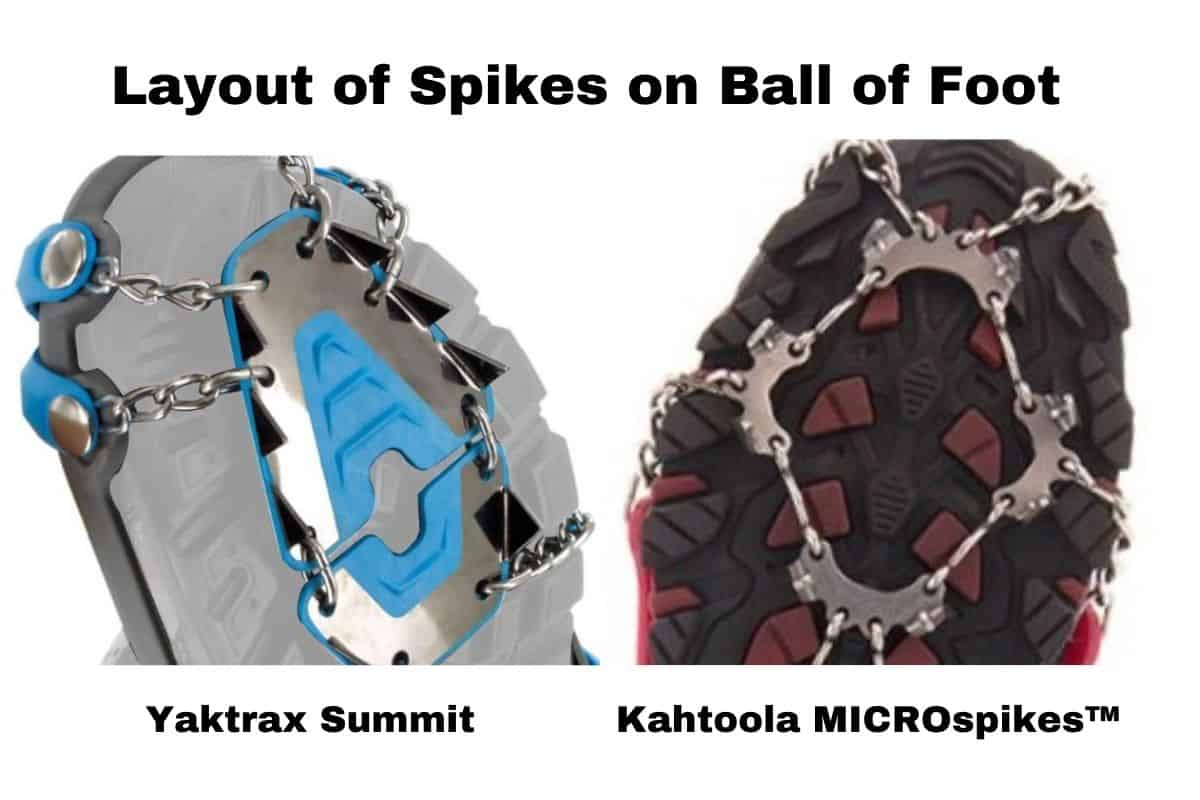 Let's start with the ball of the foot. Both have 8 spikes, 3/8 inch spikes located on the ball. However, the Yaktrax Summit has spikes laid out in a triangle shape that provides aggressive traction when hiking a hill. They will dig in and keep your hiking boots steady with your forward motion.
In contrast, Kahtoola MICROspikes® place their stainless steel spikes in a fixed 2×4 circular layout connected by stainless steel chains under the ball of the foot. This pattern gives an even grip in all directions, making it a superior choice for icy surfaces.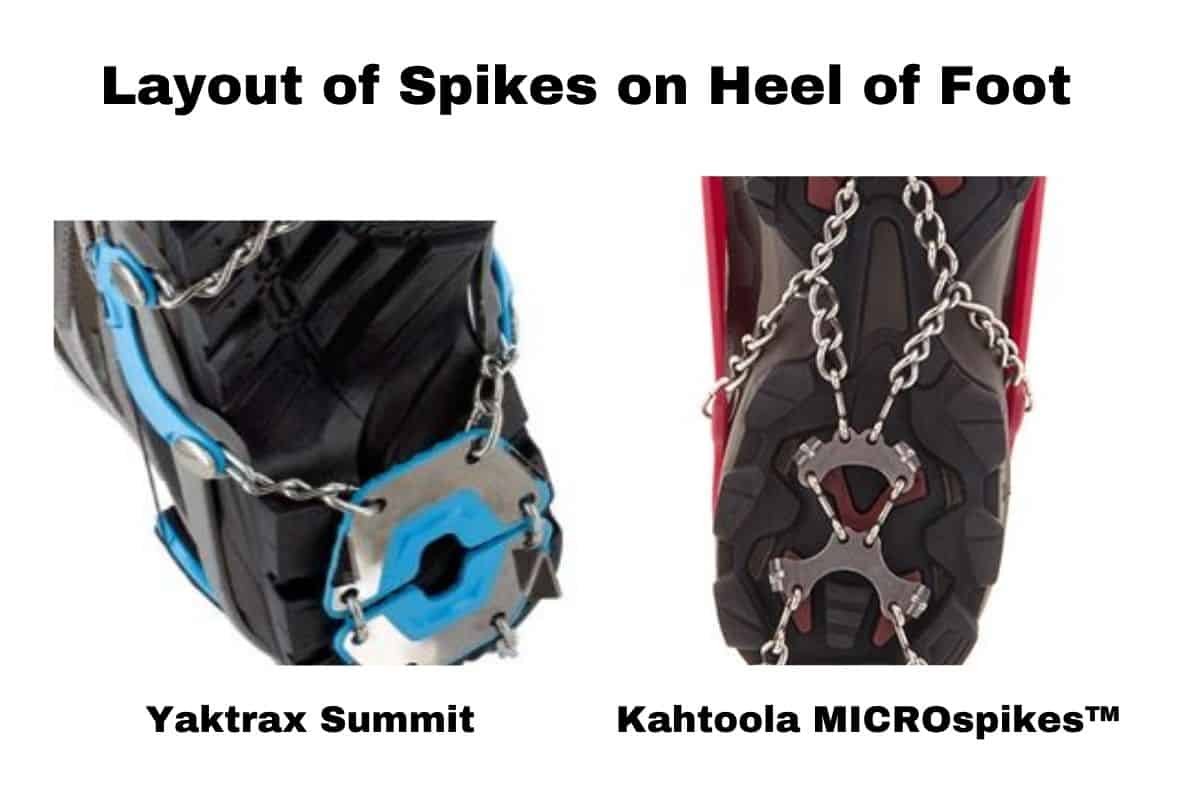 Now let's look at the heel, where both cleats have 4 spikes in a circle. A minor difference is the Summit's spikes are closer to the edge of the heel, while the MICROspikes® are closer to the center.
The layout behind the heel provides even stability when your heel strikes the ground, which is very helpful for walking on ice or for winter hiking. In this comparison, the heel doesn't seem to make much difference in overall traction.
Winner: In this case, it depends upon how you play!
If you do a lot of non-technical mountain hiking where you are going up and down inclines, we choose the Yaktrax Summit – Because we feel the Summit is a little bit better for digging in when hiking up a hill and stabilizing foot on uneven terrain.
If you play or work primarily on flatter surfaces, like hiking forest trails, crossing lakes, or even construction sites, the Kahoola MICROspikes® would be our top choice because it holds better multi-directionally.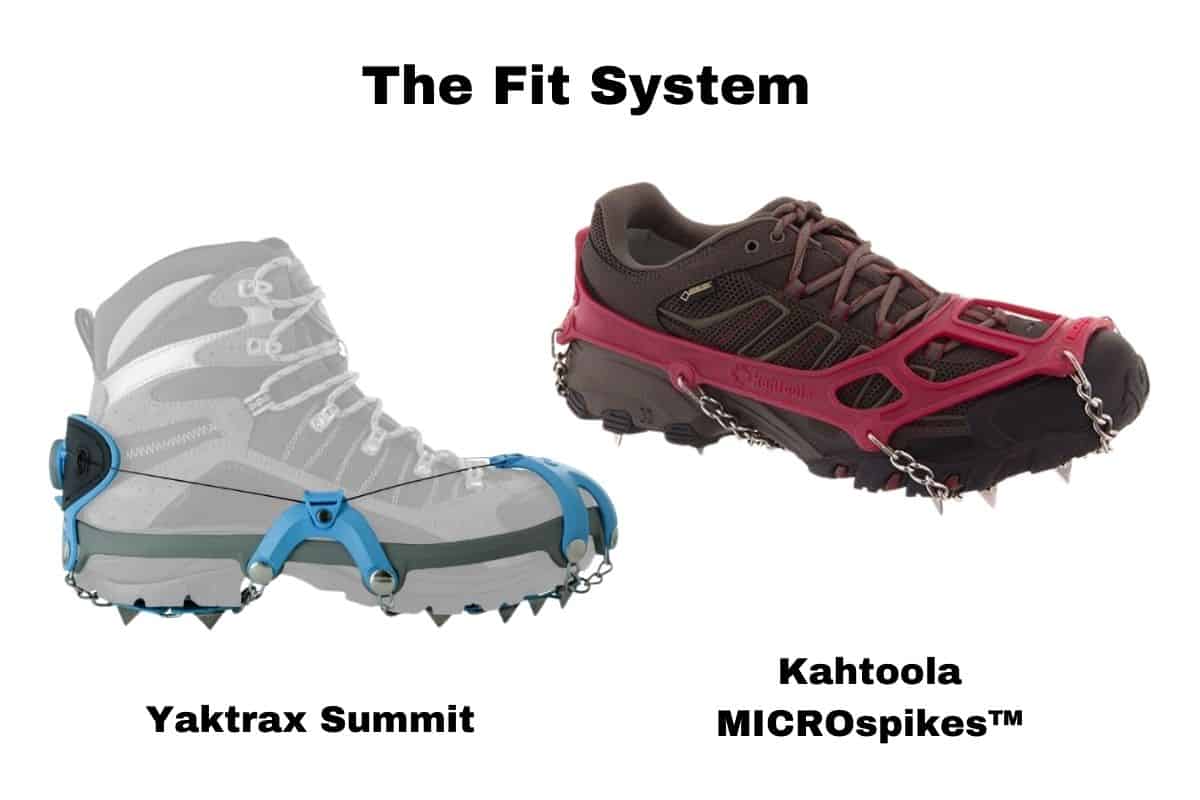 The Fit System
The fit systems of the Yaktrax Summit and Kahtoola MICROspikes® are very different. When you are looking at the fit of a traction device, you need 3 things:
Easy to put on and take off
Adjustable to different size hiking boots and shoes
No slippage when in use
So let's take a look at each of these systems and see which works better for you.
The Kahtoola MICROspikes® uses a rubber frame called the elastomer harness that you slip over your boot's toe and then pull up over your heel. This design is familiar in many traction devices and is effective for a versatile fit. The toe bail, the rubber over the top of your boots, is wide enough to provide a snug fit.
You'll also notice that the MICROspikes® have a generous pull tab at the heel to make it easy to stretch the spike frame over your foot. The proprietary eyelet design where tough TPU inserts strengthen critical stress points allows the elastomer harness to be lighter and more durable.
Overall, the MICROspikes® will fit snug with minimal front-to-back slippage. However, side-to-side slipping is possible if walking on awkward or rough terrain.
The Yaktrax Summit has a fit system completely different from other traction devices. They use the patented Boa Closure System that is used in many high-performance gear. The idea behind it is that you turn the knob at the heel to pull the cables tight. As the cables tighten, they adjust the pull on both the front and side of the Summits. The fit is about as custom as you can get, especially in accomodating a variety of foot and boot widths.
The Boa Closure System has a quick release allowing for easy removal of the cleats at the end of your adventure.
Winner: Kahtoola MICROspikes® – While I love the custom fit of the Summit, especially if you have wider or narrower feet than the average, there are quite a few complaints that the cables break under heavy use. The thought of being in the middle of a long hike and losing your spikes seems risky.
In contrast, the strong elastomer harness of the Kahtoola MICROspikes® is incredibly durable and will last for many seasons of winter hiking and adventure.
The Cost of Each
The Yaktrax Summit runs about $20 more than the Kahtoola MICROspikes®. I suspect the most significant factor in that cost difference is the Boa Closure System because there aren't many other significant variances.
Winner: Kahtoola MICROspikes® since $20 bucks is worth saving!
Our Recommendation Yaktrax vs MICROspikes®
Between the Yaktrax Summit and the Kahtoola Microspikes, we recommend the MICROspikes®. In this case, it is a pretty tough call; you have two very high-quality products that are proven to work in moderately difficult winter environments.
The Kahtoola MICROspikes® win for durability and ease of maintenance which we believe are critical for the casual user of snow traction devices. For most winter hiking conditions, the MICROspikes® will serve you well since they are so versatile.
For steeper terrain, we did mention that the Yaktrax would give superior grip and are the better choice. However, if you plan to do a lot of non-technical mountain terrain hiking, I'd suggest moving up another level to Kahtoola Hiking Crampons for just a few dollars more. They have a longer 3/4 inch spike and are designed to flex with your movement over rough trails.
Comparing All Yaktrax and Kahtoola Traction Devices
As we mentioned at the beginning of this article, many people compare apples to bananas when looking at traction devices. Yaktrax and Kahtoola both have a wide selection of styles, each meant for a different purpose.
Here's a quick chart to help you see which model from each brand is best used under different winter conditions. It's probably the most helpful chart on the whole page if you want the best traction device for your specific winter activities!
Yaktrax vs Kahtoola Comparison Chart by Winter Activity
Our Overall Favorite Traction Device is the Yaktrax Pro
Even though our top choice for moderate winter activities with the Kahtoola Microspikes, let it be known that we use our Yaktrax Walk and the Yaktrax Pro more than any other traction device. That's because they are the best for light winter activities, which is what we do most! They are very inexpensive so it's easy to have extra pairs for guests too.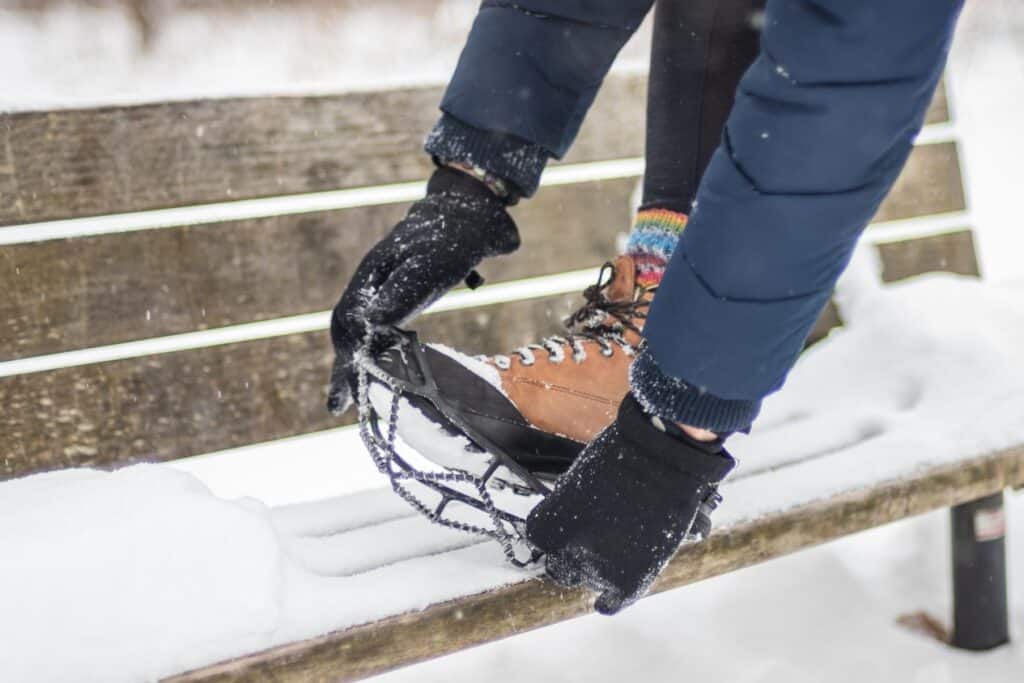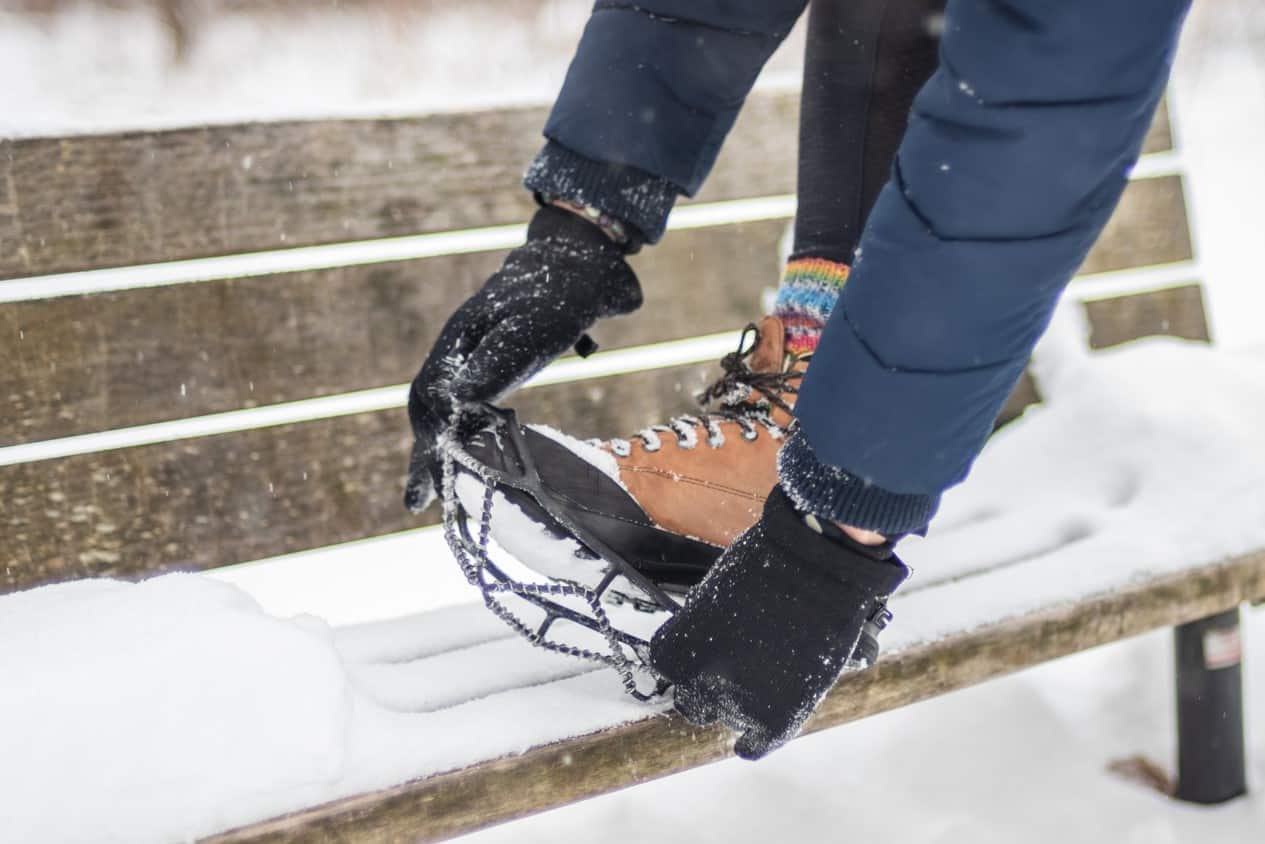 We use them to clear the drive or walk to the mailbox. They are good for walking on our lake when it is slushy wet snow over ice, which is more common for us than hard clear ice. Because they are lightweight, they are easy to tuck into our backpack emergency gear. And I keep a pair in my trunk all winter.
---
Winter hiking presents unique challenges in planning your wardrobe for warmth and safety. Check out our complete guide to What to Wear When Hiking in Cold Weather to learn the art of layering your clothes for winter backpacking.
---
FAQs about Selecting a Traction Device
OK, so let's wrap up with some of the common questions people have about winter traction devices for traversing snow and ice.
How Do You Select the Correct Size of Traction Device
Traction devices are designed to be adjustable to accommodate a range of boot sizes and styles. Just check the sizing chart to ensure you are selecting the size that matches your boots.
Keep in mind that if you have heavily insulated winter boots, which would be thicker, and are at the top of a size range, you should move up a size. Conversely, if you are wearing lightweight running shoes and at the bottom of the size range, you should go down a size for a snug fit.
Who Else Makes Traction Devices?
It can be a little confusing when we talk about traction devices. Some people use the MICROspikes® name interchangeably with any traction device that has moderately length spikes or cleats. However, MICROspikes® is a trademarked name by Kahtoola for that specific model. So you'll see many traction devices listed for sale as ice cleats.
Are MICROspikes® and Crampons the Same Thing?
MICROspikes® vs Crampons is a bit complicated. Traction devices are generally called crampons when they have spikes instead of chains or coils in the sole. Crampons originally came about for scaling icy sections of mountains and climbing waterfalls and had long 1-2 inch spikes.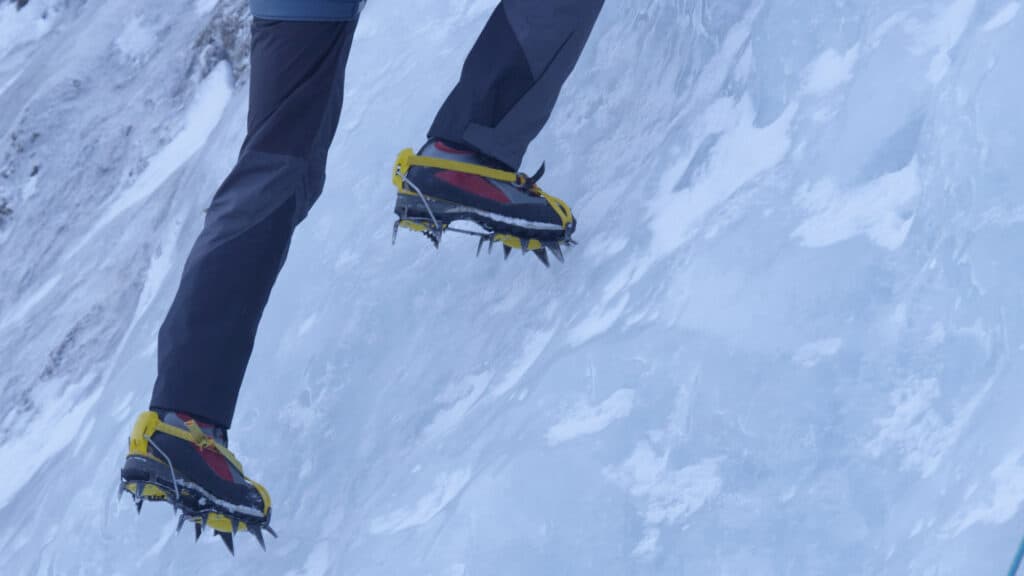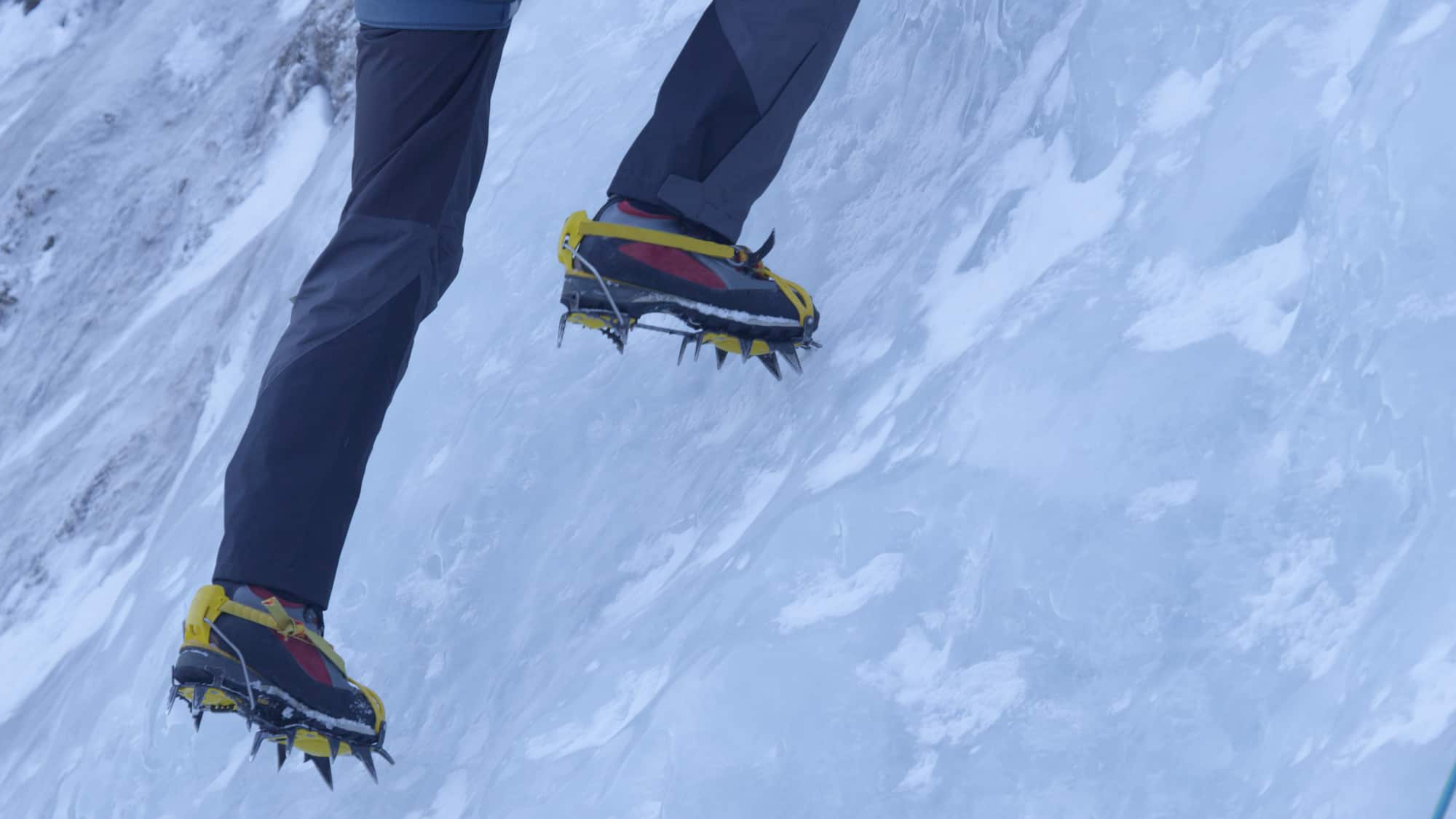 Over time, those traction devices have been adapted with smaller spikes for a variety of winter terrain. And the Kahtoola MICROspikes® are a subset of crampons, with smaller spikes for challenging hiking or work conditions.
Which is the best crampon for Traction When Trail Running
Yaktrax Run and the really grippy Kahtoola NANOspikes are perfect for running on snow and ice-covered trails. The Summit and the MICROspikes® are not the best for running as the longer spikes are more likely to snag in the ice.
That means you could find yourself propelled headfirst onto your running trail if you are moving along at a fast pace. You'll notice the Run and the NANOspikes have a different traction system that doesn't use spikes, making them better for running without snagging.
Which traction devices are Best for Deep Snow?
When hiking in deeper snow, you are often better off with snowshoes that let you walk on top of the snow. Traction devices with spikes are for hiking over hard snow where they can dig in and hold. On soft snow, you would just sink right in.
Which Ice Cleat is Best for Walking on Ice?
For walking on hard thick ice surfaces, as you'd find on a frozen lake, the Yaktrax Diamond Grip is a pretty amazing and unique version of crampons. The base of your foot sits on two rings of diamond-shaped beads that have hundreds of biting edges. For durability and strength, they are made of case-hardened steel alloy and strung on steel aircraft-grade cable.
In Summary
The base Yaktrax, Walk or Pro, and Kahtoola MICROspikes® are two different traction devices that offer many differences for people who need to walk on snow or ice. The price, weight, durability, grip, and longevity differ considerably between the two products.
However, as we've shown, the comparison between Yaktrax Summit and Kahtoola MICROspikes® is worth looking at for moderately challenging winter activities. Although we prefer the Kahtoola MICROspikes®, both are excellent products to keep you safe during winter.