What's the best Leatherman for camping? Seriously, it's whichever one you have in your pocket at the time something breaks. Leatherman does an outstanding job making sure every multitool they develop has all the basic functionality you could possibly need. In this article, we review and compare the features of the best Leathermen for camping so you can select the right one for your unique camping style.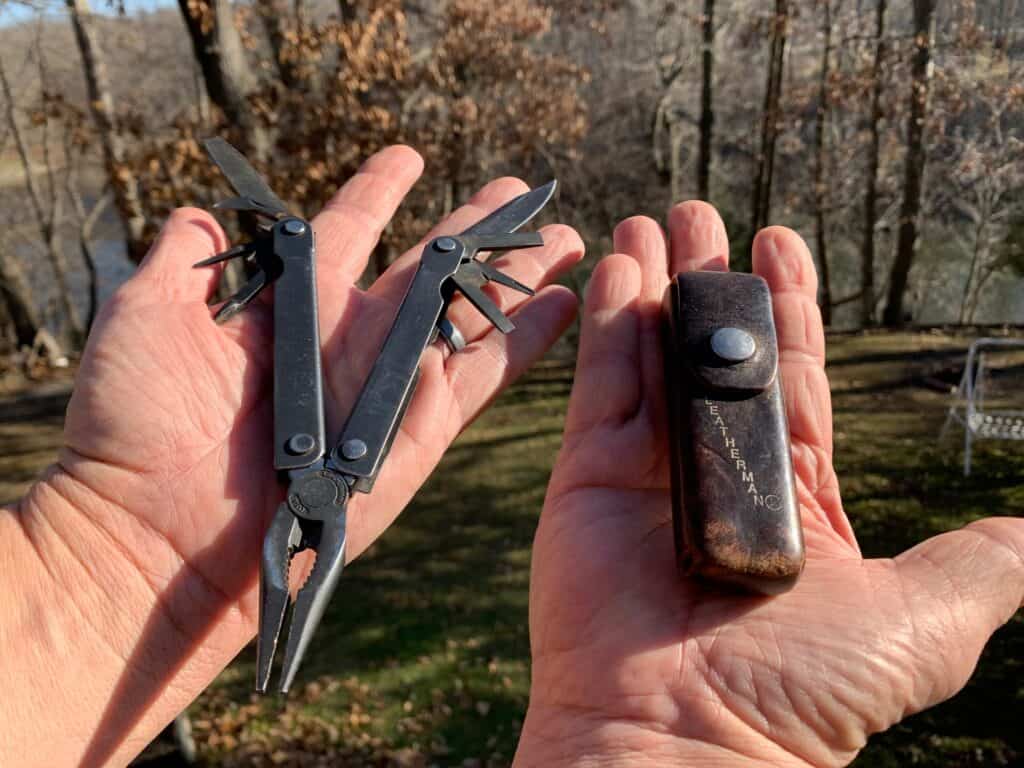 However, the reason they make over 2 dozen different designs is that different activities have different needs. By focusing on what you really need when camping, we'll help you narrow down the long list of Leatherman multitools to find exactly the one that is best for you.
To make it easier for you we've included links to where you can purchase these amazing Leatherman tools. These are affiliate links which means if you make a purchase we could earn a small commission.
 You can't go wrong with this Leatherman Multitool:
If you get to the end of this and still can't decide, head back to Leatherman's Wave Plus. It's the number one seller for a reason. It works for almost every situation. In fact, we can't think of any tool you must have for camping that isn't on the Wave.
Why Leatherman?
Brad has been using his original Leatherman PST for over 35 years. And when I say use it… he pulls it out for everything. This is not a tool that sits in his dresser drawer. It goes fishing, camping, and hiking with him without fail as well as he pulls it out for emergency repairs around the house.
Leatherman is made of high-quality steel so they will last a lifetime, which is backed up with a 25-year no-hassle warranty. All Leatherman are made right in Portland Oregon where the team takes great pride in giving you an amazing product. They test in real-life situations to ensure their tools will hold up against whatever you throw at them.
For more details about what makes Leatherman the premier manufacturer of multitools, pop on down to the bottom of this post where we are going to take a deep dive into the Leatherman story.
Let's get real, you are going to pay top dollar for a Leatherman tool compared to many brands on the market. And this is definitely a case of you getting what you pay for because Leatherman is a top-notch multitool. Each tool is thoughtfully designed with the user in mind. If you are looking for a cheap throwaway tool, you are in the wrong place.
Best Leatherman Multitools For Camping
We couldn't pick just one, because everyone's camping style is a little bit different. Some of you will need more mechanical features while others are just looking for a quick repair and many of you just want to build a campfire. For that reason, we've selected these 5 Leatherman's tools, each for a different reason. And we added in a Leatherman Knife for good measure!
Below you'll find a detailed guide with reviews and comparisons of each of these Leatherman tools. Feel free to use the links above to jump to any one of these Leatherman tools.
Guide to the Best Leatherman Camping Multitools
Leatherman Signal – Designed with Outdoor Adventure in Mind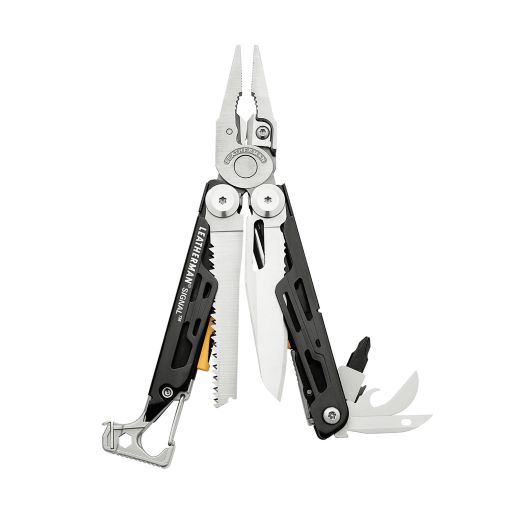 SPECIFICATIONS
Weight: 7.5oz
Closed Length: 4.5"
Primary Blade Length: 2.73"
Knife Material: 420HC Stainless Steel
Number of Tools: 19
The Leatherman Signal stands apart from your traditional multitools in the way it has been specifically designed to incorporate the tools you need most for camping. Overall this is a pretty cool tool for camping and our top recommendation for the best camping multitool.
Of course, you'll find all the traditional tools like pliers, knife blades, screwdrivers, and wire cutters. In addition, with your outdoor adventure in mind, there is a sturdy saw blade, fire starter, and emergency whistle. It has a built-in and easily accessible carabiner clip for hooking on your pack or belt loop.
One end has a heavy-duty flat edge, perfect for hammering in tent stakes. And don't forget the bottle opener and can opener that you'll want handy when you are ready to relax for the evening! (You'll find the full list of all included tools at end of this article)
Wave vs Signal
The Leatherman Wave, described below, is the top-selling multitool and is perfect for almost any job out there. However you'll love that the Signal has incorporated extra tools specifically for camping and backpacking that are missing in the Wave.
The only tool tradeoff that we think might matter to you for camping is the knife blade if you love woodworking while out in the wild. The Signal has a combined serrated and flat knife blade whereas on the Wave they are two separate knife blades.
What you may not like about the Signal
The Signal is well designed for outdoor activity, not for home improvements or car repair. Yes, it will work for all of the above in a pinch.
But if you are only going to own one tool that needs to do absolutely everything then you are better off with the universal multitools below like the Wave. If you are willing to invest in the perfect tool for the job, then without a doubt the Signal will serve you the best on all your camping adventures.
---
Leatherman Wave Plus – Overall Best Leatherman for Camping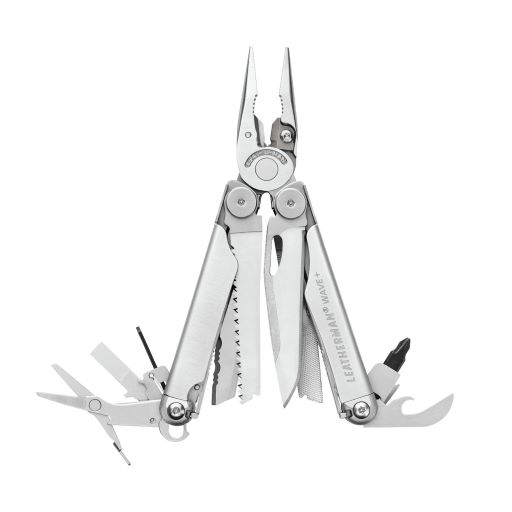 SPECIFICATIONS:
Weight: 8.5oz
Closed Length: 4.0"
Primary Blade Length: 2.9"
Knife Material: 420HC Stainless Steel
Number of Tools: 18
Leatherman Wave Plus is incredibly well organized with the most commonly used tools accessible from the outside… no need to open the pliers. Less used tools are tucked out of the way on the inside of the plier handles.
Every tool, with the exception of the pliers, will lock into place which improves both functionality on hard jobs and your safety since they won't close unexpectedly on your hands. You'll also love the one-handed functionality of most tools. Easy to open and easy to close leaving your other hand free to hold what you are working on in place.
In addition to the most common tools like pliers, screwdrivers, scissors, etc, you'll find several camping critical tools including a saw blade, bottle opener, and can opener. (You'll find the full list of all included tools at end of this article)
What you may not like about the Wave Plus
At just over ½ pound I think most backcountry hikers would agree that is more weight than they'd like to carry on the trail when every ounce counts. However, for general camping, this is our overall top choice for the greatest versatility.
---
Leatherman Charge Plus – For Those Who Love a Great Knife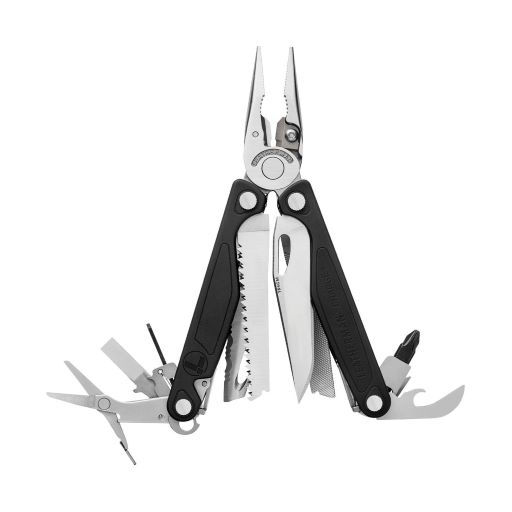 SPECIFICATIONS:
Weight: 8.3oz
Closed Length: 4.0"
Primary Blade Length: 2.9"
Knife Material: 154CM Stainless Steel
Number of Tools: 18
For the average camper, we wouldn't recommend upgrading to the Leatherman Charge Plus because you probably won't notice the differences. But you will notice the difference in price. However, there are a couple of scenarios where it is worth the extra bucks.
The handle is available in stainless steel or titanium for heavy-duty users.
Wave Plus vs Charge Plus
The biggest difference, as it relates to camping, between the Charge Plus and the Wave Plus is in the quality of the steel used in the knife blade. Don't get me wrong, the Wave has an amazingly strong blade that will last the average user a lifetime.
But if you use your knife a lot, then upgrading to the stronger steel blade will pay off in less sharpening time.
Another difference is the Charge plus has a re-engineered plier head that has improved its strength which is important if you are also working on your vehicle when camping. It also comes with an upgraded nylon sheath that has a place to store a pack of interchangeable screwdriver bits if you find yourself using screwdriver tools often. (You'll find the full list of all included tools at end of this article)
---
Leatherman Sidekick – Best Budget Multitool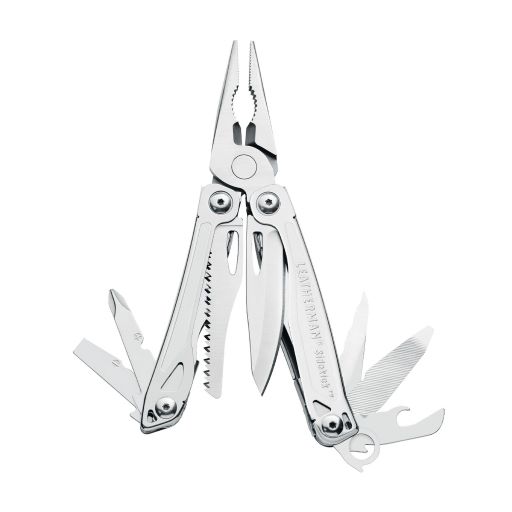 SPECIFICATIONS:
Weight: 7oz
Closed Length: 3.8"
Primary Blade Length: 2.6"
Knife Material: 420HC Stainless Steel
Number of Tools: 14
So maybe the price of the Wave Plus or the Signal caught you off guard. Leatherman has a great alternative multitool at almost ½ the price of the Sidekick. Rather than go to another brand of multitool and likely get an incredibly inferior tool, the Leatherman Sidekick is a great choice for the budget-conscious camper who wants a quality universal multitool.
There are a couple of things we really like about the Leatherman Sidekick over the Wave Plus or Signal.
Obviously the significantly lower price.
Then we like the design of the pocket clip that lets you easily attach the multitool to your belt or backpack. It's easy to remove if you prefer to put it in its nylon belt sheath for easy access.
We also like that it is about 10% smaller and 1.5 ounces lighter which is a big plus if you want to add this to your backpack.
Something to consider about the Sidekick:
Other than the knife blade, the rest of the tools do not lock when extended. To counter, Leatherman has made the individual tools with really solid retention when extended so the likelihood that they will swing closed when in use is slim so probably not a real issue for most campers. (You'll find the full list of all included tools at end of this article)
Wave Plus vs Sidekick
Probably most impactful to camping is the Wave has a Diamond Coated File which would be pretty useful for smoothing out burrs on your axe or sharpening another knife.
The knife is ⅓ inch shorter, but for normal camping, use should be more than enough knife.
Scissors which probably isn't a big deal. For most camping uses, you can cut just as easily with a knife.
The Wave has an 8-inch ruler running the length of the body which can be useful when fishing or repairing something. Whereas the Sidekick has just a 1.5-inch ruler that seems pretty useless for any camping task.
---
Leatherman Surge – The Big Daddy & Best Multitool for RV Campers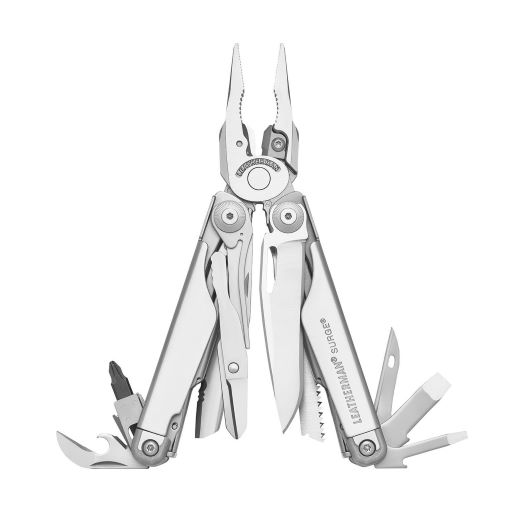 SPECIFICATIONS:
Weight: 12.5oz
Closed Length: 4.5"
Primary Blade Length: 3.1"
Knife Material: 420HC Stainless Steel
Number of Tools: 21
Wave Plus vs Surge:
The Leatherman Surge is a lot like the Wave Plus, only beefier. If you have no need to carry your multitool for hiking then this is the perfect tool for someone camping in an RV or van. The beefier size of the Surge is great for all those "home on the road" repair jobs that sneak up on your when you are on the road.
It's the top choice for guys in maintenance work because of the tool selection and the strength of the multitool.
The design of the tools in the Leatherman Surge is very similar to the Wave Plus, with the most commonly used tools easily accessible on the outside without opening the pliers. You'll find a little more functionality for electrical work. There's also an awl with a thread loop that would be amazing if you needed to repair a tent on the road. (You'll find the full list of all included tools at end of this article)
There's really nothing to not like about the Surge except perhaps the size if you are hoping for a compact multitool. The Surge will take care of so many repair jobs in a package the size of a man's fist and should be in every glove compartment.
---
Best Leatherman Knife for Camping
Leatherman FREE K2 Knife – Perfect for Backpacking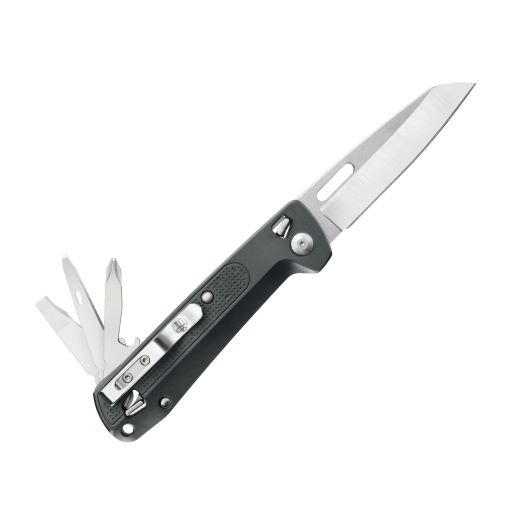 SPECIFICATIONS:
Weight: 4.9oz
Closed Length: 4.5"
Primary Blade Length: 3.3"
Knife Material: 420HC Stainless Steel
Number of Tools: 8
The Leatherman Free K2 is a very sweet knife that has many of the benefits of a multitool. At 1/2 the weight of most multitools it is perfect for backpacking.
The design makes it easy to open and close all the tools with one hand and uses a magnetic locking system that makes using these tools super smooth. The simpler design has every tool on the outside for quick and easy access.
---
Leatherman Tools Comparison Chart
The Leatherman Story
The Leatherman story is one of pure entrepreneurial perseverance. During his adventures, Tim Leatherman found a need to compactly carry a variety of tools for quick repairs. He loved the idea of incorporating a pair of pliers with a pocket knife.
Unable to find a company to take him seriously, he partnered with a friend and started producing what we know today as the Leatherman multitools in 1983. Their first customer was Cabella's and the family of Leatherman tools was born.
Leatherman tool owners are a loyal group because it is a tool they trust. The multitool that my husband, Brad, still uses today is that original design that he received as a gift from his sister shortly after production started.
All Leatherman tools are made in the USA of the highest quality metals to ensure a very long life. Each tool is carefully designed to have the strength it would need if it were a stand-alone tool. And Leatherman stands behind every purchase with a 25-year, no-hassle, guarantee. We know you will love your Leatherman tool, whichever one you decide upon as your best Leatherman for camping.
---
Hey, If you love camping, don't miss out on our reviews and shopping guides for other great camping products:
⛺ Best Ultralight Chairs for Camping
⛺ Best Lightweight Headlamps