I'm sure you know guys don't like thinking about their clothes. When they are on an excursion, they want to reach in their bag, pull out the perfect pair of hiking shorts, and just go. The best men's hiking shorts are just that: a pair of shorts that perfectly works for their busy day ahead on the trail.
In this article, we will take a very close look at all the characteristics of a great pair of hiking shorts. What makes a great pair of shorts for hiking? There are many factors to consider, and every guy is a little bit different in what he likes.
One thing most hikers seem to agree on, though, no matter what you choose: it better be comfortable all day and in all conditions! As always, this post contains affiliate links to make it easier for you to find the products I have mentioned. You don't pay any extra, and in some cases, I could earn a small commission.
Quick View of Best Hiking Shorts for Men
Here's a quick look at our favorite hiking shorts for men list. Below this list, you will find detailed reviews of each pair of shorts. From this chart, you can quickly jump to any of those reviews.
What are all those hearts about, you ask? Those hearts represent our opinion based on years of playing and working in the great outdoors. It's our way of expressing what we believe to be the strengths and weaknesses of each pair of shorts to give you a way to compare. We only share the men's hiking shorts we love here, so you will not find any bad reviews. However, we work hard to call out any shortcomings and highlight the differences so you can find a fantastic pair of shorts that fits your hiking style.

Name
Great for...
Our
Rating
Click to Jump to
Our Review
Check It Out
(quick link)
Columbia Silver Ridge Cargo
Our Top Choice for great fit
COMFORT 🧡🧡🧡🧡🧡
DURABILITY 🧡🧡🧡🧡
POCKETS 🧡🧡🧡🧡🧡
STYLE 🧡🧡🧡🧡🧡
Silver Ridge Review
Amazon | Moosejaw
Kuhl Renegade
Durability on tough trails
COMFORT 🧡🧡🧡🧡🧡
DURABILITY 🧡🧡🧡🧡🧡
POCKETS 🧡🧡🧡🧡🧡
STYLE 🧡🧡🧡🧡🧡
Renegade Review
REI Co-op | BackCountry
North Face Wander
Best Athletic Cut
COMFORT 🧡🧡🧡🧡🧡
DURABILITY 🧡🧡🧡🧡🧡
POCKETS 🧡🧡🧡🧡
STYLE 🧡🧡🧡
Wander Review
Amazon | REI Co-op
Little Donkey Andy Cargo
No tug comfort
COMFORT 🧡🧡🧡🧡🧡
DURABILITY 🧡🧡🧡🧡
POCKETS 🧡🧡🧡🧡🧡
STYLE 🧡🧡🧡🧡
Andy Review
Amazon
PrAna Men's Brion
Casual Days

COMFORT 🧡🧡🧡🧡
DURABILITY 🧡🧡🧡🧡
POCKETS 🧡🧡🧡🧡🧡
STYLE 🧡🧡🧡🧡🧡
Brion Review
Amazon | BackCountry
Wrangler Authentics Cargo Shorts
Great value
COMFORT 🧡🧡🧡
DURABILITY 🧡🧡🧡🧡🧡
POCKETS 🧡🧡🧡🧡🧡
STYLE 🧡🧡🧡🧡
Authentics Review
Amazon
Eddie Bauer Guide Pro
Overall quality of trusted brand
COMFORT 🧡🧡🧡🧡
DURABILITY 🧡🧡🧡🧡🧡
POCKETS 🧡🧡🧡🧡🧡
STYLE 🧡🧡🧡🧡🧡
Guide Pro Review
Amazon
Patagonia Nine Trails Shorts
Trail running and strenuous hikes
COMFORT 🧡🧡🧡🧡🧡
DURABILITY 🧡🧡🧡🧡🧡
POCKETS 🧡🧡🧡
STYLE 🧡🧡🧡
Nine Trails Review
REI Co-op
What to Look for When Buying New Hiking Shorts
My experience hiking has taught me that comfort is one of the most important things when it comes to picking out the best hiking shorts for men. There isn't anything much worse than being uncomfortable with every step because of restrictive styles that bunch and rub in all the wrong places.
Fabrics that hold in moisture, leaving you stinky and sweaty, are undesirable. Choosing well-made, stretchy shorts that easily move with our bodies is essential. When compiling this list of the best men's hiking shorts, we looked hard at the comfort factor.
Another important key factor we considered was the durability of the men's outdoor shorts. You definitely don't want your shorts to easily tear if you get caught by bramble or slide down a pile of rock on your bottom. Even though my husband thinks you can keep wearing them with rips and gaping holes, I make them disappear in the next laundry cycle. Money down the drain, right?
Consider the number and type of pockets you want in your hiking shorts for this coming adventure. After comfort and durability, the number and type of pockets are critical to most men. Some guys like to have many pockets in their shorts, while others would be perfectly content with just two or three.
Also of great interest is the way you plan to utilize your shorts and the style of the shorts. Do they need to do double duty for canoeing? Or maybe fishing? Or perhaps multi-duty!
On a recent rafting trip, Brad loved the Columbia Men's Silver Ridge Cargo Shorts because they were super comfortable, dried quickly, and even looked great when we popped into a restaurant to grab a bite after our adventure.
---
Looking for great women's hiking shorts? Check out our Guide to the Best Hiking Shorts for Women!
---
Reviewing The Best Men's Hiking Shorts
At the bottom of this article, we dive into everything you need to know about each of these characteristics. Jump on down if you are ready to discover how to select the best shorts for hiking. In the meantime, here are the reviews of our top choices for hiking shorts for men.
Best Shorts for All Sizes (including big boys) – Columbia Men's Silver Ridge Cargo
FABRIC: 100% Nylon
INSEAM: 10 and 12 inch (12 in shown)
FIT: Cargo with Classic Fit
QUICK-DRYING: Omni-Wick Evap Technology
UFP RATING: Omni-Shade UPF 50 fabric
POCKETS: 2 back velcro, 2 front, 1 side zipper, 1 side velcro
BELT: Flat belt included
GUSSETED CROTCH: Yes
SIZES: 30-54
PRICE:$$
Our Review of Columbia Men's Silver Ridge Cargo Shorts
The Columbia Silver Ridge Cargo Shorts is at the top of our list for the best hiking shorts for so many reasons. Made of 100% nylon with signature UPF 50 fabric for sun protection against harmful UVA and UVA rays. These breathable pants will keep you feeling cool inside while blocking out 98% of UV sun rays. With a partial elastic waist and gusseted crotch, this bad boy provides comfort by moving with you on the trail, even when you crawl over boulders or climb steep trails.
On top of that, the side pockets of these hiking shorts for men have super nice hook-and-loop closures for when it's time to load up on amenities at your next campsite. The back pocket has a zip closure for when valuable items need keening safe.
PROS: These very reasonably priced hiking shorts are perfect for hot weather. Columbia's trademarked Omni Wick technology ensures the fabric moves moisture away from your skin with quick evaporation. The lightweight material in the Columbia Silver Ridge Shorts feels so comfortable.
You'll love all 6 pockets: 2 front mesh-lined pockets, 2 rear velcro pockets, a left-leg zippered pocket and a right-leg velcro pocket. The side pockets are slim in design, so although they will hold a lot of hiking gear, you won't have that baggy look of traditional cargo pants.
CONS: Very lightweight, which is perfect for hot days and packing. However, if you are doing a lot of bush-whacking through rough terrain, you should look at the next recommendation as the Silver Ridge Cargo Shorts might not hold up under a high level of abuse. Tip: Many reviewers note they run a little small so if you are between sizes, go up.
---
Best for a Rough Trail – KUHL Renegade Shorts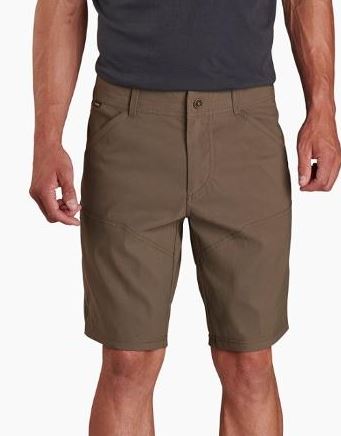 FABRIC: 95% nylon/5% spandex
INSEAM: 10 inches
QUICK-DRYING: Yes, DWR applied
UFP RATING: Yes, 50+
POCKETS: 8 pockets: 2 front hand, 2 back, 2 zippered side, 1 stealth cellphone, 1 3D cellphone
BELT: Traditional Belt Loops
GUSSETED CROTCH: Yes
SIZES: 30-40 W
PRICE:$$$
Our Review of Kuhl Renegade Shorts
A difficult decision put these in 2nd place for the best hiking shorts. Built with hardwearing nylon spandex blend fabric and extras like a 3D cellphone pocket, you could call the Kuhl Renegade Shorts for Hikingyour go-to for adventures. Loaded with storage, water repellent finish, and quick dry time for humid weather, these rugged hikers are perfect for any adventure that comes your way.
The KUHL Duralux fabric outperforms traditional nylon fabric, resulting in a very durable pair of shorts for your adventure. The shorts are rated 50+ for sun protection, keeping you safe when hot weather hiking.
The pockets make these hiking shorts unique. You'll get 8 pockets: 2 front hand, 2 back, 2 zippered pockets on the side, 1 stealth cellphone and 1 3D cellphone. I'm sure you'll find a spot for absolutely everything you want to carry on the trail with all those choices. I particularly like the security of the zippered side pockets, which is where I'd probably carry a phone.
PROS: These shorts can take a lot of abuse on the trail. The Kuhl Renegade hiking shorts for men are softshell shorts, which means they will protect you like you had a shell on while still breathing. Perfect for rough terrain or a rocky trail. The addition of Spandex means these are super stretchy, ensuring a comfortable fit all day.
On top of that, the gusseted crotch will stretch with you, so there is no tugging as you climb. The zippered side pocket is large enough for your phone. And they look great so can easily double for casual wear.
CONS: The waist is a traditional fit which means there isn't a lot of stretch in the waistband. As always, that is a personal style preference, so it's something to consider. Many reviewers commented that these run a little small, so if you are in-between sizes order up.
---
Best Athletic Cut Hiking Shorts – The North Face Men's Wander Shorts
FABRIC: 86% recycled polyester/14% elastane
INSEAM: 7″
FIT: Athletic/Running
QUICK-DRYING: Yes, DWR applied
UFP RATING: No
POCKETS: Concealed-zip pocket at the side seam, two drop-in hand pockets
BELT: No, elastic waist with drawstring
GUSSETED CROTCH: No
SIZES: S to XXL
PRICE: $$
Our Review of The North Face Men's Wander Shorts
These are the best hiking shorts for hot weather. The Northface hiking shorts for men with a 7-inch inseam are perfect for sweltering weather or if you are a guy who prefers to wear as little as possible when hiking. You can escape to your favorite place for a day with the North Face Men's Wander Shorts. Say farewell to dampness and hello to dry comfort as you explore, run, or chill out in these shorts.
They have a super-stretchy waistband that gives you an adjustable fit, so it fits comfortably without being too tight or loose. You'll be ready for whatever adventure comes your way – because we all know unexpected things happen when you're adventuring! Don't fear snags: these amazing shorts will last through any trouble with their durable, snag-resistant fabric.
Thanks to water-resistant fabric designed with 100% Quick-Drying Fabric, your shorts can handle anything from mud puddles to dingy rivers while still looking crisp! Plus, these hiking shorts feature an inside zippered pocket to store your most valuable items.
PROS: These lightweight hiking shorts are comfortable while at the same time quite durable. The North Face Wander Shorts are our top choice for super hot and humid weather because they will keep you cool all day. We love the zippered seam pocket, a feature you don't usually find in an athletic style short.
CONS: We love hiking in athletic-style shorts in the summer, but be aware that they aren't great for rugged terrain as there is very little protection covering your legs as you push through branches and thorns.
---
The Best No Tug Hiking Shorts – Little Donkey Andy Cargo Shorts
FABRIC: 95%Polyester / 5%Spandex
INSEAM: 11″
FIT: Cargo
QUICK-DRYING: Yes, DWR applied
UFP RATING:(UPF) 50
POCKETS: 2 zippered back, 2 zippered front, 2 side velcro
BELT: Partial elastic with belt loops
GUSSETED CROTCH: Yes
SIZES: S to XL
PRICE: $$
Our Review of Little Donkey Andy Cargo Shorts
Here are the best hiking shorts if you constantly find yourself tugging your pants back in place as you hike. Take your style to the next level in these men's shorts with stretch fabric. 6 pockets provide plenty of secure storage: two zippered back pockets, two cargo pockets and two side pockets with velcro closures.
The quick-drying and breathable fabric provides the ultimate comfort for all-day wear. Take advantage of the ultra protection from the sun, thanks to its UPF 50+ rating. The water repellent finish ensures you'll stay fresh all day long – even if you're exploring rivers.
With 6 pockets, nothing will be dropped in the sand (or mud!) again. Use those 2 front zippered pockets to keep your essential items close at hand without the risk of them falling out while you're on the go! This lightweight design has an elastic waistband that is easily adjusted using the belt loops.
With 4 way stretch, the Little Donkey Andy Stretch Quick Dry Cargo Shorts are ready for whatever comes their way…and they won't cramp your style either, thanks to all 10 color options.
PROS: The 4-way stretch fabric in the Little Donkey Andy Cargos combined with the partial elastic waistband makes these the perfect hiking shorts for the man who finds himself tugging at his shorts all the time. You'll find these give with your every movement, so no more binding. You'll find these also fit the bill for perfect men's walking shorts!
The large variety of secure pockets is a huge win when hiking, especially for keeping your cell phone secure. You'll stay nice and dry due to the DWR treatment.
CONS: Although these come with an adjustable belt, some men prefer a wider belt that won't fit through the loops of these shorts.
---
FABRIC: 97% nylon, 3% spandex
INSEAM: both 9″ or 11″
FIT: Traditional Slim Fit
QUICK-DRYING: Yes, DWR applied, Quick-dry Stretch Zion fabric
UFP RATING: (UPF) 50
POCKETS: Traditional 5 pocket, 2 back, 2 front, small front
BELT: Traditional Belt Loops
GUSSETED CROTCH: No
SIZES: 28-40
PRICE: $$$
Our Review of PrAna Brion Shorts
You'll never want a day hiking to end when you're in the comfort of soft, stretchy fabric. These prAna shorts are the most comfortable from our best hiking shorts list. Made of 4-way Stretch Zion fabric, a nylon spandex blend, these hiking shorts are quick-drying and resists wear from abrasion.
The lightweight hiking short has a UPF 50+ protection, so you can explore the trails all day long without sun or sweat getting to your skin. You will enjoy these 5 pocket stretch zion shorts that are slim fit yet stylish enough for wearing to dinner! If you like a shorter traditional style, the men's hiking shorts 9-inch inseam is also available in the prAna Brion.
PROS: The Men's Prana Brion shorts are the most versatile, with a traditional shorts look that moves effortlessly between a night hanging out with the guys to a day of hiking and climbing. The quick-dry stretchy trademark Zion fabric is super comfortable as you move along the trail.
You'll appreciate the moisture-wicking properties that will keep you dry. The riveted pockets add life to these shorts if you like taking the rough trails.
CONS: These are perfect for a day of casual hiking mixed with sightseeing. You will be comfortable no matter what you are doing! However, I'd hesitate on these stretch zion shorts for a long, arduous hike. The lack of gusseting and secure pockets will leave you wishing for more serious shorts.
---
Best Budget Hiking Pants: Wrangler Authentics Cargo Shorts
FABRIC: 94% Nylon, 6% Spandex
INSEAM: 10″
FIT: Cargo
QUICK-DRYING: Yes
UFP RATING: (UPF) 30
POCKETS: 2 cargo zip pockets, 2 back pockets and 2 hand pockets
BELT: Comfort Flex Waistband with traditional belt loops
GUSSETED CROTCH: No
SIZES: 30-48
PRICE: $
Our Review of Wrangler Authentics Cargo Shorts
You'll love the comfort of the best budget hiking shorts. Wrangler Authentics Men's Flex Waist Cargo Shorts look good and feel great for the active man. You can easily use these for casual wear on date night as well as on a rugged day on the trail. With a roomy, comfortable stretch waistband, you're more likely to forget you have it on than ever worry about discomfort.
Quick-drying nylon makes these shorts perfect for adventures outside in warm weather. At the same time, moisture-wicking action keeps you cool and dry no matter how hard or long you hike. 2 cargo zip pockets, 2 back pockets, and 2 slash pockets provide plenty of storage space, while UPF 30 provides sun protection.
PROS: We don't usually think about the Wrangler's brand, long known for hard-wearing jeans when looking for athletic wear. But wow, we were impressed with the value in the Wrangler Authentics Cargo Shorts.
These budget hiking shorts have a partial elastic waistband that will stretch as you move on the trail. The quick-drying nylon will keep you comfortable on the sweatiest days. And you'll love the abundance of pockets.
CONS: These are not treated to repel water, so if you get caught in a rainstorm, they are likely to get pretty damp. The good news is that nylon dries super fast!
---
The Hiking Shorts That You Can Trust: Eddie Bauer Guide Pro
FABRIC: 94% nylon/6% spandex
INSEAM: 12″
FIT: Cargo
QUICK-DRYING: StormRepel DWR finish
UFP RATING: (UPF) 50
POCKETS: 2 Back Velcro, 2 Front Hand, 2 Side Zippered
BELT: Traditional Belt Loops
GUSSETED CROTCH: No
SIZES: 30-46
PRICE:$$
Our Review of Eddie Bauer Guide Pro Men's Shorts
The best hiking shorts need to be as flexible as you are. Luckily, with these Eddie Bauer Guide Pro Men's Hiking Shorts, it doesn't matter what the trail throws at you because they have your back.
With FreeShade 50+ UPF sun protection and a water-repellent finish, these hiking shorts give you all the room to roam free while letting your skin breathe along the way.
You'll find two secure zippered side pockets for all of your hiking gear and four easy-access pockets for ease of use on the go. Best yet? They'll never let you down in even harshest conditions."
PROS: These hard-working shorts are perfect for the trail.  The Eddie Bauer Guide Pro Shorts uses Flexion Stretch woven technology, ensuring two-way stretch. For you, that means excellent mobility on the most demanding hikes.
These shorts are the complete package with a Storm Repel finish, so water runs right off to a UPF rating of 50+ to ensure protection from the sun's damaging rays.  The zippered side pocket is perfect for your phone so that you can grab quick pictures. At a moderate price, you win big time with these men's hiking shorts.
CONS: If these just had a gusseted crotch, they'd be perfect. However, the stretchy fabric allows so much movement that you probably won't notice.
---
The Best Trail Running Shorts: Patagonia Nine Trails Shorts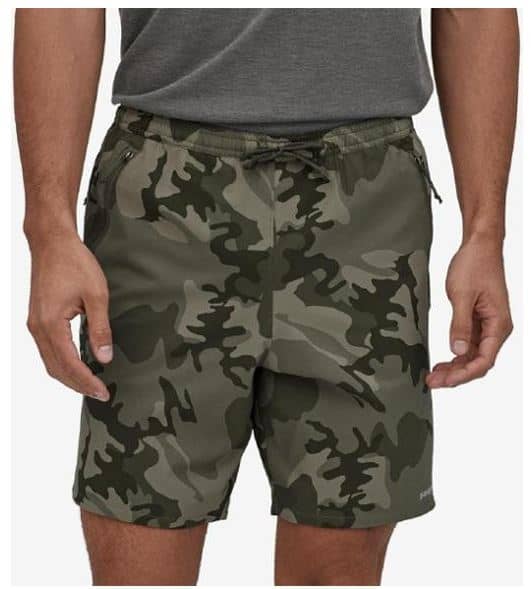 FABRIC: 91% recycled polyester/9% spandex
INSEAM: 8″
FIT: Athletic
QUICK-DRYING: DWR finish
UFP RATING: no
POCKETS: 3 Pockets:  2 large, zippered front pockets; back right-side zippered pocket
BELT: Elastic waist with drawstring to adjust
GUSSETED CROTCH: No
SIZES: S to XL
PRICE:$$$
Our Review of Patagonia Nine Trails Men's Shorts
You don't have to be a trail runner to find comfort in the last of our best hiking shorts for men. They are perfect for any hot or strenuous day of hiking. The Patagonia Nine Trails Shorts are highly breathable recycled polyester to keep you cool all day. They also have a DWR finish to roll-off water.
What makes these trail running shorts exceptional is the boxer-brief liner, a moisture-wicking, lightweight and supportive 100% recycled polyester that will provide you with the comfort to run miles without chafing. Its HeiQ fresh durable odor control feature is perfect for an all-day adventure in any climate or environment.
PROS: I will be pretty blunt here; these shorts are for the man who gets hot and stinky during his day on the trail. Everything about them helps keep you cool and odor-free. We love the zippered front pockets because if you are going to be that active, you need to secure everything.
CONS: Even though the Patagonia Nine Trails are a bit pricy, you'll find the durability well worth the investment.
Essential Features in Men's Hiking Shorts
We're going to take a deep dive into the most important features for evaluating men's shorts for hiking which are:
Comfort
Durability
Pockets
Style and Versatility
What are the Comfort Characteristics of The Best Shorts for Hiking?
#1 They Move With You on the Trail
Stretch for ease of movement: The fabric of the best hiking shorts for men should be flexible enough to make it easy for you to stretch and move in the necessary ways on a hike. Stretchy fabrics like nylon or polyester will give as the wearer moves up trails. At the same time, spandex is often added to these materials so they can still provide some elasticity without adding too much weight.
No Binding or Chaffing of the Boy Parts: Critical is that the cut of the hiking shorts doesn't bind or chaff in the down underparts. Generally, men's hiking shorts are loosely fitted in that area and then partnered with great men's hiking underwear that provides the necessary support.
If you are super active, such as climbing and bouldering, look for shorts with a gusseted crotch construction. That means an extra piece of material has been inserted into the seams to give a little more room to stretch.
Waistbands that Don't Dig: A flat wide waistband with some give will feel great on a long hike. Keep in mind that your backpack puts most of its weight on your lower back, just below that waistband, so the flatter and smoother the waistband, the better.
Belt or No Belt: That is a great question! For the most part, wearing a belt with your hiking pants is your personal preference. The best belt for hiking will lay very flat against your shorts, so your pack won't catch it as it moves up and down your back. That's why some designers utilize the integrated belt. That means the belt is only exposed on the front of your shorts resulting in no back rub while still giving you the adjust-ability that you crave.
#2 They Keep you Cool and Dry
Let's get rid of that stinky locker room smell. You just know that smell means something creepy is growing in your shorts. It also means your hiking shorts were damp much of your hike, which goes right along with rubbing and chaffing in all the wrong places. (Not that there is a suitable place for that rash!)
Because they are lightweight, nylon and polyester are both fabrics that naturally wick away moisture and dry quickly. However, polyester has an edge since nylon will absorb some water when soaked. The material for the best hiking shorts allows the fabric to breathe, often including venting in the design.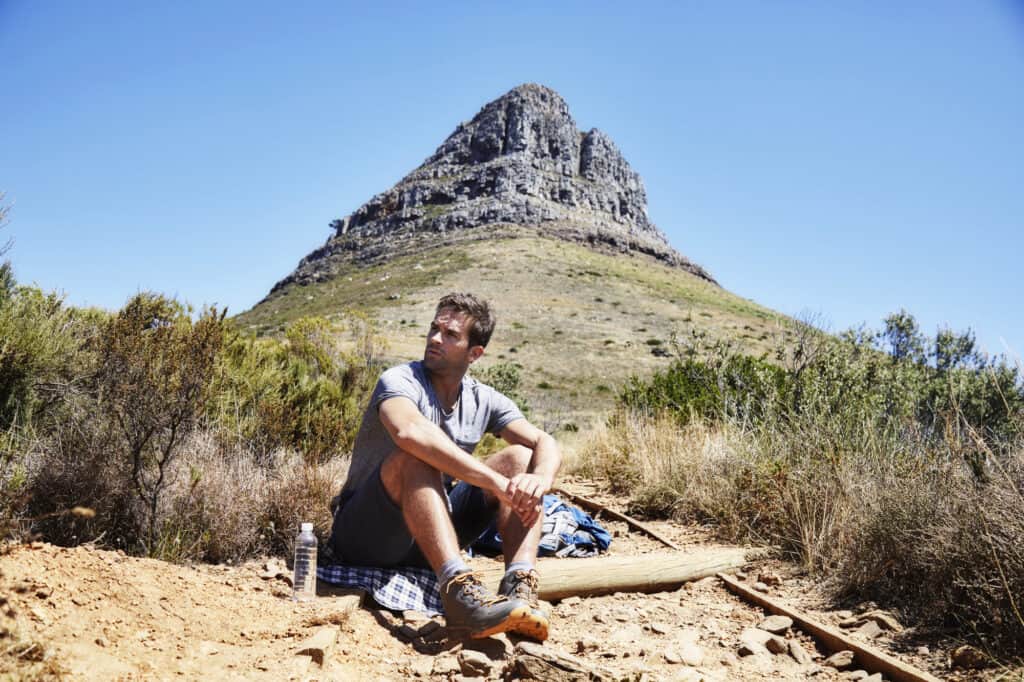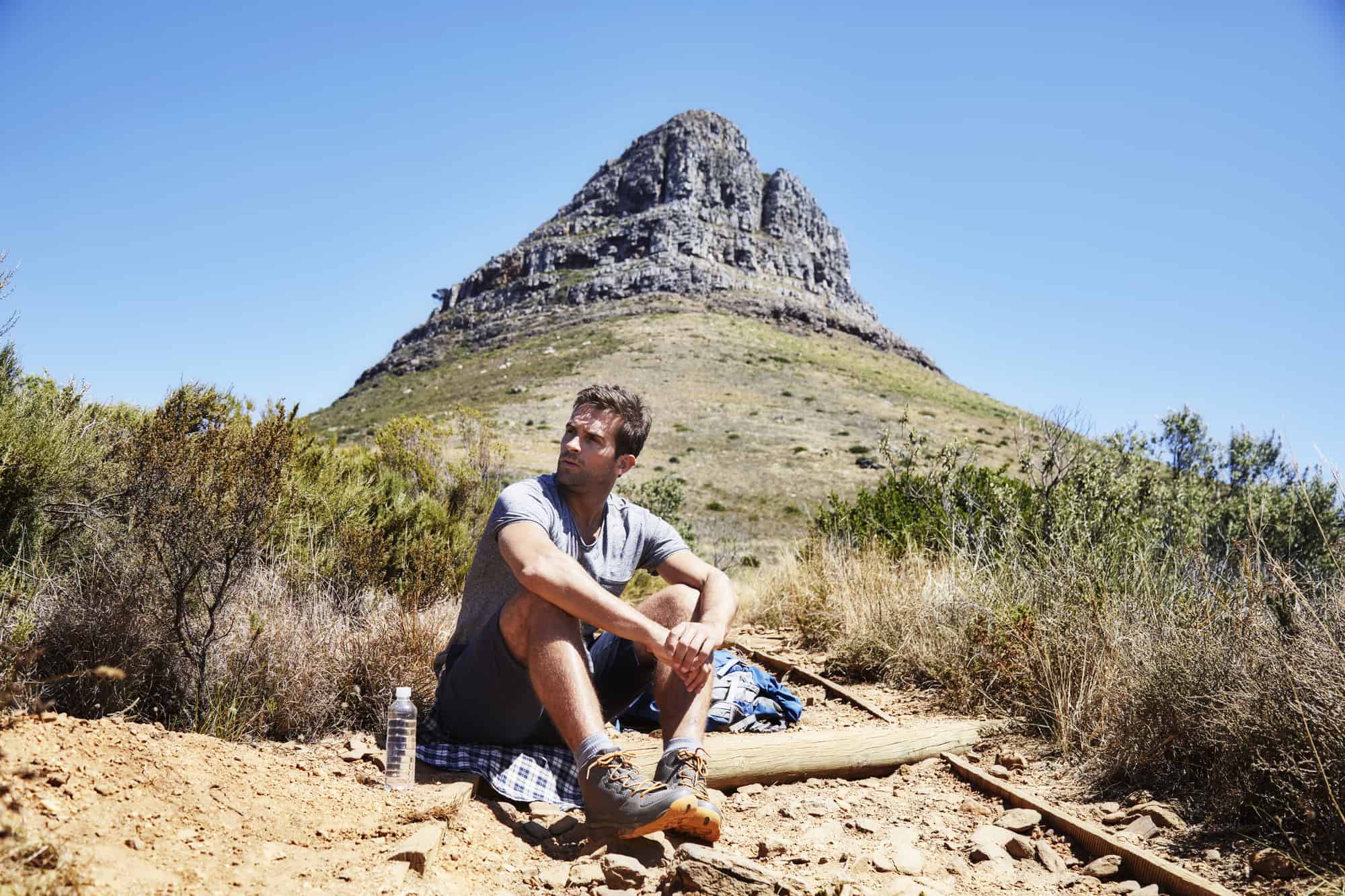 Men's hiking shorts also often have a DWR finish. That stands for Durable Water Resistant. DWR coatings are found in all rainwear. You probably don't want the same heavy, slick coating you find in a rain jacket for shorts. But you do want a nice light coating that causes rainwater to slide down the fabric and never touches your skin. This feature is most critical in nylon shorts that absorb some water in heavy rain.
What to Look for to Find Durable Shorts that Survive the Toughest Trail
There's a reason people entrust their lives to nylon when flying hot air balloons. An incredibly strong fabric, it is often found in the best hiking shorts for men. And polyester is abrasion resistant which means it's not going to snag and tear as you push through brambles or crawl through boulders.
These natural characteristics of nylon and polyester allow the use of thinner materials, so you have less weight in your pack and cooler shorts on a hot day.
Also, look for reinforcement in places with stress on your shorts. For example, rivets, where pockets meet the seams, will strengthen a pair of shorts when you have full pockets. Also, a double stitch over the seams around the button or snap will help the fabric in your hiking shorts last longer.
How Many Pockets do you Need in Hiking Shorts for Men?
And on the subject of pockets… The more, the merrier, right? You'll always want at least one secure zippered pocket, but personally, I like more than one pocket with a zipper or snap closure. Somehow I just seem to drop random stuff on the ground every trip.
Take a minute to think about what you want easily accessible and make sure you have a pocket for it. For example, your phone for quick pictures and a pocket for your map.
Rear pockets are great for keeping a few things handy. Hikers tend to be split on if they like cargo pockets. Some think they add too much weight to their shorts. Others swear by them because it's the perfect place to tuck large but not heavy items like your trail map.
You'll often find front mesh-lined pockets that will reduce the weight of the shorts while providing venting when you build up body heat.
Consider Your Unique Style and Activity Level
If you are doing a bit more than hiking, such as canoeing, fishing, or even climbing, consider those activities when selecting shorts. For example:
Fishing, you'll probably want longer shorts, so you have more pockets and a little more protection from hooks on your legs.
When kayaking, you will want the lightest shorts possible, so they dry quickly if you get dunked. You'll also want pockets to have a zipper so your keys don't end up at the bottom of the river.
If your hike includes some technical climbs or a bit of bouldering, tough hiking shorts with a gusseted crotch like Kuhl Renegade Men's Hiking Shorts are a true gift. You'll be able to stretch, crawl, and climb without pulling from your shorts.
What Fabrics are Best for Hiking Shorts in the Hot Weather?
Nylon and Polyester are the best fabrics for summer hiking shorts. Both fabrics are lightweight and stretch, which means you will be comfortable on the trail. When blended with small amounts of Spandex, you have the perfect shorts for an active day. Quality hiking shorts can also find durability to withstand the rigors of the trail in both fabrics.
You'll find a lot of apparel in department stores that look just like these top hiking shorts. But when you check the fabric content label, they have a lot of cottons. For casual walks and wearing around town, these shorts are perfect. Cotton is a wonderfully soft and breathable fabric.
Sadly, cotton doesn't do well when it gets damp. Cotton loves to hold on to moisture, either from your sweat or sudden rain. Think soft, absorbent bath towel. But it doesn't let go of that water easily, and you will be hiking in damp, chaffing shorts for the rest of the day.
The other fabric people ask about is merino wool. We love, love, love merino wool for its moisture-wicking properties. It is the absolute best fabric for articles of clothing that are touching your skin, like men's hiking underwear and t-shirts. However, it doesn't have the durability that you need on your bottom half as you hike through rough terrain, so it isn't used often in hiking shorts and pants.
Do You Need UV Treated Shorts
Sun protection is always important when hiking. As you cross up above the treeline in the mountains the sun is stronger than at lower elevations. And the reflection of the sun off the sand in the desert is a dangerous sunburn waiting to happen.
The best hiking pants and shorts will be labeled with their UFP rating. A rating of 30 is usually enough to protect you, and a rating of 50 is super material!
How Long Should Hiking Shorts Be?
The best length for men's hiking shorts is just above the knees for most guys. That gives you maximum protection from brush along the trail without the fabric snagging on your knee as you move. That said, you should go with the length that is most comfortable for you.
Is it Better to Hike in Pants or Shorts?
The choice of pants or shorts for hiking is primarily condition-dependent. You need to consider the obstacles on the trail and the weather conditions before you decide between the two. Obviously, cold weather is better for long pants to retain heat while you hike. And long pants would often be the best choice if bushwhacking through rough terrain to protect your legs from scrapes and thorns.
Because I'm allergic to poison ivy, I often choose long pants if I know the hike is through a heavily wooded area without clear trails. However, most hiking takes place in warm weather, and hiking shorts for men are the way to go for the most comfortable hiking trip.
What about Convertible Hiking Pants vs. Hiking Shorts?
Convertible hiking pants have a zipper to remove part of the leg of the pants. And they are an excellent option for hiking shorts because you get the best of both worlds on a day where temperatures fluctuate a lot. All the features listed above are readily available in the best convertible hiking pants for men.
The downside of convertible hiking pants is that many guys lose that piece of material from the leg and only have shorts. And some find the zipper rubbing against their leg annoying, so you should double-check that the zipper is covered before making a purchase.
What are the Best Hiking Shorts for Fat Guys
No offense intended, being a big girl myself, I know the pain of trying to find a pair of shorts that fit someone bigger than the athletic bodies of my friends. We were excited to discover that the Columbia Silver Ridge Shorts are available up to size 54. (Just between us, that's one of the factors that moved them to the top of the list).
What are the Best Walking Shorts?
The PrAna Men's Brion Shorts and the Kuhl Renegade Shorts make great walking shorts AND perfect hiking shorts. Men tend to select walking shorts that are a little more stylish and a traditional cut, so they are appropriately dressed when site seeing or popping into the pub. Other than that, there isn't much difference between walking and hiking shorts for men. Walkers want the same comfort as hikers!
Tips to Care for Your New Hiking Shorts
Although modern hiking shorts made of nylon or polyester are highly durable when outdoors, they will last longer if you take just a little care when laundering. It's best to wash your shorts in cool water. That will help them retain any SPF or DWR treatments. It will also keep the fabric looking like new longer and avoid shrinkage.
Personally, I prefer to line dry my hiking shorts as the drier's heat will also wear down the fabric treatments. Because you have started with quick-drying fabrics, they will line dry in a snap. But if you need them quicker, feel free to dry on a permanent press or cooler cycle.
Looking for a gift for your Special Guy that will leave him feeling like you are reading his mind? Check out our list of Hiking Gifts For Him: 55 Things He Secretly Wants and Needs
The best men's hiking shorts should be the ones you pull out of the pile, even for everyday wear, because they are so unbelievably comfortable! You really can't go wrong with any of the choices above for hiking shorts for men that are perfect for backpacking the trail! Don't forget to save this to your Pinterest vacation board so you can easily find it again!