When it comes to selecting the best men's hiking shorts, I'm pretty sure nothing trumps comfort. Guys just don't like to think about their clothes when they are hiking. So a pair of hiking shorts that easily move with your body, leaving you dry and chaff free, are exactly what men want.
When compiling this list of the best men's hiking shorts, we looked hard at the comfort factor. Another important key factor we considered was the durability of the men's shorts. You definitely don't want your shorts to tear easily if you get caught by bramble or slide down a pile of rock on your bottom. Even though my husband thinks you can keep wearing them with rips and gaping holes, I make them disappear in the next laundry cycle. Money down the drain, right?
Also of great interest is the way you plan to utilize your shorts. Do they need to do double duty for canoeing? Or maybe fishing? Or maybe multi duty! Brad loved the Columbia Mens Silver Ridge Cargo Shorts on a recent rafting trip because they were super comfortable, dried quickly and even looked great when we popped into a restaurant to grab a bite.
Guys also tend to have a preference in the number and types of pockets in their shorts depending up on their plans for the hike.
So let's take a look at these features before we share the top shorts. Feel free to use the menu to jump ahead if just want to see the best hiking shorts for men. As always, this post contains affiliate links to make it easier for you to find products I have mentioned. You don't pay any extra and in some cases I could earn a small commission.
Important Features in Men's Hiking Shorts
The Comfort Factors in Great Hiking Shorts
Stretch for ease of movement: Most hiking shorts are made of nylon or polyester. Most important both have a little stretch so the fabric gives as you move up the trail. Sometimes spandex is added to the weave to give even a little more stretch. These fabrics are perfect for comfortable hiking shorts.
No Binding or Chaffing of the Boy Parts: Critical is that the cut of the shorts doesn't bind or chaff in the down under parts. Generally men's hiking shorts are loose fitted in that area and then partnered with great men's hiking underwear that provides the necessary support. If you are super active, such as climbing and bouldering look for shorts that also have a gusseted crotch construction. That means an extra piece of material has been inserted into the seams to give a little more room to stretch.
Waistbands that Don't Dig: A flat wide waistband that has some give will feel great on a long hike. Keep in mind that your backpack is going to put most of its weight on your lower back, which is just below that waistband so the flatter and smoother the better.
Belt or No Belt: That is a great question! For the most part it is personal preference. The best belt for hiking will lay very flat against your shorts so it won't be caught by your pack as it moves up and down your back. That's why some designers utilize the integrated belt. That means the belt is only exposed on the front of your shorts resulting in no back rub while still giving you the adjust-ability that you crave.
Keeping Cool and Dry
Let's get rid of that stinky locker room smell. You just know that smell means something creepy is growing in your shorts. It also means your shorts were damp much of your hike which goes right along with rubbing and chaffing in all the wrong places. (Not that there is a right place for that rash!)
Because they are light weight, nylon and polyester are both fabrics naturally wick away moisture and dry quickly, however polyester definitely has an edge since nylon will absorb some water when soaked. The material for the best hiking shorts will also be woven in a method that allows the fabric to breathe, often including venting in the design.
Men's hiking shorts also often have a DWR finish. That stands for Durable Water Resistant. DWR coatings are found in all rainwear. For shorts you probably don't want the same heavy, slick coating you find in a rain jacket. But you do want a nice light coating that causes rain water to just slide down the fabric and never touch your skin. This is most critical in nylon shorts which will absorb some water in a heavy rain.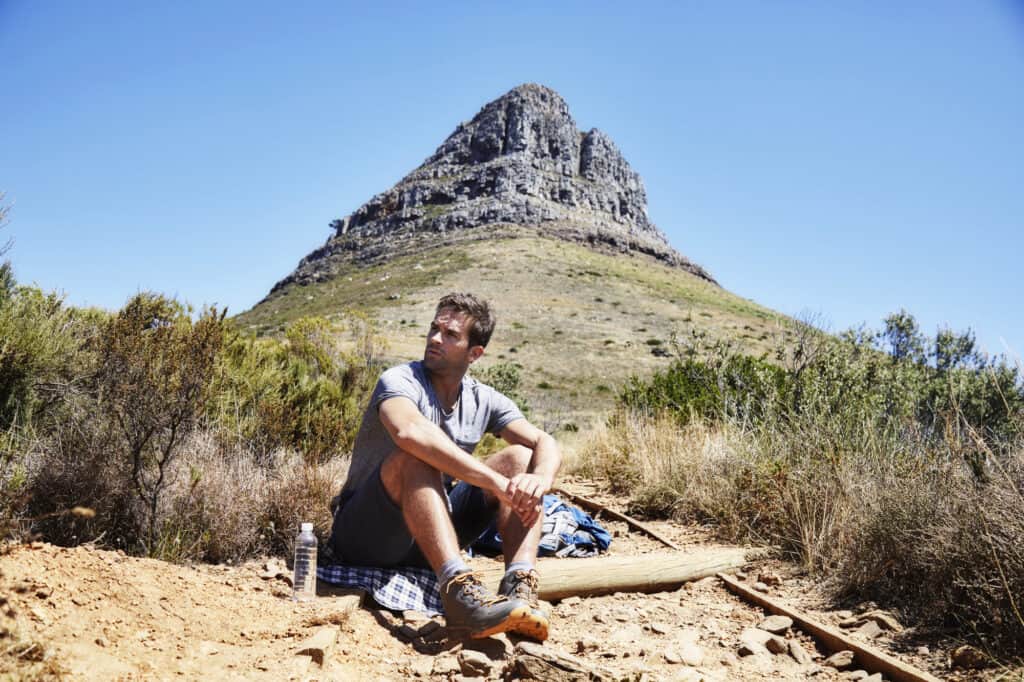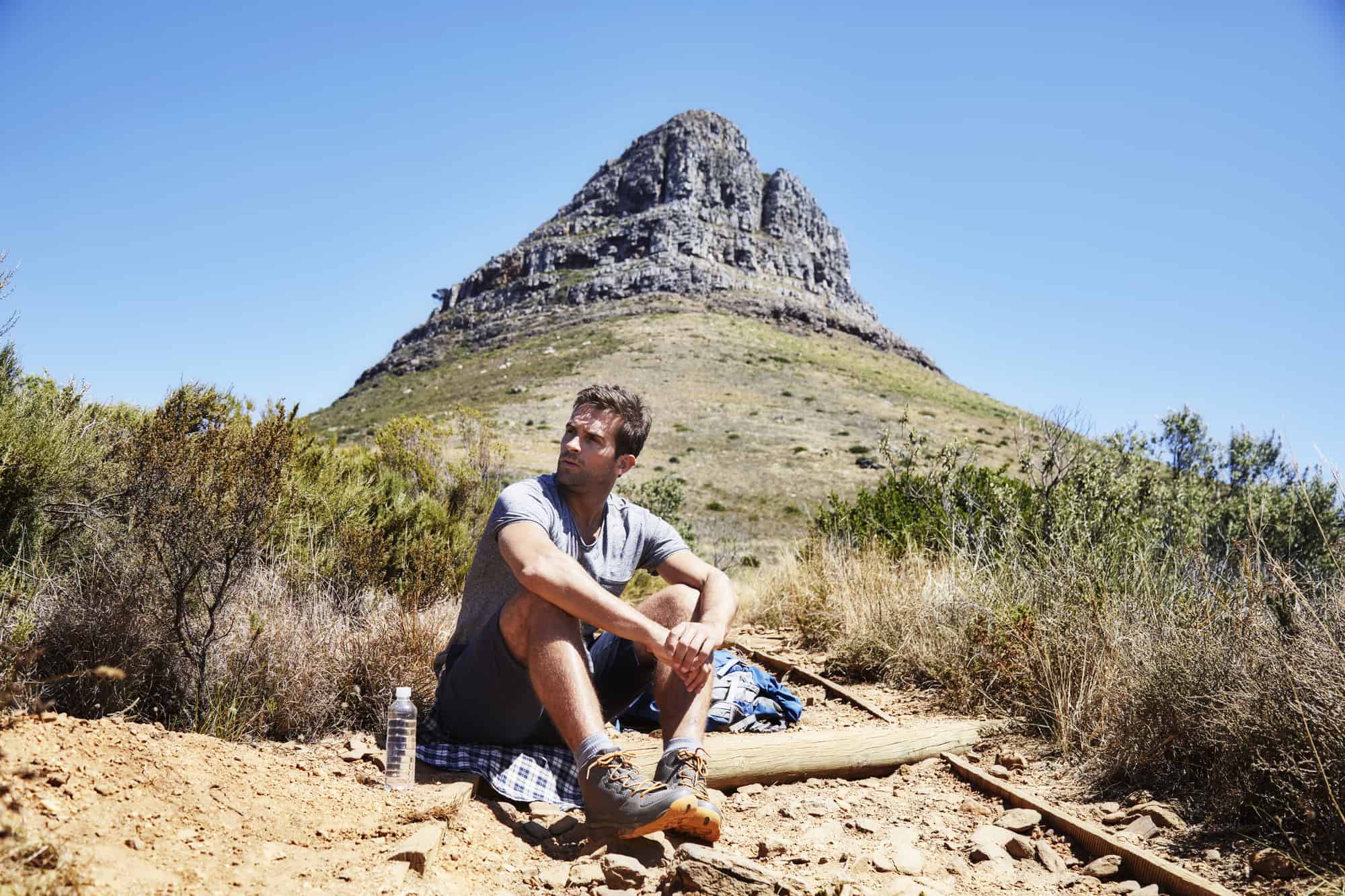 Durable Shorts that Survive the Toughest Trail
There's a reason people entrust their lives to nylon when flying hot air balloons. It is an incredibly strong fabric. And polyester is abrasion resistant which means it's not going to snag and tear as you push through brambles or crawl through boulders. These natural characteristics of nylon and polyester allow the use of thinner materials so you have less weight in your pack and cooler shorts on a hot day.
Consider Your Unique Style and Activity Level
If you are going to be doing a bit more than hiking, such as canoeing or fishing or even climbing, then take those activities into consideration when selecting shorts. For example:
Fishing you'll probably want longer shorts so you have more pockets and a little more protection from hooks on your legs.
When kayaking you are going to want the lightest shorts possible so they dry quickly if you get dunked. You'll also want pockets to have a zipper so your keys don't end up in the bottom of the river.
If your hike includes some technical climbs or a bit of bouldering, hiking shorts with a gusseted crotch like

Outdoor Research's Ferrosi Hiking Shorts

are a true gift. You'll be able to stretch and crawl and climb without pulling from your shorts.
And on the subject of pockets… The more the merrier, right? You'll always want at least one secure pocket, but personally I like more than one pocket with a zipper or snap closure. Somehow I just seem to drop random stuff on the ground every trip. Take a minute to think about what you want easily accessible and make sure you have a pocket for it. For example your phone for quick pictures and a pocket for your map.
What Fabrics are Best for Hiking Shorts in the Hot Weather?
Nylon and Polyester are the best fabrics for summer hiking shorts. Both fabrics are lightweight and stretch which means you will be comfortable on the trail. When blended with small amounts of Spandex you have the perfect shorts for an active day. Durability to withstand the rigors of the trail can also be found in both fabrics.
You'll find a lot of apparel in department stores that look just like these top hiking shorts. But when you check the fabric content label they have a lot of cotton in the mix. For casual walks and wearing around town, these shorts are perfect. Cotton is a wonderfully soft and breathable fabric. Sadly, cotton doesn't do well when it gets damp. Cotton loves to hold on to moisture, either from your sweat or from a sudden rain. Think soft absorbent bath towel. But it doesn't let go of that water easily and you will be hiking in damp, chaffing shorts for the rest of the day.
The other fabric people ask about is merino wool. We love, love, love merino wool for it's moisture wicking properties. It is the absolute best fabric for articles of clothing that are touching your skin like underwear and t-shirts. However it doesn't have the durability that you need on your bottom half as you hike through rough terrain so isn't used often in hiking shorts and pants.
Best Length for Men's Hiking Shorts
Truly the best length for men's hiking shorts is the one that is most comfortable for you. I've always found it a bit odd that women's hiking shorts come in lengths from short short to knees. But men's hiking shorts tend to be longer, often just above the knee.  After a little research I discovered the reason for the longer shorts is to protect your legs and hind-side as you traipse through briers and branches.
Here's Our Choices for The Best Men's Hiking Shorts
Best Shorts for All Sizes (including big boys) – Columbia Mens Silver Ridge Cargo
COLUMBIA MENS SILVER RIDGE CARGO SHORT
FABRIC
: 100% Nylon
INSEAM
: 10 and 12 inch (12 in shown)
QUICK-DRYING
: Omni-Wick Evap Technology
UFP RATING: Omni-Shade UPF 50 fabric
POCKETS
: 2 back velcro, 2 front, 1 side zipper, 1 side velcro
BELT
: Flat belt included
GUSSETED CROTCH
: Yes
SIZES
: 30-54
PRICE
:$$
PROS: These very reasonably priced hiking shorts are perfect for hot weather. Columbia's trademarked Omni Wick technology ensure the fabric moves moisture away from your skin with quick evaporation. The light weight fabric in the Columbia Silver Ridge Shorts feels so comfortable. You'll love all 6 pockets: 2 front mesh pockets, 2 rear velcro pockets, a left-leg zippered pocket and a right-leg velcro pocket. The side pockets are slim in design so although they will hold a lot of gear, you won't have that baggy look of traditional cargo pants.
CONS: Very lightweight which is perfect for hot days and packing. However if you are doing a lot of bush-whacking through rough terrain you should take a look at the next two recommendations. Tip: A lot of reviewers note they run a little small so if you are between sizes, go up.
Best for a Rough Trail – Outdoor Research Ferrosi Shorts
OUTDOOR RESEARCH MEN'S FERROSI SHORTS
FABRIC
: 86% Nylon, 14% Spandex
INSEAM
: 10 inches (8 inch also avail)
QUICK-DRYING
: Yes, DWR applied
UFP RATING: Yes, 50+
POCKETS
: 2 Back, 2 Front, 1 Zippered Side
BELT
: Traditional Belt Loops
GUSSETED CROTCH
: Yes
SIZES
: 28-38 W
PRICE
:$$
PROS: These shorts are meant to take a lot of abuse on the trail. The Outdoor Research Ferrosi Shorts are defined as soft shell shorts which means they will protect you like you had a shell on while still breathing. Perfect for rough terrain or a rocky trail. The high ratio of Spandex means these are super stretchy ensuring a comfortable fit all day. On top of that, the gusseted crotch will stretch with you so no tugging as you climb. The side zippered pocket is large enough for your phone. Also available in an 8″ length.
CONS: The zippered thigh pocket is too small for most phones. A lot of reviewers commented that these run a little big.
And a Very Close Second for Rough Trails – Marmot Men's Arch Rocks
MARMOT MEN'S ARCH ROCK SHORTS
FABRIC
: 94% Nylon, 6% Elastane
INSEAM
: 11″
QUICK-DRYING
: Yes, DWR applied
UFP RATING: (UPF) 50
POCKETS
: 2 Back, 2 Front, 1 Zippered Side
BELT
: Traditional Belt Loops
GUSSETED CROTCH
: Yes
SIZES
: 28-40
PRICE
: $$$
PROS: These are lightweight and comfortable while at the same time quite durable. The Marmot Men's Arch Rock Shorts will do a great job of protecting your thighs on a rough hike. The elastane in the fabric gives you plenty of stretch. Combine that with the gusseted crotch you should be able to leap tall boulders with very little pull of your shorts.
CONS: The zippered pocket on the side is small and won't hold most phones. Personal preference on the waistband, some won't like that there is no elastic, just the stretch of the fabric. Others are going to love that snug fit at the waist.
The Best No Tug Hiking Shorts – Little Donkey Andy Cargo Shorts
LITTLE DONKEY ANDY CARGO SHORTS
FABRIC
: 95%Polyester / 5%Spandex
INSEAM
: 11″
QUICK-DRYING
: Yes, DWR applied
UFP RATING:
(UPF) 50
POCKETS
: 1 zippered back, 2 zippered front, 2 side velcro
BELT
: Partial elastic with belt loops
GUSSETED CROTCH
: Yes
SIZES
: S to XL
PRICE
: $$
PROS: The 4 way stretch fabric in the Little Donkey Andy Cargos combined with the partial elastic waistband makes these the perfect hiking shorts for the man who finds himself tugging at his shorts all the time. You'll find these give with your every movement so no more binding. The large variety of secure pockets is a huge win when hiking, especially for keeping your cell phone secure. You'll stay nice and dry due to the DWR treatment.
CONS: Biggest complaint is that the 1″ belt loops are too small for a traditional belt.
The Best Shorts for Casual Days – Prana Men's Brion Shorts
PRANA MEN'S BRION HIKING SHORTS
FABRIC
: 97% nylon, 3% spandex
INSEAM
: both 9″ or 11″
QUICK-DRYING
: Yes, DWR applied, Quick-dry Stretch Zion fabric
UFP RATING: 
(UPF) 50
POCKETS
: Traditional 5 pocket, 2 back, 2 front, small front
BELT
: Traditional Belt Loops
GUSSETED CROTCH
: No
SIZES
: 28-40
PRICE
: $$$
PROS: The Men's Prana Brion shorts are the most versatile, with a traditional shorts look that moves easily between a night hanging out with the guys to a day of hiking and climbing. The quick dry stretchy trademark Zion fabric is super comfortable as you move along the trail. You'll appreciate the moisture wicking properties that will keep you dry. The riveted pockets add a lot of life to these shorts if you like taking the rough trails.
CONS: These are perfect for a day of casual hiking mixed with sight seeing. You will be comfortable no matter what you are doing! However I'd hesitate on these shorts for a long arduous hike. The lack of gussetting and secure pockets will leave you wishing for more serious shorts.
The Shorts that Will Last Forever – Fjallraven Abisko Hiking Shorts
FJALLRAVEN ABISKO SHORTS
FABRIC
: 60% Polyester, 40% Cotton
INSEAM
: 11″
QUICK-DRYING
: Infused with Greenland Wax to repel wind and water
UFP RATING:
none
POCKETS
: 2 Front Zipper, 1 side cargo, 1 side electronic
BELT
: Traditional Belt Loops
GUSSETED CROTCH
: Yes
SIZES
: 28-40
PRICE
: $$$$$
PROS: Designed with the long trail hiker in mind the Fjallraven Abisko Shorts deliver comfort for hikers. The unusual waist that sits higher in the back than the front is perfect for ensuring your heavy backpack rides smoothly against the small of your back rather than rubbing your waistband for miles.
Although we don't usually suggest cotton due to high water absorption, this fabric is very different with the infusion of Greenland Wax to repel water. The blend of cotton with polyester results in an incredibly durable pair of shorts that will survive the roughest terrain. The crotch is reinforced with an extra layer of fabric to ensure no rips on the trail. Plus the stretch-ability of polyester will let you move in comfort.
CONS: The price might frighten you at first glance, however this is definitely a case of you get what you pay for. These shorts will practically last forever and are well worth the higher price tag if you like getting dirty on the trail.
Caution: Sizing tends to be displayed in European sizing so make sure you check the charts.
Best Surprise Bargain: Wrangler Authentics Cargo Shorts
WRANGLER AUTHENTICS FLEX CARGO SHORTS
FABRIC
: 94% Nylon, 6% Spandex
INSEAM
: 10″
QUICK-DRYING
: Yes
UFP RATING: 
(UPF) 30
POCKETS
: 2 cargo zip pockets, 2 back pockets and 2 hand pockets
BELT
: Comfort Flex Waistband with traditional belt loops
GUSSETED CROTCH
: No
SIZES
: 30-48
PRICE
: $
PROS: We don't usually think about the Wrangler's brand, long known for hard wearing jeans, when we are looking for athletic wear. But, wow we were impressed with the value in the Wrangler Authentics Cargo Shorts. These low cost hiking shorts have a partial elastic waistband that will stretch as you move on the trail. The quick drying nylon will keep you comfortable on the sweatiest days. And you'll love the abundance of pockets.
CONS: These have not been treated to repel water, so if you get caught in a rainstorm they are likely to get pretty damp. Good news is that nylon dries super fast!
The Hiking Shorts That You Can Trust: Eddie Bauer Guide Pro
EDDIE BAUER MEN'S GUIDE PRO SHORTS
FABRIC
: 94% nylon/6% spandex
INSEAM
: 12″
QUICK-DRYING
: StormRepel DWR finish
UFP RATING: 
(UPF) 50
POCKETS
: 2 Back Velcro, 2 Front Hand, 1 Side Zippered
BELT
: Traditional Belt Loops
GUSSETED CROTCH
: No
SIZES
: 30-46
PRICE
:$$
PROS: These really hard working shorts are perfect for the trail.  The Eddie Bauer Guide Pro Shorts uses Flexion Stretch woven technology which ensures two-way stretch. For you that means excellent mobility on the toughest hikes. These shorts are the complete package with a Storm Repel finish so water runs right off, to a UPF rating of 50+ to ensure protection from the sun's damaging rays.  The zippered side pocket is perfect for your phone so you can grab quick pictures. With the moderate price you win big time with these men's hiking shorts.
CONS: If these just had a gusseted crotch they'd be perfect, however the stretchy fabric allows so much movement that you probably won't even notice.
The best men's hiking shorts should be the ones you pull out of the pile even for every day wear because they are so unbelievably comfortable! You really can't go wrong with any of the choices above for shorts that are perfect for backpacking the trail! Don't forget to save this to your Pinterest vacation board so you can easily find it again!