Women's hiking shorts are a breed all of their own. As I started jotting down all the things women like in a pair of shorts for hiking, it quickly became apparent that just any ole' shorts won't do. For example, great running shorts lack unique pockets to tuck everything you must have on the trail. Dress shorts might look great, but just don't wick away the sweat and keep you cool. And there are so many other features you need in your shorts for the trail. So below, I'll share the details about what to look for when selecting your personal best women's hiking shorts.
And then, at the end of the article, I have listed our favorite ladies hiking shorts that you should check out. I'm confident you will find the one you love in this list. You are highly likely to find at least 2 you can't live without on your next hike – they are that good!
Feel free to pop on down to the list of really great hiking shorts for women using the links in the table of contents if you can't wait to see our top choices! This post contains affiliate links to make it easier to find the products I have mentioned. You don't pay any extra, and in some cases, I could earn a small commission.
The Key Features for Selecting Hiking Shorts for Women
There are 3 key areas to consider when selecting the best women's hiking shorts.
The style is probably more of a personal preference that carries across most of the women's hiking shorts you wear. However, I do have a couple of things you should consider before making your selection that I'll share.
The material is super-critical. It's so important that you have trail shorts that keep you cool and dry while hot weather hiking. You also need a durable material that will not rip when you crawl over a pile of rocks. I'll dive into the best materials for the best hiking shorts below.
Functional Pockets might be the most important feature. Crazy right? But not all pockets are created equal and without the right pocket at the right time, you are going to regret wearing that pair of shorts. We'll talk about it and you'll quickly see what I mean!
What length is best for your hiking shorts?
Of course, part of the decision on the length of your shorts is about your personal comfort level. Some of us just prefer a longer shorts and some like short shorts. But there are also other considerations when selecting the length of your hiking shorts. Shorts length is determined by inseam lengths, the measurement of the inside seam of the leg.
✔️

Short  Shorts- 4-5" Inseam:

If it's going to be super hot, then you will want shorts that have very little coverage. That means look for shorts with a 4-5 in inseam. Most running shorts fit into this length range also because of the immense heat your body creates when running.

However running shorts don't have critical pockets whereas hiking shorts will have exactly what you need for tucking in your essentials on the trail. If you expect to get wet by hiking through streams you'll also find most water sports shorts, such as shorts for kayaking, fall into this length range to expedite drying time.
✔️

Moderate Length Shorts – 7-10" Inseam:
The most popular women's shorts for hiking hit mid-thigh with an inseam of 7-10". That's because this length provides protection for your bottom if you find yourself sliding down a steep incline on your bottom (of course on purpose, not because you fell, lol). Plus we truly believe ½ of the joy in hiking is taking a break when we find an amazing view and you'll find those longer shorts will be much more comfortable than bare skin on a damp river bank or sun-baked boulder.
And an important consideration is that this length of girl's hiking shorts tends to have better pocket options since the designer can strategically tuck pockets into the legs. Yes, I know I'm a bit pocket obsessed!
✔️

Long Knee Length Shorts – 12-15" Inseam:
These are shorts that are knee length on most of us. But if you are a tall gal, more likely they are the perfect length for you and all the comments about moderate shorts apply to you. For the rest of us average height gals, these longer shorts are usually only used for hiking when you expect a lot of rough terrains because they will protect your legs.
For example going through tall grasses, a little bushwhacking, etc. If you choose longer shorts, do a quick test to make sure that when you are lifting your legs high, for example, tall stair climbing, the hem is not rubbing the top of your knee cap. I promise that will drive you crazy on the trail.
If you find you really love a longer length then think about women's hiking leggings which will give you full coverage of your legs.
Determining the best rise for your hiking shorts.
Low-rise shorts are rarely used for hiking because they tend to sit at the exact spot your backpack rides on your lower back. That means you have the backpack pushing down on the waistband of your shorts all day long. YUK! I'm sure you can easily imagine how uncomfortable you will be on that hike.
The best hiking shorts for women will either be mid-rise or sit at your waist. I'd suggest you try on your favorite backpack and snap up the hip belt.
Your goal is to not have the hip belt at exactly the same level as your short's waistband. Your backpack's hip belt should sit against the shorts fabric below the waistband or sit above the waistband and not touch the front of your shorts at all.
So what about that waistband?
When you are on the trail, freedom of movement is critical. You don't want to feel your waistband digging into your skin. So look for women's hiking shorts with a waistband that has a bit of stretch. That can range from a pair like the Columbia Saturday Trail Shorts that have a little bit of elastic at the waist to Arcteryx's Sabria Short with a snug full stretch waistband.
You'll also want a no-tag waistband if at all possible. I can't tell you how many times I've pulled the stitching out of the tags in my women's walking shorts because that rub against the small of my back drove me crazy.
Along that same theme, the best women's hiking shorts will have flat-lock seams so there are no raw fabric edges rubbing your skin. What's a flatlock seam? It's when the raw edges are sewn into the seam so they are hidden. Usually, it looks like a double-stitched seam.
What does gusseted construction mean?
Generally, top hiking shorts do not have a gusseted crotch seam. However, if you are going to do a lot of bouldering or some rock climbing on your hike you might consider looking for this feature.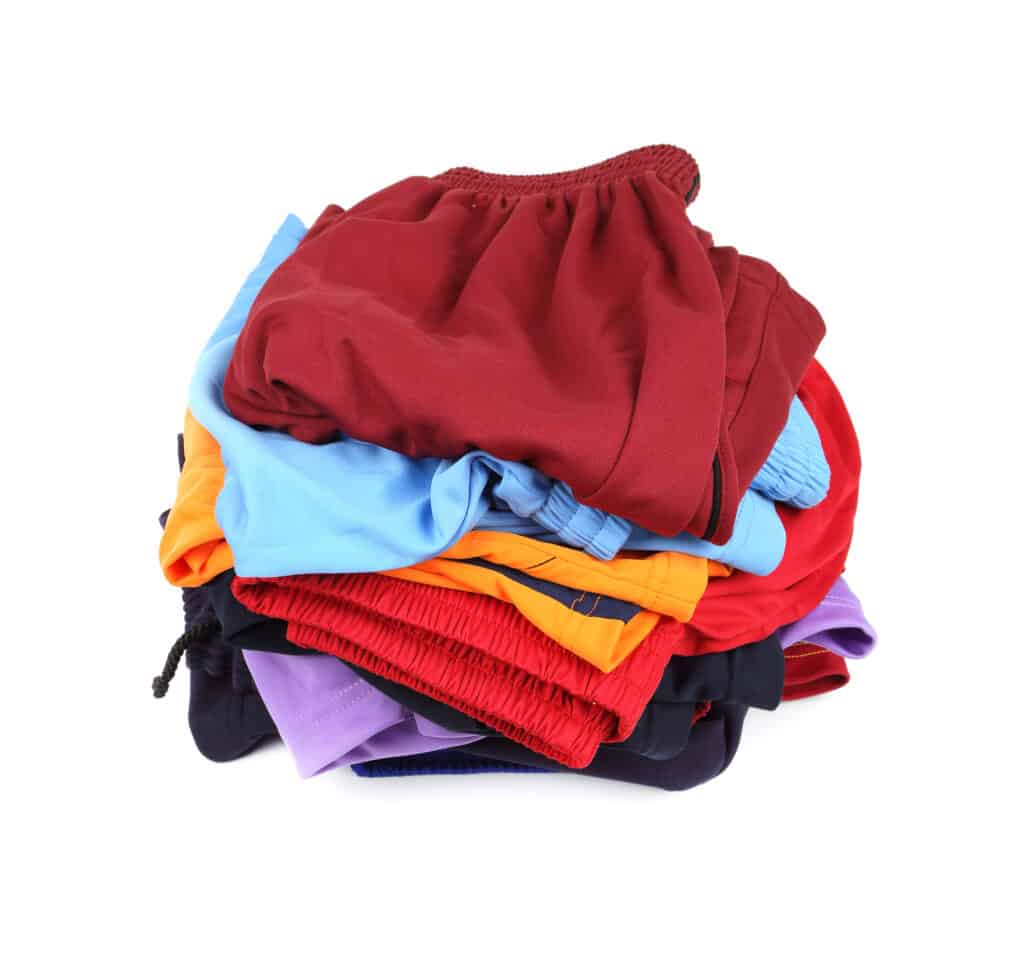 So what is it? Normal pants have a seam from front to back and then a seam up each leg. The 2 seams meet in your crotch. When pants have gusseted crotch, an extra piece of material is sewn in so the front to back seam splits into 2 seams which moves that seam to the side instead of directly rubbing your privates.
What Materials Make the Best Women's Hiking Shorts?
The best hiking shorts for women are made out of Nylon or Polyester. Sometimes you'll also find spandex or another fiber blended in to increase the stretch of the fabric.
Understanding Nylon vs Polyester Shorts
Durability: Both are very durable which is incredibly important since your bum is the one body part likely to come into contact with rough materials like rocks and tree branches when you are hiking.
Lightweight: Both are super lightweight. Lighter fabric tends to dry quickly when it gets wet. So that means if you are sweating like crazy, your lightweight hiking shorts will dry as you go. And I've learned that most hikes mean a little bit of rain or stream crossing. Wet shorts are nasty and chaffing so let's avoid those at all costs with quick-drying fabrics.
Feel Soft: Nylon was originally created as a substitute for silk and has that same silky smooth finish to the fabric. The heavy rough fabric of the famous blue polyester suits of the 70s has been replaced by technology with a much softer polyester fabric that feels a lot like cotton.
Naturally Hydrophobic: This means they move water to the surface resulting in great moisture-wicking hiking shorts. Although both are great at moving sweat away from your skin, nylon will absorb some of that water, so polyester has an edge here when it comes to quick drying.
Stretch: Nylon definitely wins when it comes to stretch. You want your hiking shorts to have some give and move with you on the trail. However, both fabrics work extremely well when blended with something like spandex.
Easy Care: Just toss your women's outdoor shorts into the washer and a cool dryer and you are ready to go. Unlike wool or bamboo, you don't need any special care for nylon or polyester.
Are Natural Fabrics like Wool or Bamboo used for hiking shorts?
Wool and bamboo fibers lack the strength that you find in synthetic fibers, hence they struggle to perform well under an abrasive experience. You'll find that the best hiking underwear for women is usually one of these materials while your outer layer of shorts or pants is better off being made from nylon or polyester.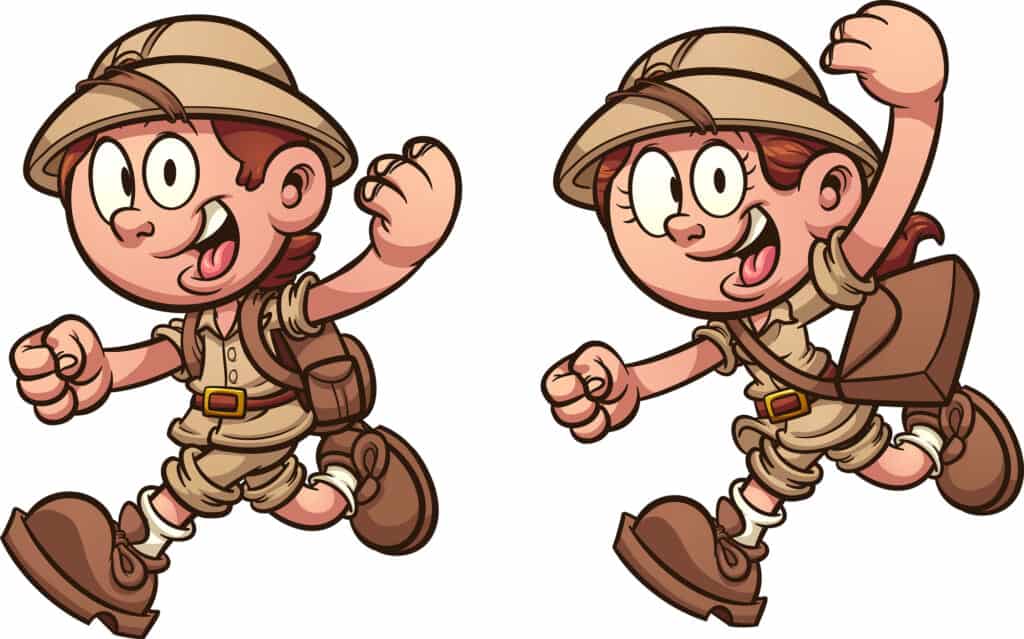 What about Cotton Khaki Hiking Shorts?
In all the old movies, the explorers trudged through the jungle in khaki shorts. These shorts are truly romanticized. True khaki shorts are made out of cotton specifically for the durability and crisp appearance that fabric can deliver.
The problem is that cotton doesn't breathe well and it is slow to dry. Cotton is super absorbent (hence why it makes a great bath towel) so it will hold moisture against your skin. They are really the last shorts you want to wear on a hike where you are going to get a good workout.
However… a lot of designers now take the durability of cotton that the early explorers loved and blended it with nylon or polyester to come up with some great hiking shorts. So don't be totally afraid of cotton blends. Just be a smart shopper and look for lightweight fabric blends that specifically call out their sweat-wicking properties.
Check out the Sun Protection Rating (UPF)
The ability of a fabric to protect your skin from the sun is measured with a UPF rating. The Ultraviolet Protection Factor (UPF) indicates how much UV radiation a fabric allows to reach your skin, According to the Skin Cancer Foundation, A UPF of 30 to 49 offers very good protection, while UPF 50+ rates as excellent.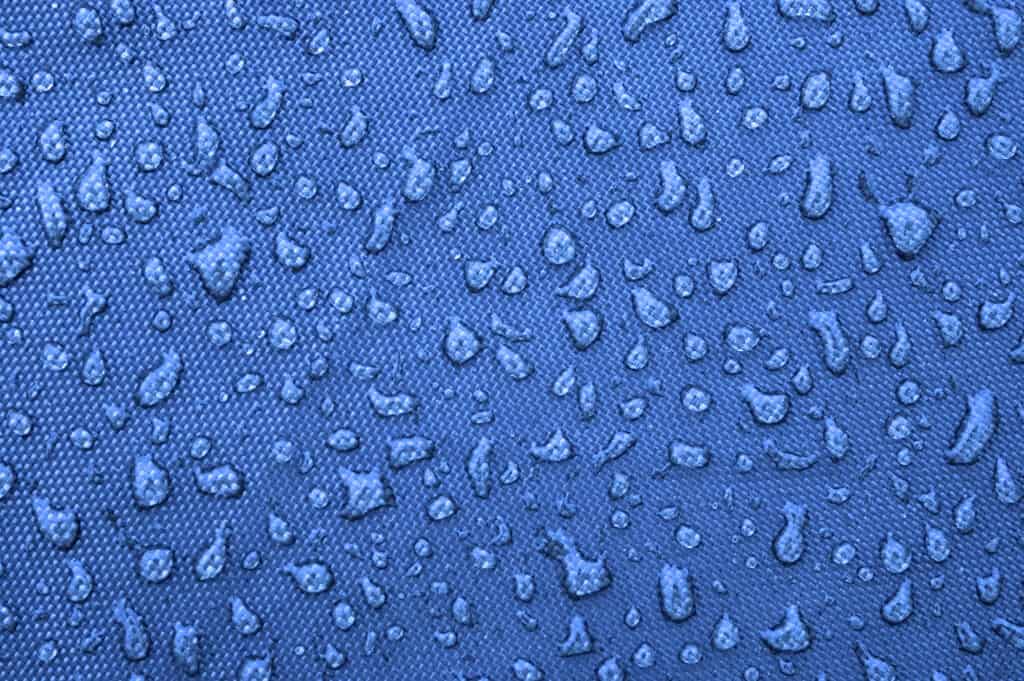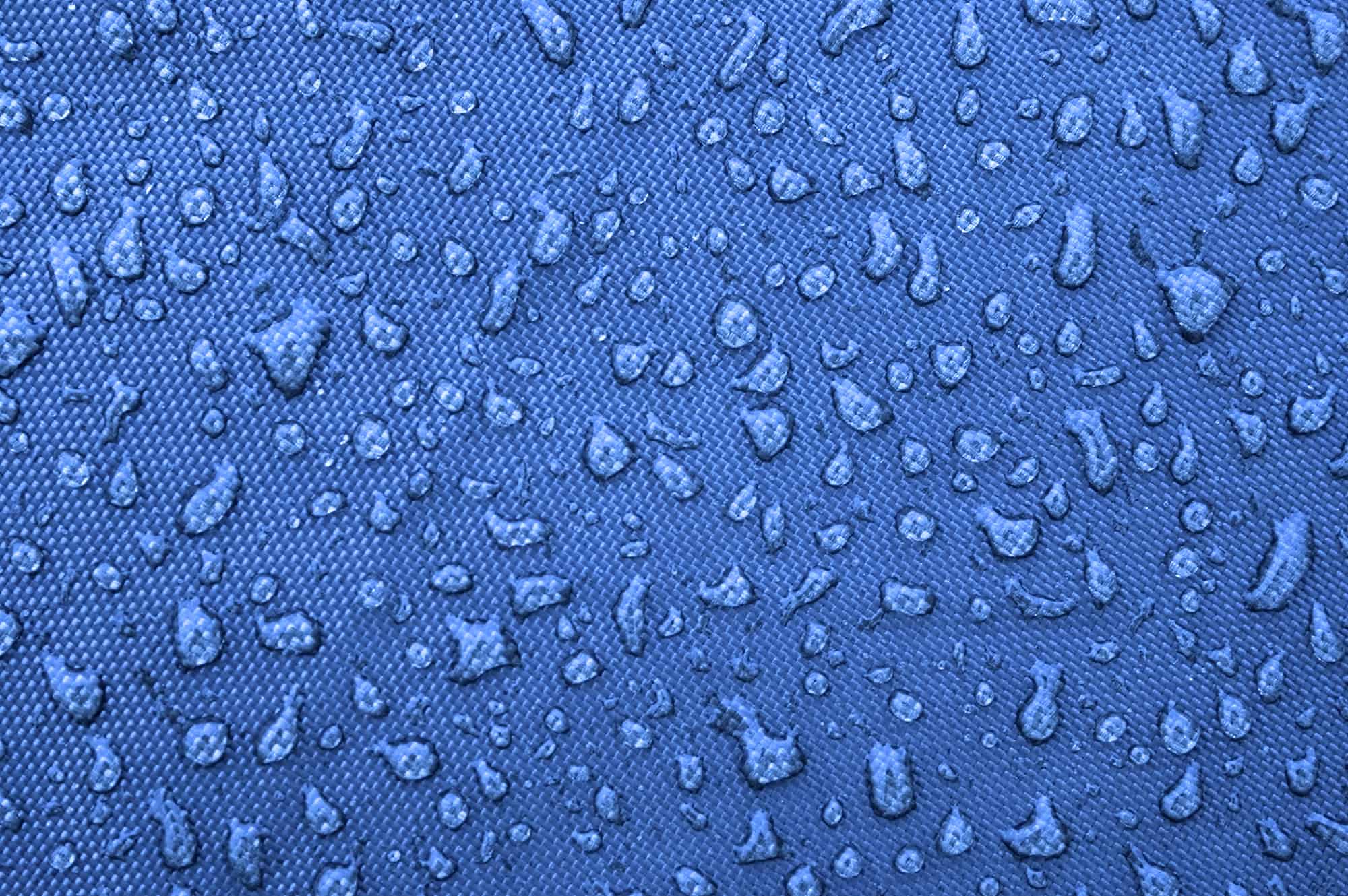 The more densely woven fabric the less sun it will allow to pass through to your skin. Nylon and Polyester have a natural ability to protect your skin from the sun. That's why the best hiking shorts for women tend to be made of one of these fabrics.
Durable Water Repellent (DWR)
Applied as a coating to the exterior of the fabric, DWR applications add a water-resistant layer to your shorts. It is a great idea. Just keep in mind that the application also reduces the breathability of the fabric. So in the case of DWR, consider your hiking conditions before choosing treated shorts.
For example, I know that most mountain hikes will have a rainstorm at some point. I can either pull out rain paints (so uncomfortable if it's hot) or I can enjoy the rain just rolling off my DWR treated shorts. However, if it's going to be stinking hot, the airier the shorts the better!
---
If you are looking for a pair of great shorts for your favorite guy, check out our guide to the best men's hiking shorts!
---
Why the noise about POCKETS in your hiking shorts?
Let's get real… you have a backpack where you can store everything. Why on earth do you need any pockets in your favorite women's hiking shorts? Here's the scoop:
When I am traveling with my backpack on my back there are certain things I want quick access to.
So think about what you don't want to have to stop for when on the move that you can tuck into pockets. For me, other than the ever-present chapstick that list varies with every hike. Sometimes it's my cell phone to grab photos, others it might be bear spray and occasionally it's a small headlamp as the sun starts to set. See… different every time.
Sometimes those hiking shorts do double duty for regular vacation shorts. We might hop out of the car for a short walk to a scenic spot. I'm not going to grab my backpack. But I do need a place to tuck my keys and chapstick (never leave home without it!) I want that particular pocket to be super secure with a velcro or zipper closure. The last thing you need is to be 2,000 miles from home with your car keys at the bottom of the deep ravine.
However, the last thing I want is to have pockets so overloaded that it feels like my pants are being pulled down from all the weight. Need I say cargo pants!
My advice on women's hiking shorts with pockets is you want one secure pocket, preferably with a zipper. That pocket can be in front or back. You want one nice deep pocket that fits your whole cell phone.
For longer shorts, I kind of like this in the side of the leg. Just watch that it's not a huge pocket that quickly becomes those cargo pants.
For the regular old-fashioned front pockets make sure the pockets are deep enough to hold something. Some front pockets are so shallow that everything is certain to fall out the first time you lean over.
Here are the top choices for women's hiking shorts!
We narrowed down our list of the best women's hiking shorts to the ones we know you will love for comfort and style. Let's take a look at these top choices!
Eddie Bauer Guide Pro Shorts: Best Shorts That Also Look Great Off Trail
FABRIC: Flexion 94% nylon/6% spandex
RISE: Mid Rise Waist
INSEAM: 7 inch
QUICK-DRYING: StormRepel DWR treated
UFP RATING: 50 (very high)
POCKETS: 2 Front + 2 Side Zippers
SIZES: 2 to 18
PRICE: $$
PROS: Inspired by the famous Guide Pro pants, you'll love the comfort of these shorts. Eddie Bauer Women's Guide Pro Shorts have the perfect amount of stretch and give so you feel comfortable on the trail. Check out the zippered side pockets, perfect for stashing your phone and knowing you won't lose it. The slightly curvy fit falls naturally on your hips. We love that the legs are loose, but not too loose. You'll also find Petite and Talls in some sizes and colors.
CONS: Very trim figures will likely struggle with sizing on these due to the curvy fit.
Prana Olivia Women's Shorts: Super Attractive Hiking Shorts
FABRIC: 97% Nylon, 3% Spandex
RISE: Mid rise
INSEAM: 5 inch and 7 inch
QUICK-DRYING: Moisture Wicking
UFP RATING: 50 (very high)
POCKETS: 4
SIZES: 00 to 22W
PRICE: $$$
PROS: The trouser style Prana Olivia shorts made this list because they are so comfortable as well as attractive! The extra stretch in this fabric allows you to enjoy the trail without chaffing. They come in one of the widest ranges of sizes with multiple colors to choose from. Prana's stretch Zion fabric is quick-drying and abrasion-resistant. These hiking shorts will last you years.
CONS: The most frustrating part of selecting the amazing Prana Olivia shorts is trying to find your size. Don't give up! You'll need to click through a couple of the links to find the listing with your size, but it will be there. Also, be aware that they run small. You'll probably want to order up a size. My only real complaint is the shallow front pockets where items will easily fall out. However, Prana makes up for it with really nice deep back pockets.
Arc'teryx Gamma LT – Best Technical Hike Shorts
FABRIC: 88% Nylon, 12% Elastane
RISE: Mid
INSEAM: 6 inch
QUICK-DRYING: Yes, Highly Air Permeable Fabric
UFP RATING: Not rated
POCKETS: 2 zippered hand pockets, thigh pocket
SIZES:  00 to 16
PRICE: $$$$
PROS: You'll find these shorts super durable which makes them a great choice for a more technical hike. The trademark fabric blend, Fortius™ DW 2.0, is specifically designed for stretch and breathability. You'll stay cool and dry on a hot day. The Arc'teryx Gamma LT Women's Shorts are designed to stretch and go with you.
A stretch gusset enhances the freedom of movement for climbs and bouldering. These are great women's hiking shorts with pockets, in addition to 2 front pockets, you'll find a hidden zippered pocket inside the right seam. The wide stretchy waistband features an integrated belt for adjustable comfort on the trail.
CONS: They are also the most expensive shorts on this list, although many find the extra durability worth every penny.
NorthFace Paramount Shorts: Best Shorts for a Hot Day
FABRIC: Nylon
RISE: Mid
INSEAM: 5 inch
QUICK-DRYING: TNF FlashDry technology
UFP RATING: 50 (very high)
POCKETS: 3 (one zippered)
SIZES: 2-16
PRICE: $$$
PROS: The North Face's proprietary Flash Dry technology used in the Ladies Paramount Active Shorts makes these shorts perfect for a hot day where you want sweat to quickly wick away from your body and dry. You'll also like the way the wider leg openings help keep you cool. The integrated belt make it easy to adjust on the go, without the discomfort of a belt rubbing against your back.
CONS: Actually I couldn't find anything to dislike about these shorts except they aren't available in a little longer length. Maybe another pocket would be nice.
Little Donkey Andy Shorts – Best Deal in Hiking Shorts
FABRIC: 95%Polyester / 5%Spandex
RISE: At Waist
INSEAM: 9 inch
QUICK-DRYING: Yes, DWR Finish
UFP RATING: 50 (very high)
POCKETS: 3 large – all zippered
SIZES: XS to XXL
PRICE: $
PROS: At around $30, these women's hiking shorts are pretty amazing. Not only are they affordable hiking shorts, but they are also extremely well designed. The 3 zippered pockets are large enough for a cell phone or to store your map for easy access.
The fabric in the Little Donkey Andy Shorts is very stretchy, combine that with the wide elastic waistband and you won't experience any pinching or chaffing. With the wide selection of sizes and over a dozen different colors, these shorts quickly become the best deal for almost every hiker.
CONS: For slim figures, you might find the style a bit baggy.
Columbia's Saturday Trail Long Short: Perfect for a Trim Fit
FABRIC: Polyester
RISE: Mid Rise Waist
INSEAM: 10 or 12 (also avail in 5″)
QUICK-DRYING: Yes, Omni-Shield™ Finish
UFP RATING: 50, Omni-Shade™
POCKETS: 2 Front, 2 Back plus Zippered Side
SIZES: 2 to 16
PRICE: $$
PROS: Columbia's special fabric blend means these shorts will survive just about anything you throw at them (literally). They are stain and water-resistant and shade your skin from harmful sun rays. All that plus the Columbia Women's Saturday Trail Shorts are extremely comfortable. That's due to the combination of a nice stretchy fabric, the gusseted crotch construction and the partial elastic waistband.
Not to mention this choice for the best hiking shorts for women look marvelous! Note the Columbia Saturday Trail Shorts are also available in a 5 in Inseam.
CONS: Not everyone is going to like the trimmer fit and snug legs.
Marmot Kodachrome: Our Absolute Favorite Mid Length Hiking Short
FABRIC: 94% Nylon, 6% Elastane
RISE: Mid Rise
INSEAM: 10″
QUICK-DRYING: DWF applied,
UFP RATING: 50+
POCKETS: 2 Front, 2 Back, 1 Small Zippered
SIZES: 2-10
PRICE: $$$
PROS:  The Ladies Marmot Kodachrome shorts will keep you super dry and sweat-free due to Marmot's DriClime technology. The fabric is a mesh composed of two different denier yarns which work together to maximize breathability, prevent condensation and wick moisture. The fabric is abrasion resistant so you can play as hard as you want. Or you can just chill on a big rock and not worry about rips when you slide off.
The moisture-wicking DriClime® stretchy waistband takes care of the one area where sweat tends to build up. To top it off (or maybe I should say to bottom it out) the gusseted seam provides an amazing range of motion for every type of trail. Check out these shorts and you'll see why we love them as one of the best women's hiking shorts. Also available plus size Marmot Kodachrome Shorts.
CONS: Just one little complaint and that is about the pockets. The zippered pocket sits right on top of one of the back pockets. Not a spot you'd actually use for a security pocket if you are carrying a backpack. Cute… but not functional. These shorts are currently only available in smaller sizes.
Baleaf Stretch Hikers: Best Comfy Knee Length Hikers
FABRIC: 88% nylon, 12% Spandex.
RISE: Waist
INSEAM: 14 inch
QUICK-DRYING: Yes, DWR treated
UFP RATING: 50 (very high)
POCKETS: 2 Front, 2 Back plus Zippered Side
SIZES: XS to XXL
PRICE: $
PROS: There's so much to like about Baleaf Women's Stretch Hiking Shorts. The higher ratio of spandex in the fabric gives you more stretch than almost any other hiking short. You'll find a gusseted crotch, which is critical when wearing women's long hiking shorts. It ensures that the shorts will stretch with you when climbing or taking a long stride.
Combine that with the stretch waistband and you will never find your shorts digging into your skin as you hike. These are quick-drying and DWR treated to help shed water in the rain. Best of all the price is difficult to beat for this quality of hiking shorts.
CONS: The DWR treatment leaves a little shine on this fabric which some reviewers didn't like for casual wear even though they were perfect for the trail.
Columbia Backcast Water Shorts: Combining Kayaking with Hiking
FABRIC: 100% Nylon
RISE: Mid Rise
INSEAM: 5 inch
QUICK-DRYING:
UFP RATING: 50+
POCKETS: 2 Front, 1 Zippered Back
SIZES: XS to 2XL
PRICE: $
PROS: Designed with the busy woman in mind, the Columbia Backcast Water Shorts are perfect for hiking, kayaking, fishing or any combination. These shorts will keep you cooler than any other with their comfortable elastic waistband and wider legs. The waistband has belt loops if you want to add a belt, but you'll find these just as comfy without.
The fabric is super quick to dry as you would expect with water shorts. I have a pair like these and they are my go-to for kayaking because they dry so fast. You'll love the wide assortment of colors. So feel free to combine a day of rafting and hiking in total comfort.
CONS: If you don't really care about pockets, then these do great double duty for hiking. The zippered pocket in the back is small so won't hold much.
I'm sure you'll find a pair you love in this list of the best women's hiking shorts. Hot weather hikes are the perfect opportunity to explore, but a pair of great shorts can make a huge difference in your comfort. There are some really great choices to meet your own personal style and comfort.
---
Don't miss these other great guides for hiking gear for women:
Best Hiking Bras: No more Funky Feeling
9 of the Best Day Packs for Women Who Love to Hike
Hiking Gifts for Her: Over 60 Gift Ideas that Inspire Adventure
---