The last thing you want to remember about your hike is the pain you feel in your groin and thighs from that nasty underwear rub. Choosing the best men's underwear for hiking that will prevent chafing while on the trail should be the first thing you think of when packing. And then, you should never have to think about your private regions again!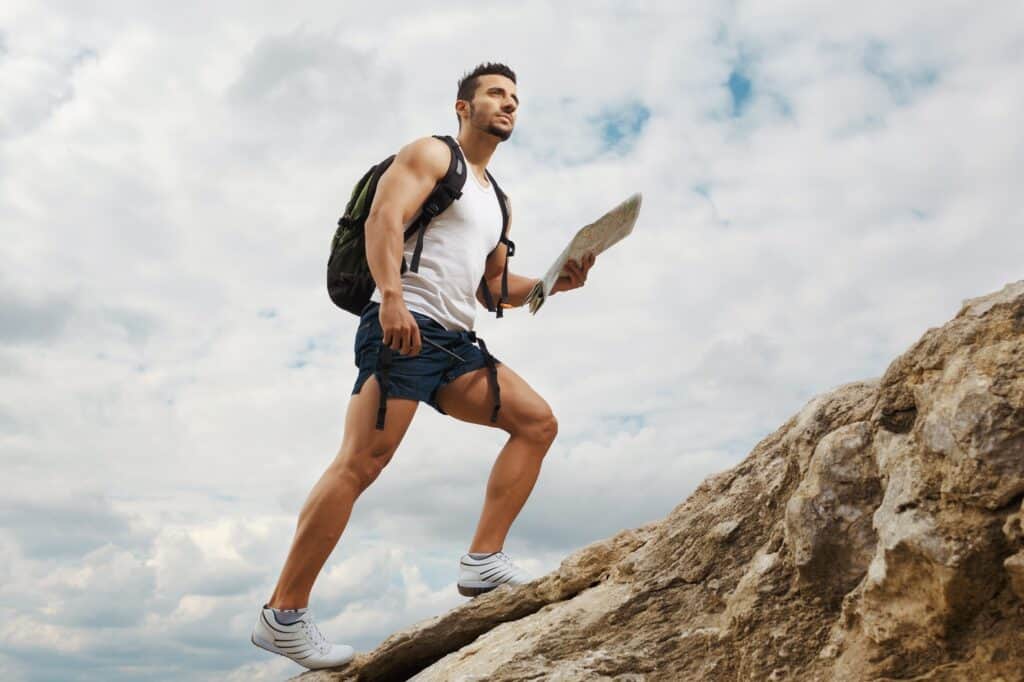 Brad teased me about spending a lot of time looking at men's butts as I was doing the research for this article. And I will tell you it is very interesting how many options men have when selecting amazingly comfortable hiking underwear. I'm confident that any of these choices for men's hiking underwear will leave you one happy hiker. As usual a reminder that this post contains affiliate links to make it easier for you to find the products, I have mentioned. You don't pay any extra and in some cases, I could earn a small commission.
How We Chose the Best Men's Underwear for Hiking
After years of hiking and outdoor adventures, we've learned to value 4 things when investing money in really good hiking underwear that will serve you well on the trail:
Support for your private parts (I don't think I need to explain that one!)
No Rub Features that eliminate painful chafing and rubbing in the cracks and crevices of your body as well as between your thighs.
Style and Fit that are comfortable and tug-free. Your underwear should be the last thing on your mind when exploring the wild.
Cool, Dry and Odor-Free means exploring the moisture-wicking and anti-microbial properties of the fabrics used to make your underwear. Some designers also use ventilation to help with cooling. The fabric used in making your backpacking underwear is probably the most important piece of the puzzle for staying dry and stink-free.
We evaluated a slew of underwear with these key characteristics in mind. You'll find our review of our favorites here. You can also read below the reviews for a detailed guide to selecting the best men's underwear for hiking.
Reviews of The Best Hiking Underwear for Men
Because Merino Wool is so amazing in keeping you cool, dry, and stink-free, we've chosen 3 styles of boxer briefs for hiking to share with you. Of course, when selecting all-natural fabrics like merino wool, you also have a slightly higher price tag. If these best men's underwear for hiking are out of your budget, scroll on down to some amazing blend alternatives. 
✔️Our Top Merino Wool Choice: SMARTWOOL MERINO SPORT 150
FABRIC: 56% Merino Wool, 44% Polyester
ANTIMICROBIAL: Highly rated
QUICK-DRYING: Super Quick
STYLE: Boxer Brief
SIZES: S to 2XL
OPENING FLY: Yes
PRICE: $$$
We love merino wool for all activewear and the Smartwool Merino Sport 150 Boxer Brief is the perfect example of why it works so well for hiking underwear.  With its moisture-wicking, breathable, thermo-regulating, ventilating, and odor-neutralizing properties, this Smartwool Merino Boxer Brief is really more comfortable when you're working up a sweat.
The thermo-regulation of the wool keeps you cool in summer and warm in winter. To take all the benefits of merino wool up a notch, Smartwool has blended quick-drying polyester into the fabric. No more damp undies at the end of a long trail!
The interlock knitting enhances comfort while the flatlock seams minimize chafing.  The thick waistband is covered with Merino wool on the interior, which hugs you so softly that you almost don't notice wearing underwear. The band design does not ride and is ultra-durable.
They've added a double front panel to provide extra support. You can't just throw this Smartwool underwear in the dryer, though. They need to be hand-washed and hung dry.
PROS: Superior temperature, moisture, and odor control of merino wool.
CONSIDER: Pricey, don't put in a clothes dryer.
---
✔️The Perfect Merino Wool Alternate: Icebreaker Anatomica
FABRIC:  83% Merino Wool, 12% Nylon, 5% Elastane
ANTIMICROBIAL: Very High Rating
QUICK-DRYING: Super Quick
STYLE: Boxer Brief
SIZES: S to XXL
INSEAM: 11 inch
OPENING FLY: Yes (Also avail w/o Fly)
PRICE:$$
You won't find anything softer than the IceBreaker Anatomica Boxer Briefs. Due to the highest ratio of merino wool, the fabric feels like silk against your skin.  This also means these boxer shorts have an extremely high wicking factor which will keep you cool and dry.
The only reason this isn't our top choice is the smaller amounts of synthetics means these undies may struggle to retain their shape if you accidentally throw in the washer and dryer.
Ice Breaker's Anatomica Series are specially designed to fit the shape of your body. For these briefs, the Anatomica Zone features the same incredible fit and comfort with added ventilation, so you stay cool and dry. If you prefer, IceBreaker Anatomica Boxers without a fly are also available.
PROS: More natural material, super soft and silky, extremely high odor, moisture control
CONSIDER: Pricey, can stretch out if not washed carefully
---
✔️ The Merino Wool Runner-Up: Ibex Natural Boxer Briefs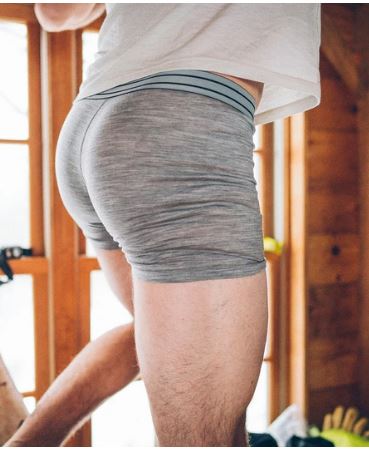 FABRIC: 94% Merino Wool, 6% Spandex
ANTIMICROBIAL: Extremely High
QUICK-DRYING:Very High Rating
STYLE: Boxer Brief
SIZES: S to XL
OPENING FLY: Yes
PRICE:$$$$
If you are looking for the most natural underwear for hiking solutions possible, then the IBEX Natural Boxer Briefs are exactly what you want with 94% Merino wool and just a little bit of Spandex added for shape retention. You'll love all the comfort of merino wool and the wide, no-slip waistband.
PROS: As Natural as it gets with Merino Wool, wide comfort waistband
CONSIDER: Some find the fit a little snug
---
✔️ Our Favorite Bamboo Hiking Underwear: Boody Body EcoWear
FABRIC: 80% bamboo viscose, 13% nylon. 7% spandex.
ANTIMICROBIAL: Extremely High
QUICK-DRYING: Very High
STYLE: Boxer Brief
SIZES: S to XL
OPENING FLY: No
PRICE: $
The design of Boody Body Ecowear's Boxer Briefs screams comfort. The unique manufacturing process eliminates painful, rubbing side seams. And the wide no-roll waistband is super comfortable. And most important, they will keep you fresh and dry on the hottest hikes.
If you are looking for something comfy and practical, this is an excellent choice for the best hiking underwear made from bamboo. Boody's is committed to providing ethically made under-garments made from sustainably sourced bamboo.
These boxer briefs are made of silky soft natural fabric that will wick away sweat and dry quickly. Bamboo rivals merino wool and can be found for a little less money. These are especially nice if you have a wool allergy.
PROS: Very lightweight, low odor, quick-drying
CONSIDER: Some don't like the snug fit in the testicles
---
✔️ Amazing Stretch Boxer Briefs: ExOfficio Give-N-Go
FABRIC: 94% Nylon / 6% Lycra Spandex
ANTIMICROBIAL: Treated Fabric
QUICK-DRYING: Very Highly Rated
STYLE: Boxer or for a more snug fit Boxer Briefs
SIZES: S to XXL
OPENING FLY: Yes
PRICE: $
Weighing just 3.18 oz, the Give-n-Go Boxer Briefs are breathable and lightweight. They provide a snug fit that won't ride up and squeeze your areas of importance. If you like a little more space in your drawers, check out the looser fitting Give-n-Go Boxers instead.
They have gone through antimicrobial treatment to reduce fabric odor. You can wear them while working out, hiking, or playing sports. The durable fabric and comfortable waistband won't stretch out with continuous use, while the breathable mesh supplies airflow to keep you cool all day.
If you're on a long hiking or camping trip, you can wash and hang them to dry in a few hours. So you only need two for any trip. The sizing is somewhat larger than normal, so you might have to buy smaller sizes than your usual brand.
PROS: Breathable, Lightweight, No Ride Up
---
✔️ Men's Hiking Briefs That Protect EVERYTHING: SAXX Ultra Boxer Brief
FABRIC: 95% Viscose, 5% Spandex
ANTIMICROBIAL: Not treated
QUICK-DRYING: High Wicking Factor for quick dry
STYLE: Boxer Brief
SIZES: XS to XL
OPENING FLY: Yes
PRICE:$$$
This is no sweat underwear with a difference! The story goes that Trent Kisch, a former baseball player, was fishing in 2006 and spent hours in an uncomfortable clammy suit. On that trip, he imagined a catcher's mitt turned upside down and a paneled fabric hammock that separated each of his male parts.
The famous design is now the patented BallPark Pouch, made of a fine mesh that provides lift and support. It allows free movement without restrictions no matter what you're doing.
Made of Viscose and Spandex, the material is soft on your sensitive region, and the flat out-seams of this moisture-wicking underwear keep you comfortable, sweat-free and chafe-free. If you prefer that your boys have their own individual space/rooms and stay cool, the SAXX Underwear Mens Ultra Boxer Brief is the ideal choice!
PROS: Moisture-wicking, Low maintenance, Flat out-seams, Patented Ballpark Pouch
CONSIDER: This is a looser fit so consider when ordering.
---
The Best Compression Shorts: Under Armour Heat Gear
FABRIC: 79% Polyester, 21% Elastane
ANTIMICROBIAL: No
QUICK-DRYING: Yes with Proprietary HeatGear Fabric
STYLE: Long Boxer Briefs
SIZES: XS to 4XL
OPENING FLY:
PRICE:$
Another great sweat-wicking underwear is the Under Armour HeatGear thigh-length boxer briefs. The inseams are strategically placed in areas that are not sensitive, and the panels encourage ventilation of your gems. The anti-odor technology prevents odor and reduces smell while the moisture-wicking fabric dries your sweat really fast.
The patented HeatGear fabric made of a stretch-mesh gusset provides good ventilation in your special region to prevent heat build-up while being tough enough to protect them and provide special Under Armour compression. In addition to backpacking and trekking, they are also amazing briefs to use in playing sports.
PROS: Huge selection of sizes, very stretchy, quick-drying
---
The Best Merino Wool Briefs: Icebreaker BodyFit 150
FABRIC: 83% Merino Wool, 12% Nylon, 5% Lycra
ANTIMICROBIAL: Naturally anti-microbial
QUICK-DRYING: Very High Rating
STYLE: Low Ride Brief
SIZES: S to 2XL
OPENING FLY: No
PRICE: $$
To keep the boys as cool as a sheep in warm weather or as warm as a sheep in cold weather, the Icebreaker Merino Men's Anatomica Briefs blends 83% Merino Wool with 12% Nylon and 5% Lycra.
Of course, you already know the benefits of wool; thermo-regulation, anti-microbial, and anti-odor. Lycra increases mobility and stretchiness, the nylon core increases strength and durability, and the flatlock seams prevent chafing. Lightweight at just 1.76 oz, breathable, soft, and supportive, these are some of the best travel underwear available.
The quick-dry men's briefs must be hand washed and hung instead of tumble dry. Sustainable, natural, and ethical, they're perfect for any hiking, trekking, or camping adventure.
PROS: Comfortable, Good support, Odor Resistant, Lightweight, Breathable
---
Best Daily Wear Men's Briefs: REI Co-op Everyday Briefs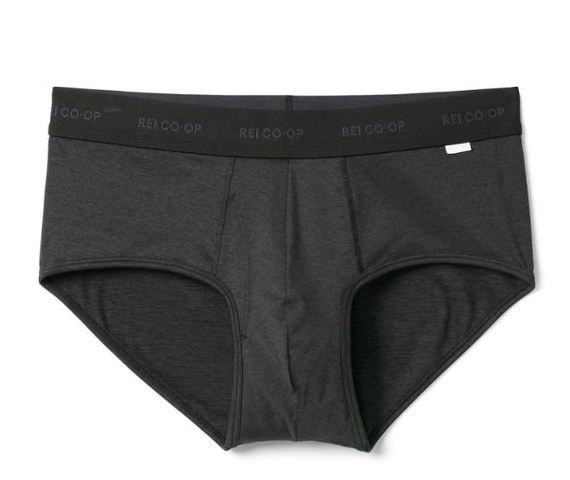 FABRIC: 87% polyester/13% spandex
ANTIMICROBIAL: Not treated
QUICK-DRYING: High Wicking Factor for quick dry
STYLE: Brief
SIZES: XS to XXL
OPENING FLY: Yes
PRICE:$$
Designed to be worn every day and take you on any adventure, the REI Co-op men's Everyday Briefs have been tested through every sport you can imagine. The blend of polyester and spandex means they move easily with you and retain their shape through many washings. Polyester will breathe and move moisture away from your skin so it can dry quickly.
The Jacquard elastic waistband is wide and soft for maximum comfort. The seams around the legs are low profile, with flatlock seams to reduce any rubbing and chafing.
PROS: Moisture-wicking, Low maintenance, Comfort Waistband
---
Best Hiking Briefs with Full Hiney Coverage: ExOfficio Give-N-Go Brief
FABRIC: 94% Nylon / 6% Lycra Spandex
ANTIMICROBIAL: Treated
QUICK-DRYING: Very High Rting
STYLE: Mid Rise Brief
SIZES: S to 2XL
OPENING FLY: Yes (also avail w/o fly)
PRICE:$
These are super easy to care for, just throw in your regular laundry and then let air dry for a few hours. You'll appreciate the 4-way stretch of the durable fabric when you are on the hiking trails. ExOfficio Men's Give-N-Go Briefs are perfect for a long trip where you can just pack one and wear one, rotating out for a quick wash.
These undies have a wide comfort waistband and chafe reducing flatlock seams. The breathable mesh fabric supplies airflow to keep you cool on the hottest day. The fabric has an anti-microbial treatment to avoid odor-producing bacteria growth. You'll feel good and smell fresh when you get off the trail.
PROS: Fuller coverage for your bottom, moisture wicking, odor control, easy care.
---
Complete Guide to Selecting the Best Mens Underwear for Hiking
What to look for in Hiking Underwear Support
Generally, hiking is a moderate impact activity. You are probably not bouncing your privates around like you would running a marathon. However, when hiking, you are constantly moving, shifting, climbing, etc, which means you want a fit that holds everything in place. You want a snug but not too snug fit in the best men's hiking underwear.
For example, compression shorts provide amazing support and are great for a marathon when you'll be able to peel them off after and get some air to the boys. But for a full day or two of hiking, most guys start wanting some freedom from that pressure after a few hours.
We included the top compression shorts in our list because they are perfect if you are doing some extreme hiking and need that extra support.
If support is really important to you, check out SAXX Underwear Men's Ultra Brands below. SAXX's unique design creates individual pockets for each of your private parts to support and eliminate chafing.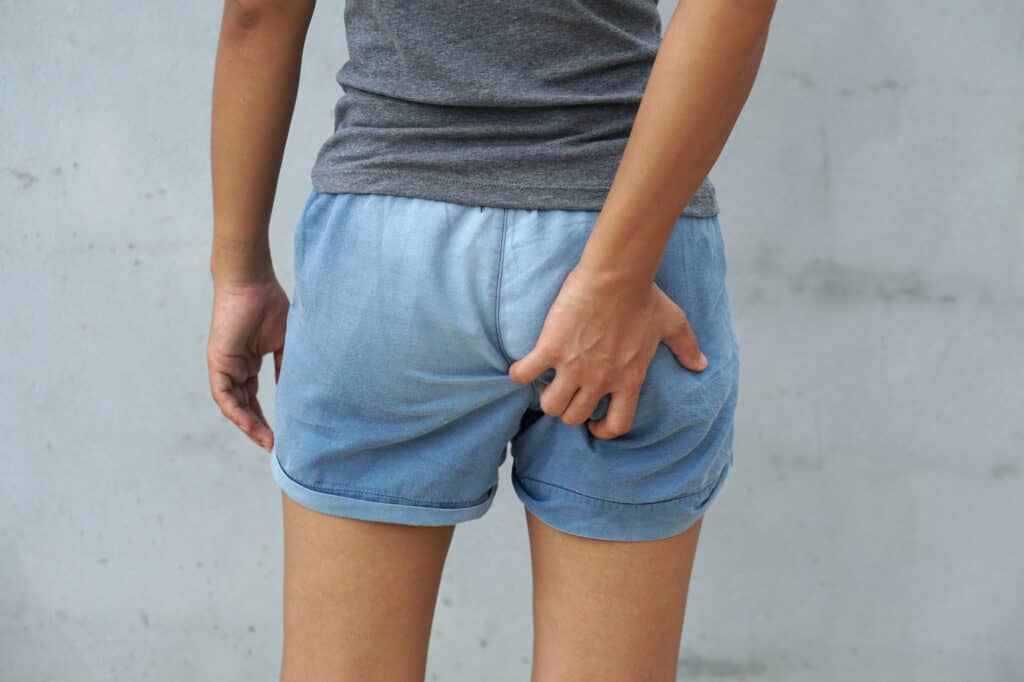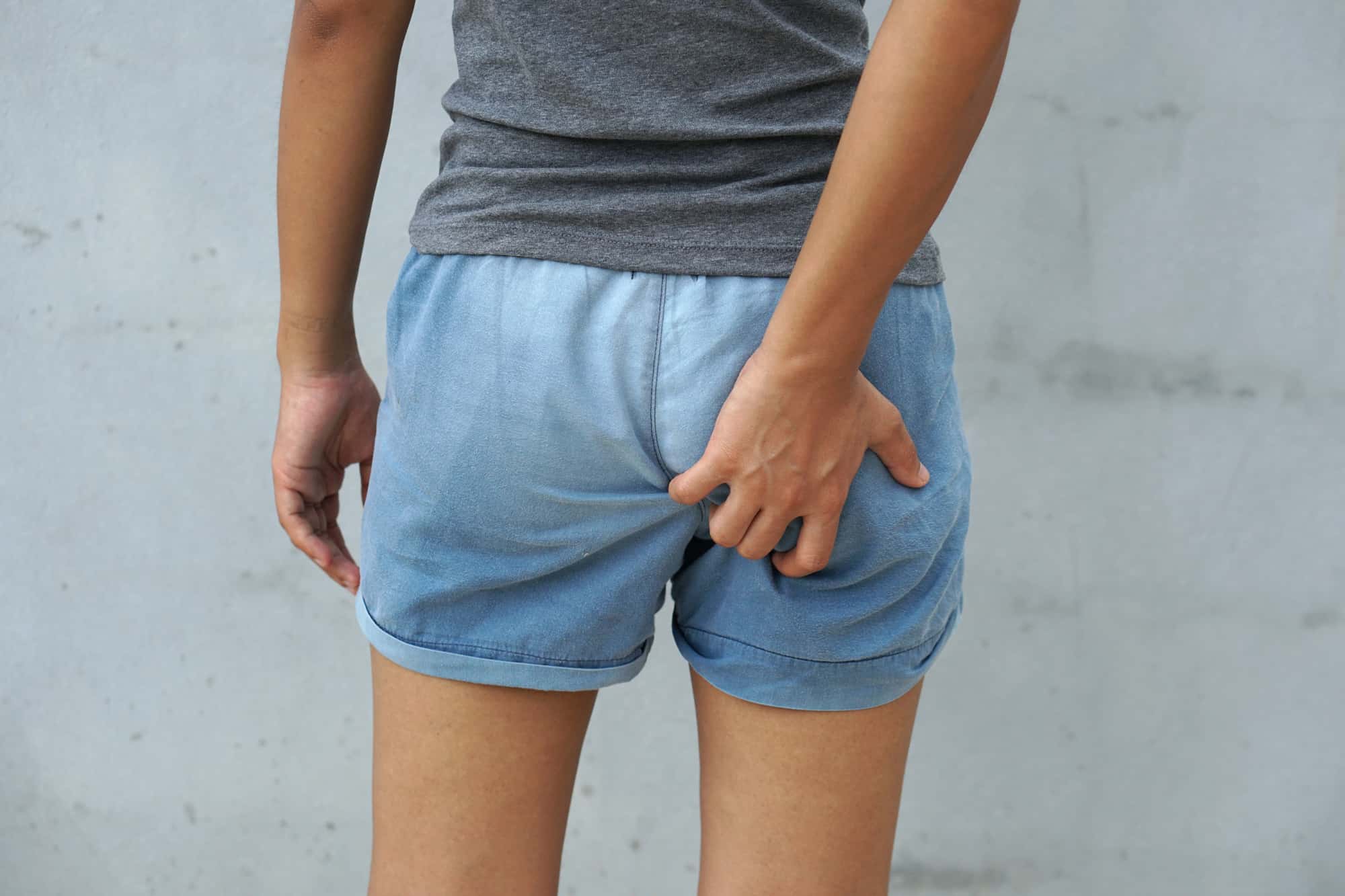 Important Features that Reduce Rubbing and Chafing
Comfort is king when hiking. At the most basic level, you want underwear that you forget you are wearing, right? When it comes to comfort, it's the little things that make the biggest difference.
Waistband – Look for a wide waistband that won't twist or rub as you move. A wide waistband is also less likely to shift when your backpack is riding against your back all day. Something like the Smartwool Merino Boxer Brief that has lined the inside of the waistband with soft merino wool is pretty amazing.
Tagless – You'll definitely want tagless undies. Eliminate that annoying spot that just keeps rubbing against your back or your outer thigh.
Types and Placement of Seams – Flatlock seams were the greatest invention ever! What is a flatlock seam, you might ask? It's when the seam edges are sewn together so there is no raw edge to rub against your skin. That means one less place to chafe when you are walking. And no seams are even better! The best hiking underwear will not have seams that run along the inside of your thighs where they will rub when you walk.


Should you Choose Briefs or Boxers for Hiking?
When it comes to style and fit, you can ask 10 guys which is better, briefs or boxers, and you'll get just as many opinions. However, let's talk about the science behind your choice. According to Dr. Jadick at Piedmont Healthcare "If you're doing any kind of activity, wearing boxers is going to allow your testicles to swing. And if they swing, they are going to hit the side of your leg, which can lead to more injury and trauma.
So support is best. He recommends extra support for active men in briefs or boxer briefs.
Boxer Briefs are the Winner for The Best Mens Underwear for Hiking
The good news is that if you prefer the longer leg of a boxer, there are many boxer briefs to choose from for hiking. In fact, the most popular hiking underwear for men is the boxer brief. There are 3 big wins in choosing boxer briefs:
The boxer brief gives you the support of a regular brief with a nice snug fit. It excels in providing the comfort of covering your thighs. This results in less chafing between your thighs.
It also eliminates the rubbing of seams in that crevice where your hips and thighs meet that you find in a traditional brief.
You'll find superior support for your private parts.
That's not to say there isn't a good argument for wearing a more traditional brief. Briefs provide a lot of support without a lot of coverage. Some men might find them cooler to wear when it is really hot.
Traditional boxers usually don't work well for hiking because the movement of your legs will cause them to bunch up in your shorts. The snugger boxer brief avoids that problem.
In the end, it's a personal comfort choice.  If you are changing your style from what you normally wear, give them a test run before you head out on a long hike. Just as you wouldn't head out for a 10-mile hike in a brand new pair of shoes, you shouldn't wear a brand new style of hiking underwear without making sure they fit comfy.  Otherwise, you will find yourself tugging and adjusting for hours and hours.
Can you go commando when Hiking?
Although you probably don't want your testicles swinging in the breeze on an active hike, it's not unheard of to choose to go commando when hiking. There are also guys who like the feel of compression shorts instead of underwear. These Under Armour Heat Gear compression shorts are often mentioned.
The only caution is with compression shorts, as both your base layer and your outer layer, every curve of your body shows.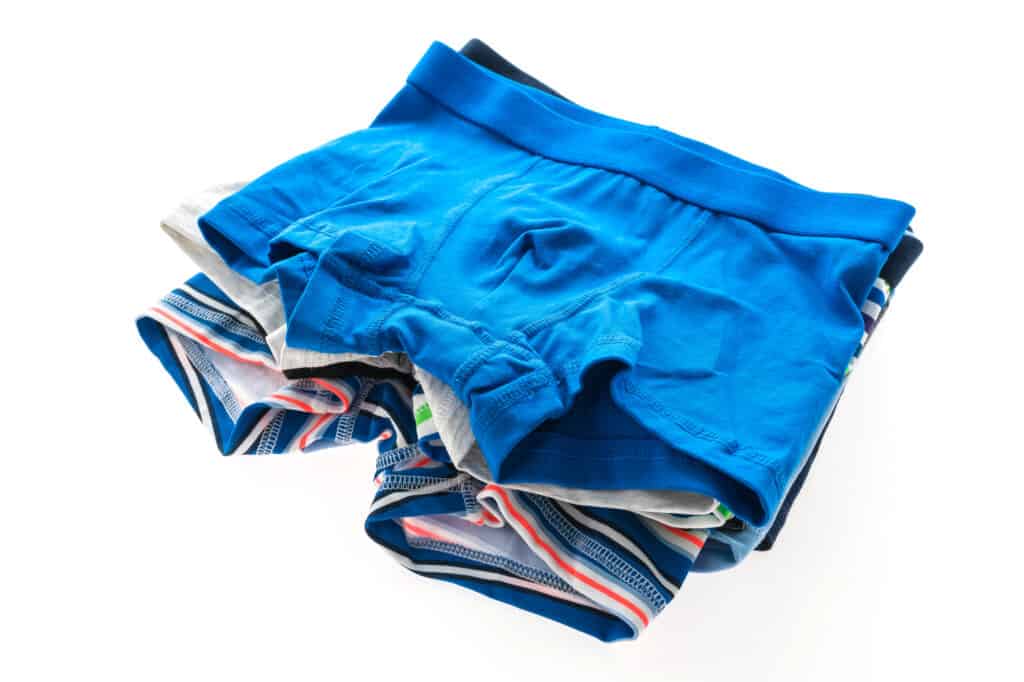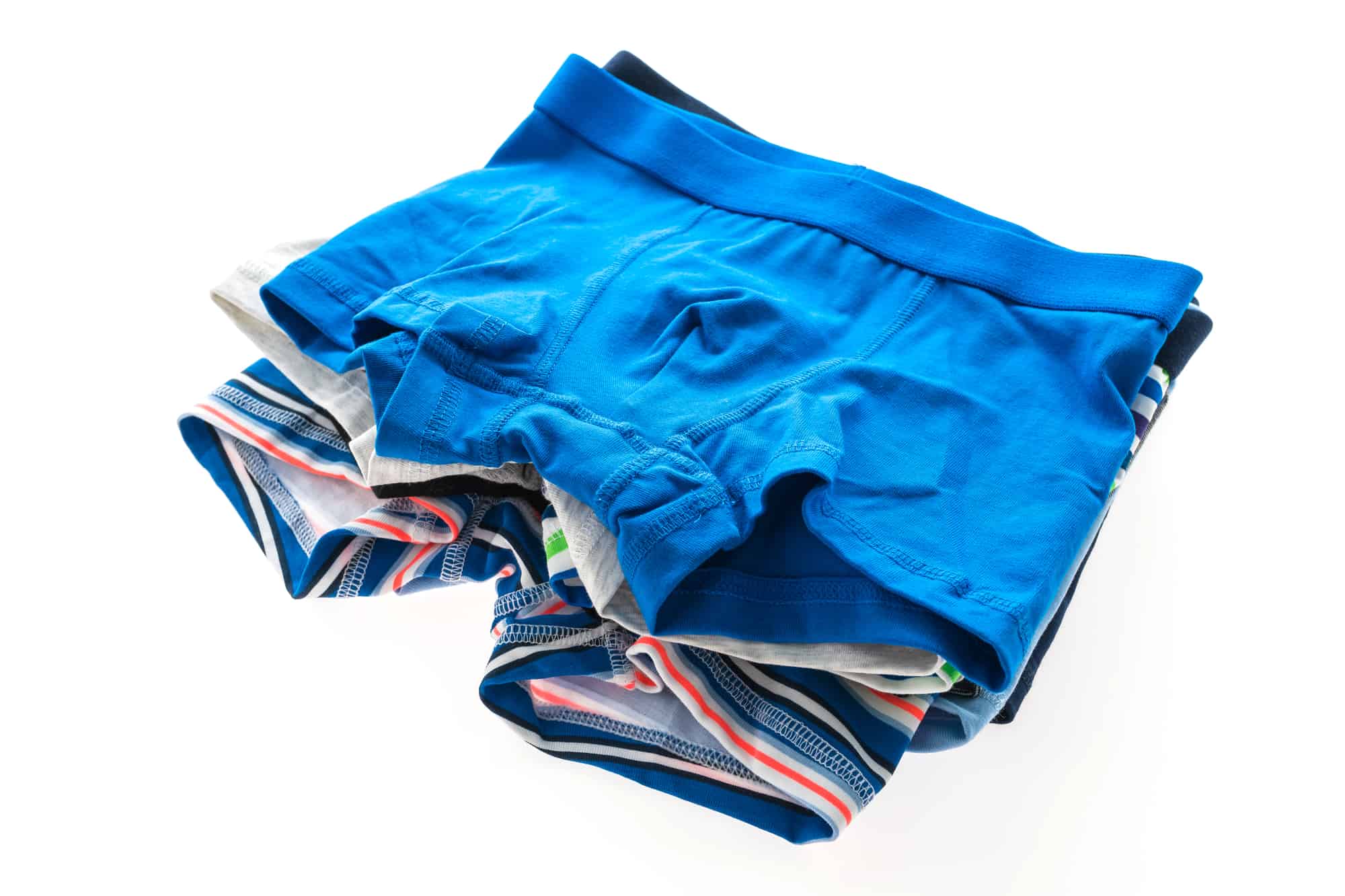 Best Underwear Materials to Stay Dry and Odor-Free
How well the best backpacking underwear keeps you dry and odorless is the result of several fabric properties: The antimicrobial properties of the fabric, how well it wicks away moisture from your skin, and how fast the fabric dries. So let's take look at those first.
Properties of the best fabrics used in Hiking Underwear:
What does antimicrobial really mean?
It means that the fabric resists the growth of bacteria and fungi. Both of those microbes, when in a damp environment, tend to explode in growth. That creates a nasty smell like a men's locker room in your drawers. Antimicrobial underwear keeps you feeling fresh and dry for longer.
Synthetic materials like nylon and polyester are treated so that they become antimicrobial. The treatment usually involves embedding small bits of silver into the material. Silver is proven to keep fungus and bacteria from growing.
On the other hand, materials like merino wool and bamboo have natural antimicrobial properties that reduce odor and keep your innerwear fresh longer.
Quick-Drying and Wicking Underwear for Hiking
Once your underwear gets damp and starts rubbing against your skin, nasty things happen. Dampness can come from getting caught hiking in the rain, or you could be hiking in very hot weather. Actually, just normal hiking can increase the heat level down there!
First, the stink factor rises as bacteria and fungi grow around your privates. And then the damp fabrics start to rub and irritate in places you don't even want to think about. Ending your day with chaffing between your thighs or in your crotch can totally ruin an amazing day on the trail. We'll talk about the differences in fabrics below to help you make the best choice.
The ideal fabric will wick moisture away from your skin to the outer surface of the material and then allow for quick evaporation.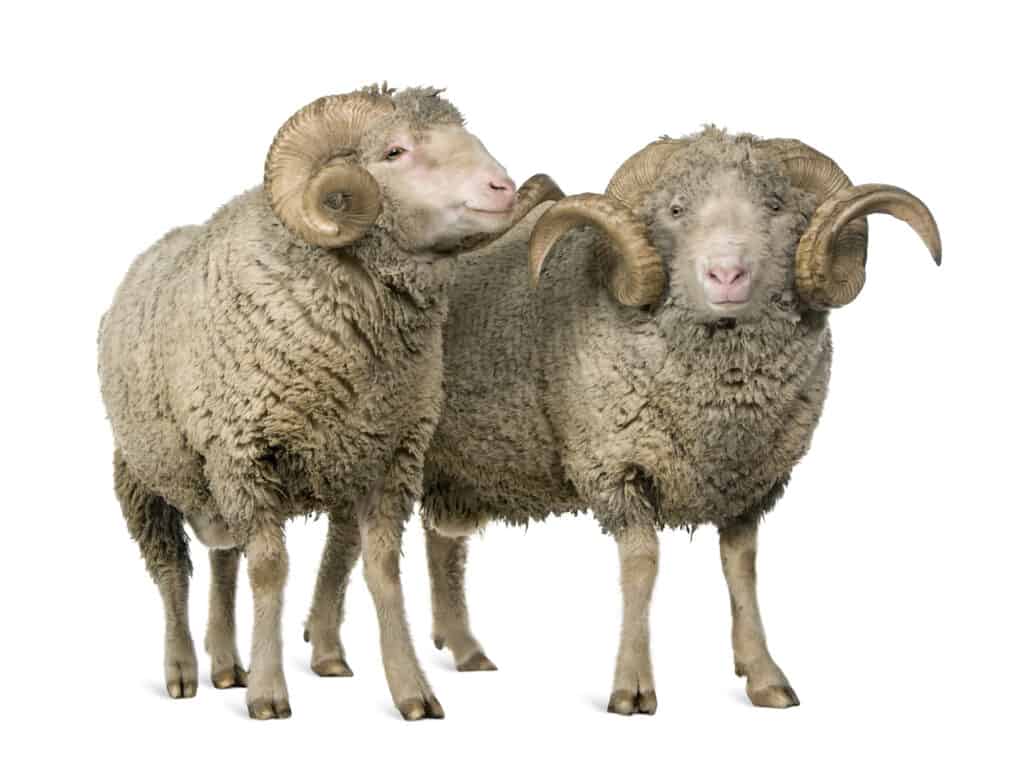 There are a variety of materials that work well to maintain the body's natural temperature and protect the skin. Let's look at the materials that are commonly used in the best men's underwear for hiking.
Let's talk about the fabrics that are used in the Best Men's Sports Underwear
Merino Wool
The premium fabric for the best underwear for backpacking is Merino Wool. The wool from the merino lamb is superior to any other wool for clothing. It is super-soft because the fibers are very long, allowing yarns to have a few rough ends. It's also super absorbent.
Best of all, a fabric made from merino wool wicks the moisture to the outside, where it can quickly dry. Being naturally antimicrobial, merino wool keeps you odor-free.
That means the merino wool is used in the very best underwear for hot weather when sweating is at its worst. However, you'll also find that for the same reason, it's the best underwear for cold weather.
Why? Well, when you have a lot of layers on for winter hiking, you will often start working up a sweat. And then that bottom layer gets damp way down where airflow is nonexistent. So you really want that moisture pulled away from your skin, right?
The downside to Merino Wool is that alone it tends to stretch out and not return to shape very well. That means it wouldn't give very much support in those important areas. So most top-end men's merino wool underwear will be blended with fibers that stretch and hold. Then you get the best of both worlds!
Unlike all the rumors you hear about caring for it, washing merino wool is actually very easy.
Bamboo
Bamboo has many of the same qualities as wool, such as being extremely great at wicking away moisture and quick drying. It also excels with natural antimicrobial properties to keep odors away. When blended with synthetic fabrics you have great-fitting and comfortable underwear.
You'll particularly love bamboo's extra soft feel. And for those allergic to wool, bamboo is the perfect alternative.
Nylon
First developed as an alternative to silk, nylon is a lightweight synthetic made from petroleum jelly. It is valuable for its low moisture absorption ratio and durability. Because of its quick-drying and moisture-wicking properties, it is often added to a blend of other materials such as spandex, polyester, or wool.
Polyester
As a fabric, polyester is extremely strong, durable, and resilient. It's also wrinkle-free and quick-drying and absorbs less than 0.4% of its weight in water. As a moisture-wicking fabric, polyester is perfect for underwear for hiking. Polyester is not odor resistant so it is often used with a blend of other fabrics for sports underwear.
Cotton
Cotton absorbs many times its body weight and retains water. However, cotton has poor moisture-wicking and retains the water instead of transporting it away from your skin. So on its own, a pure cotton boxer is not a good solution.
But cotton is a soft, breathable and odor-resistant fabric, so it's not uncommon to find cotton blended with spandex or polyester to create good wicking underwear.
Your Top Layer is Important for Comfort Too!
Once you have the perfect underwear that breathes and dries quickly, don't forget to layer over them hiking shorts or pants that work to keep you dry. Check out our detailed guide to selecting the best hiking shorts for men and our best hiking shorts for women that will keep you comfortable on the trail.
Frequently Asked Questions about Men's Hiking Underwear
Are Boxer Briefs Better for Hiking?
Most hikers prefer boxer briefs for hiking because they provide the support needed, and the fit is just snug enough to avoid chafing. You should avoid underwear that lets your testicles get bruised by swinging while walking. Look for well-fitted boxer briefs that are snug but not tight.
Should I Wear Underwear for Long Hikes?
Moisture-wicking and quick-drying men's underwear is exactly what you need for long hikes. This underwear will keep you dry and comfortable by pulling the sweat away from your privates and allowing the moisture to evaporate. If you go without underwear, that sweat can build up in your hiking pants or shorts, leaving you damp.
What is the Best Wicking Underwear for Hiking?
Men's underwear made from Merino Wool is the best moisture-wicking underwear. Merino wool naturally pulls moisture away from the skin and to the outside of the fabric. From there, it can evaporate keeping you cool and dry.
Can I Wear Cotton Underwear for Hiking?
No, cotton underwear will soak up all your sweat and never dry while hiking. That means you'll find it rubbing and chaffing all the way down the trail. Odors will build up and it will be quite nasty down there.
So that's our list of the best men's underwear for hiking and trekking. Consider the materials and main features you're looking for before picking your hiking underwear!