On our recent California National Parks Road Trip, we had an opportunity to test out the popular audio tour app from GuideAlong in Yosemite and in Joshua Tree National Parks. I'm going to share all the details of our GuideAlong app review in this article.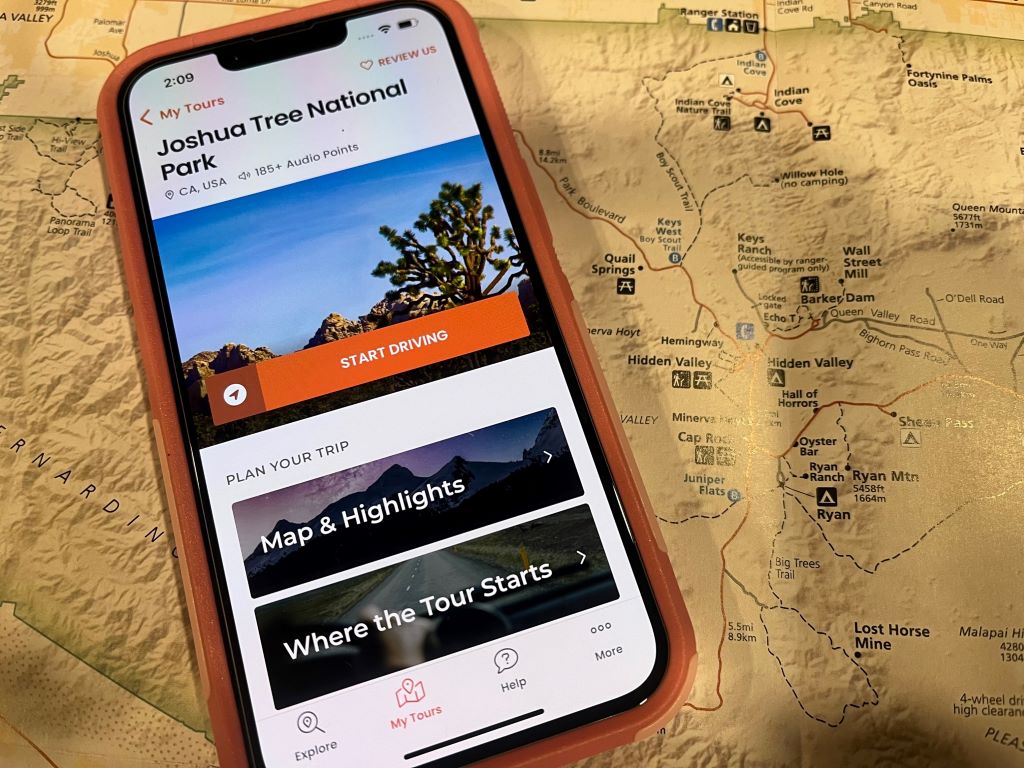 I'll open by saying that GuideAlong lived up to its promise of being the the best road trip companion. We first used the app in Yosemite and found so much value in it that we didn't hesitate to launch the app when we arrived at Joshua Tree. In fact, we were so pleased that we are now an affiliate for GuideAlong. That means we will receive a small commission if you make a purchase from any of the links in this article. However, that doesn't mean that we aren't going to spill all the beans on what worked and what didn't work for us so you can decide if this audio tour app for your phone is a fit for your vacation.
What is the GuideAlong Tour App (formerly known as Gypsy Guide)?
GuideAlong is a mobile app that provides a unique audio tour as you explore. It is packed with features that help you navigate and discover interesting places and details during your National Park road trip.
The app provides engaging audio commentary on landmarks and other points of interest as you approach them. It covers a wide range of topics, from history to culture to geology. The app also offers GPS-based navigation to help you find your way around. It used to be called Gypsy Guide, but has recently rebranded to GuideAlong.
GuideAlong is available on both iOS and Android platforms, running smoothly on your phone or tablet as you travel.
Review of GuideAlong Features We Liked
There was a lot to like about the GuideAlong app. In this GuideAlong app review I'll share the good and the bad. Here are some of the app's best features:
What I loved most:
The number one thing I liked was that I could listen and observe the scenery instead of burying my nose in a map or written guide. I truly hate it when Brad excitedly says "Did you see that?" and I didn't because my head was down, trying to figure out what's next.
GPS Based and Offline Accessible
That means you can download the tour to your phone and it will then use GPS to locate you and trigger the appropriate tour narrative. As you likely know, National Parks rarely have cell service so this is a huge win. To our surprise we never had a problem with the tour finding us, even in the most remote parts of the two parks we tested.
Engaging and Informative Commentary
The commentary provides a wealth of information about the places you visit on your trip. The narrator will share stories and cover interesting natural features about sites you are passing. It definitely helps that he has an engaging voice and a sense of humor too. As you pass sites the narrator will also give advice about why you might want to stop, or even why you might want to skip that stop. We also found we learned many things about the parks that we wouldn't have discovered on our own.
Turn-by-turn directions
The narrator told us what was coming ahead and when there was a choice in roads to take he explained the benefit of each choice. I'll confess that more than once in Yosemite, he kept us from turning the wrong way. Now, I'm really into using maps, and even with our map we would have screwed up.
Flexible Itinerary
This was a big win for us since we tend to wander when we are traveling. Especially when we have multiple days to explore a National Park. With GuideAlong you can start your tour anywhere along the route. Just start the tour and it will find you and begin narration at that point. You can stop and start as often as you wish. Even the time I forgot to start the tour, it just caught up with us.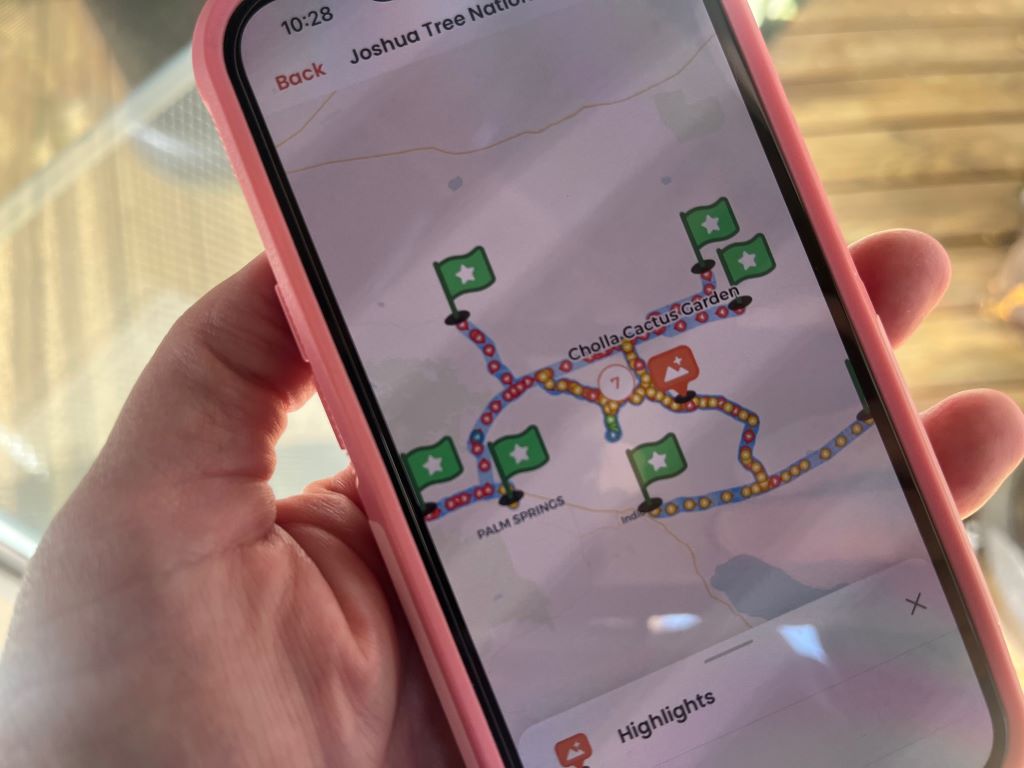 Extensive Tour Coverage
Every one of those little dots in the screen shot above is a commentary. In Joshua Tree there were 185 comments and over 200 in Yosemite. For us, it felt just right. The narrative would usually range from 30 to 90 seconds, then a pause until the next point of interest. We enjoyed the pauses as it gave us time to discuss what we were seeing or what was coming ahead. Yeah, we like to talk to each other!
User-Friendly Interface
GuideAlong has a very intuitive design. You just hit the start button and the app does all the work to find you and play along. We did struggle with going back to re-listen to a commentary. However, once we figured it out it seemed pretty simple. Perhaps that was a user distraction issue, not an interface issue.
What We Didn't Like About GuideAlong
Have no doubt that we are recommending this app in this GuideAlong App Review. We are hooked based on all the great things we listed above. However, there were a few things we found challenging and you should be aware of:
Cell Phone Battery Drain
The constant pinging of satellites used a lot of battery power. We were fine as long as I kept my phone plugged in to the car charger. But if you forget to turn off the Guide when you leave the car, you'll find the battery going fast. Of course, the solution is to close the app when you stop your car as it will automatically find you when you re-launch it.
Dead Silence Between Commentaries
You'll hear dead silence between each point of interest. We discussed this a lot and changed our minds several times about if it was good or bad. On one side, it was nice to be able to have a conversation when the narrator was not talking. And it probably saves battery resources to not play continuously. I'll guess there are other tech issues too. However there were several times we wondered if the app was working and there was no way to know until we hit the next point.
We Wanted More Parks!
On our California Road Trip we explored 8 National Parks, however only 2 had GuideAlong Tours available. So sad! Currently tours are available for 18 of the 63 National Parks (see list below). However, GuideAlong has released several new tours this year and has committed to rapidly expanding their library. We are cheering them on as we look forward to using their tours extensively.
How Does GuideAlong Work?
So I'm not going to get deep into the techy stuff in this GuideAlong app review. You can check out their website if that level of detail gets you excited. What's important is that GuideAlong tours work from a GPS signal, not a cellular signal so they work great in National Parks where you don't have cell service.
Using GPS, the app follows you through the park and launches the tour narrative as you approach specific spots along the route. What I loved most is it picked us up at any location we started the app. We didn't have to start at a pre-determined location. One day I forgot to start the tour but as soon as I turned it on it found us and shared upcoming attractions. That also means it will automatically adjust for any route you take through the park.
Here's a couple of tips for using GuideAlong
Purchase your tours in advance. You can purchase on the GuideAlong website or inside the app. Personally I liked purchasing on the website better than the app because it seemed easier to access the details of each tour. Since I'm a planner, that will be part of my planning process going forward! Note, any updates are automatic in the app so you'll always receive the most current tour when you listen.
Download the tour inside the app before getting to the the park. As you are likely aware, National Parks rarely have good cell service. So downloading before arriving was the smart thing to do. Of course, with our crazy schedule I didn't think of that and didn't download the Yosemite guide until we were in the park. That meant waiting for a strong enough cell signal. Oops… we missed using the app on our first day. And in hindsight, we know we missed some really good stories!
Connect to your car speakers for the best listening experience. The app plays on your phone, so it will also play through your car speakers if you have synched your phone to your car for other uses, such as talking on your phone or listening to music. However, I will share that the narrator's voice is strong so if you can't connect to car speakers the people in the front seat will easily be able to hear him.
You don't have to do anything! The narrative will start automatically as you approach interesting locations along your drive.
How Much Does GuideAlong Cost?
It is free to download the GuideAlong app to your phone or tablet. Individual tours, that cover the whole National Park run from $10 to $20. Tours that are commonly part of longer road trips are also available in heavily discounted bundles which will save you quite a bit.
To be blunt, I initially thought that was a lot of money. But I've changed my mind and now think these tours are a real value at this price. We've used many of the free audio tours provided by the National Parks in the past so I thought: Why would I pay for an audio tour? Well, because the GuideAlong tour is so much more robust that I can't even begin to compare them. The National Parks audio tours usually focus on a specific nature trail or a limited location. GuideAlong takes you through the whole park. We'll definitely be using both in the future!
Which National Parks are covered by GuideAlong Tours?
I've been told by GuideAlong that they are adding many more tours this year so check their website if you don't see your National Park. Here's what is currently available for National Parks
Wrapping up
Overall, we are happy to suggest anyone planning a road trip check out the tours on GuideAlong. Without a doubt, the app is easy to use, packed with features and offers a ton of information. The value the audio tour adds to your National Park experience is so worth the small amount of time and money! I hope this GuideAlong app review has been helpful and you enjoy your next adventure to the fullest!
---
The Authors: Hey, we are Ladona and Brad, avid campers and hikers. We are crazy about getting outdoors at every possible moment and have decades of experience exploring nature. Our current goal is to visit all 63 US National Parks and just completed #42. WooHoo! Our mission is to help you plan your own adventures and create memories beyond your imagination!