Evening is setting in and you're out with your beloved furry friend. Suddenly she goes bounding off in the distance. After a dozen whistles and calling out her name, she comes wandering back as if nothing happened; and as your heartbeat gets back to normal, you swear to yourself that you'll buy that rechargeable LED dog collar for hiking before the next time! Never again will you let her disappear into the darkness.
Your best friend needs the best rechargeable LED dog collar there is!
According to a 2010 ASPCA research study, 1 in 7 dogs are lost at some point in a 5 year period. So no wonder you get a little anxious when your furry friend wanders out of your view at night.
Not to worry! Before you forget and this happens over again, we'll share with you a bit of our research looking for the best lighted dog collars. Here are some tips on what you should consider while deciding about your dog's hiking gear. Then we'll cover the best of the best so you can easily find the perfect hiking collar for your dog.
Tips for Selecting the Best Lighted Dog Collar
Dog collars with lights for night hiking are incredibly popular for a reason. They work! A quality illuminated dog collar will last for years and keep your puppy safe. Here are a few things to know when selecting the best LED pet collar that will work with your dog's personality.
The Difference Between Reflective or Lighted Dog Collars
Now, the first time I heard about using reflective dog collars for hiking, I didn't think they made sense. They need a light source to hit them, which is a lifesaver when you walk in the city and your dog runs across the road. Car lights and street lights will reflect off the night dog collar.
However, for us, we want a light-up dog collar that lights up all the time when hiking at night. The dogs in our family love to smell everything. They often disappear into the undergrowth as they follow the scent. I want to be able to see them! That means for the best protection, you want an LED rechargeable dog dollar.
Ideally, a combination of reflective and LED lights on your dog collar is the best solution. If power runs out to the light system (long night, or perhaps you forgot to charge it), then your dog's collar will still reflect light, maintaining a considerable safety factor.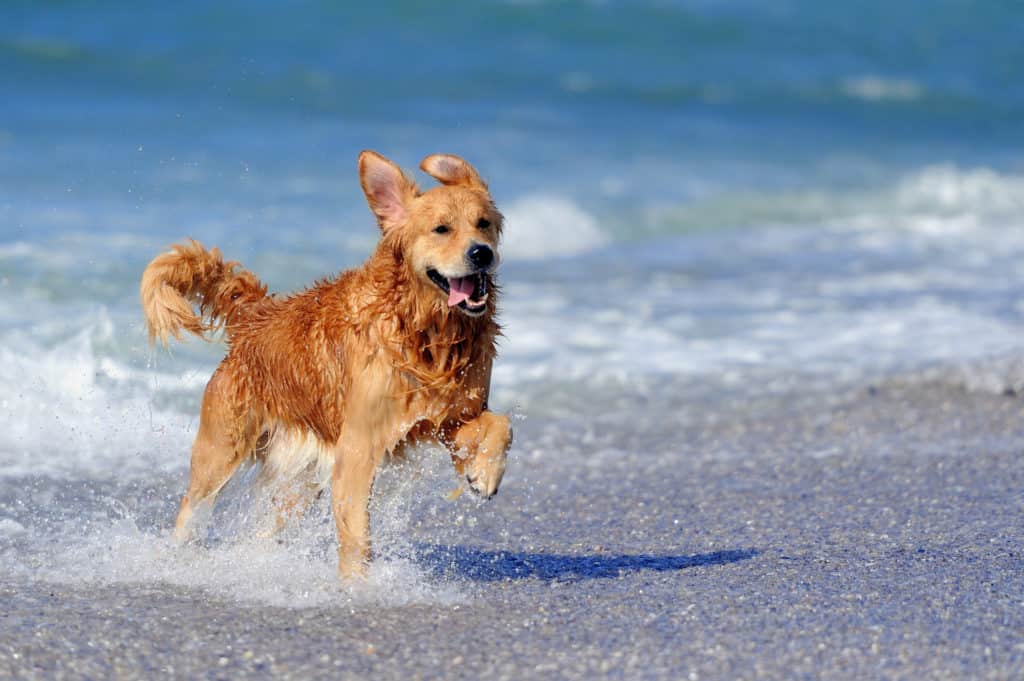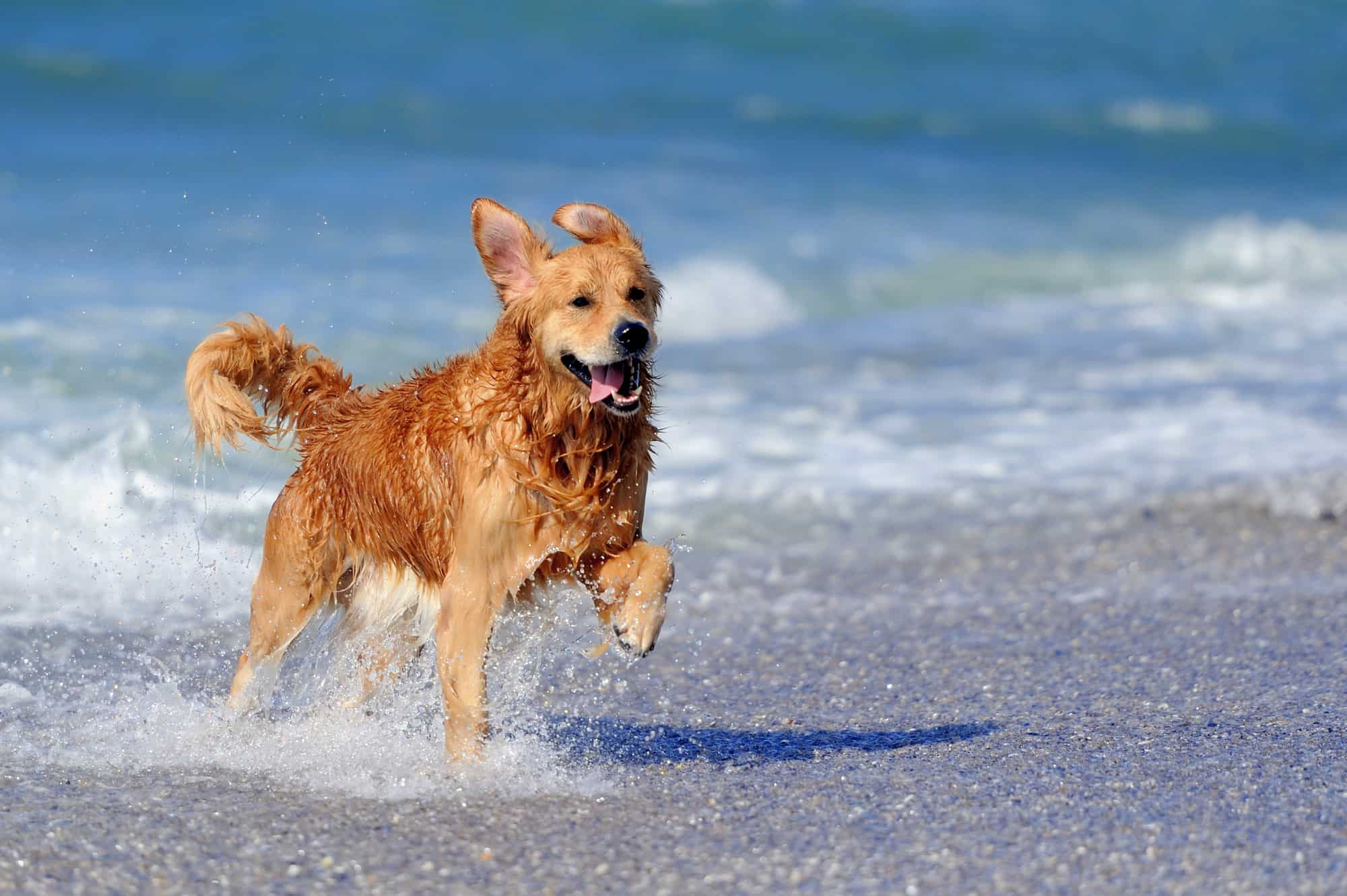 Waterproof LED Collar or Weatherproof?
Water takes on many different meanings when hiking with your dog. You know that when hiking, your dog will get wet somehow. Right? Dogs will get wet from poking in wet bushes to falling rain to walking through a stream. And then there are your babies that can't resist a swim no matter the temperature.
All our research failed to discover a fully waterproof lighted dog collar. And by that, I mean guaranteed to survive a long swim in the lake. The good news is that all the rechargeable lighted dog collars we selected are highly rated weatherproof light-up dog collars. That means they will survive splashing or a walk on a rainy day.
Why didn't we find a guaranteed waterproof lighted dog collar? The idea behind the rechargeable LED dog collar for hiking is that there is a charging port. And that port is where an LED collar, when submerged, has the risk of letting water into the electrical system.
However… there is hope for your swimmer in the Masbrill LED Dog Collar, which multiple reviewers claim survived their dog's unplanned swims. Since it is incredibly low priced, there is a very low financial risk if it doesn't survive a serious dunking.
Consider The Charging Methods and Charge Hold
There are a few questions you need to ask here are. Does the LED light for the dog collar require new batteries, or is it rechargeable via USB? How long does the LED dog collar take to charge? How long does the charge hold?
You'll find USB rechargeable dog collars to be the easiest to use. A fully charged LED safety collar will last most dogs for a week of night walks. And when camping or hiking for an extended time, you can use a portable power source to recharge the lighted pet collar through the USB port.
We've even found one that might just be the best light-up dog collar because it charges via a solar panel. If you want to skip down to it, it's called the It's Ridic Solar Powered LED Collar.
Sizing – Make Sure the LED Collar Fits!
Most light-up dog harnesses or lighted dog collar(s), will come in various sizes to suit your pet. We've only selected LED collars that come in a wide variety of sizes, so you'll find the perfect fit. We've found stretching out and measuring a collar that currently fits your dog is a lot easier than trying to wrap a measuring tape around your dog's neck.
Consider The Extra Weight of LED Safety Collars for Dogs
But also take into consideration the weight your dog has to carry. If your dog is larger, the weight might not bother him, but for smaller breeds, weight matters. You'll find LED collars and harnesses range from 2 oz to 10 oz, while a dog collar light clip can weigh hardly half an ounce. For that reason, we added a couple of clip lights into the selection below.
Pricing of Rechargeable Dog Collars
Most of the top LED Dog Collars are in the $15 to $20 range (indicated below with $$). We found a couple of really great options for well under $10 (single $) if you pop down to the Glow Collars and the Clip-On Lights. So you can easily outfit your puppy for safety without opening your wallet too far.
Best Rechargeable LED Dog Collars
WHAT WE LIKE ABOUT THE BLAZIN' SAFETY COLLAR:  The manufacturer offers a 100% lifetime guarantee on this LED collar. It's visible from 350 yards. The slim bulb strip makes it easy to adjust sizing for a snug fit. My mother has been using this for over a year when she lets Rocky out to potty at night, and she still loves it because she can see him far across the field.
WHAT WE LIKE ABOUT THE ILLUMISEEN LED DOG COLLAR:  This USB rechargeable LED dog collar is affordable and durable, with a charge that lasts about 5 hours. The Illumiseen LED dog collar has the largest selection of sizes, allowing for a more custom fit. We also like the easy snap-on clasp on the LED collar. You can also purchase a matching light up dog leash to go with it.
WHAT WE LIKE ABOUT THIS ONE: If you're also looking for a brand that gives back, Shine for Dogs Ultimate LED Dog Collar donates its profits to dog shelters and rescues. We also like the fiber optics as they appear to withstand twisting well.
WHAT WE LIKE ABOUT THE IT'S RIDIC COLLAR
: This LED collar can charge via USB or the attached solar panel. If your pet spends a lot of time in the sun, this is one of the best dog collars that light up at night. It also has reflective stitching so you can find your dog in the dark if the light is turned off.
WHAT WE LIKE ABOUT THE MASBRILL LIGHTED DOG COLLARS:
  This has been rated as a waterproof light up dog collar, meaning it has survived swimming dogs, which we know is always a challenge. You'll also like the flat led light that creates a continuous band of light.
Best Glow In The Dark Collars for Night Hiking
Ever thought of just attaching a glow stick to your dog's collar to make them more visible at night? Here it is! This lighted pet collar is a very low-cost solution. And best of all, completely rechargeable. We also like that it is very lightweight at only 2 ounces, making it convenient to carry in your backpack when not in use. These are not intended to be used with a leash. Instead, you pop the lighted collar over your dog's existing collar and instant light.
BSEEN LED Dog Collar

– Best Value – We Use this Light Up Dog Collar for Our Puppy!
WHAT WE LIKE ABOUT THIS ONE:  The BSEEN LED Dog Collar is a once size fits all, made from an easy-to-cut material and can adjust to fit necks from 11″ to 27″. We currently use this for our puppy. She's learned that when I turn the light on, we are headed out for a walk. I originally purchased this BSEEN LED dog collar because it was inexpensive, and I knew she would grow fast. But wow… this LED collar has been going strong for 8 months of puppy growth!
WHAT WE LIKE ABOUT NOVKIN NECKLACE:
It has a long charge hold of 6 hours which should last a week or so of hiking and camping. It's also easy to cut a little bigger than you need, so you can easily slip the dog glow collar over your dog's head when you head out for that night walk.
A Collar Clip On Light For Hiking Dogs
A clip-on light is often a great alternative to a full-lighted dog collar for hiking. First, it's just plain easy to attach a night light to your dog's existing collar in a split second. Then there are those dogs who do not like to have their collars messed with, trying to change their collar is a true wrestling match. But best of all for hiking, these 1/2 ounce lights into your pack is hardly noticeable weight and now you are ready if your hike runs into darkness unexpectedly. Always be prepared is the key motto to safe hiking. Here's a couple that we like:
WHAT WE LIKE ABOUT THE MORPILOT PET COLLAR CLIP:
So Cheap – you get 5 lights for one price. These clip around your dog's collar so you can leave attached and then turn on with a simple push of a button as night falls.
WHAT WE LIKE ABOUT NITE IZE SPOTLIGHT CARABINER:
Love the easy-to-use carabiner clip. Not only will you want to use it on your dog's collar, you will find it useful to clip on to your gear.
When is a Lighted Dog Harness or Vest a Better Choice?
Some dogs just get really annoyed with lights around their neck and pull at the dog collar. In that case try a lighted dog harness.
What's Better? Light Up Dog Collar or Lighted Leash
Collars, leashes and harnesses all have their place. A lighted dog collar is the easiest for most dogs as you snap on and go. However, if you are going out for a quick walk at night, it is super easy to add a lighted leash to your dog's existing collar, assuming you will not walk off-leash.
But when hiking with your dog, you'll feel much more secure with a lighted dog collar that won't get left behind if she wanders off. That's why we have focused on the best LED dog collars in our selection.
A few more thoughts about LED Lighted Dog Collars
A lighted dog collar is not a replacement for you having a headlamp or hiking flashlight so you can see the trail at night. For recommendations on the best headlamps for hiking check out our guide here. And if you are hiking with your family we found some really cool kids' flashlights for hiking and camping.
So those are the best rechargeable led dog collar(s) out there right now. Each of them has a special feature that the rest don't, which is why it's so difficult to choose from one of them. But hopefully, with our guidelines, you can pick the best rechargeable LED dog collar for hiking with your four-legged family member!
When you're out hiking after dark with your dog, you want to make sure they are as safe as possible. One way to do that is by using a rechargeable LED dog collar. They are a great way to keep your pup safe. Not only do they provide visibility in low light conditions, but they also recharge quickly so you can always have them ready to go. We've put together a list of the best rechargeable LED dog collars on the market to help you choose the right one for your pup.
This post was originally published on November 2, 2019. It has been recently updated to reflect the most current information.