To help you and your dog have an unforgettable Rocky Mountain National Park vacation, we have outlined everything you need to know to answer the question: are dogs allowed in Rocky Mountain National Park. We'll also share some nearby options for getting out and enjoying nature with your pet.
The short answer is yes, dogs are allowed in Rocky Mountain National Park. However, there are limitations on where you can take your dog and what you can do together. Many people feel this park is not pet friendly because dogs are not allowed on the hiking trails. However, I want to show you that you can have a full day here with your dog as your companion.
Where can dogs go in Rocky Mountain National Park?
Per Rocky Mountain National Park Pet Policy: Leashed pets may accompany you in the following areas:
Along established roads or in parking areas

In established campgrounds and picnic areas
Well, those simple rules open up a lot of options for your day in Rocky Mountain National Park!
A One Day Itinerary for You and Your Dog in Rocky Mountain National Park
Enjoy a drive along scenic 

Trail Ridge Road

, where you climb high above the mountain range. This adventure is the number one activity in Rocky Mountain National Park that all visitors enjoy. And luckily this drive is something you can easily do with your dog. It's a 4-5 hour leisurely drive through incredible mountain scenery. There are pull-offs where you can get out to stretch your puppy while you take amazing pictures. Wildlife is often in view in the distance.

Relax with a lovely picnic at Hidden Valley or one of the other 

beautiful picnic areas

.  Dogs are welcome in any designated picnic area as long as they are leashed.

Take an afternoon walk. Park rangers recommend walking along Endovalley Road from the Alluvial Fan area, with lighter traffic than many park areas. It's a gorgeous walk through the aspen. You can walk your leashed dog along any established road, but many are too busy for a comfortable walk.

Watch the sunset from the Many Parks Curve parking area. You'll find photographers lined up an hour before dusk to catch the stunning sunset. Settle into your folding chair with your dog in your lap and enjoy the show.

Settle into one of the park campgrounds for the night. Dogs are allowed in all Rocky Mountain National Park campgrounds. Make sure any pet food is put in a bear-safe location when you are not supervising feeding time. Wildlife loves dog food and will wander into your campsite for a snack. We have more tips for camping with your dog in this article.
For more ideas for your Rocky Mountain National Park vacation, check out one of our guides: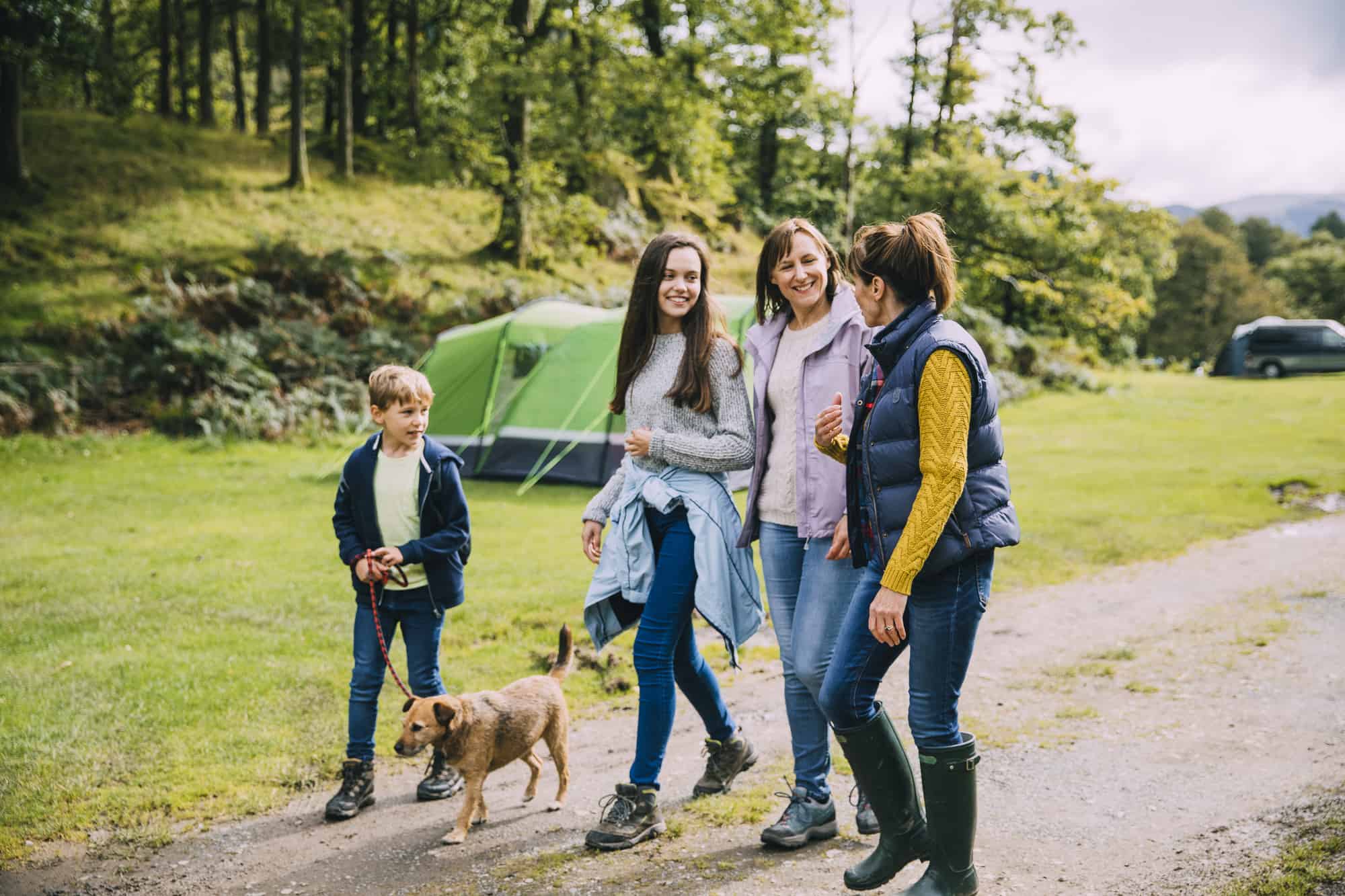 What are the rules for pets in Rocky Mountain National Park?
The rules in the park are just the standard rules we all follow when we take our dogs to public places.
Use a 6 Foot Leash: Pets must be kept on leashes no longer than six feet at all times in the park.
No Excessive Noise: Dogs must be restrained from making noise that would disturb visitors or wildlife.
Pick Up Your Poop: Pet owners must pick up and dispose of pet excrement in trash receptacles.
Be Cautious About Leaving Pets in Vehicles: You can't leave your pet unattended in your vehicle if it causes any risk to your dog's health. Enclosed cars and campers can get hot fast in the thin mountain air. Your pet can't be a public nuisance when left in your vehicle. Keep in mind that many people will be walking by your car, and even potentially wildlife. If your dog gets excited and starts barking, that would be considered a public nuisance.
Keep Dog Under Your Control: Don't tie pets to vehicles, trees, or other objects. Not even for a quick run into the bathroom.
Hike Trail Ridge Road or Old Fall River Road with Your Dog
Trail Ridge Road and Old Fall River Road offer a unique opportunity for hiking with your dog in the spring and fall. Check out our full list of Tips for Hiking with your Puppy.
Snow closes both of these roads for the winter, starting in mid-October. Trail Ridge Road usually re-opens around Memorial Day and Old Fall River Road re-opens around the first of July. Most years, both roads remain open to bicycles and leashed pets through November 30 and re-open to both on April 1. That means you have about 6 weeks in the fall and several months in the spring when you can hike with your dog on these roads. Yes… it will be chilly and snowy. But what dog doesn't love a hike in the snow!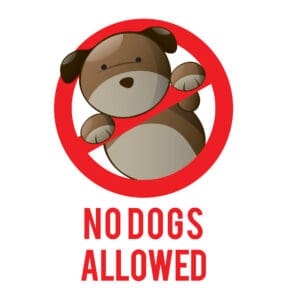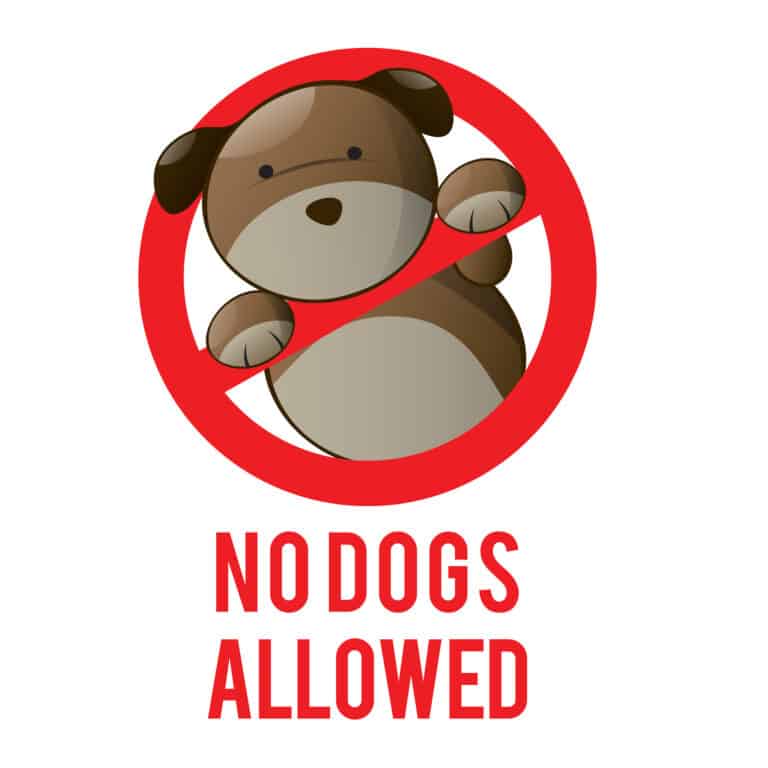 Where Are Dogs NOT Allowed in Rocky Mountain National Park
It's very simple; dogs are not allowed on any hiking trail. And they may not enter any public building in Rocky Mountain National Park.
That rule may seem a little harsh when you travel with your best friend. What's important to understand is that RMNP's purpose is to provide a place where wildlife, wildflowers and native flora can flourish in their natural environment. The presence of your pet might disrupt that fragile balance. The scent of a dog on the trail could scare off the marmot sunning himself just around the next corner. Or your pup could innocently squash the hundred-year-old alpine flora above the treeline with one step off the trail. And worse, your pet might just have a scary run-in with a bear.
It's also important to recognize that some people are uncomfortable around dogs, so pets are not allowed in public buildings where they can get crowded with visitors.
Are Service Animals Allowed in Rocky Mountain National Park?
Yes, service animals are allowed in the park. Here are the rules directly from the NPS website. 
Quote: Service animals that have been individually trained to perform specific tasks for the benefit of persons with disabilities are allowed in the park. Emotional support/therapy animals are not service animals under the Americans with Disabilities Act and may not access visitor centers, trails, or other non-motorized areas.
However, if you take a service animal on a hiking trail, consider your dog's safety when planning your trip to Rocky Mountain National Park. Encounters with wild animals are always a possibility on hiking trails, be sure you know how your dog will react in an unusual situation.
What to Do With Your Dog if you Want to Hike
Some of the best hikes in the world are in the Rockies. So what do you do if you are traveling with your dog and want to hike? There are many excellent opportunities right outside the gates of Rocky Mountain National Park for hiking with your dog. And you'll find excellent doggie daycare options in both Estes Park and Grand Lake.
Dog Friendly Hikes Near Rocky Mountain National Park
There's an abundance of hiking opportunities for dogs near the park. If your dog is still young, check out our tips for hiking with a puppy.
National Forest Wilderness Hiking with Dogs
There are no restrictions on hiking with dogs in a National Forest. Luckily, National Forest lands surround the park, including Roosevelt National Forest, Routt National Forest and Arapaho National Forest. The Indian Peaks Wilderness area is located directly south of the park. There are dozens of nearby day hikes.  Popular hikes with dogs include the Lily Mountain Trail, Buchannan Pass Trail and Monarch Lake in the Indian Peaks Wilderness.
If you are new to wilderness hiking with your dog, we suggest you start with simple hikes as you train your pup on how to react to the new environment. There are a lot of dangers in the wild that your dog may not know how to navigate. And you must be very wildlife aware to avoid a dangerous bear encounter with your dog. Consider carrying extra safety devices for the health of your pet like a reflective led dog collar and a dog carrying pack.
Walking Your Dog in the Gateway Communities
It is possible to take a lovely walk with your dog, enjoy the beauty of the mountains and not worry so much about the unknown of the wild.
In Estes Park, walk your dog on the 4-mile path around Lake Estes with gorgeous views of the mountains in the distance. The best part of this walk is the top-rated dog park, where you can let your dog run off-leash for a while. The best part of the Estes Park Dog Park is the gated access to the lake if your dog wants to splash a bit.
On the Westside, Grand Lake Recreation District's Colorado River Trail 4 mile dog path is perfect for walking your dog. You can even go off-leash if your dog is mature enough to stay under voice control. Note there is a lot of wildlife in this area that will tempt your pup. So make sure you know how your dog will react to finding a Rocky Mountain Elk or bumping into a gigantic moose on the trail.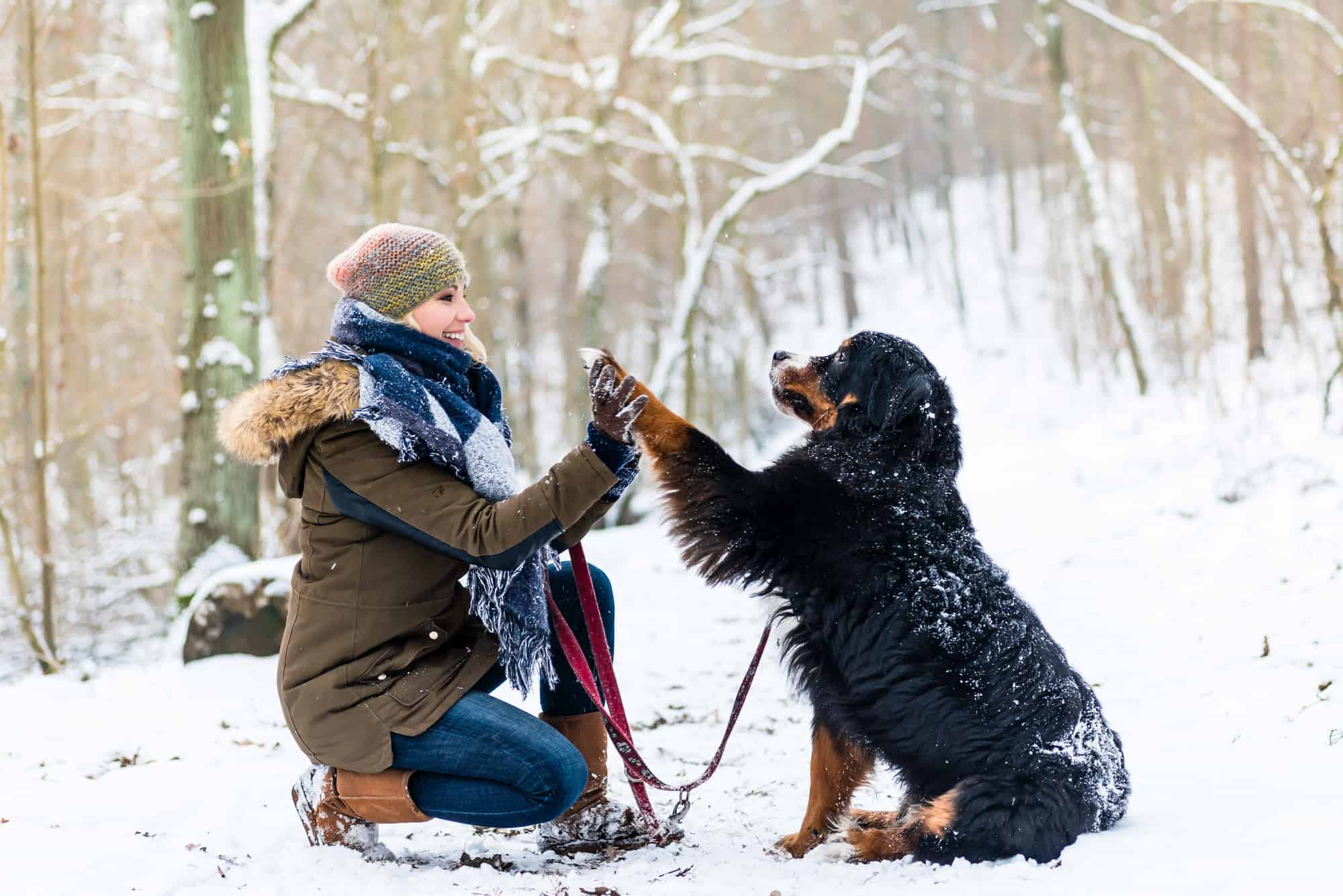 Dog Friendly Communities
The downtown area of Estes Park and Grand Lake welcomes your dog so feel free to wander through the businesses and grab an ice cream cone. Most restaurants and bars with outdoor patios are dog friendly making it easy to enjoy a relaxing evening in town.
Boarding Your Pet
Surprisingly it is not that expensive to board your pet for the day so you can take that epic hike you are dreaming of. While there, your pet might enjoy the spa treatment and come back to you smelling super sweet! There are several options for boarding in Estes Park, which puts you minutes outside the East Entrance to Rocky Mountain National Park. And on the West Side near Grand Lake, you can board at Mountain Mongrels Dog Daycare. 
I had amazing success using the Rover app to find a pet sitter on a recent vacation. They appear to have a growing list of dog lovers in the nearby Rocky Mountain National Park communities.
Book well ahead and know the requirements if you are interested in boarding your dog. You may need proof of health and immunizations – which is usually good to carry when traveling with your dog anyway! Get more tips for taking a road trip with your dog here.
Are dogs allowed In Rocky Mountain National Park? As you can see the answer is Yes! The Rocky Mountain National Park offers an amazing opportunity to enjoy a day with your pup. And outside the park's gates are great hikes that are dog-friendly that will take you into the wild! You'll find excellent boarding options nearby as well so you can enjoy all of Colorado's natural beauty with your dog by your side.
Don't Let the Planning Overwhelm You!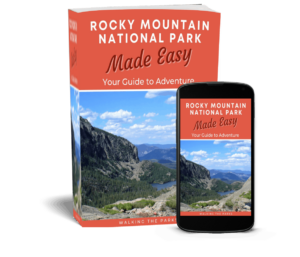 Plan your perfect trip to Rocky Mountain National Park!
Check out our complete digital Guide to Rocky Mountain National Park. This is written specifically for the first time visitor to make your trip planning easy! Over 90 pages of things to do and see on your adventure. Plus get pro tips for planning your adventure.
Start planning immediately with Digital Download!