When I first talked to Alissa from Exploring Wild about Rock Climbing in Joshua Tree National Park I thought she was a little crazy as she insisted that almost anybody could do this with a little help. After she laid it out for us in this guest article I'm very intrigued. I think you also will find this challenge quite interesting. See you on the ropes! Ladona
---
One sunny spring day in Joshua Tree National Park, I watched Audrey put hands and feet to rock for the first time. I was nervous for her, my old college friend who had never climbed before and generally preferred reading a good book to outdoor sports of any kind.
My own palms grew sweaty as I watched her inch upward. Our guide attentively managed the rope to protect her from falling and gently offered suggestions when she faltered.
It seemed to take forever, but Audrey stuck with it. When she reached the top and our guide lowered her to our waiting high fives. I was surprised to see that instead of fear her face glowed with a proud, adrenaline-spiked grin.
Years later she still talks about that day of rock climbing in Joshua Tree, about how much fun it was and the new sense of confidence she discovered there.
Joshua Tree National Park, with its bizarre plants and unlikely rock formations, draws several million visitors to the high desert of southern California every year. Though it's a world-class rock climbing destination, you don't need to be a world-class climber to enjoy it. As Audrey proved, even people who've never climbed before can enjoy rock climbing in Joshua Tree.
If you appreciate spending time outside in beautiful places and your interest is piqued by a fun new challenge, read on to learn about rock climbing for beginners in Joshua Tree National Park.
About Joshua Tree National Park
To explore the Dr. Suess-like plants and improbable boulder piles of ​Joshua Tree National Park is to explore an alien planet where the Colorado and Mojave deserts meet and blend. Yet it's surprisingly accessible, about 3 hours east of Los Angeles by car.
The sunny desert climate makes it a popular destination in the spring, fall and even winter when other more mountainous national parks are blanketed in snow.
The usual national park system of fees and passes applies at Joshua Tree. There are many campgrounds​ inside the park, as well as opportunities for free dispersed camping off the park's backroads. Those who prefer a roof over their heads can find motels in the nearby towns of Joshua Tree, Yucca Valley and Twentynine Palms, worth checking out in their own right.
While you're in the area, take a drive through ​Wonder Valley​ on Amboy Road to see the curious ruins of America's last homesteads.
You can spend days exploring Joshua Tree on its own, or combine it with visits to other nearby California desert​ gems like Mojave National Preserve, Salton Sea, and the Anza-Borrego Desert State Park for a spectacular and varied desert road trip.
To stay safe in Joshua Tree National Park and other desert locations, always carry and drink plenty of water. Know that temperatures can be extreme: summers are often dangerously hot, and winter temperatures can fall below freezing, especially at night.
If you aren't familiar with hiking in hot weather, it's important to prepare. Rain can cause sudden flash floods, so watch for water on the road and avoid exploring canyons when there's any sign of rain nearby. And of course, watch out for the many prickly cacti and desert plants.
Even if I've never climbed before? Really?
Yes, really! Joshua Tree National Park is actually a great place for first-time climbers, as well as indoor gym climbers looking to spend more time on real rock.
Many of the climbs are relatively short, the rock is grippy, and most climbs are close to parking areas so you won't need to hike for hours to reach them. Of course, if you don't have outdoor rock climbing experience you'll need to hire a professional guide to keep you safe and show you the ropes (pun intended). More on that below.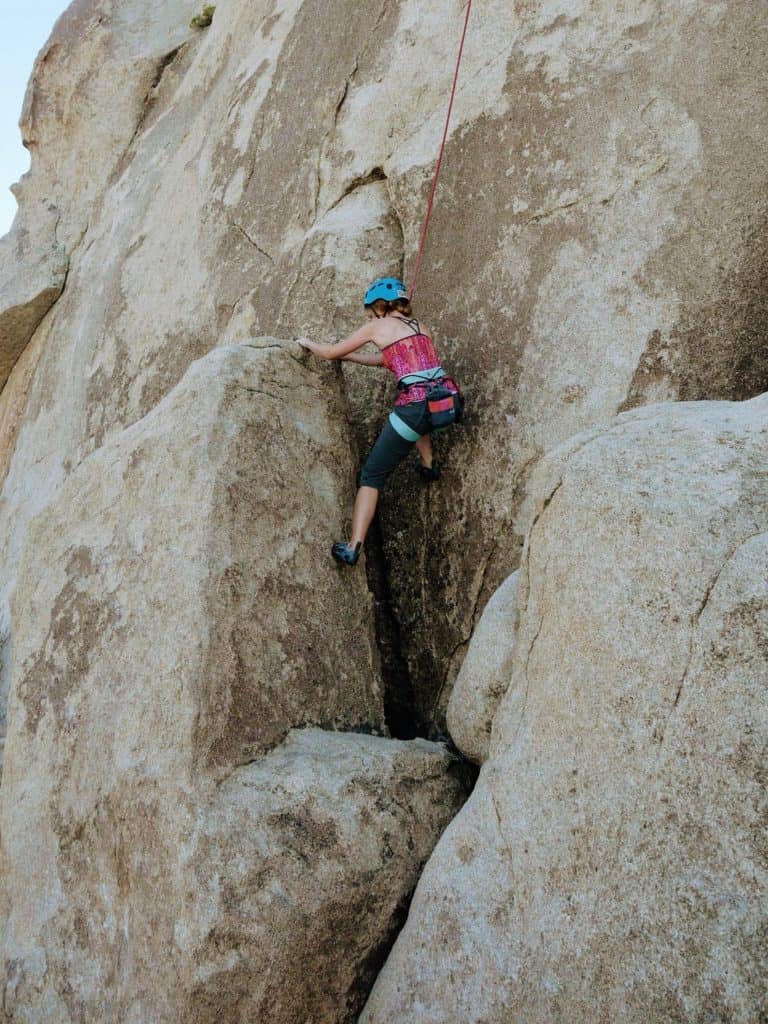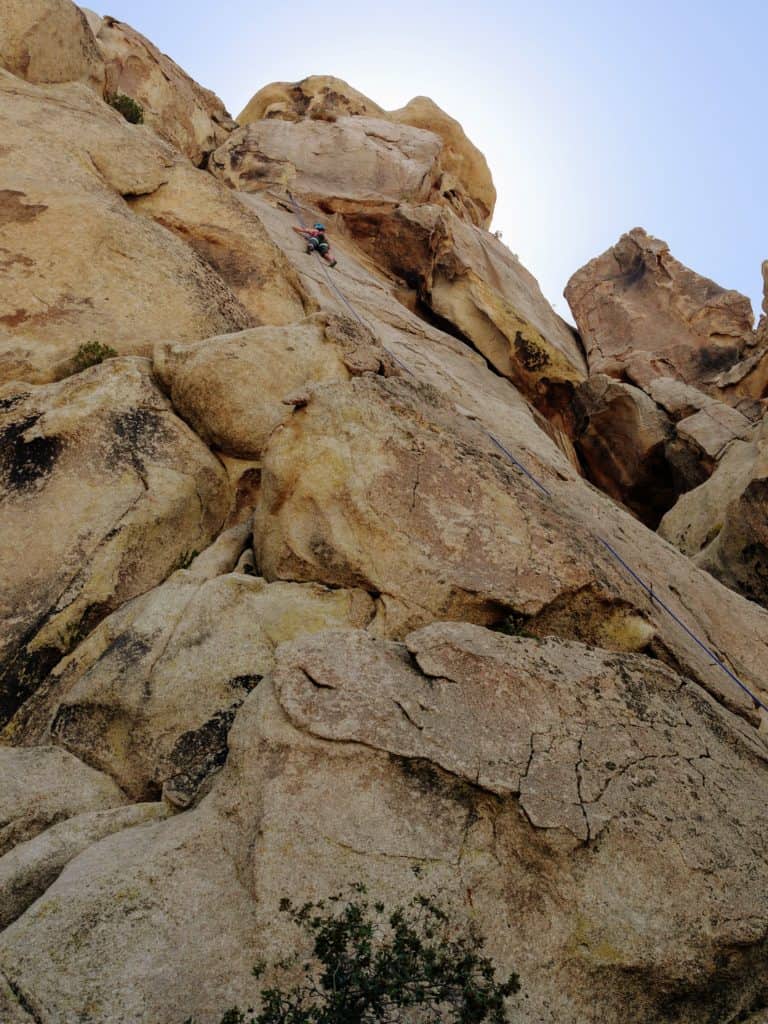 If you think of rock climbing and picture superhuman athletes with bulging biceps and nerves of steel, think again. While such traits are certainly helpful at high levels, anyone of average fitness and a willingness to try something new can enjoy rock climbing at a beginner level. Good climbing is much more about technique than strength.
A good guide will coach you on technique and teach you how to move on the rock. A moderate fear of heights is totally normal, even among climbers, so that's no excuse either.
Most guides can work with a mixed group, especially if the climbers are relatively close in ability level. So don't worry if you're climbing with others who have more experience. Your friends can climb harder routes nearby while you learn the basics. Before you know it, you might be giving them a run for their money!
Visiting Joshua Tree National Park as a family? Kids are often natural climbers. A family climbing session is a great way to learn something new together and help kids build confidence and perseverance.
Is Rock Climbing in Joshua Tree Safe?
I can't blame you for thinking that dangling from a rock face, with only a thin rope to protect you, is a bad idea. Personally, it's taken me a while to learn to trust the safety systems used in rock climbing. But that's exactly the key: trust the system. The gear and techniques used to protect rock climbers are well established and rigorously tested. When used by experienced and careful people, these systems are extremely safe.
When you hire a climbing guide, their primary job is to set up these safety systems and manage the risk so you don't need to. A good guide takes this extremely seriously and is more conservative than many independent climbers would on their own.
Climbing accidents do happen, but they often involve more experienced climbers pushing their limits or venturing into riskier situations.
If you read online about rock climbing in Joshua Tree NP, you may see cautionary notes about widely spaced bolts and scary routes with potentially dangerous fall zones. Don't be alarmed!
While these are important considerations for experienced climbers venturing to Joshua Tree on their own, they don't apply to a guided beginner climbing class. Your guide will choose routes and techniques that avoid all these risks.
As a beginner, you'll be doing a type of climbing known as top-roping. This means the rope runs from your harness up to an anchor at the top of the route, and down to your guide's harness where they "belay" you – take in slack as you climb upward. This means that if and when you fall while climbing – which is totally normal and happens all the time – the rope catches you immediately.
When this system is set up by an experienced guide, it's a wonderful way to enjoy the movement of rock climbing with hardly any risk.
Choosing a Joshua Tree Rock Climbing Guide
Since your guide will be responsible for both your safety and your fun, it's important to choose your Joshua Tree rock climbing guide carefully.
A great guide is meticulous, inspiring, a skilled teacher, knows the area like the back of their hand and is ideally fun to hang out with at the crag. Excellent guides won't just go through the motions, they'll be passionate about teaching you nuances of climbing that are hard to learn on your own.
There are many well-established climbing schools in Joshua Tree. I have personally worked with ​Joshua Tree Climbing School​ and would recommend them, but there are other excellent companies offering a range of services. Joshua Tree National Park maintains a ​list of climbing guides​ permitted to operate there, which is a great place to start since they only grant permits to guides with the necessary certifications and insurance.
Generally speaking, you'll want a guide who is, at minimum, an American Mountain Guides Association (AMGA) certified rock instructor.
When choosing a Joshua Tree climbing guide, don't hesitate to call them up and talk to them. You may be able to sense which guide's approach best matches your style. Ask about the program and what they provide, bring up any concerns you have, and see if their responses make you feel comfortable.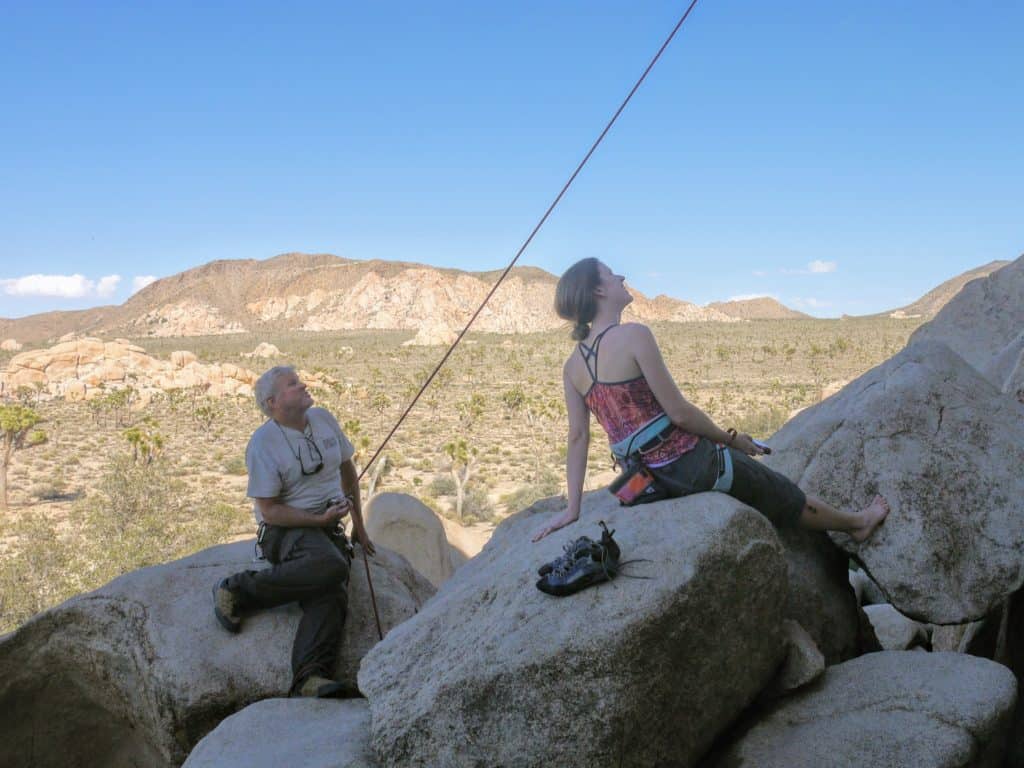 Choosing a Joshua Tree Climbing Program
Along with choosing a guide, you'll need to choose your program. The options vary by guide service, but many guides in Joshua Tree NP offer scheduled group classes appropriate for beginner outdoor climbers. Look for programs called "Basic Rock Climbing," "Introduction to Rock Climbing," or something similar. Generally, a lower client-to-guide ratio is better because you'll get more individual attention and more time to climb, but it may also be more expensive.
If a class doesn't fit your schedule or goals, or you want a private session with only you and your friends or family, you can book a private guiding session. These are usually more expensive than group classes. But the extra personal attention and time on the rock often make it worth the money. The per-person price usually goes down the more people you add, but this also means less climbing time for each individual person.
Both private guiding and classes can range from a few hours to a full weekend or more. Because the climbs at Joshua Tree are so easily accessible, you'll sometimes see sessions as short as two or three hours, but my advice is to err on the side of a longer class.
A lot of time is typically spent setting up and learning the basics on the ground, so you may be left wishing for more climbing time if you choose anything less than 4-6 hours. This is especially true if climbing in a larger group because you can't all climb at once. Shorter classes can feel like they're over just as you're starting to get comfortable.
What to Expect When Rock Climbing in Joshua Tree
Your guide should be able to tell you what to expect during the session, but generally speaking, it will go something like this.
You'll meet your guide at an agreed-upon place, either at the climbing site or elsewhere before driving there together. Most beginner-friendly climbs in Joshua Tree are close to a parking area, so it's usually not necessary to pack for a long approach hike, but you should make sure to bring all the water and food you'll need for your time on the rock.
Once at the rock, your guide will set up the anchor and rope. You'll get a lesson in the basics like how to tie into your harness, how to perform basic safety checks, and some basic technique for moving on the rock. Then, your guide will belay you (holding the rope tight through the anchor to your harness, so it catches you any time you fall off the rock) while you do your first climb!
When you reach the top, make sure to take a deep breath or three, congratulate yourself, and don't forget to look around and enjoy the view.
If you have multiple people in your group, you'll usually alternate turns to climb while the others watch and rest. As you get used to climbing, your guide will choose harder routes so you can keep learning and practicing.
Depending on the length of your session and your prior climbing experience, you might belay others in your group or your guide may do all the belaying. Short sessions will usually stay at the same area and work on different routes next to each other. Longer sessions allow time for driving to multiple sites for a more varied experience of Joshua Tree's climbing scene.
What to Wear and Bring for Joshua Tree Rock Climbing
You should wear comfortable clothes that are loose and/or stretchy, giving you the freedom to move easily. It's a good idea to choose clothes you wouldn't be heartbroken about if they got snagged or dirty.
Dress in layers that you can easily add and remove depending on the temperature. It's easy to get overheated while climbing on sunlit rock, and also easy to get chilled while watching your friends from the shade at the bottom.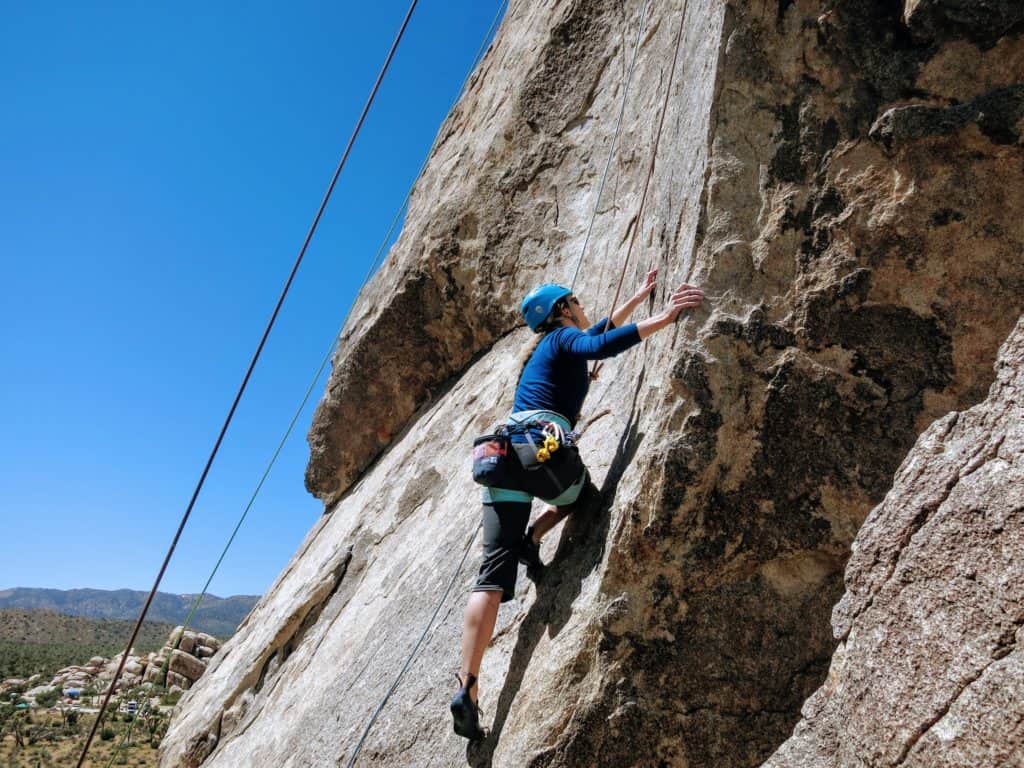 Wear comfortable athletic shoes that you can scramble around on rocks with, and that are easy to take off and put on. You'll be changing into climbing shoes for your trips up the rock, and putting your regular shoes back on to walk around at the bottom.
Ask your climbing guide what else to bring, but generally speaking, you'll need these basics:
➥  Drinking water: how much depends on where you'll be, how long your session is, and the weather
➥  Snacks, and a packed lunch if your class is long
➥  Sunscreen
➥  Sunglasses
➥  Camera
➥  Layers for warmth. You'd be surprised how cold it can get in the shade in Joshua Tree during non-summer months, which are the most ideal for climbing. Consider bringing gloves or mittens in the winter if you struggle with ​cold hands​; chilly rock can really suck the heat out of your fingers and you'll want to keep them as toasty as possible between climbs.
➥  Thin socks, if you're wary of putting rental climbing shoes on your bare feet.
➥  Cash for ​tipping your guide, which is customarily between 10-20% for this type of session, depending on how much you feel your guide went above and beyond to ensure a good experience.
As for specific climbing equipment, your guide will typically provide everything you need, including a harness, shoes, helmet, and the rope and other gear needed to set up the belay system. If you already have a harness or shoes of your own and prefer to use them, let your guide know in advance.
Best Time to Climb In Joshua Tree NP
The climbing season in Joshua Tree National Park generally runs from September to May. Spring and fall are ideal, while winter is good as well but can be chilly. Summer is often uncomfortably hot, and guide services sometimes won't operate during this season except on specific shady routes or early in the morning.
Climb On
If you're curious about trying outdoor rock climbing and want to experience a unique aspect of Joshua Tree National Park that most visitors miss, I highly recommend a guided climbing session. You'll get up close and personal with the park's signature rock formations, enjoy a bird's eye view from the top of the crag, and have fun exploring a new challenge in the desert sunshine. As the belayer says to the climber when the safety checks are done and it's time to start up the rock: "Climb on!"
---
For an amazing hike in Joshua Tree check out this article about the Lost Palm Oasis Trail. It takes you to an amazing destination oasis!
---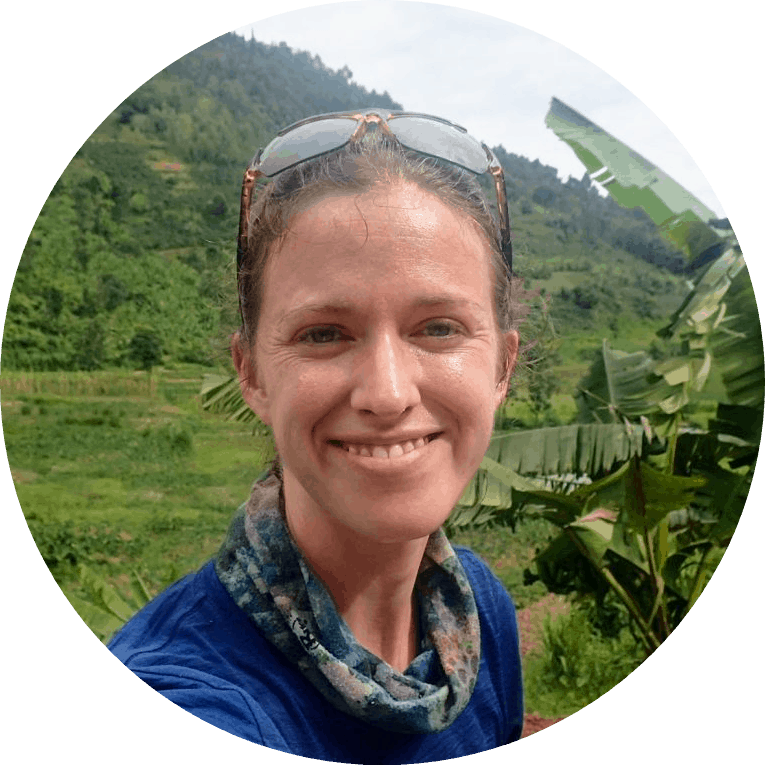 About the Author
Alissa loves wide open spaces, thoughtful travel, and human-powered adventure in the great outdoors. She shares what she's learned on her website, ​exploringwild.com​, because she wants to help you explore your adventurous side in wild places.