How in the world do you pick the best hikes in Glacier National Park? There are over 80 great hikes covering more than 700 glorious miles. So how is a girl to narrow that down to the best Glacier hike for an amazing vacation?
My solution: Ask a friend! I reached out to some of my favorite outdoor bloggers to tell us their choice for the best hikes in Glacier National Park. They have come up with the perfect list! And of course, I also shared a few of our favorites. Read on for amazing choices that will really make your trip a special adventure.


Best Easy and Short Hikes in Glacier National Park
Glacier National Park has some of the best family friendly hikes in Montana. These short Glacier day hikes can easily be completed in under 2 hours. If you are like us, you'll want to pack a lunch so you can sit an enjoy the amazing views when you reach your destination!
St. Mary Falls and Virginia Falls
Shared by Michelle Stelly at The Wandering Queen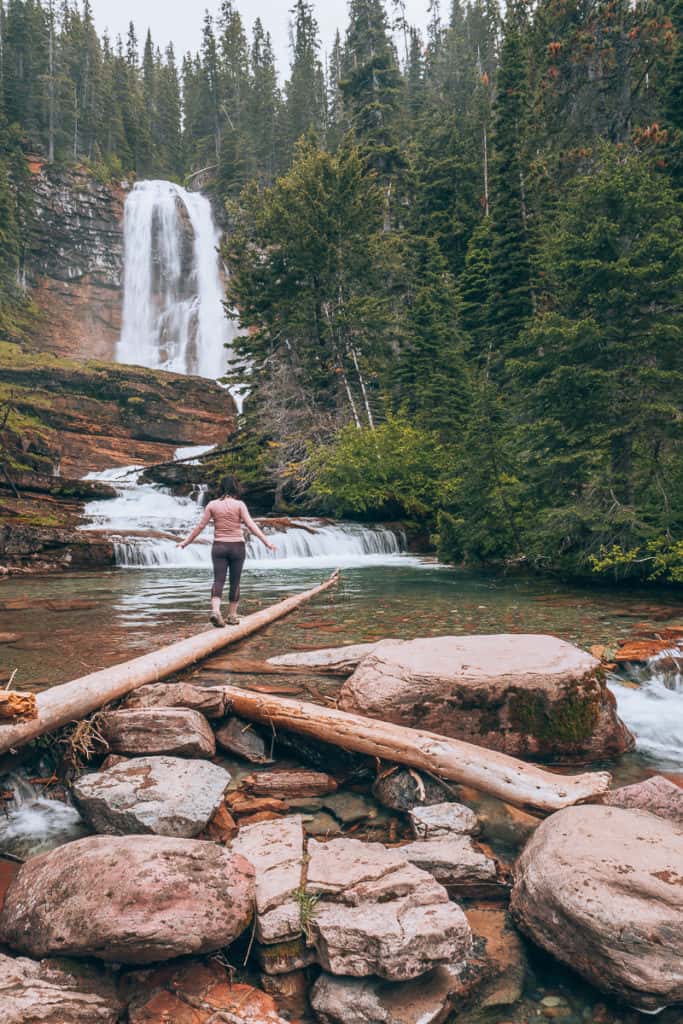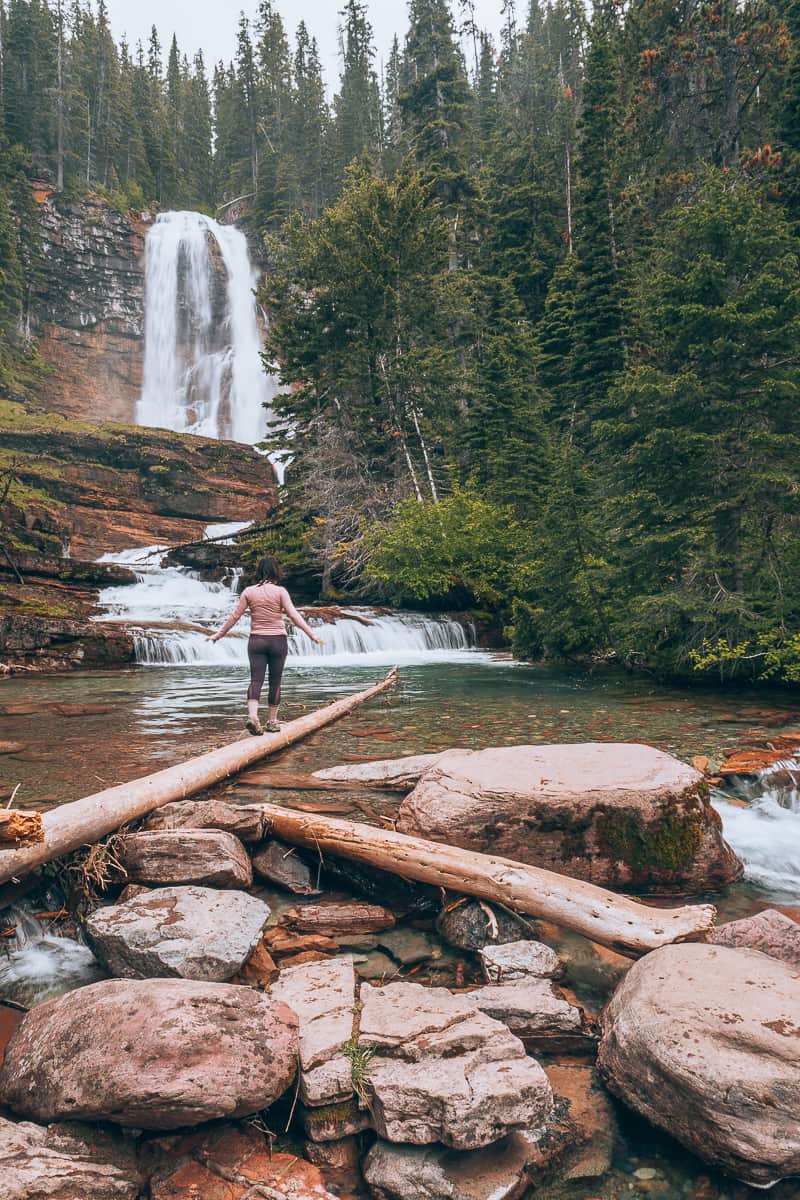 Distance: 3.2 mi RT  Elevation Gain: 285 ft  Difficulty: Easy
This Glacier National Park trail is located on the Going on The Sun Road about 10.6 miles west of the St. Mary Entrance Station. Parking in this area can be tricky as the trail is a popular hike. But if you can't find parking, you can usually find some at the Sunpoint trailhead. Just note, the trail length will be much longer.
One of my favorite things about the trail is that you will be along the shore of Saint Mary Lake. The path will give you many different perspectives of the stunning lake and surrounding mountains. Eventually, you will get to the first waterfall which is St. Mary Falls. The waterfall is the shorter of the two at only 35 feet in three separate tiers.
The second waterfall is a short hike away and is a much steeper waterfall. Virginia waterfall was my favorite of the two due to the height (50 feet) and how well it photographed when the sun came out. Be sure to walk around the waterfall to view it from different perspectives.
---
🎁 Looking for a special gift for your favorite hiking gal? Check out our guide to over 60 Gift Ideas for Her.
---
Avalanche Lake Trail
My personal vote for one of the best hikes in Glacier National Park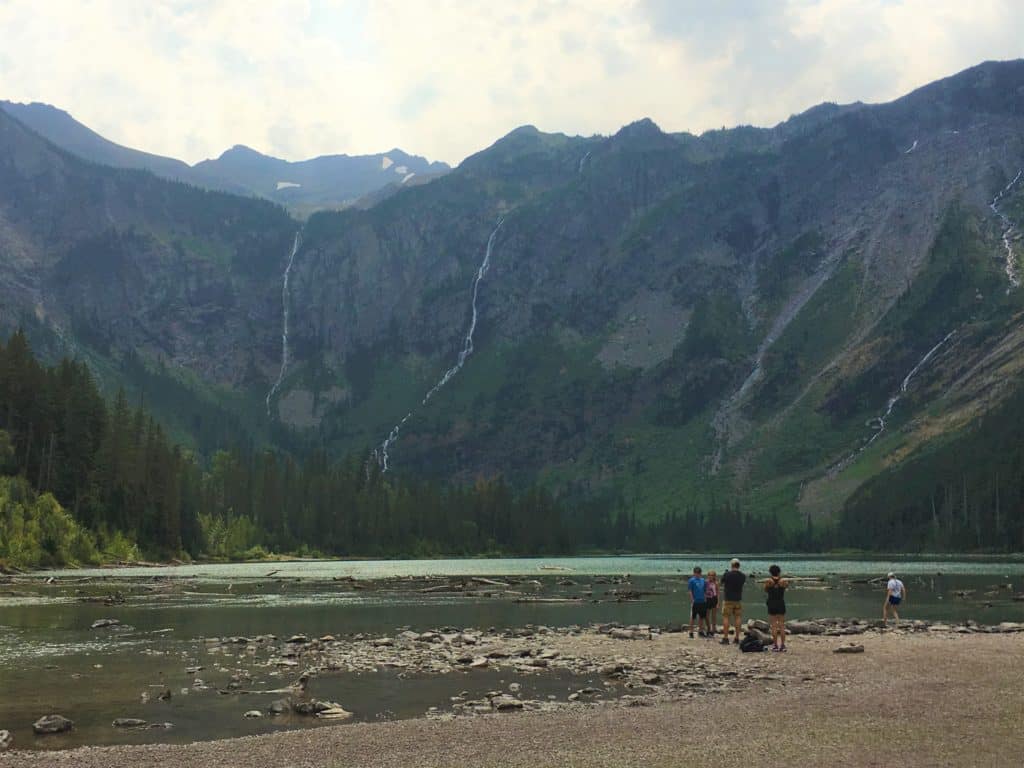 Distance: 4.5 mi RT  Elevation Gain: 500 ft  Difficulty: Moderately Easy
Avalanche Lake is the perfect first day hike! If you need time to adjust to mountain elevations or have been stuck in the car for hours, it's a great idea to make your first hike a fairly easy walk to an inspirational destination. The hike to Avalanche Lake is one of the best short hikes in Glacier National Park.
The lovely forest trail leading to Avalanche Lake is fairly level. The path follows Avalanche Creek which rushes by at high speed. We particularly enjoyed watching a section where erosion had carved out a powerful swirling pool in the rock.
We were excited to arrive at this beautiful glacial lake. It is fed by at least a dozen snowmelt waterfalls dropping hundreds of feet. There is a large beach area which was the perfect place to enjoy our lunch. This is a popular hike for families so I'd suggest you plan an early or late start, avoiding the busiest hours of mid-day.
Hidden Lake Overlook
One of our own votes for the best hikes in Glacier National Park!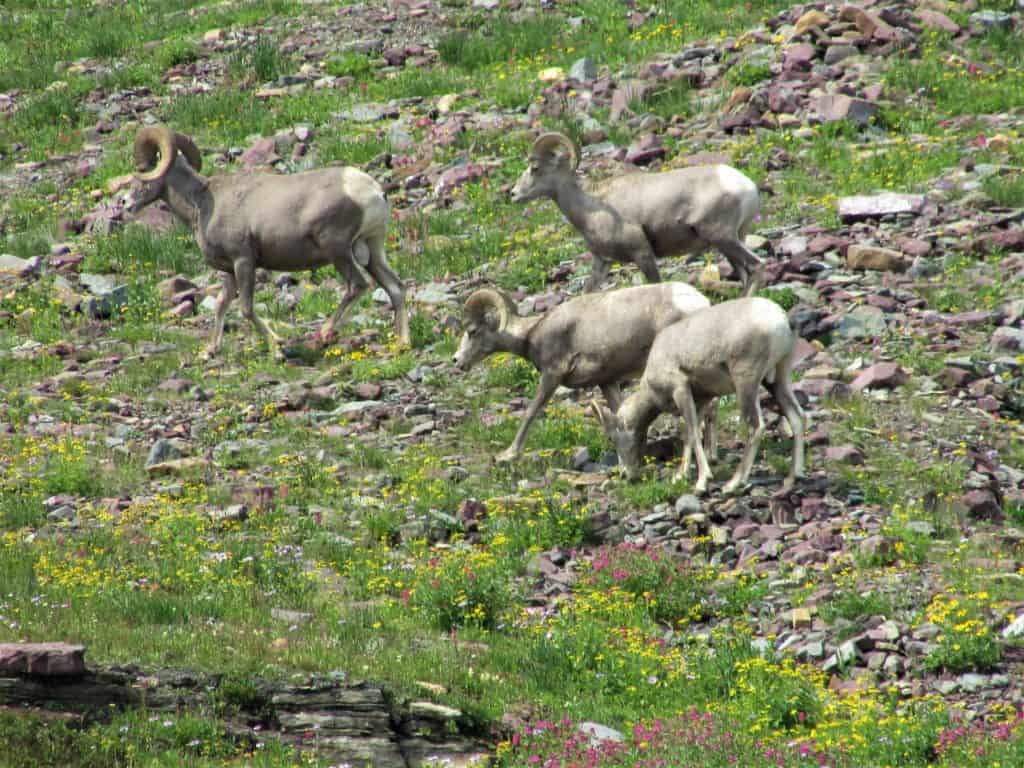 Distance: 3 mi RT  Elevation Gain: 460 ft  Difficulty: Easy to Moderate
Sitting at the top of Going to the Sun Road, tucked behind the visitor center, you will find the gorgeous Hidden Lake Trail. We loved this hike for an easy day of exploring Glacier. My favorite thing about this hike is the abundance of wildflowers in bloom along the trail. Brad got wrapped up in scanning the mountain side for animals. Mountain goats and Bighorn Sheep are everywhere!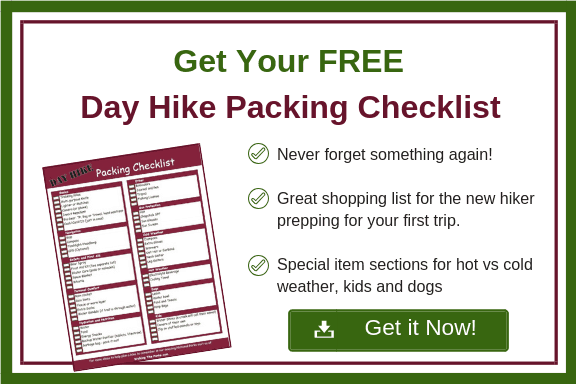 The trail starts with an easy walk down a paved path. It quickly turns into a boardwalk that was specially built to lift hikers off the tender Alpine Tundra. It's about 1.4 miles to a gorgeous view overlooking Hidden Lake. If you want to step up the difficulty a bit, you can hike another mile down a steep trail to the lake.
This is the perfect trail for an early evening hike. You'll find it less crowded and the sun will be less intense making it a very enjoyable adventure!
Best Hikes in Glacier National Park for a Full Day of Adventure
Even though these Glacier National Park day hikes are listed as strenuous, I wouldn't be at all afraid of giving them a go. And as you know we are pretty average empty-nesters, not young buff hikers. There's nothing scary on this list.
When heading out on one of these must-do hikes in Glacier National Park start early because it always takes longer than you think, especially when there is a significant elevation change. And pack for a full day so you can stop and enjoy the views as you go. If you are wondering what to pack, hop over to our full guide on what to pack in your daypack so you have an amazing and safe hike.
Cracker Lake
shared by Zach & Julie Ruhl of Ruhls of The Road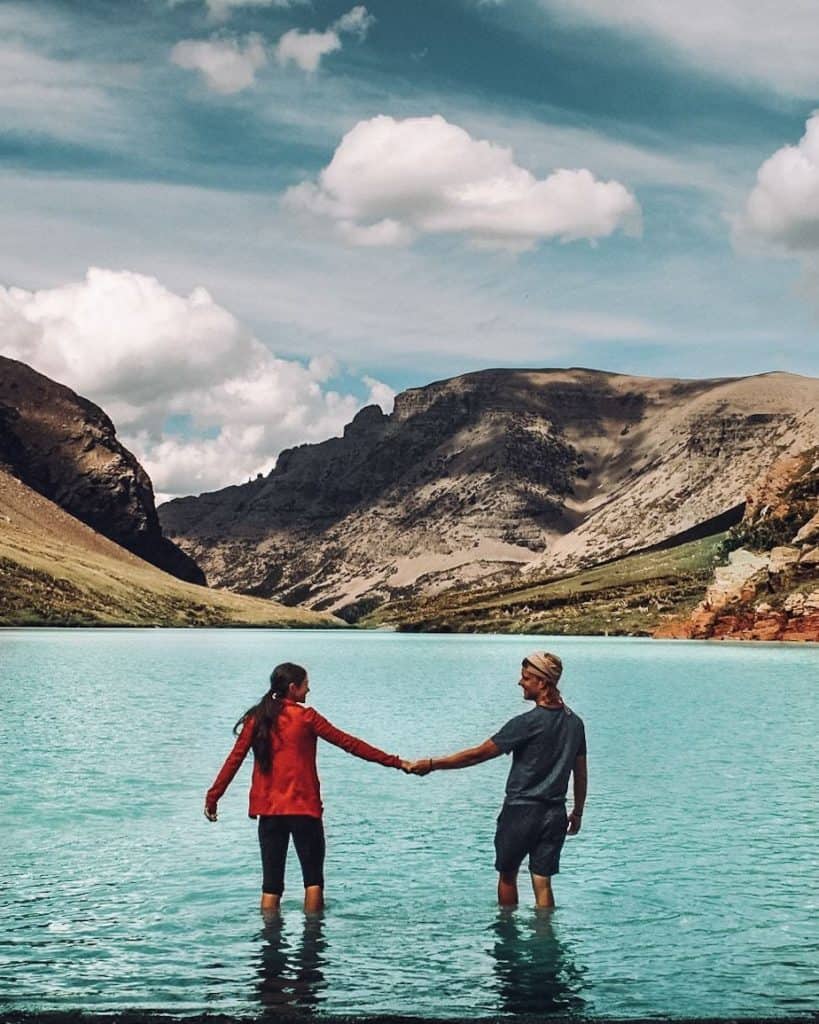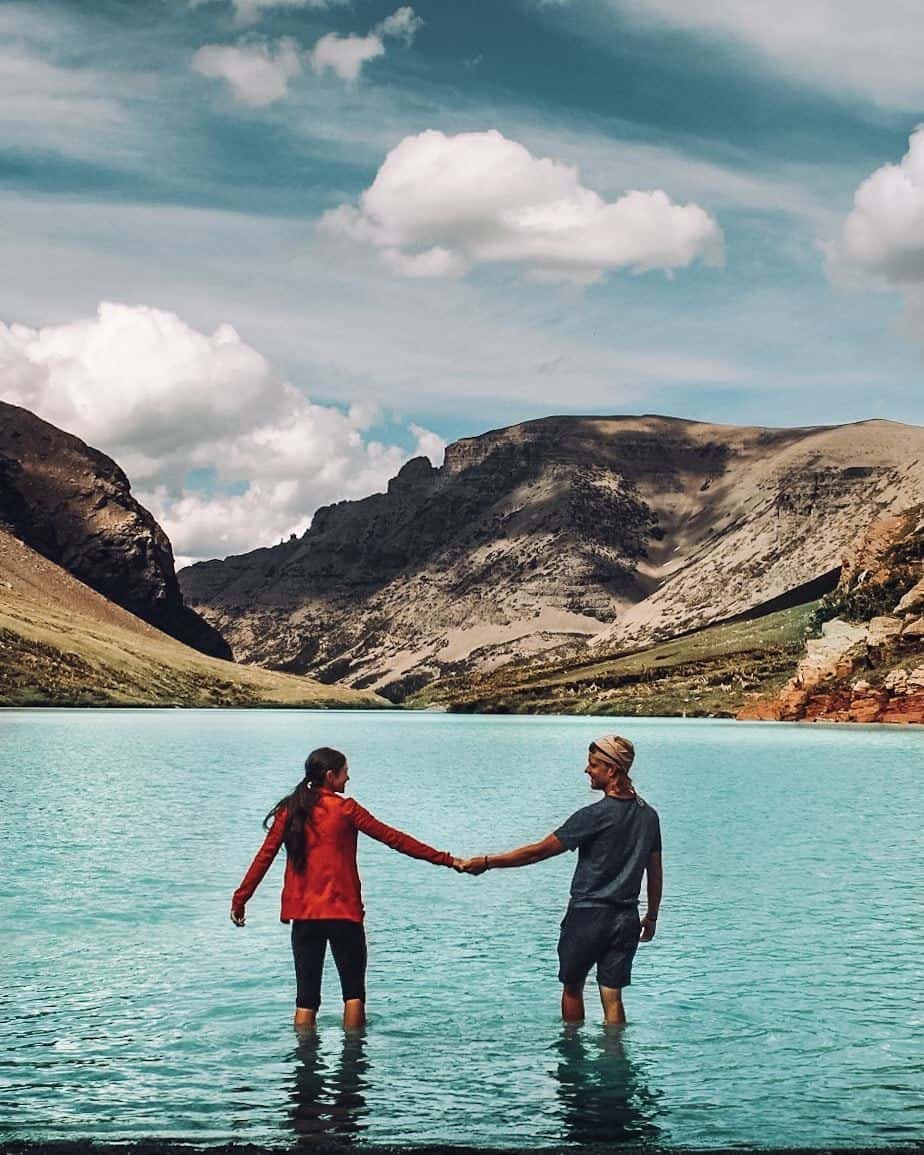 Distance: 13 mi RT  Elevation Gain: 1400 ft  Difficulty: Strenuous
Cracker Lake is without a doubt one of the best and most unique hikes in Glacier National Park. And that is saying something, given that Glacier has some of the best hiking in the entire world! What sets Cracker Lake apart from other hikes?
First off, the lake itself. Cracker Lake is a brilliant and unique shade of pastel blue. It really is a color you have to see to believe!
Cracker Lake is surrounded by enormous Rocky Mountain peaks on 3 sides. When you pair those peaks with the National Park greenery and a great big blue sky, you get a sight that will leave your jaw on the floor! Hike around the lake itself and enjoy different views and perspectives from each part of the lake, you will be glad you did.
As if the incredible scenery wasn't enough, Cracker Lake is also one of your best opportunities to see wildlife in Glacier. We saw a few mountain goats roaming the area and a moose with her calf exploring the area! Seeing majestic wildlife in the midst of one of the most beautiful places on earth? Sounds like a can't miss to us!
Dawson/Pitamakan Trail Loop
Shared by Jackie from Travel Montana Now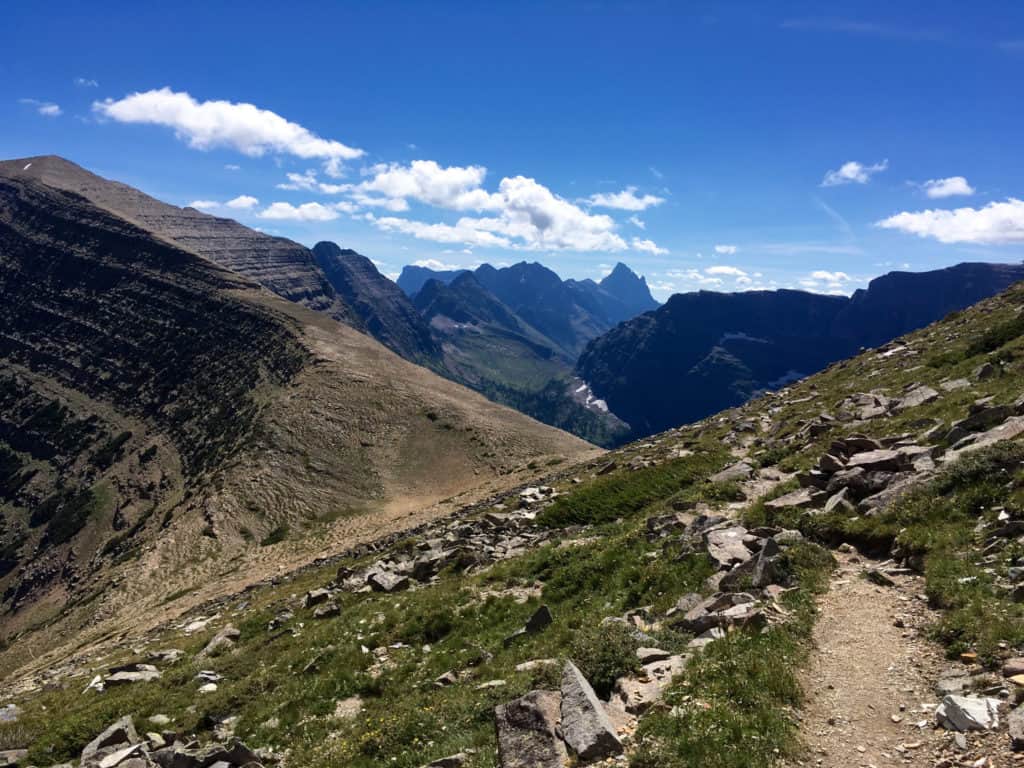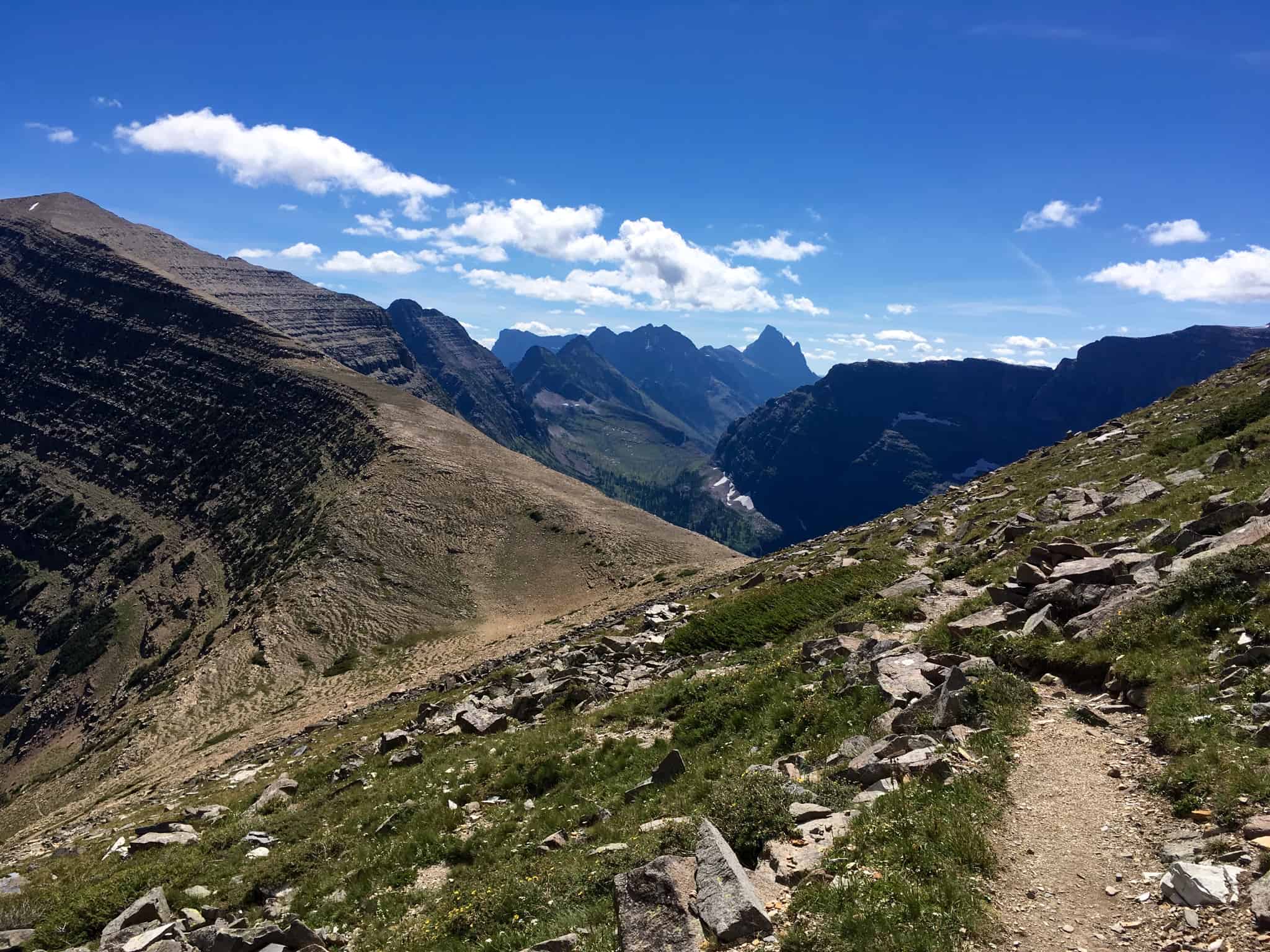 Distance: 18 mi RT  Elevation Gain: 3300 ft  Difficulty: Strenuous
The Dawson/Pitamakan Trail Loop offers some of the most breathtaking vistas in Glacier National Park. From valleys and peaks to meadows of wildflowers and crystal clear alpine lakes, this loop packs in the scenery over a strenuous 18+ miles that includes a section along the Continental Divide.
The great thing about this hike is that you can start in either direction depending on which pass you want to hit first.
If an 18-miler hike is too long, you can shave about 3 miles off when you plan ahead and take the ferry across Two Medicine Lake at the start (Dawson Pass first) or end (Pitamakan Pass first) of your hike.
Starting at Two Medicine Campground, the loop crosses two mountain passes (Dawson and Pitamakan Passes), awarding your efforts with amazing views in all directions. You'll run into other people, but it's not one of Glacier's busiest trails—I loved that it gave me and my hiking partners ample time to soak in the views and grandeur without the crowds (just don't forget the bear spray!).
The Dawson/Pitamakan Trail makes for a long day-hike, but it left me feeling accomplished and in awe of Mother Nature's beauty.
Iceberg Lake
Shared by Amy and Pete Brahan at Just Go Travel Studios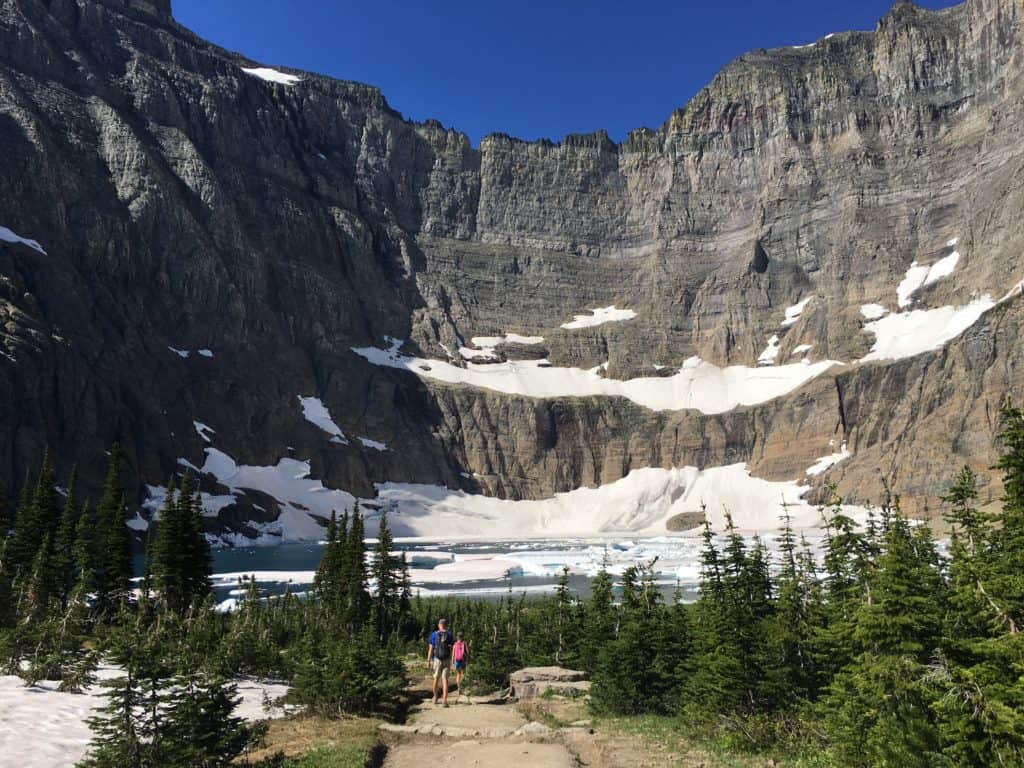 Distance: 10 mi RT  Elevation Gain: 1200 ft  Difficulty: Strenuous
Iceberg Lake is one of several amazing hikes in the Many Glacier area and a favorite among experienced hikers. Since much of the trail is a gradual uphill and just under 5 miles each way, you must put in some effort to reach the lake.
However, hikers will be rewarded with some of the most breathtaking scenery along the entire route—waterfalls, wildflowers, river crossings and views of the peaks surrounding Swiftcurrent Valley.
Prepare to be amazed when Iceberg Lake comes into view. Mount Wilbur and Iceberg Peak tower over a lake where icebergs float in the summertime! We didn't spot any wildlife on our hike in July, but Iceberg Lake is prime grizzly territory (be sure to carry bear spray!) and also home to bighorn sheep and mountain goats. Trust us–this is an out-and-back hike you don't want to miss!

The Siyeh Pass Trail
Shared by Susan Gleissner at This Big Wild World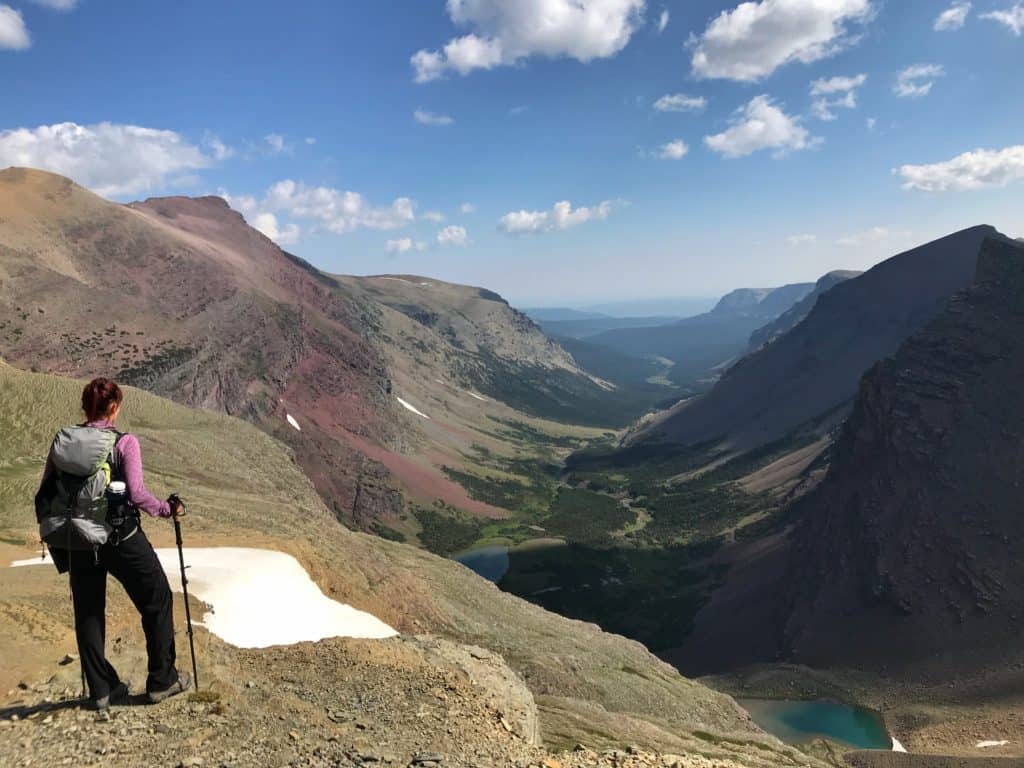 Distance: 10 mi (loop)  Elevation Gain: 2240 ft  Difficulty: Strenuous
Honestly, I'm not sure there's a "bad" day hike in Glacier National Park but some are definitely more popular than others. After hiking the popular Iceberg Lake Trail the previous day, I wanted something more challenging and less crowded. The Siyeh Pass Trail was an unexpected and wonderful surprise.
The thru-hike is 10 miles from Siyeh Bend to Sunrift Gorge on the Going-To-The-Sun Road. I recommend hiking in that direction to avoid an extra 1200 feet of ascent. Don't worry, you'll still have a decent climb of over 2000 feet up to Siyeh Pass.
The trail is incredibly diverse, winding through hemlock forest, alpine meadow, wildflowers, stream crossings, waterfalls, glacier views and forest fire damage. Bears are known to frequent the area especially when the huckleberries are ripe in mid-summer.
At the pass, there's a perfect spot to have a snack and enjoy the views of the valley. Off to the right is an up close and personal view of Sexton Glacier. Listen to the sound of melting water pouring from the glacier, feeding the waterfalls in Sunrift Gorge below.
My last-minute decision to hike the Siyeh Pass Trail turned into my favorite day hike in Glacier National Park due to its diversity, distance, and difficulty!
Highline Trail
Shared by Maggie McKneely at Pink Caddy Travelogue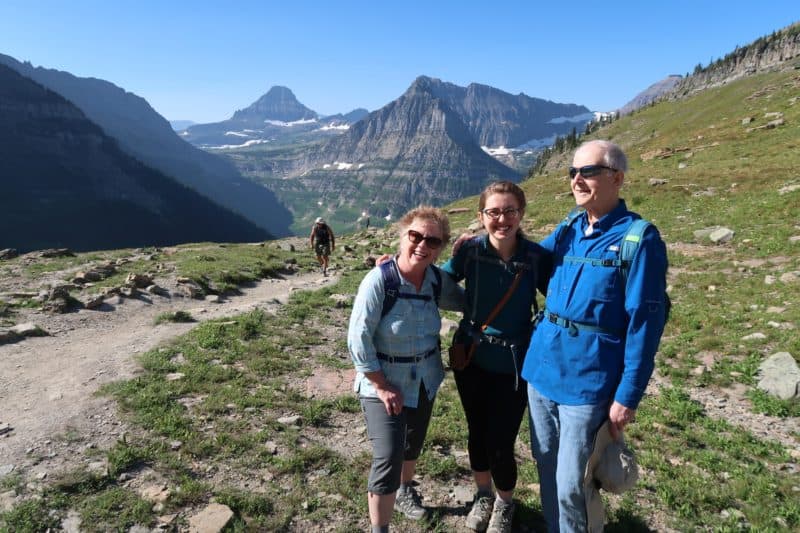 Distance: 12 mi (loop)  Elevation Gain: 690 ft  Difficulty: Strenuous
Of all the incredible trails in Glacier National Park, the famous Highline Trail may be the crowning jewel. It's one of the most famous trails in the United States, and with 11-ish miles full of epic mountain vistas, it's not hard to see why. There is no better way to see Glacier's wide array of wildlife, alpine flowers, and endless ranges of snow-covered peaks.
As a 20-something athletic girl who loves hiking more than almost anything, I'm always up for a challenge. But I have to keep my expectations realistic when I'm traveling with my parents, who are less gung-ho about trekking a few thousand feet up a mountain.
When I visited Glacier with them, the Highline Trail was the perfect hike for incredible scenery in exchange for not too much effort. They got to enjoy a full day of Glacier's beauty without feeling dead by the end of it. And although it is a very popular hike, few people choose to go farther than the first couple of miles, so the trail is not crowded at all.
It's the perfect hike for families and the perfect introduction to all that makes Glacier one of the most incredible places on earth.
Note from Ladona: Brad and I just finished the Highline Trail September 2022. Oh, my… Maggie was so right! It's an amazing hike. You can read about our experience in this Guide to the Highline Trail.
Helpful Tips
We've created several resources to help you plan an amazing Glacier National Park Trip. Click on over for more information:
💡 What To Pack for a Day Hike – The Ultimate Guide to Packing for a Perfect Day
💡 How to Select the Best Day Pack for Women – Nothing worse than a pack that hurts all day! We'll guide you through picking the best pack for your style.
💡 Glacier National Park Travel Guide – Everything you wished you knew about Glacier National Park
We'd love for you to share what you found to be the best hikes in Glacier National Park in the comments below! And don't forget to save this to your vacation Pinterest Board because we are certain you will want to enjoy one of these hikes.
(Post originally published 2/27/19 – updated on 11/9/19)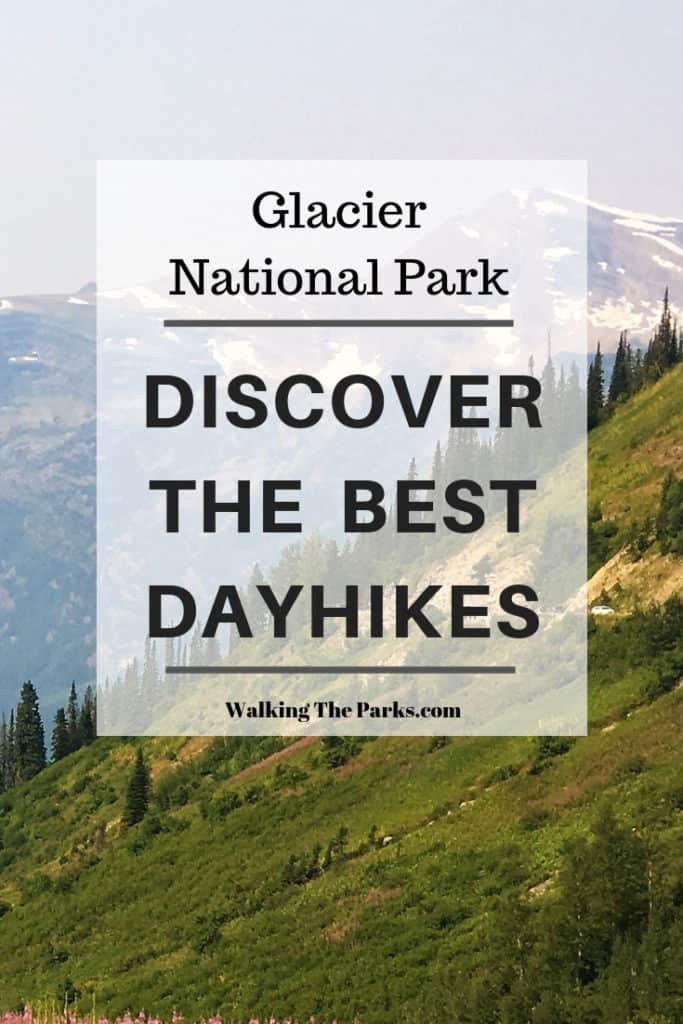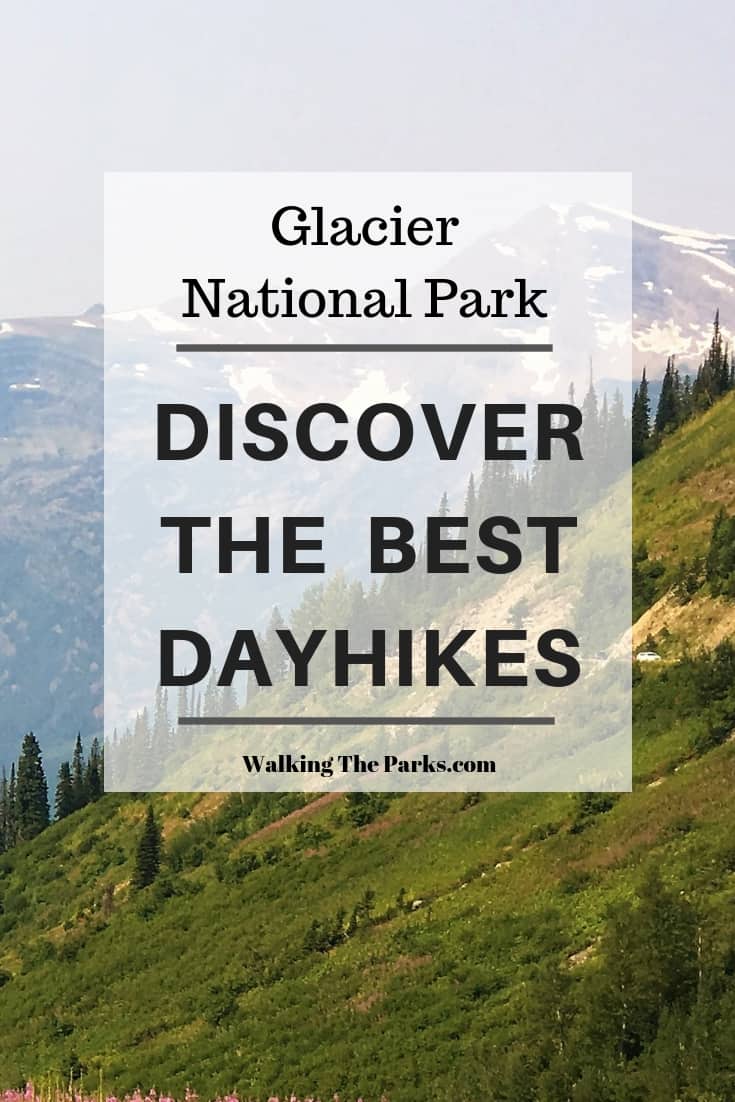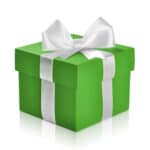 Looking for gift ideas for your favorite Hiker? Check out our Unique Guides!
Here are more articles to help you plan an amazing adventure to Glacier National Park:
---
The Authors: Hey, we are Ladona and Brad, avid campers and hikers. We are crazy about getting outdoors at every possible moment and have decades of experience exploring nature. Our current goal is to visit all 63 US National Parks and just completed #42. WooHoo! Our mission is to help you plan your own adventures and create memories beyond your imagination!