Here's a guest post from Res Marty about the Lost Palms Oasis Trail in Joshua Tree National Park. As he shared the story of this hike with me, I quickly added it to my wish list. Wow! This trail is a destination hike to an Oasis worth dreaming about. Ladona
---
Surprisingly, you won't see any Joshua Trees on Lost Palms Oasis Trail in Joshua Tree National Park. But as you hike this trail, you will see a large grove of fan palm trees! This hike features the largest concentration of California Fan Palms in Joshua Tree National Park, the only native palm tree in the region!
These majestic palms are impressive from a distance and even more so from right beneath them. This beautiful hike through desert terrain leads you to a palm tree oasis and is one of our favorite hikes in Joshua Tree National Park!
About the Trail
Location: Lost Palms Oasis Trail is on the southern side of Joshua Tree National Park. The trailhead is named Cottonwood Spring, it is just two minutes away from the Cottonwood visitor center.
Elevation Gain: 1,026 feet,
Distance: This out and back trail is 7.2 miles long
Difficulty: is generally considered a moderate hike.
Time: We hiked this trail in 5 hours, with a handful of stops to take pictures and a nice long "brunch" break. Typically this hike takes 3-5 hours.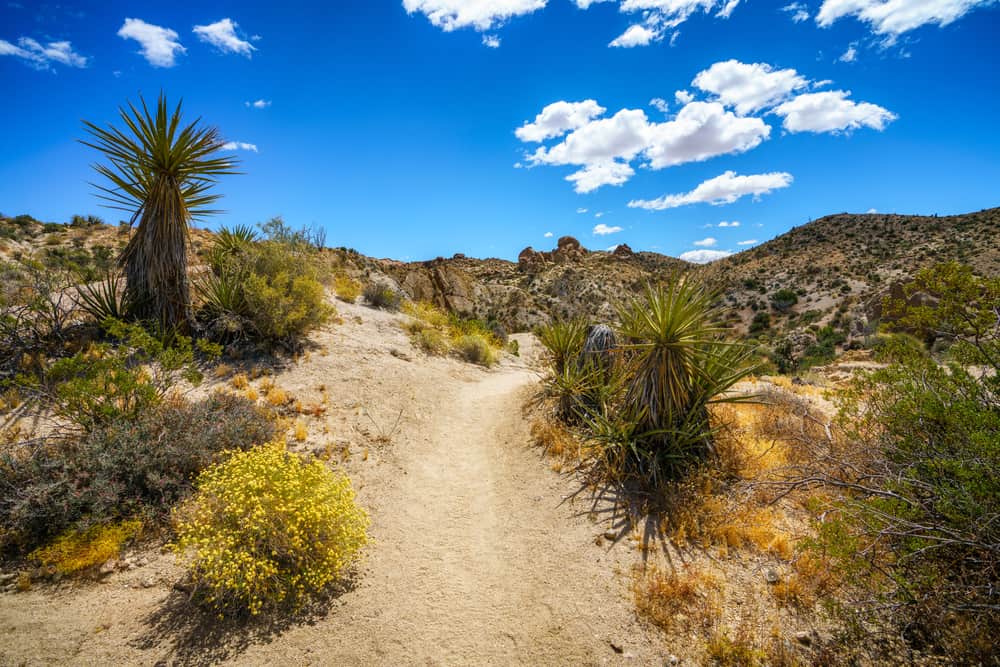 The Best Time to Hike Lost Palms Oasis Trail
Plan to hike in the morning to beat the heat and the crowds. We prefer to start hiking early in the morning because there are usually fewer crowds and the weather is generally nicer, especially when hiking somewhere known to be very hot. We started walking at 7:30 am and were lucky to be able to explore the massive rocks with barely anyone around!
An early start time was the right call as we saw many hikers just starting to hike when we were on our way out. If you are up for it, I'd suggest doing this hike at sunrise!
We followed the advice of fellow hikers and plugged "Cottonwood Springs" into our GPS to get to the trailhead parking lot, which is a popular roadside stop as you enter the park, that can get busy at any time of day. This location is 7 miles from the southern entrance to the park, off I-10.
Park at the small lot and then walk down the staircase into the Cottonwood Spring Oasis. You can stop by the Cottonwood Visitors Centre for more information and take advantage of the bathroom beforehand. However, there is no bathroom at the trailhead so keep this in mind. The park entrance fee is $25 per vehicle for a week.
What to Bring to Ensure a Successful Hike on the Lost Palms Oasis Trail
This hike is very exposed, so be prepared with plenty of water to stay hydrated. Don't count on finding water during your walk, as most of the year, it's relatively dry. Be sure to bring at least 3 liters of water with you, as it can get boiling, and there's a good chance you'll drink more than expected.
I almost finished my water before returning to the car! I would consider bringing more than 3 liters of water in the warmer months. The desert sun can be extreme, and it's better to be prepared than not.
If you are a beginner, be aware that this hike is considered a moderate difficulty level. Here's a list of additional tips you should consider before taking on this challenge.
The best time to hike the Lost Palms Oasis Trail is when the temperatures are below 90 degrees or between October and May. The spring is a beautiful time due to the wildflowers in bloom, so consider that if you are trying to figure out which season to visit.
Wear comfortable hiking boots, light clothing, a wide-brimmed hat, and sunglasses. Don't forget to bring an extra layer in case it gets windy and sunscreen to reapply. I still burned my arms, and I was wearing SPF 50!
Hiking poles are highly recommended (protect your knees!) as some areas are steep with loose gravel, especially on your way down into the oasis.
It's critical that you plan for hiking in hot weather when backpacking in Joshua Tree National Park. Don't underestimate the desert.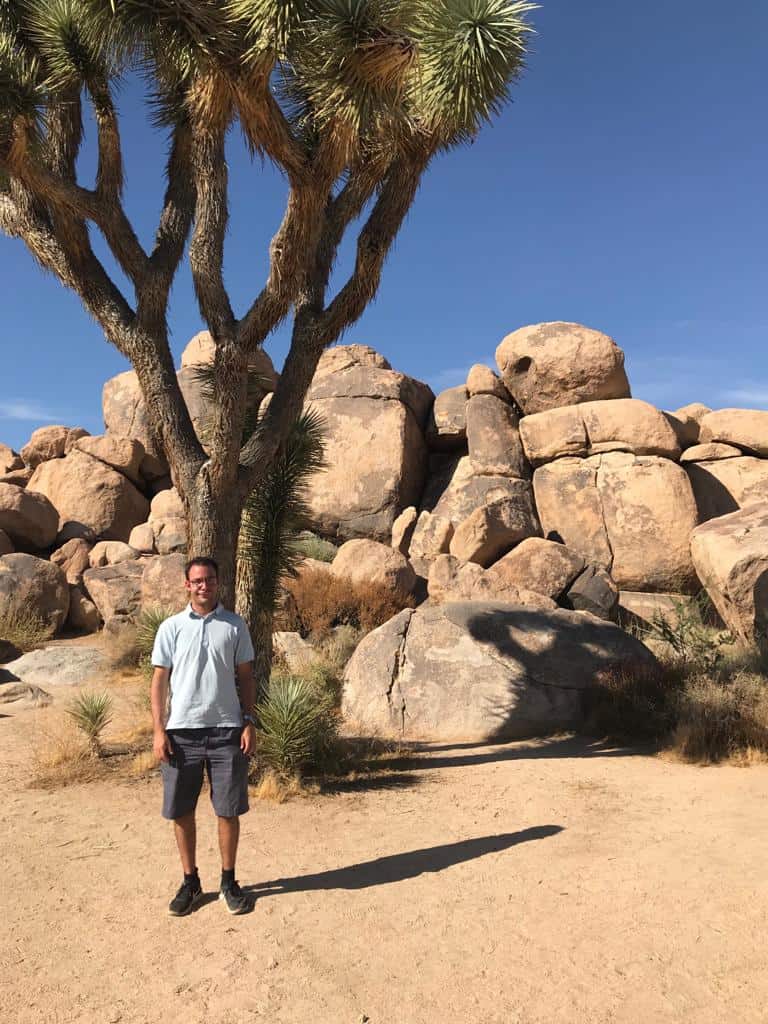 Look out for Wildlife: Tortoises, Bighorn Sheep, and Lizards
The trail starts just past the Cottonwood Springs Oasis, beginning with a 3.5-mile hike over the rolling desert hills. The valley opens up here, and boulders and desert vegetation surround you.
The trail continues climbing until you hit a flat plateau overlooking the oasis. Luckily, the entire trail is clearly marked and relatively easy to follow, but it's still important to pay attention to the signs to ensure you don't get lost.
For the most part, it's a steady incline, and the elevation changes are minimal, allowing you to easily keep your head up to look around and take in everything. This gave us the opportunity for great conversation and the chance to spot wildlife. We saw many lizards, birds, and ground squirrels along our journey.
Best of all, we saw a tortoise slowly making its way across the sand! Although we wanted to get close and take pictures, giving wildlife their space is essential. Tortoises will urinate if they get scarred, dehydrating them, so please be careful when you're in their natural habitat.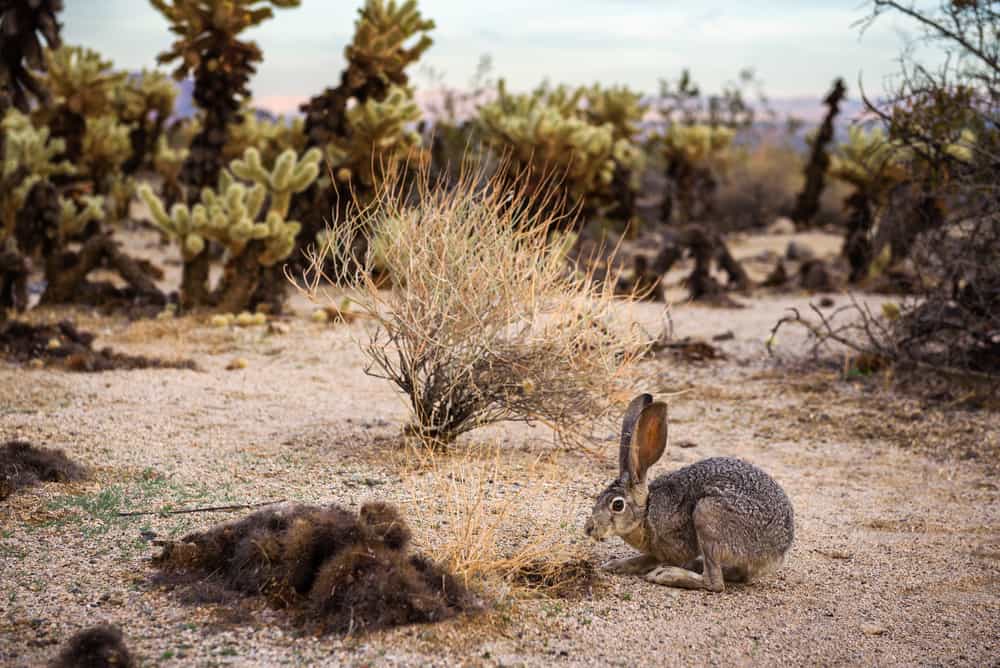 Also, keep your eyes peeled for jackrabbits and bighorn sheep, as they are sometimes spotted in the area.
You can also see the Salton Sea and Eagle Mountains in the distance. Take a moment to stop and appreciate some of the flora, such as the numerous species of cacti, Jojoba, Yucca, and the towering Ocotillo (which have beautiful red flowers when in bloom!).
There are a few sandy washes and canyons, but most of the hike is through rocky formations and over rolling hills. The entire area reminded us of the Flintstones, which definitely had us reminiscing about the good ol' days!
Arriving at Your Destination: Enjoy a Peaceful Picnic Under an Oasis of Palm Trees
The trail eventually leads to a cliff overlooking the palm tree oasis. Although the views are beautiful, we recommend heading right down into the oasis. It's not that hard if you're careful and you follow the right trail. It's really worth the trip.
It's pretty neat seeing the massive fan palms in the middle of a desert full of rocks and open panoramic views. There is a collection of over 100 fan palms, which can grow over 75 feet tall and live up to 90 years!
You'll have to go off-trail to get down into the oasis, so be prepared for a bit of scrambling. This is a nice addition to the hike and was a lot of fun! However, you may need to use your hands to help you climb down easily, depending on your skill level and your chosen route. Continue hiking past the "end of trail" sign to begin your descent.
The only shade along this hike is at the oasis itself, which makes it a lovely area to sit and enjoy a picnic. This is the time to reapply that sunscreen! We spent about 40 minutes down there to hang out and share a delicious lunch that we brought, which consisted of boiled eggs, hummus, carrots, muffins, salted cashews, strawberries, etc and Gatorade. It sure is a magical place to indulge in what nature has to offer.
Climb to the top of Mastodon Peak on your way back!
If you have the energy and are looking for more spectacular views on your way back, consider hiking to Mastodon Peak, which is an additional 1.4 miles. It's another scramble but is very doable, considering the fantastic 360-degree views at the top!
This hike will surely give you an idea of the vastness of the surrounding landscape. As you hike through narrow paths along steep cliffs, you'll notice giant rock steps that will guide you on your way up to the 3400-foot summit. This hike isn't too challenging if you take your time.
You'll also notice a few signs with fascinating history, including the Bedrock Mortars sign, which explains how the Cahuilla Indians pounded mesquite and other seeds into flour a long time ago. There's also an abandoned mine that was established in the 1930s called the Mastodon Mine, which operated until 1971. It's a cool area to explore!
Where to Stay On Your Trip to Joshua National Park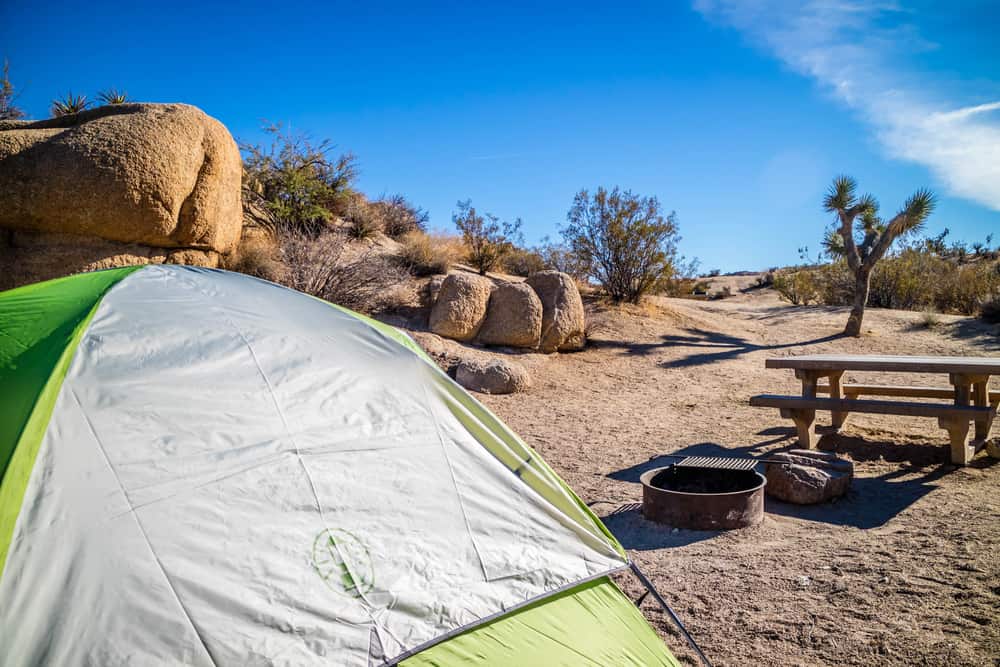 Spend a Night Under the Starlit Sky: Backcountry Camping
Backcountry camping is permitted along this trail. You can register at the backcountry board at the beginning of the trailhead. Choosing to camp gives you more time to explore the boulders and is an excellent opportunity to spot the bighorn sheep that live in the area. The early morning is a beautiful time to look for wildlife!
Although you cannot camp at the oasis, there are some significant areas to set up camp on the north side of the trail. The beauty of camping is that you get to enjoy the night sky in the evening and then catch the sunrise in the morning without many people around.
Waking up to the birds chirping while you roll out of your tent definitely makes you appreciate the little things. However, make sure you are prepared for desert camping with enough water and the right supplies.
Other Camping Opportunities when Visiting Joshua Tree National Park
I recommend taking a look at this article on the 19 best campgrounds in California. In addition to camping in Joshua Tree National Park, I share other camping ideas.
Hotels and Rentals Close to Joshua Tree
It's less than an hour drive to Joshua Tree from Palm Springs where you'll find hundreds of hotels and rentals. You can check availability in Palm Springs here.
Alternatively, Joshua tree national park is also reachable within a few hours from San Diego. The city is among my absolute favorites in California and is always worth including in your itinerary if you can.
We really enjoyed our day and are happy we chose to hike the Lost Palms Oasis Trail. It was the perfect hike to get in a good workout, explore the desert flora and fauna, picnic under the palm oasis, and have time to connect with nature. This hike was absolutely one of the highlights of our visit to Joshua Tree National Park!
---
Looking for more adventure in Joshua Tree National Park? Check out this guest post on rock climbing for beginners in Joshua Tree!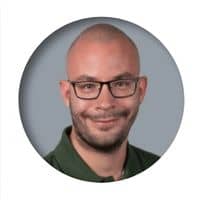 About the Author:
Res Marty is an expert advisor in camping and hiking. From his cabin-crew days till
now, he'd been on uncountable hiking sprees. He loves to share his experience with the world through his blog. Res writes about his hiking and camping adventures over at ResMarty.com.