As you all know, we love our road trips. But at times the road can get a little too long and you start looking for Road Trip Boredom Busters. So here you'll find some of the best travel games for adults as shared by some of our blogging friends who travel all the time! These are all road tested and proven winners.
Check out these adult car games for your next trip and the miles will fly by.
This post contains affiliate links to make it easier for you to find products I have mentioned. You don't pay any extra and in some cases I could earn a small commission.
---
Challenge Your Mind: Adult Car Games That Make You Think
Are you a little competitive? Maybe more than a little? Then these mind challenging adult car games are just for you!
Solve a Five Minute Mystery
from InsomnoMom at The House That Never Slumbers
Bring one of the Five-Minute Mysteries books along on your road trips. You can find these books on Amazon. There are also Two-Minute Mysteries and so on available. These books are a collection of short mystery stories that take about 5 minutes to read. A question is posed at the end of each story, and readers must use the clues from the story to reason through the answer and try to solve the mystery. I would read aloud, and everyone in the vehicle would discuss the potential answer. Our family enjoyed the lively conversation created by these mysteries. It's a fun activity for all ages and makes the travel time pass quickly.
✔️ This is my favorite new car game!
As a mystery lover since I learned to read I was super excited to discover 
5 Minute Mysteries
. Whoa! So many choices. Take a look for yourself! – 
Ladona
Explore Odd Facts in Podcasts
from Philip at Zen Travellers
One of our boredom busters for road trips is to fill up our phones with our favorite Podcasts. Not only do they provide entertainment while you're listening, we often find ourselves discussing the topic further afterwards. Some of our favorites are educational (and hilarious) Podcasts such as Stuff You Should Know and Science Vs. We did this recently while on a self drive safari in Kruger National Park and listened to fitting Podcasts about the wildlife we were watching and learned some cool facts about them. For instance, did you know that Elephants are left and right tusked just like humans are left/right hand dominant? Neither did we!
Can You Guess the Movie
from Priya at Glorious Sunrise
This adult travel game is a cool way to pass time no matter how long the road trip is. First, one person has to name two actors and the rest of the travelers should try and guess the movie those two actors were together in. You can look up movie names and actors by using IMDB website, a great database for all things related to movies. Of course, the people guessing the team are banned from using their phones while playing. For more ideas without using your phone, check out these cool Time Pass ideas.
Crossword Puzzles
from us…our personal all time road trip winner
It may be hard to imagine doing crossword puzzles on the road, but we do 2-3 every road trip. The passenger reads the clues out loud and then both of us try to figure out the correct word. We get into discussions about new words and about the meaning of the clues. Sometimes it gets pretty intense as we argue about the "real" meaning of the clue. (Yes, we can be geeky at times!) The paperback books are cheap and easy to tuck into the car for the road.
✔️ This is our go to game for adults on the road!
We like to start with an
easy crossword puzzle
on our road trip and work our way up to the more difficult ones. You'll find the large print ones are easier to work in the car due to all the road jiggles. – 
Ladona
Reasonable Trivia
from Claire at Past the Potholes
We spend plenty of hours in vehicles together as we explore new countries so my husband decided to invent his own game! He calls it Reasonable Trivia. Each person takes a turn thinking up a trivia question. If more people get it right than wrong, the questioner wins. The catch is that it has to be reasonable so there has to always be at least one wrong and one right answer. We tested it out on a road trip with friends and had lots of laughs along the way. Coming from three different countries it was hard to find the right questions!
Never Have I Ever
One of our personal choices
Let me warn you up front, this has been played on Ellen. And we all know that Ellen loves to embarrass her guests in the most inappropriate ways. So walk on by if you aren't up for a lot of TMI! Each card in the deck has a description of embarrassing moments in life. You know, those things you really wish you hadn't done. If you have actually experienced that dreadful moment, you can win a lot of points. The player who has the most points wins.
✔️ This is our go to game for adults on the road!
Although you can find board versions, this
travel sized package of Never Have I Ever
is perfect for road trips. It also doubles as a great game to play if you get rained in one evening while on your vacation. – 
Ladona
Do a U-Turn for Historical Markers
from Lori from Travel – Moments in Time
My husband and I love to take road trips! To prevent silence from settling in, we stop along the way for photos or even to visit some places. If we know some interesting attractions are on our way, we make sure to include them ahead on our itinerary. Other times, we are mesmerized by the landscape or intrigued by something, so we stop, take pictures or take a closer look at the thing that caught our eye, and then we get back on the road. Now, we have what to talk about! Always something new, always making connections and, sometimes, having different opinions allows us to char for a long while. Until the next stop;) One thing is clear though: no trip is boring and there is no silence in the car.
Don't Hesitate!
from Margie at DQ Family Travel
On our long road trips, we try to squash boredom by playing a game called Hesitate. One person comes up with a category, let's say "cars". The others take turns naming car brands or models very quickly. If a person takes a second and hesitates, they are out. When the round is over, the next person calls out a category and the game continues again until the family decides we are done with the game and don't want to play anymore. This game is a classic road trip game we have been playing since our youngest was 7. Not only is it a great game for adults it will also keep our kids entertained with road trip activities during our long drives around the country.
✔️So maybe not a game… but we love to listen to books while on the road.
Joining Amazon's Audible program seems like a really great deal that you can learn more about on their membership page.
What's most important is that Prime members can get a free month right now. And with Amazon, it's super easy to cancel, without ever paying a dime, if you decide it's not for you by just logging in and clicking the cancel button.
Getting to Know You: Fun Relationship Games for Couples
Ever find yourself sucked into your phone and not talking to your spouse for hours while on the road? Stop! The best road trip games for adults are the perfect way to connect with your spouse or with your friends. Here are some ideas that help you learn a little bit more about each other while having a blast on the road.
Discover New Things about Your Partner
From Karolina&Patryk at Lazy Travel Blog
One of the interesting ways to spend valuable time during a long journey is to do some personal development exercises. My husband and I bought 'Louise Hay Heal Your Life Workbook'. Even though we have known each other for years, we were surprised to hear each other's stories. Talking about our childhood strengthens our bond every time we do it. Not only it is a great way to kill the boredom during a long road trip but also it's also the beginning of a very interesting conversation.
✔️ Am I the only one who has never heard of Louise Hay?
Chat the Miles Away with Conversation Starter Cards
from Katie at My Sweet Home Life
Let's face it – long car rides can be a little boring. One super fun road trip game for adults is to use conversation starters. These are questions designed to get you talking about all manner of things. These fun questions for married couples are specifically designed to help you learn more about your partner. There's questions about your childhood, questions about your teenage years, and questions about the kind of random things that really get you thinking! One of my favorites is "What was your most embarrassing romantic fail?"
Would You Rather?
from Diana at The Elusive Family
Long car drives require some form of entertainment for kids, but what about adults? A great family friendly game that can also be played exclusively by adults is "would you rather." It is a game we played over and over again on our recent trip to Croatia. "Would you rather" is a question-based game where each player asks the other what they would rather do. For example, would you rather have x-ray vision or invisibility power? Questions can be made up on the spot making this game extremely fun and hilarious at times. It's a great game to pass the time when on the road.
✔️ Not quick on your feet to come up with Would You Rather questions? Neither am I!
Two Truths and a Lie
from our personal list …. also one of my favorite party ice breakers! 
A great way to get to know your travel partners is an adult car game called Two Truths and a Lie. When it's your turn you make 3 statements about yourself. Two are the truth and One is a Lie. For example mine might be: 1. I've seen Elton John in concert twice. 2. I swam with dolphins. 3. We once had bears sniffing around our tent while we were sleeping in it. Your fellow travelers have to guess which one is the lie. To make it interesting start pulling out the most outrageous facts about your self. Conversation automatically starts as everyone is curious to learn more about this new information.
Just for Giggles: Laugh Out Loud with these Car Games for Adults
Some of the best travel games for adults are those that make you laugh. It's so easy to get stressed out about delays, construction and finding a place to eat that you momentarily forget that the purpose of your vacation is to have fun. Ever been there?
Pull Out a Game of Bingo
from Ingrid at Fabulous and Fun Life
My top tip for relieving boredom on long road trips is playing car trip bingo. Prior to the trip I make up bingo cards for all the cars occupants listing 20 items to search for along the journey. I try to list a mix of items with varying degrees of difficulty to be found along the road and in towns that we pass through such as a car towing a caravan, a camper van, a red porsche, a sign containing the word 'population' on it, an adult pushing a pram and a boy on a skateboard etc. It is the front seat passenger's job to remind the driver of items they still need to find.
✔️ Car Bingo is a trip down memory lane…
As kids my grandma would make car bingo games for every trip. As an adult I find we still have so much fun playing this game. It's just the right amount of competitiveness and silliness! Only now I don't really have time to make them so here's a
set of Bingo cards
you can pick up and have delivered before your road trip starts. 
Ladona
The Game of 5 Things
from Bret Love & Mary Gabbett of Blue Ridge Mountains Travel Guide
One of our family's favorite adult car game came from background in performing improv comedy. It's a popular warm-up game called 5 Things, and it's fun for all ages and simple enough for anyone to play. The way it works is the first person will call out a category of their choosing, which can range from simple things like "5 types of breakfast cereals" or "5 brands of cars" to more creative ideas, such as "5 superpowers you wish you had" or "5 things you'd never want to take a bath in." The person whose turn it is then has to name 5 things in that category as quickly as possible, preferably without stopping to think about it. As they name off each one, the rest of the group counts them in unison– "1… 2… 3…" After they name the fifth and final thing, everyone says, "5… 5 THINGS!" And then that person is the next to suggest a category. It's a great game for engagement, not to mention creative stimulation during long drives.
Find A Rainbow
from Suzi at Survey Suzi
Our favorite way to break the silence on a road trip is to play the Rainbow Game. Basically, you pick an item, we usually start with cars, and you have to find one in each color of the rainbow in order. So a red car, then orange car, yellow car etc. The first person who sees a car in the color they are up to gets to count it and the first person to find cars in all the colors in order wins! We then start over with a new item like trucks, building color or people wearing the colors. It's easy to adapt this game to any situation.
Sing Along Challenge
from Babs at Mums on Flip Flops
Our number one boredom buster a good old sing along. To keep things interesting, we always have an external hard drive with us with our favorite songs. We take turns choosing a song. When it's your turn, pick a song and the whole car has to sing along as loud as possible. Repeating a song is not allowed.
Board Games
from Mary Beth of a Reluctant Mom
Trivial Pursuit is our go-to fun road trip game for adults! Not with the board and pieces, obviously, but we bring the cards along and quiz each other as we take turns driving. Once we finish a stack, we open a new one from a different edition (we have Classic, Sports, and Disney). By the time we've rotated through them all, we've already forgotten most of the earlier answers, so can start again on the next road trip and still not be any better than we were the first time around. It's a great way to pass the time, and offers endless entertainment – especially if you're like us and suck at trivia!
✔️ Don't have a Trivia Game? This book version is quite inexpensive ….
I poked around and found these Trivia Books. For a true Adult Road Trip Game, check out the
Bar Trivia Book
! Or here's a selection of another
dozen Trivia Books
that would be great for in the car.- 
Ladona
Try a Round of Car Cricket
from Lauren at Luxury Travel Hacks
Car cricket is by far my favorite driving game for adults to beat boredom, while road tripping around Chile, Iceland the USA and every other country on the planet. Simply you use the traffic as 'balls' bowled and keep tabs of your 'runs' or simply your score. We often play between places and the person with the highest amount of runs wins. So, how do you play? Well, they are super simple instructions:
– White Cars – Out
– Other Color Cars – 1 run
– Motorbike – 2 runs
– Trailers – 3 runs
– 4 Wheel Drive – 4 runs
– Truck, Bus or Emergency Vehicle – 6 runs
The first person who is 'batting' will keep score of their runs until a white car goes past and then the next person who is playing is in and repeats the process. You then continue to cycle through who is playing. My final piece of advice for car cricket is don't play if the roads are super busy. If it is too busy it can be too hard to keep track of your runs. So, next time you are driving in a rural location definitely consider car cricket.
Song Writing 101
from Chris at More Life In Your Days
When we are going on a long road trip, a great way to pass the time is by creating a collaborative song, one line at a time. One person sets you off in a certain direction and you then all take it in turns to decide what happens next buy singing the next line. It can be hard to think of a rhyme quickly when coming up with the next line but that is all part of the fun and doing it quickly generally adds to the fun. Songs will often go off on abrupt tangents and become pretty nonsensical, but that is all part of the game.
Best Adult Activity Books for Quiet Time in the Car
I hope you love these car travel games for adults as much as we do. Road trips should be about connecting with your partner, your family and your friends. The only way to really connect is to talk to each other. What better place than in the car! So enjoy the best travel games for adults as you travel the highways.
Do you have a favorite adult car game? If so, please share in the comments below and I'll add to the list before our next road trip. And don't forget to save this to your Pinterest Travel Board so you can quickly find when the car suddenly becomes too quiet!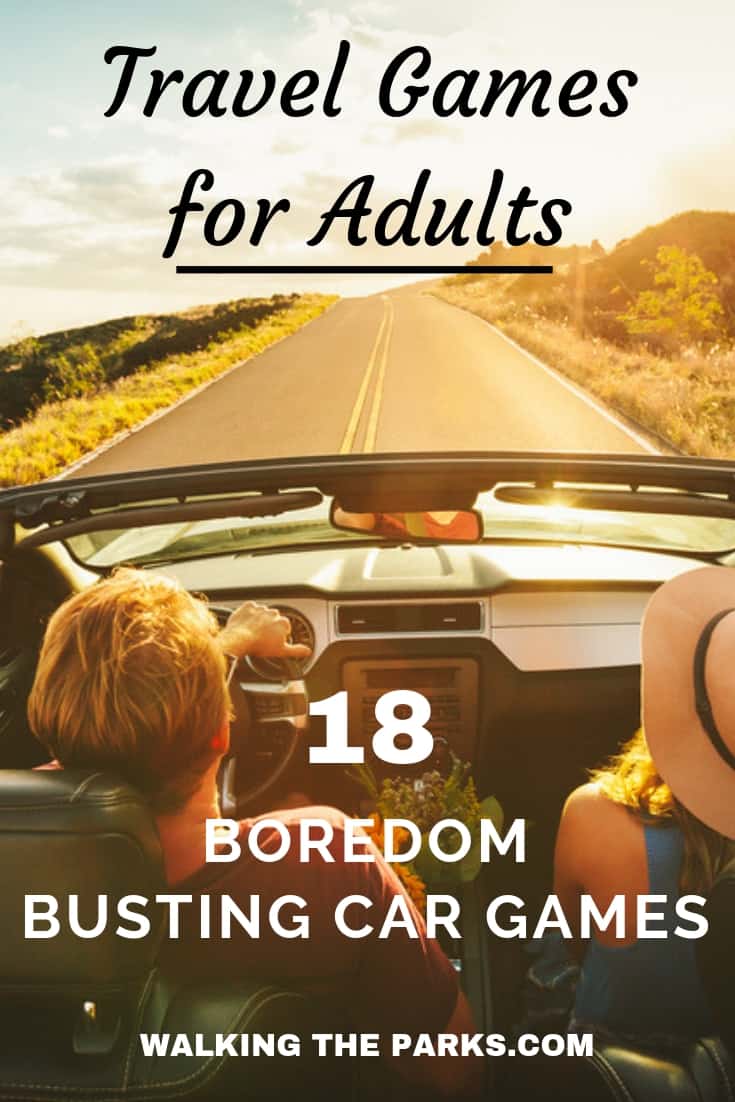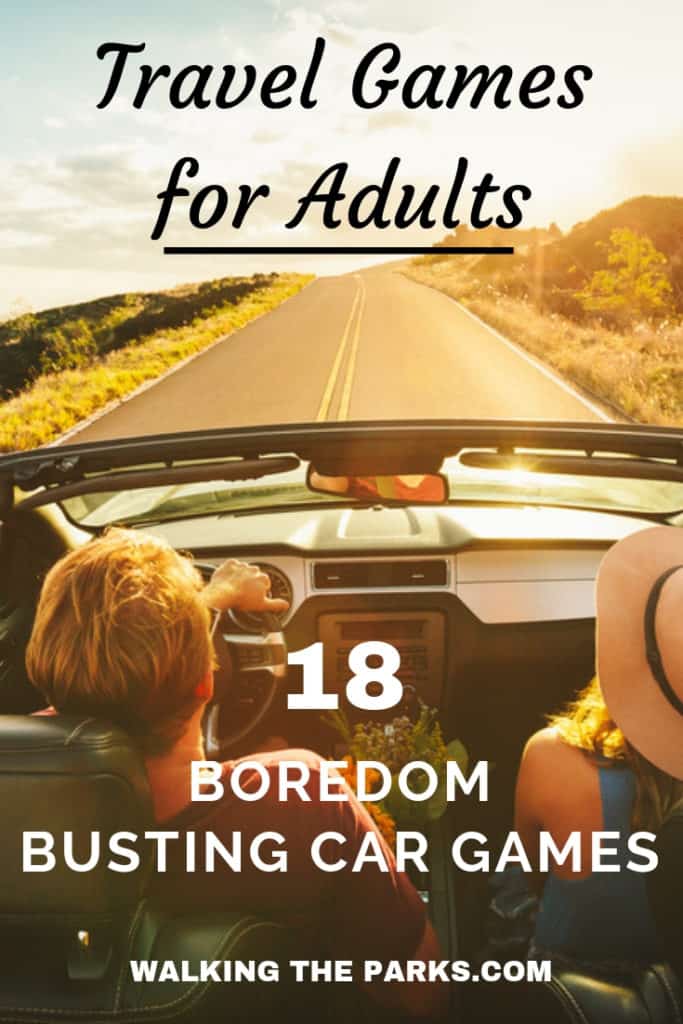 Originally published May 20, 2019. Updated May 6, 2020.