With 63 national parks scattered across the country, a new adventure is waiting for you. From the rocky shores of Acadia to the awe-inspiring depths of the Grand Canyon, there are so many amazing places to explore. To help you plan your visits, a printable list of national parks is an essential tool.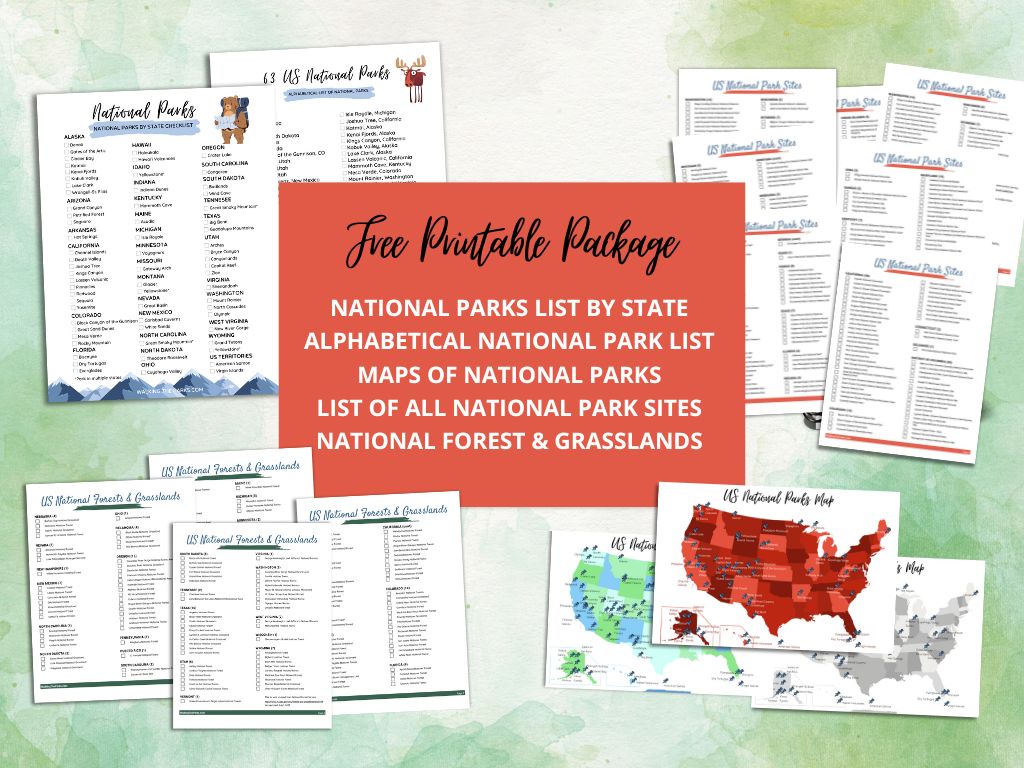 On this page you'll find a free printable PDF National Park lists. We've organized the list in several ways, providing downloadable copies of each. I've also included a printable map of National Park locations. The printable map is in several different color palettes in case you want to frame. You can easily download the whole package for free below. Then print out the PDFs that work best for your adventures. Here's what you'll find in the National Park List printable package:
List of National Parks by State
Alphabetical List of National Parks
Map of US National Parks, in several different color palettes
A detailed List of National Park sites, including National Memorials, Historical Sites, National Monuments, etc. by State
List of National Forests by State
With these comprehensive and handy printable National Park checklists, you'll be able to keep track of the parks you've already visited. And, they are a great tool to prioritize the parks you'd like to explore next. The list serves as a great reminder of the incredible opportunities for adventure that await you in every corner of the nation.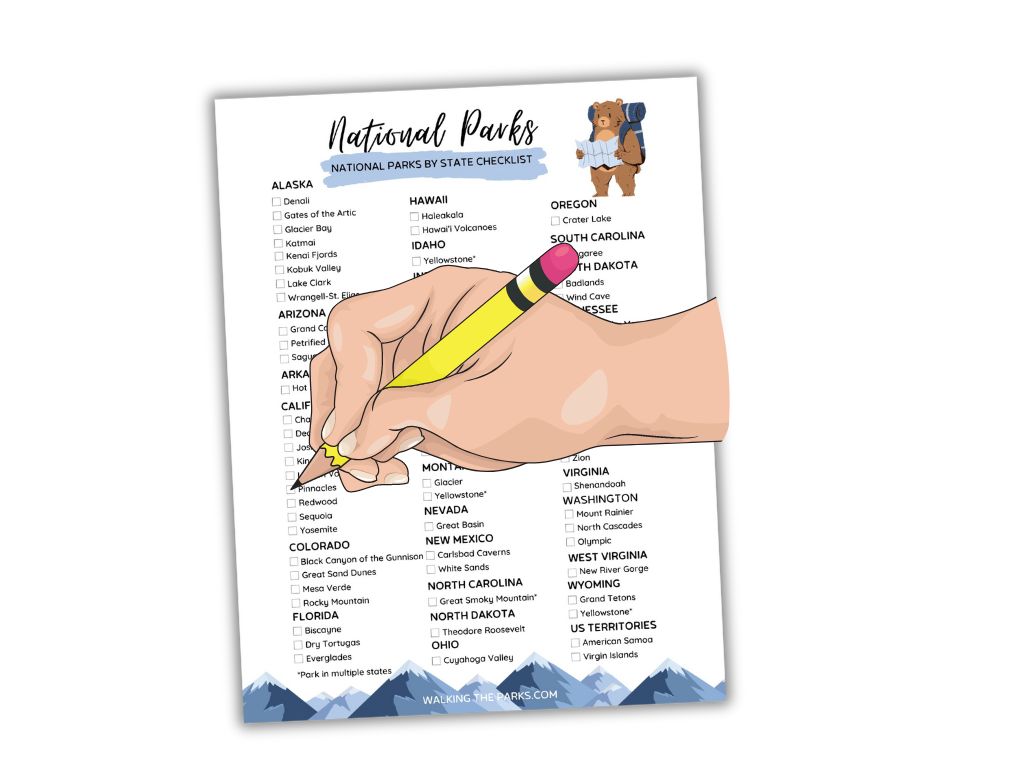 List of National Parks by State
Since the establishment of Yellowstone as the first National Park in 1872, there have been a total of 63 National Parks created. Each one is incredibly unique. In the free downloadable package you'll find this list of National Parks by State. This lovely checklist is perfect for keeping track of National Parks as you complete your bucket list.
If you don't have time to download the prettier PDF version of the list of National Parks by state, here's a quick list you can review. (Although the download only takes a few seconds – so why not grab it!)
National Parks by State
ALASKA
🗹 Denali
🗹 Gates of the Artic
🗹 Glacier Bay
🗹 Katmai
🗹 Kenai Fjords
🗹 Lake Clark
🗹 Wrangell-St. Elias
ARIZONA
🗹 Grand Canyon
🗹 Petrified Forest-Painted Desert
🗹 Saguaro
ARKANSAS
🗹 Hot Springs
CALIFORNIA
🗹 Channel Islands
🗹 Death Valley
🗹 Joshua Tree
🗹 Kings Canyon
🗹 Lassen Volcanic
🗹 Pinnacles
🗹 Redwood
🗹 Sequoia
🗹 Yosemite
COLORADO
🗹 Black Canyon of the Gunnison
🗹 Great Sand Dunes
🗹 Mesa Verde
🗹 Rocky Mountain
FLORIDA
🗹 Biscayne
🗹 Dry Tortugas
🗹 Everglades
HAWAII
🗹 Haleakala
🗹 Hawai'i Volcanoes
*National Park in multiple states
IDAHO
🗹 Yellowstone*
INDIANA
🗹 Indiana Dunes
KENTUCKY
🗹 Mammoth Cave
MAINE
🗹 Acadia
MICHIGAN
🗹 Biscayne
🗹 Dry Tortugas
🗹 Everglades
MINNESOTA
🗹 Voyageurs
MISSOURI
🗹 Gateway Arch
MONTANA
🗹 Glacier
🗹 Yellowstone*
NEVADA
🗹 Great Basin
NEW MEXICO
🗹 Carlsbad Caverns
🗹 White Sands
NORTH CAROLINA
🗹 Great Smoky Mountain*
NORTH DAKOTA
🗹 Theodore Roosevelt
OHIO
🗹 Cuyahoga Valley
OREGON
🗹 Crater Lake
SOUTH CAROLINA
🗹 Congaree
SOUTH DAKOTA
🗹 Badlands
🗹 Wind Cave
TENNESSEE
🗹 Great Smoky Mountain*
TEXAS
🗹 Big Bend
🗹 Guadalupe Mountains
UTAH
🗹 Arches
🗹 Bryce Canyon
🗹 Canyonlands
🗹 Capitol Reef
🗹 Zion
VIRGINIA
🗹 Shenandoah
WASHINGTON
🗹 Mount Rainier
🗹 North Cascades
🗹 Olympic
WEST VIRGINIA
🗹 New River Gorge
WYOMING
🗹 Grand Tetons
🗹 Yellowstone*
US TERRITORIES
🗹 American Samoa
🗹 Virgin Islands
What States Don't have National Parks?
Did you realize that 2/3rds of the US states are home to a National Park? There are 19 states that don't have a National Park within their boundaries: Alabama, Connecticut, Delaware, Georgia, Iowa, Kansas, Louisiana, Maryland, Massachusetts, Mississippi, Nebraska, New Hampshire, New Jersey, New York, Oklahoma, Pennsylvania, Rhode Island, Vermont, and Wisconsin. Also of the US Territories, District of Columbia and Puerto Rico do not have a National Park.
Which State has the Most National Parks?
California with 9 National Parks has the most parks on this list, while Alaska with 7 parks comes in second. However there is a big difference in the number of visitors to National Parks in each of these states. Most of the parks in Alaska are very difficult to travel to due to remote locations and received a total of 1.4 million visitors in 2022 according to National Park Service statistics. While the California National Parks received over 11 millions of visitors.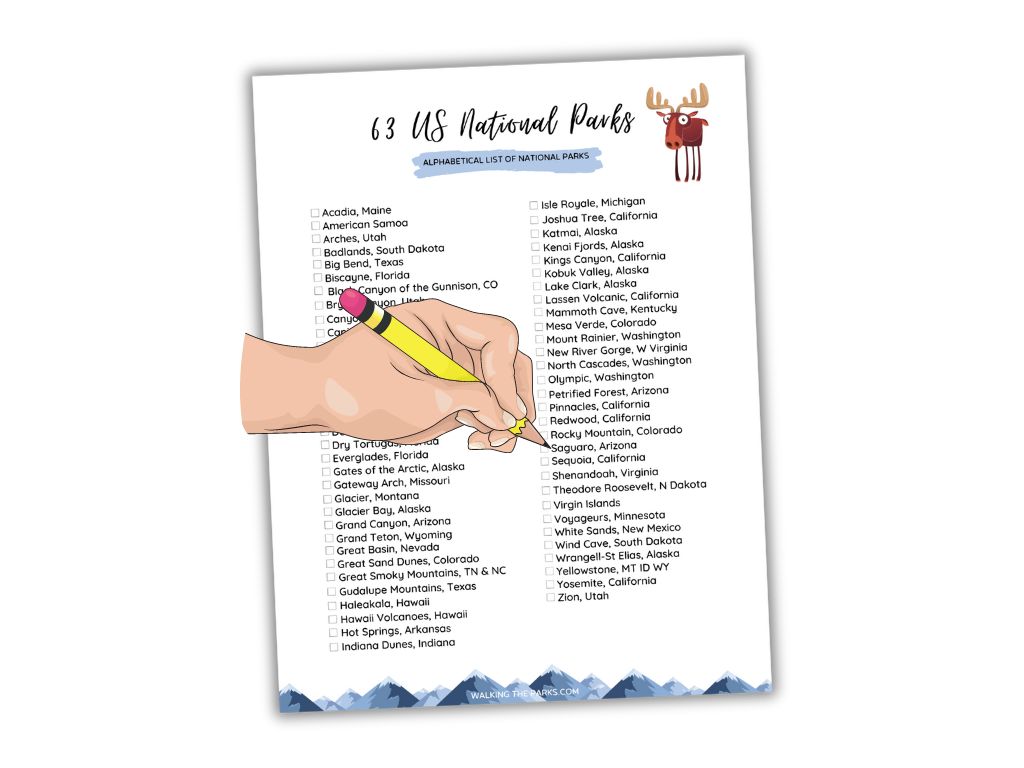 Alphabetical List of National Parks
Did you need an alphabetical list of all the National Parks? Well we've got you covered with this second PDF list! In the package you'll find that list ready for you to print. We love that it's a check list that can be framed and ready for you keep track of your National Park Road Trips!
What is the Biggest National Park?
The largest National Park is Wrangell-St. Elias in Alaska covering 13.2 million acres and including 4 mountain ranges. When we took our Alaska Road Trip we were in awe of the massive mountain range which you can see from hundreds of miles away.
In the lower 48 states, the largest National Park is Death Valley National Park which encompasses 3.4 million acres. Not only is it a huge park, it's also the hottest and driest National Park!
Here's the list of the top 10 largest National Parks from the National Park Foundation.
Wrangell-St. Elias National Park & Preserve, Alaska – 13.2 million acres
Gates of the Arctic National Park and & Preserve, Alaska – 8.5 million acres
Denali National Park and & Preserve, Alaska – 6.1 million acres
Katmai National Park and & Preserve, Alaska – 4.3 million acres
Death Valley National Park, California – 3.4 million acres
Glacier Bay National Park and & Preserve, Alaska – 3.3 million acres
Lake Clark National Park, Alaska – 2.6 million acres
Yellowstone National Park, Montana, Wyoming – 2.2 million acres
Kobuk Valley, Alaska – 1.8 million acres
Everglades National Park, Florida – 1.5 million acres
As you can see Alaska wins hands down for massive National Parks. Even though we have visited more than 1/2 of the total US National Parks, including 4 from this list, the remote location of most of these giants is going to make completing our National Park bucket list a challenge. But that's what a bucket list is all about… right?
What is the Busiest National Park?
With almost 13 million visitors in 2022, Great Smoky Mountains National Park is 3 times busier than it's closest competing park on the list of National Parks. The over 4 million visitors each, the western National Parks of Grand Canyon, Zion, and Rocky Mountain National Parks combined achieve a visitor count close to the Smokies. What I find interesting though is that when we've visited Great Smoky Mountain National Park it feels much less crowded than any of those other 3 parks. (Well, as long as you don't visit the nearby tourist cities!)
Here's a list of the most visited National Parks in 2022:
Great Smoky Mountains – 12.9 million visitors
Grand Canyon – 4.7 million visitors
Zion – 4.7 million visitors
Rocky Mountain NP 4,300,424
Acadia – 4.0 million visitors
Yosemite – 3.7 million visitors
Yellowstone – 3.3million visitors
Joshua Tree – 3.1 million visitors
Cuyahoga Valley – 2.9 million visitors
Glacier – 2.9 million visitors
We've visited 7 our this list of busiest National Parks and will hit 2 more this fall. So yes, you will find us among those stats!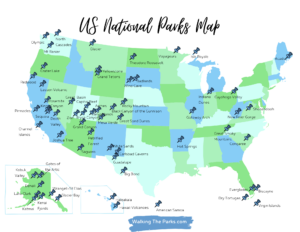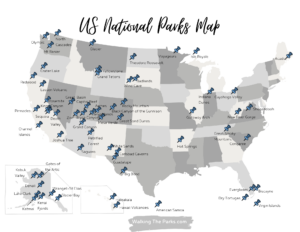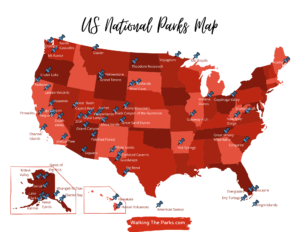 Printable National Park Maps
We've included a printable map with the locations of all the National Parks in this package. This PDF prints on an 8.5×11 sheet of paper. And you have your choice of color palettes!
This National Park map is great for keeping in your travel binder (or even for a school report). However if you are looking for a larger map for your wall I'd suggest you look at some of these pre-printed National Park maps.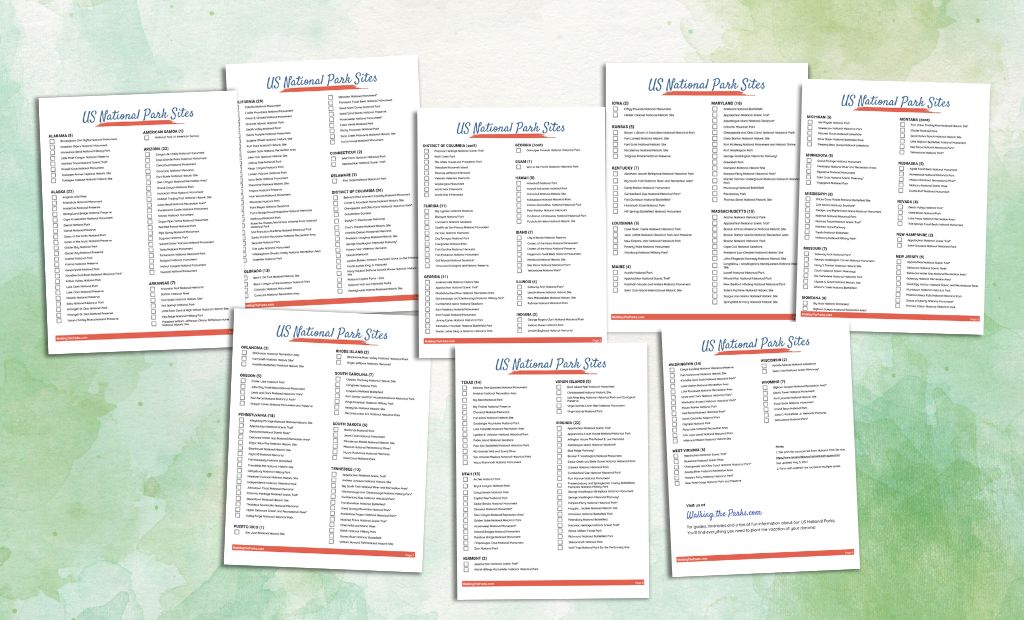 List of National Park Sites
Currently there are 424 National Park Units (also called Sites). That list was a little bit long to print here, so please grab a copy of our free printable PDF list of all the National Park Sites. The National Park Service not only manages the 63 National Parks, but they are responsible for the care of National Monuments, National Historic Sites, National Cemeteries, National Preserves and many other important sites in the United States.
What's the Difference? National Park vs National Park Unit or Site
In general, the difference between what we know as a National Park and one of these other National Park Units is the diversity of the site. National Parks have a wide variety of reasons that we want to preserve the land. Usually it's a mix of historical value, unique geology, natural features and wildlife. National Park Sites tend to be focused on just one or two reasons for the preservation of the area.
Until recently, the nomenclature for National Park Sites has rather inconsistent. For example, in one case a cemetery of historical significance might have been named a National Monument, while in another a National Cemetery, and even a third cemetery might be called a National Historic Site. Recently there has been an effort to establish definitions for each type of National Park unit but names of existing sites are unlikely to be changed.
So with that caveat…
Here are guidelines to what is included in each type of National Park Site:
National Monuments – A national monument is most often commemorative of a person or event in history. However the location of the memorial is not usually associated with that specific historic event. For example the Lincoln Memorial or the World War II Memorial. But to confuse a little, this category might include places like the Fort Matanzas National Monument which also has historical significance.
National Historic Sites or National Historic Parks or National Cemeteries – These are places that commemorate historical events, and activities important in the nation's history. These can range from homes of historic figures (ex: Thomas Edison National Historical Park) to places with historical significance (ex: Harper's Ferry National Historic Site). This category also includes locations of historical military significance like National Battlefields and National Military Parks.
National Recreation Areas are places open to public recreation. However, National Park Service is also involved in extensive conservation efforts in these spaces. Examples include National Preserves like Big Cypress and the Chattahoochee River National Recreation Area. It also includes dozens of National Seashores and National Lakeshores. You'll also find National Recreation Areas under the leadership of the National Forest Service.
There are 4 National Scenic Parkways supported by the National Park service, all of which are amazing road trips. They include the Blue Ridge Parkway, John D. Rockefeller, Jr. Memorial Parkway, Natchez Trace Parkway, and the George Washington Memorial Parkway.

Printable List of National Forests in the United States
The US National Forest Service is managed by the Department of Agriculture and is a separate entity from the US National Park Service. However, that doesn't mean that the two don't go hand in hand. You'll often find a National Park nestled in or next to a National Forest. So when planning your adventure it's important to also explore the National Forests for unique places to hike and camp.
For that reason we've included a printable list of National Forests sorted by state. When you download the National Park PDFs you'll automatically receive this list too.
Tips for Visiting National Parks
Best Time to Visit
When planning your visit to any of the 63 national parks in the United States, the best time to visit varies with the specific park and your personal interests. My rule is that the best time to visit is when you are able to go! Don't let the seasons limit you on your adventure. Every season brings a different view and a variety of activities in the parks.
Spring (March – May): Perfect for wildflower viewing, wildlife spotting, and hiking in many parks. Be prepared for possible snowy conditions at higher elevations. Spring usually means less crowds and cooler weather.
Summer (June – August): Expect larger crowds and possibly hot temperatures, but also enjoy longer days and a broader range of available activities, such as water sports or ranger-led programs.
Fall (September – November): Experience vibrant foliage in many parks and cooler temperatures for hiking. Keep in mind that some facilities might have reduced hours or close for the season. In fall wildlife is often more active.
Winter (December – February): Enjoy winter sports like skiing, snowshoeing, or ice climbing in some parks. Some park roads or facilities may be closed due to snow. The temperatures in desert and southern national parks are much more comfortable than in summer.
National Park Reservations and Timed Entry Permits
Some of the busiest National Parks use a reservation system or timed entry passes to help reduce crowds and overuse. Check out our updated list of parks that require planning ahead so you know if you need to get a reservation to enter the park.
Fees and Passes
Visiting national parks often requires an entrance fee, which helps fund park maintenance and preservation. Usually the best value is to get an annual or lifetime pass, especially if you are going to check off all the parks on your printable National Park list! Passes are easy to order online or you can purchase in person at many National Park sites. Here are some options to consider while planning your trip:
Single-Visit Fees: Vary depending on the park but generally range from $5 to $35 per vehicle. These fees usually cover a 1- to 7-day visit.
Annual Pass: The America the Beautiful Pass costs $80 and provides access to all national parks and federal recreation lands for a full year. This is a great option if you plan to visit multiple parks within 12 months.
Senior Pass: U.S. citizens or permanent residents aged 62 or older can purchase a lifetime Senior Pass for $80 or an annual pass for $20. This pass provides access to national parks and other federal recreation sites.
Access Pass: U.S. citizens or permanent residents with permanent disabilities can obtain a free lifetime Access Pass, providing admission to national parks and federal recreation sites.
Military Pass: Active-duty military personnel and their dependents can obtain a free annual Military Pass, granting access to national parks and other federal recreation sites.
4th Grade Pass: U.S. fourth-grade students can obtain a free annual pass through the Every Kid Outdoors program.
Remember to check the park's website for up-to-date fee information and any additional passes or discounts that may apply to your visit.
National Parks have gained immense popularity. In 2022, they set a visitation record with over 312 million guests. As a result, the parks continue to play a vital role in maintaining these valuable resources and instilling the importance of conservation.
A printable list of National Parks is more than just a compilation of names; it is an invitation to embark on a journey of discovery and wonder. So embrace the power of knowledge and take the first step towards your next adventure, armed with a printed list that opens the doors to a world of breathtaking landscapes and unforgettable memories.
Enjoy planning your next adventure with these handy printable National Park Lists, and remember to share your experiences with others who might benefit from the information. National Parks are a treasure worth exploring, and we hope you find these resources helpful in your journey!