If you're going hiking, biking or traveling through terrain that is wet, it's time to learn how to waterproof a backpack. Backpacks are essential for carrying your gear and keeping it dry. However, most backpacks are water repellent, not waterproof. They only resist water to a point. In heavy rain, water may leak in through tiny cracks and crevices like zippers and seam stitching. And if your bag falls into a stream, water-repellent fabric only goes so far before it starts absorbing water.
You'll be much happier to find all your gear dry after you get caught in a horrible rainstorm. Or even more important, after your backpack falls into the water. We are going to share 7 ways to waterproof a backpack in this article.
Do you Need a Waterproof Backpack?
You are usually in good shape with a water-repellent backpack for regular hiking, biking, and traveling. Most backpacks are made of nylon or polyester, a naturally water-repellent fabric, and then treated with a chemical water-repellent that helps water run right off. With that combination, light rain shouldn't soak through when hiking in the rain.
Even with a quick accidental dip in a stream, most of your gear will stay dry. However, in a rainstorm or if your pack falls into a stream, you will want to protect your precious equipment by waterproofing your backpack.
How you use your backpack will determine which of these is the best solution for you. Usually, a combination of a couple of these preventative actions will provide the best results.
We'll share our advice on the best backpack waterproofing solution for the best outdoor activity. We've included links to where you can purchase some of these products for your convenience. Some of those links are affiliate links which means we may earn a small commission if you make a purchase.
#1 Purchase a Fully Waterproof Backpack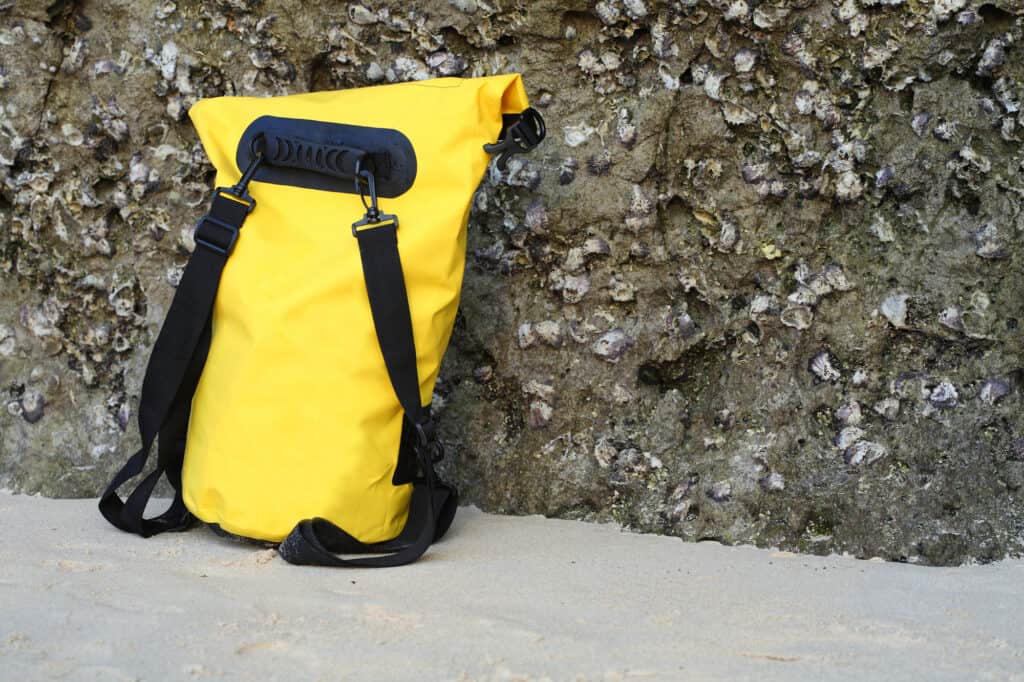 The big question here is why not start with a fully waterproof backpack? Why go to all the trouble to waterproof your backpack if you can buy one that is already rainproof? And actually, you could. There are several high-quality waterproof backpacks on the market, and we share our top choice below. There are some Pros and Cons of backpacks that are entirely waterproof.
A fully waterproof backpack is different than a traditional backpack. It's basically a dry sack with shoulder straps on it. That's why you'll find one of the best waterproof backpacks to be the Sea to Summit Hydraulic Backpack , as they are known for their high-quality dry sacks.
This type of backpack is very effective because a dry sack can be fully submerged and keep your gear dry. If you want a bag that will let absolutely no water into the pack, then a waterproof backpack is the way to go.
💡 Caution, if you see a backpack listed as waterproof but looks like a traditional backpack with lots of zippers and pockets, take a really close look. More likely it is water repellent than waterproof. It's tough to keep a zipper or pocket closure from leaking water into a pack, so imagine the difficulty of designing a pack with multiple zippers and pockets that don't leak. And every one of those pockets and seams has a sewing stitch that might seep.
The Problem with Waterproof Backpacks
Unlike most backpacks that have multiple storage areas and pockets to store your gear, dry sacks have one large pocket with roll-down closure at the top. Some people like this because it's easier than opening and closing lots of zippers, but others feel they need more storage, as you would find in a more traditional backpack.
Another problem with a completely waterproof backpack is they tend to have less of the comfort features that you find in a hiking backpack. For example, the shoulder straps, waist belt and back panel are not padded and, in many cases, not padded at all, which would be challenging if you carried your pack all day.
However, if you are boating or kayaking and stow your pack for most of your adventure, the lack of padding wouldn't matter.
The other challenge with a backpack that is completely waterproof is the fabric doesn't breathe. So while the bag won't let water in, it also won't let moisture out. If you have damp gear in your pack, say you tucked a pair of wet socks inside, the dampness will spread to everything else in the bag since it has nowhere else to go. Suddenly you've defeated the whole purpose of a waterproof backpack with mold or mildew growing in your bag.
The inability of the fabric to breathe also means during an active day, your back is going to get sticky as the bag holds your sweat tight against your skin.
Pros and Cons of Waterproof Backpacks
PROS: You have Extremely High Confidence that no water will sneak into your backpack, even if the pack is fully submerged.
Perfect for boating, kayaking and canoeing.
CONS: Waterproof backpacks are less comfortable. And it's harder to organize the contents than a traditional backpack because you have fewer pockets. They are also hotter to wear and moisture can build up inside, causing mildew in your pack.
Not good for … days you are going to carry the pack all day.
Our Top Choices for a Waterproof Backpack
✔ Sea to Summit Hydraulic Dry BackPack: 35L, 65L, 90L, 120L Our Top Choice for durability and quality.
✔ Selfly Submersipack Waterproof Backpack 25L:  Has Built-in Floatation
✔ FE Active 30L Waterproof Pack:  Most economical
---
#2. Start with a Water Repellent Backpack
The next step up in protection is to use a backpack that is water repellent. Most quality backpacks are made of nylon or polyester because those fabrics naturally repel water. Many packs are treated with DWR (Durable Water Repellent). This combination works quite well because when rain is coming straight down, the water just rolls right off your pack.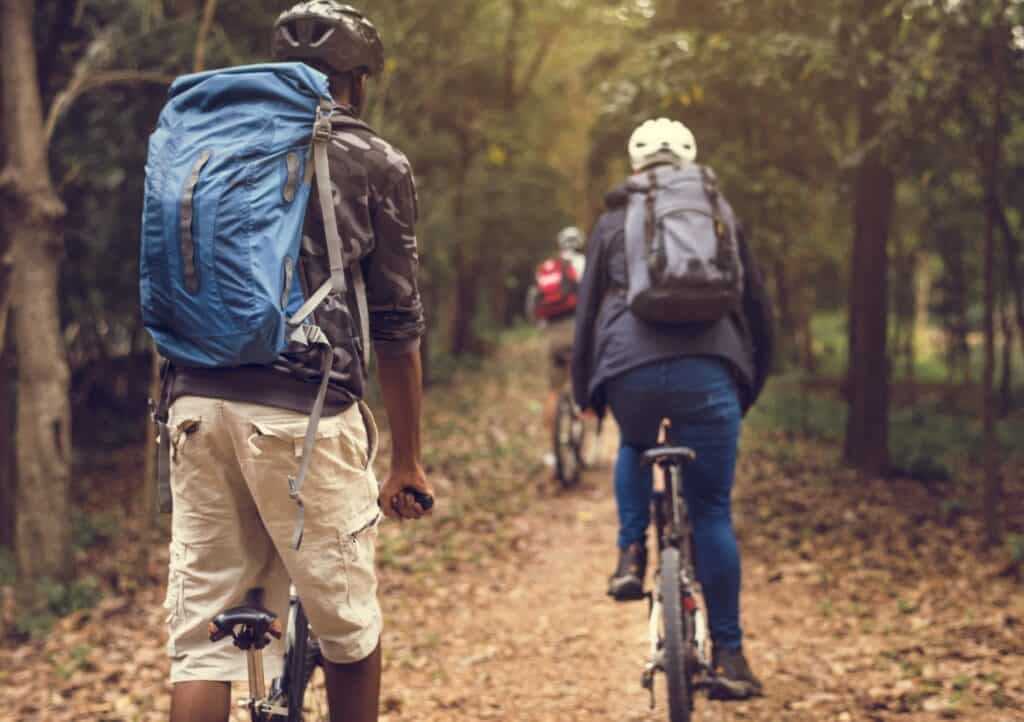 A rainfly on a tent works in the same way by directing the rain away. And as you know, you can stay pretty dry and cozy in your tent through some pretty nasty showers. We have a complete guide to selecting the best daypacks for hiking that includes water-repellent backpacks with all the great features you will want in a backpack. We've also listed a couple of our top choices below.
The Downfall of Water Repellent Backpacks
The biggest failure in water-repellent backpacks is that DWR treatments wear off after time and need to be refreshed. We'll look at how to do that in the next section.
But if you aren't vigilant, you could end up with a pack that no longer effectively repels water. The other places water can leak in are seams and zippers where there are tiny holes. So seams will also need to be resealed occasionally to maintain the water-repellent backpack.
However, the biggest risk with a water-repellent backpack is any flat area where water might sit. For example, if your pack has a front pocket, it might bump out a little bit when loaded, creating a crevice where water accumulates (like a mud puddle on the road). That water will eventually soak through, and once it does, more water will follow.
In light rain, it's generally not a big deal, but if it's pouring the stuff inside, your pack is likely to get wet.
And of course, if your pack gets fully submerged, you are almost guaranteed that water will get inside. Better be quick to pull it out!
The Pros and Cons of Water Repellent Backpacks
PROS: Backpacks with the most features and comfort are water repellent. You can combine other waterproofing tips to create a fully waterproof environment for your gear.
Best for: 
If you aren't adding any other waterproofing actions, then best for everyday hiking of dry weather and light rains.
If you combine other waterproofing tips, these are great packs for heavy rains.
CONS: The inside of your pack will get wet in severe water conditions if you don't combine other actions. So let's talk more about what works best and when!
Not good for…water sports where the pack might sit in water, for example in the bottom of a kayak when running white water.
Our Top Choices for a Water Repellent Backpack
✔ For women, check out the Northface Recon Backpack which is incredibly well organized.
✔ Guys will love REI-Coops Flash 55 which comes in 3 torso lengths for a custom fit.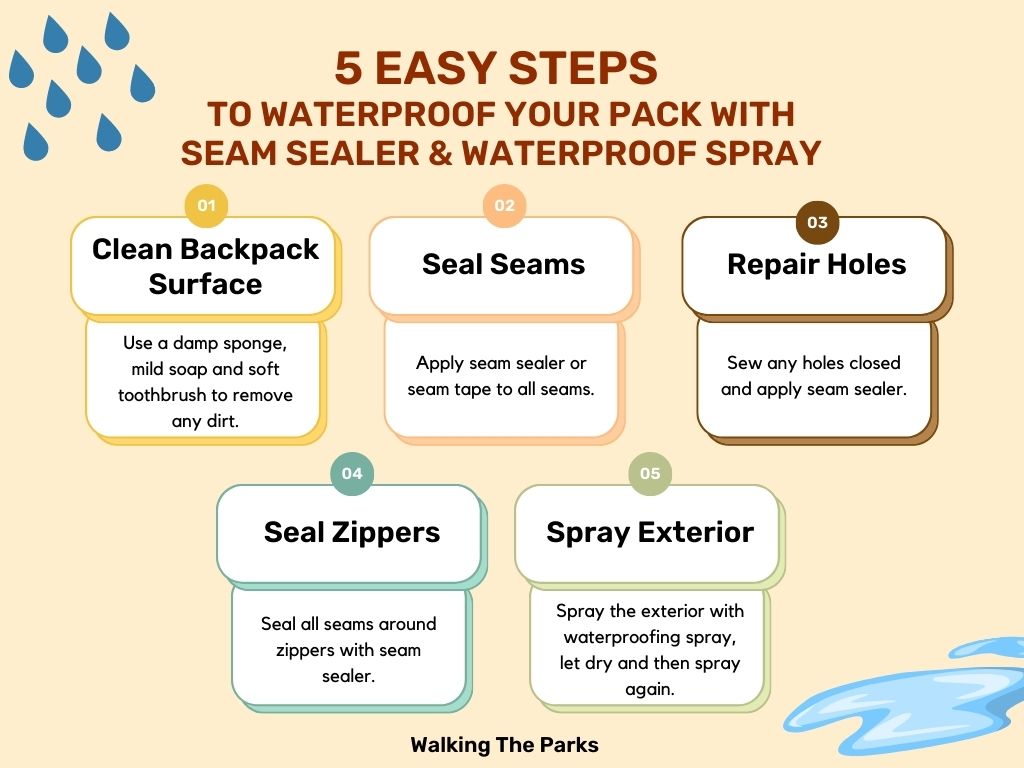 ---
#3 Improve Water Resistance with Spray-On Water Repellent and Seam Sealers
You can do two things to improve water resistance in a real hurry: Apply a DWR spray and seal the seams on the backpack. First, we'll talk about how to apply a water repellent. Then we'll discuss sealing the seams, which is helpful in heavy rains when there are tiny holes that water can seep through.
Spray-On Water Repellent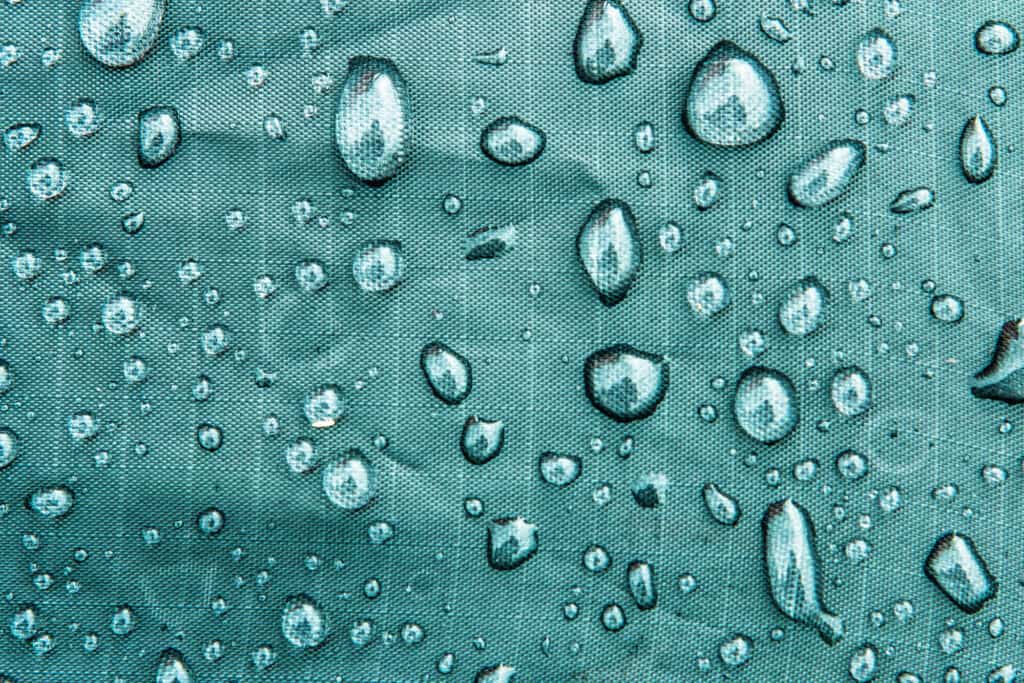 Using a spray-on water repellent is a very easy first step. However, keep in mind that you are using a chemical. Start with looking for environmentally conscious brands. And even then, make sure you are applying in a well-ventilated area. 
Before you apply the water-repellent spray, clean your backpack as well as you can. The spray will stick to clean surfaces better than dirty or oily areas. Don't worry about getting your pack wet in the cleaning process as you can use the spray on both wet and dry fabric.
Then spray your backpack thoroughly. You'll want to lift flaps and move straps around to ensure you are covering all the fabric. After you spray, take a damp cloth and wipe off any overspray.
Let your pack dry overnight and you're done! Easy enough!
Use a Seam Sealer to lock water out.
The seams are likely the culprit if you find water is still getting in after applying a water-repellent spray. Applying a seam sealer is a bit more work, but if you are out in the rain often you'll find it worth your time. The goal is to apply the seam sealant to every single seam, hence why it takes a little time.
You can apply a sealer to the seams from the outside or you can turn your pack inside out by applying it to the inside. I prefer applying from the inside so the seam sealant doesn't leave any visible residue, but that's just because I'm usually a bit messy.
In the end, it doesn't matter, so go with whichever side you think is more manageable. It's vital that you have a firm surface to work against so stuff your pack with pillows or blankets to make it as full as possible. (You might want to put those in plastic garbage bags first to protect from any sealer leaking through.)
Then it's just a matter of brushing the seam sealer on every single seam. Let dry overnight and you are ready to load and go.
💡 I would not recommend applying both seam sealant and the DWR spray on the same day. You'll get better drying and coverage if there is less handling when the application is still wet.
The Pros and Cons of Waterproofing Sprays and Seam Sealers
PROS: Makes the backpack water repellent, which is perfect for that unexpected sprinkle or light rain. That means you don't need to rush to protect your gear whenever it clouds up a little bit.
Best for… your favorite backpack as a bit of insurance since you just never know when the weather will change.
CONS: The application can be messy and is time-consuming. And remember, this does not make your pack waterproof. It makes it water repellent.
Not good for… anytime you are expecting heavy downpours or are enjoying water sports where your pack might end up in the drink.
Our Top Recommendations for DWF Waterproofing Spray and Seam Sealers
✔ Nikwax Tent and Gear Solar Proof is safe to use waterproofing spray, but you'll also get protection from UV rays that break down the fabric.
✔ Gear AID Revivex Durable Water Repellent (DWR) Spray will work on your rain jacket as well as your backpack. A bottle of this will go far!
✔✔Gear Aid Seam Grip FC Fast Cure Sealant has a small brush applicator that makes it super easy to follow the seams.
---
#4. Use a Backpack Rain Cover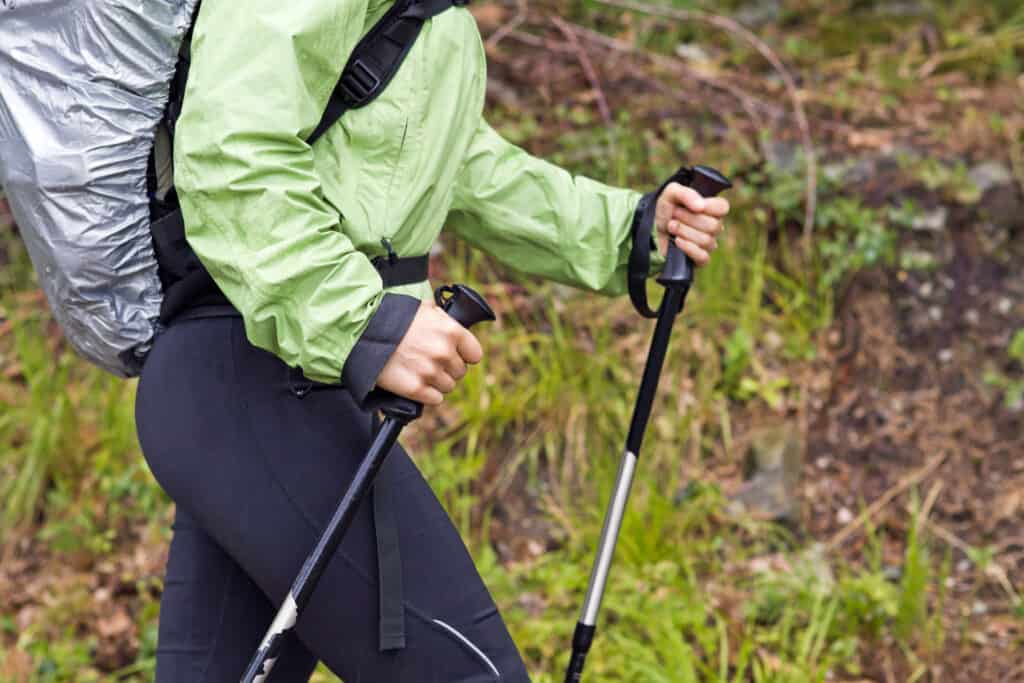 The most popular solution to waterproofing a backpack is to use one of the best backpack rain covers. The cover will wrap around your backpack and protect it from rain. This is our preferred method of protecting your gear because you can still use your favorite backpack, the one that meets all of your needs and pull out the rain cover only when needed. We wandered through Denali National Park in the rain for days using only a backpack rain cover and our gear stayed dry.
What to look for in the best rain cover for your backpack
You'll need a thick fabric, like polyester, polyester oxford, or ripstop nylon. They have a tight and strong weave that stops water from seeping through. The fit is also important; look for a cover that wraps around your bag with drawstrings and hooks to pull it tight.
Last, keep in mind that the fewer seams, the fewer places for leakage. However, a completely seamless backpack rain cover requires more construction material, causing it to weigh a little more.
Pros and Cons of waterproofing with a backpack rain cover
PROS: A good backpack rain cover will keep your pack dry when hiking, biking or bouldering, even in the hardest rain. Most people like them because you can still use your favorite backpack that probably is not waterproof. Backpack rain covers fold up into a small space so they are easy to always carry with you when adventuring. You will be ready for any weather changes.
Best for: backpacking, hiking and bicycling.
CONS: You have to know that a rain cover will not protect against full submersion. So a backpack rain cover is not a great option for water sports. Also, be aware that backpack rain covers can fail in high winds if not secured to your pack for hiking and bicycling, so make sure you choose a cover with a sound system for wrapping around your pack.
Not Good for: Kayaking and Canoeing
Our Top Choices for a Waterproof Backpack Rain Cover
A handful of backpacks come with a rain cover, but that is something you would add separately in most cases. Here's a couple of our favorite choices to keep your gear dry.
✔ REI Coop Duck Back Rain Cover with 5 sizes fitting up to a 100-liter pack, you're sure to get a snug fit for your pack. The ripstop nylon is strong and will provide good coverage in a storm.
✔ The Kelty Rain Cover is a great starting place for a full bag cover with very few seams. This cover is made of nylon for durability and also is very reasonably priced.
✔ The Osprey Ultralight Cover is a fitted cover that we like because it cinches tight around shoulder and waist straps.
---
#5. Put Your Backpack inside a Dry Sack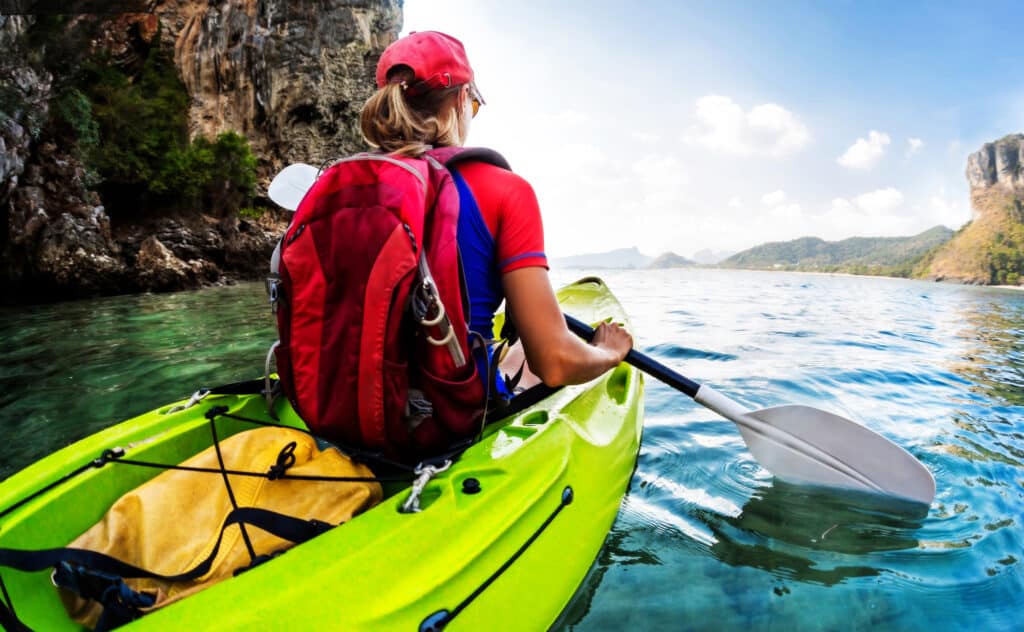 If you are tucking your backpack into your kayak or canoe, our top choice for you is to pack it inside a dry sack. Even on our white water rafting camping trip, a dry sack was perfect for keeping our pack and sleeping bag super dry over several days of splashing.
What is a dry sack?
It's simply a big waterproof sack. The top rolls down and locks to seal it shut, keeping all the water out. Sizes range from 1 liter to 160 liters, so your biggest challenge is to find the right size for your gear. Other than the small ones of less than 15 liters, you generally wouldn't pack directly into the dry sack. Instead, you'd stuff your backpack or divide your gear into smaller lightweight stuff sacks (individual fabric ditty bags), so it's easy to access. Otherwise, you are reaching down into a "black hole" to find your toothbrush.
A dry sack is not a backpack. It will not have shoulder straps, pockets and more. It is a big waterproof sack that you will put your backpack in to keep it dry. If you want the benefit of a dry sack that is more like a backpack, go back up to our first way to waterproof your backpack for some suggestions.
What to look for in dry sacks
Nylon and vinyl (PVC) are the most common materials for dry bags. Vinyl is the best durable dry bag material. It will keep your belongings safe even if the bag gets submerged. Vinyl dry bags are ideal for multi-day trips that involve more gear because they will handle heavier goods (such as stoves and boots).
For trips where you want a lighter dry bay, nylon dry bags are probably a better fit since nylon is more lightweight and flexible than vinyl. If you are hiking and kayaking, then a nylon dry sack is the way to go as you can easily fold up the sack when you get off the water, tuck it into your pack and head off hiking with your backpack on your back.
In the end, it is the quantity and type of gear you are taking with you that determines if you need heavier but stronger vinyl or lighter, flexible nylon.
The Pros and Cons of Using a Dry Sack to Waterproof your Backpack
PROS: When traveling on water, such as a kayak or raft, securing all your gear in a super tight and dry bag is the best way to ensure everything stays water-free.
Best for… water travel like canoes, kayaks, rafting, etc.
CONS: It is difficult to carry a dry sack very far; it's basically like carrying a sack of potatoes. It doesn't replace your backpack. It's also challenging to access anything in a dry sack when you are on the move.
Not good for… hiking or biking.
Our recommendation for the best dry sacks
✔ The vinyl Earth Pak – Waterproof Dry Bag comes in sizes ranging from 10-55 liter. We love the cross over shoulder strap and the vast selection of colors.
✔ For an excellent nylon choice, check out the Sea to Summit Lightweight Dry Sack. It's available in 7 sizes up to 35 liters. They've even thought to make the interior white so you can see into the bag easier.
---
#6 Line the Inside of Your Backpack
Lining the inside of your backpack is a great option. You can use plastic bags, trash compactor bags or dry sacks to line the inside of your backpack. Lining your bag is especially effective for the largest compartment of your backpack, but it's a little harder to make work if you have a lot of small pockets.
Although I'm not a big fan of using trash bags because they tend to tear easily as gear snags on them, they are a great solution in a pinch. We don't always plan for that rain! However, trash compactor bags are designed to handle heavier loads and work pretty darn well for a very low price.
Personally, I'd go with a lightweight dry sack to line my backpack as it will hold up better under repeat uses and is much less likely to tear.
The Pros and Cons of Using a Pack Liner to Keep Your Gear Dry
PROS: It's a very cost-effective solution. Although it won't keep your pack itself dry, a good liner will keep the contents dry.
Best for… hiking and biking
CONS: Using plastic bags is risky as they do rip with use. If your favorite backpack has multiple pockets, you have to either use numerous liners or divide your gear so things that can get wet are in those unlined pockets. You just have to think a little bit about how you pack.
Not good for… For Water Sports putting your backpack into the dry sack is much more effective. However, if you are just doing a lazy day on the river where it's unlikely your pack will get wet, you will find having access to your backpack pockets worth using a liner instead.
Top choices for backpack liners
✔ Sea to Summit Ultra-SIL Dry Sack is lighter than the Sea to Summit Dry Sack we suggested above, making it much easier to use as a liner. It also has a very smooth finish that allows it to slip in and out of your pack with ease.
✔ And here's a selection of trash compactor bags if you want to go the cheap route.
---
#7 Put Your Gear in Individual Plastic Bags/Dry Sacks
Even heading out on the sunniest day, we put most of our gear in individual waterproof bags inside our backpacks. Why? Not only does it keep that gear dry if ran sneaks into the day, but it also creates an organization system for us.
For example, lunch goes in one bag, first aid in another and emergency dry clothes in another bag. Being organized eliminates the need to dump out the whole bag to find that "one thing".
Although we are cheap and use many zip lock baggies, keep in mind that one of those baggies will leak if submerged. (Yes, we had soggy bagels recently… ugh!) However, as a backup, when you are using a good quality backpack rain cover or a backpack that has been recently DWR treated, baggies work quite well for peace of mind.
However, if I had an expensive piece of electronics that just wouldn't survive a minor leak, I'd pick up some small dry packs like this 3 pack of Dry Sacks from Outdoor Products.
The Pros and Cons of Individual Dry Sacks in your Backpack
PROS: Perfect for organizing your gear and providing a backup if your first line of water defense fails.
CONS: Baggies will often fail in a very wet situation, and individual dry sacks can get bulky.
---
With all these choices, you may be wondering what's the best choice for waterproofing your backpack. The answer depends on your plans and how waterproof you want to be when you embark on your adventure. Our suggestion is:
If you are hiking or biking, then our top recommendation is to use a combination of the following:
Treat your backpack with a DWR spray.
Organize gear that you want to keep dry into zip lock bags
Always carry a quality backpack rain cover and use it if it starts to rain.
If you are canoeing or kayaking and not hiking, we suggest putting your pack into a dry sack.
For hiking plus canoeing/kayaking on the same trip, then you just might find it worth investing in a genuinely waterproof backpack. If you don't want to spend the money, then grab a lightweight dry sack that can fold up in your backpack when hiking.
Waterproof vs Water Resistant Backpacks
Most high quality hiking backpacks are water resistant, not waterproof. A water-resistant backpack can handle most rain storms or splashes when you cross a stream. But they will not keep your belongings completely dry during heavy downpours or if submerged when your kayak turns over.
Waterproof
Water Resistant
Conditions
Can be submerged,
Repels heavy rain
Most rain rolls off,
Some seepage in heavy rain
Fabric
Coated nylon
PVC
Nylon
Polyester
Seams
Sealed or Taped
Sealed or Taped
Zippers
Rare to have zippers, uses roll top to shut
Sealed zipper seams with fabric hiding zipper
Remember, the level of water-resistance or waterproofness of a backpack depends on the materials and construction techniques. So, be sure to consider these factors when choosing a backpack that meets your specific needs.
More Packing Tips for Wet Conditions
When you're preparing for an adventure in wet conditions, it's crucial to keep your essentials dry and safe. Here are some friendly tips to pack your belongings efficiently for a comfortable trip:
Keep Your Clothes Dry: Pack your clothes in waterproof or sealed bags, such as dry bags. I like to keep a dry pair of socks easily accessible so I can change them after a rain.
Pack a pair of flip flops: When you stop for lunch or the night after a day of rain, get out of your wet shoes and socks so they can dry.
Protect Your Sleeping Bag: Ensure your sleeping bag stays dry by packing it in a waterproof stuff sack. This will keep it insulated and ready to provide you with a good night's sleep.
Take Care of Your Belongings: For valuables, electronics, or items that need to stay dry, make sure to pack them in waterproof cases or separate dry bags.
Prepare Your Hiking Boots: Give your hiking boots a thorough check before heading out and consider applying a waterproof spray or seam sealer.
Take Advantage of Sunshine: After a rain, take everything out of your pack and give it a good airing. That will remove even small amounts of moisture that have seeped into your backpack so everything is fresh and dry.
By following these packing tips, you'll be well prepared to face any wet conditions on your outdoor adventure.
Frequently Asked Questions
How can I re-waterproof my backpack?
If your backpack's water resistance has faded over time, you can re-waterproof it by applying a water repellent spray to the exterior. Treat all seams with a seam sealer, including those around the zippers.
How can I keep my backpack dry in rain?
In addition to waterproofing your backpack use a waterproof rain cover to keep it dry in rain. Rain covers are specifically designed to provide protection against water and debris.
What's a DIY method for waterproofing?
For a DIY approach, start with waterproofing sprays and seam sealers. Then add a lining to the inside of your backpack with a dry bag or using ziplock bags for smaller items like phones and cash.
How to test backpack's water resistance?
A simple way to test your backpack's water resistance is by spraying water on it with a hose or spray bottle, keeping an eye on how the water behaves on the surface. If the water beads up and rolls off, your backpack has a good level of water resistance. However, if it absorbs the water or becomes visibly wet, you may need to re-waterproof it.
Keeping your equipment dry during your adventure will be more enjoyable and comfy. As a result, take advantage of our recommendations for how to waterproof a backpack and enjoy dry gear on your trip.