It's raining cats and dogs and you just arrived at the trailhead. You don't want to ruin all your stuff inside your pack by getting it soaking wet, so you have two options. 1) Sit in the car and wait out the rain or 2) pull out the best backpack rain covers that you just bought and happily protect your backpacks. Then you are ready to embrace the rain and hit the trail…
Backpack rain covers are the perfect solution for staying dry on rainy days. They're easy to use and keep your bag clean and dry while you walk through the rain. The best backpack rain covers will last for years! This way you can be sure that no matter how much wind or rain comes along when you're carrying around your favorite pack, everything inside will stay dry.

Why do you need a backpack rain cover?
When you carry a backpack in the rain, it makes sense to protect everything that's inside. It doesn't matter how waterproof your backpack is — water will get into the bag — through zippers, pockets, and seams. A quality backpack rain cover will keep your stuff protected and dry throughout even the most torrential rainstorm.
A rain cover will also protect your pack from mud and dirt that gets splashed up on the bag. When you invested in the Best Backpacks for your hikes, you want to take care of that pack. This reduces how often you'll have to clean your pack and/or replace damaged or worn-out gear.
If you've ever been caught in a good rainstorm without a backpack cover, then you know how important they are! The water will collect inside the bottom of the bag and seep into everything: your sleeping bag, your clothes, and more. Here's everything you need to know to select the best backpack rain cover, we've included links to where you can purchase these products to make it easier for you. In some cases, we may earn a small commission if you make a purchase that does not affect your price.
---
For more tips to keep dry and safe, check out our Guide to Hiking in the Rain
---
How To Choose The Best Backpack Rain Cover
In addition to a truly waterproof fabric, there are some other features to look for in the best backpack rain covers. Let's take a look at those before we jump into our reviews of rain covers for backpacks.
The Best Material for Rain Covers
The best materials for rain covers are going to be waterproof fabrics that won't allow water to pass through the fabric. You'll want either a polyester, polyester oxford or ripstop nylon fabric because they have a tight weave that will block almost all water from seeping through.
We'd suggest avoiding nylon that does not have a ripstop weave for rain covers as it has less strength making it more likely to tear. Ripstop is when a reinforcing thread is woven into the nylon fabric that crosses the opposite direction of the weave creating a cross-hatch pattern. You've probably noticed this design in some of your hiking gear.
High-performing backpack rain covers, like the REI Co-op's Duck Back Cover, also have a coating of either silicone or a PU (polyurethane) coating. The coating not only repels water, it also increases the abrasion resistance of the fabric so your pack will be well protected. You will want to look for these coatings as they will hold up best over time.
Sealed or Taped Seams
Well, the ideal pack cover is seamless so there is no stitching that risks becoming a leak point. However for larger packs that often means the cover will have massive amounts of extra material. Think of it as wrapping your pack in a giant tablecloth, not so efficient right? So for a tighter fit, seams are often used to shape the cover. If your cover has seams look for the description to say it has sealed seams as you'll find in the Osprey Ultralight Rain Cover.
Many waterproof backpacks have taped seams to keep the rain out. That adds an extra layer of safety in a downpour.
Back Pack Cover Styles
Fitted – a fitted cover is generally designed to fit a specific brand of backpack very snuggly. It's shaped like that brand's backpacks using sealed or taped seams. However, we've found some branded covers have features far superior to universal covers. And that they will also fit well with most other brands.
The best example of a fitted cover that works well on other backpack brands is the Osprey Ultralight Rain Cover.
Semi-Fitted – Semi-Fitted covers also have seams to give them the shape of a backpack. The difference is they only fit snugly when you use the drawstrings and hook closures to tighten around your pack. The design is intended to minimize the amount of fabric weight by shaping the cover while still allowing for a universal fit.
Bag – A bag rain cover, like the Kelty Backpack Cover, is basically a large piece of material that wraps around your pack and is cinched into place with drawstrings or elastic. It is by far the most universal cover and the cheapest to manufacture. You pick up a little extra weight with the extra fabric.
The success of keeping your backpack dry with a bag-style rain cover is very dependent upon how in cinches are in the back and if it uses additional attachment points.
How Rain Covers Attach to Your Backpack is Critical
The best backpack rain covers will also securely attach to your backpack.
You want to avoid a pack cover that simply stretches over your pack like a cheap hotel shower cap. That isn't secure enough as it is likely to slip off in the wind or move around with any kind of activity you are doing while hiking. Having secure attachment points helps keep everything dry.
You also want easy access to important items that you might need during your hike. You don't want to keep taking the cover completely off every time you stop for a drink or grab a piece of gear from your pack.
Adjustable Drawstrings
All rain cover attachment systems start with either an elastic or drawstring edge that you stretch over your backpack. A drawstring that can be cinched to fit exactly the size of your bag is a far superior solution since it will adjust to how full you have filled your pack for that particular trip.
For smaller packs without a lot of extra gear attached to the outside a drawstring cover is often adequate to keep your backpack dry.
Clips and Straps
However, if you have a bigger bag or tend to hook a lot of stuff on the outside of your bag (like shoes and flashlights) you will find the best covers also use a clip system with straps and clips sewn directly into the cover. These straps are against your back, pulling the cover extra tight. Ones with straps that cross top to bottom and side to side will be the most secure on a windy day.
One of the additional nice features of having a clip system is that you can leave your rain cover attached to your pack and easily pull it on or off due to it being clipped in one position.
Shoulder and Waist Strap Ties
And for maximum protection, the absolute best covers will have Velcro or ties that attach the cover at the shoulder straps and waist belt to ensure your pack cover is not shifting as you move and letting rain into your gear.
Product Reviews for Backpack Rain Covers
We've spent a lot of time researching the best backpack rain covers and have found four that really stood out as the best in class:
Osprey Ultralight Backpack Raincover – Our Top Recommendation
DURABILITY 🧡🧡🧡🧡
FIT 🧡🧡🧡🧡🧡
STYLE: Fitted
MATERIAL: 40D Ripstop Nylon
SIZES: 3 sizes Med 30-50 liters, Large 50-75 liter, XLg 75-110 liter
PRICE:$34-40
Our Review of the Osprey Ultralight Backpack Raincover 
Keep your backpack dry with our top choice: the Osprey Ultralight Backpack Raincover! This pack cover is made from lightweight 40D ripstop nylon fabric that only adds about 3 ounces to your pack weight. It is designed to wrap all the way around your backpack for full coverage. The full wraparound cinch drawstring means a more precise fit for any bag. We love the secure attachment points for hip belts and shoulder straps for maximum protection when you're in a downpour.
It packs into its own carrying case when the sun is shining. The safety features of reflective graphics and an optional blinker light attachment makes you super visible out in the rain.
Note this is a well-fitted backpack cover, with sealed seams, so ordering the right size is critical for successful protection. If you are at the top end of the size range or pack a really full bag you should go up a size as the cinch drawstring will pull the cover tight for you.
PROS: We love that this cover wraps around your whole bag and has multiple attachment points. When you cinch this Osprey cover tight, your pack will be highly protected from the worst storm.
CONS: We don't like that it isn't available to fit smaller packs under 30 liters, so if you have a smaller bag you should check out the Osprey Hi-Visibility Rain Cover with a very similar highly effective fit.
---
Mountainsmith Backpack Rain Cover – Best Universal Cover for your Backpack
DURABILITY 🧡🧡🧡🧡
FIT 🧡🧡🧡🧡
STYLE: Semi-Fitted
MATERIAL: 70D ripstop nylon
SIZES: 4 sizes ranging from 15 to 100 liter
PRICE:$20-25
Our Review of Mountainsmith Backpack Cover
The Mountainsmith backpack cover is a great choice for a moderately priced universal rain cover. This rain cover easily slips over your pack to protect it from dampness and the elements.
Taped seams, a full circumference draw cord with an angled cuff attachment point, and hook and loop closure ensure ease of use so this thing will stand up to any weather condition. With its fabric made from black lightweight 70D ripstop nylon, it's also built for toughness.
This is a semi-fitted backpack cover which means it will fit a large variety of backpack shapes. The integrated stuff sack compresses down to a size small enough to fit inside, making it easy to store in your pack while you're on the go.
PROS: This is a great universal cover at a really reasonable price.
CONS: It's probably not my first choice if you were going to be on the trail for weeks because it is lacking a few key features like waterproof coating and drain holes. But for most hiking trips this is going to be exactly what you need for a rain cover.
---
REI Co-op Duck's Back Rain Cover – Best Adjustable Rain Cover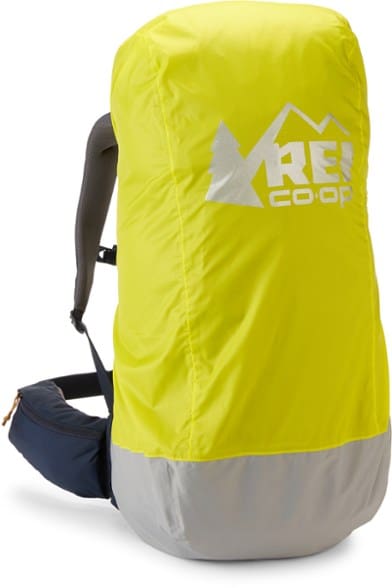 DURABILITY 🧡🧡🧡🧡
FIT 🧡🧡🧡🧡
STYLE: Semi Fitted
MATERIAL: Silicone-coated ripstop polyester
SIZES: 5 Sizes with range of 18 to 100 liter
PRICE:$25-40
Our Review of REI Co-op Duck's Back Rain Cover
Your REI Duck's Back Rain Cover has you covered with silicone-coated ripstop polyester and sealed seams to keep the water out. The drain hole at the bottom is there to protect your gear just in case a little water gets under your cover. It attaches to your pack by this clever elastic drawstring that cinches tight and then hooks across your back to lock it in place.
You might be impressed as well with the choice of five different sizes designed from 18L all the way up to 100 liters which means you will get a very snug fit.
This pack cover has a strong bottom panel to resist abrasion (that means it won't wear out as quickly!). The reasonably priced REI rain cover is available in color bright sulfur or alloy gray and comes with its own mini stuff sack that is only about 6″ x 6″.
PROS: We like that this backpack cover will fit your pack snugly which means better protection from the rain. You'll also appreciate the abrasion-resistant bottom panel when you are backcountry.
CONS: We still can't give this one a 5 for fit because of the potential gaps around the shoulder straps and waist belt. But for the money, this is a really nice fitting backpack cover.
---
Honerable Mention: Kelty Backpack Rain Cover
DURABILITY 🧡🧡🧡🧡
FIT 🧡🧡🧡
STYLE: Bag
MATERIAL: 190T Nylon Taffeta Ripstop
SIZES: 2 sizes Med fits up to 49 liter, Large 49-110 liter
PRICE: $35-40
Our Review of Kelty Backpack Rain Cover
The Kelty Rain Cover for Backpacks is made of 190T Polyester Taffeta Ripstop material for wind and rain protection which will keep your gear – like clothes and sleeping bag – safe from the wet conditions. The drawstring at the back helps you tighten the cover for any size backpack. Its internal webbing loops are easy to attach to your shoulder straps for extra protection.
The bag folds up small enough to fit in its own storage stuff sack, which is attached to the inside of the cover so it won't get lost. It comes in a light charcoal color and also has 2 size options; Medium fits 49-liter bags and Large fits 49-110 liter bags.
PROS: The design that allows a single cover to protect a large range of sizes will be very useful if you often vary how much you carry in your pack. The cinching drawstring will adjust the cover to fit your load. We also like the webbing loops to secure the top of the cover to your shoulder straps.
CONS: Although the Kelty Rain Cover receives review after review praising its effectiveness at keeping packs dry, we'd still like to see the fabric have a waterproofing coating. Yes, I'm a nervous Nelly always anticipating the worst!
---
Joy Walker Waterproof Backpack Rain Cover – Best Cheap Backpack Cover
DURABILITY 🧡🧡🧡🧡
FIT 🧡🧡🧡
STYLE: Bag
MATERIAL: 900D mixed fabric with PU coating
SIZES: 15 to 90 liter
PRICE:$8-16
Our Review of Joy Walker Waterproof Backpack Rain Cover
I'm not a fan of super cheap backpack covers as you usually get what you pay for. However, if you are a casual hiker who only needs a rain cover for those rare days you get caught on a rainy trail then a low-cost cover makes sense. It's a whole lot better than a trash bag…right?
So out of all the inexpensive covers out there, we like the Joy Walker Waterproof Backpack Rain Cover.
This cover is made of 900D mixed fabric that's extra heavy-duty and has a PU coating. Although we are not fond of an elastic edge rim (compared to a cinchable drawstring), this cover has reinforced the edge for strength and pulls tight covering much of the back of your pack.
It features a two-way crossed buckle strap to hold it securely around your backpack. It comes in 15 to 90-liter sizes.
You can choose from 11 different fun colors. And it packs up into a bag smaller than two cell phones! Guaranteed with a full refund if the cover rips which makes this purchase all the more worthwhile.
PROS: You can't beat the price of this universal cover for the quality you get. The design is smart to ensure a tight fit. And we love that they back it up with a full guarantee.
CONS: The biggest challenge with this will be that it doesn't have the ability to adjust for shoulder and waist straps. In heavy rain, you are going to get some leakage at the shoulders unless your pack is really full and pushed up high.
---
Salzmann 3M Reflective Backpack Cover – Best Reflective Backpack Cover
DURABILITY 🧡🧡
FIT 🧡🧡🧡
STYLE: Bag
MATERIAL: 3M Scotchlite reflective material
SIZES: 2 sizes up to 50 liter
PRICE:$10-12
Our Review of Salzmann 3M Reflective Backpack Cover
The Salzmann 3M reflective backpack cover is made with 3M Scotchlite reflective material which reflects bright colors from up to 200m away. It is made with an elasticated strap for easy attachment to just about any size backpack up to 50 liters while completely protecting its contents from water damage.
It also features an exterior mesh pocket for small belongings like keys or sunglasses. What once was only worn to give protection against rain now doubles as safety gear.
PROS: You aren't going to beat the reflective properties of this pack cover. And they have done a good job with the strap attachments to ensure a snug fit.
CONS: This is not a heavy-duty backpack cover so will not last long in tough conditions or rugged terrain. It is intended as a safety cover that will also keep your gear dry. Perfect if you get caught out late and have to hike or bike along roads where you will encounter traffic.
---
Additional Features of the Best Backpack Rain Covers
We've already covered water repellency and a secure attachment point as two essentials for having a reliable backpack rain cover, but there are some other features that can be appreciated if available:
A Compression Storage System is a nice option to have as it will help you store your backpack rain cover in a smaller size. Since you never really know when it will rain, it is much more convenient if your backpack cover stores easily and in a small space so you can just include it in your base gear all the time.
Reflective Tape and Colors are one of those things that you usually don't think about. But if you are hiking in a rain storm the risk of accidents on the trail goes up. This will give you peace of mind that someone may notice you if something goes wrong, such as a twisted ankle or a fall. The pack cover becomes part of your emergency equipment even if it isn't raining.
Drain Holes in the Bottom – No system is perfect and no matter how well you plan, it is still possible that water will get under the best backpack cover. That's why some covers have added a drain hole in the bottom so that water can quickly escape before it soaks the bottom of your pack. Talk about thinking of everything!
There are also some other bonus features available that you may or may not appreciate, such as pockets, compartments and other organizational elements. It all depends on how much you want to spend and how you plan on using your backpack rain cover.
How to Take Care of a Backpack Rain Cover
A waterproof backpack cover will last you a long time. But there are still some things to keep in mind for care and maintenance. Most important is to make sure you air dry your cover once you get home or to your dry camp. The last thing you want is mildew to start growing in that waterproof storage bag.
You should also check your cover for any rips. You can use a gear repair tape like Gear Aid Tenacious Repair Tape to close it back up again. Seams should be resealed every 2-3 years with a good quality product like Gear Aid's Seam Sealer.
FAQs
Can you use a waterproof backpack instead?
There's a big difference between a waterproof backpack and one that is water-repellent (or water-resistant). First, a waterproof backpack will usually be made of heavier material in order to seal properly and that means unwanted weight on your back when hiking. More importantly, it will also have fewer features as every one of those seams, zippers and attached loops is a potential place for water to seep in.
So in order to make a backpack as waterproof as possible, they severely limit the openings in the pack.
The majority of hiker's favorite backpacks are water repellent, not waterproof. And that's OK, it means that by simply adding a great waterproof backpack cover when it's seriously raining you can still have all the features you love in your backpack. Generally, a water-repellent backpack is just fine without a cover if you are getting a light rain or just a mist as the water will roll right off. Then you can pull out your waterproof backpack cover if it starts to pour.
The other downside of a fully waterproof backpack is that the fabric doesn't breathe. So while it is keeping water out, it will also hold moisture in. In a case where you have stuffed damp clothes or gear in your pack, they will live in a stinky sauna all day if your pack can't breathe. And that is a pretty gross situation!
Do I need a backpack rain cover if I wear a rain poncho?
In most rain conditions a good quality rain poncho will protect your backpack as well as backpack cover. If you are anticipating a severe rain storm, you might consider doubling up just to sure everything stays dry!
Should I use a pack liner with a backpack rain cover?
Although a pack liner isn't necessary with a backpack rain cover, it's always a good idea to be prepared in case your cover fails. Using a pack liner or dry bags for your gear's protection is a good idea. Even something as simple as packing your gear in heavy zip-lock bags gives you that extra layer of protection.
And personally, I really like organizing my gear in dry bags or zip locks anyway. Setting up a bag for first aid stuff, a bag for food, etc makes it a lot easier to find what I'm looking for.
Can you waterproof a backpack?
Yes, you can waterproof a backpack. But it's not always that easy depending upon the design of your pack. We share the details of exactly how to waterproof a backpack in this article. However, keep in mind that you lose the breathability of your backpack's fabric when you apply treatments to it.
What size backpack rain cover do you need?
It's important to know that the size of your backpack rain cover is dependent upon both the size of your backpack as well as how much extra gear you carry on the outside. Covers are rated by liters, the same as your pack. If you don't have extra gear attached to the outside, it's easy… just match the liter size.
When you carry gear like shoes and water bottles on the outside of your pack you should go up one size. If you also tie on sleeping bags you might need to go up 2 sizes to get the length you need.
Don't be afraid to order 2 sizes and see which gives you the best fit. You can always return the one you don't need. Seriously, backpack covers are fairly inexpensive so it wouldn't hurt to have an extra one in your gear stash anyway.
Should you buy the same brand of rain cover as the brand of your backpack?
If you are only looking at fit, then yes you'll likely get the best fit if you use the rain cover that was designed to match your backpack. But there are many other features that make a great backpack rain cover and you may find some of the top brands like our favorites or the Osprey Ultralight or Gregory Pro provide extra protection.
How to Clean a Waterproof Backpack
Gently brush away mud a, dirt and dust with a soft brush to prevent buildup. Removal of that dirt will also improve the waterproofing in the rain as wet mud will transfer water through the fabric.
To deep clean, hand wash with a mild soap. Use your hands to gently agitate the fabric and rinse away the dirt. Make sure you wash out any soap so there is no residue.
Air dry in a shady place. It will dry faster if you turn the bag inside out after a short period to dry the inner seams and compartments.
A few last thoughts on the best backpack rain cover…
Backpack rain covers aren't just for rainy days. Of course they keep your gear dry on a snowy or sleety day. But think about how it can keep your pack clean and protected when flying or traveling. Wouldn't it be easier to just throw a cover in the wash than have to clean the whole pack?
So if you're looking for a way to protect your gear from the rain, then look no further! A backpack rain cover is an essential piece of any outdoor enthusiast's kit. With these tips in mind, we hope that selecting one won't be too hard.
Carrying a backpack rain cover is too often overlooked by many new hikers and campers who don't know how important these little pieces of fabric really are! If this post has helped you out please share it with friends and family – sharing is caring after all 😉