Smoky Mountain National Park camping is a dream. Don't like camping in a crowd? There's definitely a place for you! Love the social life of a busy campground? You'll find a home here that you'll love and cherish. You'll discover 10 traditional drive up campgrounds with over 800 sites. In this neck of the woods they call these the front country campgrounds.
There are 7 group campgrounds that are perfect for family reunions, scouting and church groups. Plus Great Smoky Mountain National Park is home to 5 Horse camps that connect to the 550 miles of horse approved trails throughout the park. Add to that over 100 back country camp sites and shelters where you can really get away from it all. Some of these shelters follow the Appalachian Trail. Others are along horse accessible trails. We found a few that are within a couple hours of the trail head making back country camping more accessible to the average hiker than in many National Parks
Do You Need Reservations to Camp in Smoky Mountain National Park?
The answer is YES, you should make reservations. Most of the campgrounds now require them. This has been a big change over the last few years. The only exception is Deep Creek and Cosby Campground which we write about in more detail below. Many articles about Smoky Mountain National Park camping on the internet are from just a few years ago when most GSMNP front country campgrounds were first come first serve. So we headed out assuming that April is a slower vacation month, school breaks were over, we should be able to wander in at our leisure without a reservation.
This is where we got into a bit of trouble. While most other National Parks have a way to claim unreserved sites at the campground, we found that wasn't true in any campground except Cosby. One of the campground hosts told us that during peak season the bigger campgrounds might have assistance on duty, but it wasn't always available. She said smaller campgrounds will never have anyone and also don't have self-service walk in stations.
So make a reservation before you get into the park.
Front Country Sites open up 6 months prior to the reservation date and Group sites open 12 months prior on a rolling calendar. The good news for people who don't plan ahead is that you can often reserve available sites same day, even same hour. The Recreation.gov reservation site is very cell phone user friendly. That is if you can get cell reception. You might have to drive out a couple miles to pick up reception as it is rarely available in the campgrounds. Lucky for us, Elkmont campground had a land line phone with a direct connection to reservations next to the welcome sign that we were able to use our first night. (We sat on hold for 20 minutes – which was a lesson in patience – but it worked).
Lesson learned! Before we moved to Smokemont Campground we pulled into the Sugarlands Visitor Center Parking Lot, which has WIFI, and booked that night from our phone.
---
🎁 Check out our Gift Guide for Campers with over 60 Gift Ideas for the Camper Who Has Everything!
---
Amenities in Great Smoky Mountain National Park Campgrounds
Are there Water, Toilets and Showers in the Smoky Mountain Campgrounds?
All Front Country campgrounds have potable running water and flush toilets, which we find a great luxury compared to our many experiences with pit toilets and no running water. However many would disagree with our definition of luxury and say the lack of showers was a challenge. We did notice that there were many opportunities just outside park entrances to grab a shower. Since this is a big section of the Appalachian Trail, many places cater to providing amenities like this to both hikers and campers. There are no water hookups at individual campsites. You'll usually find the running water available next to the bathrooms.
Will I Find Electric Hookups for my RV?
Campgrounds in the Great Smoky Mountain National Park do not have Electric Hookups. The only exception is a very limited number of sites with 5 amp outlets for medical needs in Cades Cove, Smokemont and Elkmont Campgrounds. Campgrounds that allow RVs, allow generator usage between 8am and 8pm.
Can I Have a Camp Fires and Where Can I get Fire Wood?
Each campsite has a designated fire ring. It's rare for Great Smoky Mountains National Park to restrict campfires since it rains consistently in the Smokys, but do check the signage as you enter the campground before you light a fire. All firewood must be either certified heat treated wood or gathered from downed trees within the park. For more information here's the link to the Campground Regulations.
Are Dogs Allowed in Campgrounds in Smoky Mountain National Park?
It's pleasant to find that leashed dogs and confined pets are allowed in the campgrounds. This isn't true in many National Parks. However dogs are not allowed on the hiking trails within the park boundaries. Also keep in mind that bears and dogs don't mix well. Since there is a large population of bears in Great Smoky Mountain National Park keep your treasured puppy safe by being aware of your surroundings.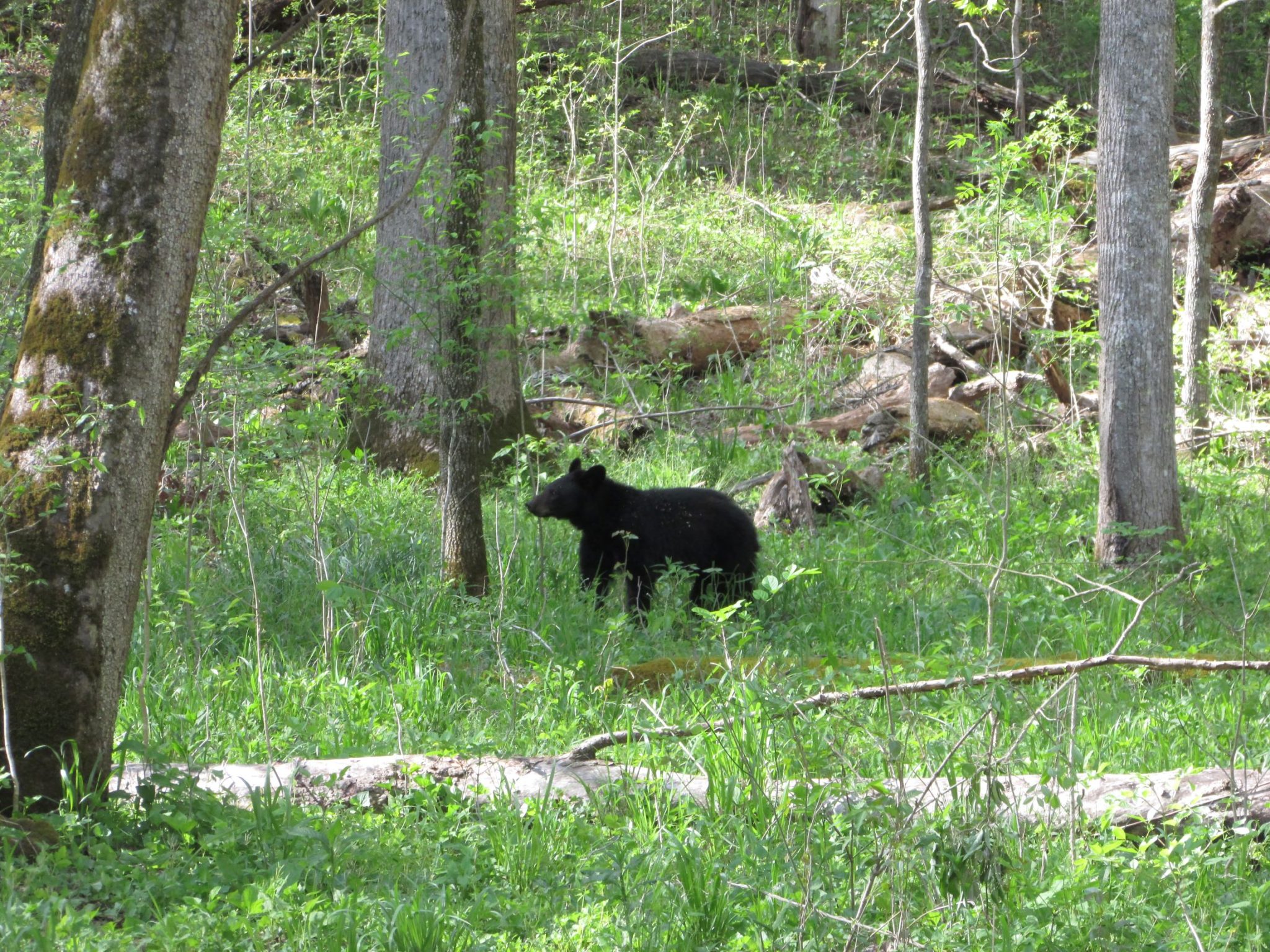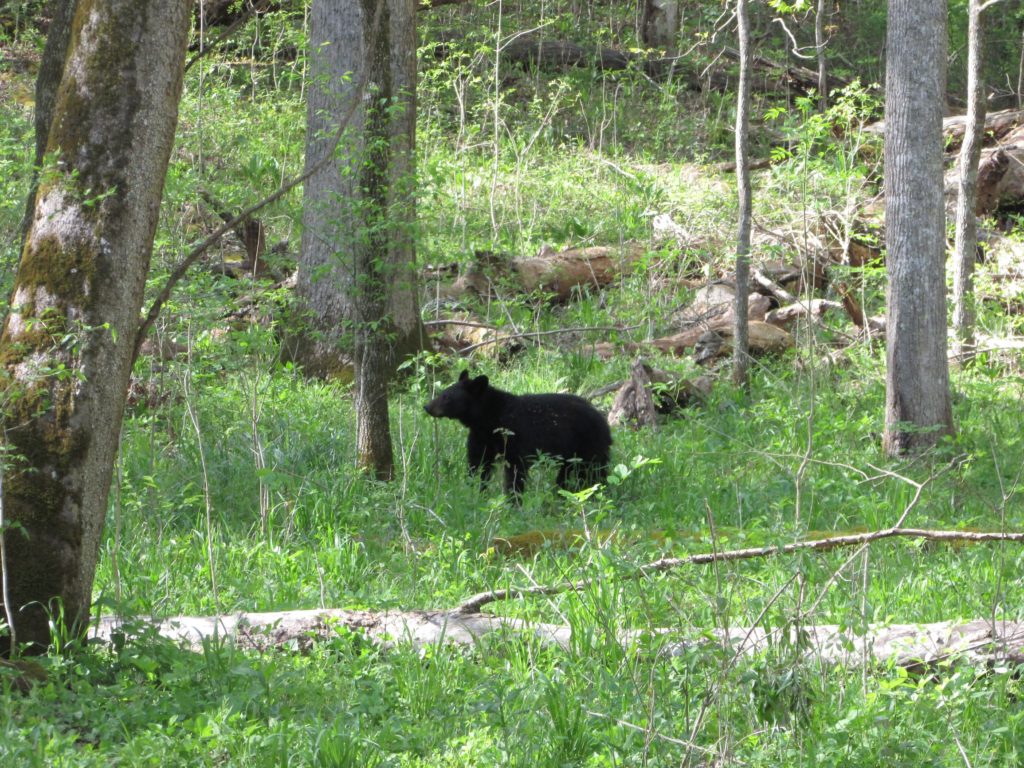 Will We Encounter Bears? and What about Food Storage?
With 1500 Black Bears in the park, you are highly likely to encounter one during your visit. I urge you to take your safety and the safety of the bear seriously. The Park Rangers have put together a really great bear safety guide here that you should review before your visit. I'm pretty obsessive about campsite cleanliness. A ground squirrel or raccoon can do a lot of damage too! Our personal rules when camping are that all food stays in the car trunk except when actually cooking.
After a meal, all cooking areas including the picnic table are wiped down to reduce any temptations. Dishwater is disposed of in the locations assigned by the campground, in this case usually near the restrooms. Trash is also stored in the car until we can take it to a bear proof dumpster. If you leave a cooler or food out when you are away from camp, park rangers will confiscate it.
Can you Fish in the Campgrounds of Great Smoky Mountain National Park
Enjoy one of the last wild trout habitats in Eastern United States in Great Smoky Mountain National Park. Several of the campgrounds sit near great creeks for trout fishing. Yum! I can taste dinner now. You can fish year round anywhere in the park as long as you have a fishing license from either North Carolina or Tennessee. If you are not a resident of either state, I'd suggest you check out the prices and rules for each to decide which is the best choice for you. There's a pretty big price difference for some folks.
You can pick up either on line or in many locations just outside the park.
Creel limits are generous enough to enjoy a really nice family dinner. Here's link to the Smoky Mountain National Park fishing rules. I think these are some of the simplest to follow that we've ever found.
---
Looking for ways to keep your kids engaged on your camping trip? Here's over 40 of the Best Camping Gift Ideas for Kids. You will be sure to find gear and activities to thrill!
---
Front Country Drive In Campgrounds
Abrams Creek
Abrams Creek Campground is the perfect place to relax to the sound of the rippling creek along side the campground. This remote campground is home to well shaded sites perfect for tents and small campers (up to 12'). Note it's a long haul to the main activities in the park so this may not be the right campground if you are planning to explore the whole park. There are also no sites here for medium to large RVs.
For Reservations at Abrams Creek Campground Click Here
What to do near Abrams Creek Campground
Fishing – Abrams Creek Campground is a great stop for fishing. Abrams Creek is popular for trout fishing, especially for spring fly fishing.
Just 10 miles away you'll find Chilhowee Lake which is perfect for canoeing, kayaking as well as fishing.
Hiking – Abrams Waterfall via Little Bottom Trail is about 8 miles round trip. A moderately difficult hike, the trail leads to one of the most popular waterfalls in the park.
Balsam Mountain
At 5,300 feet elevation the views are amazing from Balsam Mountain Campground. The higher elevation makes it a perfect environment in the heat of summer due to the gift of cooler nights. Reports are that the sites are a little tight here which I guess is the price to pay for the amazing location. Primarily a tent campground, there are sites that will house RVs up to 24'. Balsam Mountain Campground is conveniently near the Blue Ridge Parkway but far from the main sections of GSMNP.
For Reservations at Balsam Mountain Campground Click Here
What to do near Balsam Mountain Campground
Enjoy the view! – Mile High Overlook is nearby and the sunsets are reported to be stunning.
Big Creek Campground
This little campground, with only 12 tent sites, sits right next to Big Creek. To camp here, you park in a central parking lot and carry your gear a short distance (100-300 feet) to your site. It seems like perfect place to get away from it all!
For reservations for Big Creek Campground click here.
What to do near Big Creek Campground
White Water Rafting – You'll find several outfitters just outside the park on the nearby on Pigeon River.
Hiking – A 4.2 mile, moderate hike on Mouse Creek Falls Trail will bring you to Midnight Hole and a gorgeous 35' waterfall. On the way you will pass several smaller waterfalls and beautiful photo spots.
Or if you are up for a challenge hike to the top of Cammerer. The trail will begin on the nearby Chestnut Branch Trail.
Fishing Big Creek – The campground provides some of the easiest access to the stream.
Cades Cove Campground
Cades Cove Campground is a pretty traditional mix of RVs and tents. The 164 campsites are well shaded by tall trees. There are no natural dividers between campsites so you might feel a little close to your neighbors. There's a wide variety of activities in the Cades Cove area which means you could have a great vacation and never leave this campground.
For reservations for Cades Cove Campground click here.
What to do near Cades Cove Campground
Horseback Riding, Hayrack Rides and Carriage Rides are available at the nearby

Cades Cove Riding Stables

.
Drive or Bicycle the 11 mile Cades Cove Loop where you can visit historic buildings, see wildlife and wildflowers. On Wednesday and Saturday mornings through the summer the loop is closed to vehicles to allow walkers and bikers to enjoy the roadway. Bicycles can be rented at the camp store. Cruising this loop in your car is very popular so be prepared for slow moving traffic. It took us 3 hours to drive the 11 miles. Make sure you take the time to stop to explore the assorted old log homes and farms.
Hiking opportunities are plentiful near Cades Cove Campground. One of the most popular is the 5.2 mile round trip hike to Abrams Falls. Up for a little more challenge, the 8.8 mile Gregory Bald Trail takes through beautiful azalea groves to astounding views of the area.
Cataloochee Campground
The most remote drive in Smoky Mountain National Park Camping can be found in the Cataloochee Valley. Here you'll find 27 fairly large shaded campsites, many along a stream. This campground provides a lush home for both tents and RVs up to 40'.
For Reservations at Cataloochee Campground Click Here
What to do Near Cataloochee Campground
According to the Park Service website some of the best Rainbow and Brook trout fishing in the area can be found in the Cataloochee Basin.
You will want to visit the historic Palmer House and Museum nearby which is filled with stories about this area before it became part of the park.
There are many great hiking opportunities in the Cataloochee Valley that take you through impressive old growth forests. One of the most popular is the Boogerman Loop, a 7.4 mile, moderately difficult hike.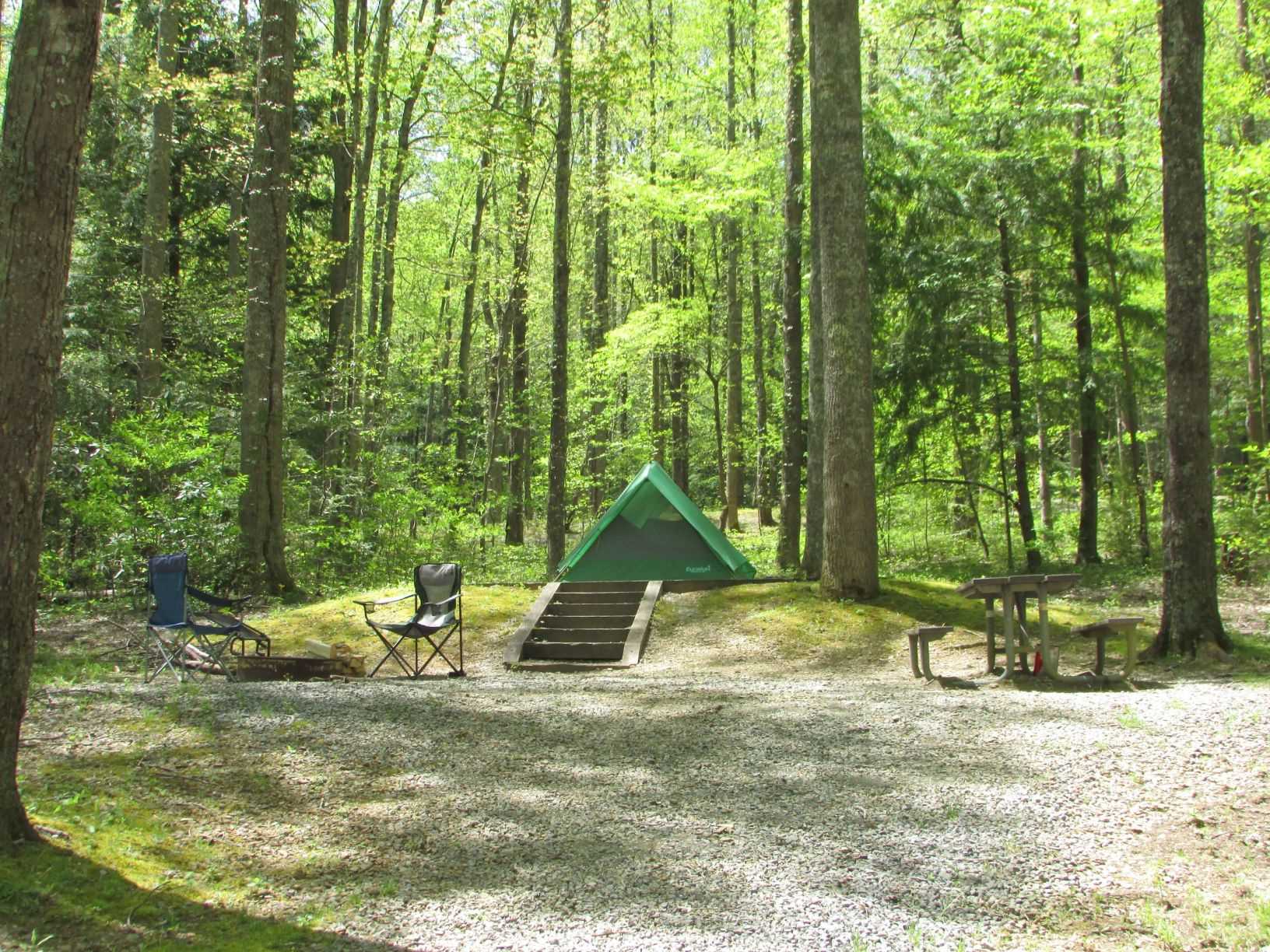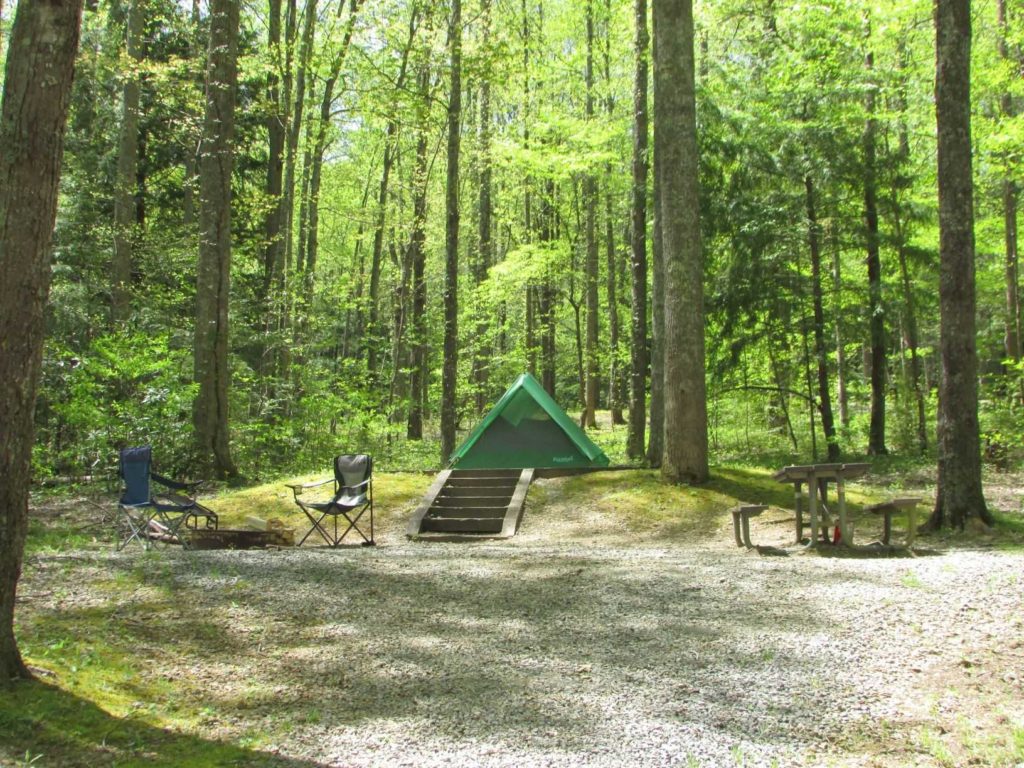 Cosby Campground
Located in the less trafficked NorthEast corner of the park, Cosby Campground feels spacious by comparison to other campgrounds. We wandered that direction on our third day in GSMNP with hopes of getting away from the crowds. It was a perfect choice and by far our favorite campground on this trip. Cosby Campground is the tent camper's dream with 138 of its 157 sites designated for tents only. About ⅓ of the sites are available first come/first serve. The rest are by reservation. The NPS indicates that this campground is rarely full so it's probably a good choice during the busy season for a last minute camping spot.
Most of the campsites are shady and on the hillside. You'll need to carry your tent and equipment 20-30 feet to get to the tent pad. Grab your firewood before you enter as there is not a camp store in Cosby Campground. The only downside to this campground is that it is a long drive to other parts of the park. That's why we stayed in more central campgrounds the other nights of our trip. However it would be a great place to just "chill" for a week.
For Reservations at Cosby Campground Click Here
Things to do near Cosby Campground
Our primary reason for camping in Cosby was to enjoy the

hike to Hen Wallow Waterfall

. We loved this 4.4 mile trail through the woods. It's rated as moderately difficult but we didn't find it too challenging as it is a gradual slope to the falls. The falls themselves are beautiful. We loved having our lunch on one of the big boulders while enjoying the rushing water.
For an easy hike, check out the Cosby Self Guided Nature Trail, trailhead located near the entrance to the campground. This 1.1 mile loop is perfect for a short walk after dinner to stretch your legs.
If you are looking for a challenging hike, the trail to the peak of Mt Cammerer also starts by the campground. This 11 mile round trip hike is rated difficult because of the steepness of the trail.
Deep Creek Campground
Deep Creek Campground is a great kick off point for visitors coming from the South. This is the only all First Come First Serve campground in Great Smoky Mountains National Park. Most of the 92 camp sites are well shaded, although many are rather small and close. Deep Creek that runs through the campground is a beautiful fast running creek where you'll love falling asleep to sounds of rushing water. You'll find a tent only section. Deep Creek Campground can handle RVs up to 26'.
Things to do near Deep Creek Campground
Tubing is popular on Deep Creek, with several vendors just outside the park renting tubes for the day.
Tour the Smokys via vintage steam trains with the

Great Smoky Mountains Railroad

in nearby Bryson City.
And of course you'll find a wide variety of hikes here. Try the fairly easy 4 mile Deep Creek Loop where you'll pass 2 beautiful waterfalls. Or take it up a couple notches and test out the 12 mile Martin's Gap loop. Deep Creek is known for its brown trout if you want to give fishing a try.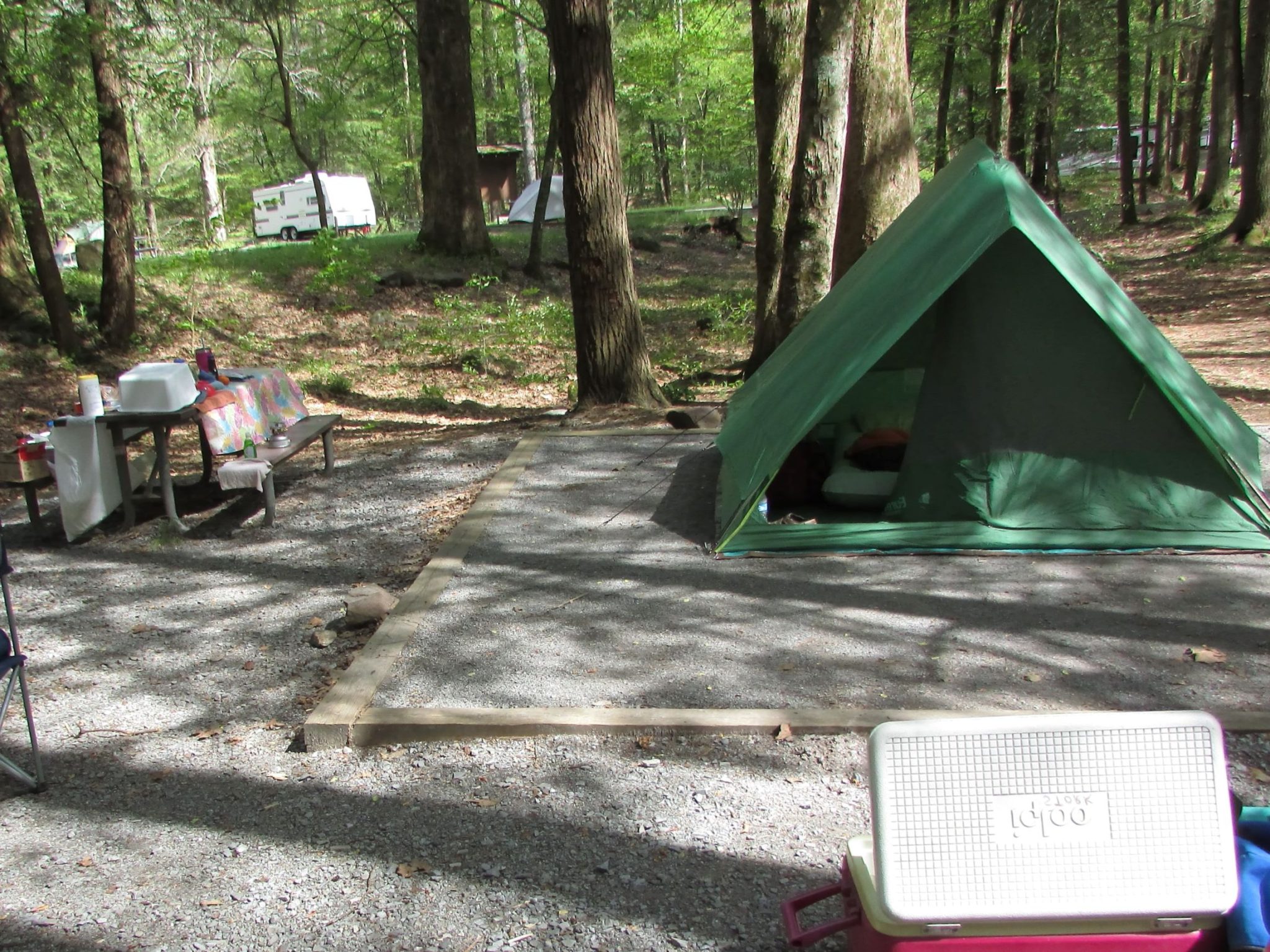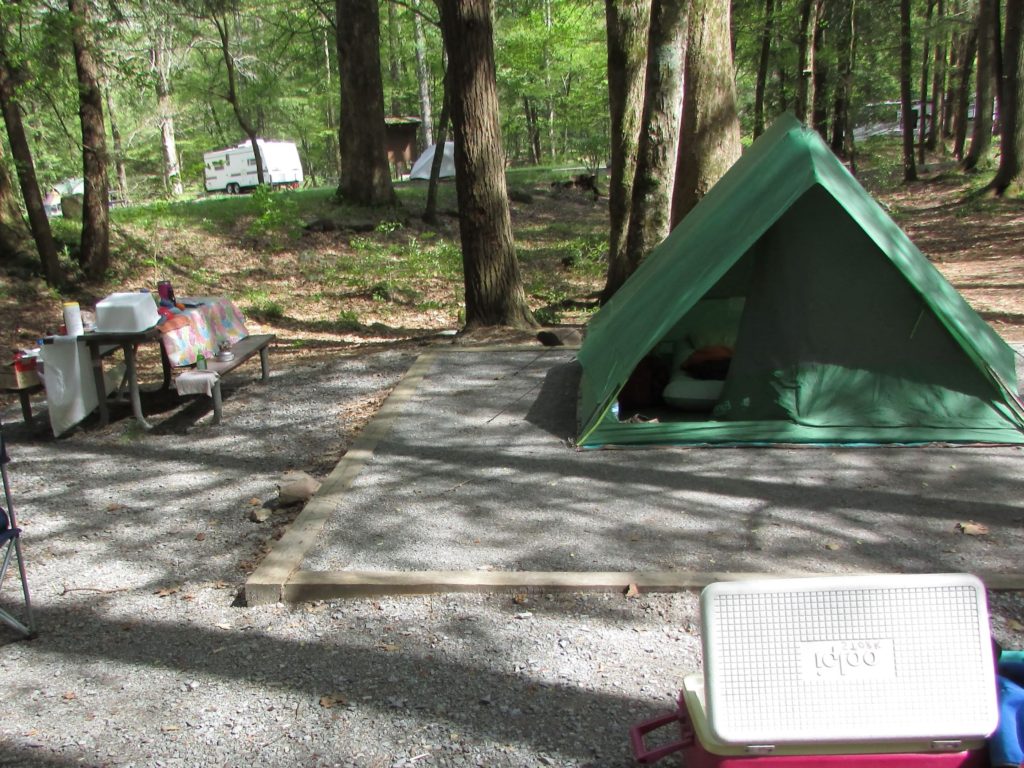 Elkmont Campground
Elkmont is the largest with 220 sites and probably the busiest of the Smoky Mountain National Park campgrounds. The central location is a perfect hub for enjoying many areas of the park. Campsites along the Little River are the first to go because they are gorgeous. We spent our first night in Elkmont Campground, finding it to be quite comfortable. Although there is no natural barrier between campsites, the tent and RV sites are large enough that you don't feel like you are sitting on top of each other. Elkmont can handle RVs up to 35' and has a 20 site tent only section.
For Elkmont Campground Reservations Click Here
Things to do near Elkmont Campground
Little River is known as an excellent trout fishing stream although we didn't see anyone fishing during our April stay.
Many hiking trailheads near by including the popular and family friendly Laurel Falls. Or try the 5 mile round trip Little River Trail. This old railroad bed follows the river. Along the way you'll see remnants of the historic Elkmont Resort.
Smokemont Campground
Smokemont Campground is open all year around. Situated in a valley, the winter temperatures are fairly moderate although it will still snow here occasionally. We spent our last Smoky Mountain National Park camping night in Smokemont. Since it was April, only part of the campground was open. The sites are fairly spacious and most are well shaded. The most popular spots are those right along the creek.
My personal opinion is that RV campers will really like this campground. There is a lot of shade with several loops that allow generators. Many of the sites have large parking spaces making it easy for RVs. Tent campers on the other hand will find it OK, but not their favorite, primarily because so many RVs love it. You just might find yourself tucked in between RVs.
For Reservations at Smokemont Campground Click Here
Things to do near Smokemont Campground
Horseback riding is available nearby at the

Smokemont Riding Stables

. There are horse riding trails through the Smoky Mountains National Park that start right near the campground.
It's common to see Elk in this valley. We spent an hour parked along the road near the campground watching these beautiful beasts and capturing great photos.
Group Camps in Great Smoky Mountains National Park
You'll also find Group campsites at 7 of the Smoky Mountain Campgrounds with a total of 21 sites. Group sites can be home to 7-30 campers so are a great opportunity to camp with your family or organization. I can picture a really great family camping weekend utilizing one of the group campgrounds! Group Camping is available in:
Cades Cove
Elkmont
Cosby
Big Creek
Cataloochee
Smokemont
Deep Creek
Group campgrounds are tent only and have access to the same bathrooms and potable water as their regular campground sisters. You can make reservations for group camp sites up to one year ahead on www.recreation.gov. You'll find a separate listing for the group campgrounds.
Horse Camps in The Smoky Mountains
Great Smoky Mountains National Park also has 5 vehicle accessible horse campgrounds that are open from late May to late October. With over 800 miles of horse trails in the park, these camps are a great resource for horsemen. Amenities are somewhat limited so make sure you check out the Park Service page. Horse camps do require reservations.
Back Country Camping in Smoky Mountain National Park
Backpackers of all skill levels love Smoky Mountain National Park back country camping. All camping requires a reservation through the GSMNP back country office, including AT through hikers. What we found interesting is that there are back country campsites easily reachable with a short hike. So that image of someone hauling a 30 pound pack up and down mountains is only true if you want it to be. Here you can enjoy a simple backcountry camping night with a fairly easy walk in the park.
Check out our guides to camping in other National Parks:
✔ Glacier National Park Camping Things to Know
✔ Best Campgrounds in Yellowstone National Park