With 12 campgrounds and over 2,000 campsites, it can be a little confusing to select the best campground in Yellowstone National Park that is perfect for your unique camping style. In this article we will walk you through the difference between each campground and share our top choices.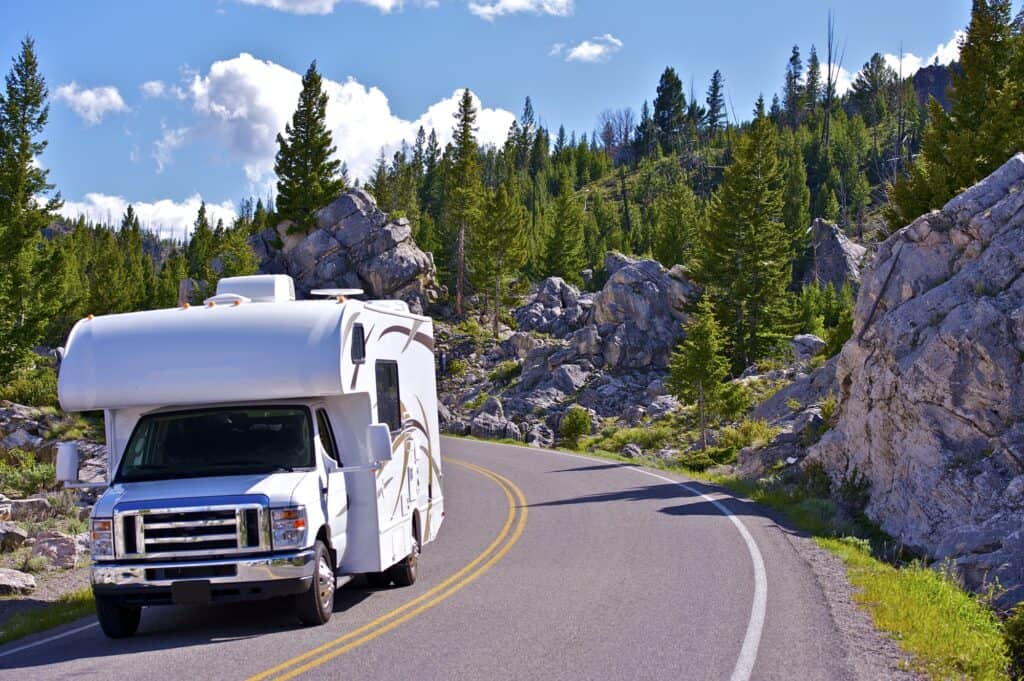 Imagine being a tourist camping in Yellowstone in 1895. You would likely arrive by train, then be transported in a horse-drawn wagon into the park. You would either stay at a premier hotel or enjoy luxury Yellowstone camps. Each morning your group will load back up into the wagons and tour until they arrived at the next camp. Everything would have been done for you. Your tour of the never before imagined sights would take 5-7 days to complete.
Fast forward and you will still find that commitment to providing an outstanding camping experience for Yellowstone visitors. Campgrounds range from a modern-day RV park to backcountry campsites and everything in between.
Best Campground In Yellowstone
There aren't any bad campground choices in Yellowstone National Park, so you couldn't possibly make a mistake in your Yellowstone Campground Selection. But there are better choices for different camping styles. Here's our top choices for each style of camping:
You'll find a detailed description of each campground below to help you determine the best Yellowstone Campground for your own adventure!
Yellowstone Campgrounds Frequently Asked Questions:
Do you need reservations to camp in Yellowstone National Park
The short answer is Yes. It's difficult to find open campsites in Yellowstone by just showing up because the demand is bigger than the number of sites. So book your campsite in advance to avoid disappointment.
If you have an RV or Camper when you make your reservation make sure you click through the site information and read everything about size restrictions. For the most part, those restrictions are very real due to serious space limitations. Camping sites for large RVs are pretty limited. And campsite length restrictions are enforced. So don't take a risk by fudging your RV size.
How to make reservations:
I was delightfully surprised when I called to make a reservation. The rep I spoke to had actually camped in Yellowstone many times. She was able to answer my questions and guide me to a better site for our tent than I had originally picked out. And she was so right.
Five of the 12 Yellowstone Campgrounds take reservations through Yellowstone National Park Lodges (a Xanterra Company). You can make reservations online or by calling 307-344-7311.
Bridge Bay Campground
Canyon Campground
Fishing Bridge RV Park
Grant Village Campground
Madison Campground
The rest of the campgrounds can be reserved through Recreation.gov. You can also reserve spots at several nearby National Forest campgrounds through this same link. Unfortunately several of these campgrounds are closed due to damage from the severe flooding during the summer of 2022. I would be surprised if they are able to reopen for awhile.
Lewis Lake Campground
Mammoth Campground (Closed due to 2022 Flooding)
Slough Creek Campground (Closed for 2022)
Pebble Creek Campground (Closed for 2022)
Indian Creek Campground (Closed for 2022)
Tower Fall (Closed for 2022)
Norris Campground (Closed for 2022)
Tip for finding open dates: There is a little quirk with the Yellowstone National Parks campground reservation site in that it won't let you see the open dates calendar initially. But if you start a reservation request, using any date, it will then let you go to the calendar. So I usually just enter a single day and then pop over to the calendar once I can get to it. From there you can change campgrounds, change camp type, etc and see the availability on the calendar.
When are Yellowstone National Park Campgrounds Open?
Only Mammoth Campground is open for winter camping. This is the place to be for those of you who enjoy winter camping and hiking. Each of the other campgrounds has its own opening and closing schedule, in general, you will be able to find an open campground from May through October.
Getting Around Yellowstone with your Camper
It's easier to get around Yellowstone if you picture it as a series of small villages. Each village has a mix of lodges, campgrounds, shopping, and other amenities. And then there are a handful of remote campgrounds for those who want to get away from it all.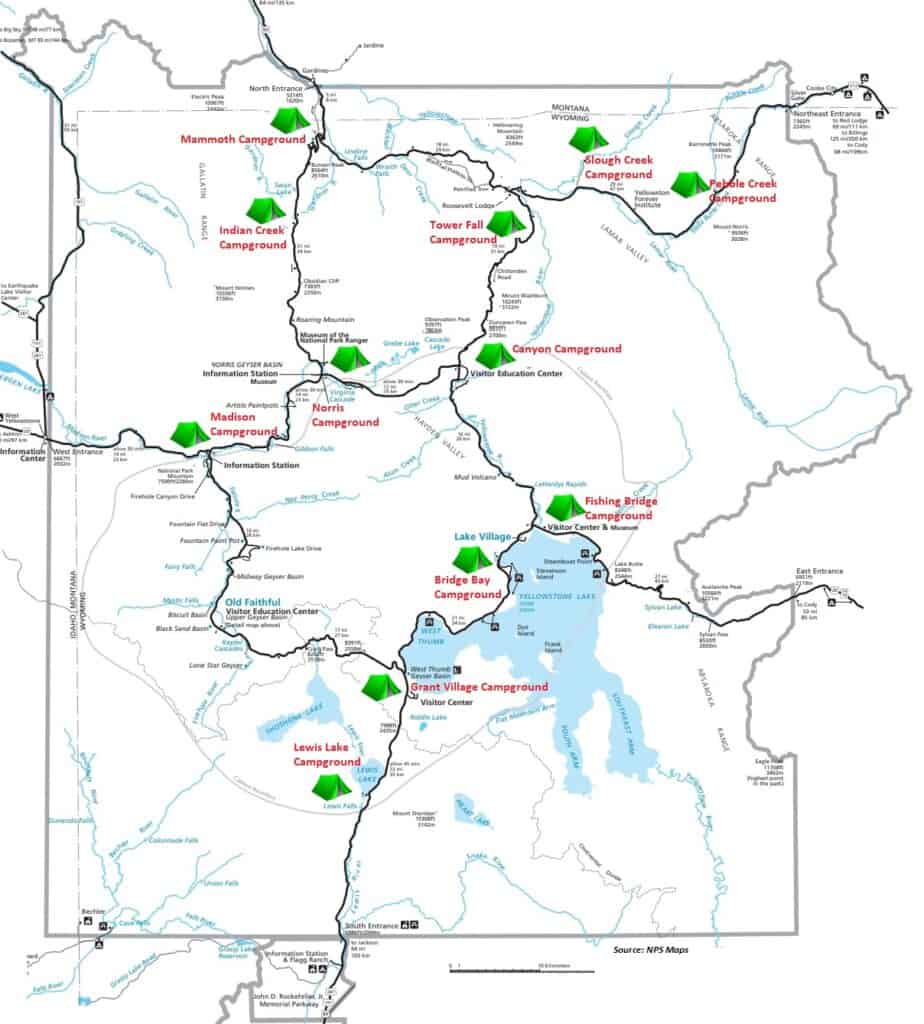 If you are driving your RV around Yellowstone, you'll find easy parking in most of the bigger parking lots where there are a lot of amenities. However, you will find parking a challenge for some of the smaller parking areas. Yellowstone is always busy so competition for parking is a real thing.
If you don't want to drive, the same company where you make your campsite reservations offers a variety of tours that leave right from the bigger campgrounds.
Amenities for Yellowstone NP Campers
You'll find more amenities in this park than in any other National Park, from fuel and service stations to shopping options to guided tours. And just as prevalent are campgrounds that feed the soul of those who want to enjoy the simple life.
All about Water, Toilets and Showers
All Yellowstone Campgrounds have potable water. The five more remote campgrounds have vault toilets while all the rest have really nice flush toilets with cold running water.
Showers are easily available when camping in Yellowstone. The 3 larger campgrounds have showers on-site and are open to campers from other campgrounds for a small fee per shower.
---
🎁 RV Owners can be hard to buy gifts for, they tend to have everything. Or, do they? Here's 60 very unique gift ideas for campers.
---
Are campfires allowed in Yellowstone Campgrounds?
In all campgrounds except Fishing Bridge RV Park, you can have fires within the fire rings unless there is a high risk of fires. Generally, Yellowstone doesn't have campfire restrictions but it's a good idea to check for any warning signs at the campground entrance.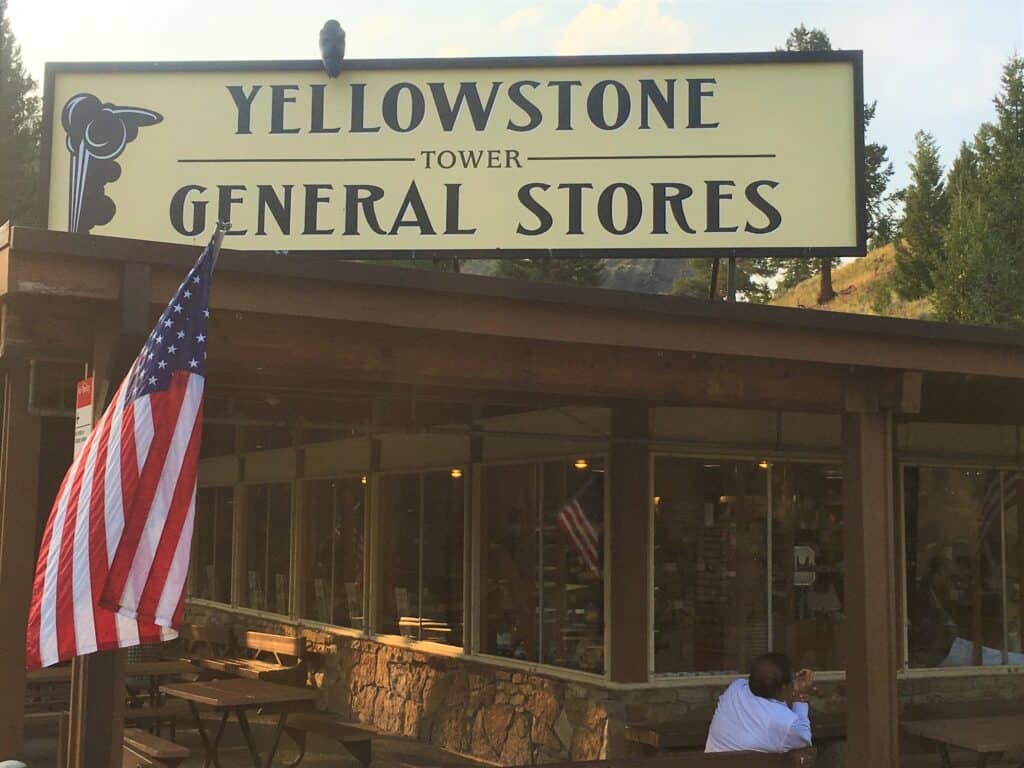 The larger campgrounds will have firewood for sale. You may save a few dollars if you buy your firewood from private sellers on your way into the park. However, don't bring in firewood from outside the area to avoid bringing in unwanted insects.
Are Groceries and Snacks Available in Yellowstone National Park?
Yellowstone has a half dozen well-stocked General Stores plus a wide variety of gift and snack shops. You won't have any trouble finding special treats or replacing that forgotten item. If you are looking for food head to one of the bigger campground/lodging areas.
What Wildlife is in the Campgrounds?
Wildlife is abundant in Yellowstone. Please respect the animal's space. How many times have you seen a video of an incredibly stupid visitor getting too close to the bison or bears? Don't be that person.
You are almost certain to find bears, elk and bison wandering through or near your campsite. So keep a clean camp and put all food in the provided lockers or in your hard-sided vehicles.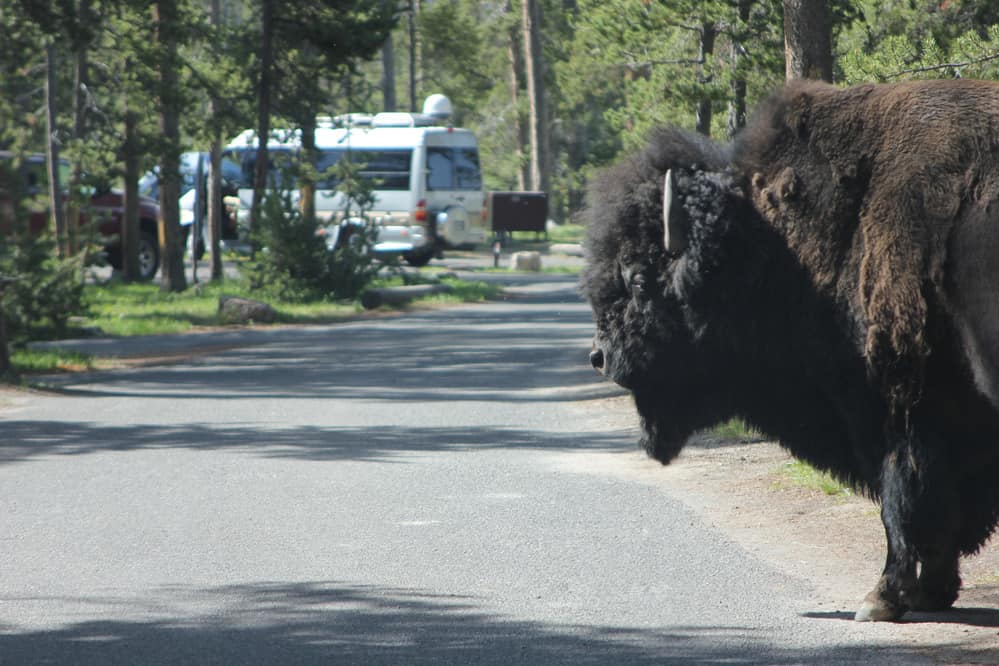 Fishing in Yellowstone
Yellowstone National Park has beautiful trout fishing. Fly fishing in this area attracts fishermen from around the world. A Yellowstone Fishing Permit is required throughout the park which can be obtained at most Visitor Centers and park general stores.
Can I bring my Dog Camping in Yellowstone National Park?
Yes, dogs are allowed in Yellowstone Campgrounds. But there are quite a few restrictions. Considering the safety of your pet, the rules make a lot of sense. Dogs and bears do not mix well. Additional a dog could get seriously burned in the thermal areas of the park.
Basically, leashed dogs are allowed in the campgrounds and in public areas. They are not allowed on any trails or boardwalks. If you are planning to take your dog along, it's a good idea to check the latest update from NPS on dogs in Yellowstone.
Campgrounds in North Yellowstone
Mammoth Campground
✔️ Best Yellowstone Campground for Winter Camping
Yellowstone's Mammoth Campground is located just inside the North entrance to Yellowstone. You'll love the abundance of wildlife in this area of the park where it's not uncommon to have bison or elk wander through the campground.
There is a camp store (open year around) and fueling station nearby. You can also switch out propane tanks here in the summer. Mammoth Campground is the only campground open for winter camping
Things to do around Mammoth Campground:
You can't miss the hot springs terraces, one of the most unusual features. The build up of travertine that flows in the hot springs creates rock and walls as you watch.
Albright Visitor Center is just a few minutes away. Learn about the Mammoth Hot Springs.
The historic Mammoth Hot Springs Hotel is worth a walk through. And if you want a break from cooking, you can eat in the dining room or grill.
Indian Creek Campground
✔️ Best Northern Yellowstone campground for tent campers
Tucked back from the main road and moderately sized, Indian Creek is a little bit quieter than many of the other Yellowstone Campgrounds. Campsites are cozy, primarily in wooded areas.
Although there are not any extras here, you can pop up to Mammoth Campground, just 8 miles North, for supplies.
Things to do near Indian Creek Campground:
Just North of the campground you'll find the trailhead to Osprey Falls. It's a moderate ½ day hike to falls that plunge 150 feet over the edge of a lava flow. Beautiful!
To the South, you'll find the Norris Geyser Basin. Enjoy the 1.5-mile boardwalk through active geysers. We happened upon a ranger talk in the museum area.
And to the North, you'll love exploring the Mammoth Hot Spring Terraces.
Tower Fall Campground
✔️ Best campground in Yellowstone for access to horse stables
Tower Fall Campground is located in a wildlife abundant area. It's in the North-East corner of the loop road, in the Tower-Roosevelt area. The nearby Lamar Valley is home to hundreds of bison.
This area was named after President Theodore Roosevelt who once camped close by. The campground is a smaller campground with light shade.
Things to do Near Tower Fall Campground:
There are some really

great hikes in this area

. It's a short walk across the road from the campground to Tower Fall, a beautiful waterfall well worth your time. We also enjoyed ice cream on the big open deck of the general store next to the trailhead. (You know me, never miss an ice cream stand!)
Drive over to Lamar Valley in the early evening. You are almost guaranteed a variety of wildlife sightings. Don't forget your binoculars!
Just around the corner, at the Roosevelt Lodge, you will find a large corral that offers horseback rides, stagecoach adventures and evening chuckwagon dinners.
Just west of Tower Fall Campground you'll find

Blacktail Plateau Drive

, a great wildlife excursion that takes you off the main road.
Slough Creek Campground
✔️ Best Yellowstone Campground for Wildlife Viewing
Slough Creek Campground is located in the heart of Lamar Valley which is rich with wildlife. At the end of a 2-mile dirt road, you won't even know that you are camping in one of the busiest National Parks. The campground butts right up against the creek, creating a relaxing environment. There isn't much shade here, most sites are in the open.
Things to do near Slough Creek Campground:
The trailhead for

Slough Creek Trail, an old wagon road

, starts at the campground. It's a great hike for wildlife viewing as well as a few stops to fish in the creek.
This is the perfect campground for night sky viewing. The open sites and the distance from other light sources give you an amazing un-hindered view of the night sky.
And don't miss cruising along the Lamar Valley in the early evening hours as wildlife begins to be active. Take along your binoculars and you are almost certain to see amazing animals, usually bison and elk.
Pebble Creek Campground
✔️ Best Campground in Yellowstone NP for Quiet Mountain Views
Sleep in the shadow of the Absaroka Mountains in this rustic campground in the Northeast corner of Yellowstone. Pebble Creek Campground sits next to its namesake and is a joy to hear the creek sounds at night. As part of the Lamar Valley, you'll find wildlife abundant. Wolf are often heard at night. It's enough to make up for the complete lack of amenities!
Things to do near Pebble Creek Campground:
Nearby Soda Butte Creek is supposed to be great fishing.
Hike along Pebble Creek for beautiful mountain views.
And of course, don't miss wildlife viewing in the Lamar Valley. You can hike in or drive through the valley.
Central Campgrounds in Yellowstone
Madison Campground
✔️ Best Campground in Yellowstone for Easy Access to Everything
Location is everything when exploring Yellowstone National Park which makes Madison Campground one of the most popular. It is perfectly situated for easy access to many of the famous exhibits in the park, including Old Faithful.
The sites are a little tight so RVs are pretty close to each other. There is a tent-only loop that is a much better fit for tent campers, otherwise, you might feel a little claustrophobic if you are in between two campers.
Things to do near Madison Campground:
Pop down to Old Faithful Area, where you can wander along the boardwalk and experience a wide variety of impressive geysers. Read about more things to do in the Old Faithful Area.

Fly Fish the Madison River

, well known for trout. The river flows along the edge of the campground.
Nearby you'll want to explore the tight concentration of interesting geysers pools including Midway Geyser Basin and Firehole Lake Drive
Norris Campground
✔️ Best Campground for access to the biggest geyser basin.
Right in the heart of the Norris Geyser Basin, you discover amazing mountain views from your campsite. This campground is fairly open with lots of great grassy areas. Note that there are limited campsites that can handle large RVs.
Things to do near Norris Campground:
The highlight of the Norris Geyser Basin is the boardwalk through the geothermal area. The tallest geyser in the world, Steamboat Geyser, at 300–400 feet is right here.
The Gibbon River is a popular fishing destination for fly fishermen.
Take a scenic drive to Virginia Cascades, a 60 foot waterfall on the old road just South of the Norris Campground.
Canyon Campground
✔️Best campground in Yellowstone for active families
The lodgepole pine forest creates a very intimate camping experience even though this is a fairly large campground. Centrally located, Canyon Campground is popular because of its easy access to almost every area of the park.
If you are RV camping, make sure you adhere to the size limitations listed in the reservation system. Most sites don't have wiggle room to handle bigger rigs than listed. Tent campers are able to find tent-only sections.
Things to do near Canyon Campground:
Several hiking trails from the campground give you access to the Grand Canyon of Yellowstone.
The nearby Visitor's Education Center is full of interesting displays.
It's only one-quarter mile to the Canyon Village, where you'll discover lodges, a full-service restaurant, cafeteria, snack shop/deli, gift shop, general store with groceries, gas station and post office
Campgrounds in Southern Yellowstone
Fishing Bridge RV Campground
✔️ Best RV Campground in Yellowstone if you want all the amenities
Situated by the mouth of Yellowstone Lake this is the perfect place to relax and enjoy an extended stay in Yellowstone. Fishing Bridge RV Park is a very traditional RV Park, designed to meet the desires of the regular RV traveler. Here you'll find the amenities that you are used to when on the road, like hot showers, laundry facilities, sewer and electric hookups, etc.
Part of the RV park, including the shower and dump station facilities were remodeled in 2020. This is not the place for tent campers. In fact, tents and soft-sided pop-up campers are not allowed due to high grizzly activity.
Things to do near Fishing Bridge RV Campground:
Check out the small bookstore, exhibits and information are available in the historic Fishing Bridge Visitor Center and Museum.
You are also just a few miles away from Lake Village where the Lake Yellowstone Hotel and Lake Lodge have a full-service restaurant and cafeteria.
You'll find several nice

day hikes starting in the Yellowstone Lake area

. Check out the great nature hike to Storm Point which trailheads a few miles past the campground. You'll get an amazing view of Yellowstone Lake.
Bridge Bay Campground
✔️ Best campground for easy access to Yellowstone Lake
Located near Yellowstone Lake, Bridge Bay Campground is a favorite among boaters and fishermen. Two miles North you will find Lake Village home of Lake Yellowstone Hotel and Lake Lodge. In this area, there are restaurants, gift shops, tours, and a general store with groceries.
We really enjoyed staying in Bridge Bay Campground. The back loops have plenty of shade and space. The front Loops A-D are open meadow and personally, I felt way too open for tent campers. However, the whole campground was filled with people having fun and enjoying the camping life.
Things to do Near Bridge Bay Campground:
Yellowstone Lake is a short hike away. One night we walked over to the shoreline to enjoy the full moon over the lake. Beautiful!
Bridge Bay Marina is adjacent to the campground, where you can launch your boat or rent a boat. A tour boat also leaves from the Marina where you can discover the history of Yellowstone.
You are near Lake Village where the Lake Yellowstone Hotel and Lake Lodge have a full-service restaurant and cafeteria.
Grant Village Campground
✔️ Best Campground in Yellowstone National Park if you want a central location between Yellowstone and the Grand Tetons NP
Grant Village Campground is just that, a village where you can find almost anything a camper would desire. The campsites are lightly shaded creating a comfortable camping experience. Nearby you will find stores, a restaurant and a gas station.
This is a great location to enjoy Yellowstone Lake, complete with a boat ramp.
Things to do near Grant Village Campground:
Visit the West Thumb of Yellowstone Lake formed by a collapsed volcano as large as Oregon's Crater Lake. You'll find interesting hydrothermal features along the shoreline.
Back Country Hiking is ideal in the Southwest corner of the park known as the Bechler area.
Stop by the Grant Visitor Center for a variety of interpretive displays.
This is also the closest campground to all the Old Faithful sites where you will find a lot of great family activities.
Lewis Lake Campground
✔️ Best Yellowstone Campground for backcountry access via canoe or kayak
Just a short walk from Lewis Lake, this Campground is beautiful. It's only 8 miles from the South Entrance and the Grand Tetons. The campground sits on a wooded hill that provides pleasant shade during the day.
The campsites won't fit larger campers. There is a walk-in tent-only area. Because of the extreme Southern point, it's a great spot for a one-night stay if you are between visits to the Tetons and Yellowstone. But it would be a difficult spot if you were only exploring Yellowstone.
Things to do near Lewis Lake Campground:
Enjoy Lewis lake, a popular place to fish. Or if you have a canoe/kayak you can launch from here to get to backcountry Shoshone lake.
You are 8 miles from Grant Village and Yellowstone Lake.
Are There Group Campgrounds in Yellowstone?
Madison, Grant and Bridge Bay all have group camping for organized groups. You need advance reservations for these sites which can be made by calling Yellowstone National Park Lodging directly at 307-344-7311. In Yellowstone group campgrounds are generally not available for private groups, such as a family gatherings.
---
Hey, have a young budding camper in your family? Here are over 40 Gift Ideas for Camping Kids that will be perfect for your adventure.
---
Wilderness Camping
With over 300 backcountry campsites in Yellowstone, hikers flock in for this amazing experience. Most campsites are assigned by showing up in person to one of the backcountry offices. Because access can vary with the season, for example melting snow could cause a creek to become impassable, you should check in at the station closest to where you want to hike to ensure you have accurate information.
It is possible to reserve some backcountry campsites in advance. However, the process is pretty old school so make sure you read up on exactly how to submit your request on the Yellowstone Backcountry web page.
As you can see, the best campground in Yellowstone National Park is a bit different for everyone. But I'm highly confident that you will find your perfect campground. Yellowstone is a great adventure. Enjoy!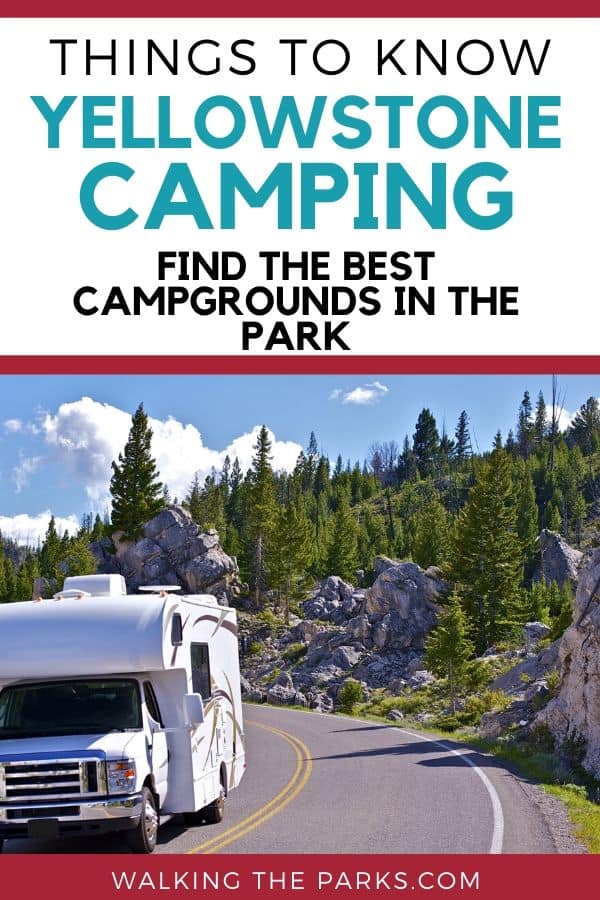 Don't forget to save this to your vacation Pinterest board for easy access when you need it!
This post was originally published in March of 2020 and has been recently updated to reflect the most current information.