When creating your list of things to do in Acadia National Park I urge you to embrace those that are truly unique to this amazing park. This list is exactly what we'd tell our best friends to check out when visiting Acadia for the first time. These are experiences that you can't have anywhere else. We want you to have a vacation to remember!
I've included links to useful places and things that will help you plan your visit. Some of these links are affiliates which means if you make a purchase I may receive a small commission.
#1 See the Sunrise Over Cadillac Mountain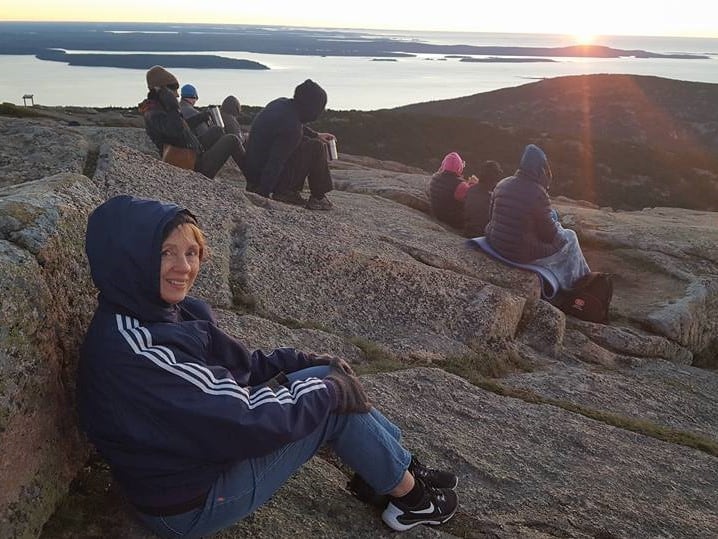 Do you like being first? How about an opportunity to view the sunrise before any other person in the whole United States? Cadillac Mountain is the place to be! As the tallest mountain (1,530 ft) on the Eastern coast, the sun touches this mountain top first. You will not be alone. On a clear summer morning at least 100 other people will be there to share this gorgeous sunrise.
Time for a confession – Sunrise is way too early for me when I'm on vacation! That picture is from our friend Eric (one of "those people" who always gets up long before the sun) with his beautiful wife Pat in the front. We didn't visit Cadillac Mountain until mid afternoon. I think the view is just as stunning at a "normal" time of day.
Don't forget to take a jacket, the wind is strong on the peak any time of day. The peak of Cadillac Mountain is easily accessible by a winding road. And there are several hiking trails that converge upon this unique spot.
#2 Ride a Bicycle on the Carriage Roads
We love National Park Scenic Drives and believe that absolutely none of them will beat the experience you will have cruising the Carriage Roads in Acadia! You'll find 45 beautiful rustic miles that are completely car free! Pedal through wooded terrain, over stone bridges and along the crashing ocean. Of all the things to do in Acadia National Park, the Carriage Roads are truly iconic.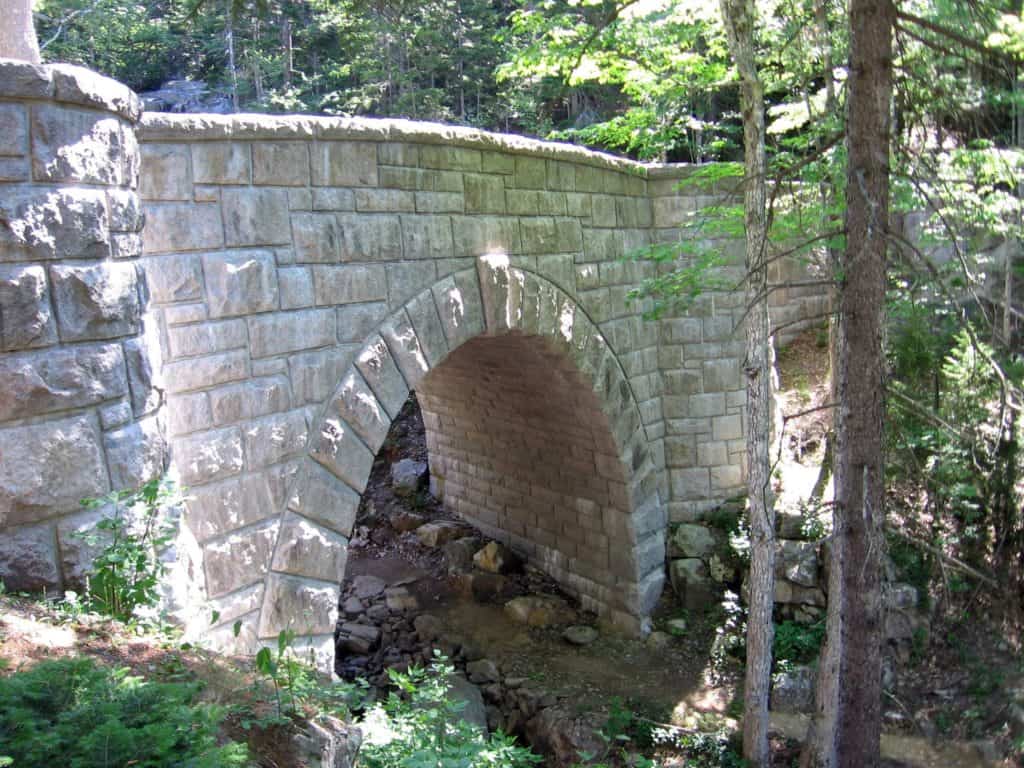 Built between 1913 and 1940 by John D. Rockefeller, Jr. because of his desire to have a place to ride horses without automobiles. His natural eye for landscaping resulted in a route that embraced the beauty of Acadia National Park.
If you don't want to bring your own bike, it's easy to rent one in Bar Harbor. From there either pedal the 2 miles to Acadia or take the free Island Explorer Bicycle Shuttle into the park.
Bicycling not your thing? Then how about a horse drawn carriage ride? Discover the Carriage Roads in the way they were originally intended.
#3 Get a Little Wet at Thunder Hole
Thunder Hole is the craziest thing! It's a little like the Old Faithful of Acadia. Definitely something every visitor must take time to see. When waves are full force, water can shoot up 40 feet in the air!
So what is it? Erosion has carved a small inlet into the rock. At the end of the inlet a natural cave has formed. When waves rush into the inlet the water swirls around the cave and is forced up into the air. The harder the waves are pounding the higher the spout.
To make it even more interesting when the water is forced upward it let's loose a loud clap of thunder. Hence the name.
A walkway has been built along the inlet so visitors can get right up close to this intriguing site. But fair warning, if you are standing on the walkway when it erupts you will probably get wet and maybe even drenched.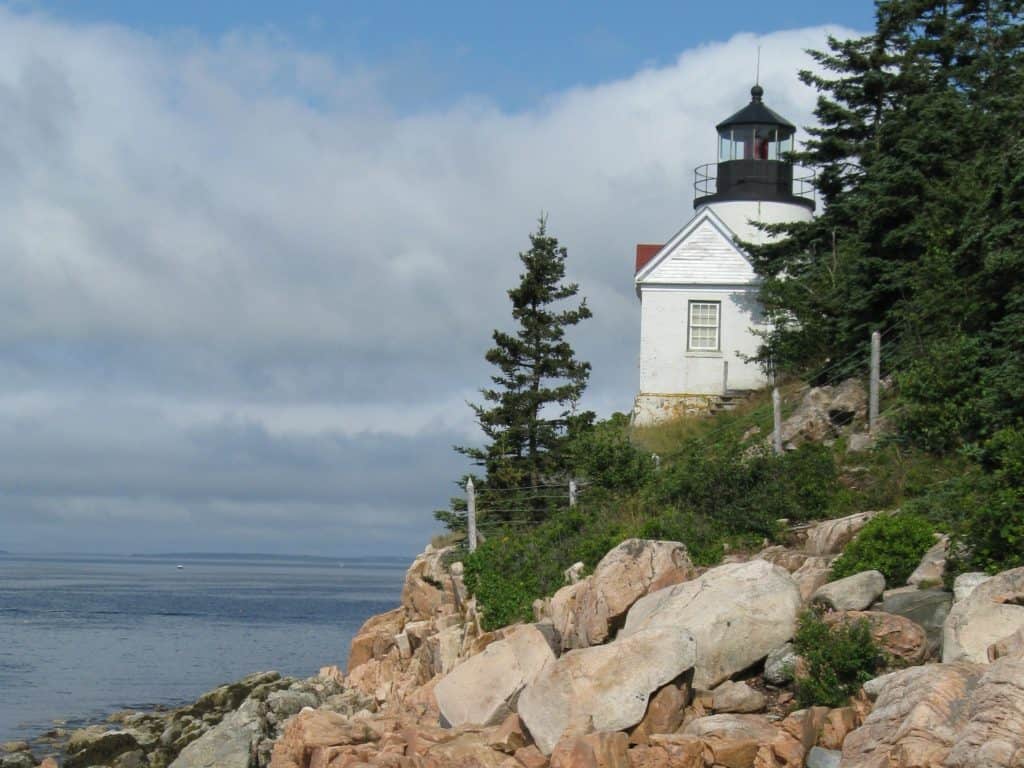 #4 Take a Photo of Bass Harbor Head Lighthouse
Built in 1858, Bass Harbor Lighthouse is still fully functional. It sits atop rugged granite terrain making for a great photo opportunity. Although the lighthouse itself is not open for visitors, the grounds are open to the public and make for a fun afternoon stop.
You can reach the lighthouse easily by car. Or if you prefer taking the Island Explorer, it will drop you off about ½ mile down the road.
#5 Visit Sand Beach
Notice I didn't say "swim"! Although you will find a lot of people frolicking in the water, the high water temperature of 50ish degrees is a little cold for me. We were quite happy to just wade into the waves a little so we could check it off our things to do in Acadia National Park list.
Even if you don't want to get wet, this small sandy beach is a beautiful place to relax and enjoy the ocean!
The very popular Sand Beach can be found along the Park Loop Road, right inside the park gates. It's tucked in between granite mountains and rocky shores. The view is amazing!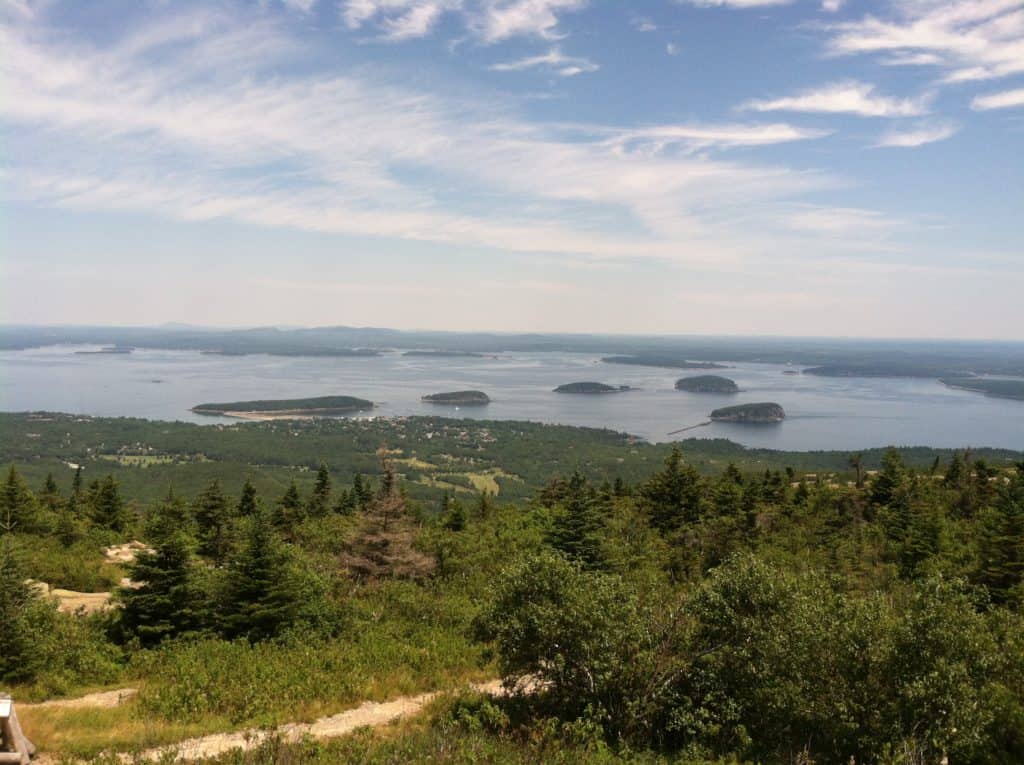 #6 Take a Hike Along the Ocean
What makes Acadia really special are the Coastal Trails with rugged granite trails and incredible ocean views. These trails bring you close to the raw nature for which Acadia National Park is famous. Often the ocean is beating against the cliffs right next to you!
If you want to get away from the sunrise crowds on Cadillac Mountain try an early hike on Ocean Path or Great Head Trail. Ship Harbor Trail and Wonderland Trail are well known for the amazing bird watching. And if you just want to experience viewing the power of the ocean any of the Coastal Trails will be well worth your time.
There are dozens of other hikes throughout the park. The park service has a really helpful Acadia hiking page so you can pick the hike that best matches your plans.
Follow Along with GuideAlong Audio Tour
There's a lot more to see in Acadia! Consider downloading the audio tour from GuideAlong before you go. We love that it narrates along the way, pointing out interesting places and sharing stories of the history and culture of the park. Check out our detailed review of GuideAlong for more information.
Where to Stay in Acadia National Park
Hotels, Cabins and Unique Vacation Homes
The one thing that we loved as we drove through nearby Bar Harbor was the beautiful retro motels along the ocean. Across the country, this type of motel is disappearing, but here they are embraced and well kept.
There are also many gorgeous bed and breakfasts in historic buildings overlooking the bay. There are so many lodging choices within a few miles of Acadia National Park. To search for the best lodging in Bar Harbor, click here.
Camping
There are 3 beautiful campgrounds in Acadia National Park. Unfortunately, it's almost guaranteed that you won't get a campsite without a reservation. The demand is that high. To make a campsite reservation, click here.
Here's a list of local private campgrounds that will be really helpful if you can't get into Acadia. There are so many beautiful options.
There are so many amazing things to do in Acadia National Park
It was really hard to narrow the list down to just 6 things we thought would make the perfect list for a first-time visitor. I'm feeling like we nailed it here. I hope you enjoy some of these and have the Acadia vacation of your dreams!
If you've visited this beautiful park before, please join the conversation in the comments and share your advice for first-time visitors! And don't forget to save this to your vacation Pinterest board.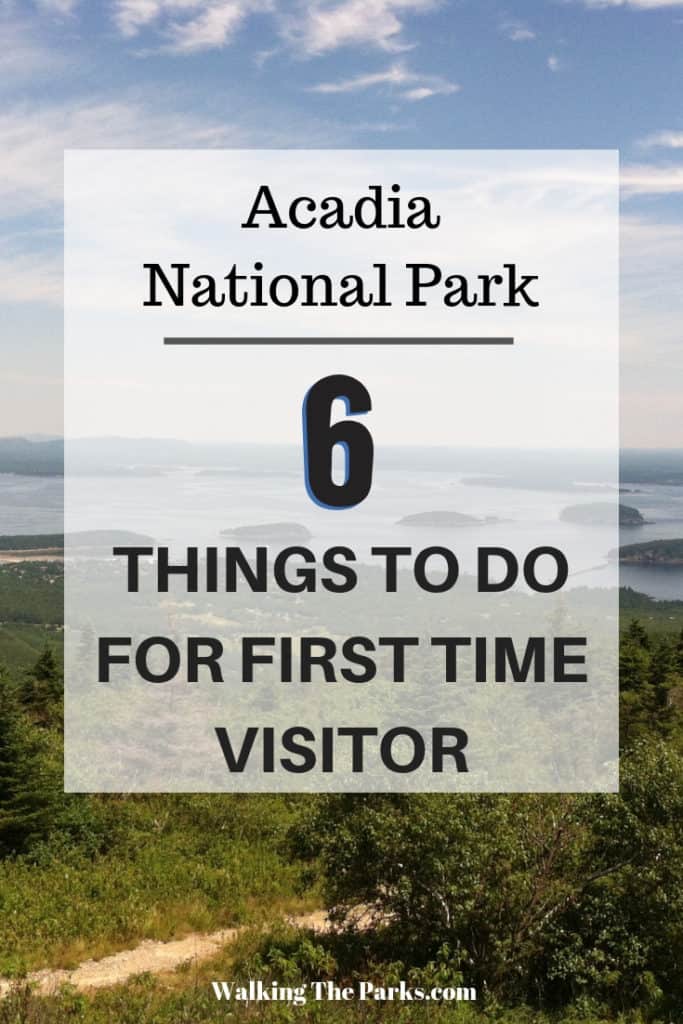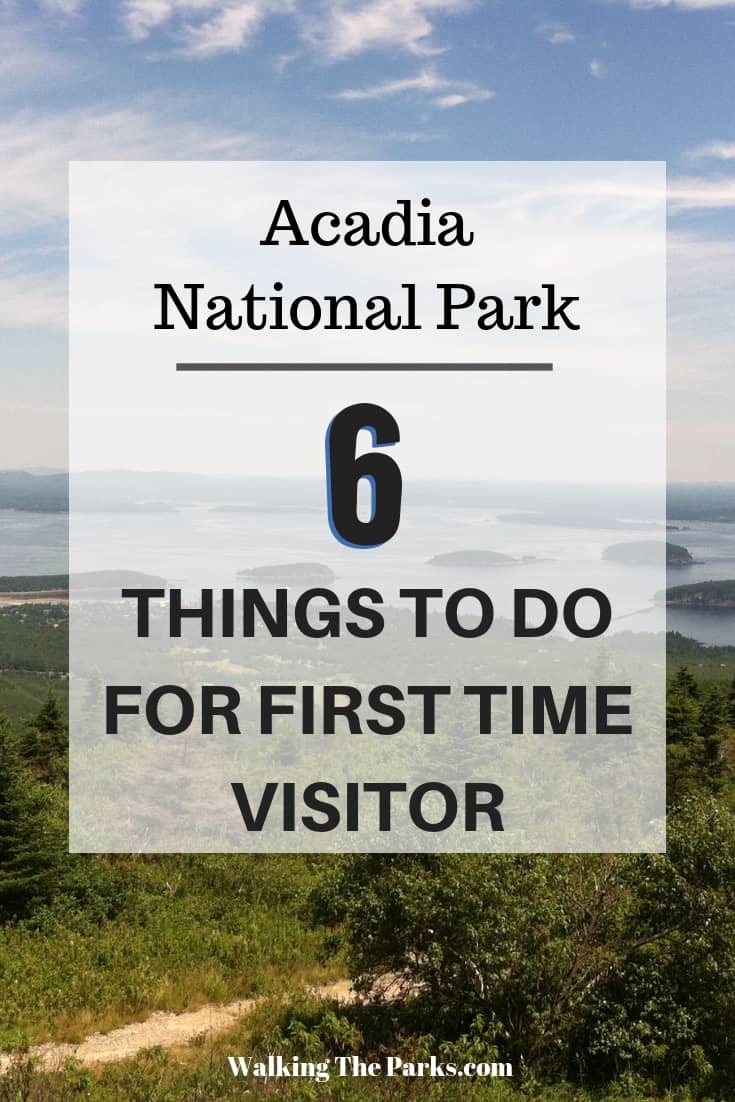 ---
The Authors: Hey, we are Ladona and Brad, avid campers and hikers. We are crazy about getting outdoors at every possible moment and have decades of experience exploring nature. Our current goal is to visit all 63 US National Parks and just completed #42. WooHoo! Our mission is to help you plan your own adventures and create memories beyond your imagination!