Capitol Reef National Park Day Hikes lead to some of the most interesting places. Imagine the joy you will feel in seeing detailed petroglyphs, unique canyons, an abundance of wildlife and more stars than you ever imagined all in one day!
During our Utah 5 Parks in 5 Days Road Trip, we only had 1/2 day to spend in Capitol Reef National Park. It's tough to squeeze in an immense park in such a short window. If your time is also short, here are five day hikes that you can easily include in a single day itinerary.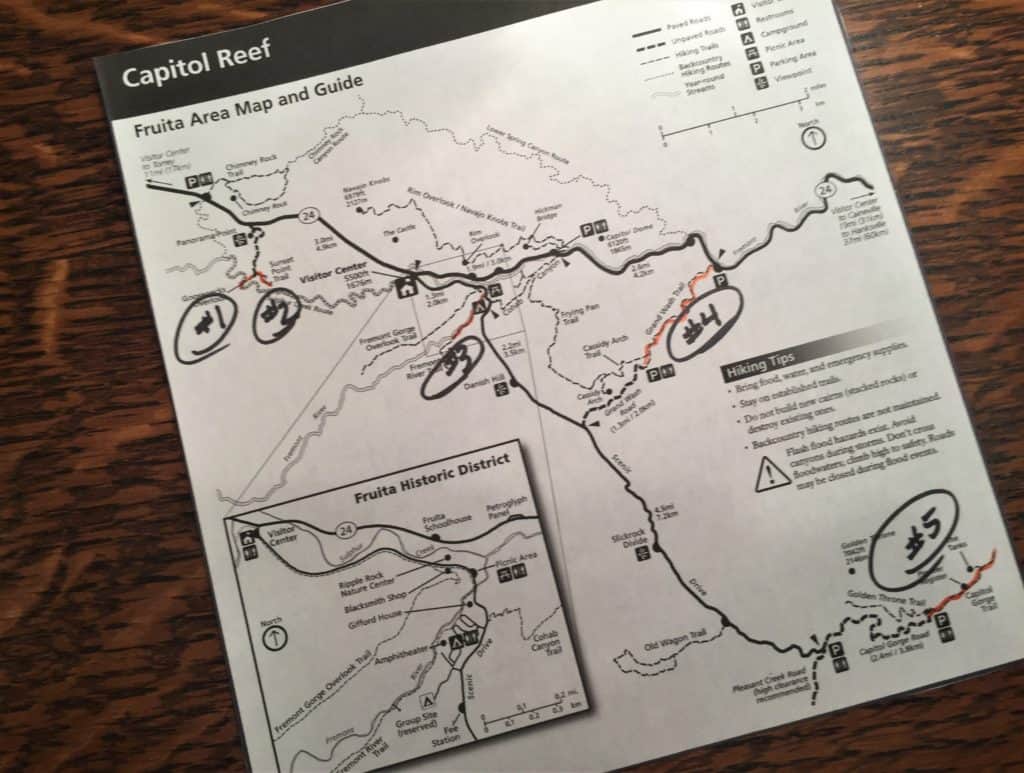 To help you decide which of these Capitol Reef National Park day hikes to include in your personal itinerary I've added links to some great resources where others have shared their personal experiences. These are all great hikes. Your only problem will be to whittle the list down to the time you have
Getting Started
The drive along Route 24 into Capitol Reef National Park from the West is magnificent. The view from your car is truly astounding! And along this road you can find two short day hikes that lead to unbelievable overlooks.
Just East of Chimney Rock (which you couldn't possibly miss) there is a 1 mile long dirt road to the South. The road is clearly marked "Goosenecks Trail". At the end of this road you'll find the trailhead to two of very simple, but very worthwhile day hikes in Capitol Reef.
Goosenecks
Goosenecks Overlook is a very short walk from the end of road. Here you overlook Sulpher Creek 800 feet below you.  You can see exactly why they call the curves in the creek "goosenecks". The unique erosion pattern results in the creek bending back on itself just like the curve of a goose' neck.
Andrew at Live and Let Hike does a great job explaining this phenomenon in a way "non-scientists" can understand.
Sunset Point
The perfect place to end your day in Capitol Reef National Park is the short (.8 mile RT) hike to Sunset Point. Michelle at The Wandering Queen shares the story of their evening watching an amazing sunset from this overlook.
Check out this time lapse taken by the NPS of sunset at Sunset Point
Capitol Reef is an International Dark Sky Park. So not only do you have an opportunity to observe an incredible sunset, you can settle in and see more stars than you could ever imagine!
Freemont River Trail (Partial)
After a stop at the Gifford House in the Fuita area for fresh baked goods check out the Freemont River Trail. (Not to ever miss an opportunity for fresh bread, we grabbed some sour dough bread for our lunch while here!) You can start this hike right behind the Gifford House or from the official trail head next to the Fruita Campground loop B.
---
Looking for a great Day Pack? Click here to check out our guide to the Best Day Packs for Women
---
The Freemont River was the lifeline that made settlement in Capitol Reef's historical community of Fruita possible. The river created a lush micro-climate in the harsh desert that made settling and thriving here possible. The Freemont River Trail starts with a well maintained easy trail following the river where you can enjoy the shade of the old cottonwood trees. Anne at Trail and Hitch, found it the perfect place to relax and observe the mule deer that live here.
If you are feeling just a bit adventurous, the second section of the trail winds up about 500 feet to an amazing overlook. Because of the elevation change, this section is rated as a moderately strenuous hike.
Now head on down the Scenic Drive for a two Capitol Reef Day Hikes you definitely won't want to miss.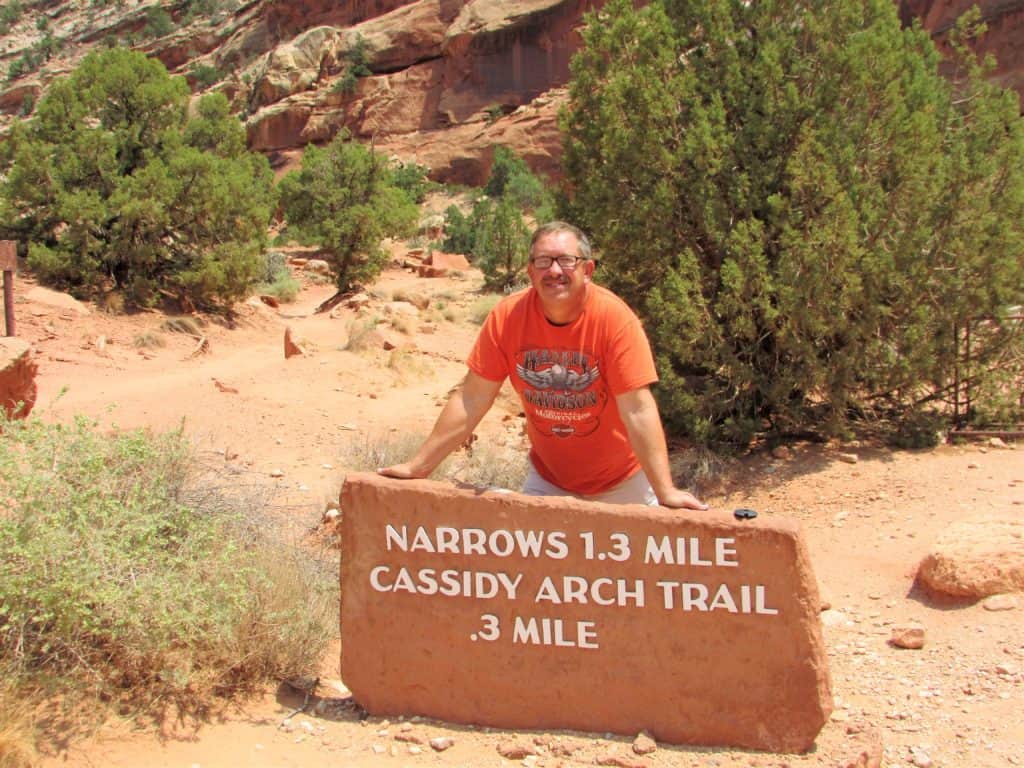 Grand Wash Trail
Cruising about 2 miles past Fruita on the Capitol Reef Scenic Drive you'll find a turn off to Grand Wash Road. The warning signs are intimidating with alerts about the rough road condition and I was very hesitant with our rental car. But of course Brad, the risk taker, powered on down the road.
I'm not saying it was an easy drive. It is a heavily rutted dirt road. However we saw every type of vehicle possible giving it a go. My understanding is that this road is a real mess after a rainstorm. A "wash" is basically a dry bed that becomes a tumultuous creek when water rushes off the rock in higher elevations.
So Worth It! This is your chance to get up close to the Waterpocket Fold in Capitol Reef National Park.
What is the Waterpocket Fold? It's what makes this park unique. It's a 100 mile long warp in the earth's crust formed over 50 million years ago as the earth shifted. Along the fold, the West side rose over 700 feet higher than the East side. Throw in millions of years of erosion and something beautiful has been created.
We headed down Grand Wash Trail for a little bit, but the mid-day heat of August limited us to about ½ mile of this 2 mile hike. Bram at Travel.Experience.Live describes it: "If there's one place in Capitol Reef that'll make you feel like a dwarf, this is it." The canyon is immense!
Although a longer hike, about 4 miles round trip, it is one of the easier of Capitol Reef National Park Day Hikes. That's because there is little elevation gain. Just make sure you take plenty of water. When the sun is high it can be pretty toasty on this trail!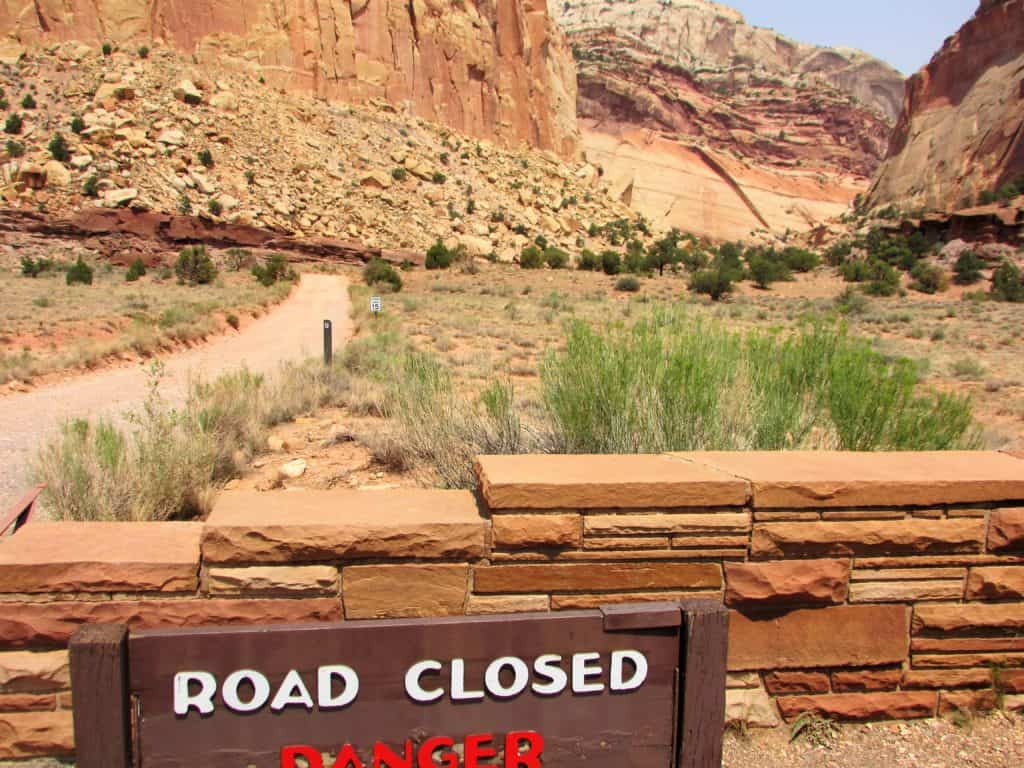 Capitol Gorge
Talking about rough roads, the Capitol Gorge Road was closed during our visit due to recent heavy rain damage. However if the road is closed, you can park at the road entrance and by adding 2.4 miles to your hike, hike into the Capitol Gorge Trail.
Assuming the road is open, this trail is only a mile long and it takes you to some very interesting sites. David and Jamie at PhotoJeepers hiked this trail and captured some amazing pictures of the petroglyphs and human carvings.
Also of interest are the "tanks" you'll find here. Tank is basically a giant pothole that erosion has carved over time in the sandstone. After a rain they look like large water storage tanks.
Things to Know about Capitol Reef National Park Day Hikes
Even though the temperatures are cooler by 10-15 degrees compared to it's Southern Utah Sisters Zion and Arches, it is still incredibly hot mid summer. Other than the Fruita area, there is no shade and the sandstone really holds the heat. Picture running barefoot across a sandy beach on a sunny day. Hot, Hot, Hot! So if a summer visit is in your plan, think about hiking early morning or late afternoon.
Hiking in Utah was the first time I ever experienced overheating. It's scary. Wrapping a cool shirt around my neck pulled me right out of it. So now I carry a cooling towel in my pack on hot days.
Along with that heat comes the need for water. Make sure you carry plenty with you even for a very short hike.
Be alert to Flash Flood conditions. A dry bed can turn into a scary life threatening place in minutes. Check out this video where Jamal Green at Across Utah captured just how fast the situation can turn.
As expected, sandstone creates a lot of loose rocks. So be really cautious when walking near steep cliffs to avoid falls. Especially keep an eye on kids.
Many of the longer or more strenuous Capitol Reef Day Hikes can be enjoyed in smaller chunks to keep them manageable for a short day in the park. Explore this amazing park and you will soon be adding it to your favorite parks list.
Don't forget to save this to your Vacation Pinterest Board! And we'd love to hear from you in the comments below about your favorite Capitol Reef National Park Day Hikes.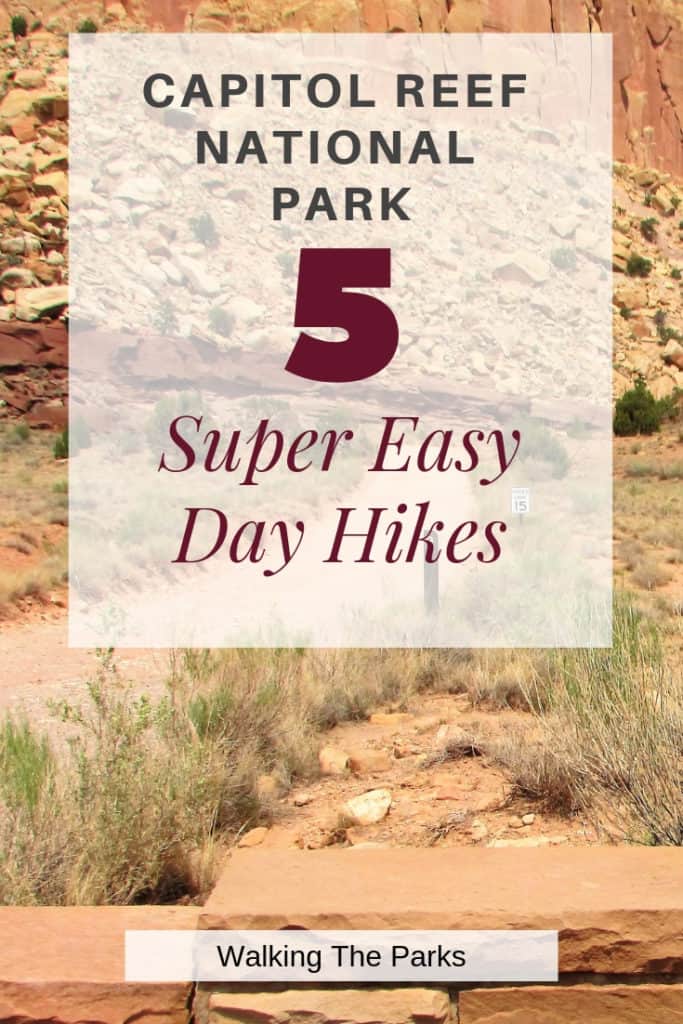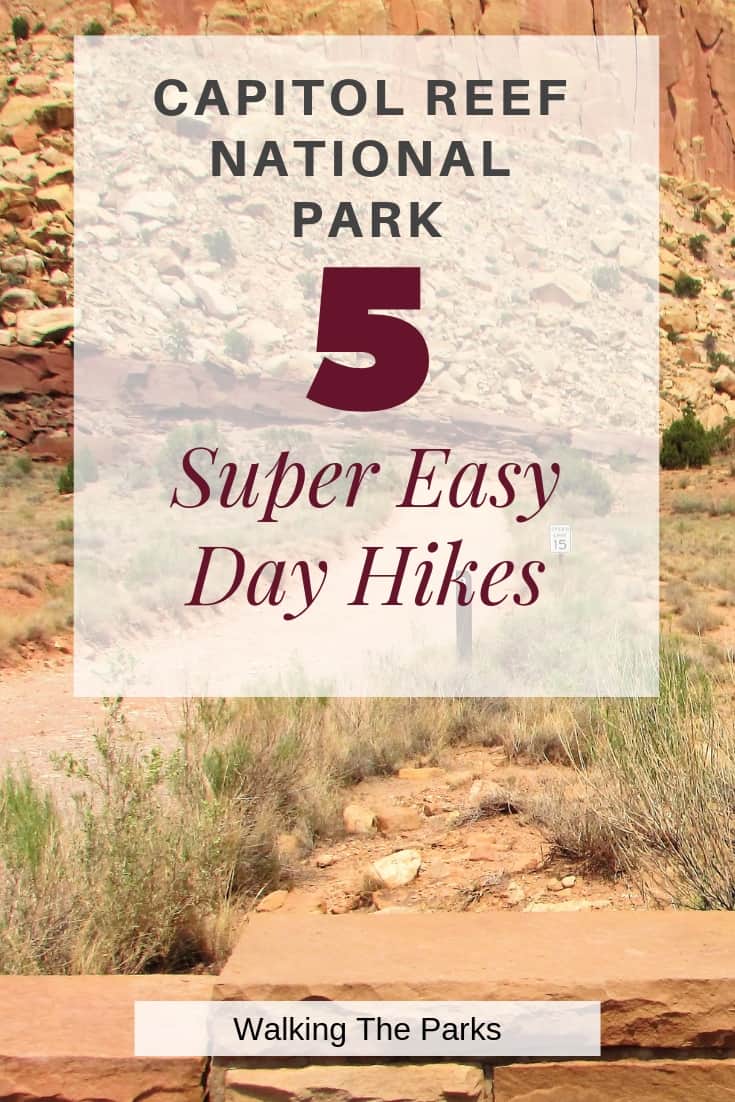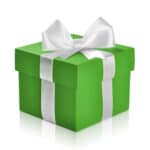 Looking for gift ideas for your favorite Hiker? Check out our Unique Guides!