Our grandkids love flashlights. Leave one lying around and it's sure to show up in a child's hands. They love using flashlights to go on grand adventures, both real and imagined. So with 7 grandkids, ranging from 1 to 13 years old, who are always ready to go hiking and camping with us we go through a lot of kids flashlights. We are always on the search for the best kids flashlight. And our grandkids love testing (i.e. playing with) our top choices!
As you know, kids have an amazing knack for losing and breaking stuff. So when it comes to hiking and camping, we are looking for the trifecta! That means we want cheaper children's flashlights that are also durable and of good quality. You also want a lot of color choices – right? Then everyone can have their own flashlight with no fighting. (Yes, you just heard a big sigh!)
This post contains affiliate links to make it easier for you to find the products I have mentioned. You don't pay any extra, and in some cases, I could earn a small commission.
Here are some things we've learned in the process and several excellent choices for children's flashlights.
Choosing your Kids Flashlight
Choosing the best flashlight for kids is not an easy process. If you're looking for cool flashlights for kids, there are several features to consider; weight, durability, waterproof, power sources, burn time, cost price, lumens, beam distance, red lights and more. Right after this list of our top choices for the best flashlights for kids, you'll find the details on several important features to look for when shopping.
What's the Difference Between the Best Flashlight for Kids and an Adult's Flashlight?
There are some very important differences between flashlights that are safe for kids and an adult's flashlight for hiking and camping.
Brightness of the light is the most important difference. Adults tend to want flashlights that are super bright and will shine "forever" into the woods. Well those big guy flashlights would temporarily blind someone if shined into eyes. And we all know kids love to shine their flashlights everywhere. So for safety, we look for flashlights with low lumens, the measurement of light brightness, for the best kids flashlights.
Durability is another important factor since kids can be hard on their equipment. But let's be honest, adults want durable too.
Cost is usually a consideration when purchasing a flashlight for children, as kids are well known for loosing things.
Coolness Factor might also be something to thing about when picking out a flashlight for your child. Especially if it is a gift.
We've take all of these differences into consideration as we selected the best flashlights for kids. Here's our list!
Best Kids Flashlight for Camping and Hiking
If you're looking for the most durable kids flashlight, then the Dorcy 55 lumens Floating Waterproof Flashlight is a great choice. This flashlight is our top selection for the best kids flashlight. It has a capacity of 55 lumens, a beam distance of 31 meters, and a long run time of 8 hrs 45 mins. The rugged design is impact resistant, while the shock absorbent rubber allows for a good slip-free grip making it one of the best flashlights for kids.
There's a built-in tail-cap carabiner clip-in this kid's camping flashlight so that you can attach this practical flashlight to their belt or backpack. And if dropped into water, it floats! Pick from four colors of kids flashlights: purple, green, pink and blue to surprise your child. What else do you need in the best flashlight for kids?
---
The Nite Ize Mini 3 in 1 Flashlight is our second choice of the best flashlight for kids of grade school age. It's super cool, but I think it has a few too many settings for a preschooler's flashlight. You know you are getting a high quality product with Nite Ize, a brand known for great flashlights.
We love that kids can easily convert the flashlight to a lantern by sliding the head of the flashlight up which is useful when camping. It has a low and a high light setting plus a red-light setting that is exactly what kids need for a night of stargazing.
---
---
This the lightest and best mini flashlight for children available. It weighs just 1.34 oz and is available at an incredibly low price for a 6 pack including AA batteries. The colorful EverBrite Flashlight has a lanyard to prevent drops and a durable body that is impact resistant up to a meter.
Your children can use the torch flashlight to tell ghost stories around the campfire, for reading in bed, evening walks on the beach, or for scavenger hunts in the dark. At just 12 cm in length, this kid's flashlight is pocket-friendly too! I personally carry one of these in my purse because of its super small size. And I once found a little boy hiding in the closet hugging this perfectly sized flashlight that he quietly borrowed for exploring. You can also get the EverBrite in an 18 pack that would be perfect for a campout party!
---
If you've ever found yourself frantically searching for your child's flashlight in the dark while they are crying, you'll understand how perfect the Lux Pro Glow in the Dark kids flashlights will be for your next adventure. Kids are known to randomly lay down their stuff and then panic when they can't find it, right? Here's the solution. Their favorite flashlight will glow in the dark after spending the day in sunlight, making it easy to find.
These sweet kids flashlights are available in a set or individually to make it easy to find your child's favorite color! The LED light is low lumens for your child's safety. And the superlight weight of 1/2 ounce makes it perfect for camping and hiking since it's easy to store. We love the fact that it's waterproof and drop resistant so it will last a long time for your kids.
---
---
---
Besides kids thinking this multi-color light is super cool, there are also practical reasons for switching between different light colors when kids are camping or hiking. All the lights are single mode, for example it's all red, or all green, not multicolor like the picture.
Blue Light is mild and doesn't effect night vision. It's often used to read maps when hiking.
Red Light also doesn't effect night vision and is used often at start gazing events.
Green Light is helpful when looking for wildlife at night as animals eyes are not sensitive to this color
And White Light is the brightest for your child's night-time adventures.
This great flashlight for kids is compact at about 6 inches long and has an easy to grip finish.
---
---
10.

Wakeman 3 in 1 Lamp

– The Best Kids Camping Flashlight for Potty Walks
This is a great lamp for camping with kids since it works as a traditional flashlight, like a lantern or a side panel light. You can set up the Wakeman 3 in 1 Camping Lamp on a table as a mini lantern or in your tent to provide light for reading and changing clothes or even as a small night light. We love that it is perfect for bathroom runs where it can serve as a flashlight on the walk there and as a lantern while doing your business.
It's compact at about 8 inches tall making it easy to pack with your camping gear. And the large side handle makes it easy for kids to carry.
---
This package of 12 mini flashlights are perfect for a kid's birthday party give away or holiday stocking stuffers. It's only 1 inch long and about the size of a quarter in diameter. The flashlight's keychain clip on makes it easy to hook on to your child's jacket of backpack when you're hiking. I love that the USB charging port is build into the flashlight, similar to a USB thumb-drive, so you won't have cords to loose.
Although the low powered light of 8 lumens won't light up the night, this flashlight is perfect for kids who are afraid of the dark or want their own light source when camping.
---
Doubling as an interactive toy for 1-3-year-olds, you will be thrilled to have this distraction along when your toddler is tired of digging in the dirt at your campsite. The VTech Spin and Learn Flashlight starts as a real child's flashlight, so your child can search and discover just like a grown-up. The other buttons let's younger kids see animals and hear sounds as he adventures forth.
---
Aren't these mini flashlights super cute? The Mini LED Flashlights come in a pack of 4 and include batteries. Seriously I don't think they are the most heavy-duty flashlights for kids, but they get high marks for cuteness. If you have kids who lose everything, these inexpensive kid's flashlights are just the ticket for their next camping or hiking trip.
You'll also love that the belly lights up to create a mini lantern that's perfect to give your tent a soft glow. At 100 lumens of brightness, this is a good hiking flashlight for kids that will light up the trail in front of them.
---
More Lights for Camping and Hiking Your Kids Will Love
15.

PETZL TIKKID

– Best Quality Headlamp For Busy Kids
---
If you like headlamps for your kids, check out our complete Guide to Kids Headlamps for more great ideas!
---
---
Features to Look For in the Best Kids Flashlights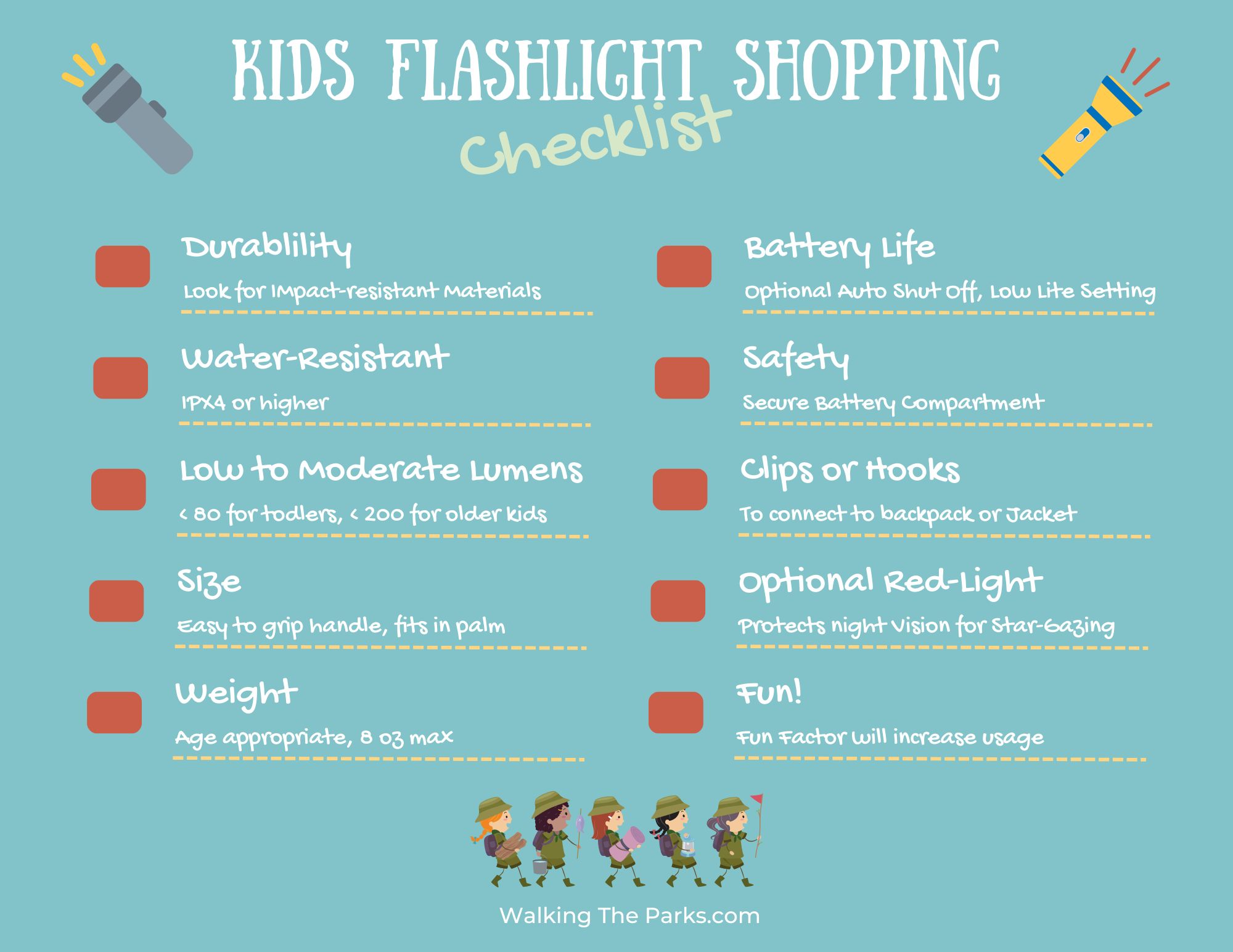 Here are a few things to consider before you select a flashlight for your child if you want it to last and for them to enjoy it. The Best kids flashlight might not have all these features, but will be the perfect combination for your child's adventure.
Durability
A flashlight for kids needs to be durable enough to withstand being dropped or bumped around. Look for a flashlight that is made from tough, impact-resistant materials.
Water Proof or Resistant
You never know when it will rain when hiking or camping with your kids. A flashlight, like the Dorcy Floating Flashlight, that will survive a wet day is a great benefit.
Brightness
A flashlight for children should be bright enough to light up the area around them, but not so bright that it will hurt their eyes. A low lumens flashlight will keep a child from temporarily blinding themselves or their friends by shining the flashlight into their eyes.
Size
A child's flashlight should be small enough to fit comfortably in their hands, but not so small that it will be easily lost. We've included several flashlights that are perfectly sized for toddlers. And you'll see in our list several that will carry a hiker all the way into adulthood.
Battery life
Look for features that help extend the battery life of your child's flashlight. An option like an auto shut off as in the VTech Spin and Learn will save your battery. And a low light setting like in the Nite Izi 3 in 1 Flashlight will extend the life of your child's flashlight.
Weight
Kid's flashlights should not be too heavy, as this can make it difficult for them to carry around.
Safety
A flashlight for kids should have safety features that protect them from accidents such as
soft, rubbery coating to prevent it from slipping out of their hands
secure battery compartment so batteries are not a swallowing risk, ideally one that requires a screwdriver to open
Clips or Hooks
Really great kids flashlights will have a clip or hook to hang it from their belt or backpack. That will help you keep from tracking it down all the time!
Red Light Option for Star Gazing
Did you know that it can take up to 30 minutes to recover your night vision after being exposed to a white flashlight? By using red light flashlights, like the 4 in 1 Kids Flashlight, your star gazing experience is much more intense.
While you are out, don't forget to take care of your furry children too! Check out this list of the Best Lighted Collars for your Dog. And check out our reviews of the Best Hiking Headlamps for adults too! We also have a complete guide to selecting the Best Hiking Flashlights with some really cool rechargeable torches that you'll love for yourself!
Hiking and camping with Children can be a lot of fun! Here are our best tips for a hike with kids to remember.
A Few Last Thoughts about the Best Flashlights for Kids
So that's our list of the best kid's flashlights that your kids and grandkids will love. With so many options, it can be hard to know which flashlight is best for your child. If you're looking for a gift idea that's sure to please any little adventurer in your life, look no further than our list of kid-friendly lights. We've got something great for every kind of outdoorsy child – from those who are always camping and hiking to kids who love playing with flashlights at home! So whether they want to light up the trail or keep their flashlight handy for nighttime reading, we've found them the perfect match.