With so many cave tours to choose from, how do you know which one is best for your family? We break it down in this article with our recommendations for the best Mammoth Cave tour for your family.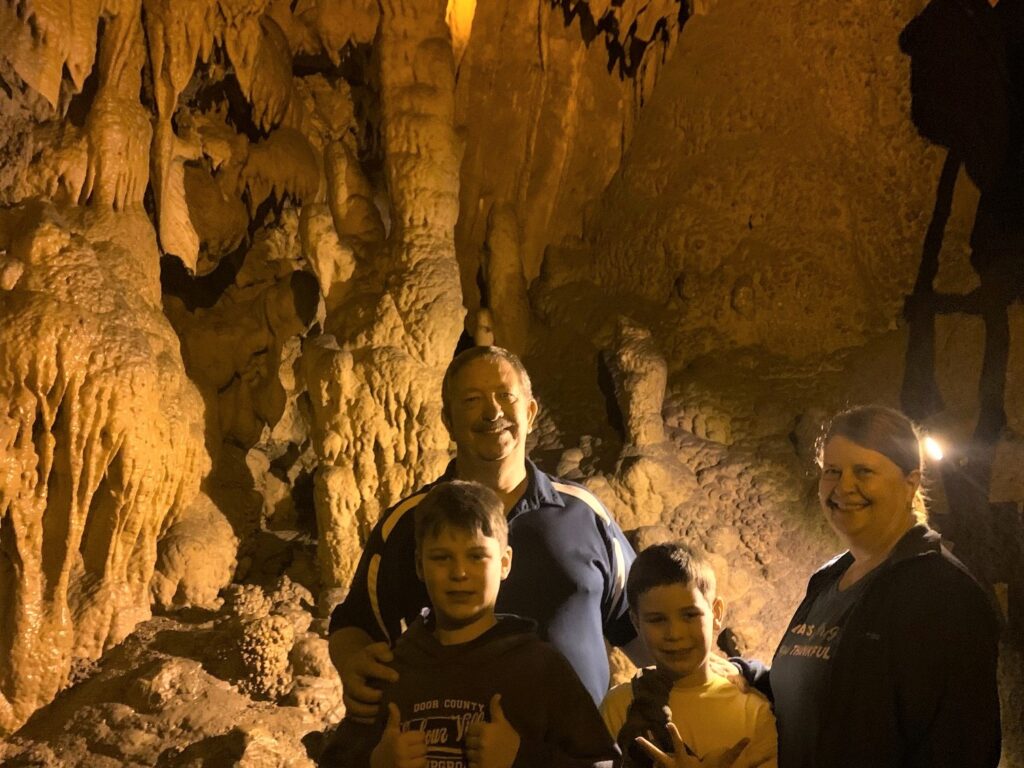 On the road home from Mammoth Cave National Park, our grandsons were on the phone trying to talk their mom (who stayed home) into a second trip to the caves. Yes, they had that much fun! So we wanted to share the best Mammoth Cave tour for families with you. 
But we almost messed up. There are over a dozen cave tours, and we discovered that not all are kid-friendly or even interesting to kids. Based only on the description on the NPS website, our tour selection could have resulted in a boring trip for the boys (age 10 and 12). Due to a combination of luck and extensive research, we ended up with amazing tours they loved. 
Here are our thoughts on the best and the worst tours for families in Mammoth Cave National Park.
Best Mammoth Cave Tours Based on Your Family
Let's be realistic; what works for a 2-year-old might not be the best cave tour for your teen. So we've broken the tours into categories based on age and mobility to help you choose the Mammoth Cave tours that are best for your family.
Best Overall Mammoth Cave Tour for Families: Domes and Dripstones
Our recommendation is the Domes and Dripstones Tour for a family tour. It's an interesting tour that will entertain family members of all ages. Our family is still talking about this one.
About the Domes and Dripstones Tour
There are just enough tight squeezes between the rocks that our grandsons felt like they were on a big cave adventure. And the youngest (10)  was the only one to go through some tunnels without ducking.
The Domes and Dripstones Tour also features a collection of stalactites and stalagmites that we all found interesting. The most famous is the dripstone Frozen Niagra, which is stunning. You won't find the extensive stalactites and stalagmites in Mammoth Caves that we saw in Carlsbad Caverns National Park.
The tour guides share a lot of history along this tour with stories that all ages will enjoy. These sections of Mammoth Cave have been a tourist destination for over 100 years. They also explain the science of the natural formation of the caves in a family-friendly way.
You will get a workout on the Domes and Dripstones Tour as you climb up and down 540 steps. The good news is that the 2-hour tour moves at a meandering pace so that you can take your time on the stairs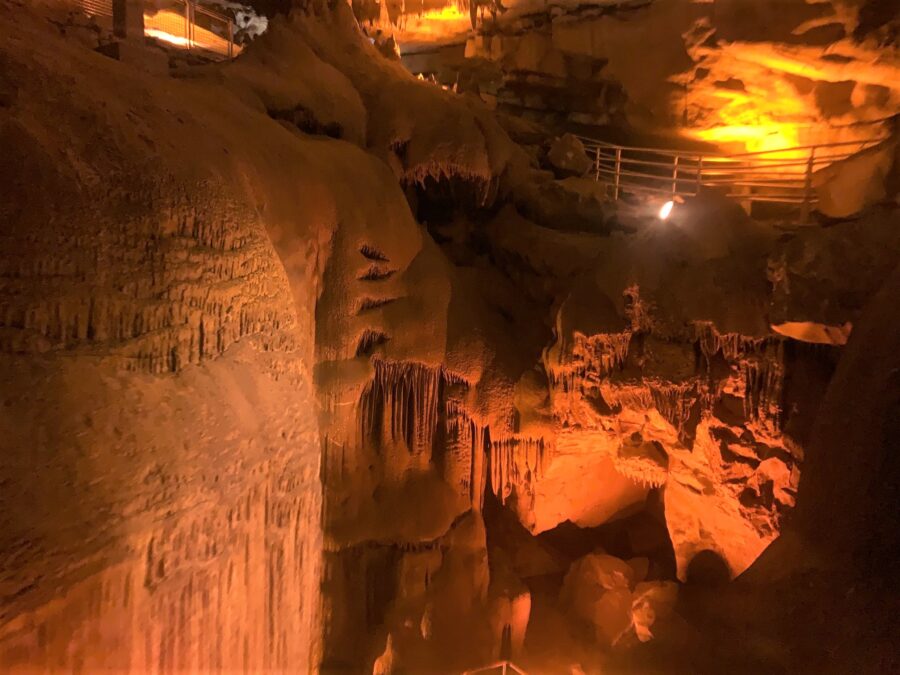 Domes and Dripstones might not be good for families with:
Independent toddlers who demand exploring on their own. (You know if this is your child.) The narrow passages, deep drops and hundreds of stairs require a tight rein on toddlers.
Anyone with health issues, those 540 stairs will give you a good workout. 
Someone with extreme claustrophobia might not enjoy it. The tight spaces are not extensive and usually open up to a larger area quickly, so most folks don't even think about it. But they do exist and should be considered if you have concerns. 
Best Challenging Tour for Your Family: Grand Avenue Tour
The Grand Avenue Tour might be the best tour for your family if your kids are pre-teen to teen and love an adventure. On this 4-hour tour, you cover everything in the Domes and Dripstones Tour plus a lot more!
According to the NPS description: You'll be "going through slot canyons, tubular passageways, tall canyons, and tunnels sparkled with gypsum"… and you'll cover "a wide variety of the history and geology of Mammoth Cave".
We did not take this extended tour because I was concerned the boys couldn't stay engaged for 4 hours. In hindsight, that was a good call. A 2-hour tour was the limit for the 10-year-old. When evaluating if your kids could handle this 4-hour tour, remember that there is no free exploring; you must stay with and follow the ranger guide. It's a bit like being in school for 4 hours without a recess, except maybe more interesting than learning how to conjugate verbs.
There is a minimum age of 6 for this tour because of its 4-hour length and the 1300 stairs you will climb. The park rangers have designated this a difficult hike because of all those stairs. However, the tour travels at a comfortable pace, so don't be frightened by those stairs unless you have a health issue.
Best Easy and Short Tour: Frozen Niagara Tour
The highlight of the Domes and Dripstones Tour is the finale at the Frozen Niagara section of the cave. It's a beautiful section discovered in 1923. The large draping flowstone appears as a frozen waterfall. This tour is the way to shortcut right to that fantastic site.
The Frozen Niagara Tour lasts a little over an hour, including the short bus ride to and from the entrance. You'll descend into the cave with only 12 stair steps and a walking distance of ¼ mile.
Although the caving experience is minimal on the Frozen Niagara Tour, it is an easy way to see one of the most famous sites in Mammoth Cave National Park if you have an active toddler or health restrictions.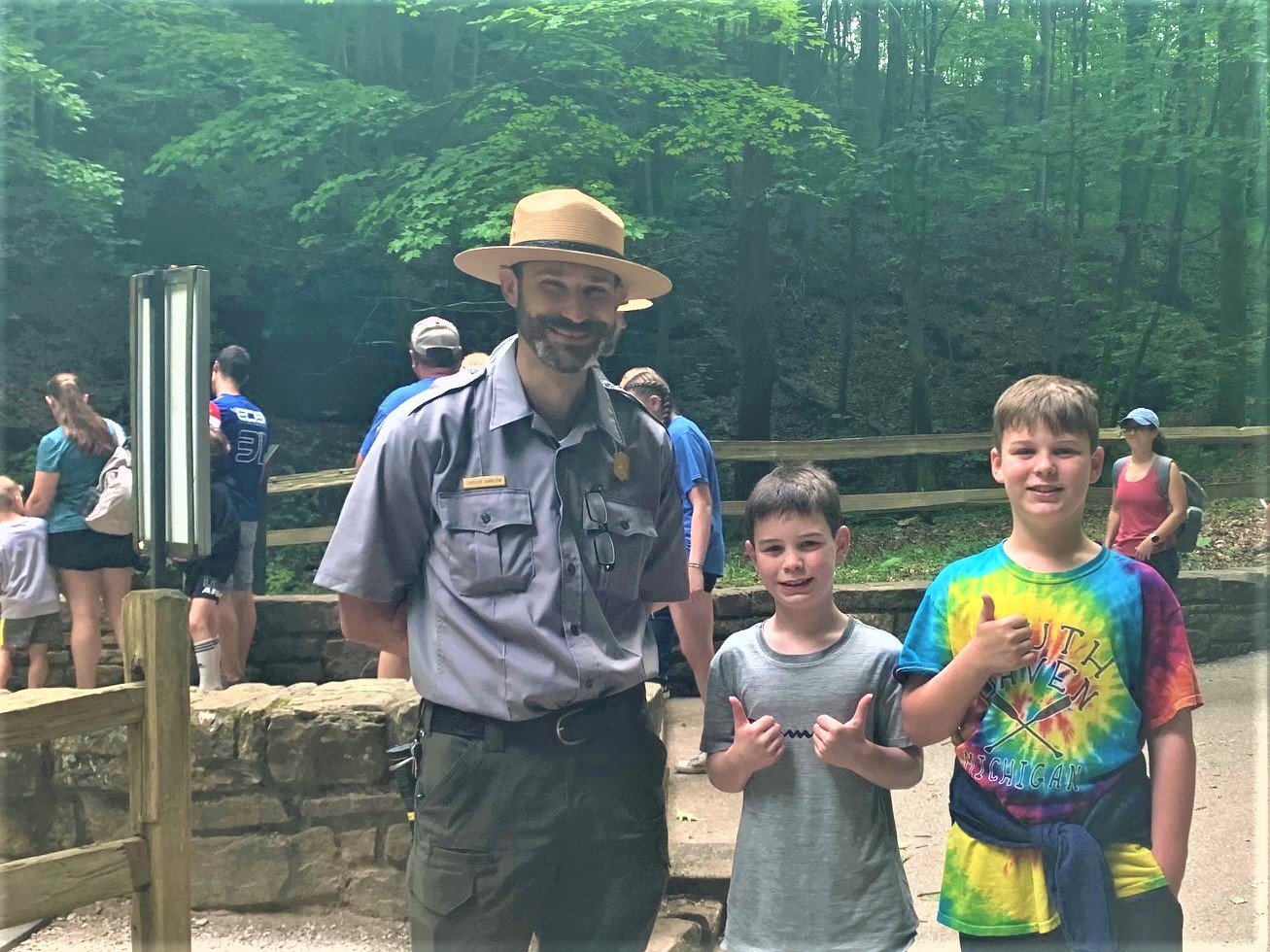 Ready for a Second Tour? Family Friendly Cave Tours that Round Out Your Visit
We'd encourage you to take a second tour with your kids while at Mammoth Cave to experience all the park offers. And the best second tour explores the original historical sections of the cave. You have several choices, listed from easiest to most challenging:
Easy: Discovery Self Guided Tour
Easy to Moderate: Gothic Avenue Tour
Moderate: Historic Tour
Moderate with extra features: Extended Historic Tour
All of these tours focus on the history of Mammoth Cave. The most impressive part of the tour is the massive open rooms that gave the caves their name. Did you think the caves were named after the animal? Nope… they were named because the early explored sections of the cave were "Mammothly" big.
The tours explore periods when the caves were mined for saltpeter, which was used in gunpowder. Much of the mining equipment was abandoned in the cave. The guides also have abundant stories to tell about early explorers and the first tourists.
The biggest difference between these 4 tours is primarily in how far they travel into the cave system. I recommend only planning to take one tour from this group, choosing the level best suited for your family.
Best History Tour of Mammoth Cave for Families: The Historic Tour
Want to walk through the tunnels that "humans have used for thousands of years"? Then the Historic Tour is for you as you tour many of the originally opened sections of Mammoth Cave. Your guide will regal you with past stories, talking about early explorers and visitors plus the mining operations.
The 2-hour tour travels about 2 miles, first through the large open rooms that made the cave famous. And then you'll explore deeper into the cave, including tighter spaces. Some might find the steeper inclines and the 540 steps a bit challenging on this tour. But just like our favorite Domes and Dripstones Tour above, it moves at a slow enough pace that visitors in good health should be able to keep up.
We wish we had been able to get tickets for this very popular tour instead of the Gothic Avenue Tour listed below. I think we all would have really enjoyed walking through the deeper caverns.
Best Cave Tour for History Buffs: Extended Historic Tour
For a little more historical information, grab a ticket for the extended Historic Tour, which is the same tour as above with a bonus side trip "to one of the sites of the famous 1840s Mammoth Cave experiment to treat consumption". 
If you have a few history buffs in your family, it's worth adding this extra 15 minutes to your tour. But our grandkids would have been happy to skip this section. Know your audience.
Best Quick Tour: Discovery Self-Guided Tour
The Self Guided Tour is only offered when the park is super busy. It's the option for many people who didn't realize you needed to order your tour tickets online and in advance. So on busy days, the park opens up the Self Guided Tour with same-day ticket sales only.
Although I think it's very thoughtful that the park has this overflow option for visitors, I also think the 30-minute Self-Guided Tour is a great option for people who can't easily participate in a two-hour tour. For that reason, I wish they offered it all the time.
The Self-Guided Tour focuses on the history of the cave. You'll find signage throughout the trail explaining the artifacts and geology of the cave. You can move at your own pace, but most people complete the tour in less than ½ hour. Rangers are available to answer questions as you travel along the ¾-mile trail. Although rated an easy trail, keep in mind there are 125 stair steps required, and the walk back to the visitor center is a fairly steep graded walkway.
Best Easy Guided Tour: Gothic Avenue Tour
We embarked on the Gothic Avenue Tour on our second morning at Mammoth Cave National Park. The size of the rooms is astounding. The large open rooms just keep going in this section of the cave. No wonder early visitors were impressed.
The guides shared many stories about the early visitors, explaining the historical graffiti and the early mining operations in great detail. Overall it was an interesting experience.
In hindsight, I would choose the Historic or Extended Historic Tour for our family's tour. The Gothic Avenue Tour moved too slow for two energetic boys, and they were ready to move on after the first hour. 
Gothic Avenue Tour is Good for:
Families with small children because the walkways are wide and there are no steep drops. They can easily walk holding hands with their parents. 
Family members who wanted to move at a slower pace. 
People with claustrophobia might be able to handle this tour since this cave section is very open. 
Best Mammoth Cave Tours for the Adventurous Family
These 4 tours are restricted to children at least 6 years old. The tours are a bit more challenging and your kids need to be able to listen to and follow instructions for their safety. 
These tours are smaller groups and have a very limited schedule, so make sure you order your tickets as soon as possible. When we ordered our tickets, about 2 weeks prior to our visit to Mammoth Cave, all these were sold out. The information I'm sharing is from the NPS website and Facebook Page since we didn't have an opportunity to try any of them.
All except the Great Onyx Lantern Tour cover a lot of the sections included in the historic tours so would be a great substitute for families with older children.
Great Onyx Lantern Tour
Great Onyx Cave is not believed to be connected to the Mammoth Cave system, it sits in an area of the park by itself. But because it is unique, tours are offered with only a short bus ride from the visitor's center. You'll tour the cave by lamplight, recreating the experience of early visitors.
According to the NPS website description : "Great Onyx Cave houses an abundance of beautiful geologic formations that sparkle in the lantern light of this tour. Visitors on this tour can see many stalactites, stalagmites, gypsum crystals, and helictites."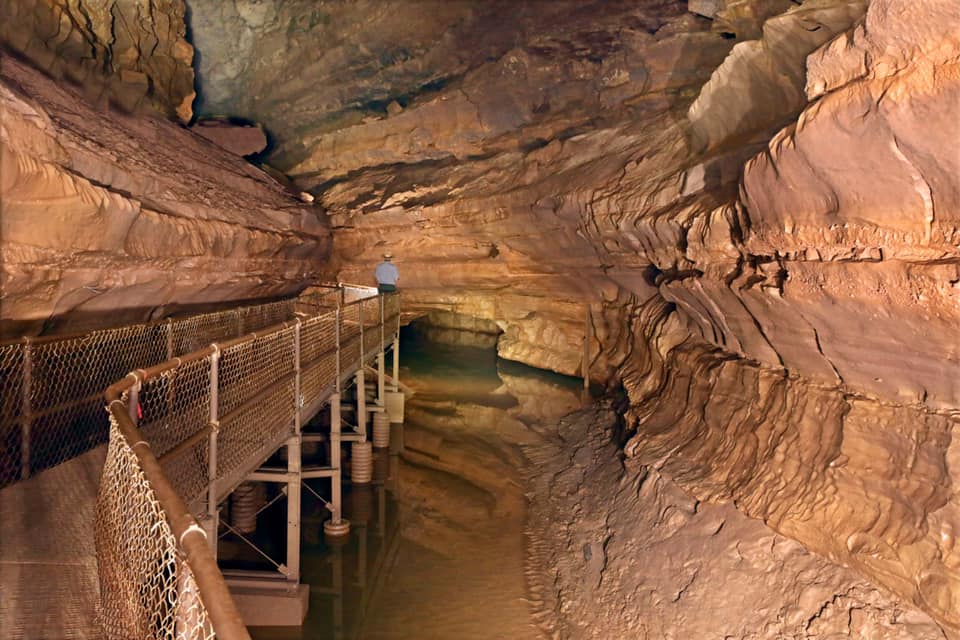 River Styx Tour
The River Styx Tour is the same as the Historic Tour with a really cool side trip down to the underground water level. The tour is 2 ½ hours long, covering 2.5 miles.
River Styx flows through and under the Mammoth Cave system, eventually emptying into the Green River. Early visitors to the cave were able to tour this section in a small boat. Because human interaction was affecting the little creatures that live in the river, you can now only walk along the river on a raised platform.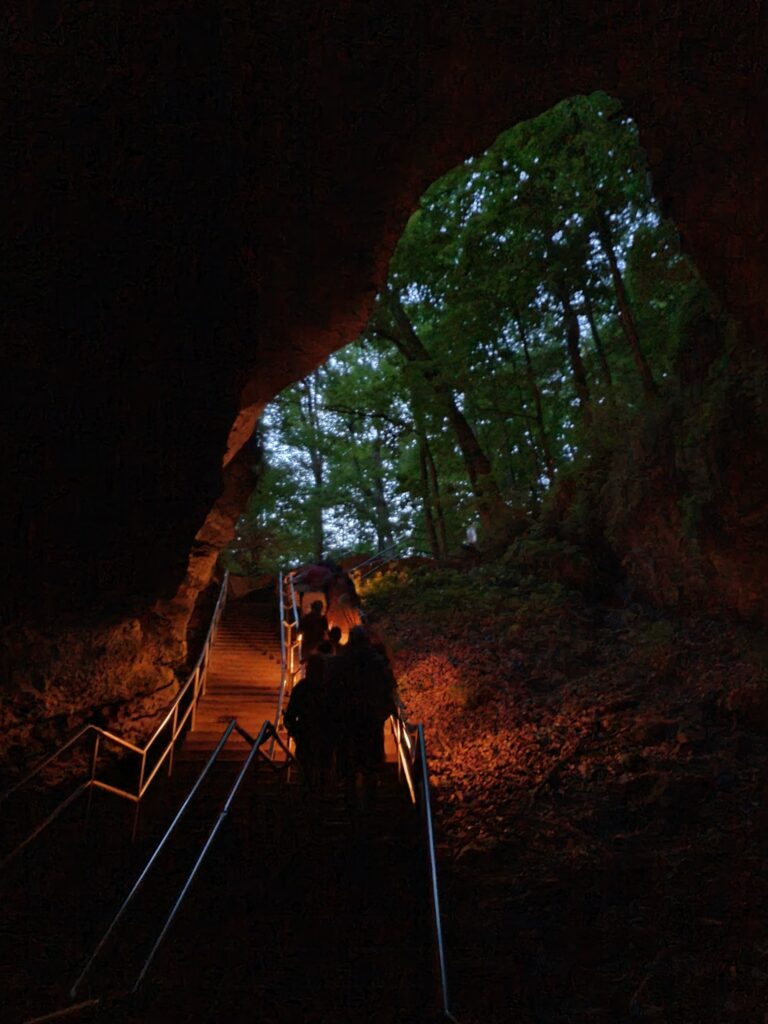 Star Chamber Tour
The rangers describe the Star Chamber Tour as an experience rather than site seeing. It's "an evening tour in Mammoth Cave by lantern light, this winding its way to historic Star Chamber." The tour is by lantern light to get the feel of what it felt like to be an early explorer walking through the caverns.
The 2 ½ hour tour travels through some of the same areas as the Gothic Avenue and Historic Tour and is only offered in the evening.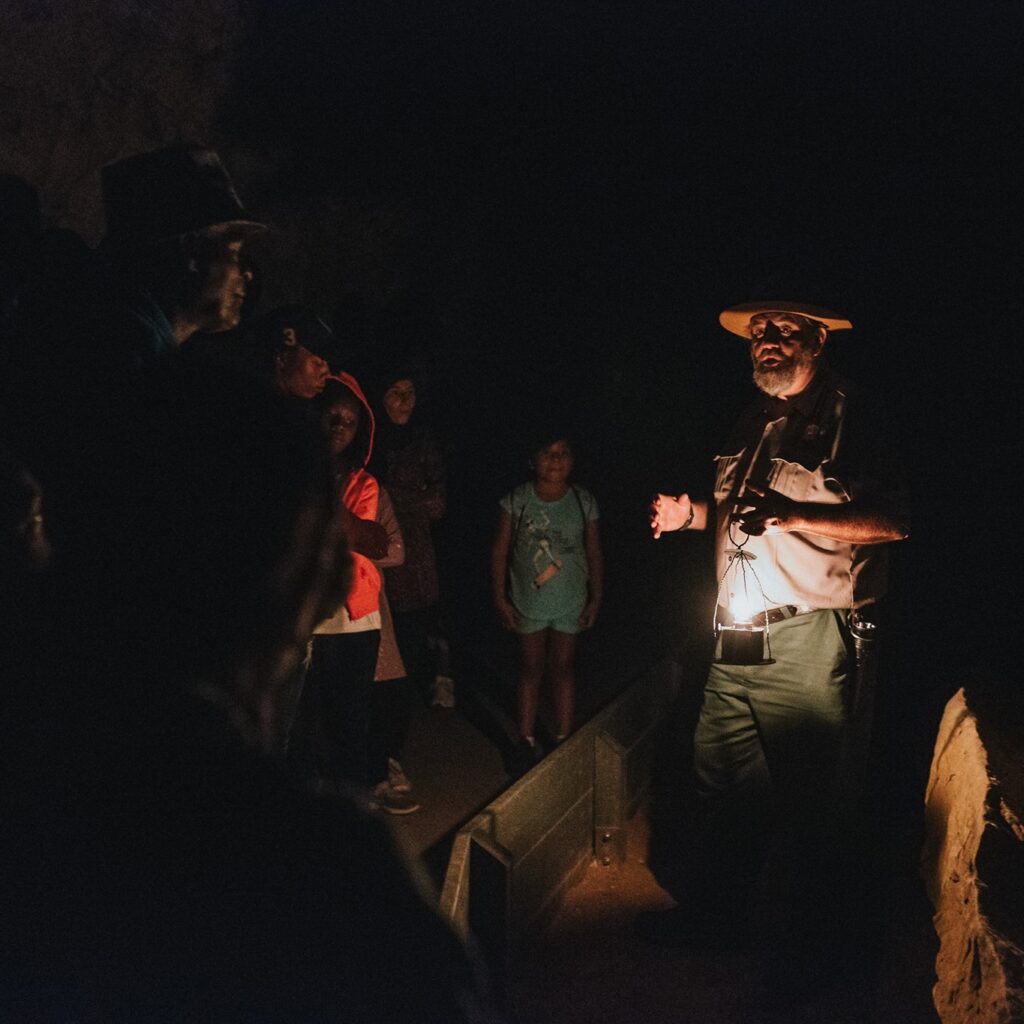 Violet City Lantern Tour
"A truly historic way to experience Mammoth Cave, this tour travels exclusively by lantern light."
For a longer, 3-hour and 3-mile exploration by lantern light, the Violet City Lantern Tour is quite the experience. Although there are only 160 steps, you'll find several steep walking grades that make this a difficult tour.
Best Mammoth Cave Tour for Families by Age
Here's a quick recap of which tours are probably best for families of different age groups. Of course, you know your kids best so take into account their unique abilities when selecting your tour.
Best Tour for Families with Babies
Since babies are allowed on most tours if you carry them on your chest, you are then only limited by your own level of fitness. If you can carry your baby for 2 hours going up and down stairs, then the Domes and Dripstones Tour is our top choice.
It's important to know that the only way to include a baby on a Mammoth Cave NP tour is to carry the baby in a chest harness or chest carrier. Strollers and backpack carriers are not allowed on the tours. Babies are also not allowed on the tours with a 6+ age restriction.
Check the list below for the number of steps and the difficulty level to help you choose.
Best Tour for Families with Toddlers
Families with toddlers have a unique buddle of energy to accommodate. The basic Historic Tour is a good choice. The wider walkways will allow your toddler to walk holding hands with you. The tour often stops at benches for stories which will give you a break.
Be prepared to carry your toddler for some of this tour, 2 hours of walking is a lot for many little ones.
Best Tour for Families with Grade Schoolers
The best tour for school-aged kids is the Domes and Dripstones Tour, which is also our top recommendation for families. The tour has enough variety that kids will love exploring the cave.
Best Tour for Families with Pre-Teens and Teens
Teens will also love the Domes and Dripstones Tour. However, try to add in a second tour for them from the Lanterns tours that take them into parts of Mammoth Cave that few visitors see. They will appreciate the extra side trips that make those tours unique.
List of Mammoth Cave Tours at a Glance
The tours offered at Mammoth Cave can vary based on the season and demand. This is the current list of offerings. Tours may vary seasonally.
| | | | | | |
| --- | --- | --- | --- | --- | --- |
| | Duration | Distance | Steps  | Difficulty | Age Restriction |
| Domes and Dripstones Tour | 120 min | .75 | 500 | Difficult | None |
| Frozen Niagara Tour | 75 min | .25 mi | 12 | Easy | None |
| Grand Avenue Tour | 240 min | 4.0 mi | 1313 | Difficult | 6+ |
| Gothic Avenue Tour | 120 min | 1.0 mi | 160 | Moderate | None |
| Historic Tour | 120 min | 2.0 mi | 540 | Moderate | None |
| Extended Historic  | 135 min | 2.25 mi | 540 | Moderate | None |
| Discovery Self Guided Tour | 30 min | 0.75  mi | 125 | Easy | None |
| Great Onyx Lantern Tour | 135 min | 1.0 mi | 132 | Moderate | 6+ |
| Violet City Lantern Tour | 180 min | 3.0 mi | 160 | Difficult | 6+ |
| River Styx Tour | 150 min | 2.5 mi | 574 | Moderate | 6+ |
| Star Chamber Tour | 150 min | 1.5 mi | 160 | Moderate | 6+ |
| Cleaveland Avenue Tour | 150 min | 2 miles | 400 | Moderate | None |
| Accessible Tour | 120 min | .5 mi | 0 | Easy | None |
Why You Should Trust Us When Planning your Mammoth Cave Trip
Brad and I are on a mission to explore all of the US National Parks. Mammoth Cave National Park was the 33rd park we've visited! Before visiting a park like Mammoth Cave, we research like crazy to ensure we are ready to explore, have fun and create great memories. Then we go and do!
This article summarizes our personal experiences in the park, additional research, and all of our pre-visit research. 
The advice you read here is exactly what we'd tell our best friends if they plan a trip to Mammoth Cave! We hope you enjoy your visit to Mammoth Cave National Park.
About Mammoth Cave National Park
Mammoth Cave National Park is in rural Southern Kentucky. Rolling green hills, dotted with farms and ranches, define the landscape. The aptly named Green River cuts through the park. 
Underneath all of this serene beauty, there is a whole other world of caves. The Mammoth Cave system runs over 450 miles. That makes it the world's longest cave. The cave is a collection of caverns and tunnels connected by passageways. Over thousands of years, underground rivers and seeping rain have eroded the limestone creating the cave.
It's estimated that Mammoth Cave might be over 600 miles long, with new passageways yet to be discovered. To be considered part of the same cave, a passageway must exist that a human can pass through. The most recent 50-mile addition was found when water levels dropped in one of the caverns exposing an opening that led to more miles of the cave. Rangers shared that they often join together to explore more of the cave system on their day off… that's their entertainment!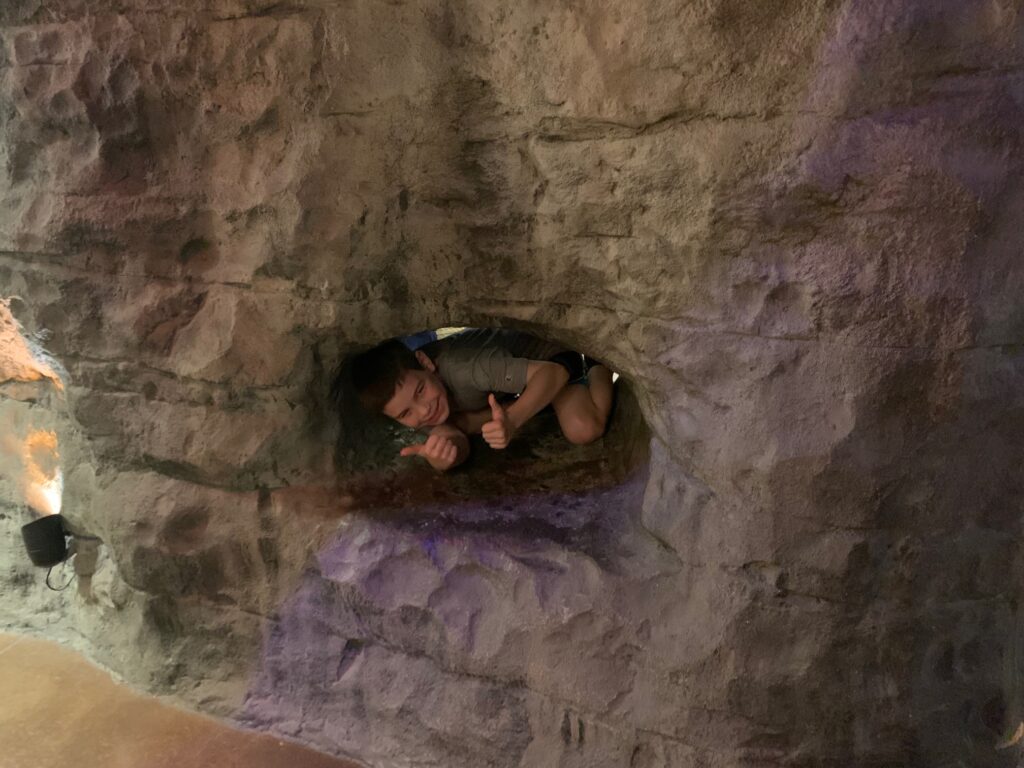 Arrive Early to Explore the Museum
The museum in the Mammoth Cave National Park visitor center is extremely well designed to engage visitors of all ages. Our youngest (10) climbed through the mock cave tunnel repeatedly while our older grandson (12) explored independently. There are many hands-on activities to engage your kids while teaching them about the science and history of the caves.
As always, we had to drag Grandpa Brad out of the museum because he loved the abundance of explainer displays and videos. Mammoth Cave's museum is one of the best we've experienced during our National Park Adventures.
Junior Ranger Program
When we picked up our Junior Ranger booklets in the gift shop, the clerk gave us a tip that all the answers could be found in the museum. Of course, that encourages your kids to search through all the displays. 
I'd suggest you spend 30 minutes in the Museum before your tour to plant a few seeds of knowledge about caves with your kids. Then another 30 minutes after your tour explore and finish their Jr Ranger books.
What to Expect Inside Mammoth Cave
Temperatures
The temperature in the caves is a constant 54 degrees so you might want to bring along a light jacket. Temperatures on the top will vary with the season from cold winters to hot summers.
Formations in the Caves
Stalactites and Stalagmites make their home in many caves. These are the formations you anticipate seeing in caves that result from water dripping over limestone. However, most of the cave is open caverns. You won't find as many of the beautiful cave structures as you can experience in the caves of Carlsbad Caverns National Park.
Size of Tour Groups
Tour size varies from a couple of dozen to over 100 people. The more popular tours will have bigger groups. However, even though our Domes and Dripstones tour comprised of about 110 visitors, we surprisingly didn't feel crowded.
Bathrooms on Mammoth Cave Tours
Bathrooms on the tours are non-existent. You'll find beautiful bathrooms at the visitor center so go before you head out. 
Tour Guides
The tour guides are excellent. They come prepared with a variety of stories to tell to illustrate the history and geography of the caves. Our first guide was a college student and our second guide was a retired teacher. Both exhibited a passion for the caves during the tours.
Rules
There is no free exploring. You must stay on the paths following the tour guides. They will remind you to not touch the rocks. Some additional rules for your cave tours:
Photography is encouraged although you can't use a flash. Tripods and monopods are not allowed as they will slow up the tour. If you are a professional photographer, you can apply for a special tour, although not many are granted.
Child backpack carriers and strollers are not allowed. Feel free to use a front pack for babies.
Large backpacks are not allowed. They defined that as "Metal framed backpacks and backpacks that are higher than the shoulder or that are of a length that extends below the hips"
Firearms or other weapons
Pets (You can kennel for a small fee nearby.)
What to Bring on Your Cave Tour
Light Jacket
Bottle of water
Small snacks are allowed, especially for longer hikes or if you have health concerns.
A camera that can be used without flash
Closed-toed shoes are best for the metal stairs and extensive walking.
Your tickets – they will be checked as you board the buses or enter the caves.
More Information for Planning Your Family's Mammoth Cave Tours
How to Get Tickets for Your Mammoth Cave Tour
While tour tickets are available at the visitor center, it is better to purchase your tickets in advance online through Recreation.gov. During our visit, tickets for almost all tours were sold out for same-day purchase. So waiting means you may not get in.
You should order your tickets as soon as you are confident in your tour dates. Two weeks prior to our visit there were a lot of tours available, but by the week of our trip, the selection was limited.
How Many Mammoth Cave Tours Should You Plan to Take?
If you can fit it into your schedule, I'd recommend you take at least 2 tours that explore a different section of Mammoth Cave. We scheduled one each morning and then left our afternoon free to explore outside the caves. 
How to Mix and Match Your Cave Tours
There are over a dozen different cave tours. Most tours are not completely unique, many overlap with the ground covered by other tours to capture the highlights of Mammoth Cave. For example, the Gothic Avenue Tour is primarily a subset of the Historic Tour. And the Frozen Niagara Tour is a short tour of the ending point for the Domes and Dripstones Tour.
Is There an Accessible Tour of Mammoth Cave?
Currently, the accessible tour is unavailable due to elevator issues and there is no clear date on when it will be reopened. 
What's the Best Time of Day to Take a Cave Tour?
The biggest consideration in planning your family trip into the caves is that you and your kids will be a captive audience for the length of the tour. There are no bathrooms and there is no exit mid-tour. Once you start, you have to finish along with the rest of the group.
So the best time to take your tour will be different for every family. Consider when your kids are most able to focus. For example, your 4-year-old that takes afternoon naps is probably better on a morning tour. While a 15-year-old who sleeps in during the summer months might be more engaged right after lunch.
Pets in Mammoth Cave National Park
We were excited to learn that pets are welcome on the outdoor hiking trails in Mammoth Cave National Park. Most National Parks severely restrict pet access. So we originally planned to bring Charlie along on our trip. However, temperatures soared into the high 90s the week of our road trip so we left her with a friend to enjoy the air conditioning. That dog just plain hates hot weather!
While dogs are not allowed on the cave tours, you'll find shaded outdoor kennels available for your use at the Mammoth Cave Kennels just a short walk from the visitor's center for a very low fee. There are some restrictions so make sure you read about pets in Mammoth Cave NP before you head out on your road trip.
Where to Stay When Visiting Mammoth Cave
Mammoth Cave National Park is pretty much in the middle of nowhere. You'll want a lodging plan before you head that way. Luckily there are great options for both camping and hotels.
Hotels, Motels and More
Inside the park, you can relax at the historic Lodge at Mammoth Cave. It is located directly next to the visitor center and features a mix of modern hotel rooms as well as historic cottages nestled in a woodland setting. All are within walking distance of cave tours and park trails.
Cave City is the nearest town, only about a 15 minute drive. You'll find a variety of more traditional motels here. You can check Cave City motel availability here.
Campgrounds in Mammoth Cave National Park and Nearby
There are 3 beautiful campgrounds in Mammoth Cave National Park. We camped in the main campground and loved the large well shaded campsite. Make sure you get camping reservations because this park can fill up fast.
Re-capping the Best Mammoth Cave Tour for Families
The best Mammoth Cave tour for families is the Domes and Dripstones tour. We recommend that you combine this tour with one of the historical tours for a fully rounded trip to Mammoth Cave National Park. We've also included tips to adjust your tour plans based on your unique family. I hope you have a great time!
Planning to visit all National Parks? Here's other Trips You Might Want to Read: