Ready for an epic road trip adventure? We're excited to share our West Texas and New Mexico National Park Road Trip with you. It is a fantastic week on the road through 4 National Parks. Without a doubt, you'll want to pack your bags for this adventure.
This 7-day itinerary will take you through 4 stunningly beautiful National Parks. You'll explore Guadalupe Mountains National Park and Big Bend National Park in West Texas. And just over the state line, you'll visit both of New Mexico's parks: White Sands National Park and Carlsbad Caverns National Park. Along the way, you'll discover some of the most stunning landscapes in the Southwest! Each park has its unique charm and offers plenty of things to do and see.
This Desert Road Trip Itinerary
When planning your itinerary, it's easiest to think of this desert road trip as a lasso (because you know we are in western Texas!). Guadalupe Mountains National Park, White Sands National Park and Carlsbad Caverns National Park create the loop, with Big Bend at the rope's end.
You can start at either end of the lasso. Our decision to start with the loop was determined by when we could get campground reservations. I was late planning this trip, so I had to be creative in cobbling together available campgrounds. Camping in National Parks continues to be in extremely high demand, so you need to plan as far ahead as possible.
7 Day Itinerary
Day 1 Guadalupe Mountains National Park
Day 2 Guadalupe Mountains National Park AM, Travel PM
Day 3 White Sands National Park AM, Travel PM, Carlsbad Caverns evening
Day 4 Carlsbad Caverns AM, Travel PM
Day 5 Big Bend National Park
Day 6 Big Bend National Park
Day 7 Big Bend National Park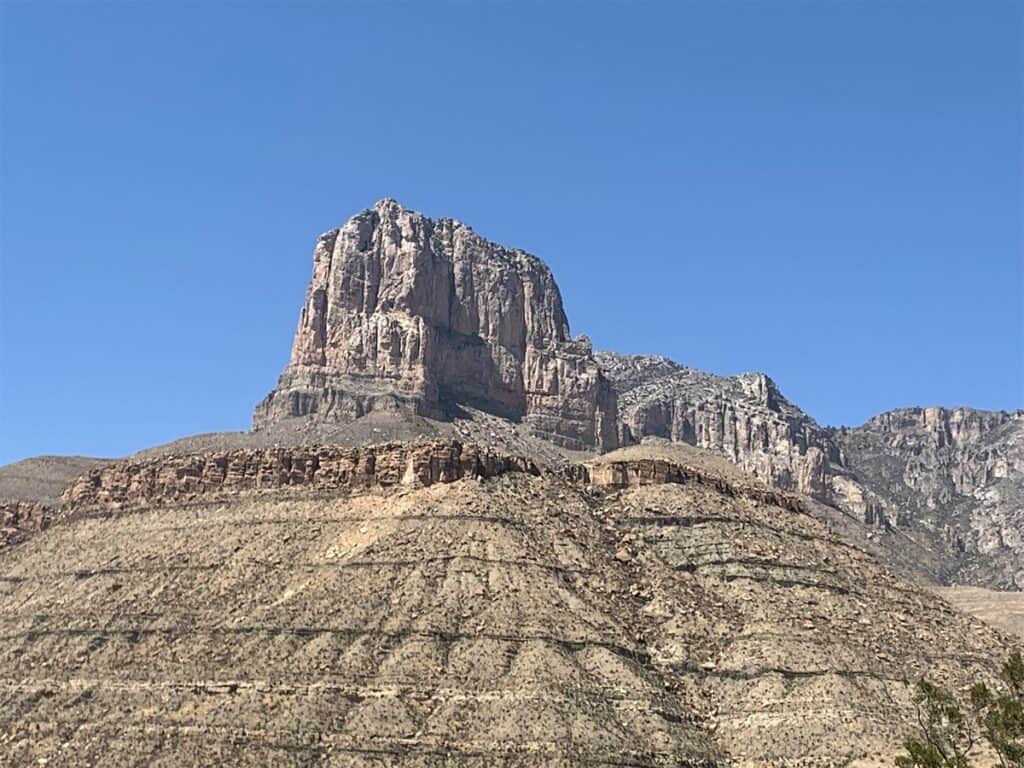 Day 1 and 2: Guadalupe Mountains National Park
Our first glimpse was a stunning view of El Capitan as we headed towards Guadalupe Mountains National Park along Highway 62. (If you want to capture this fantastic shot, it's from the roadside picnic area about 4 miles south of the Pine Springs Visitor Center.)
Guadalupe Peak is tucked right behind El Capitan. At 8,751 feet elevation, it's the highest point in Texas. Many of our camping neighbors were in the park to climb Guadalupe Peak. Although we skipped that hike, reports were a strenuous hike due to the steep switchbacks covering the quick 3,000-foot elevation gain. But all unanimously reported that it was well worth the climb for the spectacular view.
Getting to Guadalupe Mountains NP
We traveled across Interstate 10 from Houston to start our road trip. Oh, my, it is a long way across Texas. We played plenty of road trip games to help pass the time, as you can imagine. After San Antonio, gas and snacks start getting pricey and hard to find. I'm glad we stocked up on our camping food before leaving Houston.
If you are hoping to avoid that long drive, you can fly to San Antonio or Albuquerque, where you can easily rent campers, Or right in the middle of the loop, you'll find the El Paso airport, where you can grab a rental car.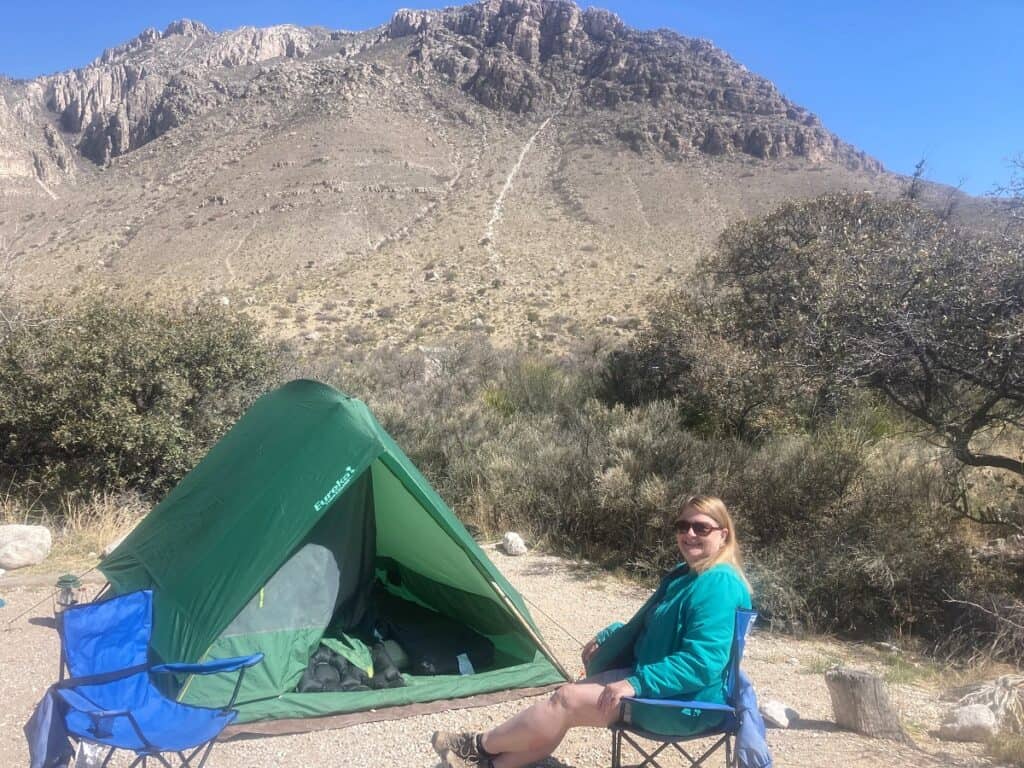 Where to Stay at Guadalupe Mountains National Park
We spent 2 nights camping in the Pine Springs Campground next to the visitor center. Pine Springs is a small campground and feels a little cramped. The RV spots are just spaces on an asphalt parking lot with picnic areas around the perimeter. Luckily we were in the tent area, which gave individual tent sites a small personal place with brush and cactus breaking the space between other sites.
However, Pine Springs Campground is the perfect spot if you plan to hike Guadalupe Peak, as the trailhead starts at the end of the campground. We also found it convenient for the most popular day hikes. Keep in mind that this is desert camping so expect little shade, hot days and cool nights.
Dog Canyon Campground is another small campground in Guadalupe Mountains NP. It is in a very remote section with only 13 spots for tents or small campers. The higher elevation of Dog Canyon means it is cooler in the summer, making it a great place to tent camp for summer road trips. There are several excellent hikes in this area. However, the remote location makes it difficult to enjoy the most popular parts of the park.
There aren't many other choices nearby for visitors to the Guadalupe Mountains. For other camping and lodging options, the best bet is to check out the town of Carlsbad. It's only about an hour away and jam-packed with lodging and dining options. You can check hotel and rental availability in Carlsbad here.
Things to Do in the Guadalupe Mountains
We spent a day and a half in the park, which was about right for a visit that did not include one of the strenuous hikes.
Pine Springs Visitor Center
We first stopped at the Pine Springs Visitor Center. Although small, they did a great job with their educational displays to help visitors understand what is unique in this park.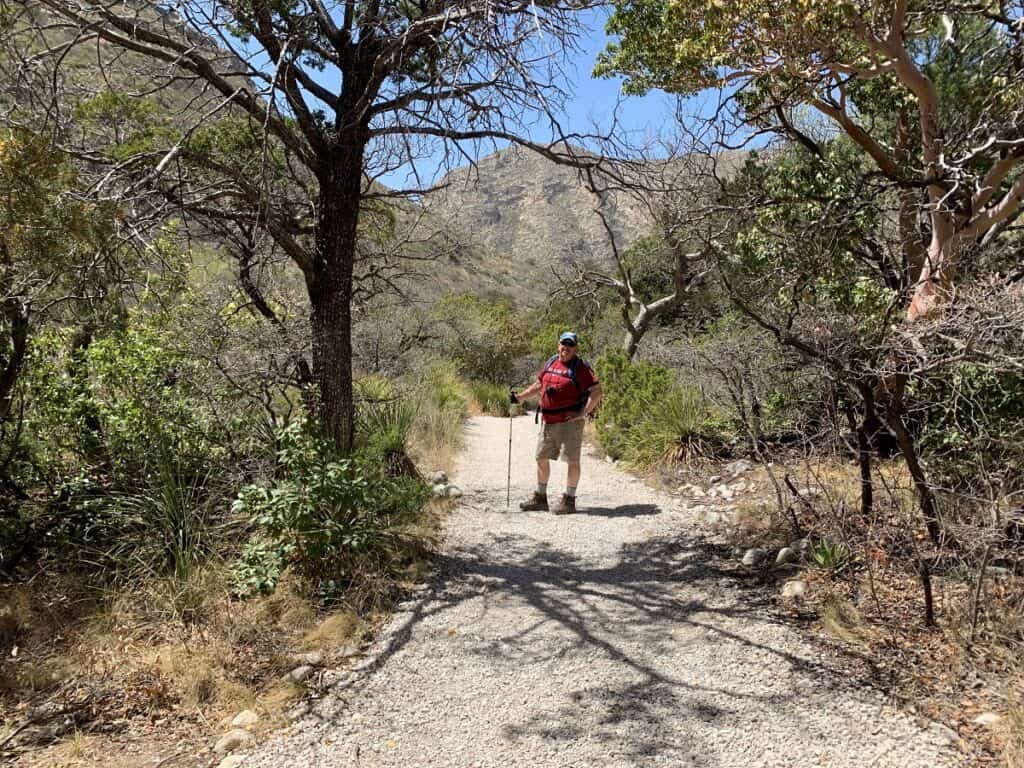 Hike McKittrick Canyon Trail to Pratt Cabin
We then headed to McKittrick Canyon, about a 15-minute drive to the trailhead from the visitor center. This canyon is the perfect hike to start your visit. Most people, including us, complete the moderate 4.8-mile (round-trip) hike to Pratt Cabin. Some hikers go on to the Grotto, adding another 2 miles. And for a real strenuous push, you can hike into the backcountry, meeting up with multiple other trails.
The hike to Pratt Cabin starts with a tremendous educational kiosk, complete with a recording of Wallace Pratt's voice about building the cabin. The trail itself is all in full sun so make sure you have plenty of water, a hat and sunscreen no matter what season. Hiking in the heat of the desert can be cruel. We wandered through the cactus and along the dry creek bed. We appreciated the random juniper that had grown tall enough to provide a bit of shade for short breaks.
The trail ends at a beautiful little oasis where the Pratt Cabin sits near the original creek bank. We enjoyed our hiking lunch on the big front porch. During peak seasons, volunteers give tours of the house, but we settled for looking through the windows. Most impressive was they had running water, toilets and electricity in this remote location. This cabin, far from anywhere, was quite luxurious.
Pinery Butterfield Stage Station Ruins
We toured the Pinery Butterfield Stage Station Ruins before going back to the campground. It's a short interpretive hike documenting the life of the old stagecoach runs. Then we headed back to the campsite for a relaxing evening.
Explore Frijole Ranch and Smith Spring Trail
Since we only had 1/2 day on our second day in the park, we got moving early and headed to the Frijole Ranch History Museum, where we planned to take the Smith Spring Trail Day Hike.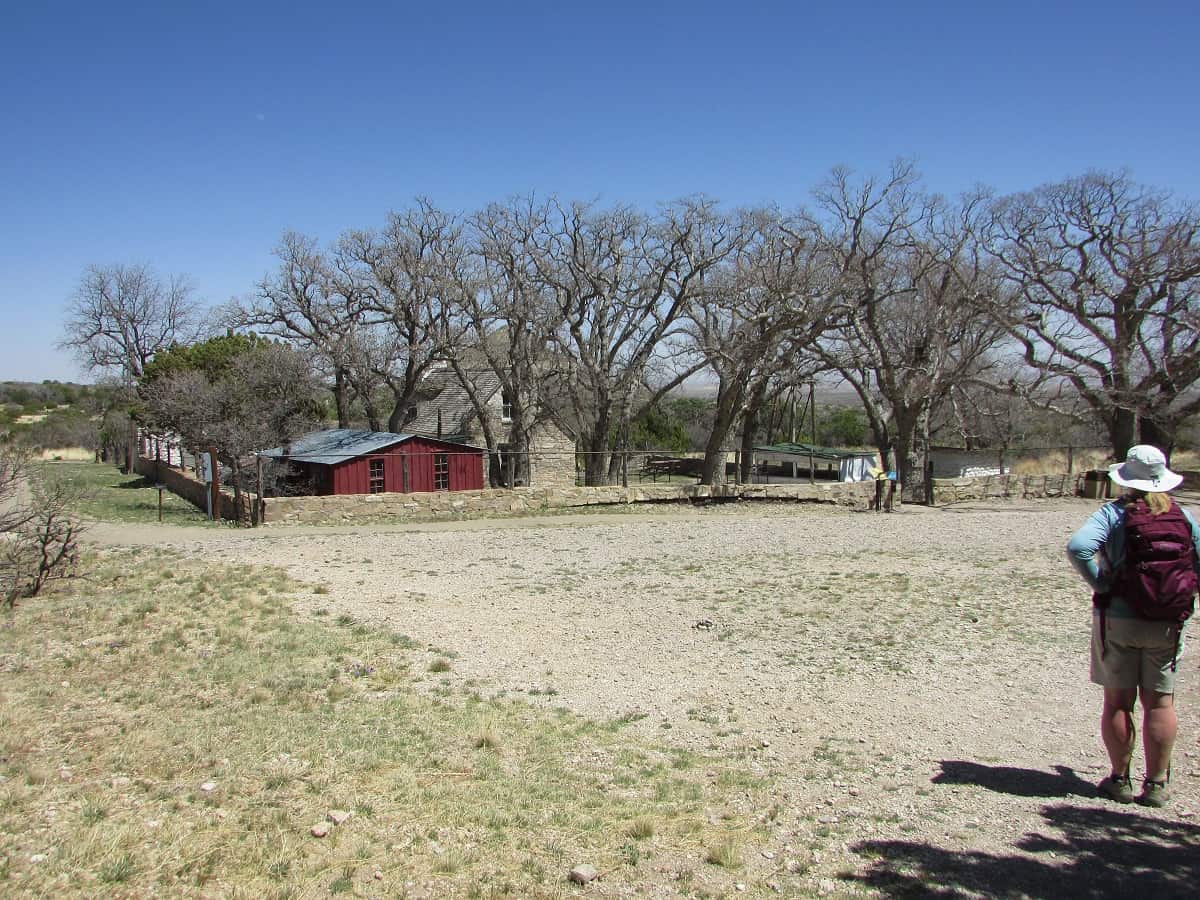 Once again, we spent a lot of time looking through windows as the museum was closed. Outside signage helped explain how this ranch utilized the springs to thrive in the middle of the desert. Using irrigation from the springs, the family had a booming fruit and vegetable business from their little oasis.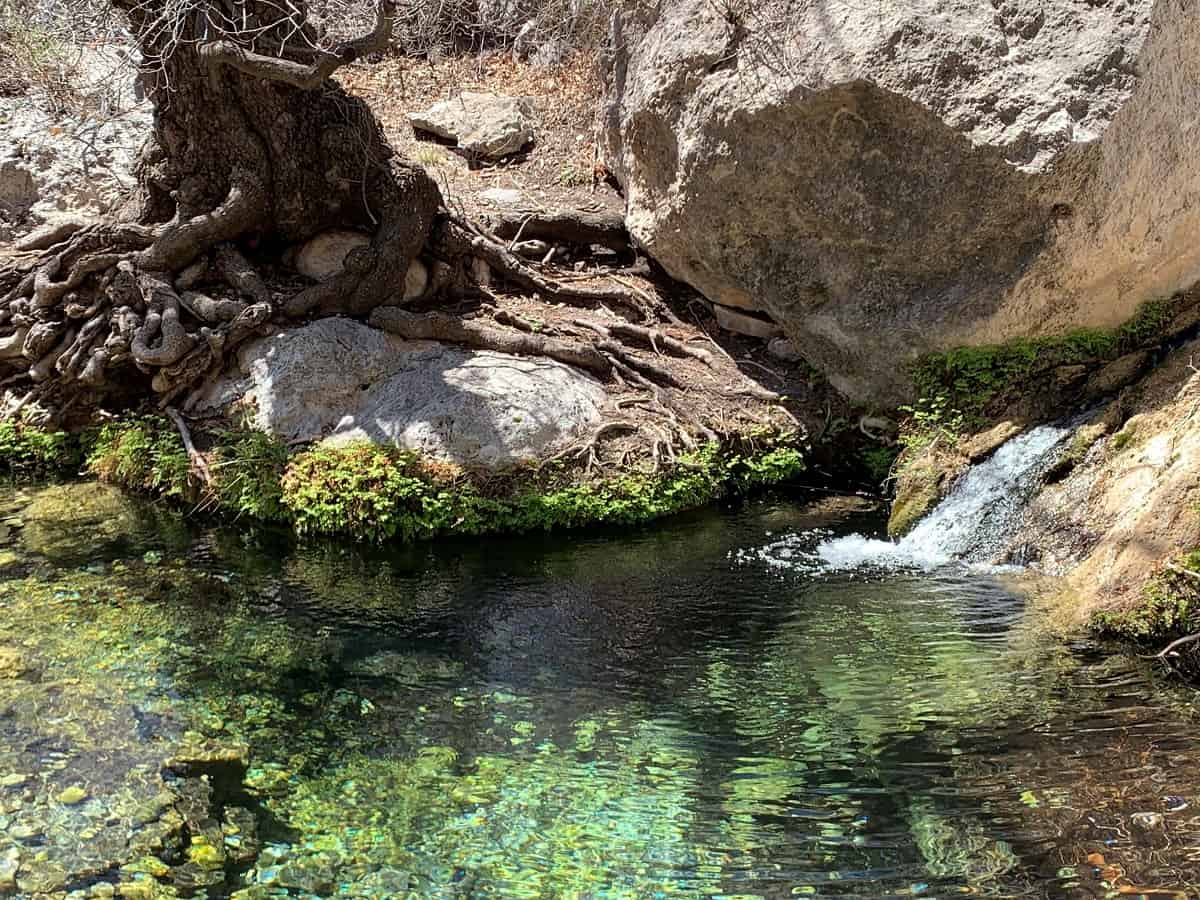 The Smith Spring Trail is a 2.3-mile loop that swings by the Manzanita Spring. The family used the Manzanita Spring, near the ranch, to create a large pond where they enjoyed boating and swimming. Hiking on to the Smith Spring was another hot, full sun hike. Shade was hard to find, so we were pretty excited when we found the spring hiding in an oasis of beautiful maple shade trees.
More About the Guadalupe Mountains
This park is primarily a backpacker's park. The itinerary I listed above is almost everything to do for a casual visitor. There are no roads to take you through or deep into the park. So for a visitor who wants to do some light hiking and explore well-presented informational displays, a day and a half is plenty of time.
If you want to go backpacking deeper into the park, there are a plethora of interesting trails. Just remember this is the desert, so come prepared!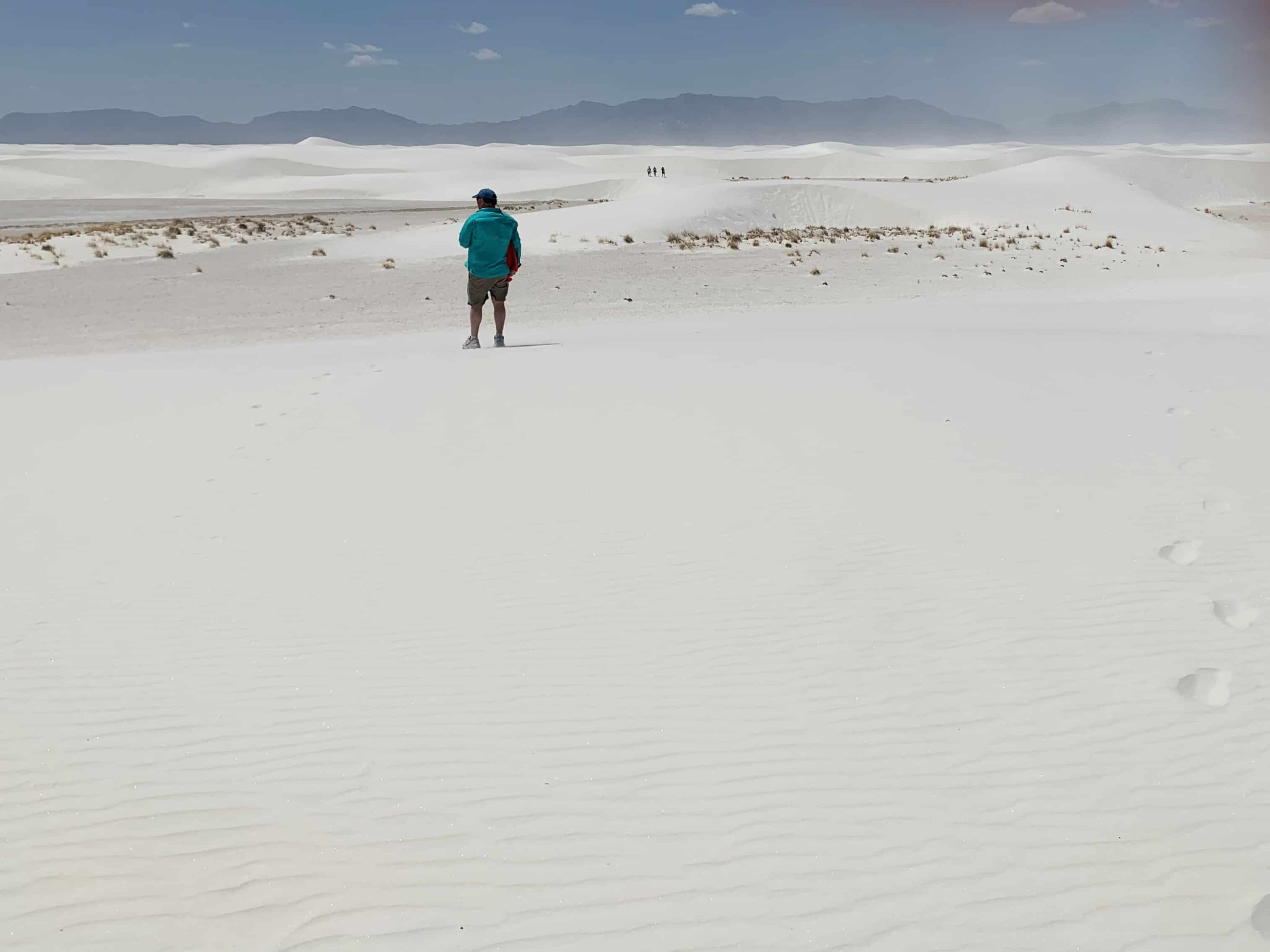 Day 3: White Sands National Park
By early afternoon our road trip moved on to White Sands National Park. You have to see this park to believe it. You'll find massive dunes of gypsum sand that have engulfed 275 square miles of desert. As the largest gypsum dunefield in the world, it's hard to imagine the endless sea of white until you experience it yourself.
Getting to White Sands National Park
It was a 3-hour drive between White Sands and Guadalupe Mountains National Parks. We popped over to El Paso and then headed into Southern New Mexico to find White Sands. The drive through the desert felt like it went on forever because the scenery never changed.
The massive amount of litter along the roads near El Paso surprised me. It turns out that this part of the desert is exceptionally windy in the spring, and it's near impossible to capture a piece of paper once it's airborne. I found out that the city spends almost $2 million a year trying to keep up with this mess. We stopped to top off the gas tank in El Paso because we heard reports that gas stations can be few and far between around all 4 of these National Parks.
Where to Stay Near White Sands
There is no camping in White Sands, although you'll find plenty of RV camping and lodging choices nearby in Alamogordo. You can check lodging availability in Alamogordo here. Finding a good tent campsite is a little more challenging. Many tent campers head to the nearby Lincoln National Forest for a spot. However, we were thrilled with our tent site in Oliver Lee State Park.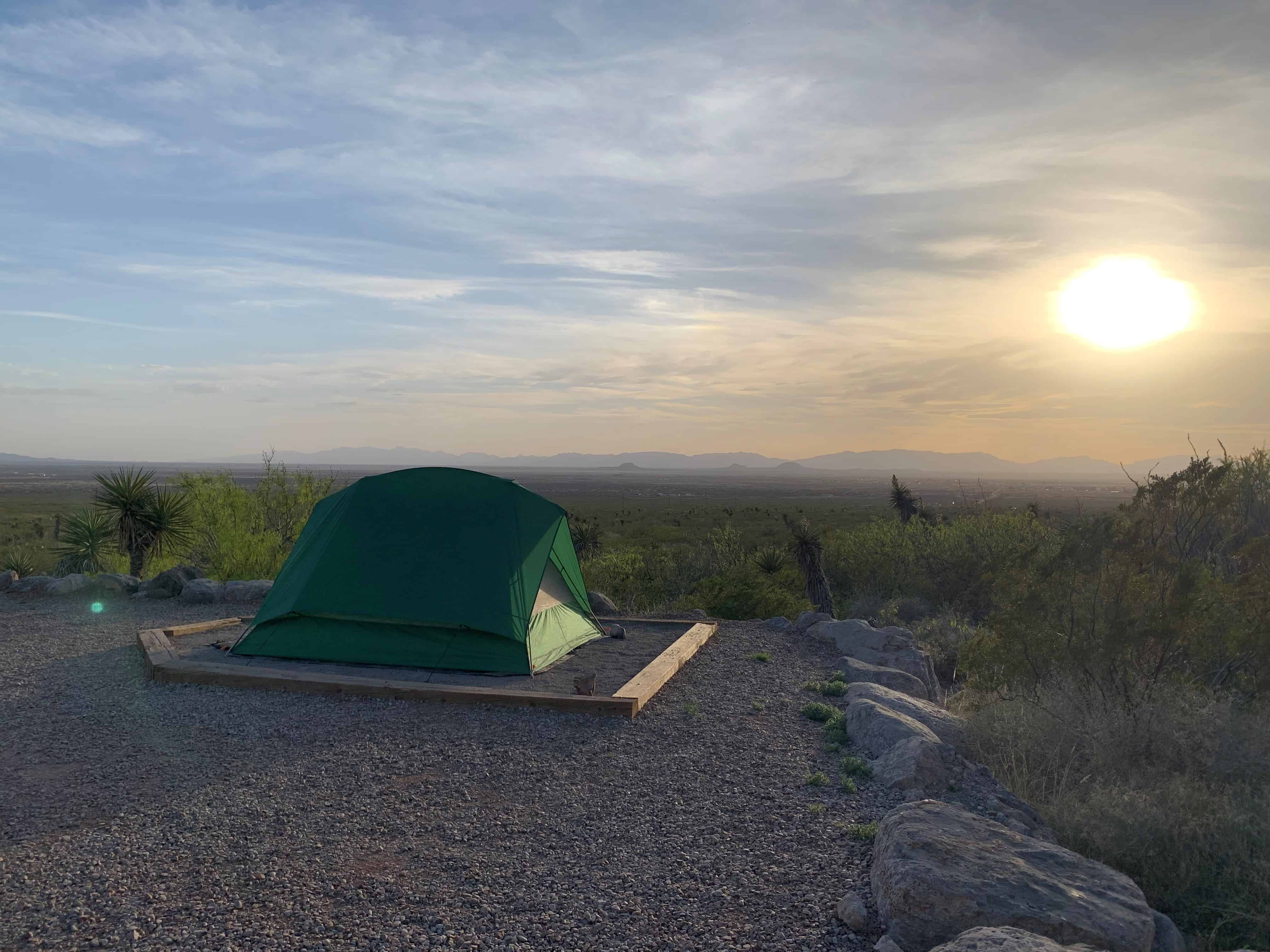 As expected, it was shadeless arid desert camping. But we were surprised to discover that the campground sits up on a ridge with beautiful views of the sunset over the desert landscapes. The sites in this New Mexico State Park were generous, and the campground included showers.
Let me just take a moment to share that I feared rattlesnakes and scorpions sneaking into our tent this whole trip. So when I drove over a rattlesnake as I entered the campground, it did nothing to alleviate that fear.
Things to Do in White Sands National Park
We spent 1/2 day in White Sands National Park, which is plenty of time unless you plan to hike into the dunes. Established in 1933, White Sands National Monument became one of our National Parks in 2019.
The White Sands National Park Visitor Center
Stopping at the Visitor Center to watch the introductory movie about White Sands is a must. It's almost impossible to comprehend the significance of this park without seeing that film. For example, did you know the sand is not really "sand" as we usually know it? Beach sand is from silica, while the sand in White Sands NP is gypsum. And gypsum doesn't absorb heat like silica, so the sand here stays cool to your feet all summer.
Cruising Dunes Drive
The main attraction in White Sands is a cruise down the scenic drive: Dunes Drive. You'll find an excellent narrated tour on the NPS app that gives information about each stop. I'm glad I thought to download the self-guided tour before we arrived at the park, as there was zero cell service beyond the visitor center. We spent about 3 hours on the drive, stopping along the way to embrace this incredible National Park.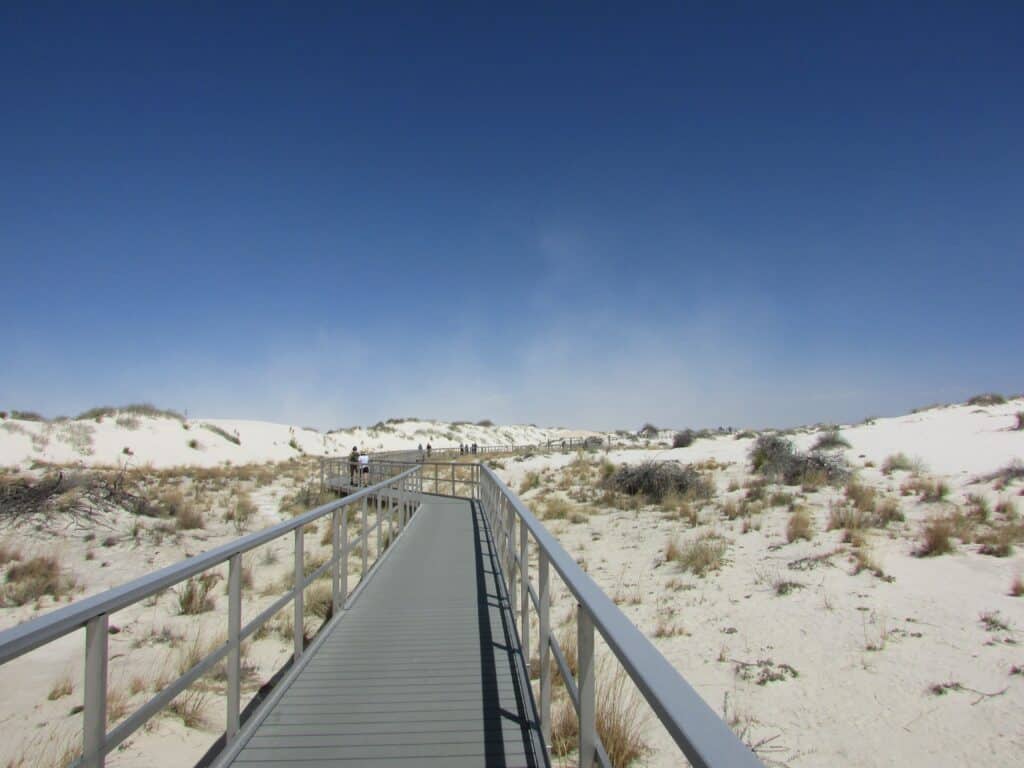 Interdune Boardwalk
You'll discover about a dozen places to stop and explore along Dunes Drive. Our favorite stop was the Interdune Boardwalk. Situated at the border where the desert and dunes meet, the information walk along the accessible boardwalk is an interesting way to start your foray into the dunes. We kept looking for animal prints with no success. However, you will find various desert plant life hanging on in the arid soil.
Sledding on the Dunes
We regretted skipping out on the sledding when we visited Great Sand Dunes National Park in Colorado, so we would not miss the opportunity here. You can buy a saucer sled in the gift shop next to the entrance. Warning, the sleds are pricey, but we decided it was our donation to the park that day.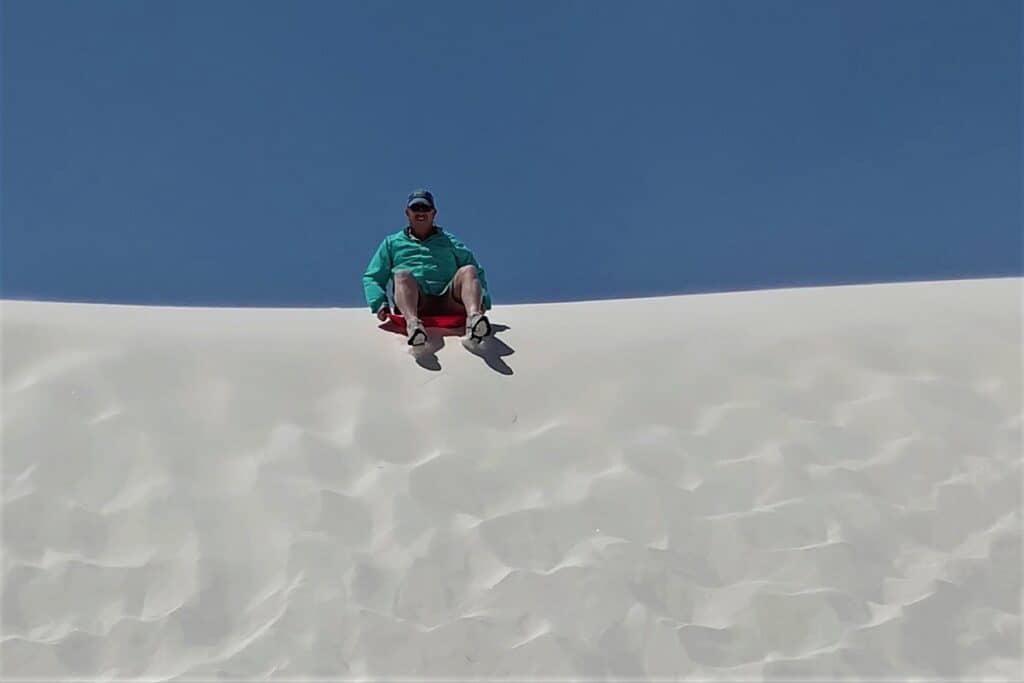 You can sled down the white sand dunes anywhere in the park. We chose to try the steeper inclines near the end of Dunes Drive. It was silly fun, and we definitely got our exercise climbing back up the dunes.
Hiking in Great Sand Dunes
We chose only to follow the short nature trail and climb dunes while sledding. If you want to explore the gypsum sand dunes, make sure you have a clear sight of a landmark to return to. Once you get in the white sand, it all looks the same.
Keep in mind that there is no hiking path like a forest trail. The sand shifts all the time. For a marked hike, many visitors try the Alkali Flat Trail. It's a strenuous 5-mile loop, going up and down the dunes. In the spring, when winds are high, this trail is extra tricky because of blowing sand that hides the route markers and cuts into your skin.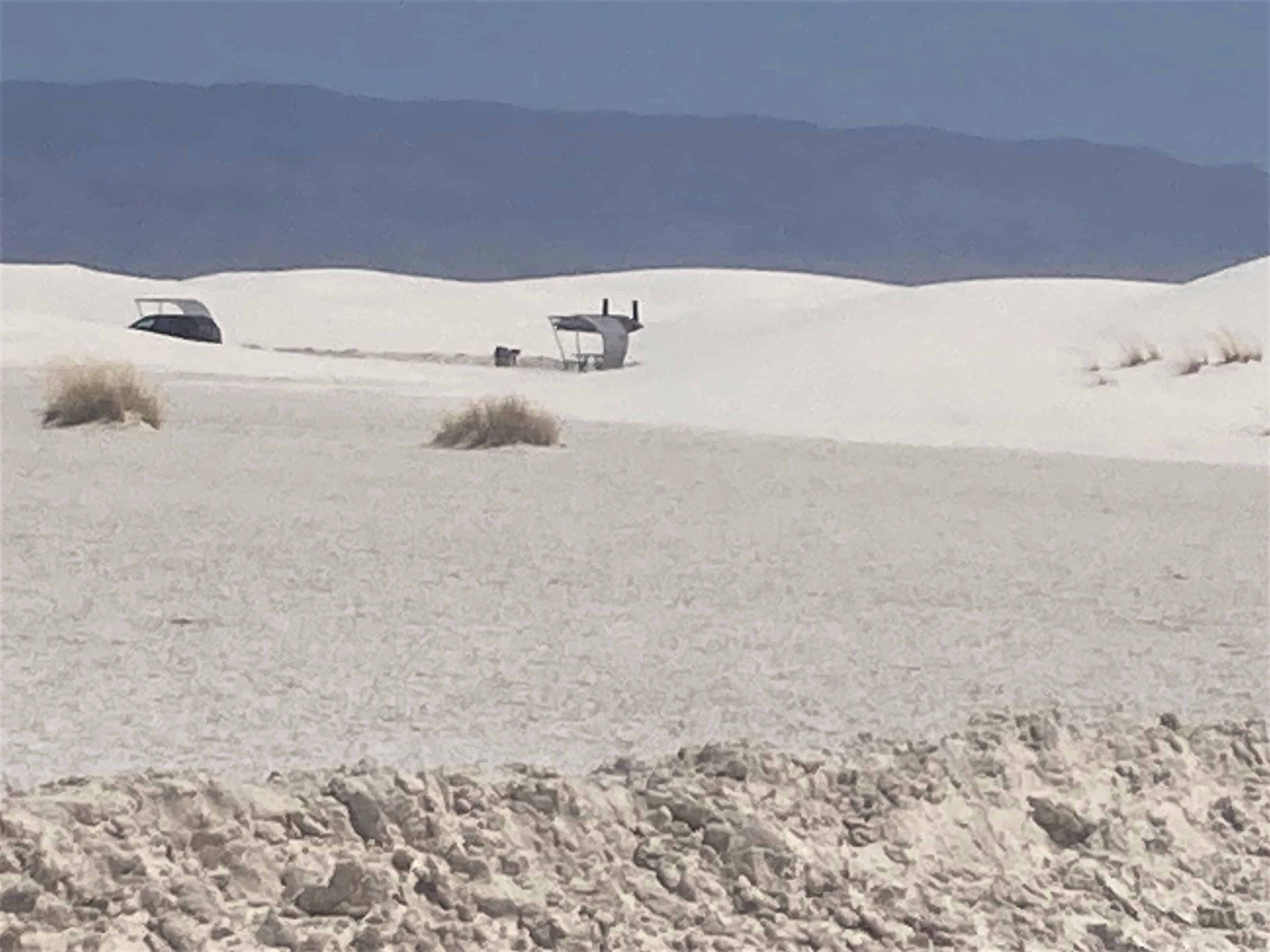 More About White Sands National Park
First, a word of caution when scheduling your trip to White Sands… the park is surrounded by military bases. When missile testing is going on, the park must close for safety, usually for a couple of hours. The schedule is clear on the White Sands National Park website so give it a check.
Although we didn't stay to enjoy it, ranger-led sunset strolls and full moon nights are a fantastic way to experience White Sands. So if you happen to visit close to the park, check the schedule.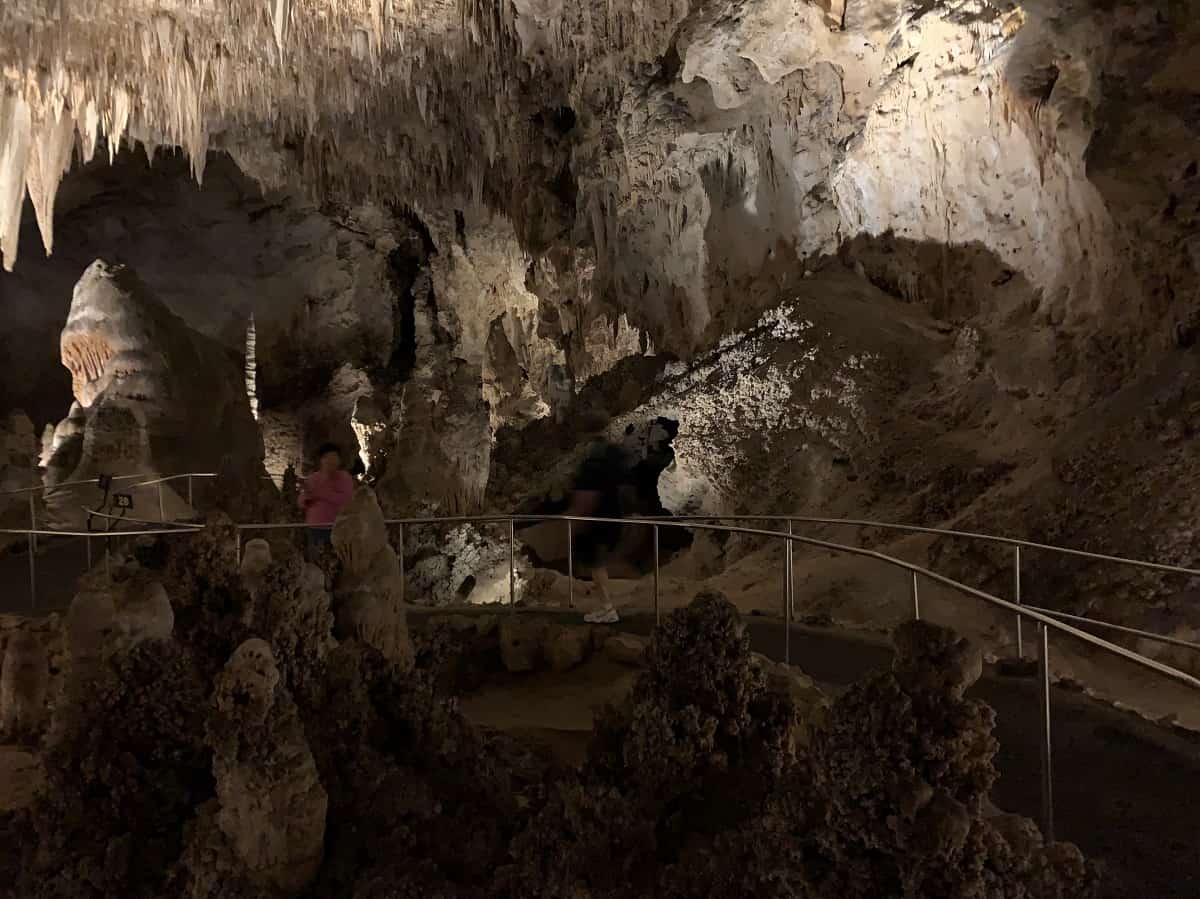 Day 4: Carlsbad Caverns National Park
Hidden deep under the Chihuahuan Desert is the Carlsbad Cavern, the next stop on our road trip. But that's not all there is to this amazing National Park.
Getting to Carlsbad Caverns National Park
After grabbing a few groceries in nearby Alamogordo in the afternoon, we headed east, crossing through the Lincoln National Forest. After several days of desert, it was relaxing to drive through real shade trees and fresh green grass.
Along Highway 82, several quaint small towns have lodging and dining opportunities. If you had an extra day, it would be pleasant to spend a night in one of the Bed and Breakfasts or a Forest Service Campground and explore. We were surprised to find a ski slope in Cloudcroft, with the last remnants of snow melting on the mountainside.
Where to Stay When Visiting Carlsbad Caverns
We were surprised at how developed the city of Carlsbad was. It truly looks tiny on the map. However, we saw a large selection of restaurants and motels as we passed through. It is about 1/2 hour north of the park, so a good option for a home base when visiting Carlsbad Caverns. You can check Lodging availability for Carlsbad here.
We moved on to Whites City for the night, where we stayed at Whites City Cavern Inn. Yup, we decided a night with hot showers and comfy beds was in order! The motel room was recently remodeled, and our stay was perfect. Whites City is only a few minutes away from the park entrance. It's a small town, with limited services, but oh so convenient. A cute restaurant next to the hotel serves breakfast and lunch. And an RV Park sits across the street near a small shopping center.
Things to Do at Carlsbad Caverns National Park
We pulled into the motel at about 6:15 in the evening. As I checked in, the gal at the counter said we should go straight to the park for the 6:30 Bat Flight Program. It had just started for the season the night before because bats had begun to return to the park. Even though we were exhausted, we didn't think twice about taking her advice. We headed into the park without looking at our room or getting dinner.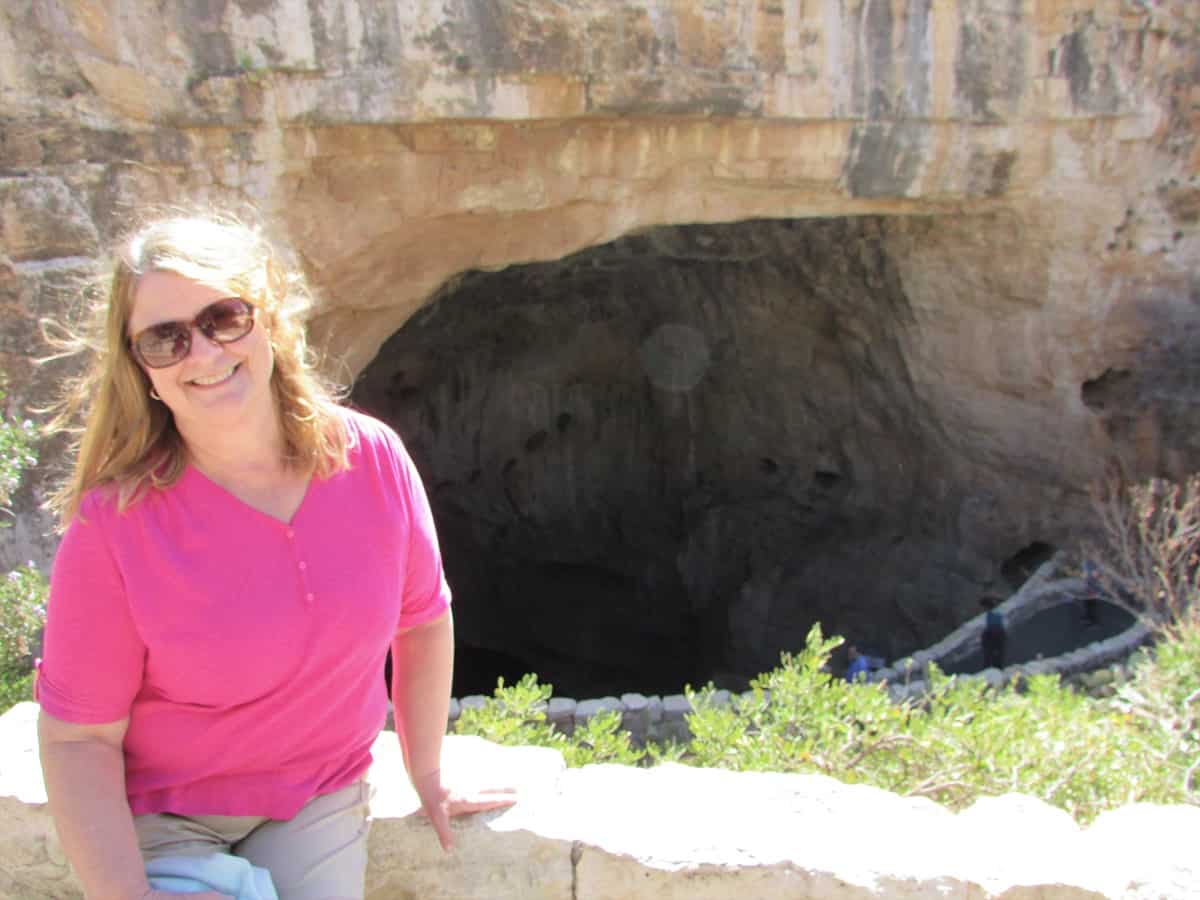 Carlsbad Caverns National Park Bat Flight Program
An opportunity to see the evening Bat Flight out of Carlsbad Cavern was quite the surprise. Generally, the bats don't start returning to the cave until later in May, so we hadn't planned on this exciting event.
Our ranger shared that the bats we would see are not the regular Carlsbad population. These bats were just passing through on their migration to other locations and using the cave as a "hotel". Based on the previous night's activity, they only expected a few dozen bats to emerge from the cave entrance at dusk in search of their dinner. We were all in for a surprise when several thousand bats swarmed out of the cave! The scene was super cool. The population of bats that habitat Carlsbad Cavern is migratory bats, unlike most bats in the US that hibernate for the winter. They return in May, raise their babies and then leave again in the fall.
If we were impressed with 2,000 bats, imagine the experience mid-summer when 400,000 bats emerge at dusk in search of food. Yes, all those zeros are correct.
The Bat Flight Program takes place in a small outdoor theatre near the entrance to the cave. It's free, and no reservations are required. Park Rangers will talk about the park's history and share details of bat life in Carlsbad during the most active season. It's something not to be missed.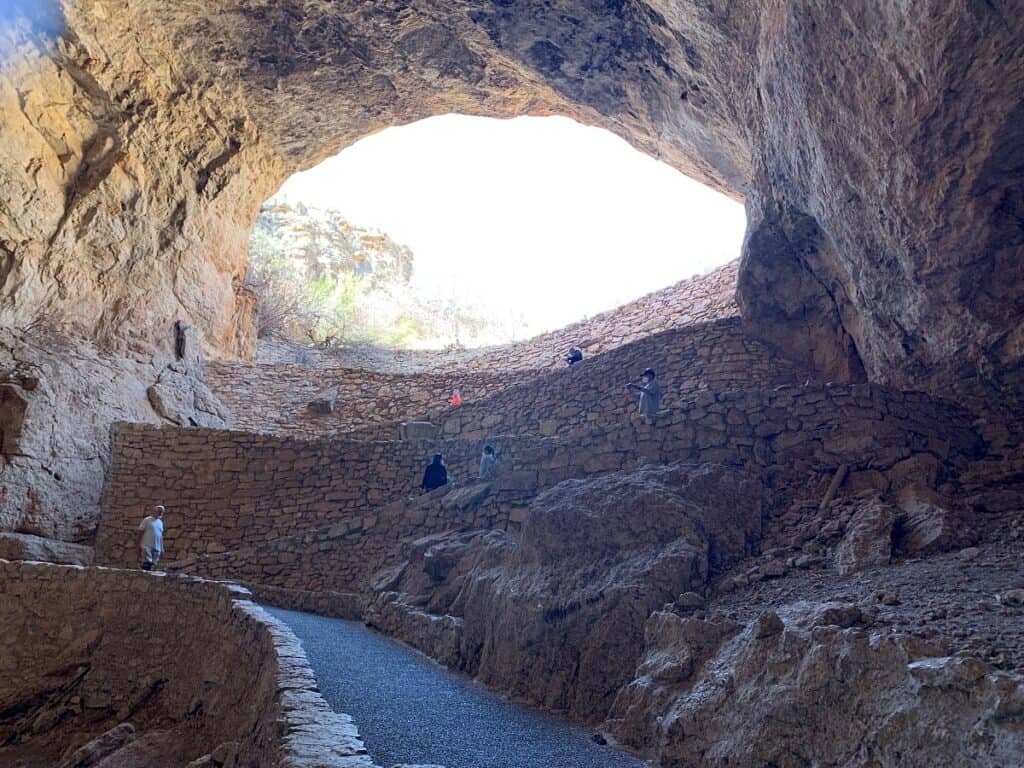 Visiting Carlsbad Caverns
Walking through Carlsbad Caverns Big Room is breathtaking. The open cave is enormous. It is the largest single cave chamber in the United States accessible for public tours. As in any cave, you'll find stalactites, stalagmites and other structures with names to capture your imagination. But what stood out most to me was how open and spacious the cave was. You probably won't get claustrophobic here!
We choose to walk down into the cave through the Natural Entrance. It's a 1.25-mile hike that is a pretty good workout. The park service says to plan an hour as you cover the distance of a 75-foot tall building. The good news is the path is paved with a sturdy handrail and includes many switchbacks to reduce your angle of descent. I suspect we took well over an hour because we often stopped to look at the intriguing features in the cave.
If that hike sounds too much for you, feel free to use the elevator that takes you straight to the big room. Part of the big room is wheelchair accessible, and you'll find shortcuts if you don't want to walk the whole trail. Currently, there are no ranger-guided tours, and other cavern sections are not open for visitors. Hopefully, those options will open up again soon! Gratefully, we found rangers to be available throughout our walk to answer questions. And you can purchase a self-guided audio tour in the gift shop that many visitors enjoy.
Hiking in Carlsbad Caverns National Park
Although we chose to skip hiking here, there are a dozen desert hiking trails into the Guadalupe Mountains and the Chihuahuan Desert worth exploring if you have extra time in Carlsbad Caverns National Park. Some are short, like the paved trail to Walnut Canyon Overlook and others are long, like the Guadalupe Ridge Trail that spans 100 miles of backcountry.
How Long Should You Stay in Carlsbad Caverns National Park?
We'd suggest an overnight stay if the bats are back in town so you can experience the impressive Bat Flight. Visiting the cave is a full 1/2 day of adventure.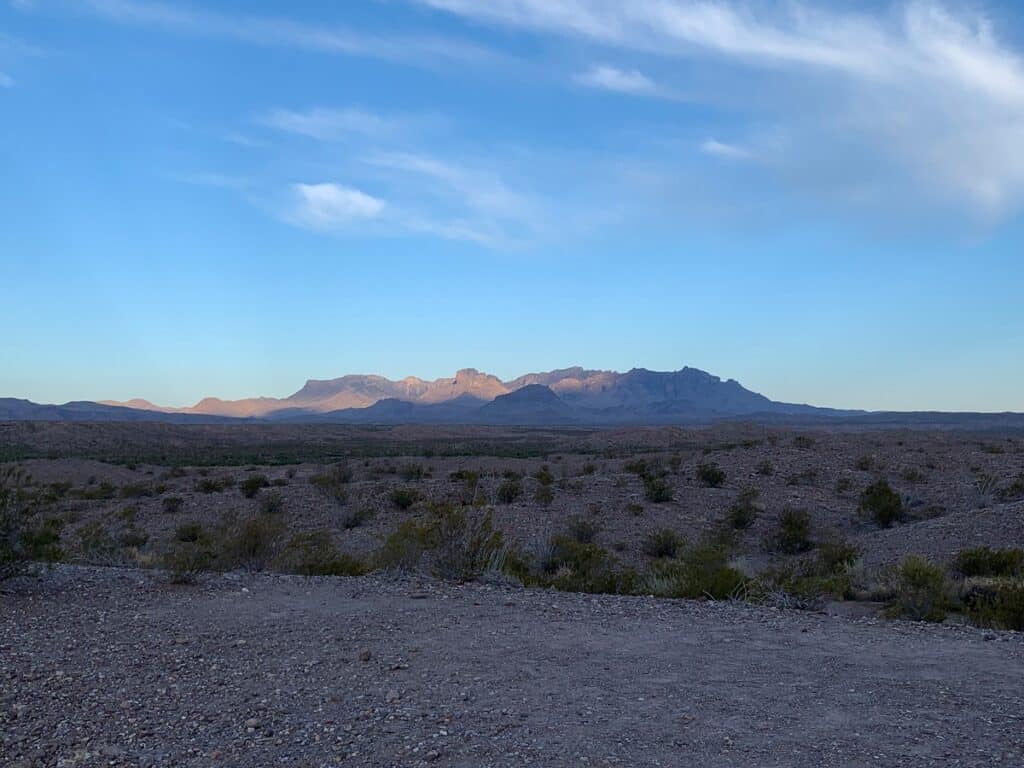 Days 5, 6 and 7: Big Bend National Park
Big Bend National Park is like no other and was the last stop on our New Mexico and West Texas road trip. Discover everything you love about the desert; gorgeous blooming cactus, endless expanses of sand and a calm feeling of deep isolation. Then toss in amazing views of deep canyons cut by raging water and the tall, stark Chisos mountains in the background. And at the end of all roads, you meet the Rio Grande, which defines the park's southern boundary for 118 miles.
Hundreds of migratory birds pass through the park each year, making it a nature lovers delight.
Getting to Big Bend National Park
From Carlsbad Caverns, it's a 4-hour drive on a primarily 2-lane highway to Big Bend National Park. Although we probably shouldn't have been, we were surprised by the many oil wells we passed. And most of the road traffic was oil company trucks.
Fort Stockton along Interstate 10 is your last chance to stock up on supplies. After this town, gas stations and grocery stores are pretty thin, although not impossible to find if you are willing to pay premium prices.
Best Time to Visit Big Bend National Park
According to the Park Rangers, the best time to visit Big Bend is winter. Why? Because the desert sun is blistering here during the summer with daytime temperatures well over 100 degrees. There is very little shade in the park, especially on the hiking trails.
Even during our visit in early April, we struggled with the heat, and I overheated on one of our short hikes. The visitor centers in the southern points of the park, Rio Grand Village and Castolon, close in the summer due to the heat.
The Chisos Basin stays open as it is a tad cooler due to the higher elevation. But caution, that place was still hot in April. In contrast, friends who have visited in the winter months have found hiking much more comfortable.
Where to Stay in Big Bend National Park
Lodging options are limited because Big Bend National Park is so isolated. However, if you are up for trying new things, this is the place to be.
Big Bend Hotels
Within the park, Chisos Mountains Lodge is the only choice. You can find other lodging options about 45 minutes out of the park: to the north in Marathon and the west in Terlingua, Terlingua Ghost Town and Lajitas. The choices are a mix of unique lodges and rentals. You won't find chain hotels here! Here are some options to check out in Terlingua which will put you close to the park.
Big Bend Camping
But as you know, tent camping is our thing! We explored the three campgrounds in the park, and for desert camping, they are perfect. The sites were chosen because they are a little oasis in the desert, providing shade in the day's heat. Unfortunately, all were closed during our visit because of road resurfacing.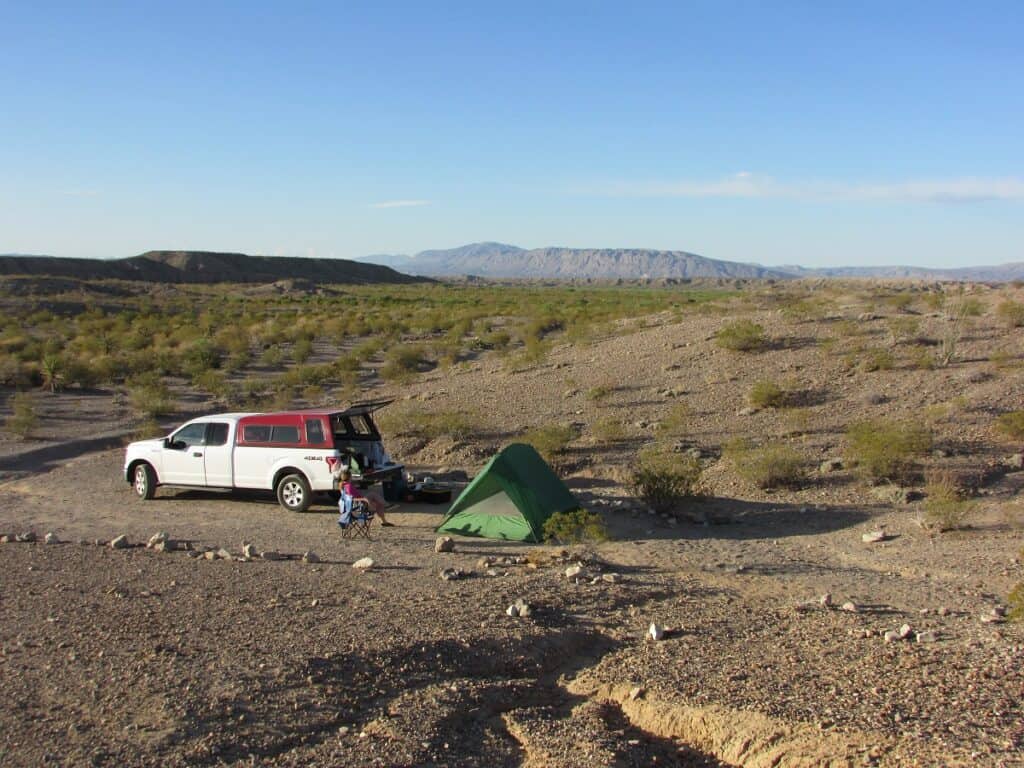 Primitive Road Campsites
So we tried something new! Primitive road campsites. Big Bend National Park is the only park we've encountered this option, so we were unsure what we would experience. However, we were driving our 4×4 truck on this road trip, so we decided to try it.
These campsites are on dirt or gravel roads that are rarely maintained. So the ruts are deep in many places. It took us over an hour to drive the 7 miles off the main road to our campsite on Old Ore Road. And the park service did not exaggerate the difficulty of navigating the terrain and the need for a high lift heavy-duty 4×4.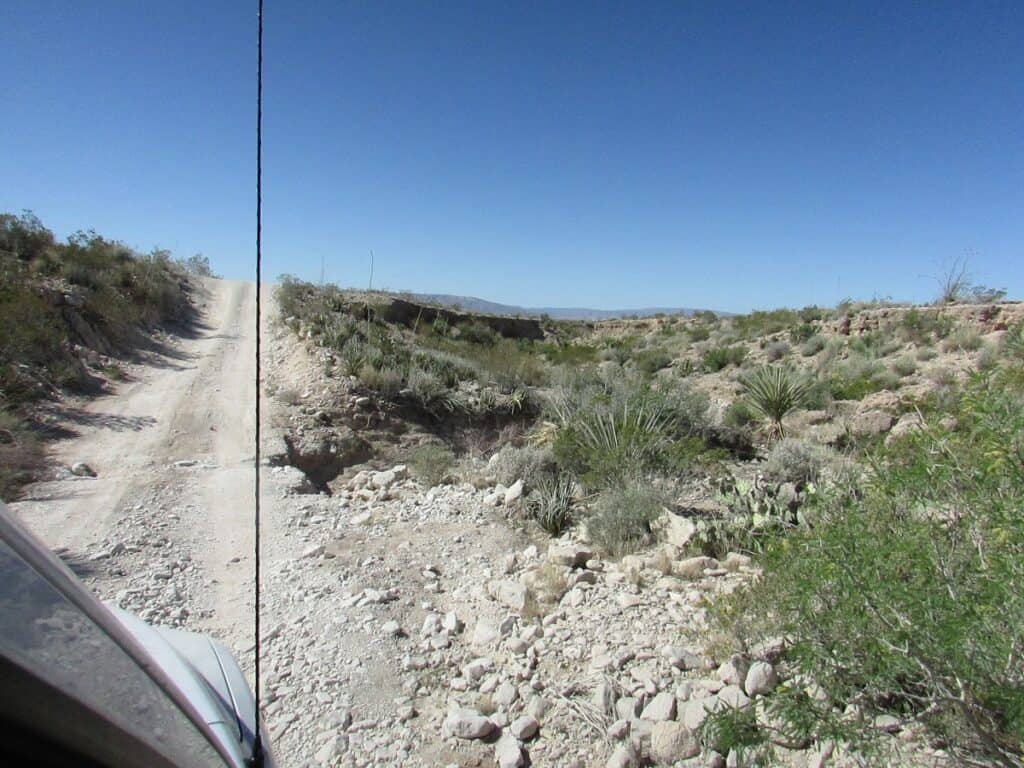 Our campsite (La Noria) was amazing! Unlike our night in Guadalupe National Park, where we could clearly hear the bedtime conversation of other campers, we were all alone. It was so peaceful. The sunset was beautiful. And I woke in the night to a sky with millions of stars filling our tent window.
We talked to another camper who spent a week in Big Bend, spending each night at a different Primitive Road Campsite. In hindsight, that would be the way to go if you have the vehicle for it so that you can taste each area of the park.
Camping Outside Big Bend
We spent our other 2 nights camping in a private tent-only campground near Terlingua, Rancho Topanga. The owners were super sweet, and it was convenient to the hiking on the west side of Big Bend.
Keep in mind that all camping will be desert camping with little to no shade. If you plan to be at your campsite during the day, bring along an awning, or you will cook! We tried to be out of camp by 10 am and not return until evening to avoid the hot sun.
A very popular camping option is Big Bend Ranch State Park near Terlingua. You'll also find many other RV and tent camping options in the Terlingua and Lajitas areas.
Things to do in Big Bend National Park
Keeping in stride with the reputation of the Lone Star State, Big Bend is one huge National Park. The park covers over 800,000 acres which is about twice the size of the city of Houston. So we wanted to make sure we planned plenty of time to explore this park.
We found it easy to divide the park into three sections and spend one day exploring each area:
The Rio Grande Village area
Chisos Basin
The Ross Maxwell Scenic Drive to the Rio Grande
This park is big enough to easily write your own adventure plan ranging from 3 days to several weeks. It would be hard to see much in less than 3 days.
Rio Grande Village
Our day started with breakfast at our remote campsite. With the whole place to ourselves, it was hard to leave. But by 9:30 am, the sun was hot, and we found the truck's air-conditioning calling our name. Since we were close to Rio Grande Village, we spent our first day exploring that area. We found plenty to do for a full day. Rio Grande Village is in the southeast corner of Big Bend. It might just be the hottest part of the park, and in the summer months, the visitor center is closed.
Even in the heat of summer, the campground is open. There is a well-stocked camp store that includes showers and a gas station. Of course, we grabbed a soda and an ice cream!
Daniels Ranch -Rio Grande Village Area
While in the village, wander over to Daniels Ranch. Here you can see an adobe house, part of the original ranch. But we found most interesting here is the irrigation system from the early 20th century that made this large farm possible Today, the irrigation from the river keeps the village area green, supplies water to the campground and helps shade trees survive.
Visiting Boquillas, Mexico – Rio Grande Village Area
Bring your passport, and you can cross the Mexico border to visit the village of Boquillas, Mexico. You can pay a small fee for a rowboat ride across the Rio Grande, or when waters are low, you can wade across. Once on the other side, Mexican vendors offer donkey and horse rides to the village, which sounds quite fun. However, since it's only 1/2 mile, you can choose to walk. Merchants in the town sell their crafts and food.
We had looked forward to this side trip… however, we messed up on 2 levels. We forgot our passports, and we were there on a wrong day. The hours and days the Boquillas border Port of Entry is open are limited.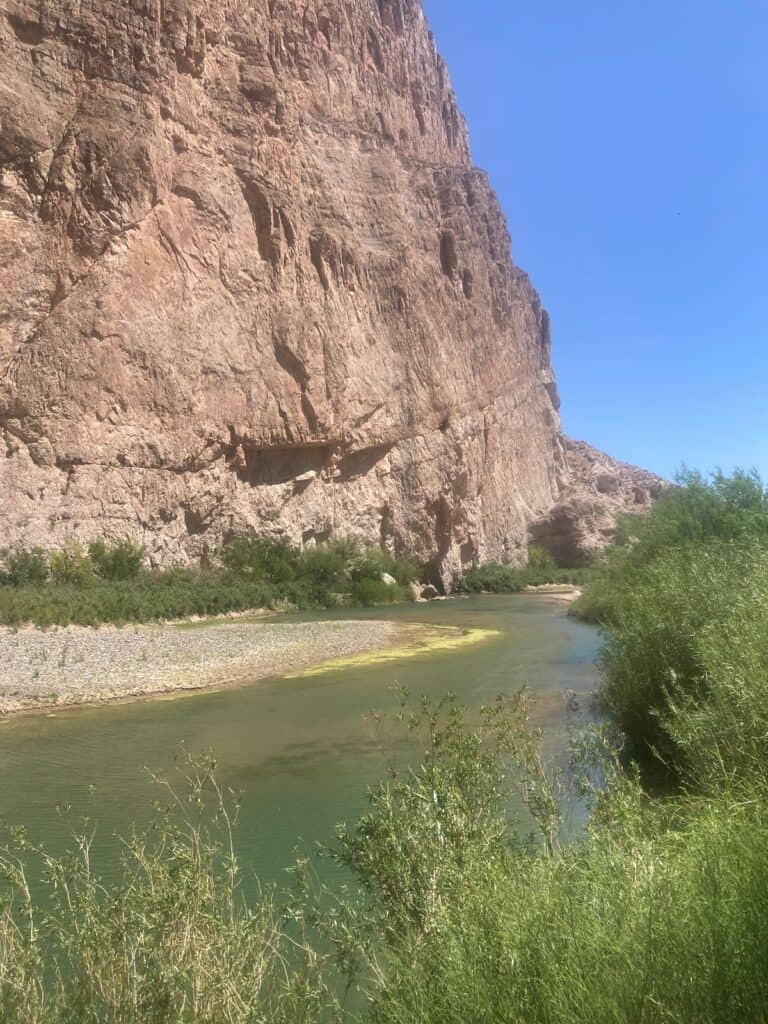 Boquillas Canyon – Rio Grande Village Area
With its craggy canyon walls and sandy beaches, Boquillas Canyon is a popular hike. The trail is a moderate 1.4-mile round trip walk. While the beginning is relatively steep, it levels out to an easy walk across a sandy beach along the river.
The challenge with this hike is the heat. The hike is full sun, and the canyon gets hot by early afternoon. However, most people jumped in the river to cool off! Brad joined them for a swim while I enjoyed a break in the little bit of shade we found.
We loved seeing wild horses along the river bank. Wild mules also enjoy the waters in Boquillas Canyon.
Hot Springs – Rio Grande Village Area
Our last stop in the Rio Grande Village area was the Hot Springs. Brad is a hot springs junkie, so we couldn't miss an opportunity to soak in the warm waters!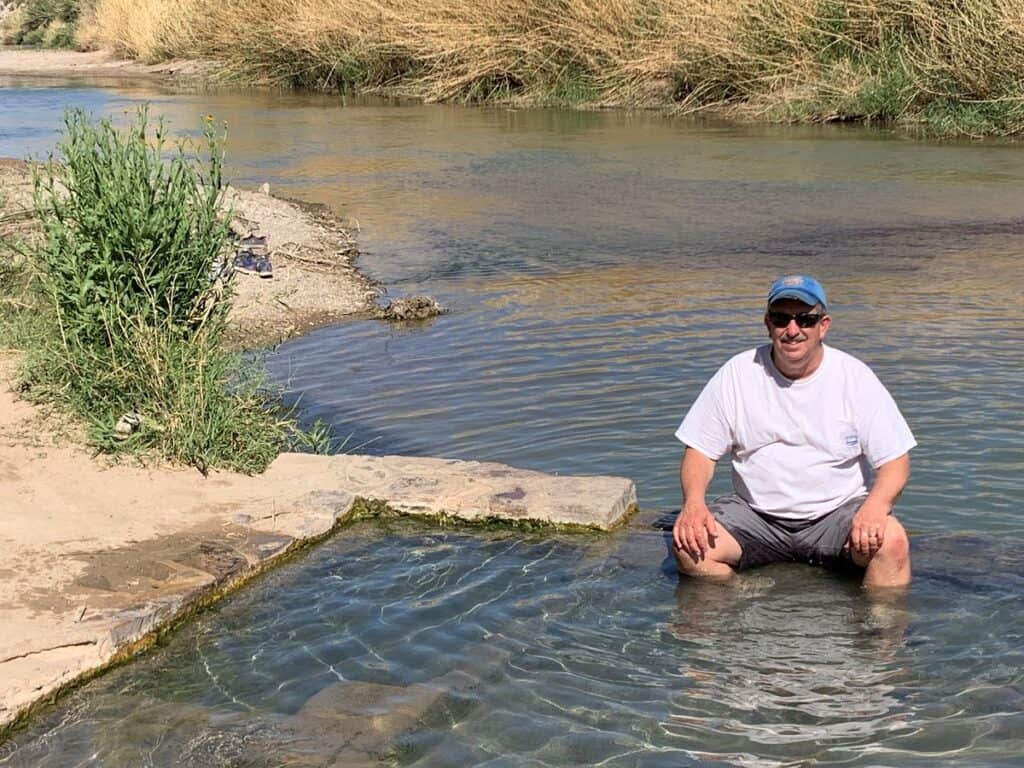 In 1909 J.O. Langford opened a business on this site, offering healing baths in the 105-degree hot springs for 10 cents per day. Today, you'll see the remains of some of the original buildings. We were surprised that the giant palm trees he planted to create a resort environment are still thriving. The spring itself is within the foundation walls of the original bathhouse.
It's a short 1/2 mile walk to the Hot Springs from the nearby parking lot. Hot Springs trail takes you through sand, which makes it a little more work. Wear your bathing suit and enjoy the springs and the stunning view of the Rio Grande.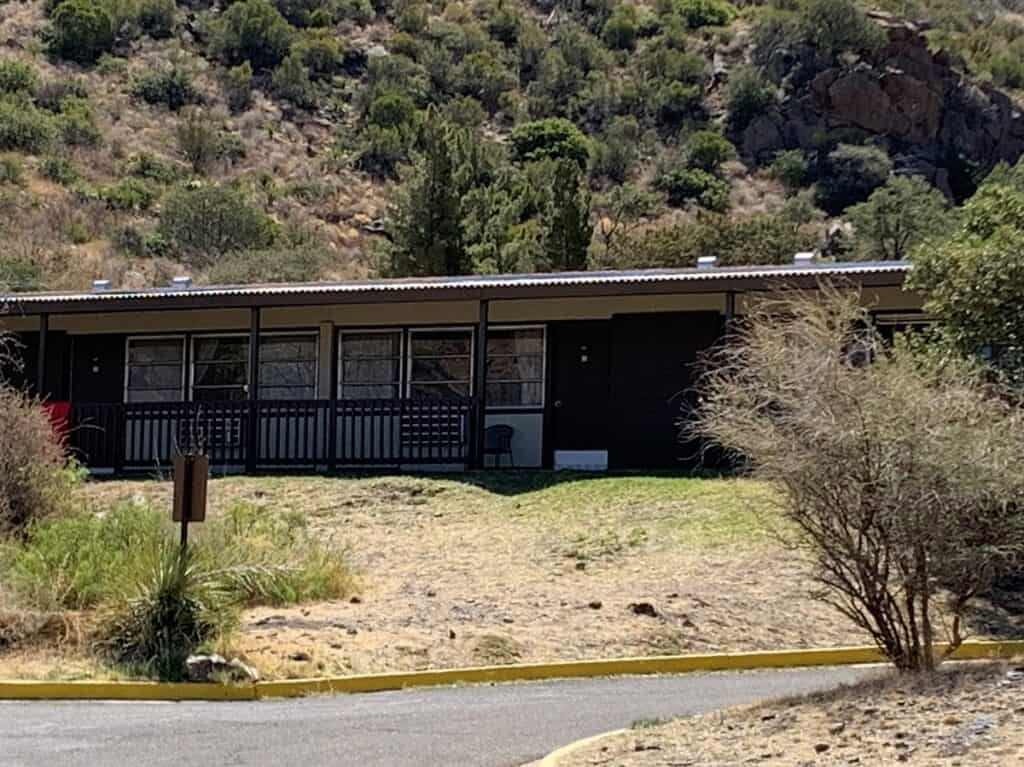 Chisos Basin Visitor Center
On our second day in Big Bend, we headed to the Chisos Basin. Everything we had read indicated it would be a little cooler here because of the higher elevation. Well… not so much. Maybe because we were there in April, quickly approaching the summer months, but it was still hot as blazes. You'll find the Visitor Center, camp store, the Chisos Mountains Lodge, and Restaurant in a small village setting. Although it's a worthwhile stop, there isn't much to explore. While I waited for Brad to pack for our hike, I was entertained by a busy road runner. He had discovered that bugs on the grills of parked vehicles were an easy lunch!
Hiking Chisos Mountains – Chisos Basin Area
Some of the best hiking in the park takes off from the visitor center. The hikes range from the easy 0.3-mile Window View Trail to the extremely strenuous 14-mile South Rim, leading to stunning desert vistas. With over 3 dozen backcountry hike-in camping sites, it quickly becomes apparent why backpackers love winter hiking in Big Bend.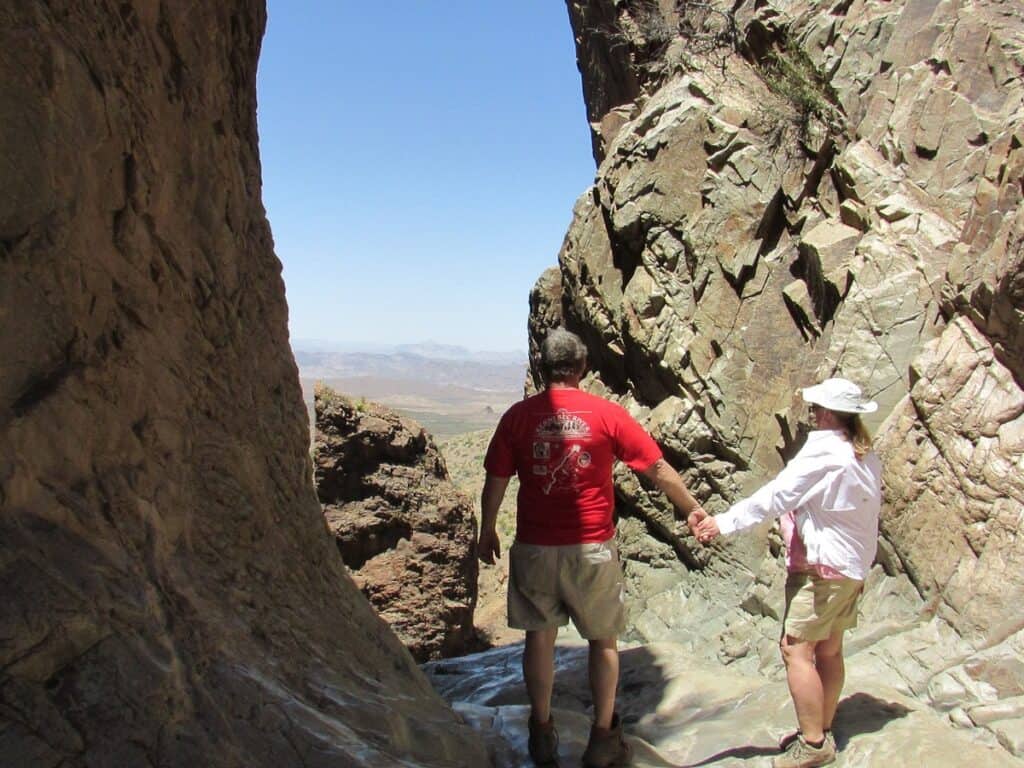 The Window Trail – Chisos Basin Area
We chose to hike the Window Trail, a 5.6 mile in and out that started at the Visitor Center parking lot. It was amazing! First, the hike was hot and in full sun for much of the trip, so we took our time stopping to cool down any time we found a little shade. But the destination is so worth the effort. You end in a slot canyon with just a split between the rocks looking out over the desert. Stunning!
The April heat drained our energy, so we relaxed for a bit and then headed back to camp for the evening.
Drive the Ross Maxwell Scenic Drive
We got an early start on our last day because we needed to be on the road back to Houston by mid-afternoon. Our primary goal was to hike into the Santa Elena Canyon. To get there, we followed the Ross Maxwell Scenic Drive.
This scenic drive covers 30 miles, taking you to the Castolon Historic District and Santa Elena Canyon. We chose to drive to the end and then stop along the way back so we could better monitor our limited time. If you have more time, plan to spend a whole day exploring along this road. There is a beautiful scenic overlook and several interesting short historic sites within a short walk.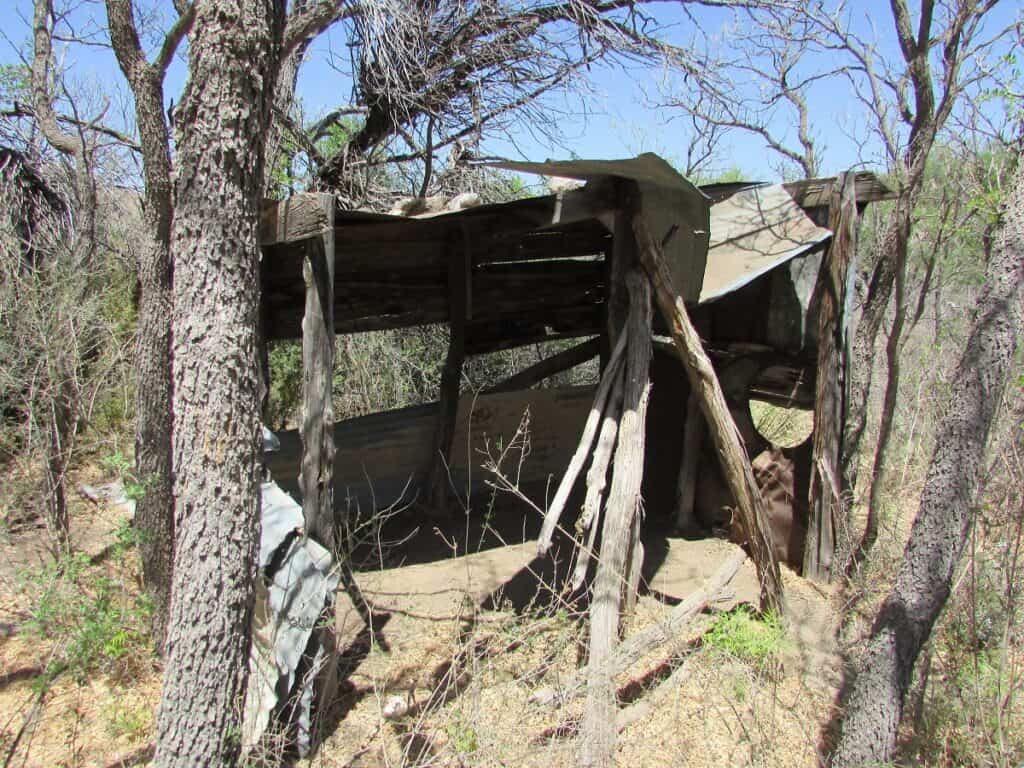 We stopped at The Sam Nail Ranch, once a working farm in this area. Portions of buildings still exist, and the windmill is turning. We only spent a few minutes in the Castolon Historic District. I wish we had more time to explore.
We also snuck in a quick drive through the Castolon Cottonwood, the tent-only campground, which was a lush green oasis hidden in the desert. If you can get a reservation here, it's worth a night's stay.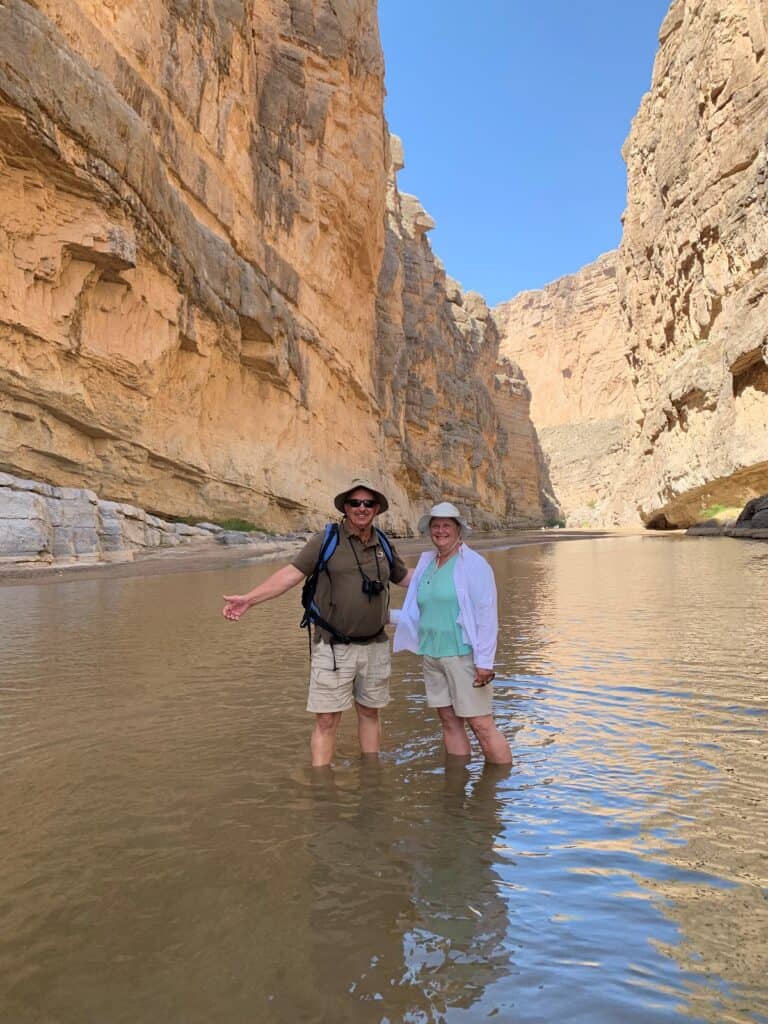 Santa Elana Canyon – Ross Maxwell Scenic Drive Area
Santa Elana Canyon is not to be missed on your road trip to Big Bend National Park. The Rio Grande River carved a 1,500-foot vertical chasm into the limestone. It is stunning! You can view the canyon from an overlook along the scenic drive. But if you can handle the 1.7-mile round trip hike, it is a highlight of the park. The beginning of the hike is a steep climb up a staircase of switchbacks and then down the other side. But once you get over the cliff, the rest of the hike is level sand.
Along with dozens of other hikers, we waded in the Rio Grande to cool down. As we walked through the deep canyon walls, we couldn't help but be in awe of mother nature's ability to create immense beauty! What a perfect way to end our Texas and New Mexico Road Trip!
And Just Like That…Our Road Trip through West Texas and New Mexico National Parks Ends
More Tips for Your Road Trip through New Mexico and West Texas
Although you will be able to find food and gas on this trip, there is quite a distance between stores. So don't let yourself run low on either.
Bring lots of water! We brought gallon jugs of water so we could refill our water bottles in addition to having plenty of cooking water.
Take it slow. It's going to be hot. Even in the cooler winter months, it's going to be hot. Be well prepared for

hiking in extremely hot weather

conditions.
We don't recommend taking your dog camping in Big Bend due to the heat. We were glad we left our pup in Houston with family. She would have struggled with the heat. However, we were surprised to find an air-conditioned kennel available free of charge in Carlsbad Caverns NP. I poked my head in and the dogs were very comfy.
Hiking in heat takes longer and is more strenuous than hiking in good weather, so make sure you have

packed your daypack

with all the essentials.
This was a great road trip and we were able to see some amazing scenery in the four national parks we visited. If you're looking for an adventure, I would definitely recommend taking a West Texas and New Mexico National Park Road Trip. You could easily spend more time in each park if you have the time, or add in some of the amazing state parks for more things to do. There's something for everyone in West Texas and New Mexico!
---
For more of our National Park Road Trip Adventures, complete with itineraries and things for you to do check out these posts:
And for extra tips for a successful road tip, here's exactly what you need.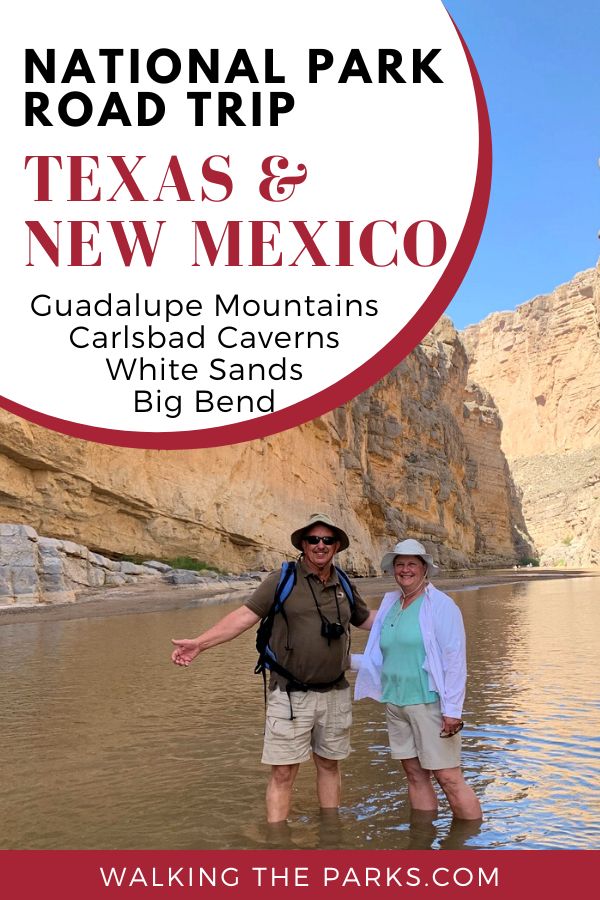 ---
The Authors: Hey, we are Ladona and Brad, avid campers and hikers. We are crazy about getting outdoors at every possible moment and have decades of experience exploring nature. Our current goal is to visit all 63 US National Parks and just completed #42. WooHoo! Our mission is to help you plan your own adventures and create memories beyond your imagination!