Folding saws are so incredibly practical when camping, that it's hard to imagine not including one in your gear set. We'll show you the best folding saw for your camping style so you can be prepared for your next adventure.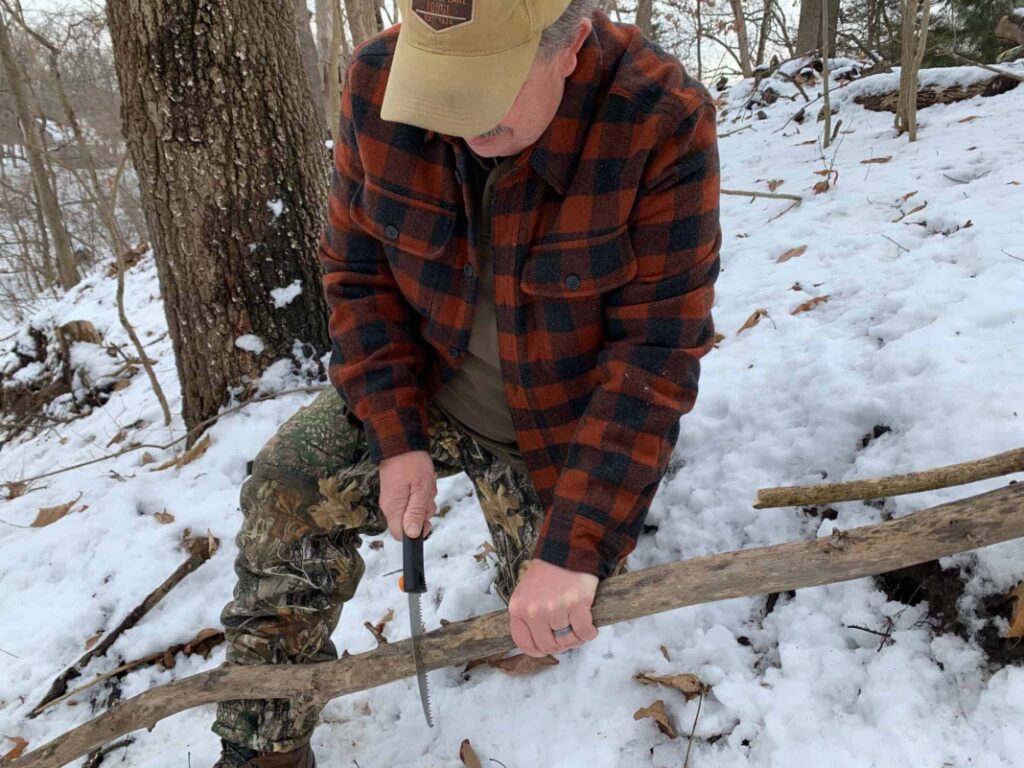 Links may be affiliate links which means we may earn a small commission.
The design of the best folding saw for camping is simple yet extremely functional. Any camper from RV road warriors to backcountry ultralight hikers can find a folding saw that is perfect for the way you travel.
The big draw of a folding saw is that the blade of the saw is folded into the handle, so it is safe and easy to pack. Imagine, without that protection around the blade, how many other items would get damaged in your backpack, in your car, or even in the storage compartment of your RV.
Our Picks for Best Camp Folding Saws
How We Choose The Best Folding Saws
For this selection of great saws for camping and backpacking, we started with our own gear and picked out our favorites that have held up over time to share with you. Then we researched the newest products through reviews and fellow campers' experiences.
Brad has spent thousands of hours in the woods doing everything from clearing and bushwhacking to building our campfires. My husband loves to cut wood so much that I often find him outside at 10 below splitting wood, just for fun. He always has a folding saw in his backpack, ready for any branch or bush that needs to be cut. His expertise was critical as we selected the best saws for camping and backpacking.
We considered a wide variety of features when picking the best saws. Most important to you is the quality and durability of your folding saw. If you are a backpacker, right behind that is packability because space is always at a premium. Of course, just as important is the ease of use and the efficiency of the saw in cutting wood. We take a deep dive into those features below the reviews.
Detailed Reviews of The Best Folding Saws for Camping
---
✅ Best Straight Blade Folding Saw
WEIGHT: 7.05 oz
BLADE LENGTH: 7.5″
CLOSED LENGTH: 9″
LARGEST LOG: 4.0″ dia
BLADE DESIGN: Straight
CUT TYPE: Pull and Push cut
One of the highest-rated folding saws by outdoors folks everywhere, The Bahco Laplander folding saw will cut through almost any material. Featuring a 7.5-inch aggressive cut blade, you can cut logs up to about 4″ with ease.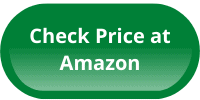 PROS: The saw is made in Sweden using low friction and rust preventative coating to ensure a smooth cutting action. The hard plastic handle is grooved to enhance your grip and shaped to fit comfortably in your hand. It features a simple locking mechanism with an easy-to-use release button for safety. It will cut through both green and dried wood with ease. The compact size also makes it easy to use for light pruning.
CONS: If you are only planning to do light sawing and pruning activity, a curved blade like the Corona below might be a better choice, while the straight blade on the Bahco will give you greater accuracy.
---
✅ Best Curve Folding Camping Saw
WEIGHT: 8.6 oz
BLADE LENGTH: 7″
CLOSED LENGTH: 8.5″
LARGEST LOG: 3″ dia
BLADE DESIGN: Curved
CUT TYPE: Pull cut
The Corona RS 7245 Folding Saw is ready for any camping adventure. It is well made, so it holds up quite well under heavy use. And it is made for comfort.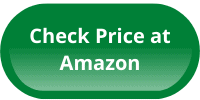 PROS: The pull cut on the Corona 7″ blade is perfect for cutting overhead branches. You can easily cut branches up to 3″ diameter into firewood or to clear a camping space. I really like the pistol shape of the handle for comfort and improved gripping. The blade is made of Japanese SK5 for durability. And then it's chrome coated to reduce friction when cutting and to provide rust protection.
It's a really nice and comfortable saw for light to medium duty. The Corona folding saw is also available with an 8″ and 10″ blade if you want more power.
CONS: With only 6 teeth per inch (TPI) this saw gives a rougher finish to the cut. However, that also means the deep teeth cut fast. For most camping use, speed and ease far outweigh the need for a really clean cut.
---
✅ Best Backpacking Folding Saw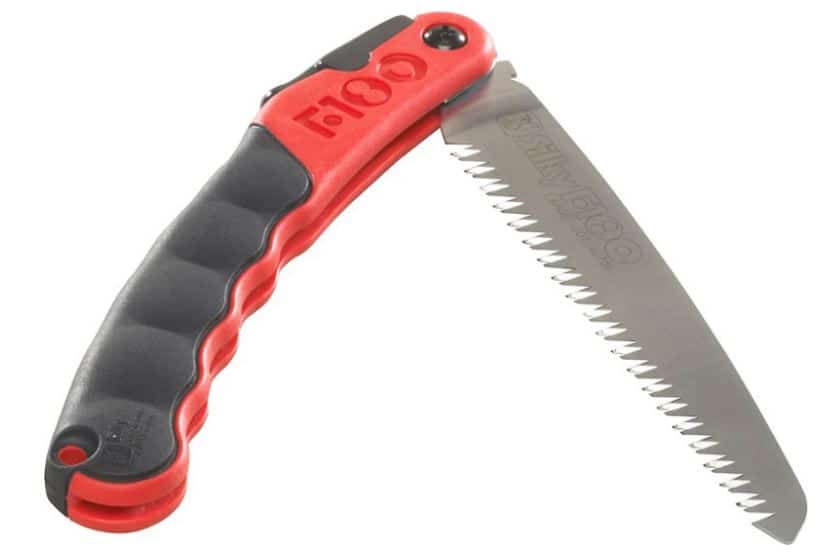 WEIGHT: 5.3 oz
BLADE LENGTH: 7.1″
CLOSED LENGTH: 8.9″
LARGEST LOG: 3.6″ dia
BLADE DESIGN: Straight
CUT TYPE: Pull cut
Saving 2 to 3 ounces of pack weight over our top choices, the Silky F180 Folding Hand Saw is a much better choice if you are going to be packing your folding saw for a remote camping trip. Most of the weight savings come in the design of the fiberglass polypropylene handle, but we feel the thoughtful ergonomics of the lighter handle design still make this a really comfortable all-purpose camping saw.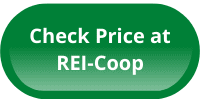 PROS: The Silky Saws feature 2 locking positions for the blade, which is really convenient if you are making awkward cuts or in tight spaces. The blade is made from premium Japanese steel treated to last through many years on the trail. It features a rubberized nonslip grip over the handle for safety and comfort.
CONS: The blade doesn't actually lock when folded into the handle position, although it firmly slides into place, so it shouldn't be a problem even under heave travel usage.
---
✅ Best Low Cost Folding Saw:
WEIGHT: 9.2 oz
BLADE LENGTH: 8.25″
CLOSED LENGTH: 9.5″
LARGEST LOG: 4″
BLADE DESIGN: Straight
CUT TYPE: Pull cut
The SOG Folding Camping Saw is perfect if you want to save a few dollars. It is a sturdy saw and cuts extremely well up to a 4″ log.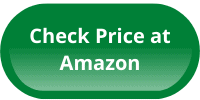 PROS: The hardened, tempered steel blade is black powder-coated to reduce rust and for a smoother cut. The rubberized handle is really comfortable in your hand for longer tasks. A sturdy nylon sheath is included.
CONS: This saw is a bit larger and heavier than you'd want to carry backpacking, so it's best for car and RV camping.
---
✅ Lightweight Folding Saw
WEIGHT: 3.8 oz
BLADE LENGTH: 4.7″
CLOSED LENGTH: 6.25″
LARGEST LOG: 3.2″
BLADE DESIGN: Straight
CUT TYPE: Pull cut
First, you have to geek out a bit about the beautiful beech handle on the Opinal #12 Folding Saw.  I know the function is more important than form, but there is a little bit of pride in pulling out a truly beautiful tool to do the job.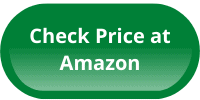 PROS: This compact and lightweight folding saw is pretty amazing beyond the look. At less than 4 ounces, you can cut up to a 3″ branch. For campfire making and a little light clearing, that is plenty of power.
The French-designed Opinal uses unique Virobloc safety rings to lock the blade open; the metal ring twists into place to ensure the blade doesn't accidentally close on your hand when in use. We think you find the soft curve of the handle to be a comfortable grip when sawing wood.
CONS: As with any tool with a wood handle, it's important to occasionally care for the wood to keep it from drying out and splitting. You'll also need to ensure the folding saw is dry before storing away after your camping trip.
---
✅ Best Folding Saw for Big Jobs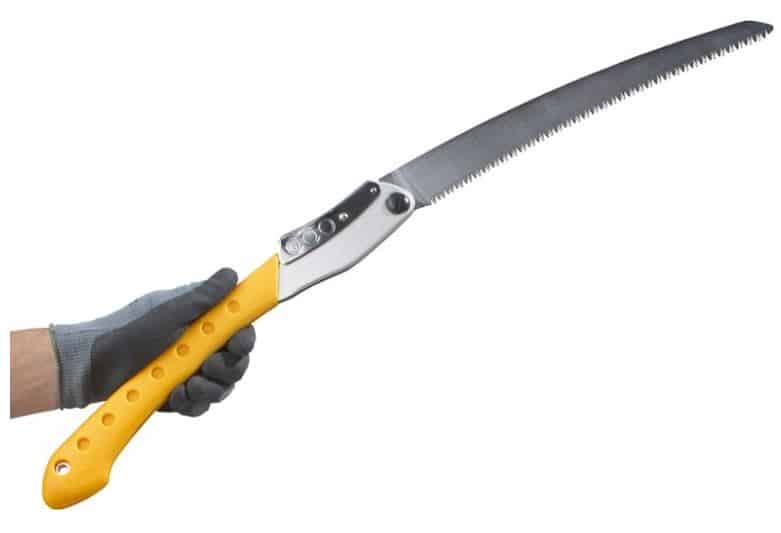 WEIGHT: 14.2 oz
BLADE LENGTH: 14.2″
CLOSED LENGTH: 16.8″
LARGEST LOG: 6″
BLADE DESIGN: Curved
CUT TYPE: Pull cut
The Silky Big Boy 2000 is just what you need if you anticipate the need to cut larger logs as it can handle up to an 8″ diameter piece of wood. We think this would be perfect for working on trail maintenance. It would also be an amazing choice if you were trail riding, snowmobiling, ATVing, etc and wanted to be prepared to clear fallen logs. But it is probably overkill for normal campfire needs.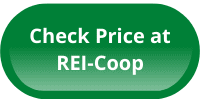 PROS: The extra-large cutting teeth on the 14.2″ blade make quick work cutting on the pull stroke. For better ergonomics, the handle is cushioned with rubber and has a nonslip grip. You could easily use two hands for the quick-cutting action.
We also like that the blade is replaceable. Silky boasts 2 locking angles for the Big Boy, which might make it easier to get into a tight spot.
CONS: At almost a pound in weight, you won't want to backpack with this bad boy unless you know you will need the extra power. However, if you are not carrying it in a pack, why not go for it.
---
✅ Cheapest Camping Saw
WEIGHT: 5.1 oz
BLADE LENGTH: 6.5″
CLOSED LENGTH: 7.25″
LARGEST LOG: 3″ dia
BLADE DESIGN: Straight
CUT TYPE: Pull cut
The Gerber Sliding Saw is slightly different from the other camping saws in that the blade slides down into the cover instead of folding. This is the saw that Brad carries most in his pack because of its lightweight and compact size.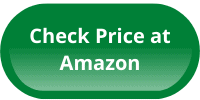 PROS: Designed primarily for pruning type cuts, it will still cut through a 3″ log with ease. Brad is using this saw to clear some fallen branches off the trail in the photo at the top of the article and sliced through this branch in just a few seconds.
The hard plastic cover is heavy duty and has withstood years of being tossed around. You'll also find this an extremely inexpensive option.
CONS: With lightweight comes a thinner blade which means you will have to slow down if you find an emergency need to cut bigger logs to avoid bending the blade.
---
✅ Best Folding Bow Saw for Trail Clearing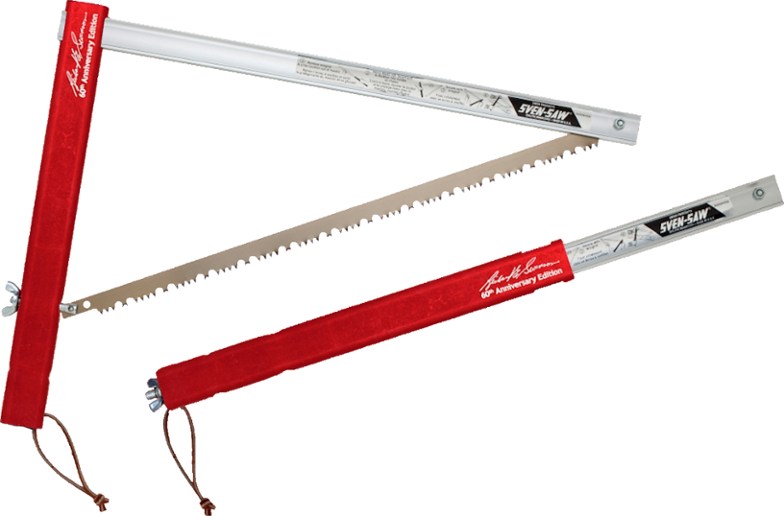 WEIGHT: 14 oz
BLADE LENGTH: 21″
CLOSED LENGTH: 23″
LARGEST LOG: 8″
BLADE DESIGN: Straight
CUT TYPE: Pull and Push cut
The huge advantage of this triangular-shaped saw is that you can put a lot of pressure on the blade, and it won't ripple as you cut. That allows faster and smoother cuts of bigger logs. The Sven Folding Saw has been made in Minnesota for over 60 years using Swedish steel blades.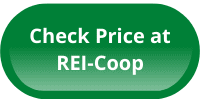 Originally designed for boundary water adventures, it's going strong for all types of camping. Many outdoor enthusiasts have owned and used the same Sven Saw for decades. Here's an article celebrating the history of this company that is an interesting quick read.
PROS: This saw is designed for heavy-duty work and will hold up under a lot of abuse if needed. Although not as quick to assemble as the folding saws above that just flick open, the assembly will take less than a minute.
We like the thin, smooth package, when folded up that would easily slide down the interior side of a backpack rather than settling in the bottom of the pack. You can also find a 15″ version of the Sven Saw if you want to go a little lighter at about 11 oz.
CONS: Ultralight backpackers may not appreciate the weight, which is just under a pound. But if you are anticipating a need to cut all your firewood, this is a great tool to have handy on any camping trip.
---
✅ Another Great Bow Saw
WEIGHT: 16 oz
BLADE LENGTH: 21″
CLOSED LENGTH: 21.5″
LARGEST LOG: 8″
BLADE DESIGN: Straight
CUT TYPE: Pull and Push cut
We really love how easy it is to fold and unfold the Coughlin's Folding Bow Saw. For some heavy-duty firewood cutting for your campfire, this will definitely do the job.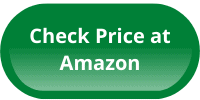 PROS: All the pieces are connected, so when you pack up this folding bow saw, you won't lose any parts. The aluminum frame is sturdy while still lightweight, so it won't twist under heavy use. You can also store an extra blade inside the aluminum frame. Odds are you'll never need it, but it always feels good to be prepared!
CONS: There are a lot more plastic parts on this compared to the Sven Saw, which means more potential for breakage.
---
✅ Top Rated Pocket Chainsaw
WEIGHT: 4.8 oz
BLADE LENGTH: 36″
CLOSED LENGTH: 3″ x 3″ x 1″ Pouch
LARGEST LOG: 10″
BLADE DESIGN: Chain
CUT TYPE: Pull and Push cut
Pocket chainsaws are for those times you wish you had a chainsaw but don't. You are only limited to how many logs and branches you can cut until your arms get tired. The Sportsman 36″ Pocket Chainsaw is highly rated because it does a great job cleaning up a mess quickly.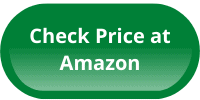 PROS: The high carbon 65mm thick chain is properly set up with teeth spacing with use as a handsaw in mind, so it cuts quickly. An important feature is the rugged cross stitch handles, so you feel secure while cutting. This chainsaw is long enough for 2 users when cutting a particularly large log. We are pretty impressed with Sportsman's 100% lifetime warranty.
CONS: It takes some practice getting used to using a pocket chainsaw effectively. Otherwise, you will get binding and stuck blades. If you expect to only use it on rare occasions, a more traditional folding saw would be a better choice. However, if you expect to use it a lot, without a doubt, the pocket chainsaw is the way to go.
---
Types of Folding Saws for Camping
It's important to consider how you will use your folding saw before selecting one. Most backpackers will choose a lightweight Traditional Folding Saw, or a Sliding Saw because they will only use it to build fires and clear occasional light brush.
If you doing trail maintenance, then you are going to want something heavier like a pocket chainsaw or a bow saw.
And if you are an RVer or car camper, you'll probably only use your folding saw for working around your campsite, so you could choose almost any one of these and be in great shape.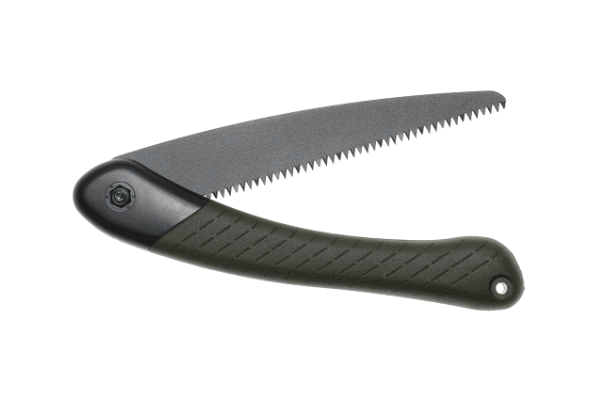 Traditional Folding Saw
The most common and simplest folding saw is truly that. It has a handle and a saw blade with a pivot point in the middle. The saw blade folds into the handle just like a giant pocket knife. The pivot point will also have a locking mechanism for both open and close states.
Why would you choose a traditional folding saw?
They tend to be compact and lightweight, which makes them easy to pack or tuck into your gear.
The protective handle keeps the rest of your gear safe.
The teeth are pretty large and aggressive, meant for quick cutting.
The diameter of logs varies with the size of the blade, but generally, these work really well up to 4" and work fairly well up to 6".
The slim design makes it easy to get into small spaces.
Easy to use one-handed.
The drawbacks of a traditional folding saw?
Not great for larger logs
Sliding Saws for Camping
Sliding Saws are basically the little brother of the Traditional Folding Saws. In these saws, the blade slides into the handle. It's very similar to how a box cutter blade slides, except, in this case, the saw blade is almost the full length of the handle. Once again, there is a locking mechanism to keep your hands safe when the blade is open or closed.
Why Choose a Sliding Saw?
These tend to be a little more compact than the traditional folding saw, which makes them great for backpacking where every ounce counts.
The smaller size is very efficient for pruning and cutting through smaller limbs. In creating the photo for this article, Brad cut through that 2" diameter branch in just a couple of seconds with his Gerber Sliding Saw.
The drawbacks of Sliding Saws?
The blade tends to be lighter and thinner because this is meant for lighter work. It's not a good choice if you are going to be doing any heavy-duty work.
Folding Bow Saws
Who doesn't love a bow saw for serious cutting. They are easy to use, even I can cut down a 6" diameter Christmas tree in a few seconds with a bow saw. And they are stronger, so they hold up better when cutting many logs. So someone was super smart when they figured out how to build a bow saw that would fold up into a neat compact package.
Why Choose a Folding Bow Saw?
If you plan to cut larger logs or cut a lot of logs, you'll find a bow saw much more efficient.
The frame keeps the blade from bending, which provides a faster cut.
The teeth tend to be longer, so you get a more aggressive cut.
The blades are usually replaceable with standard bow saw blades.
The frame allows you to put even pressure on the saw which is less tiring and cuts faster.
The drawbacks of a Folding Bow Saw when Camping?
Although lightweight, these tend to be significantly heavier than sliding or traditional folding saws, making them not practical for backpackers.
The size and shape don't work well for pruning if you clear the brush.
They have to be put together, which means you have parts that can be lost and time-consuming.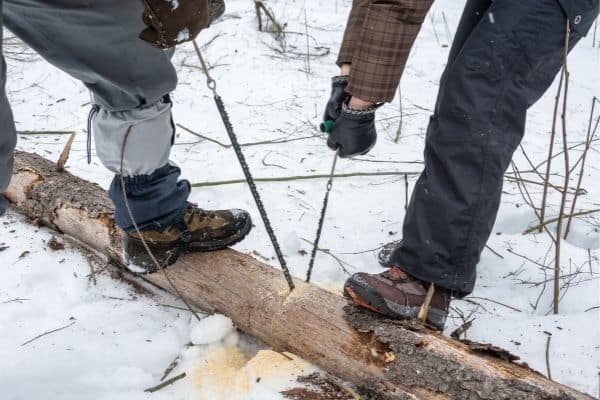 Pocket Chainsaws
Perhaps it's a bit of a stretch to call a pocket chainsaw a folding saw. But if you consider the intent, they fit the bill. Picture the chainsaw from a motorized chainsaw, except straight with handles on each end.
Why Choose a Pocket Chainsaw?
With 2 people working it, you can get some serious cutting power and rip through a log in no time.
Easy to carry as it can tuck into almost any space, even pants pocket.
You can cut large logs. Basically, you are only limited by the length of the chain.
It can easily be used for overhead branches (just make sure the branch won't fall on you!)
Drawbacks of Pocket Chainsaws
Although not difficult, they also aren't easy to use. It can be challenging to get the cut started with one person. And you definitely can't use it one-handed.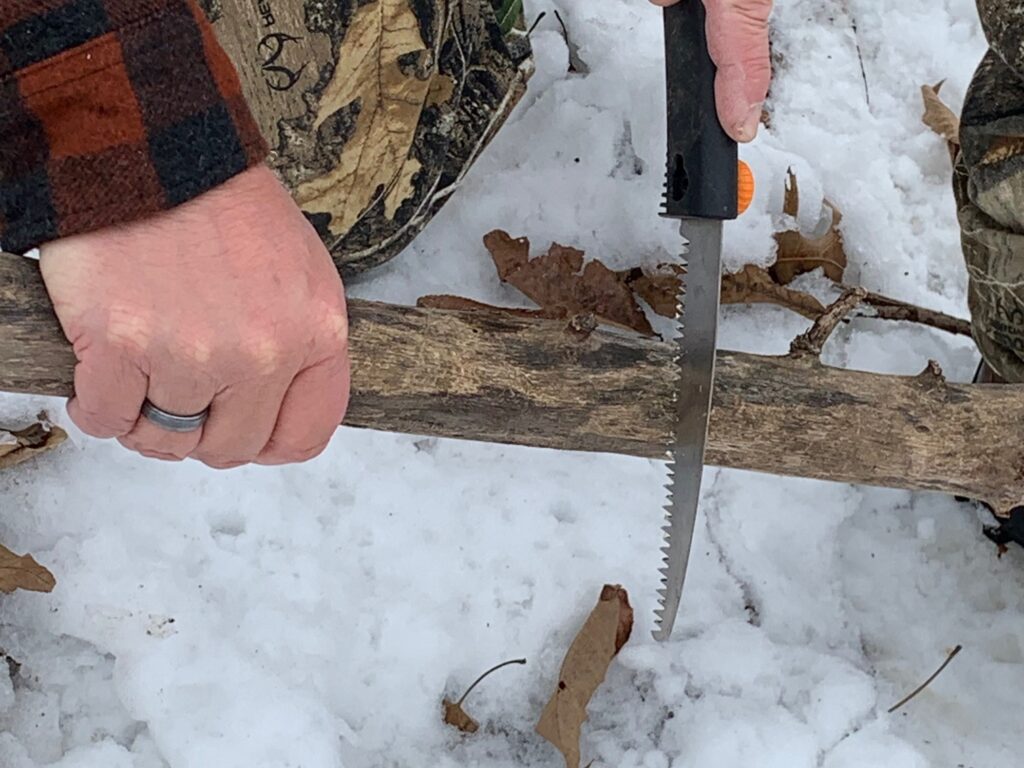 Characteristics of a Great Camping Saw We Considered in Our Top Selections
Quality and Durability
Most folding saws use stainless steel or carbon steel, so they will last. You want your blade to hold firm when you are cutting. The steel is often thinner than a regular saw to minimize the weight. But there is a fine line between reduced weight and unstable sawing.
Handle Construction and Ergonomics
Camping folding saws that incorporate a fitted or rubberized grip are the best. If you are cutting more than a few small pieces of wood, you'll find that an ergonomic grip will reduce hand fatigue.
Blade Sharpness and Strength
This is where it pays to purchase a saw for camping with a solid reputation for producing quality blades. A dull saw does you no good.
Curved Blade vs Straight Blade
Curved blades are great for light-duty work. They usually have a nice ergonomic design and are easy to use. A straight Blade tends to be better for moderate work but takes a little practice to get a good sawing rhythm.
Pull Cut vs 2 Way Cut
A pull stroke saw means it cuts as you pull the saw towards you. It doesn't cut as you push the saw away. The teeth point towards the handle. The blade is usually thinner for more control and tends to be found in many camping folding saws. A saw that cuts in both directions of stroke is definitely a faster cutting tool but also usually a little heavier.
Packability
Consider how you are going to transport your folding saw when camping. Do you need it easily fit in your pack? Or do you keep it in your trunk? Those factors can influence your choice as weight and size differ significantly.
Of course, compactness is also a critical piece of why campers love folding saws. There is never enough space for everything you want to carry when camping. So tools that are lightweight and compact are golden! That is even more true for backpacking. Brad keeps a folding saw in his base kit, and I'm amazed at how often we pull it out when camping. You don't know when you'll need it… but when you do, you are so glad it's there.
Safety
It's critical that your saw will lock in place, both when open and closed. You don't need to cut your hand when you reach into your pack or into your tool bag.
What are the Uses for a Folding Saw When Camping?
Without a doubt, the number one use for a saw when camping is for fire building. You can quickly cut up small branches for kindling and a couple of "all-night logs" to keep your fire going. Although a great camping hatchet will also work well for cutting up logs, a saw is more efficient when wood needs to be cut into pieces for a campfire or stove.
A folding saw also comes in super handy in clearing a trail or cleaning up a campsite. The saw blade is quick to prune branches that are in the way. Brad often uses his to quickly clear a small view for watching wildlife. (Reminder of no trace left behind… there are places where you should not clear the bush to preserve the natural surroundings, such as in a National Park.)
For backcountry hiking, a folding saw is a necessary tool for building an emergency shelter. It will let you quickly cut branches to the length you need for your shelter frame.
Frequently Asked Questions about Folding Saws
Can you sharpen a camping saw blade?
Surprisingly it's not that hard to sharpen your camping saw blade. First, use pliers to straighten any teeth that have bent with use. Then you just go tooth by tooth and sharpen. Here's a really good video from Prune Like A Pro that covers the basic technique for sharpening the teeth. Your folding camping saw is likely to be a lighter and smaller blade, so you could easily use the file in your camping multitool for sharpening when on an adventure.
How do you clean a saw blade?
Resins will build upon and between the teeth of your saw blade over time and reduce the effectiveness of the cut. The resins will cause the blade to "stick" as you cut, so moving the blade through wood becomes harder.
Although you don't have to be obsessive about it, you should clean your saw blade after extensive use and definitely before packing it away at the end of the season. You'll find an inexpensive, nontoxic orange oil-based saw blade cleaner works really well. But in a pinch, you can usually get away with any household degreasing solution, including basic laundry detergent. Let your saw blade soak for a bit, then scrub it with a toothbrush.
What is TPI?
TPI stands for Teeth per Inch. The higher the teeth count, the smoother the blade will cut. However, lower teeth count will cut faster. That's because there is more space between the teeth, which allows the blade to rip through the wood quickly.
For camping purposes, you aren't usually worried about smooth cuts, just about getting a trail cleared quickly or starting your fire before you freeze, so a low TPI is preferred.
You'll really appreciate having a camping saw handy when you are camping. No doubt it makes creating a great fire quick work. But there are so many other uses that you'll wonder why you waited. If you can't decide which one is best for you, start with a traditional folding saw, as it will cover 99 percent of the work any camper wants to accomplish.
---
Looking for great gift ideas for your favorite camper? Check out our list of over 60 of the Best Gifts for Campers. You'll find great gifts for the camper who has everything!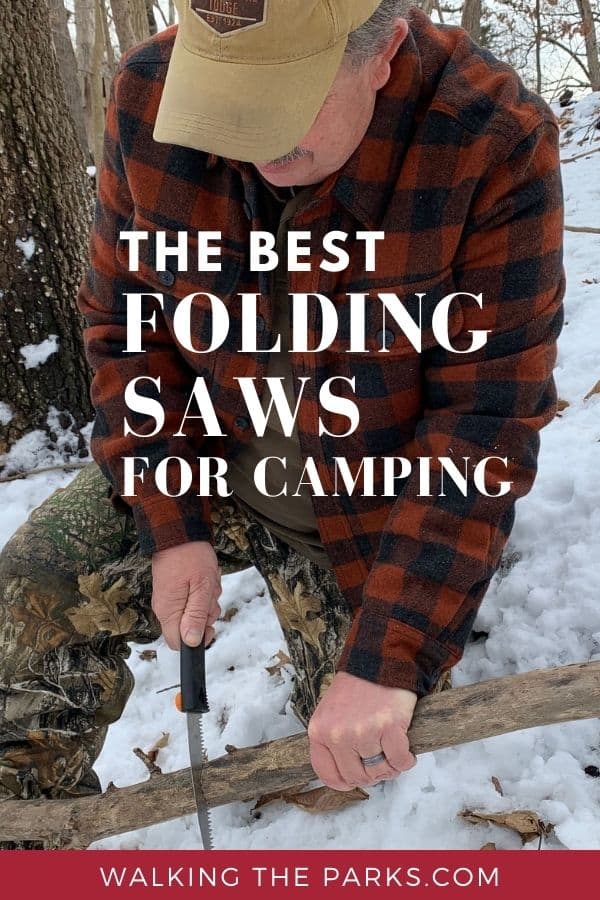 Looking for other great camping gear? Here are some of our most popular gear reviews: