You have probably seen dozens of articles outlining how to successfully complete a Utah National Parks Road Trip. Many proclaim you can enjoy the Mighty 5 Utah National Parks in just 5 days. From the start it seemed like a crazy and exhausting idea. But give us a challenge and it's hard to walk away. So we set out to see if it really was possible to visit all 5 Utah National Parks in 5 days.
Should you take on this Mighty Five Utah National Park Road Trip yourself? It's not for the weak! Here's our itinerary and the story to go with it. You can decide for yourself if you want to tackle the ultimate challenge to discover the best national parks in Utah.
Just like on TV's Myth Busters, when a challenge is thrown out there's usually a screwy twist to make it even more difficult. Ours was that we were headed out in August. August in the desert is probably not the smartest move we've ever made. Read on for more on how we handled the intensive heat on our Utah National Parks road Trip.
This post contains a couple of affiliate links to make it easier for you to find products I have mentioned. You don't pay any extra and in some cases I could earn a small commission.
Here's the 5 Utah National Parks 5 Day Itinerary:
Here's our itinerary for our 5 day Utah National Parks Road Trip. We started in Salt Lake City, Utah. At the end of this post we've outlined a similar itinerary for starting from Las Vegas which can be a lot of fun and sometimes a cost saver.
We also share 3 Day and 4 Day itineraries for the Utah National Parks for those of you who only have a long weekend.
Day 1 – Bryce Canyon National Park
Day 2 – Zion National Park
Day 3 – Capitol Reef National Park
Day 4 – Arches National Park
Day 5 – Canyonlands National Park
For a Utah Mighty 5 Road Trip Plan to "Taste the Parks"
Our other compromise was to accept the fact that we couldn't do it all in each park. So we decided to "taste" each park rather than try to squeeze in a full experience in such a short time. That meant no long or difficult hikes in order to allow time to explore more of each of those 5 Utah National Parks in 5 days.
Before we get too far into this story, we'd like to share a couple of the resources we enjoyed with you:
We found the Moon Utah Travel Guide incredibly useful on this trip. While road tripping between parks it was invaluable in finding other interesting places to stop.
When on a crazy road trip like this one, short hikes make it easy to taste each park. Here's a great resource for planning your hikes.
Day 1 – Bryce Canyon National Park
We found that with a really long full day you can enjoy most of Bryce Canyon National Park. Bryce Canyon is about 4 hours from both Salt Lake City and from Las Vegas so we drove to our campground the night before to get an early start on the day and spent a very full 12 hours in the park.
Bryce Canyon National Park 1 Day Itinerary
Hike Rim Trail
Picnic Lunch at the Rim
Hike Queens Garden Navajo Loop Trail
Drive to Rainbow Point and stop at each overlook on way back
We hiked much of the Rim Trail which is where you will find amazing views of Bryce Amphitheater. The trail connects a series of overlooks where you can capture the perfect photos of the famous hoodoos and see for hundreds of miles. This trail is in full sun so getting an early start is helpful in the summer.
There was time to hike into the canyon on the Queens Garden and Navajo Loop Trail for a hike to get up close to the hoodoos. Way cool! Although very warm, Bryce Canyon is not quite as hot as its southern sisters so hiking in August was very doable as long as we carried a lot of water and took our time.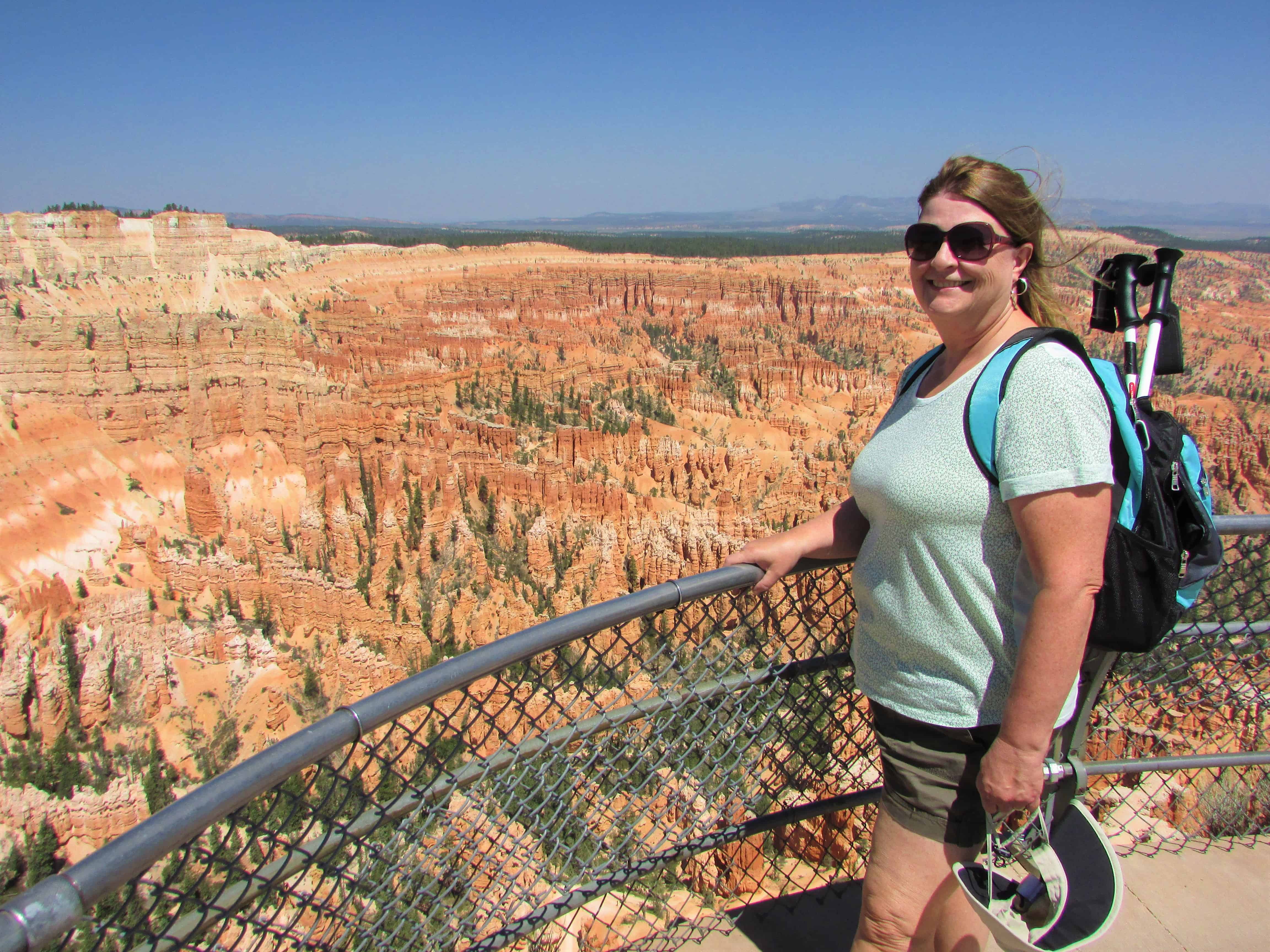 Then we ended our day with a drive deep into the park to Rainbow Point to view the evening shadows on the canyon walls. There are 8 overlooks along the scenic drive, each with a unique view so we stopped at most of them on our way back to the entrance.
If you find yourself with a little extra time there are several great day hikes off these overlooks. We exited the park as dusk settled in and wildlife started to become active. Deer and elk entertained the last visitors of the day along the road.
A second day in Bryce Canyon National Park would have been nice. We pushed hard to see most of the park and completed two awesome hikes. We were so exhausted when we got back to camp that we traded our planned campfire dinner for cold sandwiches and quickly fell asleep.
Things to Know about Bryce Canyon National Park Before You Go
During the busy summer months, vehicles longer than 20 feet are not allowed in the Bryce Amphitheater so plan to grab

the free shuttle

just outside the entrance to the park. It is super easy to use. We used it in the morning even though we didn't have a big vehicle because the parking lots are jammed packed during peak vacation periods. Then we returned on the shuttle to grab our car for our late afternoon cruise to Rainbow Point.
If you prefer hotels over camping, we'd suggest staying in Bryce Canyon City, just outside the front gate. That would give you a really long day in the park and be an easy launching point for heading to Zion on Day 2. To find the best 

hotels in Bryce Canyon City, check here

.
A variety of camping options are available in Bryce Canyon City and in Bryce Canyon National Park. Just get your reservations early. If you want to get away from the crowds and the heat, like we did, there are over a dozen National Forest Campgrounds only 30 to 60 minutes away. Many take reservations.
Day 2 – Zion National Park
The second day of our Utah National Park road trip took us to Zion. Not only was it "fry eggs on the sidewalk" hot, Zion National Park was jam packed with people. Neither one of these features are at the top of anyone's visit wish list! But we figured it out. Zion is about 2 1/2 hours from Las Vegas and 4 1/2 hours from Salt Lake City.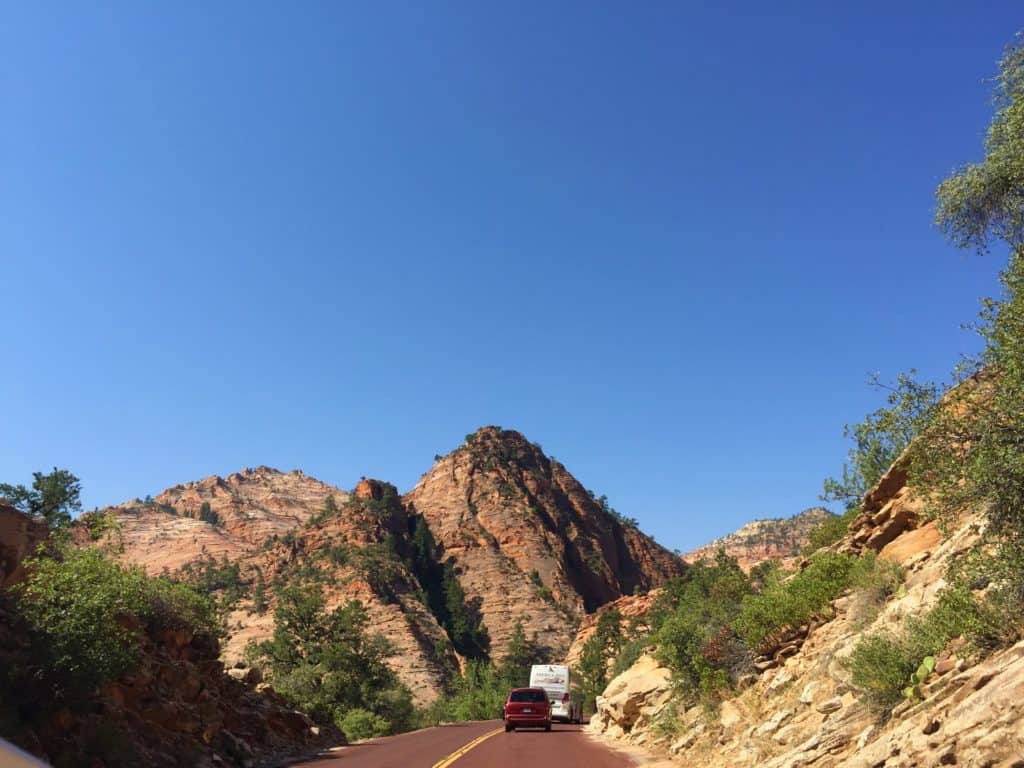 Zion National Park 1 Day Itinerary
Drive the Zion Mt. Carmel Highway
Ride the Shuttle, hop off at the Grotto and Weeping Rock for quick stops
Hike the Narrows (lunch on your hike)
Hop off the Shuttle at the lodge for a cold beverage or ice cream
Stop at museum on your way out.
So we started the day by enjoying the wonderful scenery along the Zion Mt. Carmel Highway in the air conditioned comfort of our car. I think a lot of visitors miss this amazing drive because they arrive from Vegas on the West side of Zion.
The drive is best enjoyed if entering the park from the East where it greets you with splendid breathtaking views and an exciting mile long tunnel!
At the end of your cruise, you'll arrive at the Visitor Center where you can grab the shuttle to Zion Canyon Scenic Drive. Other than the slowest times of the year, cars are not allowed on this busy scenic drive. You either need to take the shuttle or ride a bike.
There are many stops along the shuttle route that are worth enjoying. I'd suggest taking a quick stop at The Grotto and Weeping Rock during your day trip. We go into a lot more detail on the Zion Canyon Shuttle in this article.
For our hiking activity we took the shuttle to the last stop. This delivered us to the Narrows where you hike in the Virgin River among the high canyon walls. Walking ankle to knee deep in water for most of the hike really helped us stay cool. Well at least cooler!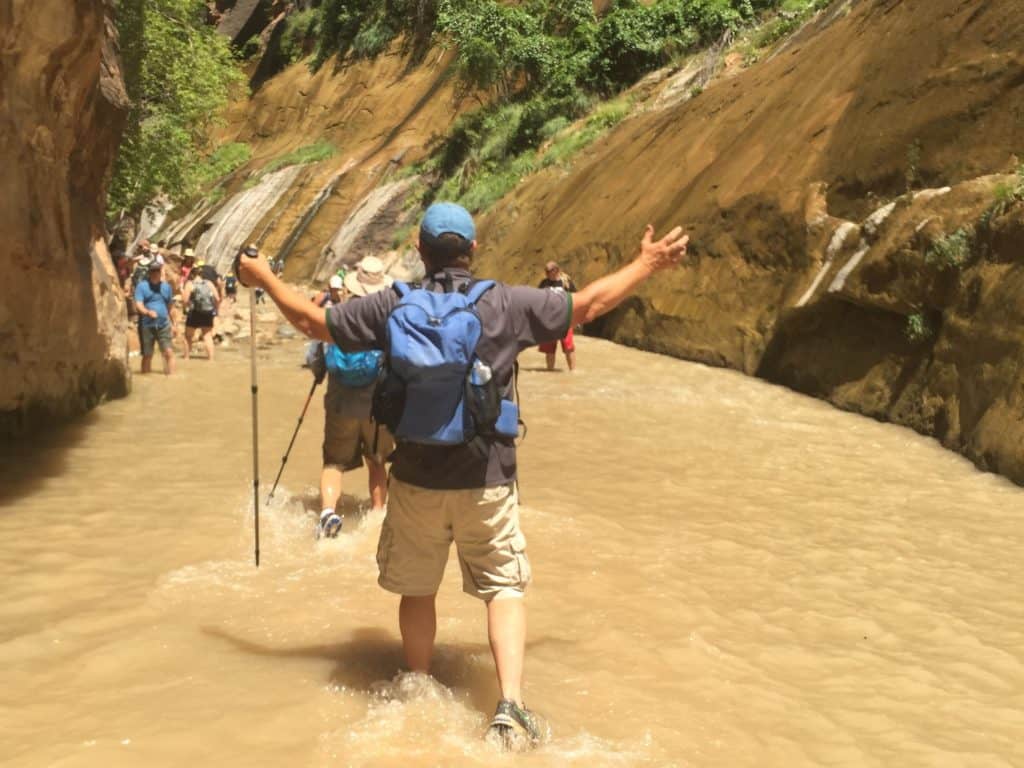 Obviously, a lot of other people had the same idea so the trail stayed fairly crowded for most of our hike. This hike is rated as difficult, but we found small children and seniors alike enjoying the walk. Difficult comes with distance, but take your time and go no farther than you are comfortable and most anyone can enjoy this trail.
On the shuttle ride back, you'll probably be pretty tired from your day in the sun so a quick hop off at the lodge will provide you with the opportunity to grab a cold beverage or an ice cream.
The next to last stop on the shuttle is the Zion Human History Museum which tells an intriguing story and is worth the stop. It's only 10 minute easy walk to the entrance and visitor center so you can skip waiting for the shuttle if you'd like.
And that's all we had time to do. We missed a lot of what Zion National Park had to offer like hiking to the popular Observation Point Trail or Angel's Landing. The good news is this is an easy road trip out of Las Vegas (a cheap weekend flight) so perhaps we can make another visit soon and discover more of this beautiful park.
Things to Know about Zion National Park Before You Go
Currently the Shuttle Service is requiring advance reservations to help control crowds. You can make your reservations at

Recreation.g

ov. Although only $1 per ticket, the reservation is for a specific entry time.
If you miss getting shuttle tickets, there might be last minute tickets available at the visitor center in the late afternoon. You can also pay for shuttle service from several private services in Springdale. Best bet, plan ahead and get shuttle tickets in advance!
Looking for a hotel instead of a campground? For a wide selection of lodging choices search the

best lodging in Springdale here

. You will wake up at the door of Zion with easy shuttle access into the park.
This is also where I decide that the daypack I've been using for the past couple years had to go. After a full day of use it left me hot and hurting. So now that I'm home I'm on the hunt for the perfect daypack.

Day 3 – Capitol Reef National Park
Day 3 of our Utah road trip through National Parks found us breaking camp at sunrise and leaving our beautiful mountain home of the past few days. We headed East on the famous Highway 12. The views along this highway of Utah's Grand Staircase-Escalante National Monument were breathtaking. At times the road was narrow with drop offs on each side. It was like being on top of the world.
Capitol Reef National Park 1 Day Itinerary
Visitor Center to watch movie Watermark
Visit historic village of Fruita with lunch in the park
Cruise the Scenic Drive and check out Butch Cassidy's Hideout
Discover Petroglyphs
We arrived in Capitol Reef National Park mid-morning. It was a great relief to find this park without the crowds we had experienced the previous day. Our first stop was at the visitor center to watch the movie Watermark so we could better understand the history and geology of this amazing park. If you want to save time since you have a tight day ahead you can watch it online before your visit.
Then we were off to visit the historic Mormon community of Fruita. The park service maintains the original orchards where you can sample fruit and several period buildings along the Fremont River. Fruita was an oasis in the heat. You'll find a lovely shaded picnic area here along the river, perfect for lunch or a quick nap.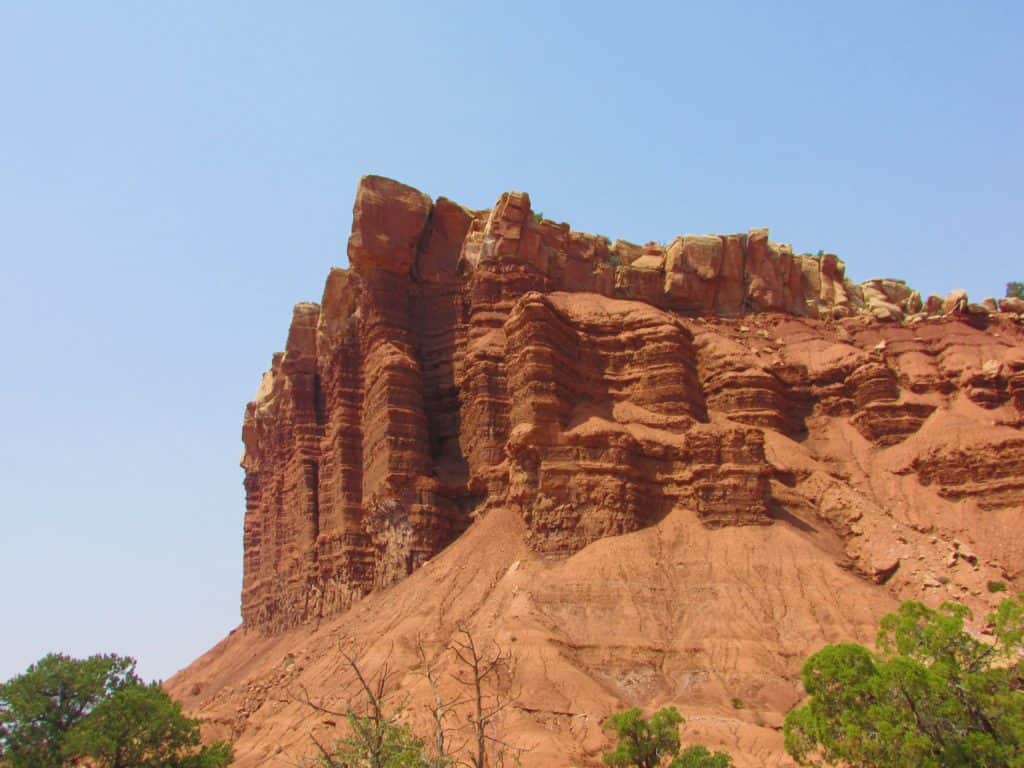 We then drove deeper into the park along the scenic drive. That drive included a side trip down a dirt narrow canyon road, Grand Wash, with warning signs about flash floods. Here we found the rumored hide out of famed outlaw Butch Cassidy. Standing there you could envision his gang riding in on horseback to escape the law.
---
Check out our post: 6 Things To Do in Capitol Reef for The First Time Visitor for more ideas to help plan your Capitol Reef Adventure!
---
As we moved to exit Capitol Reef and head south to Moab, we stopped to view the petroglyphs along highway 24.
Our only regret is that our time in Capitol Reef was only about 5 hours due to the driving time to get there in the morning and then to make it to Moab before dark that evening. That meant we weren't able to complete any hikes other than a few short jaunts from the pull-offs. If you are short on time, we shared 5 Easy Day Hikes in this article.
Things to Know Before you go to Capitol Reef National Park
Make sure you have packed a cooler. This park is far from everything!
Camping in the park is very popular and the campgrounds are nice. Check to see if you need reservations as it varies by season. There are a lot of small towns around Capitol Reef with lodging options, but you won't find much in the way of major hotel brands.
It's a long way from nowhere. So plan for a long car trip to visit Capitol Reef. We like to play road trip games on these long stretches.
Day 4 – Arches National Park
We continued our Utah National Parks Itinerary in the Moab area starting at Arches National Park. The day in Arches promised to be fiery hot again so we opted to drive straight into the short hikes we wanted to complete before the afternoon sun arrived.
It was hard to not stop and take pictures along the scenic drive as there are so many astounding natural sculptures.
Arches National Park 1 Day Itinerary
Hike to Upper Delicate Arch Viewpoint

Short Hike to Sand Dune Arch

Hike to Landscape Arch at Devils Garden
Stop at Panorama Point for Photos
Cruise the Scenic Drive
Explore the Visitor's Center
The good news about Arches National Park is that most of the really interesting rock structures are all accessible with only a short hike from the Scenic Drive. And some are viewable from the road without getting out of your car. That makes it easy to take breaks from the heat and manage your time.
We had a great walk up to the Upper Delicate Arch Viewpoint where you can get a great view of the Arch. That hike took about 30 minutes up some fairly steep stairs. If you don't want to travel far from your car, you can see the arch from the Lower Viewpoint which is only 100 yards from the parking area.
We chose to not take the hike right up to Delicate Arch because of the heat (and limited time) but if you had 2 days in Arches National Park I'd definitely put the longer hike on your list for early morning.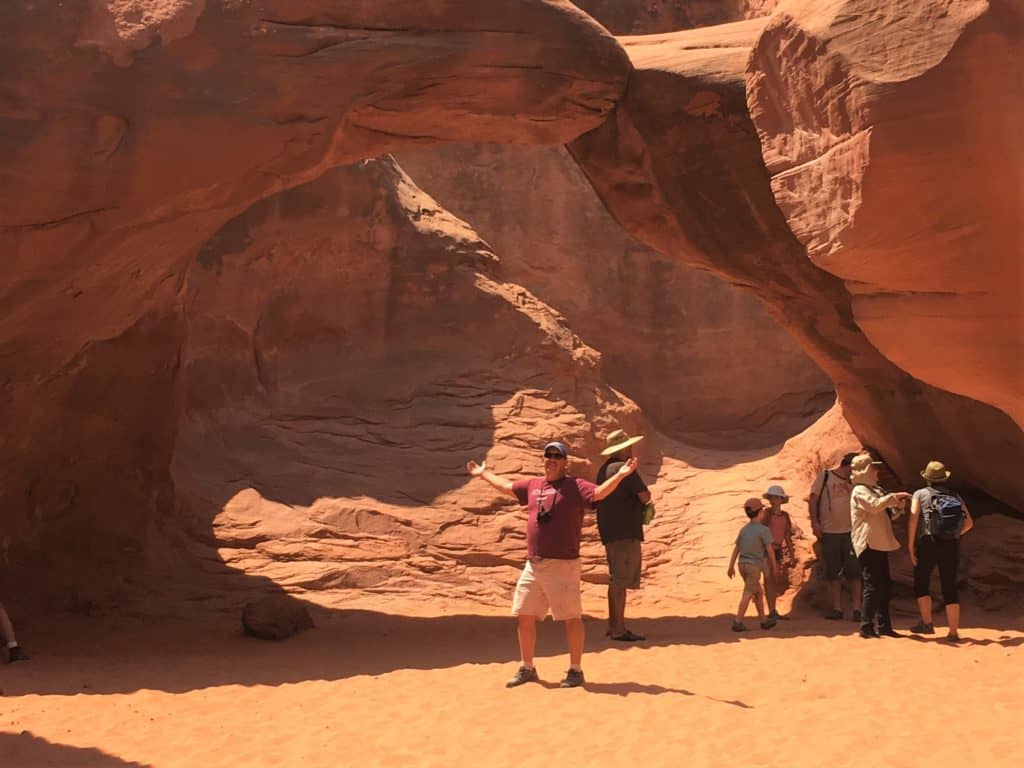 We had the most fun at Sand Dune Arch. The hike is only 1/3 mile from the parking area and you are rewarded with a lot of shade. There are neat crevices that kids (of all ages) will love to explore. 
By the time we arrived at our 3rd hike choice at Devil's Garden, the temperature was over 100 degrees and we opted to enjoy more overlook stops rather than hike and fry in the full sun. There is no shade in Arches National Park! On a hot day, make Landscape Arch your first stop as the opening which is larger than a football field is quite impressive!
From there we drove up to Panorama Point for a great photoshoot. And then we cruised along the Scenic Drive, sometimes hopping out for short hikes to get close-ups and sometimes just enjoying the view from our car.
We closed out our day at the Arches National Park Visitor Center. This is a really nice center worth exploring (and getting away from the heat).
In hindsight, I wish we had returned after dinner for a night of stargazing. Arches have spectacular skies at night and you don't have to hike far from the road to find a perfect spot.
Things to Know Before You go to Arches National Park
This was the hottest of all 5 Utah National Parks with temps over 100 degrees in full sun. Come prepared for the heat in the summer.
The Scenic Drive in Arches will give you access to many interesting arch views. Although I don't recommend it, you could really have a great Arches experience without leaving your car.
If the park is too full, the Park Service will shut the front gate to additional visitors. So plan to arrive early or wait until late afternoon.
Regrets? There are several moderate day hikes that take you right up to the giant arches that we skipped due to the heat. We'd love to go back in the spring or fall when temps aren't soaring and enjoy more time in Arches National Park.
The good news is that it's only a 5 1/2 hour drive from Denver to Arches National Park so we could easily return here for fly-in weekend in a less hostile season.
And then we cracked. It was so hot in Arches that we couldn't stand "our stink" any longer so we grabbed a hotel room at The River Canyon Lodge in Moab. We had a cute little suite where we enjoyed a soft bed and a hot shower for the night.
To find the best hotels in Moab, search here.
---
You are going to put on a lot of miles between parks. Test out some of our Road Trip Boredom Buster Games for Adults.
---
Day 5 – Canyonlands National Park
Keeping with our plan to just "taste" each park we headed out to the section of Canyonlands National Park called Island in the Sky. There are 3 large sections of the park so we knew we would only be touching the surface.
Because of the heat, the idea of the scenic drive with short jaunts to overlooks was incredibly appealing. Wow! The views were amazing and it was an excellent choice for a relaxing day.
Canyonlands National Park 1 Day Itinerary
Visitor Center Stop
Hike to Upheaval Dome
Hike to Whale Rock
Explore Green River Overlook
Hike to Mesa Rock
Explore Grandview Point Overlook
Explore White Rim Overlook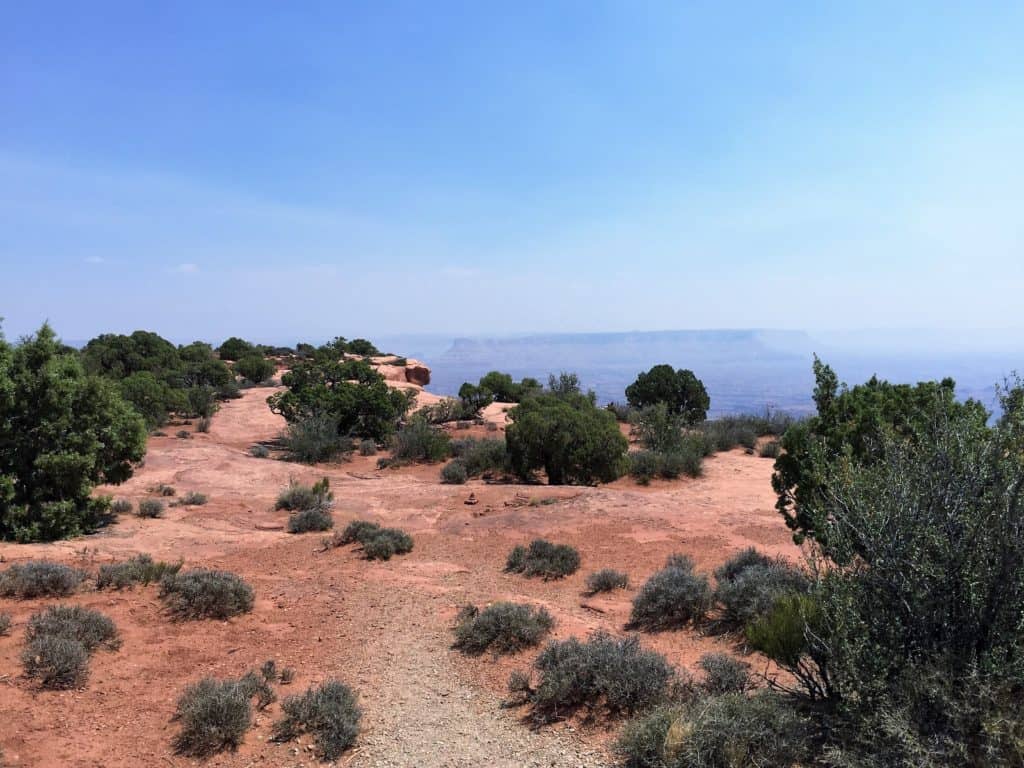 The most astounding is the view of White Rim Road from several overlooks on the mesa. There are 2 levels of dramatic drop-offs. You can walk right to the edge and peer straight down. You can't help but be in awe of the power of rivers to carve out these canyons.
The hike to Mesa Arch is an easy one, only ½ mile. This is one of the most popular spots in the park for sunrise photographs. Photographers gather every morning to catch the sun coming through the arch. But even at mid-day, as we photographed the arch (photo at top of this article), it is beautiful.
---
To plan a perfect day at Canyonlands, check out our related article: A Riveting Day at Canyonlands Island In The Sky
---
Out of all 5 parks, Canyonlands National Park is where I am most longing to spend more time. Not only do we want to explore the other sections of the park, we'd love to take the Jeep tour of White Rim Road and we are anxious to raft the rivers through the park. Oh we'll definitely be returning. Just not in August!
Things to Know Before Going to Canyonlands National Park
Canyonlands is much less popular than Arches, which is something I don't really understand. But the good news is it means you won't have the crowds you experience in the nearby Arches.
There are NO Services in the park. Bring food, bring water, fill your gas tank.
Many of the overlooks don't have railings, and the drops are hundreds of feet so have a plan to keep small children close to you.
We left Canyonlands mid afternoon, wrapping up our Utah National Parks itinerary, and headed North to Vernal, UT. Our next stop was a 4 day trip Rafting Lodore Canyon. After 5 days in the desert, time on the water sounded like the perfect plan!
Where We Stayed on our Utah National Park Road Trip
You'll find great camping options in or near all 5 National Parks in Utah. Just make sure you are getting reservations as far ahead as possible since demand is high.
Normally we recommend that you camp in the National Parks so you have easy access to everything the park offers after the crowds thin out. However as I took a good look at the campgrounds in all 5 parks it quickly became obvious that it would be many hot sweaty nights in our tent during August.
Determined to enjoy camping, we went to plan B. That was to find campgrounds in the mountains where the higher elevation promised a cooler night and great sleeping weather. If you choose to camp in the National Parks, make sure you are well prepared for camping in the desert with little shade, hot days and sometimes cooler nights.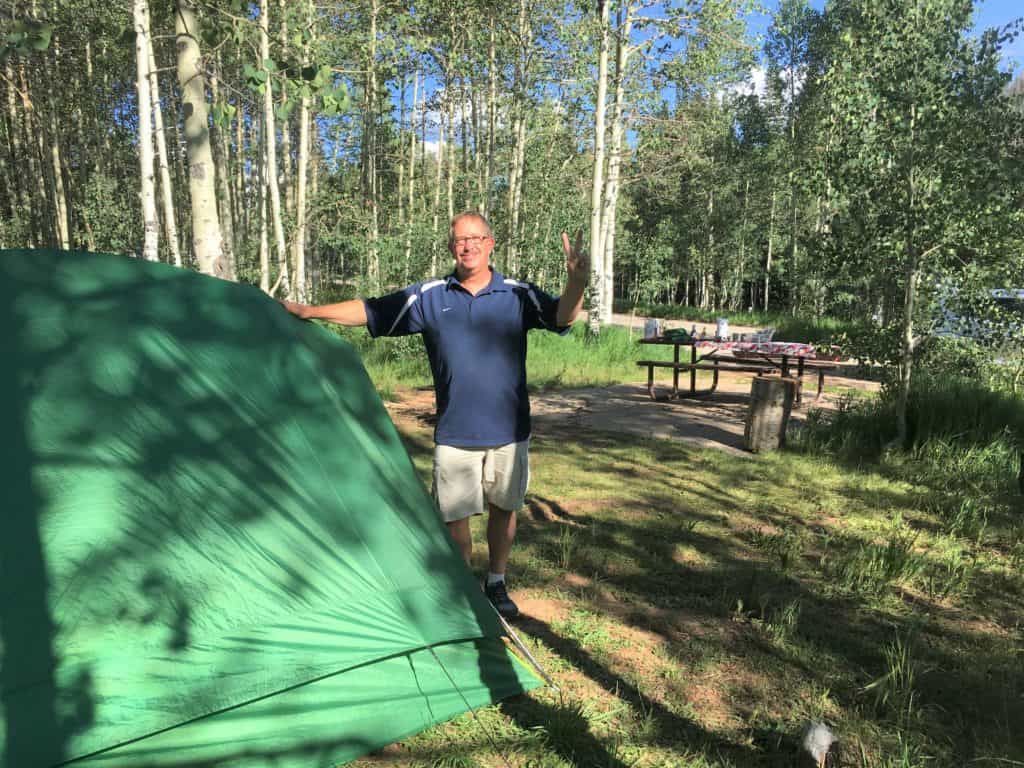 Base Camp #1
Our first base camp was in Te-Ah Campground near Navajo Lake in Dixie National Forest. It was a well-kept and spacious campground nestled into a beautiful Aspen Forest. From here it was less than an hour's drive to our first two parks; Bryce Canyon and Zion National Parks.
With an elevation of 9,200 ft. nights were comfortably cool and we slept well.
There are a lot of private and Forest Service campgrounds in this area so if you want to camp and avoid the heat take a look to the mountains!
Base Camp #2
Staying with our plan to camp in the cooler mountains, we chose the campground at Warner Lake in Manti-La Sal National Forest. Higher elevation choices are pretty limited in the Moab area so the 1-hour drive from Moab seemed like a good choice.
The drive is a bit challenging with a lot of tight hairpin turns and open-range cattle sharing the road. I wouldn't want to do it in the dark! Actually, I wouldn't want to drive it at all so Brad did all the work.
We were greeted at this gorgeous campground by a warning sign that bears had been active there the day before. OK, not much sleep for me that night as I listened to every rustle in the weeds.
The next morning we decided we would keep our reservation for the campsite one more night as a backup plan, but we'd take our tent with us. That gave us the option to find another campground that didn't have a scary road and bears.
In the Moab area, there are a ton of Forest Service and BLM campgrounds that would be perfect if you want to stay closer to the parks.
Other Itineraries for a Road Trip to Utah's National Parks
5-Day Utah National Park Road Trip Itinerary from Las Vegas
If you are heading out from Las Vegas, I'd suggest doing our road trip loop in reverse. It's always nice to end your trip at the park that is closest to your ending point. That way when you are tired your last driving leg is the shortest. So that would mean visiting the parks in this order after leaving Las Vegas:
Canyonlands
Arches
Capitol Reef
Bryce Canyon
Zion
4 Days in Utah National Parks
I've been asked if you could reasonably make this trip in less time without totally losing your mind. And of course, the answer is yes because there's always a way!
Day 1: Zion National Park
Day 2: Bryce Canyon National Park
Day 3 Capitol Reef National Park
Day 4: Arches National Park in AM/ Canyonlands in PM
If you only have 4 days in Utah National Parks I'd suggest combining Arches and Canyonlands into one day. Start your day early in Arches where you could get in an early hike before it gets hot. Then cruise the scenic drive with short hops out. Head over to Canyonlands after lunch and drive the scenic drive.
Most of the hikes here are short and this section could be fully experienced in 4-5 hours.
Utah National Parks 3-Day Itinerary
Ok, this one gets a little crazy. Plan to eat all your meals out of your cooler and not spend much time relaxing at your campsite or hotel. But it is seriously doable in 3 days!
Day 1: Zion National Park
Day 2: Bryce Canyon National Park AM/ Capitol Reef National Park PM
Day 3: Arches National Park in AM/ Canyonlands in PM
You seriously can't do Zion in less than a day. Primarily because you are at the mercy of the shuttle service to get to most of the popular locations combined with the massive crowds in Zion. So let's remove that stress and just accept a full day in Zion.
The next morning you should arrive at Bryce Canyon bright and early. With 5-6 hours here you could cruise the Scenic Drive and enjoy a hike around the Bryce Canyon Rim Trail.
Then hit the road for the 2-hour drive to Capitol Reef. There are beautiful spots to stop along Highway 12 for a quick picnic lunch. Shoot to get into Capitol Reef National Park by 3 or 4 in the afternoon so you have time to check out the main sites.
Stay for the amazing night skies where you will see more stars than you ever imagined. And then head on to Arches and Canyonlands National Parks early the next morning to finish out your 3-day Utah National Park Itinerary.
Just be ready to take a million pictures and have plenty of water and snacks in your car as you won't have time to refuel as you squeeze in all this beauty!
Adding Great Basin National Park to your Utah National Park Itinerary
If you are starting your road trip from Salt Lake City, consider adding a day in Great Basin National Park to your route. This unique high desert park is just over the Nevada border. Check our detailed Great Basin National Park Itinerary.
Beating the Heat When Visiting the Mighty 5 Utah National Parks
Anytime in the summer, all the Utah National Parks will be hot with desert-like conditions. Here are a few tips:
Never leave without enough water. Keep a cooler in your car and always carry plenty in your pack. The National Parks in Utah do a great job of providing water refill stations so never pass one up.
Plan to hike early or late in the day to avoid direct sun. If mid-day hiking is your only option, like it was for us in Zion, then look for hikes that have shade or lots of water options.
Make sure you have a good sun hat and sunscreen. Nothing will ruin a vacation more than a seriously painful sunburn.
So… Should You Visit 5 Utah National Parks in 5 Days?
Sometimes you have to get really creative to make a crazy idea work. 1600 miles later I am happy to say we had a great time. Do I wish we had more time in each park? Definitely. Would we recommend traversing all 5 Utah National Parks in 5 Days? Well if that is all the time that you have then yes. But know you will be so impressed with each park that you will want to go back for another Utah parks road trip!
---
For more of our National Park Road Trip Adventures, complete with itineraries and things for you to do check out these posts:
And for tips to keep you happy and entertained during all those hours on the road, check out these posts:
Originally published August 26, 2018, updated January 12, 2021.