We've all learned that camping requires a little creativity at times. Things break un-expectantly or you forgot to pack a tool you need. That's where the best multitool for camping comes in! A top-quality multitool will have exactly the tool you need to finish that job… from knives to saws… from screwdrivers to pliers. In this article, we share our favorite multi-tools for camping with the pros and cons for each.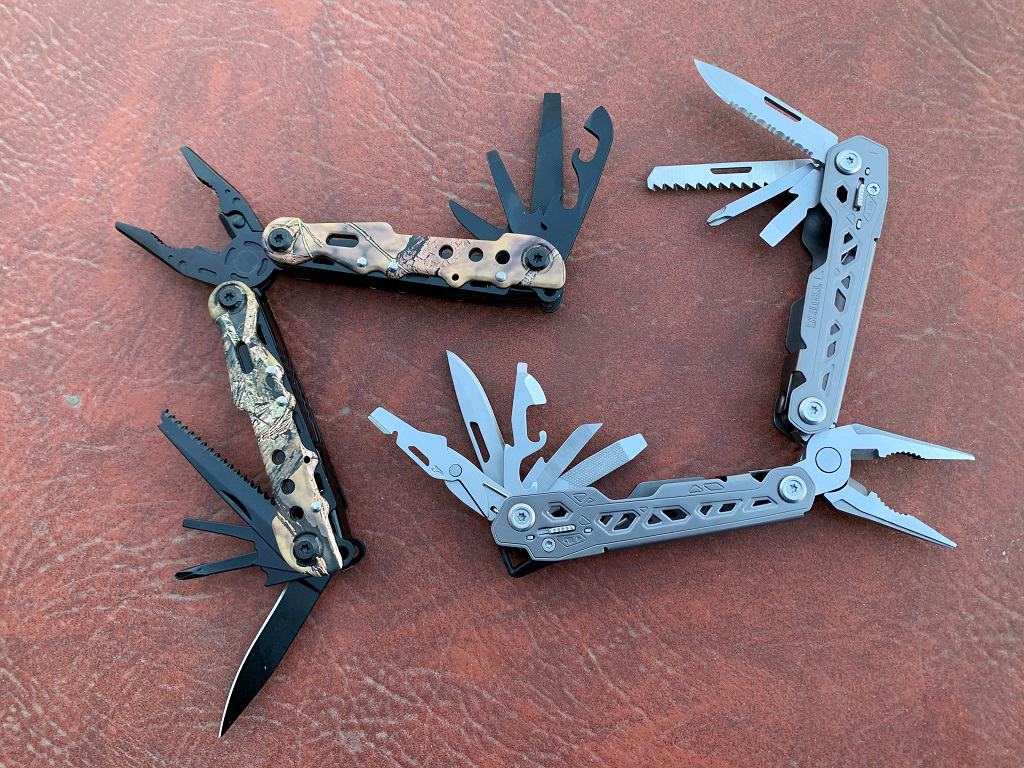 There are a lot of multi-tools out there and many are garbage. This guide will help you make a multitool choice that is right for you and your unique style of camping. We had a lot of fun testing all these tools, but most important we weeded out the ones that were cheap knockoffs that wouldn't last. So here's our list of the best multi-tools for camping.
We've included links to where you can purchase these camping multitools to make it easier for you. In some cases, these links are affiliate links which means we might earn a small commission if you make a purchase.
What is a multitool?
A multitool is a tool smaller than your fist that cleverly folds a wide variety of tools into a small space. The idea started in the 1880s with the original multifunctional Swiss Army Knife which would amaze us as it unfolds multiple blades, a screwdriver, a bottle opener plus a handful of other great tools. Move forward a hundred years when Tim Leatherman figured out how to incorporate a pair of pliers into a mini folding tool and the modern-day multitool was born.
Today you will find a wide variety of multitools on the market, many designed with specific types of users in mind. For example, you'd want a different mix of tools for camping than you'd want if you only used them for your job as an electrician. We've sorted through the hundreds of multitools available today to identify the ones that are best for camping.
It's rare that you will find any of the men in our family without a multitool handy. You can use them for dang near everything you come across. Brad is a die-hard with his original Leatherman multitool that he has been carrying for over 35 years.
Why do you need a multitool when camping?
It would be pretty easy to write an article about 101 ways to use a multitool when camping. But I think I can sum up the ways you will use your multitool fairly simply.
To fix stuff

. No one plans for stuff to break. But it does. I remember Brad patiently taking apart our little cook stove with his multitool when camping in Alaska. I was ready to live on granola and cheese for the next few days. But he found the problem, put it back together and breakfast was soon ready.

First Aid and Safety

. Need to cut a bandage? Remove a splinter? Many multitools include scissors or tweezers.

Cooking

. It seems like we need a sharp knife to prepare almost every meal. And surprisingly the pliers have come in handy several times moving a very hot pot from the fire or tipping the coffee pot. Then of course are the bottle and can openers which are indispensable. Oh, and maybe you'll be lucky enough to catch a fish and need to clean it.

Fire Starting

. The sharp blade of your multitool can turn a piece of firewood into shavings and kindling quickly. The best multitool for camping will include a small saw blade in the toolset. Some multitools also have built-in tools to help you light your fire when matches aren't available.
And then there are another hundred unexpected and unplanned ways we've used our multitools from repairing belts and tents to cleaning fish and cutting apples.
What features do you need in the best camping multitool?
Type of Metals – It's important that your new multitool is made of high-quality hardened steel. The first failure point in a cheaply made multitool is usually in the phillips head screwdriver that rounds out quickly. Other tools quickly follow in wearing out. The metal in the knife blade is also important so it is easy to sharpen and holds an edge well.
Size and Weight – Portability is critical. Otherwise, you might as well carry a 20-pound tool box around. A good multitool will easily fit in your pocket or attach securely to your belt or backpack. It will be light in weight so you can easily carry the camping multitool for long periods without really noticing its weight. If it's super heavy you won't carry it and then you won't have your multitool when you need it most. Right?
Easy Opening and Closing – We found the cheapest-made multitools were a nightmare to open. There were many broken fingernails as we tested. And then they closed awkwardly. A high-quality multitool is best if it has one-hand opening features for the major tools you will use and easy opening for all of the tools. You want it to close smoothly. A tough to close tool is an accident waiting to happen.
Locking – The ideal tools lock open and have an easy release to close. That way it won't slip while in use and won't close around your hand cutting you.
Functions – And most important is that your camping multitool has all the tools you need. We broke down the list of tools in our top choices in a chart at the bottom of the page so you can make sure it has exactly what you need.
Reviews of Best Multitool for Camping
✅ Leatherman Signal Camping Multitool: Our Top Choice
NUMBER OF TOOLS: 19
WEIGHT: 7.5 oz
CLOSED LENGTH: 4.5″
PRIMARY BLADE LENGTH: 2.73″
BLADE MATERIAL: 420HC Stainless Steel, Cerakote™
Leatherman is without a doubt the top manufacturer of US Made multitools, well known for using high-quality steel in their very durable multitools. Here is our full review of Leatherman Multitools.
The Leatherman Signal was designed with campers in mind. In addition to all the traditional tools like pliers, knife blades, screwdrivers, and wire cutters, Leatherman has included the tools that campers will use most often in this model. There is a sturdy saw blade, fire starter, and emergency whistle. It has a built-in and easily accessible carabiner clip for hooking on your pack or belt loop. One end has a heavy-duty flat edge, perfect for hammering in tent stakes. And don't forget the bottle opener and can opener that you'll want handy when you are ready to relax for the evening!
PROS: The extra tools like the hammerhead, whistle, and fire starter that have been included specifically for camping make the Leatherman Signal our top choice for outdoor activities. You won't find these in most other quality multitools.
CONS: To make room for the extra camping functional tools, the Leatherman Signal is limited to one screwdriver option. That would likely only be an issue if you wanted to cross-utilize this tool for home improvements.
---
✅ Gerber Gear Truss Multitool: High Quality with Moderate Pricing
NUMBER OF TOOLS: 17
WEIGHT: 8.4 oz
CLOSED LENGTH: 4.5″
PRIMARY BLADE LENGTH: 2.25
BLADE MATERIAL: High-Grade Stainless Steel
The Gerber Gear Truss is a high-quality multitool at about 1/2 the price of the Leatherman. It's a general multitool with 17 of the most commonly needed tools when on the road. It includes camping-ready tools like a saw and bottle/can opener. And of course a really nice knife. We love that all the tools are accessible without opening the pliers which makes it super easy to use when camping. All the tools are also locked with a quick release with your safety in mind.
PROS: This is a professional-level multitool at a very reasonable price. The quality is obvious, with the smooth opening of all the tools and the very sharp knife blade.
CONS: While the Gerber Truss has everything you'd expect in a multitool, it does lack a few of the "nice to have" tools for camping like a fire starter.
---
✅ Victorinox Swiss Army Swisstool Spirit X: Best Old World Multitool
NUMBER OF TOOLS: 22
WEIGHT: 7.4 oz
CLOSED LENGTH: 4.1″
PRIMARY BLADE LENGTH: 1.8″
BLADE MATERIAL: Stainless Steel
For those of you who know and love your original Swiss Army Knife, Victorinox created several very sleek multitools. We particularly like the Swiss Army Spirit X for camping because it not only has a great array of tools it includes a sharp saw, multiple openers, metal file plus several other tools that are helpful with camping. You can access each tool from the outside of the handle. All tools lock into place when opened and fold away with a simple slide of the release button.
PROS: Extremely high quality and well designed for easy use, you will enjoy handling the Spirit X. A large number of tools will support almost any need.
CONS: The design is slimmer than the Leatherman Signal or the Gerber Truss. It is truly personal taste in grasping the tool if you will like that smoother and smaller grip.
---
✅ Leatherman Charge Plus: Best Multitool for Multipurpose
NUMBER OF TOOLS: 18
WEIGHT: 8.3 oz
CLOSED LENGTH: 4.0″
PRIMARY BLADE LENGTH: 2.9″
BLADE MATERIAL: 154CM Stainless Steel
With the Leatherman Charge Plus, every tool is one-hand accessible. How cool is that! All tools lock into place for safety and extra strength when in use. But what makes this multitool stand out from every other tool is the premium 154cm Stainless Steel, harder than what you will find in other multitools. With almost a 3-inch knife blade that will hold a sharp edge longer, you will love camping with this multitool. The only reason it's not our top choice is the extra camping specific tools you find with the Leatherman Signal. Oh, and the price. With the premium tools comes a bit heftier price. But the Leatherman Charge Plus is well worth the investment if you love to fiddle and fix things. See our complete review and comparison of Leatherman multitools for more details about the difference between these two top Leatherman choices.
PROS: Premium knife blade steel with easy one-hand access to all tools. High-quality hardened steel is used in all tools for long life.
CONS: A little pricey, but well worth it if you intend to use this multitool for the rest of your life.
✅ SOG Multitool PowerAssist: Great General Multitool
NUMBER OF TOOLS: 16
WEIGHT: 9.6oz
CLOSED LENGTH: 4.6″
PRIMARY BLADE LENGTH: 2.75″
BLADE MATERIAL: 420 Stainless Steel
For a multitool with a nice long knife blade, check out the SOG Multitool PowerAssist. You'll like that both the regular knife blade and the serrated blade can be easily opened with one hand using the SOG spring assist. Both blades are on the outside for easy access. Although maybe not important for camping but great for everyday use, the SOG patented compound leverage gives you twice the power in the pliers over most other multitools which is what makes this unique.
All tools lock in place and have an easy-to-use release. There's an interesting cover over the smaller tools which makes this multitool more comfortable to hold. However, if weight is important to you that cover is adding a little heft.
PROS: Great knife features, long blades, and quick access with spring assist. If woodworking is important to you, this might just be the best choice for your camping multitool. The black powder coat finish will keep it looking sharp.
CONS: This quality all-around multitool has the tools you'll need for most camp functions but doesn't have a saw or any camping bells and whistles.
---
✅ Mossy Oak Multi-tool: Best Bargain Multitool for Camping
NUMBER OF TOOLS: 13
WEIGHT: 9.2 oz
CLOSED LENGTH: 4.25″
PRIMARY BLADE LENGTH: 1.7″
BLADE MATERIAL: Stainless Steel
I picked up the Mossy Oak 13 in 1 Multitool as a gift for my nephew as it will make a great starter tool for a teen who loves to be outdoors. Because of the unbelievably great price no real worries if he loses it, however, I suspect he will love it and keep it close at hand.
The Mossy Oak is a very basic multitool for camping with just 13 tools. However, we love that it included the essentials for camping in the tool list. It opens and closes easily. And it seems very sturdy and durable when used (of course we tested it before gifting 😁). It is made from hardened steel which should last a lifetime.
PROS: This is a very reasonably priced starter multi-tool with all the basic tools you will need for a successful camping trip. The tools lock into place when extended. It also comes with a sturdy sheath for easy access from your belt.
CONS: In bringing down the price you will give up a few things, the first being that the tools are only accessible when the pliers are open. And the second is in the limited tool list of 13 tools, compared to 20ish from the other recommended tools.
---
What tools do you need?
If you've never owned a multitool you'll be surprised at how many different tools you will actually use. It's quickly a case of you didn't know you needed it until you actually had one handy. That's what makes a multitool appreciated for years and years.
Knowing that, here's the list of the most common tools you will use when camping and hiking.
awl
bottle opener
can opener
carabiner
file
fire starter
knife blades
pliers
saw
scissors
screwdriver
tweezers
wire cutters
That is a pretty long list, but we've definitely used all of these at one time or another when hiking and camping. Most likely the best multitools for camping will also have additional tools such as bit drivers and wire strippers that you can't imagine ever needing. But you never know. A repair job when away from civilization often requires creative thinking.
Camping Multitool Comparison of Tools Chart
Here's a quick look at each of our top choice for the Best Camping Multitools. (note on phones this is better viewed by turning your phone horizontal.)
Leatherman Signal
Gerber Gear Truss
Victorinox Spirit X
Leatherman Charge Plus
SOG PowerAssist
Mossy Oak 13 in 1
Total Tools
19
17
24
19
16
13
Awl
Awl w/Thread Loop
Awl
– –
– –
– –
Awl
Bit Drivers
Bit Driver
Cross Driver
– –
Large Bit Driver
Small Bit Driver
– –
– –
Blades
420 HC Combo Knife
Knife
Serrated Knife
Knife
154 CM Knife
420 HC Serrated Knife
Cutting Hook
420 HC Knife
420 HC Serrated Knife
420 HC Knife
Files
– –
Wood/Metal File
Metal File
Wood/Metal File
Diamond-coated File
Wood/Metal File
Wood/Metal File
Openers
Can Opener
Bottle Opener
Can Opener
Bottle Opener
Can Opener
Bottle Opener
Crate Opener
Can Opener
Bottle Opener
Can Opener
Bottle Opener
V-Cutter
Can Opener
Bottle Opener
Pliers
Needlenose
Regular Pliers
Needlenose
Regular Pliers
Needlenose
Needlenose
Regular Pliers
Needlenose
Regular Pliers
Needlenose
Regular Pliers
Ruler
– –
Ruler 2″
– –
Ruler 8″
Ruler
– –
Saw
Saw
Saw
Saw
Saw
– –
Saw
Scissors
– –
Scissors
Scissors
Scissors
– –
– –
Screwdrivers
1/4″ Hex Bit Drive
Small Screwdriver
Med Screwdriver
Large Screwdriver
Phillips Screwdriver
Screwdriver 2mm
Screwdriver 3mm
Screwdriver 6mm
Medium Screwdriver
Phillips Screwdriver
Lg Screwdriver
Med Screwdriver
Small Screwdriver
Phillips Screwdriver
Med Screwdriver
Small Screwdriver
Wire Work
Wire Cutters
Wire Stripper
Hard-wire Cutters
Wire Stripper
Wire Cutters
Wire Stripper
Soft Wire Cutter
Hard Wire Cutter
Wire Stripper
Hard-wire Cutters
Wire Bender
Wire Cutters
Wire Stripper
Hard-wire Cutters
Electrical Crimper
Wire Cutters
Crimper
Wire Cutters
Wrenches
1/4″ Box Wrench
3/16″ Box Wrench
– –
– –
– –
– –
– –
Other
Hammer
Caribiner
Safety Whistle
Ferrocerium Rod
Sharpener
– –
Multipurpose Hook
Reamer, Punch
Chisel 7mm
Cable Cover
– –
– –
– –
Caution: Don't Fall for the Bargain Multitools
There are dozens of knock-off multitools on the market, many with prices under $20. We ordered the 6 most popular bargain multitools to try to find a low-cost option for you. The only one that stood up to use was the Mossy Oak multitool which is under $30 (review below). The Mossy Oak was able to cut down on price by reducing the number of tools to only the super essentials. All the rest we tried really sucked. They were hard to open, hard to close, didn't lock, made of cheap metals and so many more flaws.
Adding a multitool to your tool collection should be viewed as an investment. Brad has been carrying the same Leatherman multitool for over 30 years. You want one that:
has the tools you need
is made of strong durable metal
and is super easy to use
A really good multitool might cost over $100. However if budget is a concern, take a look at the Gerber Gear Truss (review below) for a great tool that will last a lifetime.
Frequently Asked Questions about Multitools for Camping
Do you need a multitool for backpacking?
Absolutely yes! A compact multitool will ensure that you can fix just about anything when you are backpacking. You'll find yourself using it for cooking too!
Do you need a multitool for camping?
If you want to keep your gear to a minimum when camping, then a multitool is a must. Even our friends that RV camp always keep a multitool handy. You won't always have access to your toolbox. And a multitool will usually have a tool you never thought you'd need… until you do.
Is it worth buying an expensive multitool?
A multitool is a piece of equipment you'll use your whole life. It's not just for camping, but for any time you need a quick tool. So yes, it's worth investing in a high-quality multitool instead of a cheap one that will break.
I'm sure you'll find the best camping multitool that is exactly what you need in this list. We were very picky in our selection because we use this tool ALL.THE.TIME. And we know you will too so we want you to be successful and enjoy every minute of your next camping trip.