"3 Flashlight Brad!" That's my husband's nickname in our family. Why? Because he can always produce multiple flashlights out of his car, from deep in his pack or buried in the camping gear. And in that assortment, you will always find the best ultralight headlamp for hiking.
You laugh… but wait until you find yourself unexpectedly in the dark and he's by your side with the brightest headlamp ever! The same is true for headlamps when we're out camping and hiking. I can always count on him to have an extra high-power headlamp for me. That has been a lifesaver so many times when trying to set up camp in the dark or getting caught out late on a trail. So I decided it was time to act like a grown-up and get my own small headlamp.
Below you will find our research and top choices for the best ultralight headlamp for hiking. To help you make the right choice for your exact needs, we have really dug deep into what makes a headlight the best.
To make it easier for you, we've included links to where you can read more and purchase these items. Some of these links are affiliate links, which means we may earn a small commission if you purchase. However, we have only recommended lightweight headlamps that we believe are amazing. We hope you find the perfect one just for you!
Hence began my search for the best headlamp for hiking, and here's what I found out.
Choosing the Best Ultralight Headlamp for your needs
You'd think buying an ultralight headlamp would be a straightforward process; just browse a few online stores, make a pick and you're done.
But I learned that there's a lot to think about while picking your hiking headlamp. For example
Do you want to use headlamp batteries or a USB rechargeable headlamp.
Do you want to buy the strongest headlamp or the brightest headlamp? (And who knew they were totally different things?)
Are you looking for the longest-lasting headlamp or the best budget headlamp?
Then you will want to also factor in durability, waterproofing, red stargazing lights, and more to make an informed decision about the best backpacking headlamp for you. We took a deep dive into all the characteristics that make a headlamp great at the end of this post.
If this is your first time purchasing a headlamp for hiking you should drop down and read a little bit of our research. We tried to make it super easy to quickly figure out which features were most important to you.
Our Top Choices for Best Ultralight Headlamp for Hiking
✅Super Bright Battery Powered Headlamp –
Black Diamond Spot 350
OUR REVIEW OF BLACK DIAMOND SPOT 350 HEADLAMP
Priced under $40, this torch is powerful at up to 350 lumens at a distance of 85 feet. The Black Diamond Spot 350 is waterproof and rated very high at IPX8.  you will get 6 different light settings. That includes the amazing option to switch from spotlight mode to floodlight depending upon your task at hand.  The PowerTap™ Technology makes it a smooth transition between brightness settings.
Powered by three AAA batteries, you can get up to 120 hours of battery life on the low setting making this a real treasure to have in your pack. The separate distance and close-up beams are invaluable when using this light for both hiking and camping.
The compact low profile design makes this a comfortable fit on your head. And at REI Co-op you'll find 8 different band colors so everyone in the family can claim their favorite!
WHAT WE LOVE MOST: We love that this is a super bright headlamp. This is the most versatile with 8 lighting modes. The PowerTap on the side of the light is super cool for quick dimming or brightening the light. It's also very durable, able to withstand water immersion for 30 minutes.
CONCERNS: Here again you might struggle with the adjustment button if you have large fingers as it sits fairly smooth with the top surface.
✅Best Value in Ultralight Headlamps: 

Vont 'Spark' LED Headlamp
OUR REVIEW OF VONT "SPARK" LED HEADLAMP
Coming in under 3 oz, this little guy is pretty sweet! It's no surprise that this masterpiece of a headlamp is spearheading the market for being the best value for your money at under $10 for not only 1 but 2 Vont Spark Headlamps!
You'll find it power-packed with 200 lumens of excellent-quality LED lights and precision designed with a whole lot of features and functions. The Vont Spark Headlamp may just be your new go-to, must-have, and all-time favorite headlamp as soon as you hit the trail.
Water and drop resistant, ergonomically designed 45-degree light throw, comfortably adjustable straps with sturdy stretch, one-touch toggle through 7 light modes—all these and a lifetime promise of guaranteed quality makes the Vont Spark Headlamp our top choice for tucking into our backpack for any hiking trip.
WHAT WE LOVE MOST:  First you'll love the unbelievable price on the Vont Spark. Its very simple design keeps this headlamp lightweight. Vont backs this waterproof headlamp up with a lifetime warranty.
CONCERNS:  It took a few tries to figure out the buttons for changing the light settings, once we figured it out it all made sense and worked like a charm.
✅Amazing Charging Flexibility – Petzl ACTIK Core Headlamp –
OUR REVIEW OF PETZL ACTIK CORE HEADLAMP
The ACTIK CORE headlamp is a versatile, lightweight device that will be worth your while. It gives 450 lumens of power and has a multi-beam design so you can use it during different types of activities like camping, running or hiking. Red lighting prevents blinding other members in the group when they are using their own devices at night time and reflective bands on both sides provide more visibility for nighttime adventures.
The button for turning on and off as well as changing light modes is large and easy to use, a bit plus when trying to adjust in the dark. It also has a light lock to avoid turning on in the bottom of your backpack.
The hybrid petzl core battery pack gives you lots of flexibility. These ultralight rechargeable headlamps will run for days on just a 3-hour charge! It can easily be charged in the car or in your home. And adding incredible value is the fact that if no power is available to recharge, you can pop 3 AAA batteries into Petzl ACTIK Core Headlamp and keep going until you get to a power source to recharge.
WHAT WE LOVE MOST: On the top of our list is the hybrid battery pack. The rechargeable battery lasts for 130 hours on low power which is perfect for a long weekend. However we always like to have a plan B, and in this case, the ability to use regular batteries when there is no power source for charging is priceless.
CONCERNS: With an IPX4 rating, this headlamp will withstand a nasty rainy day but won't do so well if submerged in water. For most hikers that is more than enough protection, it's just something to be aware of.
✅ Best Economy Headlamp – Foxelli MX20 Headlamp Flashlight
OUR REVIEW OF FOXELLI MX20 HEADLAMP
Although we wouldn't recommend the Foxelli MX20 Headlamp as our top choice, it is an amazing backup because of the incredibly low price. It's pretty hard to find a headlamp for under $15 with acceptable performance.
We like to keep a couple of extra inexpensive lightweight headlamps in our gear bag just in case someone forgets theirs or one breaks. This is that headlamp (remember 3 flashlights Brad!).
This headlamp may not be your first choice for hiking but for close-up tasks like setting up your tent and cooking dinner, it's perfect. It provides you with more than enough light at 165 lumens to be able to see what's in front of you. It runs on 3 aaa batteries that will give you 45 hours of battery power.
WHAT WE LOVE MOST: Well, besides the price… this is a good basic headlamp that is water-resistant and easy to use. With a large selection of colors to choose from it's a really nice choice for families, everyone can have their own color!
CONCERNS: The lower power of the light on this headlamp would make it hard to see far on a really dark trail.
✅ Best Dual Flashlight Headlamp – Zebralight H600W Mk IV
OUR REVIEW OF ZEBRZLIGHT H600W MK IV
This is the headlamp for those who want superior performance and don't mind spending a few dollars more. Durable and built to last, the powerful  Zebralight H600 headlamp is also perfect for camping and elevated climbing.
It's really a mini spotlight that can cover up to 120 meters with a rechargeable battery. The torch easily disconnects from the headband so you can alternately use it as a flashlight.
I'd be surprised if you used this on the high setting on a regular basis, it's almost too much light. The medium setting still gives tons of light at 127 lumens so you can save the high power for emergencies saving your battery power. The light also has a strobe and beacon setting. [/three_fourth_last]
WHAT WE LOVE MOST: We love the option of going super bright when hiking on an unknown trail at night. This tactical flashlight is extremely durable and made with a natural hard anodized finish to withstand harsh conditions! It runs on a standard 18650 rechargeable battery that you can purchase on almost any battery stand making it easy to carry lightweight backups.
CONCERNS: These rechargeable headlamps are a little heavier than the others we chose, though not so much as to make a big difference. You give up a red light option which is replaced by a strong floodlight.
✅ Brightest Waterproof Headlamp – SLONIK 1000
OUR REVIEW OF SLONIK 1000 HEADLAMP
We love that the headlamp has the visibility of almost 2 football fields. At 4.2 ounces it is one of the best lightweight rechargeable headlamps we found.  You'll find it easy to power the rechargeable battery with the USB charger that is included. The downside is that the Slonik 1000 is Super Bright takes a lot of power to create that level of light so the max burn at full power is only 8 hours.
Of course, the biggest appeal is the high rating for waterproofing. It will withstand rainstorms on the trail and still shine through. We also like the easy-to-use on button with quick adjustments.
The light can be easily detached from the headband if you want to use it as a mini flashlight. This headlamp has also received stellar reviews.
WHAT WE LOVE MOST: We love that you can see practically forever, light up the night!
CONCERNS: Because the battery life is only 8 hours I'd be hesitant to take this on a long backcountry hike. However, for normal hiking and camping usage, this headlamp can't be beaten for brightness and durability.
✅  The Lightest Headlamp for any Emergency – Petzl e+LITE
OUR REVIEW OF THE Petzl e+LITE
This is the lightest headlamp in this list, weighing just one ounce. It's a perfect backup or emergency option that can easily be tucked into your pack and never noticed. And for those of you who count every single ounce in your pack, this is a great headlamp for your emergency bag.
With only 100 lumens of lighting power, you'd think it wouldn't light up the night, but you'll find it can shine out up to 100 meters on the high setting.  At 1 ounce you almost forget it's on!
WHAT WE LOVE MOST: We love that it is so small and compact. The Petzl e+Lite is the ultimate ultralight headlamp.
CONCERNS: Great as an emergency light, you'll probably find one of the other selections better if you are full-out night hiking.
What you need to know when selecting the lightest headlamp for hiking
Weight is Critical
Backpacks tend to get heavier the longer you carry them. And even if you're okay with a 14 oz camping headlamp when you just start off hiking, you might regret it a few miles down the trail. Thankfully, you can get a lightweight headlamp that weighs just a few ounces.
I even found a 1-ounce ultralight backpacking headlamp that I'm thinking could replace the tiny flashlight I currently carry on even the shortest hike: the PETZL e+Lite Headlamp.  More about this in the comparison. But yes, there has to be a trade off (in terms of weight) between the most powerful headlamp and the best lightweight headlamp.
Headlamp Durability
How long will your headlamp last in bad weather or rough conditions? How many falls can it survive? Most good headlamps are made of durable metal housing and also have detachable straps that can be washed.
If you compare the most powerful headlamp with a flashlight, you'll find that flashlights are created to be tougher than headlamps. Which is a plus for flashlights, because they are more prone to being dropped and damaged. In comparison though, being able to use both your hands instead of holding a flashlight in one hand is a big plus in my eyes.
Simple example, you've wandered off trail while hiking alone in the dark and cut yourself against some brush or rocks. Will it be easier for you to bandage yourself with one hand while holding a flashlight in the other, or will you be thankful you have that ultralight headlamp to help you?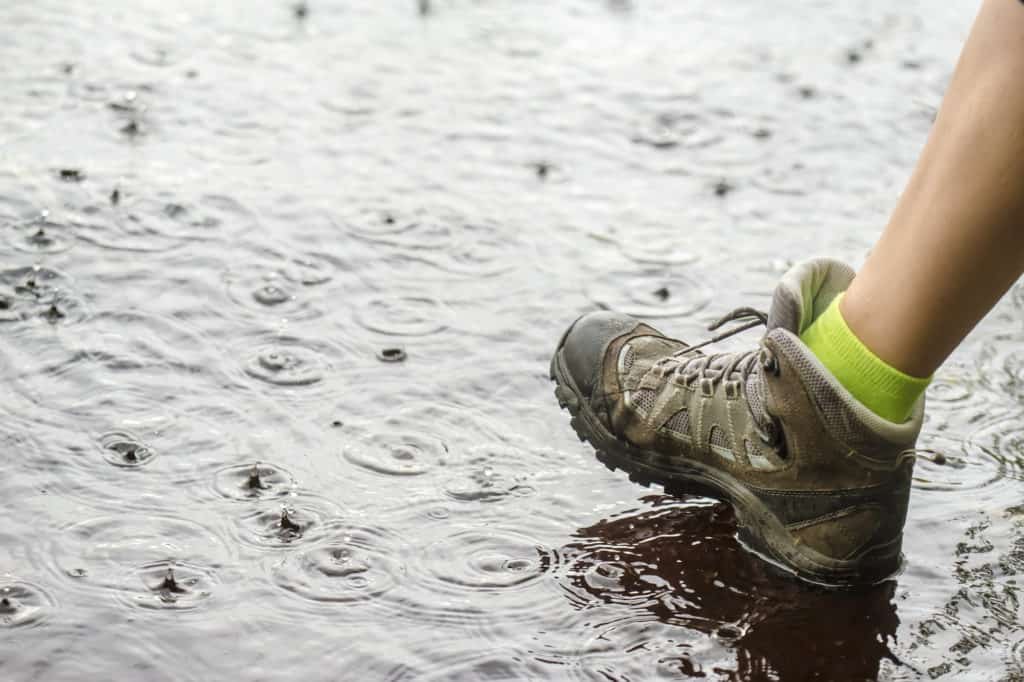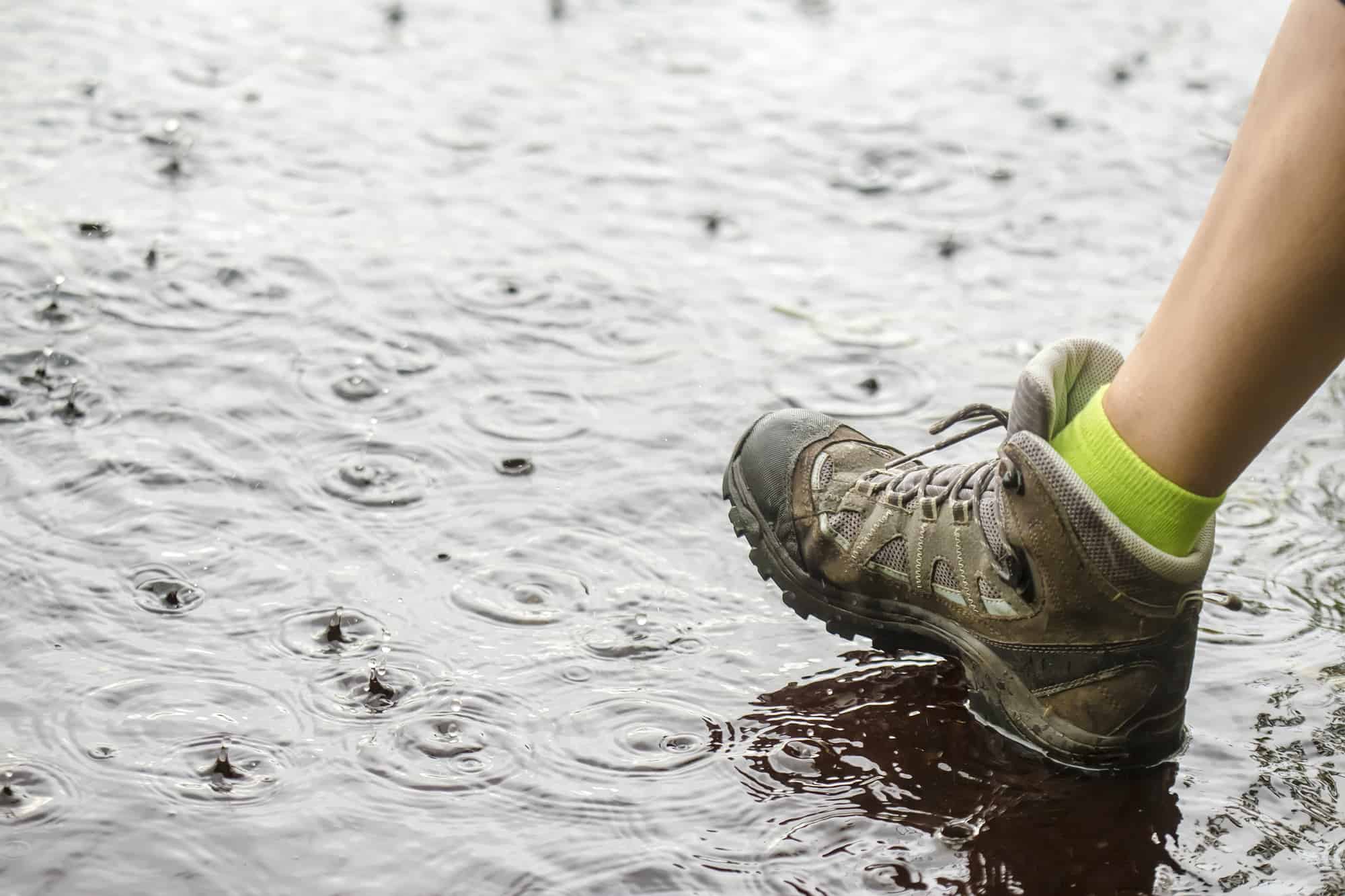 What is the best waterproof headlamp?
The best waterproof headlamp will have a rating of IPX7 or IPX8 like the Black Diamond Storm. Most quality headlamps will have an IPX rating to indicate their level of waterproofing.
What's and IPX rating you ask? It's a number between 1 and 9 that indicates the level of water resistance. The higher the number the better. Look for a waterproof headlamp with a high IPX rating, preferably something above IPX4.  Here's a chart that I think makes this easier to understand:
IPX Rating
Water Resistance
IPX2
Withstands Drips:
sprinkles or quick splash
IPX4
Resists Splashes:
light rain and splashes
IPX6
Water Resistant:
normal rain and splashes
IPX8
Survive Immersion 3 feet
(tested for 30 min)
IPX69
Survive Immersion 3 feet
plus tested for dust resistance
It's good to know that your light source on this outing won't be hampered by rain or being dropped in deep waters!
Battery Power
Replaceable Batteries – Headlamps that use replaceable alkaline batteries or lithium batteries tend to be the lighter weight which is definitely an important feature when choosing your ultralight headlamp for backpacking. For that reason, most of our top selections are powered by replaceable batteries, both rechargeable and disposable. This strategy means that you will need to carry spare batteries. Yes, it adds a little extra weight, however, you also won't be searching for a place to charge your headlamp in the wild!
USB Rechargeable Battery – Without a doubt, we love a headlamp with a USB rechargeable lithium-ion battery with no need to fumble for extra batteries. Unfortunately, the best headlamps with rechargeable batteries also are fairly heavy. So generally we keep this type of headlamp for camping where we don't have to carry it in our backpack all day. However, we did find the lightweight

Slonik 1000 with a rechargeable battery

that we really liked for its versatility.

If you prefer a rechargeable flashlight, then there are quite a few options in small

compact handheld flashlights for hiking

.
Essential charging options to look for in a rechargeable headlamp are charging via car or wall chargers, or charging via a USB socket in solar packs or power banks as these might come in handy for longer treks and thru-hikes.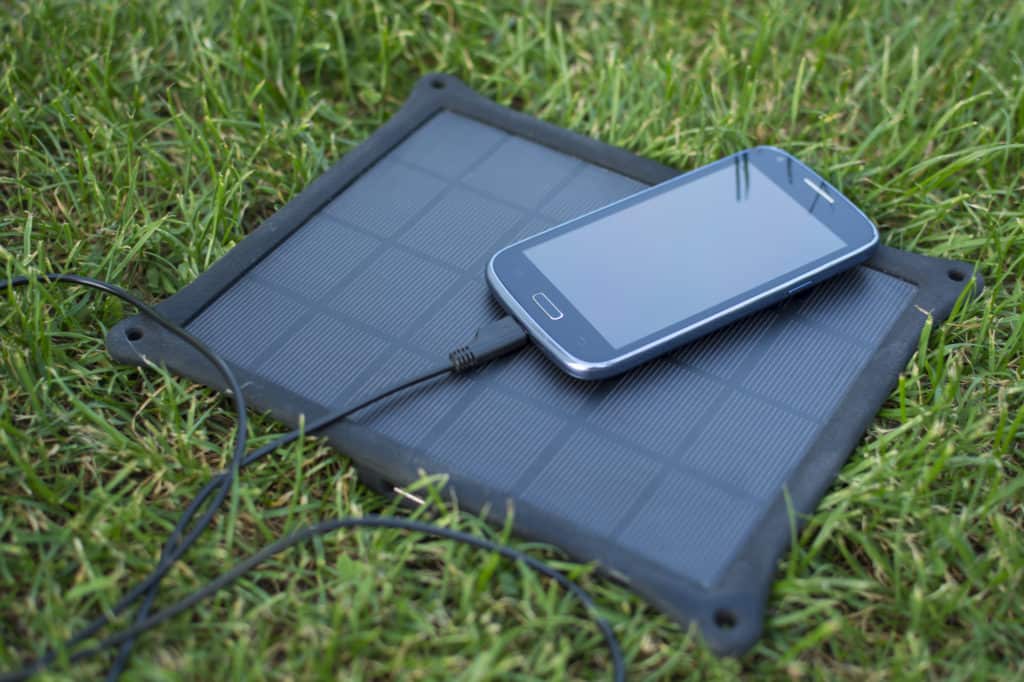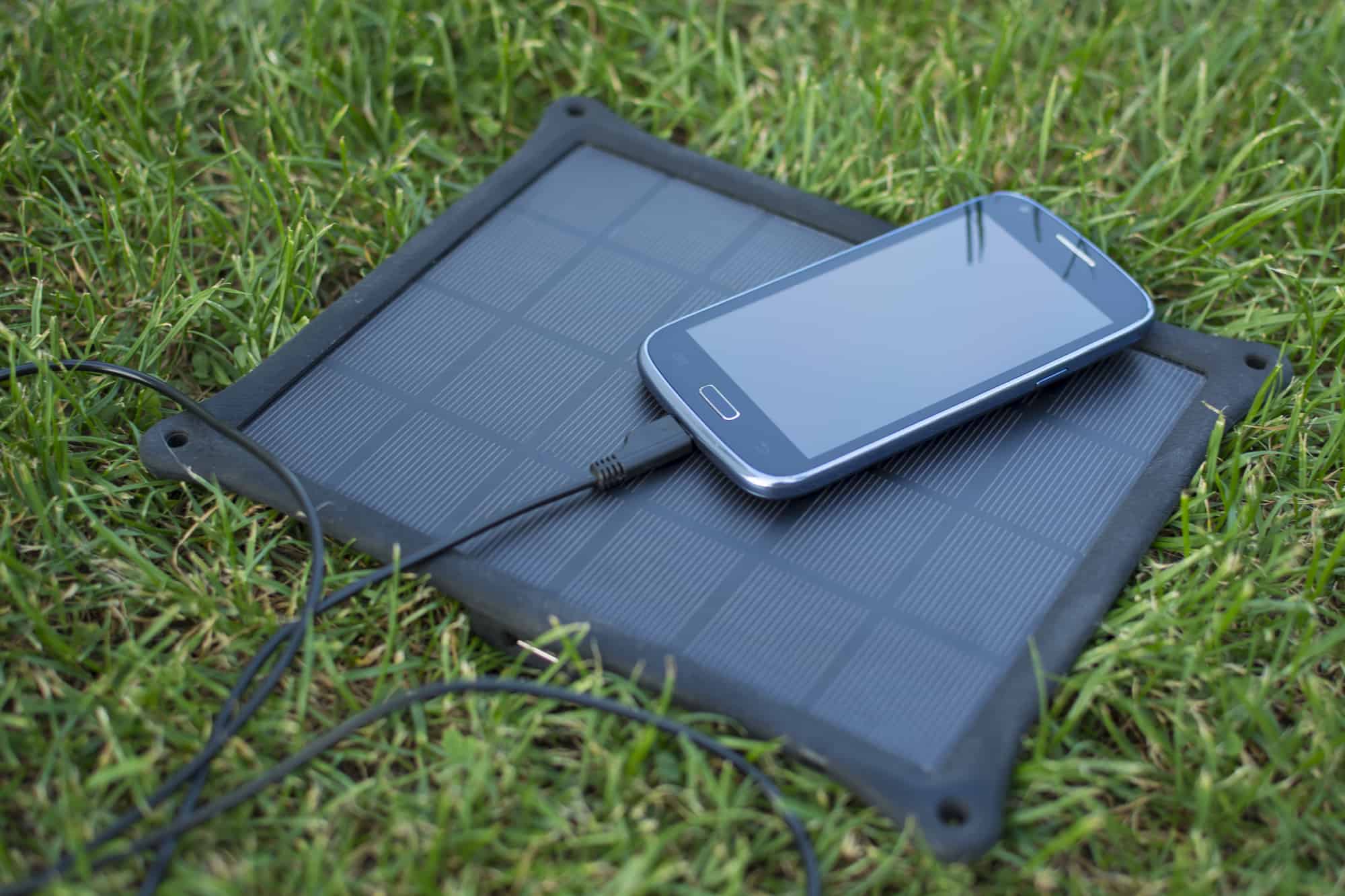 Burn Time or Runtime
This is how long your led headlamp can hold a charge and how long your batteries will last. It's good to remember that even the brightest led headlamp runs out quickly in high-power mode. So make sure you carry those extra batteries or a good portable power source.
Cost Price
Cost is not too much of a factor here. You'll find some of the best backpacking headlamps can be found in the $25-$40 range. Of course there are cheaper ones too. But if you're looking for more value for money, the Zebralight H600w Mk IV 18650 XHP35 Neutral White Headlamp and the PETZL ACTIK Core Headlamp  are totally worth it!
Lumens and Beam Distance
The brightness of a backpacking headlamp is measured in lumens which is the sum of light emitted in any direction. Lumen counts range from 2 to 2000 and more; and the higher the number, the brighter the lamp. But headlamp lumens do not measure the quality of the beams of light and hence having a high lumen headlamp does not necessarily mean you'll have the brightest headlamp.
For example, you're trying to choose the brightest led headlamp. Both your choices are of 250 lumens, but one has a beam distance of 90-feet and the other of 120-feet. The lamp beam of 90-feet will provide better quality light because it's more concentrated.
Beam distance is a more accurate measure of the light the best hiking headlamp gives you. The manufacturers of top headlamps will give you a maximum and minimum beam distance. Hiking headlamp reviews have shown that the maximum distance only happens in perfect scenarios, and more often than not you'll use your headlamp at a medium setting to conserve battery power.
Plus, if you're only hiking in the daytime and camping at night, choose the best camping headlamp with a wider beam. If you're hiking or climbing at night opt for a longer beam distance.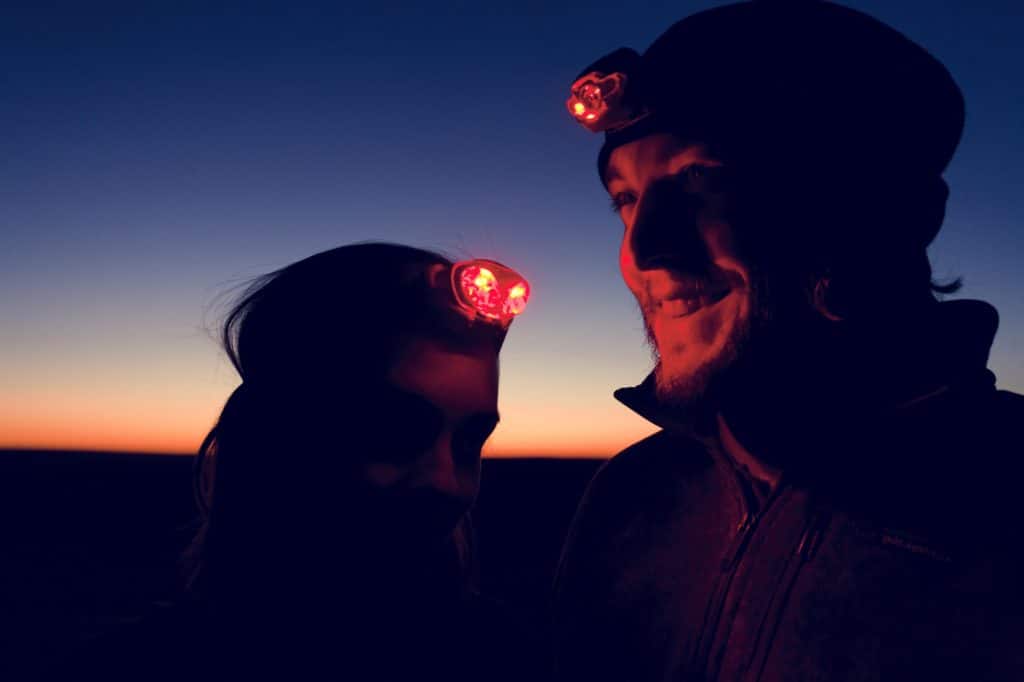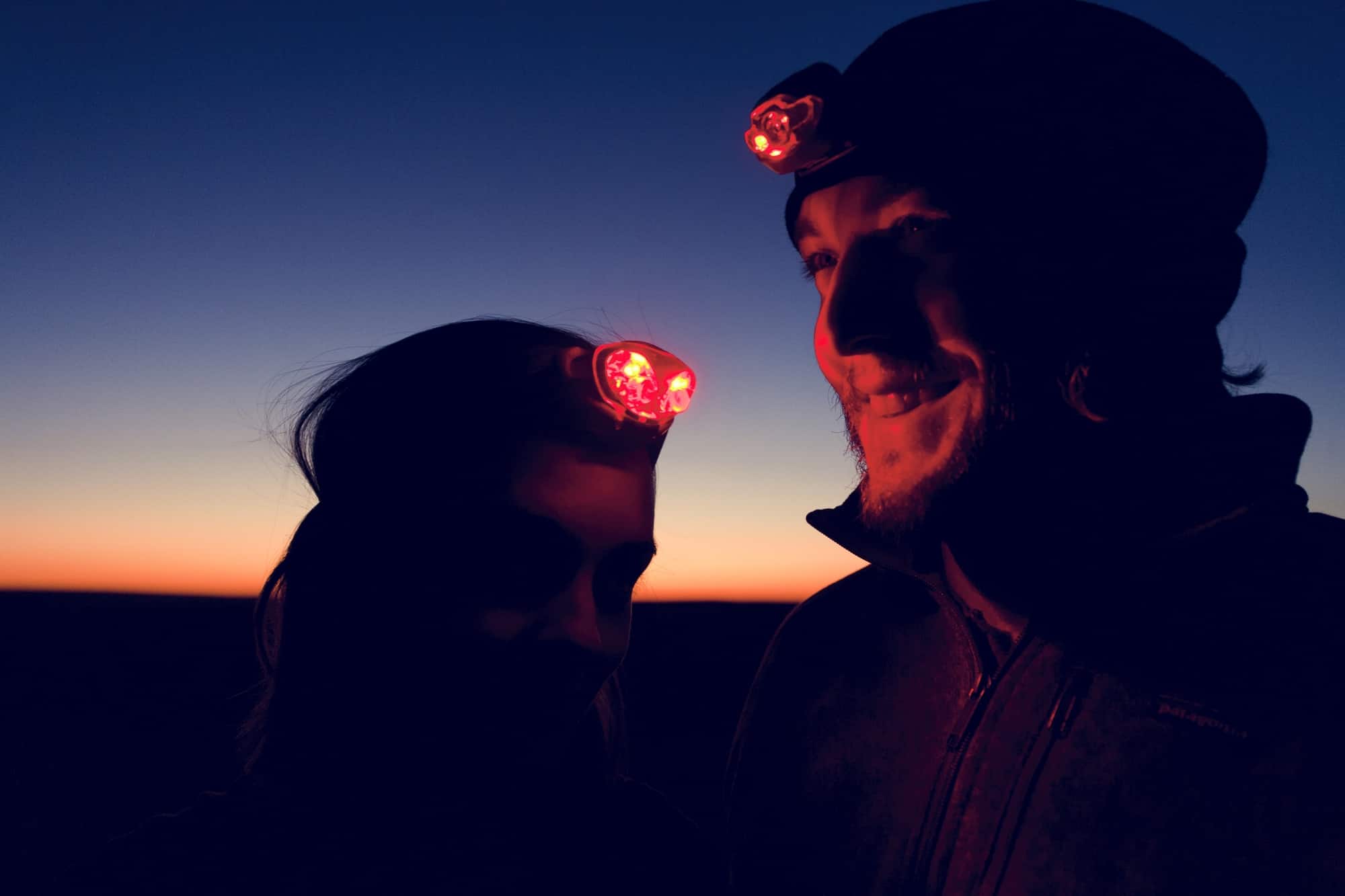 Why do some headlamps have red light settings?
Because a red led headlamp will preserve night vision. The rhodopsin chemical in the rods in your eyes isn't as sensitive to red light as it is to white light. If you're like me and love looking at the stars in the night sky, you have to get the best red light headlamp possible.
I don't want to start a science class now, so all we need to take away here is that red light is better to see with at night. Using a red light when you are with a group also keeps your headlamp from blinding everyone since the red light is softer on their eyes also.
With a red headlamp, you can look at your map or star chart and go right back to looking at your surroundings without needing to blink to adjust your eyes. If you use a regular light, it can take up to 10 minutes for your eyes to adjust back gazing into the dark.
Another benefit of red light is that many animals are red and green color blind so if you are trying to get night photos of wildlife you won't spook them.
Another awesome plus for headlamp hats that have red lights is that they don't attract insects like white light, which is a big problem for some of us folk with sensitive skin. What more can I say?
Other features of the best ultralight headlamps for hiking
The best headlamp for hiking will also offer different modes that are useful in different circumstances.
Zoom or boost mode will turn it into a super bright headlamp for a short period of time. This is especially useful if you are looking for someone or something.
Strobe or flash mode can be used to conserve batteries in times of emergency.
The best headlamp flashlight will also have bigger buttons to make gloved use easier.
Many top rated headlamps have a tilt feature so that the light focuses on the ground in front of you and saves you from getting a crick in your neck.
Also look for light locking features so that the light doesn't turn on in your backpack.
Do You Need a Headlamp for Hiking?
Absolutely yes, you need to pack a headlamp for hiking. Even the shortest day hike can turn into an unplanned adventure that brings you home after dark.
Is it Better to Hike with a Headlamp or a Flashlight?
We've been asked why a headlamp instead of a flashlight. A headlamp has the advantage of leaving your hands free. I don't want to be Debbie Downer, but if you get lost or hurt on the trail you will want your hands free as you work along your path.
A free hand can hold a child's hand for safety. And if you need to stop and potty, 2 free hands will make the task so much easier.
Are Rechargeable Headlamps Better for Hiking?
Environmentally, a rechargeable headlamp is hands down the best choice. You won't be throwing batteries into landfills. That said if you are not near a recharging source a rechargeable headlamp is done when the power runs out.
And for that reason, many hikers prefer a battery-powered torch where they can change out the batteries. Something like the Petzl Actic that has a hybrid power system is the best of both worlds, using a rechargeable battery as its primary power source and traditional batteries as backup.
Best Kids Headlamp
We have 6 grandchildren, all boys! That should give you a vague idea of the number of kids flashlight and children's headlamps that we've been through. But it is so important that our children and grandchildren get a sense of holding their own while hiking or camping that we always get them their own kids headlamp or kids headlight.
Of course, to go a little easier on our pockets, we've done a fair bit of research about the best headlamps for kids in terms of weight, durability and power. Click here to read about the best headlamp for kids.
Best Dog Headlamp
Hiking out in the wild is the best place to let your dog run free, isn't it? But if you're worried about them going too far ahead or being difficult to spot, the idea of getting a dog headlamp may have crossed your mind. Truth be told, they don't exist.
But what does exist is utterly perfect, a light up dog harness or lighted dog collars. We did a bit of research on the best options for you puppy which you can find in this article: Best LED Dog Collars for Your Dog.
Although the reflective dog harness is handy for walking in dark areas of the city or 'burbs, the led dog collar is more suited to the outdoors. For example, this Illumiseen Dog Collar has a charge that lasts for 5 hours, is USB rechargeable, durable and comes in different sizes. Using a light up dog collar will keep you free from worrying so you can enjoy your time in nature to it's fullest. Click here to find out more about the lighted dog collar.
Opinions on the best ultralight headlamp may vary depending on use; but the few I've listed above are the top choices for best rated headlamp anywhere. Do you own one of these?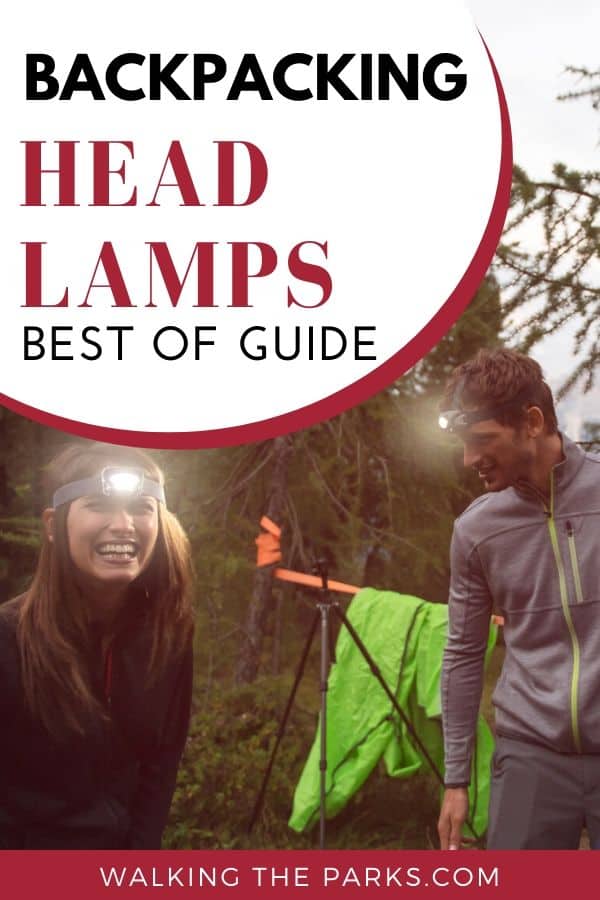 This article was originally published on September 22, 2019, it was most recently updated on July 6, 2021 so you'd have the most current information.