You'll be safer and cooler when desert camping in a tent designed for hot sun, strong winds and abrasive sand. We share the best tents for desert camping so you can enjoy your desert adventure.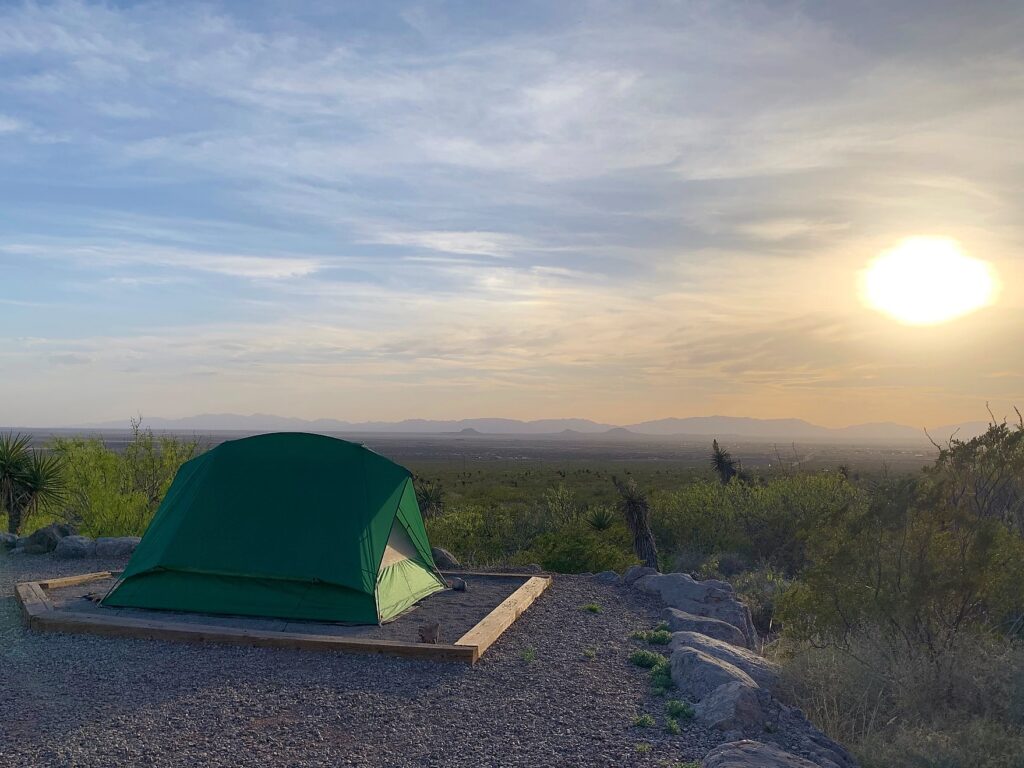 Links may be affiliate links which means we may earn a small commission.
On our first desert camping trip, which was our road trip to the 5 Utah National Parks, I'm embarrassed to share that we were ill-prepared for the conditions. Luckily our tent faired well and has served us many desert nights.
The desert is a unique camping environment. You have no shade from the sun that can get over 100 degrees during the day. When the sun goes down, it might get really cold or it might stay very warm so you have to be prepared for both. Sand is everywhere: in your shoes, your tent, your sleeping bag, and in your body crevices. Wind can kick up without notice, blowing away your tent and sandblasting your campsite.
Characteristics of The Ideal Tent for Desert Camping:
To help you, we evaluated everything that worked and didn't work during our desert camping trips and narrowed down the list of requirements in the ideal tent to this short list. As we searched for the best tent for desert camping we considered how well it met this criteria.
A place to shelter from the hot sun during the day. The heat of the afternoon is the perfect time to take a break and get out of the sun when you are exploring the desert. Tents can provide that escape 2 ways. The first is an awning that allows you to stretch out and relax. The other is if the tent is cooled by well placed breeze capturing windows and reflective exteriors.
Prevents sand from blowing into the tent – especially during a storm. A bathtub floor (high floor sides) will keep sand from sneaking into your tent in all conditions. You also want a tent that seals to keep sand out during wind storms. Windows and doors that zipper closed plus the ability to close any no-see-um mesh walls. Zippers should have a protective flap to keep sand from blowing in between the teeth.
Sturdy in high winds. Sand is not your friend when it comes to staking a tent in the desert. You want a tent with guy lines and a sturdy pole system to withstand a wind storm.
Comfortable sleeping on hot nights. Consider the ability of your tent to capture a cross breeze to help keep you cool at night. Bug proof mesh creates ventilation while keeping mosquitoes and other insects away.
Keeps you warm on cold nights. Most people don't realize that desert nights in spring and fall can be quite chilly as sand doesn't hold heat well. Look for a tent that seals up tight and not only do you keep sand out, it will hold in some of your body heat. For winter desert camping, you should consider a tent that is designed for a heater.
Keeps out the critters. Am I the only one who has nightmares about scorpions and rattlesnakes sneaking into my tent? Actually desert rats and other little critters are even more likely to make themselves comfy. Look for a sewn in floor and a tent that seals up tight.
Review of Best Desert Tents
Based on that wish list of requirements for a great camping tent for the desert, here is a detailed review of our top choices.
Top Choice: MSR Elixer 1, 2, 3 or 4 Person Backpacking Tent
CAPACITY: Available in 1, 2, 3 or 4 people
WEIGHT: 3lb 5oz, 5lb, 5lb 14oz, 7lb 15oz
FLOOR SPACE: 38, 63 sq ft
INTERIOR HEIGHTS: 39", 40", 41", and 48"
FABRICS: Rainfly Fabric: 68D ripstop polyester 1500mm Polyurethane & DWR
Canopy Fabric: 40D ripstop nylon & DWR
Mesh Type: 20D polyester micromesh
Floor Fabric: 70D taffeta nylon 3000mm Polyurethane & DWR
DOORS: 2 (except 1 man)
VESTIBULES: yes, built into the rain fly
About the MSR Elixer Camping Tent
We choose the MSR Elixer as our top choice for desert camping because it checked all the boxes for us for the perfect desert camping tent. The MSR Elixir tent is easy to set up. It uses a unique color-coding system, so you can match the tent parts quickly and just pop it up. Note that you should add a few more guy lines than what are included to ensure you have a sturdy and wind proof tent.
The floor sizing is just right to fit a full rectangular sleeping pad for each person, so you won't feel like you're sleeping on top of each other. This is a short tent, so you must crawl in and out. Luckily it has 2 huge doors to make that easy. And the bow of the poles stretches the top so you have enough headroom that you won't feel claustrophobic.
This tent's deep reinforced bathtub floor will keep sand from blowing in. The close-fitting rain fly will help hold in heat on cold nights and easily rolls back to expose the mesh windows for circulation when it's hot.
We love the white top to reflect the hot sun. And the large doors with no-see-um screening will allow a nice breeze to flow through. If you need mid day shade, the rain fly can be set up without the tent for a sturdy awning.
Pros and Cons of the MSR Elixer for Desert Camping
PROS
Super easy to assemble
Available in 4 sizes
Reflective and well ventilated
Built-in gear pockets to save floor space
CONS
Need to purchase extra guy lines for stability in storms
Limited head space inside
---
Our Favorite: Eureka Timberline, 2 or 4 person Car Camping Tent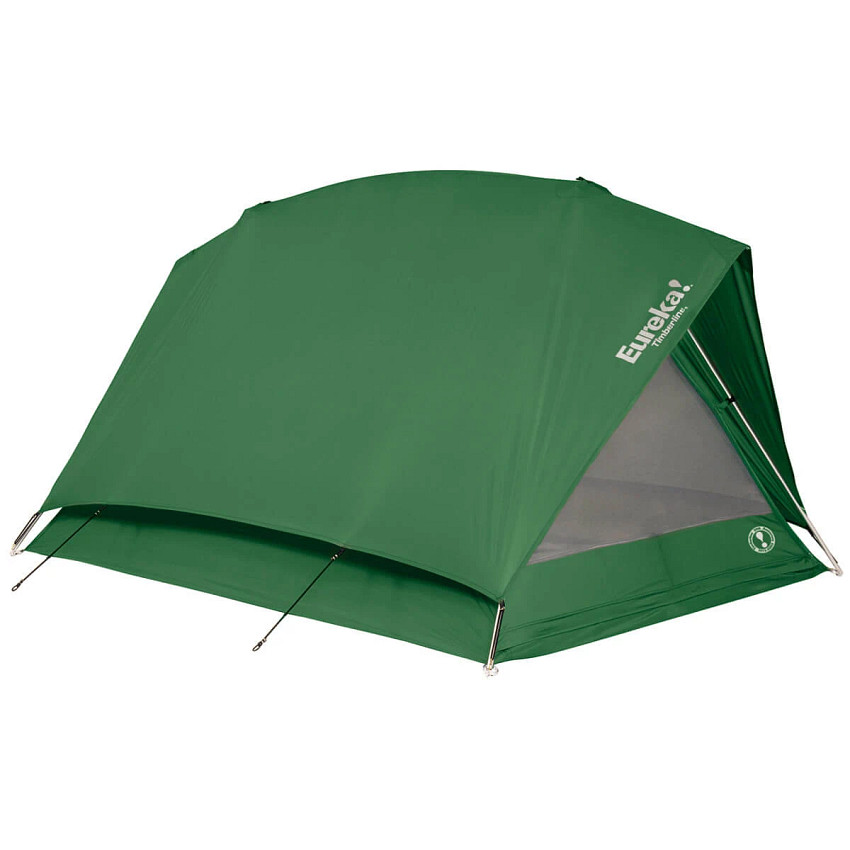 CAPACITY: 2, 4 people
WEIGHT: 6lb 9oz, 7lb 13oz
FLOOR SPACE: 38, 63 sq ft
INTERIOR HEIGHTS: 42, 58 inches
FABRICS: Inner Body Fabric – 75D 185T polyester taffeta breathable
Rainfly Fabric – 75D 185T polyester taffeta 800 mm
Mesh – 40D polyester no-see-um
Floor Fabric – 75D 210T polyester taffeta 800 mm
DOORS: 1
VESTIBULES: sold separately

About Eureka Timberline Tent
At first look, you'll think the Eureka Timberline is "old-school". But it has some great features that make this tent work for desert camping. We've spent a lot of time in this tent desert camping.
What we like most is that it quickly adjusts the air circulation for a wide range of temperatures. If it's hot, the door and window at both ends unzip fully to expose the no-see-um mesh and allow a breeze. Conversely, if the desert nights are cold, you can close all the mesh openings to hold in your body heat. We suggest for desert camping that you add on the optional vestibule for extra shade.
And most important, it performs well in a desert sand storm. Once all the zippers are closed, sand won't blow into your tent through the mesh. It is also designed for extended guy lines to add stability in wind.
What most people don't like about the Timberline is the limited head space of an A-frame tent. And when it comes to desert heat, the dark green color won't reflect the afternoon sun to help cool down your tent for an afternoon nap.
Pros and Cons of the Eureka Timberline for Desert Camping
PROS
Withstands wind and sand storms
Easy one-person setup
Adjustable air circulation for varied temperatures
Moderately priced
CONS
Limited head space
Dark green color is not reflective
---
Nemo Switch 2-Person Backpacking Tent – Best for Hot Summers Events
About the Nemo Switch
We like the Nemo Switch for desert camping overall, but most of all it's perfect for 2 people camping at a hot summer desert event.
First, we like that the tent body is all No-See-Um Mesh which means you can maximize any breeze to keep cool at night. The floor is a deep bathtub style that will help keep sand out of the tent.
The second thing we love about this tent is that you can set up the rain fly without the tent to create a comfortable freestanding shade awning tall enough for 2 campers to sit on a hot sunny day. Shade is always hard to find in the desert so this is a big win for taking a break during a day full of activities. And the rain fly over the tent creates 2 large vestibules to keep your gear dry.
The Nemo Switch feels very spacious for a 2-man tent due to the straight sides and a ceiling height of 4 ft, 9 in. Obviously not big enough to stand in, but most people can comfortably move around in the tent.
You pay for the flexibility of this tent with a little extra weight. Coming in at 8 pounds, it is heavier than most backpackers will want to pack. However for car camping or short distances this is one sweet tent.
Pros and Cons of the Nemo Switch Tent when camping in the desert
PROS:
Flexible use, rain fly easily converts to a shade awning
Spacious Floor Plan
Great air circulation due to all-around mesh walls
Easy to set up
CONS:
A little heavy for backpacking, however, can be split into 2 packages to share
Dust will blow in if there is a sand storm, even with rain fly in place
Won't hold heat well on cold nights, primarily for hot summer.
---
Kodiak Flex Bow Deluxe Canvas Tents – Best Family Canvas Desert Tent
About the Kodiak Flex Bow Deluxe Canvas Tent for Camping in the Desert
The Kodiak Flex Bow Deluxe Canvas Tent is the best desert tent for a family car camping for the week. This tent pops up to full height so you can stand up straight. And the straight sides mean you can use every inch of floor space for your family's comfort. Canvas is naturally sun and wind-resistant, making it a great, long-lasting material for desert tents.
If you've ever sat in an old-fashioned canvas tent, you know they can feel damp inside and often smell moldy. This odor is not an issue with Kodiak Canvas because they use a premium grade hydra-shield cotton duct fabric tightly woven with a silicon finish. It will remain watertight yet still breathe.
Select the Deluxe version of the Flex Bow for desert camping because the doors have mesh inserts that you can open for additional windows. (The basic version has solid doors and only 2 windows. You'll want the full breeze of 4 open windows in the desert heat.) The deluxe version also has air vents in the top corners that you can open to increase air movement.
The downside of the Kodiak Canvas Flex Bow tents is the weight. At over 50 pounds, you won't want to haul this tent far. However, I was surprised that even with the extra bulk, it is easy to set up. You can plan about 15 minutes with 2 people to raise the tent.
Pros and Cons of the Kodiak Canvas Flex Bow tent for Desert Camping
PROS
Heavy Duty Canvas withstand desert elements
Great air movement with 4 no-see-um mesh windows and air vents
Reinforced, heavy-duty floor
Spacious – you can stand up and walk around
Easy to assemble
CONS
Hard to transport due to weight, although it does pack down to a reasonable size
This tent is pricy; it's an investment in a tent you'll have for decades.
---
REI Co-op Flash Air 1: Ultralight for Desert Backpacking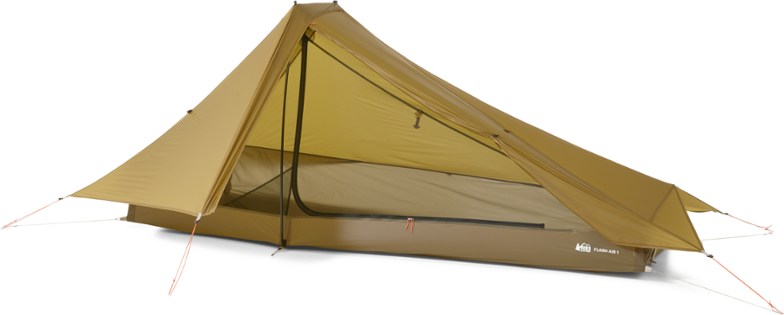 About the Flash Air in a Desert Environment
If you're hiking in the desert, you want the lightest tent possible. The 1 pound, 6 oz Flash is amazingly light. Save that weight and space in your backpack for the critical water you must carry.
The reason we like the REI Co-op Flash Air for desert camping is it is well designed to provide a cool sleeping space. It has a large no-see-um screen door to let air through. The generous vestibule will provide shade during the day.
It also has a deep bathtub floor to keep sand out of the tent. It's designed to be anchored with guy wires so you can secure it in the sand and wind. Although the door screen can't be completely sealed, you can set up with the backside into the wind to keep sand from blowing under the shade vestibule.
A nice option is that you can save a few ounces if you replace the larger pole with one of your hiking poles. A lot of reviewers complained about condensation in this tent. Well, that's not an issue in the dry desert. However be aware that this tent doesn't double well for mountain hikes. If you can afford a few more ounces in your pack you might want to add a footprint to extend the life of the floor.
Pros and Cons of Desert Camping in the REI Co-op Flash Air
PROS
Extremely Lightweight
Deep Bathtub Floor
Big Open Door
CONS
Doesn't cross over well for non desert camping
---
Features to Consider when Choosing a Tent for Desert Camping
For more ideas on desert camping, check out our article with a long list of Tips for Camping in the Desert. Here are the important features of the best tents for desert camping. Let's take a look at why they are critical for a successful desert adventure.
Single Wall vs. Double Wall Tents for Desert Camping
Double wall tents have 2 components: a well-ventilated tent plus a separate waterproof rain fly. They take a few extra minutes to set up properly in the desert because you need to anchor the tent and guy cords well in the sand.
When camping in the desert, a double wall tent has many benefits. You can leave the rain fly off on hot nights for greater ventilation. Rain flies can be adjusted for a looser or tighter fit depending upon the wind. If you want to take a mid-day nap to avoid the heat, you can stretch out the rain fly to allow more air to move underneath while providing shade
Some rain flies have the option of staking out separately to provide an open shade awning, like the Nemo Switch.
While all that mesh allows for greater ventilation, you will get dust during a sand storm if it doesn't seal up. Also, many desert environments are cold at night, and you will lose heat through the mesh. A double wall tent like the Eureka Timberline with a lining zipping over the mesh avoids both of these problems.
Single wall tents don't have a separate rain fly. That means the whole tent must be waterproof, and as you can imagine, that means less breathability. Backpackers like single-wall tents because they tend to be lighter than double-wall tents
Single wall tents usually aren't used for desert camping because of the lack of air movement to keep you cool. However, for backpackers that only use their tent at night, a single-wall tent will keep you warm and protected on cold nights plus your load will be lighter.
Canvas vs. Nylon Tent Fabric in the Desert
You may have heard that you should use a canvas tent for camping in the desert. And there are several good reasons for that piece of advice. But there are also good arguments for modern nylon tents in that rugged environment. Let's take a look so you can decide which is better for your camping style.
What You Should Know About Canvas Tents for Desert Camping
If you often car camp in the desert and stay in one location for several days, it might be worth investing in a canvas tent. Canvas tents are a bit more challenging to put up and take down so you don't want to move them often. They are also heavy so you don't want to carry far from your vehicle.
However, without a doubt, cotton based canvas will outwear a nylon tent. Canvas does not degrade as quickly from UV rays. And the thicker fabric can also withstand the abrasive sand that blows through the desert better than nylon.
If you like to sleep in the morning, you'll appreciate that canvas is better insulated than nylon. Once your tent cools off in the evening, it will stay cool well into the late morning. And the thicker fabric will keep your tent darker for sleep.
Why wouldn't you want a canvas tent for camping? The biggest reason is that a canvas tent is heavier than a nylon tent. If you only car camp, that weight might not matter to you. They also take longer to put up and are more expensive than nylon tents.
The other consideration is that many canvas tents don't have the large mesh screen doors and windows you find in most 2 wall nylon tents. If you like the durability of a canvas tent, then take a look at the Kodiak Deluxe which has extra windows and doors to solve this problem.
Are Nylon Tents the Best Tents for Desert Camping?
My personal preference is to stick with a 2 wall nylon tent for desert camping because of the flexibility of this tent. Since we camp in a wide variety of environments, a tent that can adapt with us is perfect.
It's easy to pack up and move a well-chosen nylon tent. And there are several great lightweight tents if you choose to backpack in the desert. Even though the thinner nylon fabric will let the heat penetrate faster than through canvas, you'll appreciate the larger, no-see-um mesh windows that let air circulate while keeping the bugs out.
Some of the nylon tents we reviewed for desert camping have built-in shade awnings or vestibules that give you an additional source of shade in the desert. The lightweight fabric makes it easy to add this feature.
Nylon will weaken if exposed to a lot of sand storms. The nylon threads are more likely to break under that abuse than cotton threads. Choosing ripstop nylon woven with a reinforcing criss-cross pattern will lengthen the life of your tent. However, most campers don't run into as many sand blowing high winds as you would anticipate when desert camping.
Other Features to Consider when Selecting Desert Tents
Is the Tent Color Important for Desert Camping?
The tent color is critical when camping in the desert. Like in clothing, lighter colors reflect heat, and dark colors absorb heat. So light colored tents are best for the desert.
Do I Need a Black Out Interior?
There are two advantages to a black-out interior in your tent when desert camping. The first is being able to sleep in when the sun rises early in the morning. We were surprised by how bright it was when the full moon reflected off the sand in the night on our National Park road trip through New Mexico and West Texas. Of course, you can overcome this issue with a sleep mask. The other advantage is that a black-out interior and a light-colored exterior can keep your tent 5-10 degrees cooler.
The downside is that most black-out technology will increase the weight of your tent since you've added a layer of fabric. And to keep your tent truly dark, you must close up your windows, so you lose ventilation.
What is a Bathtub Floor in a Tent?
A bathtub floor has a slightly thicker, water-resistant fabric than the rest of the tent. The floor comes up on the side of the tent a few inches, hence the bathtub name. The purpose of a bathtub tent floor is to keep sand and water out. The thicker fabric also handles abrasive ground surfaces like sand and gravel better than the lighter nylon used for your tent sides and roof.
Even though we put a ground tarp under our tent, on windy nights, sand manages to sneak in between the ground tarp and our tent. That works great on gravel and to move water away, but over time, sand abrasion will wear through the tent floor fabric.
Other Tips for Tent Camping in the Desert
Anchoring Your Tent Can be Tricky in the Desert
Our tent has held firm through many storms, some with near tornado wind, because we take time to stake it well and anchor the guy lines. However, sand is not your friend in the desert when trying to anchor a tent.
You might be tempted to skip anchoring your tent in the desert, thinking your body will hold it down for the night. But imagine a sand storm blowing through, and your body becomes the pivot point of your shaking tent. Tent rolls to the right, tent rolls to the left. You'll likely not get any sleep, even if your tent survives.
How to Deadman Your Anchors
Your best bet is to deadman your anchors. That means you dig a hole 6-8 inches deep where you want to place your stake. If possible, put a rock in front of the stake and pull the line over the top of the rock. Set your stake flat, and then bury it with sand. Pile a few more rocks on top. That stake isn't going anywhere!
Best Stakes for Anchoring Your Tent in Sand
A stake with a lot of surface area will work better in the sand, especially if you create a deadman anchor. These simple stakes from REI are inexpensive and worth adding to your camping gear for any time you end up in sandy soil, not just the desert. The 3 sided design of the Ground Hog Stake gives it extra surface layer to grab tight.
Wrapping up our Conversation about the Best Tents for Desert Camping
While most quality tents will survive a night or two in the desert, if you are planning to spend much time desert camping it's worth selecting a tent that will hold up under the hot sun and abrasive sand. We've selected what we believe to be the best tents for desert camping that will keep you comfortable in those conditions. I hope you enjoy your adventure!